Visiting Italy with a baby or toddler is a great idea, it has to be one of the most family-friendly destinations in the world. We have had a family trip to Italy every year since having our first child (and we went to Sicily for a babymoon). 
Every year we think about going somewhere else but Italy always draws us back and we keep exploring new areas, always amazed that the entire country is so beautiful and it makes for the best family holidays.
This means we have been to Italy with a baby, Italy with a one year old, Italy with a toddler, and Italy with a baby and toddler so I think we are quite well placed to write this post!
In this guide to Italy with a toddler or baby, we will share some travel tips to help you make the most of your time in Italy, we will give you some ideas of where to go in Italy with a baby or toddler and some of the best things to do in Italy with babies or toddlers.
First Time Italy with a Baby? What you Need to Know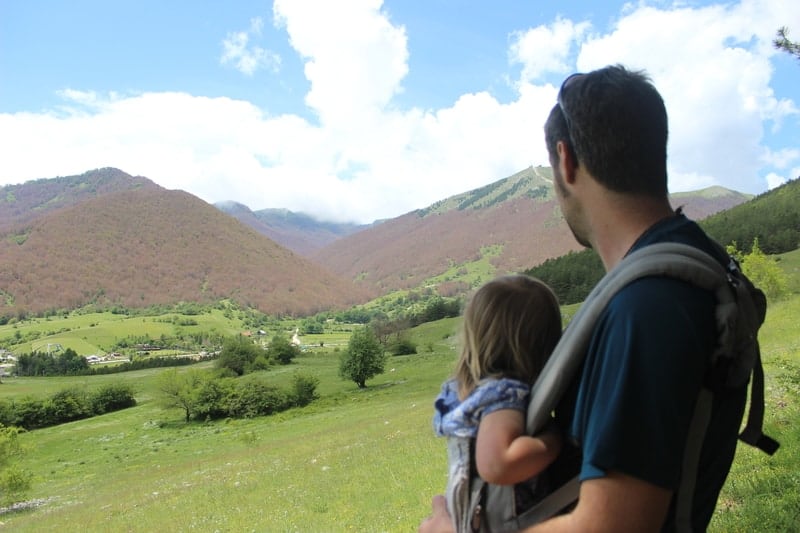 Is Italy Baby-Friendly?
Yes. Yes. Yes. Italians love babies. If you are travelling to Italy with baby you will probably take on the status of a minor celebrity, people will come up to you asking questions, pull funny faces at your baby and generally coo over your little one.
It is all done in a super friendly way and you should embrace this as part of the experience. We got so used to this that it was strange when we got back to England and everyone just ignored us again.
Is it Safe to Visit Italy with a Baby or Toddler?
Yes. Like anywhere in the world you should take sensible precautions, but overall Italy is a safe country for toddler travel.
The driving in Italy can take some getting used to and you will see plenty of cars on the road that have clearly had quite a few bumps along the way so it is worth being extra careful when you are on the roads.
Italy is on a fault line and suffers from occasional earthquakes and volcanos that can be quite devastating to the areas affected. These are somewhat unpredictable but the likelihood is that your travels will be unaffected by these sorts of events. You can check the current seismological activity here.
Can you get Baby Supplies in Italy?
You should be able to find anything that you might need for your baby in Italy. Costs can be higher than in the UK for things like nappies/diapers and in particular baby wipes are way more expensive than at home. You can find baby food, formula, bottles etc. in the supermarkets but we have always taken a supply with us from home.
When to Visit Italy

with a Baby or Toddler

Italy is a good year-round destination and you might even consider going skiing with a baby in winter. But, with its Mediterranean climate, your best bet is to go between May and September if you are looking for warmer weather.

The summer months can get busy, especially July and August so if you only have very young children we highly recommend going to Italy in June or September. Make the most of not being restricted to school holidays while you can!!
Getting to Italy

with Toddlers

Italy has loads of international airports so it is worth looking at where you can fly to that fits your planned itinerary. It may be that you can use a smaller airport for a more hassle-free journey and a shorter travel time to your first hotel.

It could also allow you to easily visit some of the lesser known but still beautiful places like Bergamo or Ragusa that both have easy access to small airports and low-cost flights.

We find that the best way to find cheap flights is to use Skyscanner.
How to Travel with a Baby in Italy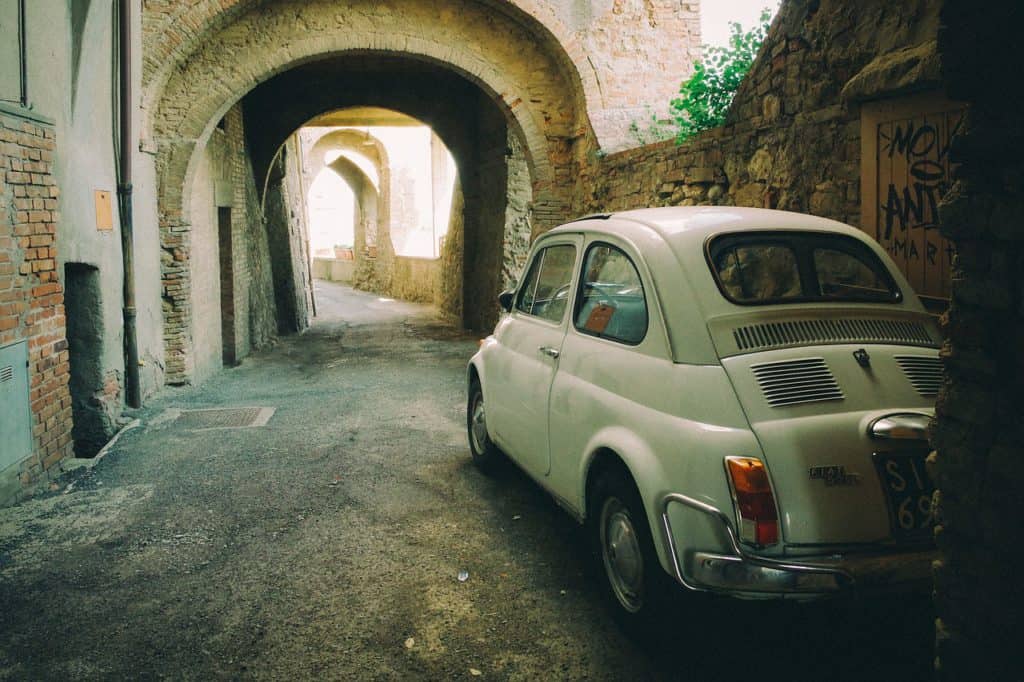 We have travelled to Italy several times with babies and toddlers. Our first trip to Northern Italy with an 8- month old we did it all by public transport. It was an awesome trip that took in Bergamo, Lake Garda, Verona, the Dolomites and Venice. 
Getting around by train and bus was really easy and we loved the whole trip. Just before having children we visited Sicily on a babymoon and enjoyed a great 2 weeks there travelling by public transport.
On our most recent trips, we have travelled from Rome to the southern tip of Puglia, explored Sardinia, and visited Perugia in central Italy. For each of these holidays, we hired a car.
Public Transport in Italy
Italy has a great train network that reaches the majority of towns that you might want to visit. Tickets are reasonably priced and train services are efficient on modern trains. The price of your ticket varies depending on the class of the train and the speed of the service.
In most cases, it is best to book tickets in advance as seat reservations are required, and it will ensure that you get the best price.
You can do this online and get an electronic ticket sent to your phone or you can print them out. If, like us, you aren't always good at planning ahead you can buy tickets at the station. It's best to check online first so that you know which trains are best for you considering the overall journey time and cost.
If you are booking online, Trenitalia is the official Italian Railways site. It can be slightly tricky to use as you will need to use the Italian place names (e.g. Venezia for Venice).
ItaliaRail has a far more user-friendly system that is all in English with the English-language place names used.
Both sites have similar prices and even though Italiarail charges a small booking fee it can sometimes work out to be cheaper, especially for more than one traveller.
Overall ItaliaRail is the best system and is the easiest one to use it can also help you to find the best tickets as it displays trains and prices for the whole day rather than a narrow window.
Renting a Car with a Baby and Toddler in Italy
It has to be said having a rental car makes travelling with babies and toddlers a LOT easier and has become our preferred option when travelling in Europe.
It gives you greater freedom to travel at the time you choose and that best fits in with nap times, it is easier to break up journeys and also allows you to visit places that are harder to visit on buses and trains.
Arranging a hire car couldn't be simpler, but make sure that you book it in advance, even if it is just the day before. We always book through Auto Europe, a great comparison site that will help you to pick the best deal.
We usually take our own car seat with us from home as it is much cheaper than renting one for a couple of weeks. We have this one that we use just for travel. If you have children 4 years or older, you might like to take along a Mifold travel booster seat.
Check out our top tips for car rental in Italy if you fancy going down this route.
Eating in Italy with a Baby and Toddler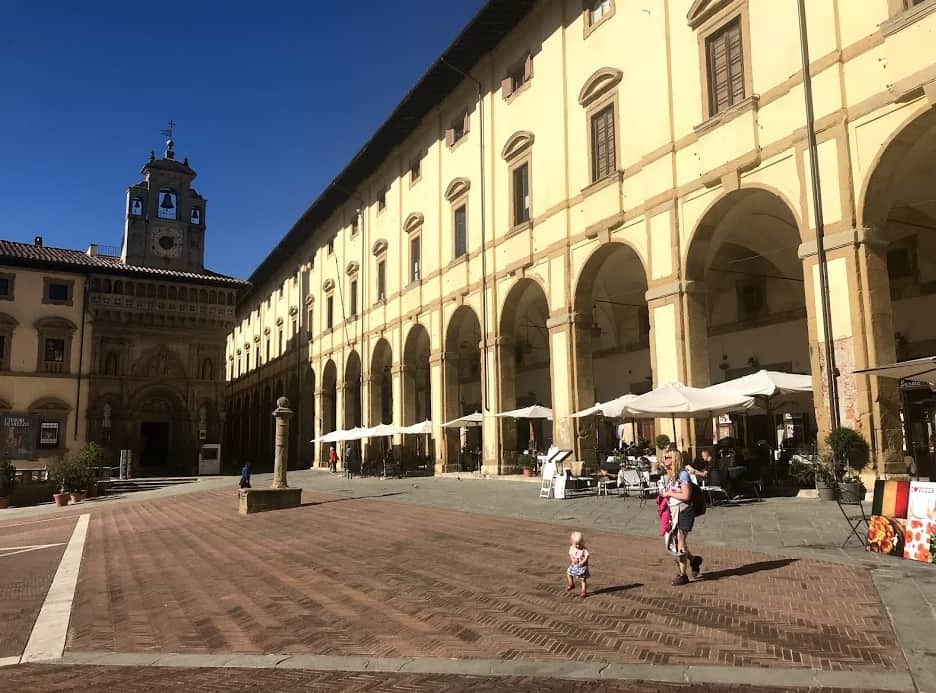 One of the great things about visiting Italy is the abundance of wonderful food at reasonable prices. Two of the staples are also likely to go down well with most young children: pizza and pasta. This definitely helps to make Italy one of the most child-friendly places to visit on a family vacation.
One thing that can be a bit challenging in Italy is the opening hours of restaurants. They open very late by English standards at around 9 o'clock (or 8 if you are lucky) and are often only open for a couple of hours around lunchtime.
A few times in more remote areas we ended up missing lunch service and struggled to find any food at all as the shops are open similar hours.
In the evenings the restaurant opening hours do not really fit in with our children's eating habits as they usually eat before 6 pm.
This is less of an issue if you are travelling with a baby. With some luck, you will be able to feed them milk and baby food and have them asleep in the stroller so that you can enjoy a nice relaxing meal together. If you are travelling with a toddler or older child it can be more of a challenge as they get hungry and need something NOW.
On our last trip we mostly went self-catered and cooked our own dinners which solves this problem but it does mean that you miss out on the yummy Italian food.
We often get takeaway pizzas in Italy. All pizza restaurants will put a pizza in a box for you so you can have a delicious, kid-friendly and cheap meal out in the sunshine. Often you will be able to find a nice picturesque spot to eat it.
Most restaurants will be able to provide you with a baby high chair but we like to travel with a Totseat chair harness, just in case.
Where to go in Italy with a Baby and Toddler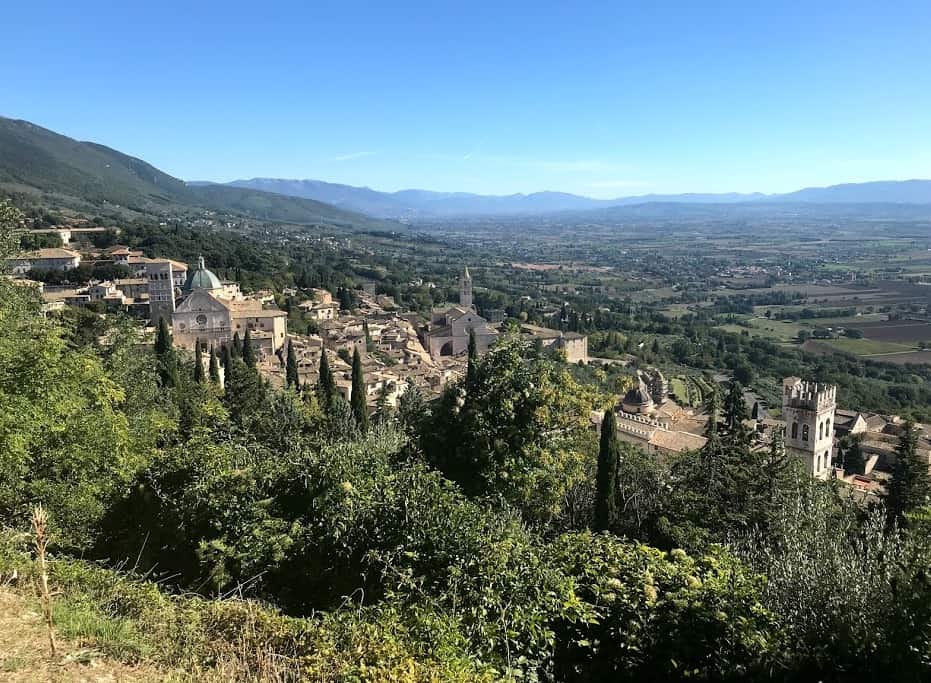 It is always really hard to decide where to go in Italy. There are just so many amazing places to visit. From mountains to churches, Roman ruins to volcanos and beaches to hilltop castles, Italy has some of the best and most beautiful in every category.
Deciding to visit Italy is the easy part, choosing exactly where to travel in Italy with a baby or toddler is far harder, but don't stress about it as wherever you go is sure to be amazing! We tend to travel around a bit and we have been to Puglia with a baby an Amalfi coast with a baby in the same trip.
To help you decide where to go in Italy with a baby or toddler, we thought that we would share some of the places that we have enjoyed visiting over recent years, always with a child (or 2) under 4 years old. We have also written several itineraries for 10 days in Italy that include these places (and other incredible places!)
Bergamo
Whilst most people would head straight for nearby Milan, we prefer the small town charms of Bergamo. This delightful is often overlooked on itineraries for the north of Italy but is a great destination full of historic atmosphere and Italian charm.
This was the first place in Italy that we visited with a baby (she was 8 months old) and she loved it right from the bus journey into town from the airport.  
Perched high above the surrounding lowlands, the old part of Bergamo is known as the Citta Alta and is characterised by old cobblestone streets and shuttered properties, while an impressive Venetian wall encircles this old district.
Like the sound of Bergamo? Check out our guide of what to do in Bergamo.
Verona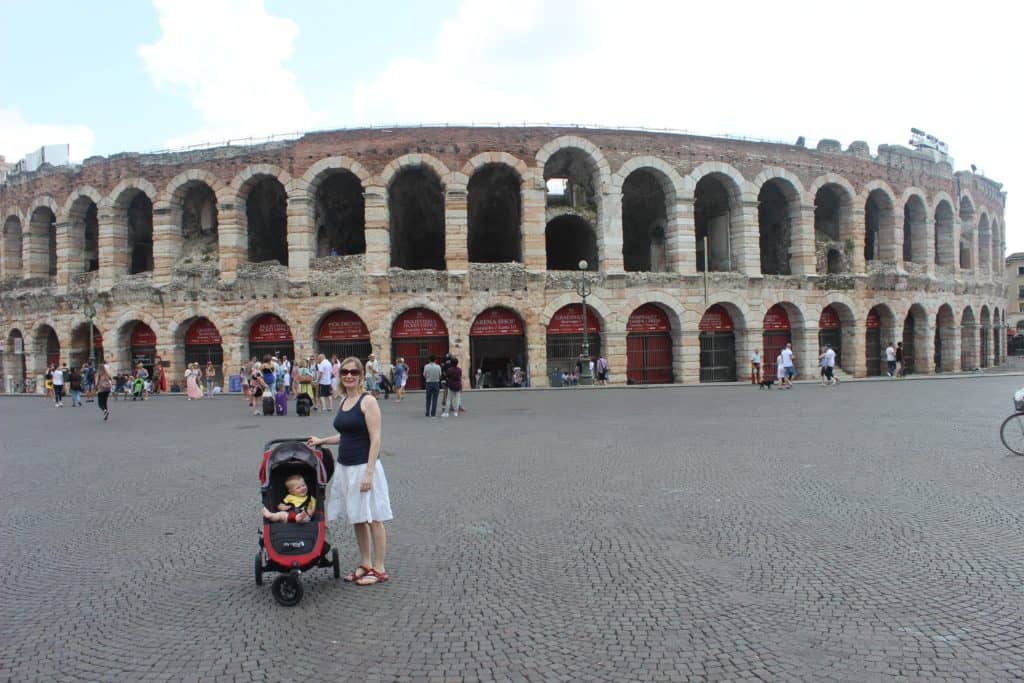 Fair Verona has been an important town since Roman times and today smart shops and cafes fill the attractive and vibrant historic centre where you will find narrow streets lined with handsome palazzi .
Right in the centre of town is the huge Roman Arena where you can catch an opera or show in a spectacular setting. The town is mostly flat and well paved so it is a good place to take your travel stroller out with you. There are plenty of things to do in Verona, it makes for a great weekend away or for a couple of nights on a longer Italy with toddlers itinerary.
Sardinia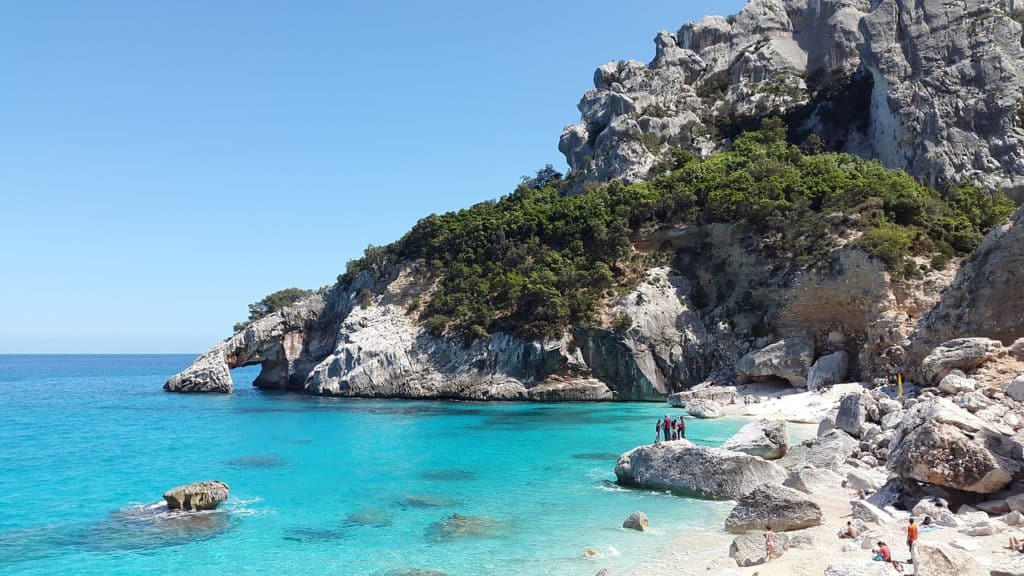 Sardinia is beautiful. There is a wonderful range of landscapes in such a small area; looming mountains, deep canyons, intriguing rock formations, deep caves with glistening stalactites, crystal clear blue seas and some of the best beaches in Europe to cap it off.
Sardinia is definitely one of the best places in Italy to take a toddler, we love Alghero and Cala Gonone. Find out where to visit in Sardinia in this post.
Lake Garda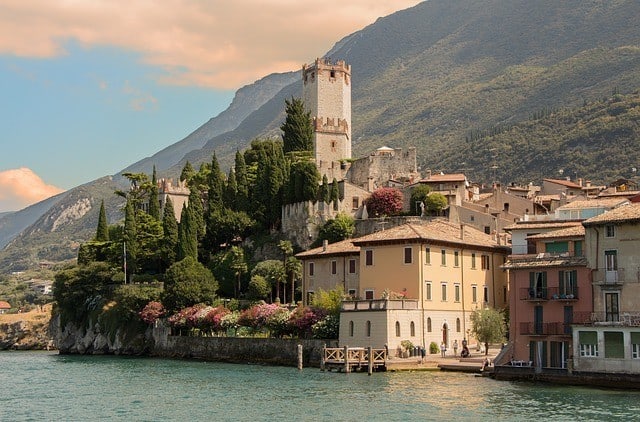 Lake Garda is the largest lake in Italy and surely one of the most beautiful. There are a few charming old towns whilst spectacular mountains provide a glorious backdrop to a wealth of activities and sightseeing opportunities.
The lake provides a great base to enjoy the great outdoors in Northern Italy and has plenty to offer everyone, from idle days by the pool or beach to hikes in the countryside. Read more about visiting Lake Garda with a baby or toddler
Venice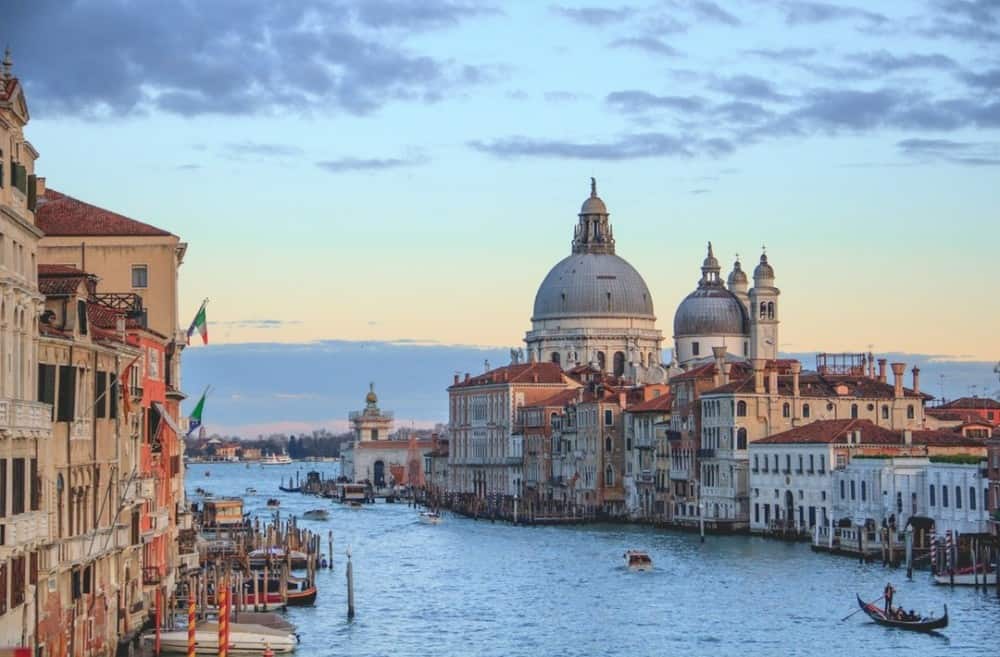 Some people will tell you not to visit Venice with a baby or toddler but we are not those people in fact we think its one of the best places to visit in Italy with toddler. You should go. It's a fairy-tale city with so many new things to see and discover. You and your little ones are sure to be enthralled by all the new experiences. Be sure to check out our guide to things to do in Venice with kids.
Amalfi Coast
One of the best things to do in Italy is to take a road trip with a baby, and there is nowhere better than the Amalfi Coast (as long as you avoid busy weekends in the summer). The famous towns of Positano and Ravello are spectacular.
Be sure to continue to the south to experience far less touristic but equally spectacular sights at Paestum (amazing Greek ruins) and Pisciotta further south.
If you or your family are interested in spectacular vehicles it could be worth visiting Marina di Stabia in Naples. It is one of the best superyacht marinas in the world, some of them have to be seen to be believed!
Rome
Rome is definitely one of the most amazing cities in the world to visit and should not be missed. There is absolutely loads to see but it is worth knowing that it is a really big and spread out city so visiting Rome wth a baby or toddler might not be the most relaxing experience.
We often focus more time on the smaller cities and towns but if you haven't been to Rome before or if there is any chance that this will be your only trip to Italy then, of course, you should see Rome while you are here and there is loads to do in Rome with kids.
Puglia
If you are looking for a really baby-friendly vacation and fancy some time on the beach then the spectacular beaches of the Puglia coast are amazing. There are also plenty of pretty towns to explore like Lecce, Ostuni, and Alberobello to give you a fair few things to do in a small area, a perfect slice of Italy for you and your kids. We visited this area when traveling to Italy with a 2-year-old and had a great time!
Conero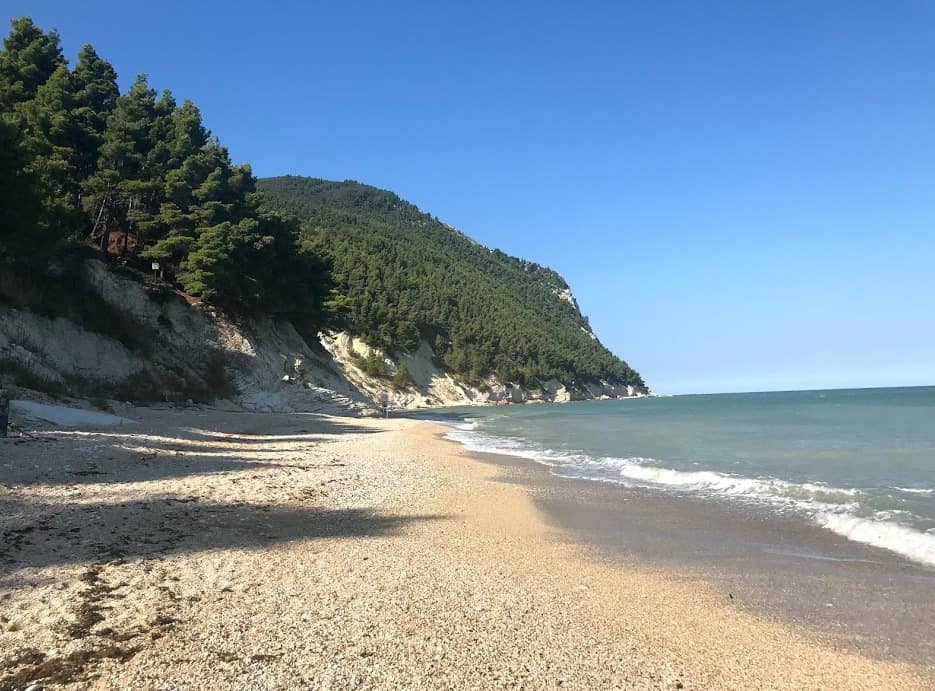 This area of coastline is not well known outside of Italy but it offers some spectacular beaches flanked by tall rocky cliffs. Some of them require a bit of a trek to get to (our daughter still talks about the time she climbed the mountain all the way down to the beach and back).
The seas here are rougher and not so inviting for swimming in as Sardinian beaches, but our little ones always enjoy playing in the sand and it makes a good destination when visiting Italy with kids.
Sicily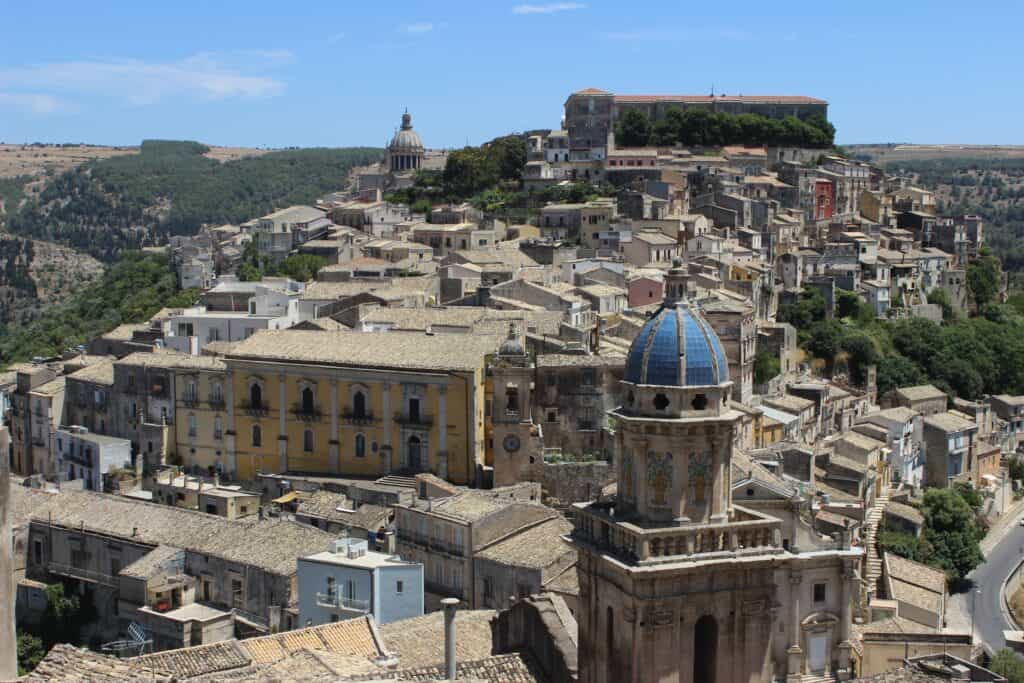 Sicily is where we properly fell in love with Italy. In a small area, you have some stunning old towns, beautiful islands, Roman ruins, volcanos, and more.
If you are wondering where to go on holiday in Italy with a baby, and want to experience a little bit if everything that Italy has to offer, then you won't go far wrong by choosing Sicily for your vacation. Our favourite places were Ragusa, Siracusa, and the Aeolian Islands. read more in our guide to Sicily with a baby.
Dolomites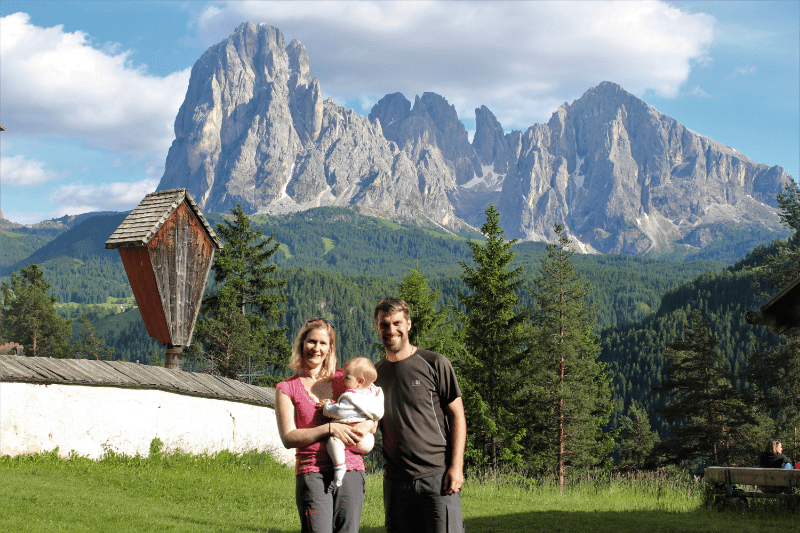 If you fancy heading to the mountains with your little one then the Dolomites is one of the most spectacular mountain ranges around. We chose to base ourselves in the Val Gardena so that we could easily access the high areas using cable cars.
This meant that we could still access amazing scenery but on slightly shorter hikes than we would have taken otherwise. It is a good choice if you are visiting Italy with a newborn baby since they will still be nice and light! (we use this baby carrier as part of our travel gear). 
Wherever you stay, you will find our baby sleep tips helpful.
What Should You Pack for a Baby and Toddler in Italy?
It is always difficult to decide what to pack for a baby or toddler when you travel abroad. You don't want to take too much but you also don't want to be without something that is essential. It is a tough balance to get right.
We have done loads of travelling with our girls and this is what we think works. For long trips, we do washing as we go along, for a couple of weeks you could probably get by without needing to do this.
If you are spending a lot of time on the beach your little one will end up spending a lot of time in their swimsuit, so this is one of the most important items to take.
We like the ones that cover arms and legs as it protects them from the sun without having to worry quite so much about when you last put sun cream on.
Italy Baby Packing List – Clothes
6 short-sleeved onesies or cotton rompers
2 full-length onesies
2 small muslins – depending on how sicky your baby is!
1 sunhat and 1 swimming sunhat
1 large muslin for sleeping under
Sunglasses
Other Essential items for a Baby in Italy
Changing mat/bag: This is probably the most useful item that we packed. A compact place to keep your nappies, wipes, and creams which folds out into a handy changing mat. Proper changing tables are a rarity in Italy so this gets used all the time.
Baby Carrier: These were essential for getting around, both our 9-month-old and 3-year-old needing carrying quite a lot. The cool mesh carriers are great for hot countries.
Nappies/diapers: We always had a decent supply of nappies with us in the bag but they are easy to get hold of in most places. 
Baby wipes: These are much more expensive than in England so it is worth bringing a supply from home.
Teething necklace: Good for keeping your little one entertained and quiet whilst travelling or in the baby carrier.
Nappy cream: Just in case of any sore bottoms you will want this on hand.
What to Pack for a Toddler in Italy
For our toddler/pre-school age daughter we took the following which worked out just right for a long trip where you expect to do some washing as you go along. If you are happy to pay for more frequent clothes washing, you could get by with less than we had.
Toddler Packing List
4 cotton/linen summer dresses. This is what our daughter wore most of the time. For a boy (or a girl who doesn't like dresses), you will probably need shorts and a t-shirt most of the time so bring more of those.
4 t-shirts
2 shorts
2 pairs of lightweight trousers (good for covering up if there are mosquitos about and for buses and planes)
1 long-sleeved top
4 pairs of underpants
2 pairs of socks.
1 long UV protective swimsuit and 1 normal swimming costume. Our girls spent most of the time in their swimsuits when staying on the coast.
Trainers (you could probably leave these at home if you don't plan to walk through any jungle/ forests),
Sandals (necessity),
Beach shoes (our daughter like to climb the rocks on the beach & kayak so these came in really handy).
1 sunhat and 1 swimming sunhat
Sunglasses
Raincoat
Other useful items to take:
Pop up travel cot: We like this one as it pops up in a second and closes like a tent to keep mosquitos out. The girls think that it is fun to have a tent! Check out our review of the best travel cots
Beach tent: If you are planning to spend a lot of time on the beach, it's well worth taking a beach tent to provide you with some shade and privacy. This makes it an ideal spot for your baby to feed and sleep.
We have the Littlelife family beach tent and it has been great for us on the beaches of Sardinia. We found it especially useful when our baby was very young and not yet able to crawl or sit.
Blackout blinds: These travel blackout blinds are great to make your room dark at night times
Totseat chair harness: This baby totseat is a great backup to have when eating out with a baby. Baby high chairs are quite widely available but not every restaurant has them and often they only have 1 or 2 chairs for loads of tiny diners.
Drinking bottle: This is essential. Find a kids bottle that your child can easily drink from and that you can take anywhere.
Suncream: This is available in Italy, but we always take some so we are prepared.
Hand sanitiser: Very handy for keeping hands clean on the move. 
Disinfectant wipes: We used these to clean high chairs and the floors in hotel rooms.
First Aid Kit: There are bound to be times when you need a plaster or bandage so we always take a first aid kit along ours contains Calpol, Benadryl, antibiotics for mastitis, children's inhaler in case of croop, mosquito repellent for kids and adults, Bonjela, plasters, paracetamol.
Kids tablet: Basically a lifesaver on the plane or when you need a bit of quiet time. We like the Amazon Fire kids tablets but there are loads of great options covered in our best toddler tablets post.
You will probably need fewer toys than you think to keep your kids entertained whilst away. But it is definitely worth taking a few things to keep them occupied on journeys and if you want some quiet time in the hotel. 
The toys we liked the best include stacking cups which are compact and brilliant, you can use them to make sandcastles on the beach, to pour water in the pool or even to stack on the floor. A few Duplo bricks, toy cars, and colouring/activity books also come in handy, especially at mealtimes.
Hopefully, this gives you a guide for what you should be packing with you when you take a toddler or an infant to Italy. For more comprehensive information, check out our post on the best baby and toddler travel gear, and this baby and toddler packing list (it is tailored to SE Asia but should help you plan for Italy too)
10 Great Things to do in Italy with a Baby or Toddler
The things that you do in Italy with a toddler or baby will largely be influenced by where you have chosen to go and by the exact age of your child. The things to do in Italy with a 6 month old or things to do with a 10 month old, can vary quite a lot from what you might do in Italy with a 2 year old.
When infants are really small you take advantage of the fact they are small and light and spend a lot of time sleeping. This should mean that to a large extent you can do holiday in the same way that you would have before you had children.
As they get older you will need to factor in more time doing 'kids things' to keep them happy. Here are a few ideas of things to do with your little one.
Hit the Beaches
Travelling with a toddler or baby can be hard work so we always like to factor in some beach time. It keeps them happy and is somewhat relaxing for us.
If your baby is at the stage where they put everything in their mouth you will need to be prepared to see them eat quite a lot of sand. Just keep an eye out for stones, shells, crabs or anything else that they might like to put in their mouths. We take our beach tent with us for some portable shade, privacy and somewhere for baby to sleep at nap times.
Toddlers are sure to enjoy a paddle in the sea, Cala Brandinchi in Sardinia is absolutely perfect for this. Read more about our favourite Sardinian beaches here.
Explore Pretty Old Towns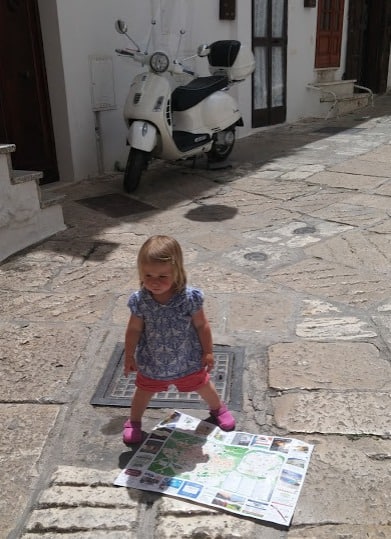 One of the great things about Italy is just how many cute old towns they have dotted throughout the country. It is not just the famous places that have stunning architecture, almost everywhere does so it is always worth exploring the 'centro storico' of the town you pass. We like to just wander aimlessly. Why not let the kids have the map and chose your direction?
Go for a Hike
Having a baby or toddler need not mean that you confine yourselves to the beaches and towns. Grab your baby carrier and head out into the hills! There is some spectacular scenery all over Italy and in many places you will find some well-marked trails to show you where to go.
Escape the Heat in a Church
If you visit Italy in the summer you will probably be blessed with some glorious, sunny weather. This is great, but it can get a bit much at times so we often pop into a church to get out of the heat.
Churches are almost always cool, have pews to sit on and have a bit of a rest, and you might just find yourself sitting under a painting by Caravaggio or Titian.
Eat Gelato
I think that both of our daughters may have had their first taste of ice cream in Italy. Lucky them! Italian ice cream is delicious and is usually quite reasonably priced (as long as you aren't in a super touristy spot)
Find a Park
Finding a playground has become something of a priority for us on our travels, our girls are never happier than when they are climbing or sliding or spinning on something so we always try and break up the day with a trip to a local park. The only hard part is getting them to leave again so that we can explore some more!
Take a Boat Trip
We always enjoy taking boat trips, they are invariably in beautiful locations and give you a different perspective on things than from the land. With a baby or toddler, it is generally best to go for shorter duration trips. Some boat trips that we have enjoyed include Lake Garda, La Maddalena and around the Aeolian Islands.
Discover Ancient Ruins
You will find Roman ruins all over the country and young kids are bound to enjoy exploring these unusual places. Often there are steps that toddlers can clamber up or doorways to play hide and seek behind.
The arena in Verona is a great place to explore as is Pompeii (note, there is not a lot of shade around Pompeii). We were also really impressed by the relatively unknown Greek ruins at Paestum, they are definitely worthy of a visit.
Ride a Gondola
Ok, so this one is very location specific but if you include Venice on your itinerary you should definitely go for a ride on a gondola. It is a bit expensive but it is definitely worth it.
This is the quintessential way to travel in Venice and your journey will take you past some of the most majestic buildings in the whole world in this truly unique city.
Go for Bike Ride in the Countryside
We find going for a bike ride with a baby seat on the back to be a truly liberating experience, and both of our daughters absolutely love it.
Cycling is such a great way to see the countryside you can travel at a good pace and see lots, but you are not travelling so fast that you miss everything in a blur.
There are many great places to cycle in Italy, but probably one of the best areas is Tuscany. Here you can cycle through vineyards and past ancient settlements where it seems like time has stood still for hundreds of years.
Italy with a Toddler or Baby
We hope that you have enjoyed reading our guide to visiting Italy with a toddler or baby. We really love it in Italy and think that it is a great family travel destination. That is why we keep going back!
I always like to explore new places and Italy is one of the few countries that has drawn me back for multiple repeat visits so there must be something pretty special about it. We have always travelled to a new area of Italy and it is quite amazing how many nice places there are in this one country.
Hopefully, you will enjoy your trip to Italy with your child as much as we have with our children. We have linked to a few of our other posts throughout this guide but if you are looking for further inspiration, head over to our Italy section.
If you are travelling around Europe, you might also like to check out our Portugal with a baby and toddler post.