Lake Garda is the largest lake in Italy and surely one of the most beautiful. You will find a smattering of charming old towns whilst spectacular mountains provide a glorious backdrop to a wealth of activities and sightseeing opportunities.
We visited Lake Garda as part of a trip through northern Italy, (we also visited Bergamo, Verona, The Dolomites and Venice). In this post, we will share with you an in-depth look at the best things to do at Lake Garda.
The lake provides a great base to enjoy the great outdoors and has plenty to offer everyone, from idle days by the pool or beach, to a leap of faith from a cliff top, there is something to suit all tastes. It makes for a great family friendly location and has activities that will entertain all ages from babies to teenagers.
The Best Places to Stay in Lake Garda – And What to See There
All of the towns covered in this section are attractions in their own right and well worth a visit on your visit to Lake Garda.
We recommend that you choose one or two of them as a base for your trip, and visit the others by ferry, bus or car on day trips as visiting the quaint old towns is one of the best things to do at Lake Garda.
Sirmione
Sirmione is located on the south shore of Lake Garda on a small peninsula, it offers mesmerizing views across the lake and is one of the most popular tourist destinations on the lake.
It is one of the most historic villages on the lake with the Scaliger castle and the Roman ruins of 'Grotto of Catullus', providing a taste of life in the past.
Sirmione is easily accessible and is right in the middle of the popular tourist route between Milan, Verona, and Venice, this does mean that it can get pretty crowded in the summer.
If you are visiting for the day, your best bet is to arrive by ferry to avoid the hassle of the busy roads and having to find and pay for parking outside of the historic centre and then walk in.
If you can, it is worth getting there early to beat the crowds that get bussed in.
Not to be Missed in Sirmione
Grotte di Cattulo – These are picturesque ruins of one of the largest Roman villas in northern Italy (By my rudimentary Italian it sounds like it should be a cave, but it is not). The setting is really spectacular and the ruins are well preserved and sure to be of interest to anyone interested in history.
Rocca Scaligera Castle – This well-preserved castle juts out into the lake and has a definite fairy-tale quality about it.
Jamaica Beach – This rocky beach near to the town is a great spot to while away a few hours. There is a small bar here and the sunsets are spectacular.
If you haven't already arrived by boat it is really worthwhile to take a short boat trip that will take you around the peninsula to see Sirmione at its most spectacular.
Stay Here if :

You want easy access

Are looking for a fabulously scenic and historic setting

Don't mind the crowds
Where to Stay in Sirmione
There are some great places to stay in Sirmione, we find that the best way to book is through Booking.com
Our top picks are:
Hotel Riel – A great option for families, Hotel Riel has clean modern rooms and a lovely swimming pool.
B&B Casa Leone – A lovely, friendly B&B with superb breakfast.
Malcesine
Malcesine is known as the pearl of Lake Garda and is located in a very picturesque setting at the base of Monte Baldo. It is a charming old town with narrow medieval streets, a beautiful harbour and lots of small shops, and cafes.
Like many of the other towns on the shores of Lake Garda, Malcesine gets crowded in the summer months with thousands of visitors squeezing through the narrow streets, we didn't find this overwhelming and still enjoyed our visit. If you have a choice, try to visit in May-June or in September.
Not to be Missed in Malcesine
      

Take the cable car to the top of Monte Baldo for amazing views of the area

      

Castello Scaligero – climb the tower for magnificent views.
Stay here if:

You love to be surrounded by mountains

Enjoy staying in beautiful medieval surroundings
Where to Stay in Malcesine
There are some great places to stay in Malcesine, we find that the best way to book is through Booking.com.
Our top picks are:
Hotel Villa Orizzonte – Enjoy fabulous views from the terrace.
Hotel Val Di Sogno – Top Rated on Booking.com
Torri del Benaco
Torri del Benaco is the ancient capital of Lake Garda and is a lovely town well worth a visit, it is situated about half way up the east coast of Lake Garda where the rolling hills start to grow into towering mountains.
It makes a great base to explore Italy's largest lake, with ferries going to pretty much everywhere.
The town offers lovely views across the lake which can be enjoyed from one of the many lakeside restaurants in the beautiful port area where hotels and boutique shops rest up against the old castle walls.
There is a very small beach here that will entertain your little ones, but the main attraction is the town itself and using it as a gateway to other towns around the lake.
Stay here if:

You want a quaint little town as a central base to visit the whole lake

You prefer to be away from the crowds.
Where to stay in Torri Del Benaco
There are some great places to stay in Torri Del Benaco, we always book through Booking.com.
Our top picks are
Hotel Al Castello – This is where we stayed. They do a great breakfast, are very family friendly and it is well located near everything (including the bus stop). We enjoyed our stay here.
Residence Ca Del Lago – Lovely apartments with lake views. Has a nice swimming pool.
Limone Sul Garda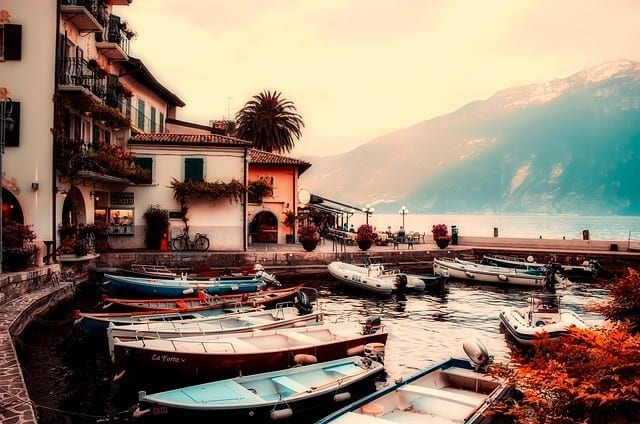 Limone Sul Garda is one of the oldest and best-preserved towns on Lake Garda, a charming old town which is home to fishermen's cottages, narrow streets and open piazzas make it one of the most picturesque towns on Lake Garda.
Limone is famous for the cultivation of lemons. The breeze across the lake creates a special microclimate that has helped the growing of citrus fruits on terraces carved into the hillside.
The scenic road from Riva to Limone takes you through several tunnels, just before you reach the town, you can enjoy wonderful views over Limone.
Limone has a nice waterfront promenade and a very cosy old town with lots of restaurants, cafes, and little shops.
Stay here if:

You like lemons!
Where to Stay in Limone
Our top pick for Limone Sul Garda is
Hotel Leonardo Da Vinci – An all-inclusive hotel right by the lake with loads of great facilities.
Or you can search for a hotel you like the look of with this handy map.
Riva Del Garda
Riva del Garda is a bustling little town surrounded by steep cliffs and high mountains on the northern shore of Lake Garda and has a special charm. The town is nestled comfortably on the shore where the lake narrows between the high cliffs of Monte Rocchetta and the water becomes colder and bluer.
The town was part of Austria until 1918 and retains a distinctly un-Italian flavour. It is a pleasant base for holidaymakers to stroll along winding streets and relax in waterfront squares. There is a great promenade area with a beach and park by the lakefront.
The northern end of the lake is very popular with windsurfers who take advantage of the strong winds caused by the mountains and water.
Not to be missed in Riva del Garda
Climb the Torre Apponale: a tall 13th-century clock tower overlooking Piazza III November, the heart of the town
Visit the Rocca castle and museum
Take an easy walk to Torbole or more find more strenuous options in the hills.
Stay here if:

You like to have all the amenities of a real town

You like to stroll along a flat lakefront promenade or visit the beach

You would like to venture into the mountains
Where to Stay in Riva del Garda
Enjoy a fabulous farm stay at Maso Tobel Riva del Garda one of the top-rated hotels on Booking.com. Or stay in the heart of the town at the stylish Dolce Riva Downtown apartments
Short on time?

Visit all of the towns described above on this great

or for something a bit different

try this
Boat Trips on Lake Garda
To really enjoy Lake Garda at its best you have to get out onto the lake itself at some point by taking a boat trip around the lake. These can take you between all of the towns that we have covered above (and a few others!), to make for some great day trips.
There is a very efficient boat service that connects the towns and it is an enjoyable way to explore, especially if you sit on the top deck and soak up some sunshine along with the wonderful views.
You can find more detail of the timetables and routes here.
There are loads of different options for seeing the lake by boat, you may like to try the following:
A short boat trip around Sirmione taking in Scaligero Castle and the "Grotte di Catullo"
Visit Garda Island, also known as Isola Borghese, the largest island in Lake Garda and is located about 200 metres from the coast, near to San Felice. Enjoy stunning views on this private boat tour.
You can easily combine a visit to Limone with Malcesine or Riva. Leave your car at the paid parking area in Limone and take a ferry-boat from here. Since the distance is not very big, it doesn't take that long and the ferry fees are reasonable as well.
Other Activities Around the Lake
Paragliding
From various places on the lake, it is possible to hire an experienced pilot who can guide you on a flight over the wonderful landscapes and enchanting views of the Garda area.
If you are an adventurous kind of person this is definitely one of the most exciting activities you can try. The price is usually around 130 euros per descent, with video of the flight and cable car ticket both included.
Wine Tasting
Just back from the shore of Lake Garda at the southern end, you will find some pretty vineyards set amongst the green rolling hills. Many of these offer tours and tastings sessions so why not sit back under the vines and enjoy an afternoon tasting some delicious wines. A wine and food tour of Valpolicella is sure to excite your taste buds!
Why not combine a luxury private boat tour around the lake with wine tasting at the oldest Lugana winery and a fabulous gourmet lunch? This tour is sure to be a highlight of your trip.
Biking and Hiking
We always enjoy exploring new places on foot or by bike. At Lake Garda you will find plenty of options for hiking in the area, you will find everything from family-friendly trails along the shoreline (that you can do with a stroller) to more adventurous treks out into the hills.
A nice option is to walk from Garda (the town) to Bardolino. You can explore caves at the top of a lakeside hill, then descend along small roads towards Bardolino through rural olive groves and allotments, a real taste of the countryside.
There is a great cycle route from Ciclo-Pedonale to Lazise-Bardolino that only takes an hour but offers up some outstanding views.
One of the best cycle routes is Peschiera del Garda to Borghetto which you can explore at your own pace on this self-guided cycle tour.
There are numerous options for hiking in the area, you will find family-friendly trails along the shoreline that you can do with a stroller or more adventurous treks out into the hills.
Gardaland
Gardaland is the best-known amusement park in Italy and has a lot to offer for all ages. Little kids will love Peppa Pig Land and Fantasyland, whilst those looking for more of a thrill will find a huge range over exciting rollercoasters.
It can get busy at the weekend so try to go in the week if you can. They also have a Sea Life aquarium which is perfect for a rainy day and worth a visit at any time.
If you fancy a break from the lake you are spoiled for choice with great day trips available to Verona, Bolzano, Venice
How to Get to Lake Garda
Lake Garda is easily accessible on all forms of transport. The nearest airport is at Verona but you could also consider using Milan or Bergamo airports. There are good train connections to Peschiera del Garda and frequent buses can take you from there to your final destination.
Timetables for buses and ferries around Lake Garda can be found here
Things to do at Lake Garda
We hope that you have enjoyed our guide to the best things to do at Lake Garda. It is a great place to visit in Italy, which is one of our favourite countries. There is enough to do there that you could spend your whole holiday in the area, or do like we did and stop off as you visit some of the highlights of Northern Italy.
Are you planning a trip to Lake Garda? Please let us know in the comments below. If you liked our post we would love it if you could help spread the word by sharing it on social media.