In this post, we will aim to provide the answer to the frequently asked question, "How many days in Venice in enough?"
Venice is one of the world's top travel destinations and receives millions of visitors each year. We love it there and think that it is one of the most magical cities that you could ever visit.
But we have heard that some people leave disappointed by Venice and feel that it has been spoilt by the sheer numbers of visitors that descend on the city.
This may leave you wondering if you should just have a very brief visit there or even make you wonder if Venice is worth visiting at all.
We aren't usually big fans of super busy places but we still love Venice.
Done the right way we are sure that you will enjoy the city so in this post we decided to try and help you to plan your visit to ensure that you leave enthralled by the city and dreaming of your next visit, rather than being one of the disappointed ones.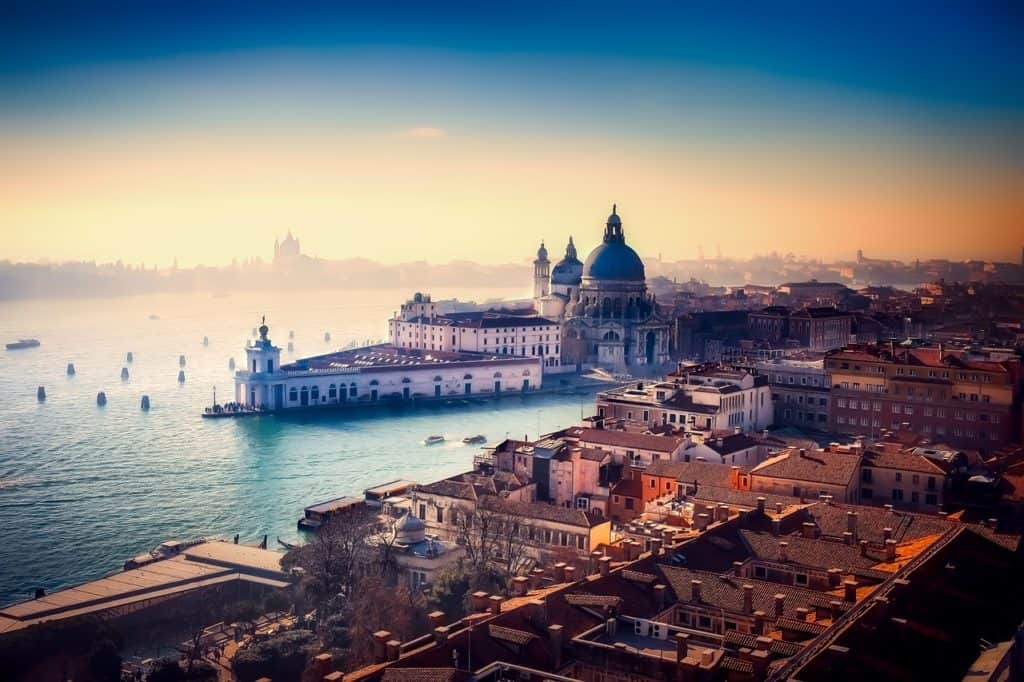 How Many Days Should You Spend in Venice

?

You should spend 3 days in Venice if you can. This will give you enough time to explore the main sights like Rialto Bridge and Piazza San Marco and also to explore some of the less famous but still spectacular places.

Venice is so different to anywhere else in the world. The simple fact that roads and cars are replaced by waterways that lap against grand old buildings while gondolas and boats criss-cross the canals, gives the city a completely different atmosphere from anywhere else in the world. It is such an unusual and magical place that we don't think your should rush through on a 1 day itinerary.

We feel that 3 days in Venice is about the right amount of time to get a feel for the place. 3 days will give you enough time to explore away from the main sites and truly soak up the best that Venice has to offer.

If you are still wondering, how many days to see Venice? We spent three and a half days in Venice, really enjoyed it and didn't want to leave.

We had done a good job of exploring much of the city and plenty of out of the way places, but there was plenty more left to be discovered and we would have loved to stay longer (we will have to go back!).

If you have flexibility in your itinerary you could easily spend 4 or 5 days in Venice without getting bored, but we would not recommend cutting your time below 2 days in Venice and this is only if you really can't stretch to 3 full days.
Venice as a Day Trip?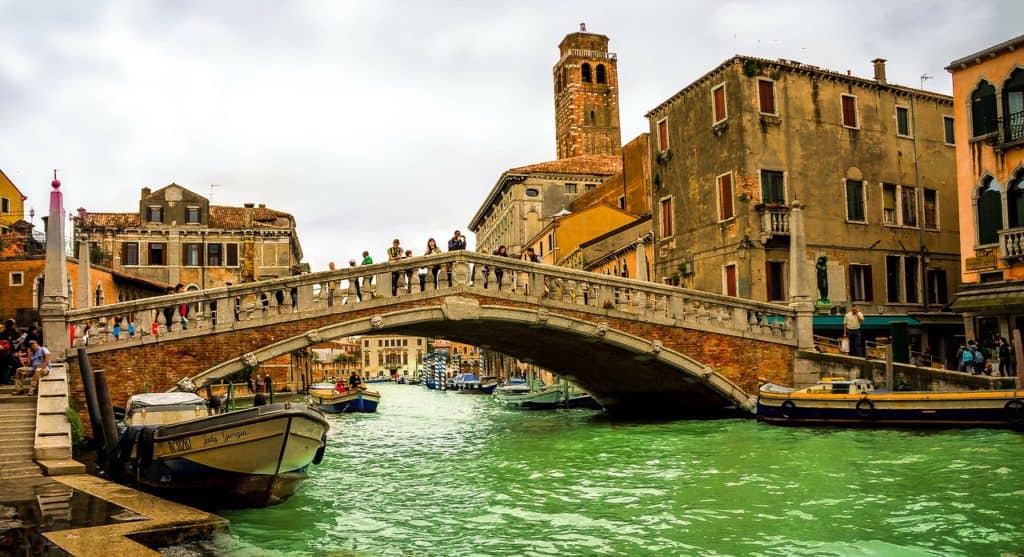 Some people visit Venice as a day trip from Florence and even Rome. This is madness.
It is far better to either leave it for your next trip or spare the time to visit Venice properly. 
If you are coming from Rome, you will be spending over 7 hours on a train or even longer on the road. This is not a great way to spend your holiday, so if you are considering this please just spend the extra day enjoying the capital. Rome is incredible too!
Even if you are staying closer to Venice we really feel that you need to spend a bit longer in the city to fully enjoy this unique place. Without an overnight stay, you miss out on the beauty of Venice at night.
---
Do you love Italy?
Check out one of our favourite regions; Sardinia
Find the best places to go in Sardinia, where the best Sardinian beaches are and read more about Alghero and Cala Gonone.
If you are travelling to Italy with young kids be sure to read our guide to Italy with a baby or toddler
---
Best Tours in Venice
Here are some of the top tours in Venice. We love the easy booking system and online support of Get Your Guide. Most tours offer free cancellation if you change your plans.
Make the most of your time with a skip the line expertly guided tour of Doge's Palace & St. Mark's Basilica (with Terrace Access)
Tour the beautiful islands of Murano and Burano. Famed for exquisite glasswork and colourful houses
The one you can't miss!!! –  A gondola ride through the fabled canals of Venice
Top 5 Venice Must-See Sights (that aren't the obvious ones)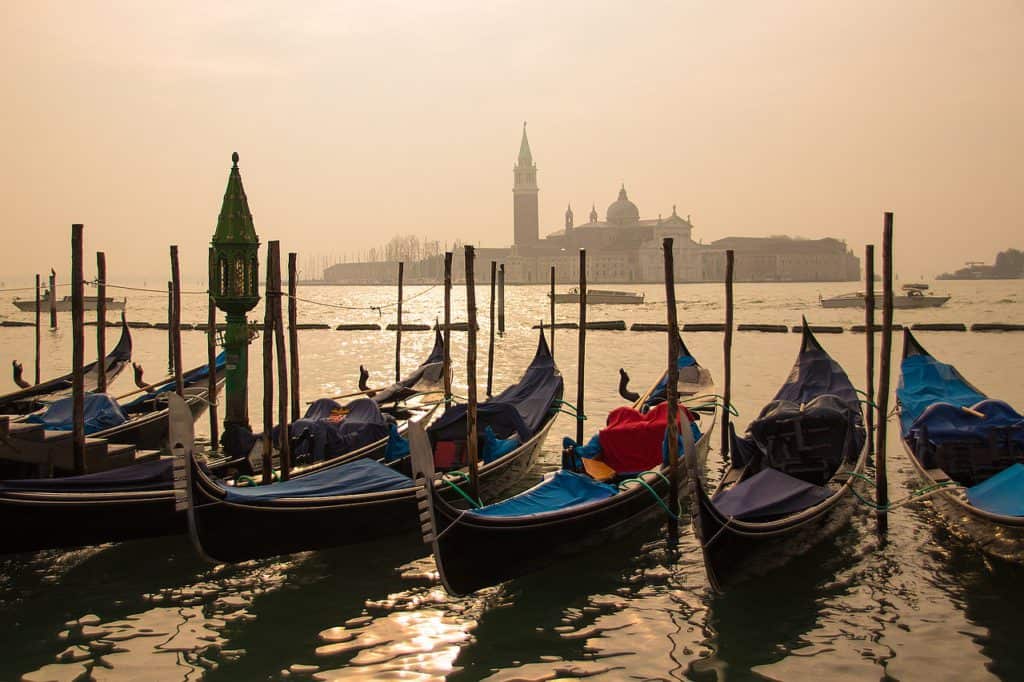 The most famous sights in Venice are the Rialto Bridge, Piazza San Marco, Doge's Palace and the Bridge of Sighs.
They are the most famous, but we aren't so sure that they are the best. I think that the people that leave Venice disappointed probably only saw these places having spent just 1 day in Venice. We don't think that 1 day in Venice is enough.
We went to all of these beautiful places, and recommend that you do too, but they aren't the places that we loved and remember.
The Rialto Bridge and Bridge of Sighs were super busy to the point that they weren't really that enjoyable, it is places like these where overtourism in Venice becomes obvious. 
But, there is so much to see in Venice that there is no need to linger in these places.
Everywhere in the city is stunning and there are new sights to be discovered around every corner.
So just keep walking and find somewhere that you do like. 
This is why we feel that the city is deserving of more than just a day or two. It simply gives you more time to discover more of the best places to visit in Venice.
Whilst the sights aren't exactly Venice off the beaten path they are places that you must be sure to check out no matter how many days in Venice you decide to book.
1. San Giorgio Maggiore One of our favourite spots in the city was San Giorgio Maggiore which offers great views back across the water towards Piazza San Marco and the Basilica di Santa Maria.
2. Campo Santi Giovanni e Paolo in the Castello area which has stunning buildings, an impressive horse statue and is a beautiful setting by one of the smaller canals
3. Dorsoduro is one of the 6 districts in central Venice and is possibly our favourite area to take a wander and get lost in the back streets and canals. See if you can find the v.egetable stall on a barge!
4. Cannaregio Canal is the second largest canal in Venice and flanked by plenty of colourful buildings. The area is one of Venice's largest residential areas and makes a good place to stay (we stayed here), and has some nice restaurants that aren't too busy and touristy.
5. Murano and Burano are islands in the Venice lagoon that make for one of the best day trips from Venice. This can be done as a tour or by using the vaporetti.
Closest to the city is the island of Murano which is famed for the quality of its glasswork and this is a good place to pick up some souvenirs.
Be sure to stop in at a workshop to watch molten blobs of glass being transformed into delicate vases and figures. Burano is famous for its brightly coloured fishermen's houses – a tradition that is said to have started as a way to help the fishermen find their way home in the fog.
Where to Stay in Venice
Accommodation in Venice fills up fast so be sure to book well in advance to get the best deals and the nicest rooms. We wanted to stay right in the historic centre of Venice to really soak up the ambience and chose the Cannaregio district.
If you are asking how many nights should I stay in Venice? Our answer would be at least 4 so that you can have 3 full days in the city.
Although hotels in Venice are a little more expensive than elsewhere in Italy we were still able to find some reasonably priced Venice hotels and you shouldn't be put off by talk of how expensive the city is.
This goes for eating out too which was not noticeably more expensive than elsewhere in Italy, assuming you stay away from the places that are obviously going to charge a premium (eg. St Mark Square).
Of course, if you want to splash out on some incredible accommodation then this is one of the best places to do it.  You can stay in some unbelievably majestic buildings with truly unique views over the canals.
Looking to book a room in Venice? Check out our favourite places on Booking.com
Hotel Palazzo Stern – Spectacular Location: For a truly memorable stay try this old palace right by the Grand Canal. The canal side terrace is an unbeatable place to have a meal or drink whilst the interior is opulent enough to make it feel like you are staying in a palace (which you are!).
Ca' Due Leoni – Where we stayed: This is a hidden gem located in a quiet residential area at the heart of the Cannaregio District. It is a small hotel that is great value with a pleasant courtyard for breakfast and antique furnishings for a touch of glamour.
B&B San Firmino – Top rated on Booking.com: Overlooking the Santa Maria Formosa church's baroque façade and the canal this B&B offers wonderful breakfasts and comfortable rooms.
For more ideas of where to stay in Venice, check out our guide to the best hotels with swimming pools
How Many Days in Venice is Enough?
3 days in Venice is enough for most people and the perfect amount of time to allow you to fully explore Venice and also visit Murano and Burano. It is enough time to see most of the main attractions and to get a feel for the city. It is a good amount of time for a first visit. There is plenty to see here though and there is no reason not to stay a day or two longer if your itinerary allows it.
Is 2 Days in Venice Enough?
2 days in Venice is just about enough but if you can manage it we recommend 3 days. With 2 days in the city, you should be able to explore most of Venice including the quieter neighbourhoods like Cannaregio and Castello.
How Many Days do You Need in Venice?
We hope that his post has helped you to decide how many days to spend in Venice and you now have a better idea of how many days are needed in Venice, Italy. Take your time, explore off the beaten path and give the city a chance. If you do that you are sure to fall in love with it!
Do you agree with our thoughts on how many days to spend in Venice? Please let us know what you think in the comments below. If you are planning a trip to Venice feel free to ask us any questions you may have and check out our guide to things to do in Venice and our guide to Venice with a baby or toddler.
If you have more time in Italy then why not include Venice in this fantastic itinerary around the north of Italy that takes in Lake Garda, Verona and Bergamo.