Bangkok, the noisy, vibrant, and busy capital of Thailand is an assault on the senses and a truly remarkable city to visit.
We have to be honest and admit that despite being the most visited city in the world, Bangkok is not an instantly lovable city. It lacks the obvious charms of cities like Paris, Venice, or even Chiang Mai.  
Bangkok is huge and very much an Asian city complete with the craziness, traffic, and architectural ugliness that goes with it.
In this Bangkok 4 day itinerary, we will help you to get under the skin of this city and discover some of the most interesting sights that the city and surrounding area have to offer.
From the Grand Palace and Buddhist temples to street markets serving up unusual delicacies, the city is everything that you expect from an Eastern metropolis.
Some people love it here, some people hate it. But, if you give it a chance and look beyond the traffic and pollution you will find a city that is home to some truly memorable and unique travel experiences.
We hope that our Bangkok guide will help you to enjoy your 4 days in Bangkok and point you in the direction of some of the best things to do in Bangkok.
1 Day Bangkok itinerary
For your first day in Bangkok (or your only one if you are after a 1 day Bangkok itinerary), we suggest getting your first taste of temples in Thailand by visiting the top sights in Bangkok – The Grand Palace, Wat Pho and Wat Arun.
These three sights are situated conveniently close to each other right by the Chao Phraya River. The Grand Palace and Wat Pho are a short walk from each other whilst Wat Arun is just across the water. 
Beware of a common scam as you approach the Grand Palace or Wat Pho. You may be approached by someone telling you that it is closed but that he can offer you a bargain tuk-tuk tour as an alternative.
You will end up being carted around to shops and other attractions that you are not interested in and may feel pressured into buying something. The palace doesn't close that often, but if it is closed it will be shown on this website.
The Grand Palace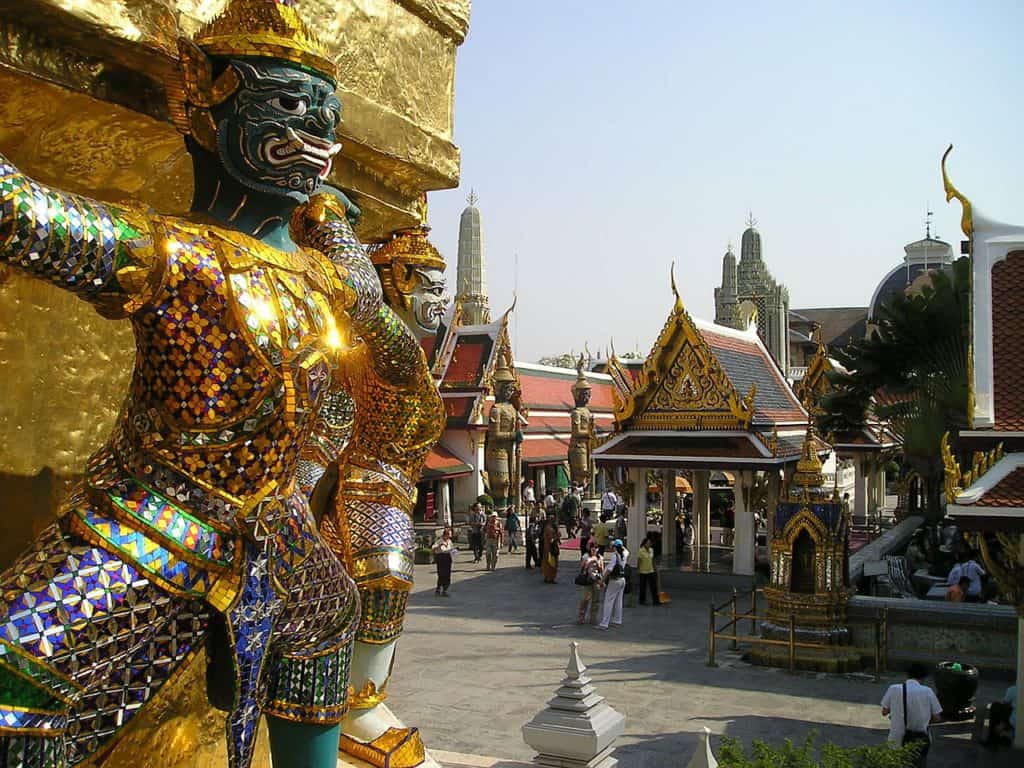 The former home of the king is an impressive example of eastern architecture and a great introduction to Thailand. The Grand Palace is rightfully Bangkok's biggest attraction, there are more than 100 buildings on the site each gloriously decorated examples of the old-Bangkok style.
The highlight of the palace is the Temple of the Emerald Buddha (Wat Phra Kaew) which is considered to be the most important Buddhist temple in the country.  
Inside the impressive ordination hall, you will find the Emerald Buddha itself. It is quite a small Buddha statue at only 66cm tall, but it has been beautifully carved out of jade and wrapped in gold fabric.
Wat Pho
Just south of the Grand Palace is Wat Pho where you will find the famous giant reclining Buddha statue which measures an impressive 46 metres! The temple has a huge collection of Buddha images and you will find them all around the temple which, like the Grand Palace, dates from the time of King Rama I.
An extra reason to visit the temple is to experience a Thai massage at the oldest massage school in the country. It is said to be one of the best places to try a Thai massage in a pleasant safe environment with experienced masseurs.
It is the only place I have had Thai massage, you've got to give it a go I guess but it is certainly not a relaxing experience if, like me, you don't bend very easily.
There is no need to book, just put your name down and explore the temple while you wait for your turn.
Wat Arun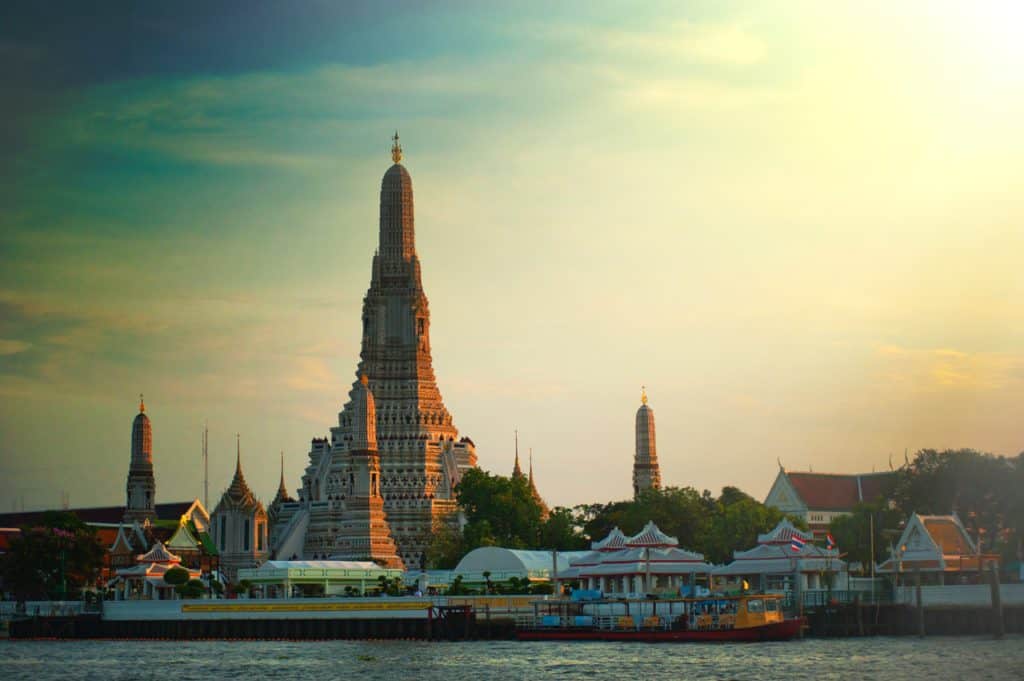 The last of the big 3 temples is Wat Arun, probably the most photogenic of them all as it sits proudly beside the river.
The temple has an iconic, ornately tiled central prang that is pretty spectacular and has seen the temple become a firm favourite on postcards and guidebook covers.
Although it is known as the Temple of Dawn, we love it here at sunset when the Wat catches the last of the sun's rays. After dark, it is lit up, which also looks lovely, and there will be hardly any tourists.
If you are coming after the other two temples then you just need to leave Wat Pho in the north-eastern corner and turn left down Thai Wang Alley until you reach the pier (it is not far). From here you can catch a ferry across the river for only 9 Bhat and you will be across the water in no time.
You are allowed to climb up to the first floor of the structure, the stairs are a bit steep, but there aren't that many.
When you are visiting the temples please respect the local culture and ensure that you are modestly dressed. Shoulders and knees should be covered for both men and women. It is likely to be hot so factor that in when planning what to wear. If you are wearing sandals of flip-flops you will need to also wear socks.
If you turn up to any of the temples improperly dressed then you can borrow some garments to cover yourself up, but it is easier just to plan ahead. You may be asked to leave a credit card or passport as security whilst you are borrowing the clothes.
Book a walking tour of Grand Palace/ Wat Pho/ Wat Arun
Chinatown
Once you have had your fill with the temples, why not head to nearby Chinatown (centred on the main Th Yaowarat Road), and fill up on some delicious street food.
The streets here are pretty chaotic and lined with vendors selling all kinds of foods that you won't find elsewhere in the city.  It is not only Chinese-inspired dishes that you will find in this area; Chinatown is one of the best places in the country to find authentic Thai cuisine.
Chinatown is one of the oldest areas of Bangkok and is a maze of alleyways and small streets with old buildings and temples at every turn. It is one of our favourite areas of the city and a great place to see a more authentic side of Bangkok. It is around sunset that the area really kicks into gear and it makes for a great location to watch the world go by.
There are also plenty of options to buy yourself some souvenirs or cheap sunglasses or T-shirts.
If you are wanting to stay out and experience some Bangkok nightlife then the Soi Nana area in Chinatown is the place to head to.
You will find a street full of all your hipster favourites like tiny gin bars, cocktail lounges, and art exhibits, all housed in old-style Chinese homes. This is one of the trendiest areas in Bangkok and is really popular with young Thais. 
---
Plan your Thailand trip with these related posts

Our awesome 10 day Thailand Itinerary 

Amazing things to do in Chiang Mai with Kids

Complete guide to Bangkok with Kids
---
Bangkok Itinerary Day 2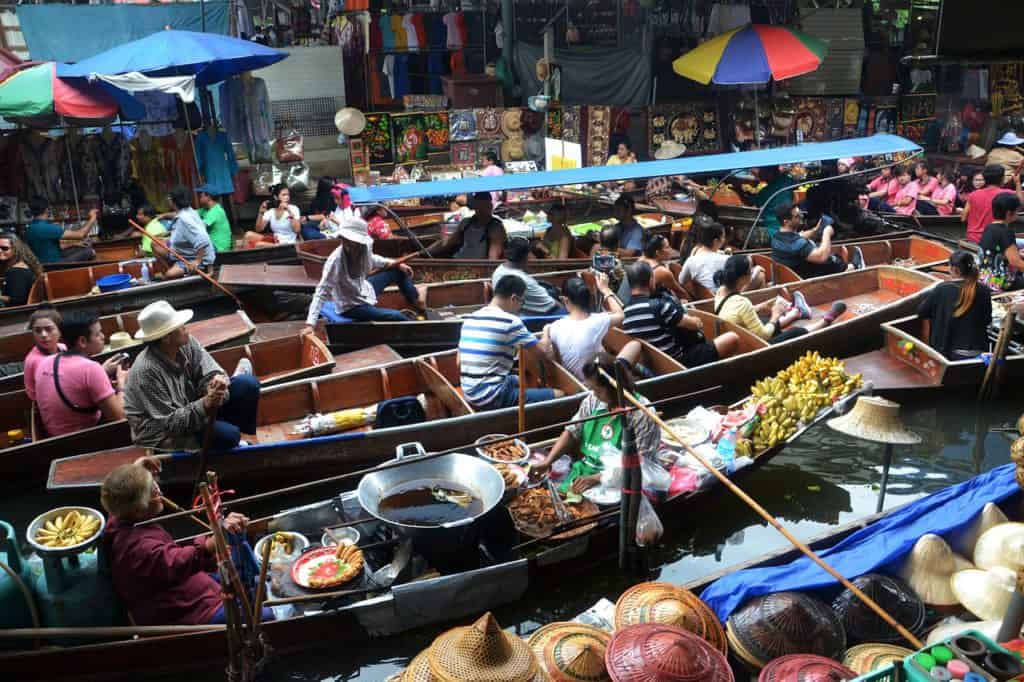 Floating Markets
For the second day of your Bangkok trip, we recommend getting up early and heading to one of the iconic floating markets.
They are a wonderfully exotic place to explore and make an incredible photo opportunity. You are sure to love in the sights and sounds as you float down the river in scenes that seem to be from a by-gone age and are a pretty unusual way to buy a few groceries (or souvenirs).
All of the markets are touristy to some extent so it is worth choosing the one that suits you best and getting there early to avoid the worst of the crowds.
Most of them are pretty far from the centre so be sure to factor in travel time. It is one of those times when taking a tour can pay off as it is way more efficient than trying to get there by yourself and you will have time to include other stops along the way.
A popular option is to combine the floating markets with the Maeklong Railway Market. Here you find a market that has grown up right along the train tracks. When the train comes through, the crowds part and the train passes inches from the market stalls selling their goods.
Book a floating market and train market tour here
There are more than ten floating markets in the Bangkok area, these are some of the best ones:
Damnoen Saduak
The most famous market in Bangkok city is Damnoen Saduak floating market. It is really big, full of life and hustle and bustle It's is about 80 kilometres outside the capital. It has become a bit of a victim of its own success and Damnoen Saduak Floating Market near Bangkok can get very crowded and is always very touristy.
Amphawa
Another large and well-known market, Amphawa floating market draws in crows of Thais as well as foreign tourists and is famous for its seafood. It is 50 kilometres away from the city.
Khlong Lat Mayom
A smaller and more authentic option that is only 20 kilometres from the city. The waterways are less busy here which makes for a more relaxing boat where you can have a nose at the homes that overlook the river. 
Bangkok Sky Bars
This evening we suggest that you check out the Bangkok skyline from one of the cities many rooftop bars. The most famous is the Labua Skybar at the top of the Labua State Tower (which was featured in the film "The Hangover").
It has some of the best views in the whole city. The view is particularly good at sunset so why not grab an (overpriced) drink and watch the sun go down.
A great new alternative is to visit the King Power Mahanakhon where you will find Bangkok's highest observation deck and rooftop bar. If you are brave enough you can step out onto the glass floor of the Skywalk and look down on the city below your feet. 
Another great option is the Moon Bar on the 61st floor at Banyantree Hotel
Bangkok Itinerary Day 3
Chatuchak Market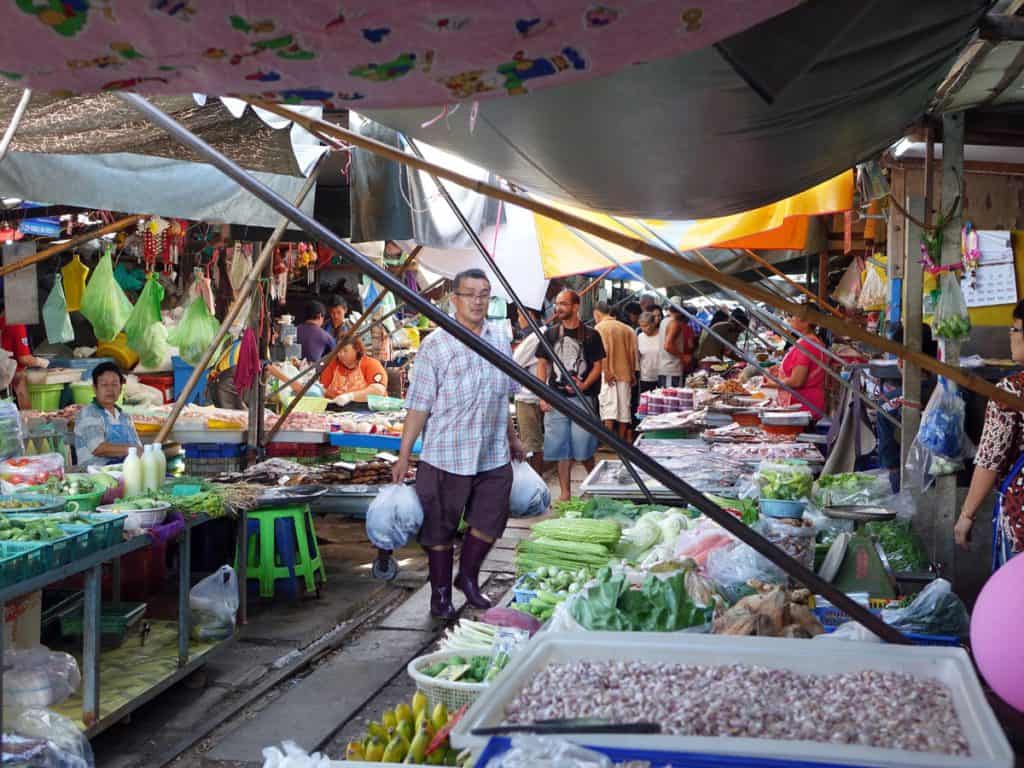 If you are here on a weekend we suggest heading over to Chatuchak weekend market. It is the biggest open-air market in the world so it is safe to say you can find more or less anything here from the exotic to the mundane to the really really smelly.
It is an interesting place just to wander around and you will find plenty of great photo opportunities and have a chance to pick up some great souvenirs, trinkets and just useful items at great prices.
There is a method in the madness here and if there are any specific items or types of stall that you are interested in, it is worth getting hold of a map, reading this Chatuchak market guide, and using the app to find your way around – yes, there is an app with a map of the market – that's how big it is!
There is a big food area here which is a great place to try out a few new Thai dishes alongside the locals.  
Lumphini Park and Wat Saket
Bangkok is not blessed with very many large open spaces, but one nice green area is Lumphini Park. This well-maintained park makes for a nice place to have a casual stroll away from the hustle and bustle of the city and we think it is one of the top places to visit in Bangkok.  
Or if you fancy a bit more activity, you could always join in with one of the aerobics sessions that go on in the park. It is all a bit too energetic and hot for me but it makes for an interesting watch.
To finish off your sightseeing for the day why not head up to Wat Saket (about 10 minutes away in a Grab). This pretty temple, known as the Temple of the Golden Mount, is set on a small hill so it provides a fantastic opportunity to look out over the Bangkok skyline.
The climb up is enough to get your blood pumping and sweat flowing as you climb 344 steps up to the top. It should take about half an hour but it is well worth it for the amazing view of Bangkok. There are a few benches at the top for a well-deserved rest and to soak in the view!
Khao San Road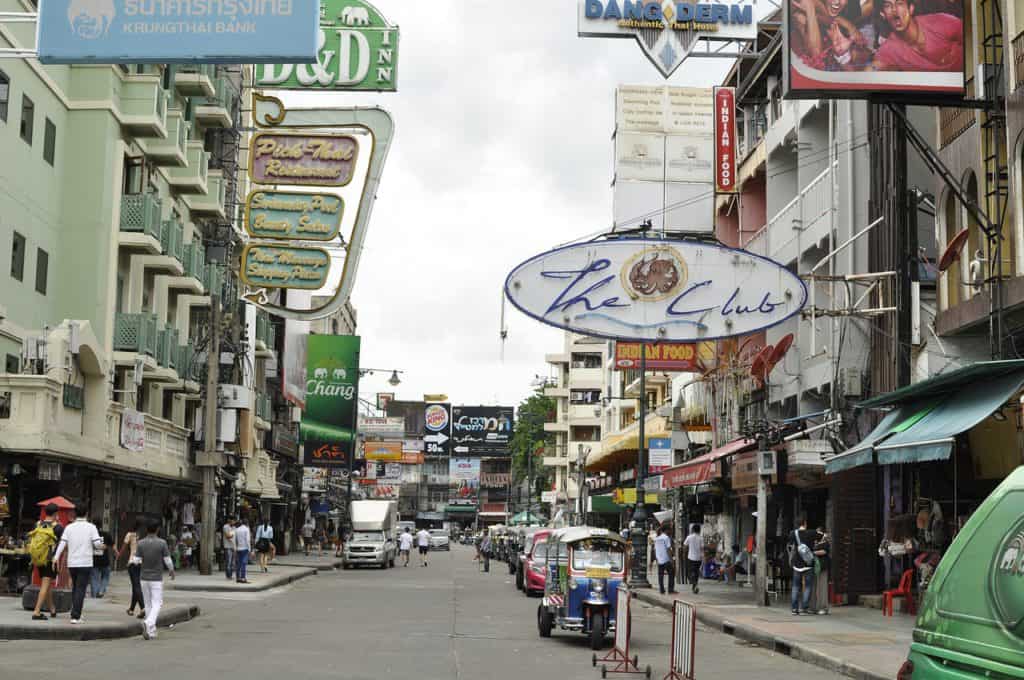 The legendary Khao San Road is the backpacker and traveller centre of Bangkok (you could probably argue the whole world). It is the place to go if you want to meet other travellers and enjoy a lively bar and club scene.
During the daytime, it is more family-friendly and an interesting place to visit. Where else do you see elephants walking the streets in the middle of a metropolis?
Bangkok Itinerary Day 4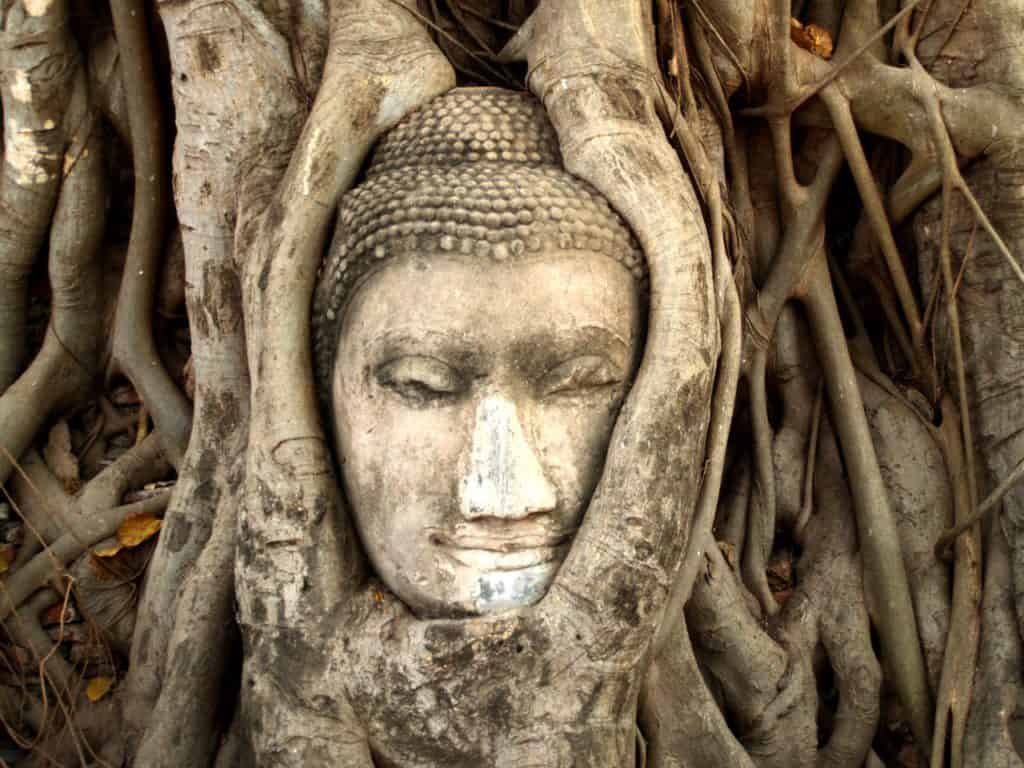 Ayutthaya
For your final day of your 4 days in Bangkok itinerary we suggest…..getting out of Bangkok!! One of our favourite things to do in Bangkok is to visit the ancient temples at Ayutthaya which can easily be done as a day trip from the capital.
Around 80km north of Bangkok lies the abandoned former capital at Ayutthaya. The site is now UNESCO world heritage site comprising the ruins of several temple sites.
It is easy to arrange a day trip to Ayutthaya as a tour from Bangkok. This gives you the opportunity to combine your visit to the ancient temples with stops at a floating market, or a sunset cruise past the temples.
Alternatively, you could do it independently by taking the train which is easy enough to do. If you go it alone we suggest hiring bikes when you get to Ayutthaya as this is one of the nicest ways to explore these atmospheric places.
The ruins are quite spread out so if you don't fancy a bike ride it would be best to find a tuk-tuk or some other form of transport to take you between the main sites.
This evening you could stay in Ayutthaya for a sunset cruise, or head back to the capital and check out the Asiatique Night Market which is one of the best known night markets in Bangkok. It is set right by the river in some converted warehouses.
There is lots to keep you busy here like shopping, or dining in a famous restaurant like Mango Tango. There is even an amusement park here so it is great for anyone that is travelling with kids.
Sleeping in Bangkok
Bangkok is so big and has so many places to stay that it can be a bit overwhelming trying to choose a hotel. To help narrow down your options we have linked to a couple of good hotels below. We have also written an in-depth guide to where to stay in Bangkok, read it HERE
U Sukhumvit Hotel
U Sukhumvit Hotel: This is a nice hotel with a central location and lovely pool on the roof terrace. They offer a free tuk-tuk service to the main shopping area and it is also near to a sky train and subway station.
Avani+ Riverside Bangkok
Avani+ Riverside Bangkok: Enjoy a spectacular riverside setting and elegant rooms at this sumptuous hotel. They offer a shuttle boat service to get you into town, the perfect way to travel!
Getting to Bangkok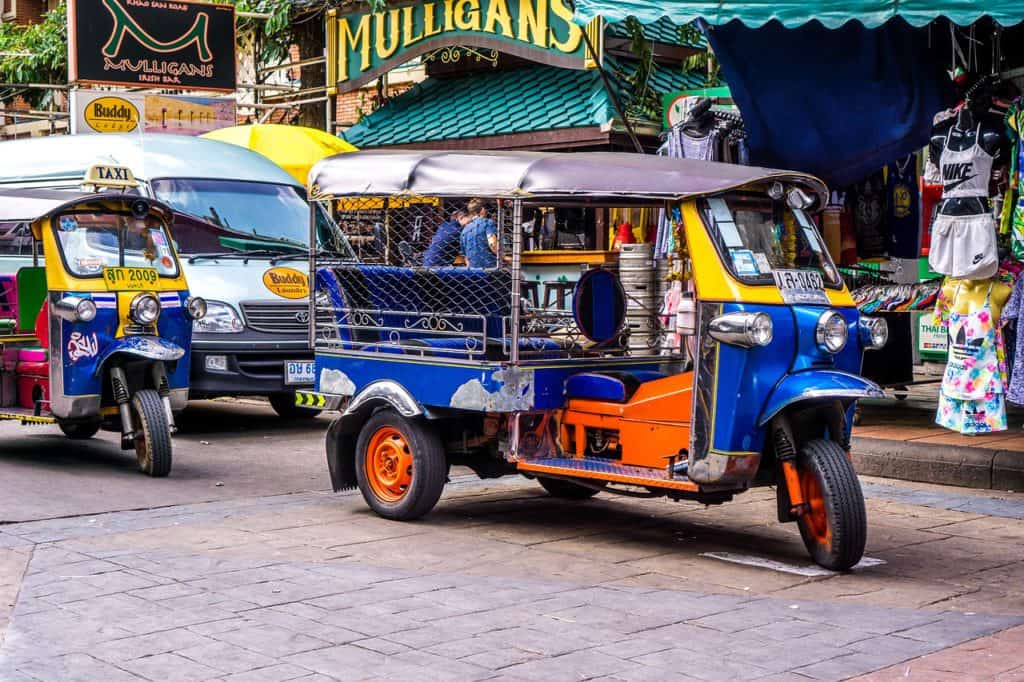 Bangkok is one of the major gateways for flights to South East Asia and you are usually able to get some pretty awesome prices on flights to Bangkok.
If you are exploring beyond Bangkok (and you should!), it is worth considering flying in and out of different places to make the most of your time in Thailand. 
The best way to find a flight to Thailand from your location is to use the Skyscanner website. This will check the available price with all airlines and allows you to filter by various options like flight time, duration, preferred airline etc.
It is a great time and money saver and is always our go-to method for booking flights.
Find the best prices and book flights with Skyscanner
If you are heading to Thailand with a baby or toddler, check out our tips for flying with a baby or flying with a toddler.
Getting into Bangkok from the Airport
Suvarnabhumi International Airport is 25km east of the capital and there are some pretty good transport links to get you into town. 
Airport Rail Link – The Airport Rail Link is the cheapest way to get into town and can even be the quickest if traffic is bad.  
Taxi – Metered taxis are a nice easy way to get into Bangkok, especially if you have luggage. There is a desk on the lower level of the airport where you can arrange your transport. Alternatively, we are big fans of the Grab app which will find you a car on your phone and give you a set price to your destination.
Bus – There is no direct bus into Bangkok. You can catch a shuttle to a bus station 3km's from the airport and change to a bus into the city from there. But there is no point in doing this, to be honest, it is no cheaper than the train. 
Bangkok 4 day Itinerary – Are you ready?
We hope that you have enjoyed reading our guide to spending 4 days in Bangkok. Hopefully, our Bangkok 4 day itinerary has given you some inspiration for your own trip and we have helped you to find some great things to do in Bangkok and some great places to stay.
4 days in Bangkok is a good amount of time to get a feel for the place and do some interesting side trips and we hope that you have an awesome time in this beguiling city. It is the starting point for many amazing Thailand itineraries, and a great place to explore before you head to places like, Chiang Mai, Krabi, or Phuket.
If you have any questions or would like to tell us about your own trip to Bangkok and any great places that we have missed, please let us know in the comments below.  
If you haven't yet been, strike while the iron is hot and book that trip!!!