*This post may include affiliate links, this means that we may receive commissions if you choose to purchase through the links provided (at no extra cost to you).


Thailand has to be one of the world's greatest tourist destinations. Blessed with wonderful beaches, beautiful temples and wonderful food, Thailand should be on everyone's travel bucket list.
In this post, we share our favourite spots in Thailand and outline our ideal Thailand 10 day itinerary.
10 days in Thailand is just enough to start to get to grips with the country and it is sure to be an amazing experience with memories to last a lifetime and enough scenic spots to fill your memory card with postcard-perfect views.
Having said that, 10 days is only enough time to scratch the surface of this wonderful country and we are all different and travel for different reasons so we have put together a couple of different options in our best of Thailand in 10 days planner.
There are thousands of great ways to spend 10 days in Thailand, (we have happily spent 10 days on Koh Ngai on 3 separate occasions!),  but we hope that our ideas will help you to plan your own dream trip to Thailand.
Best of Thailand in 10 Days Planner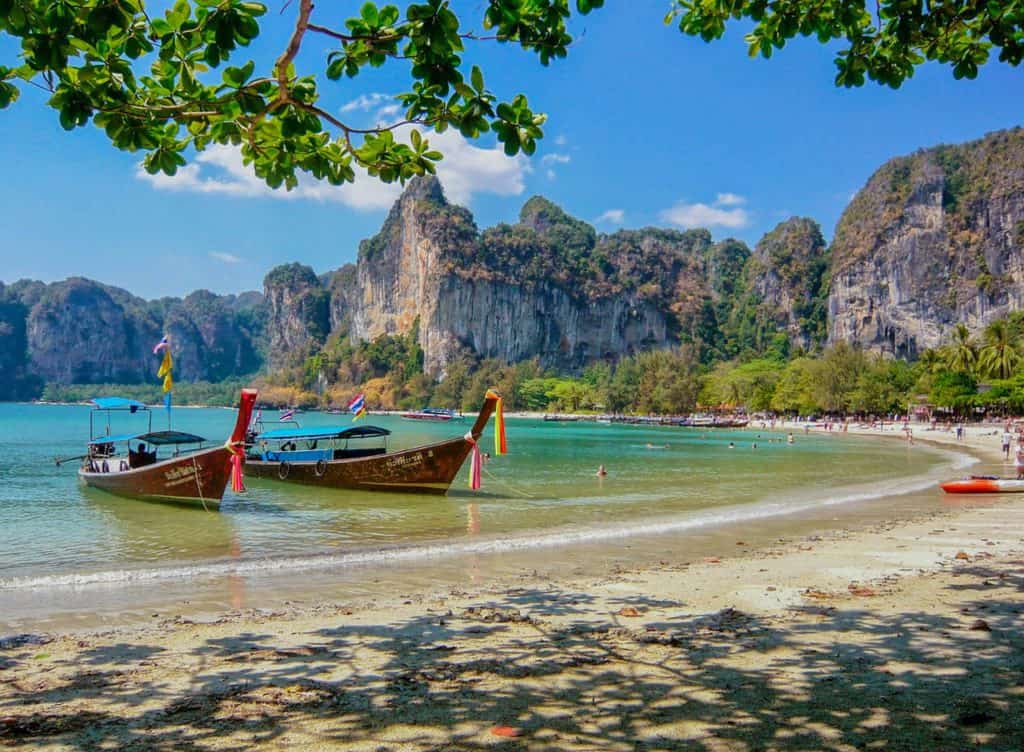 The natural and cultural delights of Thailand are no secret and the country welcomes millions of tourists every year, from budget backpackers to family travellers and retirees, Thailand has something for everyone.
We have visited Thailand on several occasions, both with children and in our backpacker days, and have now spent many months in the country. We will surely return when we get the chance. It is a country that has so much to offer and tends to draw people back again and again once they have discovered its charms.
If you are travelling with young children, be sure to check out our tips for travelling with a baby or toddler in Thailand
When to Go to Thailand
Thailand has a tropical climate with distinct dry and rainy seasons.
The effects of these seasons vary around the country but generally, the 'cool' and dry season between November and April is considered the best time to visit.
Do not be put off if you can only travel in the rainy season. Generally, it will just be a couple of hours of rain per day so you should still be able to enjoy your trip.
You can find more detail on the climate in Thailand by clicking here.
Getting around Thailand
On a ten-day itinerary, you will need to travel as quickly as possible so you will most likely want to take advantage of the many low-cost flights that are available between all the major tourist spots.
When on the ground we are big fans of the Grab app which works like Uber to find you a private car for transport. It is much cheaper and safer than a tuk-tuk and you don't have to argue with the driver about using the meter as you usually do in a normal taxi.
Thailand is really well geared up for tourists and you will find that tours and transport services are well organised and will often pick you up from your hotel and whisk you off to your destination.
Flying to Thailand
Thailand is one of the major gateways for flights to South East Asia. This means that you should be able to find a flight to suit your needs and at an affordable price.
Bangkok is the major hub, but there are 11 international airports and you may be able to find one that suits your plans better. If you plan a Thailand island hopping itinerary then it is worth considering flying into Phuket which also has a good range of flight options at good prices. Equally, if you intend to see the north be sure to look for options flying from Chiang Mai.
It is worth considering flying in and out of different places to make the most of your time in Thailand. We have found good flights from the UK with Qatar Airways that flew into Phuket and out of Chiang Mai. Doing this on a short trip can really make a difference in how much you can see and do in 10 days.
The best way to investigate your options and find a flight to Thailand from your location is to use the Skyscanner website. This will check the available price with all airlines and allows you to filter by various options like flight time, duration, preferred airline etc.
It is a great time and money saver and is always our go-to method for booking flights.
Find the best prices and book flights with Skyscanner
If your Thailand itinerary is going to be with young children, have a look at our tips for flying with a baby or flying with a toddler.
Visa Requirements
Travellers from most European countries and all the major English speaking countries can visit Thailand using the Tourist Visa Exemption Scheme for a maximum of 30 days.
So if you are on a 10 day Thailand itinerary you do not need to do anything in advance and will simply have your passport stamped on arrival (please note that the rules could change anytime so please check with the Thai embassy for the latest situation).
Travel Insurance for Thailand
Travel insurance really is an essential purchase before travelling to Thailand (and might be made compulsory soon). I am a member of several Facebook groups for Thailand and hardly a month goes by without someone posting a link to a Go Fund Me relying on the kindness of strangers to cover their medical bills.
We all hope for the best, and problems are rare given the vast number of tourists that have trouble-free visits to Thailand, but sometimes things don't go to plan and it is really worth having the reassurance that a decent travel insurance policy offers.
A good travel insurance policy will cover you for things like lost or stolen baggage and travel delays. But by far the most important thing and the main reason we take out insurance is to cover any unforeseen medical expenses or emergency evacuation. Hopefully, you won't ever need to make a claim and if that is the case you should be grateful.
We have needed to use our insurance for medical treatment and mountain rescue on a snowboarding trip and also when we were unable to fly when our eldest came down with chicken pox. You never know what might happen so it is best to be prepared.
If you need travel insurance, check out World Nomads which offer great cover for low prices. We like them for a few reasons:
They are backed by specialist insurers and global assistance partners
You can Buy Online, even if you've already left home
You can buy more cover and claim online while travelling
The cover includes a range of adventure sports and activities
They give a little back and support a community development project