Going to Krabi with kids is a great choice for a fabulous family holiday. It is a location that can be both adventurous and relaxing so offers the perfect mix for families.
Krabi must be one of the best places in the world for an active outdoor holiday with children. The scenery here is just spectacular with majestic jungle-clad limestone cliffs rising from the beaches and out of the sea.
There are over 100 islands that dot the Andaman Sea and each offers its own unique adventure that kids are sure to love.
In this blog, we hope to help you plan your family trip to Krabi and help you decide what to do in Krabi with kids.
Best Hotels in Krabi for Kids
Krabi is a large province with lots of amazing places that you can stay. It lends itself perfectly to a multi-destination holiday with a bit of island hopping thrown in.
We have written a whole post about where to stay in Krabi that describes the different areas, and why you might choose to stay there. We have also written a Krabi itinerary based on spending your time on the mainland and taking day trips.
Some of the best places to stay with kids are:
Railay Beach – For something a little bit special, stay at Rayavadee Hotel, it is incredible. Or enjoy a great stay at the budget-friendly Railay Princess Resort and Spa
Koh Lanta – We loved our stay at Lanta Resort, the three pool here are sure to be a hit with your kids and they also have a playground and kids club.  If you are looking for a luxury faily hotel, they dont come much better than Pimalai Resort and Spa, one of the best hotels in Thailand.
Koh Ngai – Our favourite island and favourite hotel. Koh Hai Fantasy Resort and Spa has the perfect beach location with the perfect view.
Things to do in Krabi with Kids
Visit Railay Beach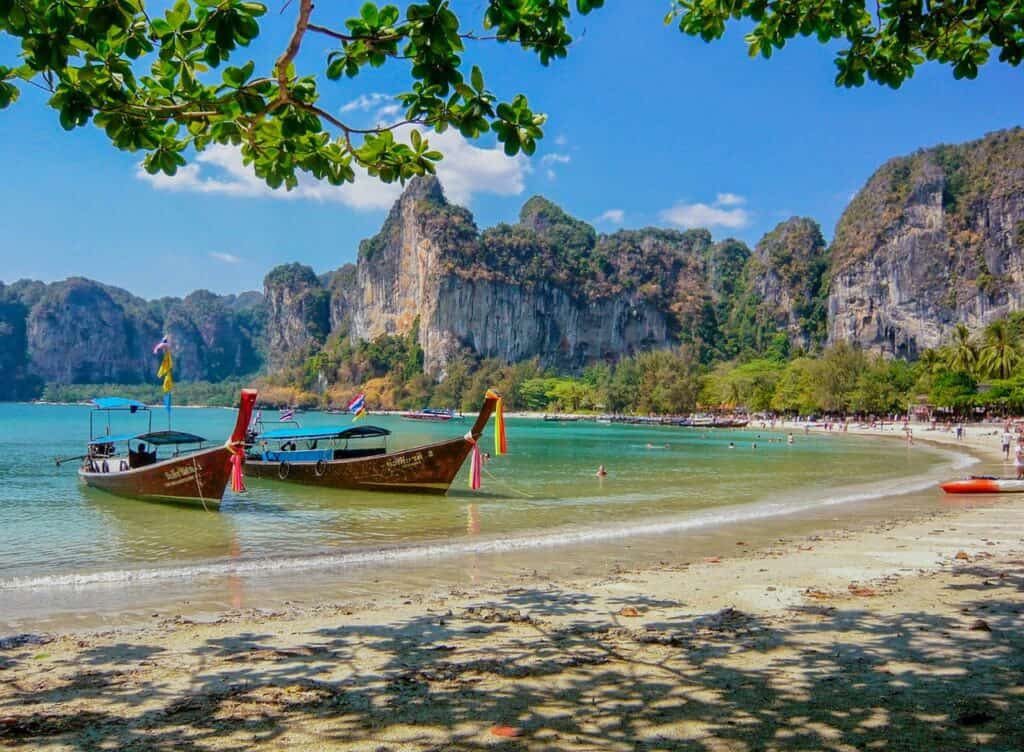 Railay Beach is stunning, with limestone cliffs rising all around and lovely white sand underfoot. You and your kids could easily spend the day relaxing on the beach, playing in the sand and swimming in the calm seas.
If anyone is looking for a bit more action they could have a rock climbing lesson. There can be few more impressive places to try this sport than on the spectacular cliffs behind the beach. Several companies in Railay can provide rock climbing tuition with a fully qualified instructor, and provide all the necessary equipment.
>>> Book your rock climbing adventure up those amazing cliffs
This is one of the best places in Thailand to go climbing so even if you don't fancy having a go yourself, it is entertaining to watch the experts climb these enormous cliffs.
If you prefer water-based activities, you are well catered for with kayaks, paddleboards and snorkels available for rent.
Whilst you are on the peninsula, don't miss the chance to head over to the quieter but equally beautiful Tonsai beach, which is about a 45 minute walk away.
There are actually 4 beaches in Railay all of them are well worth a visit, read all about them in our
guide to the Beaches in Railay
Climb to the Tiger Cave Temple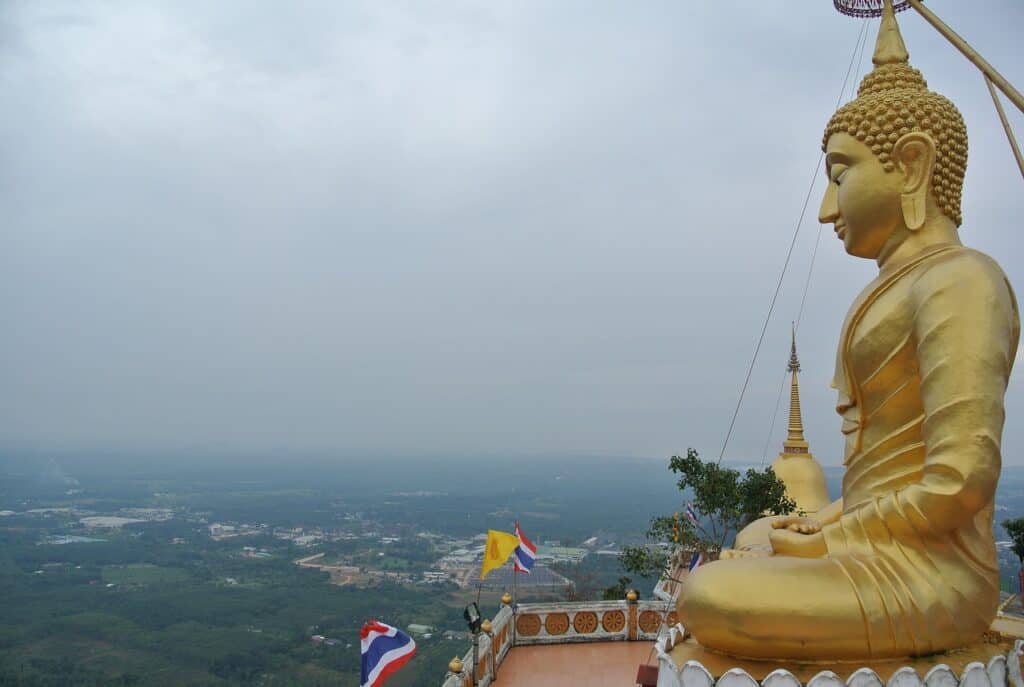 If you are up for a physical challenge with your family we recommend heading up to the Tiger Cave Temple for a chance to soak up some incredible views and a bit of Thai culture all in one go.
Depending on the age of your children it could be a bit of a challenge to get up the 1237 steps that lead you to the temple at the top of the mountain (if they are young you will need a baby carrier for sure).
The view from the top is well worth the effort and you can see why this spot in amongst fabulous karst scenery was chosen for a temple site. Along with the views, you can gaze at the huge golden Buddha that is housed in the temple.
Emerald Pool and the Hot Water Spring
One of the most popular family activities in Krabi is to head to the famous Emerald Pool where the colour of the water changes throughout the day, depending on the angle of the sunlight.
It is a pretty place but maybe a bit too popular so try and come here early or late in the day to avoid the worst of the crowds. You can't swim in the Emerald Pool but there is a natural hot water spring a short walk away so bring your costumes and take a dip.
The Emerald Pool is part of the Thung Teao Forest Park about 50 km south of Krabi Town. There is a great nature trail through the rainforest which is perfect for families as it gives everyone the chance to explore a bit of jungle in a safe environment. The trail is just under 3km.
>>> Book a tour to the Emerald Pool and Tiger Cave Temple
Go on the 4 island tour – Both of them!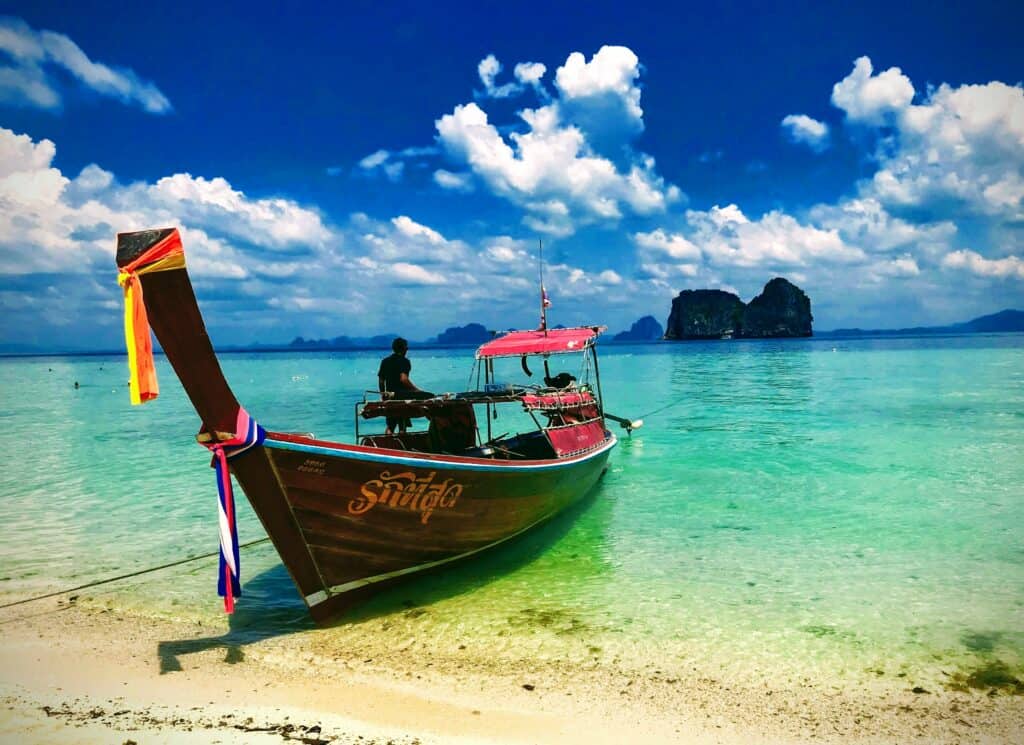 One of the best boat trips that you can take from the Krabi mainland is known as the 4 island tour. This day trip will take you to some spectacular islands where you will get the chance to spend some time on the beach, snorkel, have lunch and generally take in the views of the four islands at Phra Nang Cave, Tup Island, Chicken Island and Poda Island
>>>Book your 4 islands from Ao Nang tour here
Confusingly, there is another 4 island tour that goes from Koh Lanta and visits 4 completely different islands.
If anything, this tour is even better! It will take you to our favourite island – Koh Ngai, and then you will venture just outside of Krabi province as you visit Koh Kradan and Koh Mook in Trang province.
Koh Kradan has some of the best snorkelling around, whilst Koh Mook is home to the spectacular Emerald Cave. That's only 3 islands! I hear you say, well the 4th one varies slightly but is generally Koh Cheuk a small islet between Ngai and Mook where there is some fabulous snorkelling.
>>> Click here to find out more about the 4 island tour from Koh Lanta
Explore Krabi Town
Krabi town may not be the most beautiful city in the world but it is well worth exploring for a few hours. It is full of quaint cafes, charming bars and beautiful parks. In the evening, Krabi night market is one of the best places to do some street shopping.
You can find pretty much everything, from shoes and second-hand t-shirts to electronics, toys and souvenirs. It is a good place to try a variety of tasty street food snacks and meals.
If possible, you should try and explore Krabi on a weekend so that you can visit the Krabi Weekend Walking Street market.
The main focus here is on street food and there is a huge range of stalls selling fabulously tasty dishes from barbequed meat to sweet deserts, alongside fresh fruit stalls and juices.
If you are feeling adventurous there are also all sorts of weird and wonderful insects and bugs that you can eat!
>>> Book discounted tickets for your treetop adventure here