A good baby carrier makes life with a baby so much easier. Whether you are travelling, shopping or just trying to do jobs around the house they give you the chance to keep your little one close whilst you have your hands free to get on with what you need to.
If you have already seen our review of the original Ergobaby Carrier, you will know that we used that to take our daughter to exotic places around the world as well as plenty of walks and shopping trips to places close to home.
In this Ergobaby 360 review post, we will give you all the low down on this great baby carrier, letting you know why we chose it for our second child, how comfortable it is, and which version to go for. By sharing our experiences of the Ergobaby 360 baby carrier we hope to help you decide if it is the right carrier for you.
Ergobaby 360 Baby Carrier Review
Pros
4 ergonomic wearing positions: parent facing, on the back, on the hip and on the front facing outwards

Wide waistband gives good back support

(helps with carrying

heavier children)

The cool mesh version is ideal for warmer climates and active parents
Cons
No pocket

Less comfy for shorter people
Should I get a Baby Carrier?
We are big fans of baby and toddler carriers as they can really give you a greater amount of freedom to get out and about than you can manage with a stroller.
I also feel much more togetherness using a carrier than a stroller and can more easily interact with my daughter in a harness than pushing her around in a baby buggy.
Baby carriers are great to have if you plan to fly with a baby and we find them pretty much essential even for day to day wear. So it is worth getting one that is comfortable for both you and your baby.
When our second daughter came along we initially got by with just the one Ergobaby original carrier and let our 2-year-old do some walking.
But when it came to our long trip to South East Asia we made the last minute decision to take a carrier for both of them (looking back I can't believe that we ever thought we could have coped with just one).
Although we loved our original carrier we decided to go for the Ergobaby 360 cool mesh the second time around. Largely because it seemed ideal for hot climates and also because our second daughter seemed to want to face forwards (the biggest downside to the original carrier).
How many positions does the Ergobaby 360 baby carrier have?
The Ergo 360 baby carrier allows you to carry the baby in four different positions: on the front facing you, on the front facing forwards, on the back and on the hip.
This addresses the main issue with their original carrier giving your child the option to face forwards. It retains the great ergonomic features of the original carrier, so your baby will sit in the ergonomic frog-leg position in all set-ups so being in the harness will not damage their hips or spine.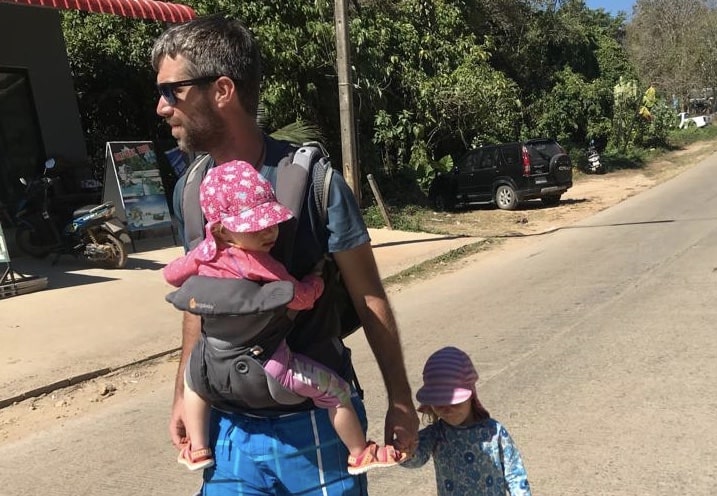 Is the
Ergobaby 360 Baby Carrier comfortable?
The carrier is very comfortable to wear thanks to the extra-wide waistband that gives great support to the lower back.
For this reason, this is a great carrier for older babies and toddlers, it gives great support and makes carrying your child a breeze (ok, so it is a breeze when they are tiny and as easy as it can be when hauling a toddler around).
We have used it on some pretty long hikes and it has done the job well with our babies staying comfortable and it takes the strain off our own shoulders well.
I suffer from a bad back and this waist strap really does give good support. I like to have it a tight as it will go!
Although the Ergobaby 360 baby carrier is adjustable in many ways, we did notice that this carrier seems to fit taller people better than shorter ones so I generally wear this one whilst Linz uses the original.
If you have a shorter body you may be more comfortable with the ErgoBaby original carrier which also has a great pocket for keeping your bits and bobs in.
Which version of the Ergobaby 360 should I get?
We think that the Ergo Baby 360 cool air mesh is one of the best baby carriers for hot countries and travelling due to having a breathable 3D mesh that will help keep your baby keep cool in hot climates and when being active.
We would probably go for this one even if we weren't planning any trips to warm countries as even in the UK it can be hot for a baby in a sling if you are doing anything a bit active. If it is cold your child will be wrapped up warm anyway so we think this carrier is still great for temperate climates.
The Ergobaby 360 is nice and light and folds up pretty small so you can fit it in a decent sized day rucksack (we use this one and this one).
We take ours with us pretty much everywhere as even with walking toddlers there are times when you need to get places quickly or when they get tired and need a bit of a helping hand and carrying them without the harness gets tiring very quickly.
---
Love Ergobaby?
Check out our review of the amazing Ergobaby Metro Compact Stroller
We think that it is one of the best strollers for travelling
---
What else do I need to know?
There is a hood that clips onto the shoulder straps and supports your baby's head when they are asleep, it also keeps their head out of the sun and has UV50+ sun protection.
This carrier doesn't have any pockets. This is a real shame as we find the one on the original Ergobaby carrier to be really useful.
If you have a very young baby you will need to use the newborn insert which is available separately. You should also stick with the parent facing position until they are around 6 months old.
If you are wondering how this compares to a Tula carrier, check out our Ergo vs Tula post.
Where can I buy one?
You can buy the Ergobaby 360 through various sellers on Amazon
Or, direct from Ergobaby with free shipping.
or
Ergobaby 360 – The perfect carrier for travel and hiking
We really like our Ergobaby 360 baby carrier and rated it as one of the best baby carriers for travel in our recent comparative review.
We have used it extensively in various countries for all sorts of activities from hiking to shopping to cycling, but it still looks as good as new (when we have given it a wash). This shows that it is made using great quality materials and will last you as long as you need it.
It is comfy for the wearer and for the baby and gives them great support in a healthy ergonomic position.
All in all, we recommend this baby carrier as a great way to get out and about with your child and it gives you the chance to enjoy some exciting adventures together.