Winter trips to the Alps, summer hikes in the Dolomites, temples in Cambodia, historic towns in Italy, beaches in Thailand, and Mayan ruins in Mexico – Our daughter has enjoyed them all from the safety and comfort of her Original Ergobaby Carrier.
Everywhere we have been our trusty Ergobaby original baby carrier has been too, coming in handy all the time whether it be getting through the airport with a baby or toddler or the adventure of climbing a mountain, travelling just wouldn't be the same without the harness.
So we thought it was time we put together this Ergobaby Original Carrier review to help other parents decide if it is the right carrier for them.
Ergobaby Original Carrier Review

Pros
Natural position for your baby
3 ergonomic wearing positions: on the front, on the back and on the hip
Lightweight
Large, useful pocket (handy for nappies, baby wipes etc.)
Cons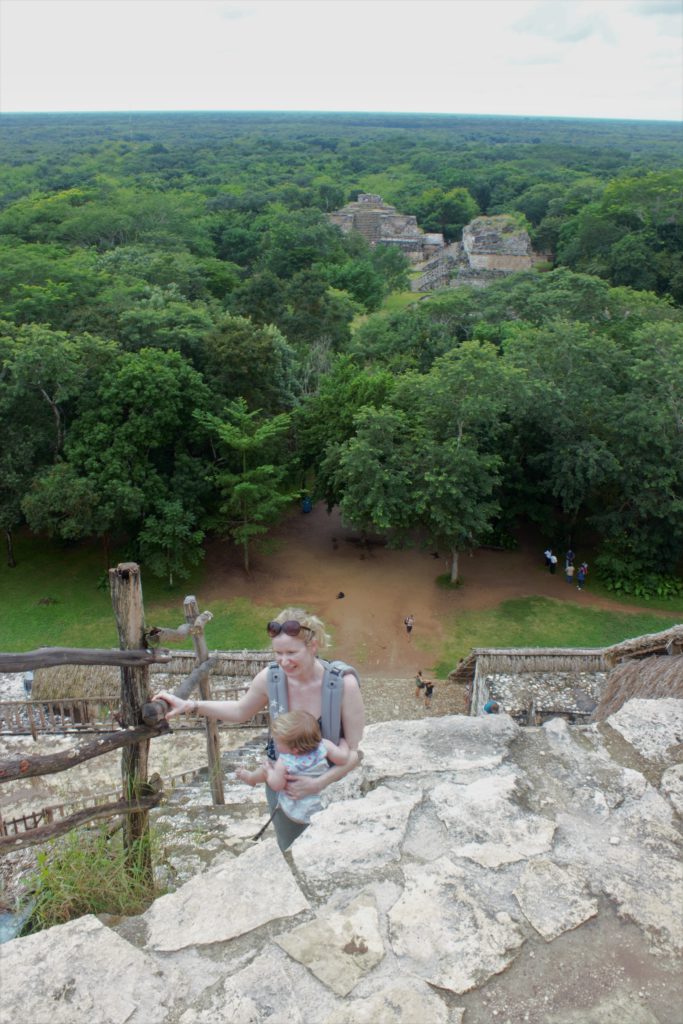 Originally launched in 2003 Ergobaby claim to have revolutionised the baby carrier market with their original carrier. It was certainly one of the first soft shell carriers that held your baby in an ergonomic, healthy position and has grown in popularity ever since.
What We Like About the Ergobaby Original Carrier
3 Different Carrying Positions
The original Ergobaby carrier allows you to carry the baby in three different positions: on the front, on the back and on the hip. It is suitable for newborn babies when using the simple to use newborn insert which keeps tiny babies well supported and snug to your chest.
It might seem a bit odd that you have to buy and use an extra infant insert for your newborn, but it works really well and it means that you can take it out when they get bigger and will have a harness that provides many years of use.
In fact, it is tested to be safe to carry a child until they are 20kg, which works out as about 5 to 6 on average.
Ergobaby – A Safe Position for Your Child – Comfy for You
Thanks to the carrier's ergonomic design, your child can always sit in the correct frog-leg position which maintains the baby's natural position in a bucket seat and encourages healthy development of the spine and hips.
The original Ergobaby carrier has been certified and recommended by the International Hip Dysplasia Institute (IHDI) so you don't have to worry about any ill effects on your baby. They have also been approved by the Campaign for Healthier Backs so they should be good for you too.
We bought this carrier after not really getting on with the baby wrap that was passed on to us by family when we first became parents. Neither parent nor child were able to get properly comfy so we decided to investigate what other options were out there (check out our Ergo vs Tula comparison).
The Ergobaby carrier seemed to be universally loved by parents everywhere (Check out these owner reviews) so we took the plunge and bought one.
It has been a vast improvement – comfy for us to wear and it seems like it is comfy for our girls as they both enjoy being carried in it and happily snooze resting against our chests.
One of the great features of this carrier is the large storage pocket that means you can just about carry all your essentials with you without needing a daypack. We have managed to get nappies, wipes, sun cream and even a small water bottler in there.
---
Love Ergobaby?
Check out our review of the amazing Ergobaby Metro Compact Stroller
We think that it is one of the best strollers for travelling
---
Original Ergobaby – A Carrier to Take with You Everywhere
The carrier is really light and packs down small so it is ideal for travel, we take ours pretty much everywhere. It is comfy enough to just wear around your waist if your little one isn't using it for a while (I like to switch it around behind me so it looks a bit less like I am wearing a skirt!).
There is a hood that clips onto the shoulder straps and supports your baby's head when they are asleep, it also keeps their head out of the sun and has UV50+ sun protection.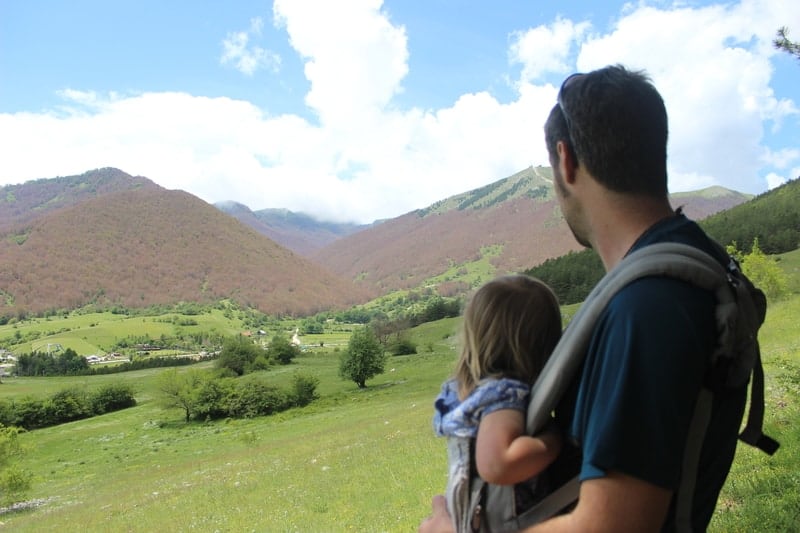 What We Don't Like About the Ergobaby Original Carrier
The only real downside of this carrier is the lack of a forward facing position, as your child grows older they might want to see what is going on when you travel to new and exciting places.
They can still look around when facing you, or on your back, but some babies are happiest in the forward facing position.
That is the main reason that we bought the Ergobaby 360 for our second daughter as even from a young age we got the feeling that she would be happier looking forwards.
As it happens, we have generally used our 360 in the parent facing position either on the front or back, but it is nice to have the option.
The 360 lacks the big pocket that this original one has which is a real shame and it is a bit longer in the body so not as good for shorter people.
Where can I buy an Original Ergobaby Carrier?
You can buy the Ergobaby original through various sellers on Amazon
Or, if you use our link below, you can buy any Ergobaby product direct from Ergobaby.com using our exclusive 10% off code.
Just enter the code jo8KbuYBBM in your shopping cart to get the discount. It works for one item in each cart but can be used as many times as you like, so just split the order if you are buying a few things (shipping is free).
or
Ergobaby Original – We love it
Thank you for reading our review of the original Ergobaby carrier. We have been really pleased with ours and definitely recommend it.
We love that it is so comfortable for both the baby and the adult who is wearing the carrier. We have had tonnes of use out of our and it is still as good as new so it is definitely very well made and good quality materials have been used.
If forward facing is important to you then you may want to look at the Ergobaby 360 as an alternative or read this post where we have reviewed all the best baby and toddler carriers on the market,  so feel free to head over there and read a bit more!
We really hope that you enjoy using a baby carrier as much as we have. It is more than just another piece of baby gear. It is a piece of baby gear that will give you the freedom to get out and about with your little one.
Whether that be exploring the local woods or exploring the world, it is surely an experience that both you and your baby will enjoy.