We love Italy. We love beaches. We love that they come together so beautifully on Sardinia.
The second largest island in the Mediterranean is home to some of the best beaches in Europe and mercifully free from the overdevelopment that you find elsewhere on the continent.
The island boasts over 1800km of unspoilt coastline dotted with beautiful beaches, interesting rock formations and hidden coves.
In this post, we will help you find the best beaches in Sardinia (there are a lot to choose from) and we will show you how to get there and the best places to stay.
Sardinia is more than just a beach destination and for those of you that are interested in hiking, mountain biking or who just like to explore the island, please check out our post on where to go in Sardinia.
Sardinia – What to expect
Part of Italy, yet separated from the mainland by 350 kilometres of the Tyrrhenian Sea, Sardinia is a little different from mainland Italy.
They have their own language Sardo, which is used in addition to Italian, and there is a strong Spanish influence that is particularly apparent in the walled town of Alghero where the street signs are written in Catalan and the architecture has a definite Spanish flavour.
When it comes to dinner time you will definitely realise that you are in Italy, great food can be found on every corner and local delicacies like roasted suckling pig and myrtle-stuffed wild boar will tempt your taste buds.
The island has slightly less old world charm mainland Italy (or Sicily), with fewer pretty old towns and less impressive historic centres.
Instead, you will find that many of the coastal settlements have developed in more recent times, but in a tasteful way that has given Sardinia a character all of its own.
Sardinia's main attraction in the wonderful variety of landscapes that nature has carved out, including many gorgeous beaches that are unrivalled on the continent.
The Best Beaches on the East Coast
Cala Brandinchi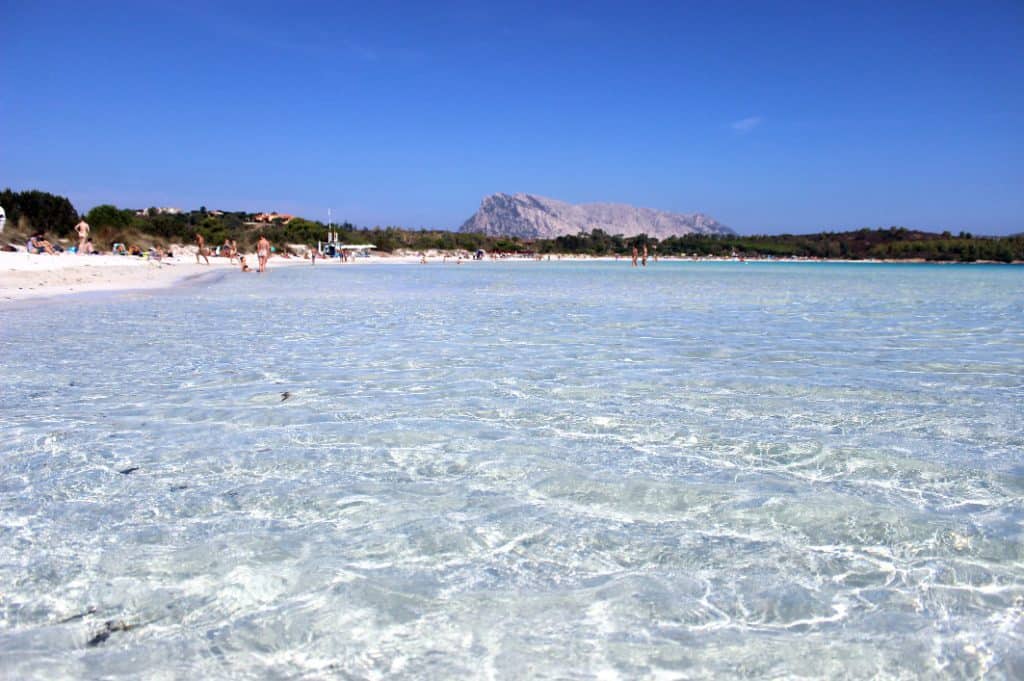 This is one of the most well-known beaches in Sardinia and for good reason. A beautiful long sweeping arc of fine white sand in a shallow and sheltered bay provides the perfect beach for young families.
The wonderful clear azure waters have earned the beach the nickname 'Little Tahiti' and it certainly lives up to this billing and might well be the best beach in Sardinia.
Aside from one café (where you can also rent SUPs etc), the beach has been left as nature intended with sand dunes and pine trees lining the shore.
There is no shade on the beach itself, but we easily found enough space to pitch our beach tent.
There is a large car park that is well set back which is good for maintaining the pristine environment but it makes for a bit of a trek with little ones in tow.
It is quite expensive at 2 euros per hour (capped at 12 euro) but we feel it is worth it for the great beach and especially for the great shallow waters that are perfect for toddlers to play in.
The beach holds a special place in our hearts and when we think back on our time in Sardinia it is usually this beach that first comes to mind.
The beach itself is quite narrow so expect space to be limited if you visit in high season. It was still quite busy when we visited towards the end of September but we could easily find a space to make our own.
How To Get To Cala Brandinchi
Cala Brandinchi beach (Spiaggia Cala Brandinchi), is located about 7 kilometres north of San Teodoro and 2 kilometres east of the small village of Monte Petrosu.
From the SS125 take the turn to Capo Coda Cavallo, continue for around 900 metres and turn right into the parking area. You will find an incongruous-looking parking barrier on the dirt road, take a ticket and drive for over a kilometre to the actual parking area.
Porto Taverna Beach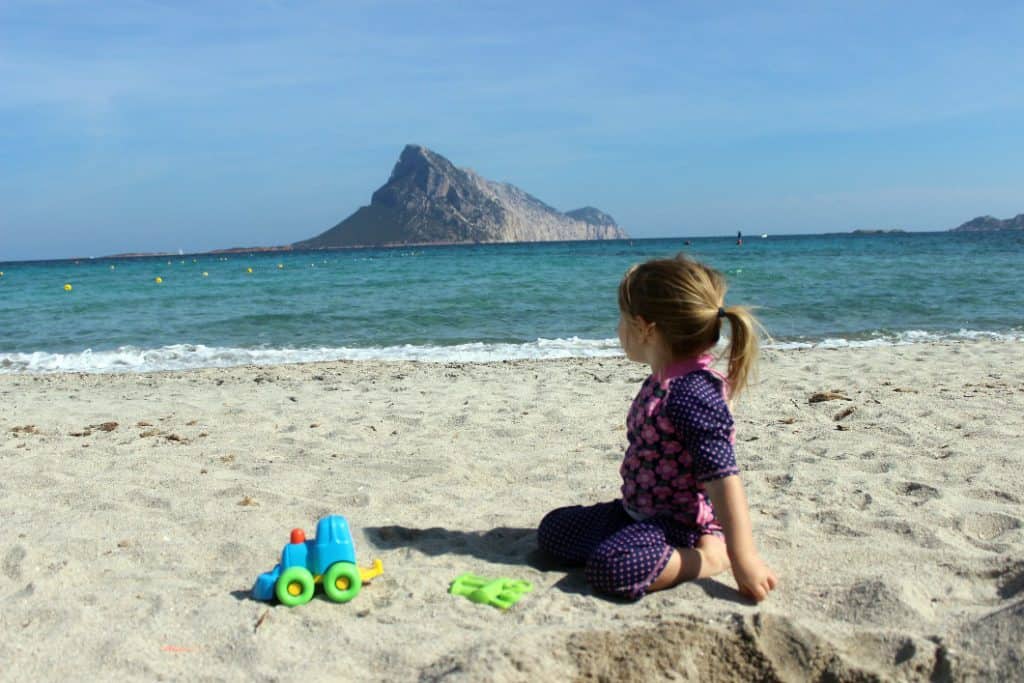 Another of our favourite Sardinian beaches on the east coast is Spiaggia di Porto Taverna. This beach offers spectacular views across to Isola Tavorlara so don't forget to take your camera with you.
This is one of the longest beaches in the area and is a lovely clean beach with white powdery fine sand. There are shallow crystal clear waters and a few rocks to explore making it another great option for young families.
The beach is wide and for some reason doesn't draw in the crowds that you find elsewhere so if you are looking for a quiet but stunning beach this is a great option.
Just behind the beach is a large lake, while stunning rugged mountains in the distance provide a picture-perfect backdrop.
The shallow lagoon is home to wildlife including wading flamingos, and the river flowing out of this offers another place for kids to play and spot small fish and crabs.
There is a beautifully relaxed café at the southern end of the beach which serves reasonably priced drinks including a beer brewed with seawater. It is possible to rent boats here for excursions to some of the enchanting coves nearby.
It is also a great place to head our snorkelling (best near to the rocks where you will find shallow and deep areas to explore). Other active options are to go diving, windsurfing or out on a SUP/kayak from this beach.
How To Get To Porto Taverna
Less than half an hour's drive south from Olbia, Porto Taverna beach is clearly signposted from the SS125.
There is a pay and display parking area here but it is also possible to park along the access road for free.
Cala Fuili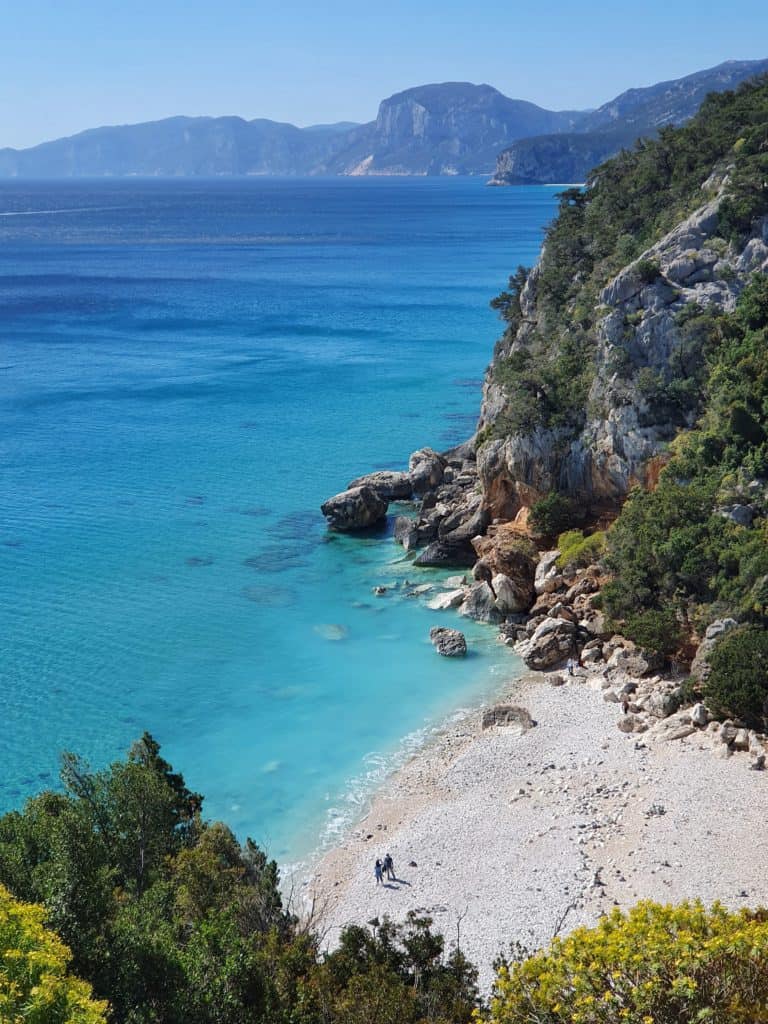 Just south of the pleasant town of Cala Gonone you will find this small beach flanked by spectacular Limestone cliffs dotted with rock climbers.
The beach is quite a contrast to the beaches of the north coast and is accessed by an enjoyable short, steep climb down some steps from the parking area.
Whilst maybe not quite as spectacular as nearby Cala Goloritze, we have included Cala Fuili on our list due to it being more accessible without requiring a boat ride or long trek.
If you have enough time in the area be sure to visit both, along with Spiaggia di Cala Luna which can be reached from Cala Fuili by hiking through the beautiful wilderness (about 2 hours each way).
This whole area is a dream destination for kayakers, rock climbers and mountain bikers so there is a lot to get your teeth into if you feel like a bit of active time away from the beach.
The beach itself at Cala Fuili is fairly large pebbles and not that comfortable to lie on. The sea in this area is a bit more exposed than most of the beaches on this list so you will find a few more waves when entering the gorgeous blue waters.
Water shoes are a great idea if (like me) you struggle to walk barefoot on stones. The location is spectacular with the cliffs looming up behind you.
They do shade the beach so time your visit for the morning or late afternoon, depending on whether you like sun or shade.
How to get to Cala Fuili
Just head south out of Cala Gonone on Viale Bue Marino. The road ends just above the beach so try to find space to park along the side of the road before you get there.
It is also possible to walk to the beach along the same road in about 45 minutes.
There are loads of great things to do in Cala Gonone, so it makes a great base for your trip.
Looking to book a room in Cala Gonone? Check out these great options available on Booking.com:
Cala Luna – Best for Sea Views. Lovely rooms and a great restaurant overlooking the sea. Massages available.
Hotel Nuraghe Arvu – Best for Families.  Great swimming pool, good breakfast, playground and near the beach.
Il Nuovo Gabbiano –  Great Value. Centrally located with balconies overlooking the harbour.
The Best Beaches on the West Coast
Mugoni Beach
On the west coast, about 15 kilometres from Alghero, you will find the stunning Spiaggia Mugoni. We came here on our last day to spend a few hours on the beach before flying home and it quickly became one of our favourite beaches.
Blessed with calm blue seas and flanked by pretty pine forests it reminded us of some of the best beaches in Thailand.
It is simply stunning and our minds quickly started racing at the fact that we were just a couple of hours from home: "We could come here for the weekend!!"
To be honest, we haven't yet been back, and that remains just a dream, but it is amazing that this place exists so close to home yet is so unheard-of, it is surely one of the best beaches in Italy.
The beach is popular with local families and does get busy in August but when we visited in September we had it almost to ourselves.
The beach is about 1.5 kilometres long and has soft golden sands underfoot. It is sheltered by the pine forests and headlands of the Porto Conte and Capo Cassia that give the beach such great vistas, so the waters are usually calm.
The sea bed slopes gently into the sea making this another great beach for young children and toddlers to play. Behind the beach is a wooded area which is great if you need to escape from the heat of the day and it also makes a good picnic spot.
You can snorkel from the beach to a small reef with lots of fish, urchins and starfish to spot.
A couple of restaurants and bars on the beach, and you will find the usual umbrella/lounger hire places, but there are plenty of free sections of the beach as well.
We weren't able to stay late but we have heard that the sunsets from this beach are spectacular.
How To Get To Mugoni Beach
In the summer it is easy to reach the beach by taking the beach bus that will drop you there. By car take the SS127 northwest from Alghero. You will find a large parking area (1 euro per hour). Off-season, we were able to find a free parking area in the middle of the beach.
Mugoni Beach is close to Alghero, one of our favourite towns in Sardinia. We recommend a stay there to anyone visiting Sardinia, find out more in our guide to some of the great things to do in Alghero.
La Pelosa Beach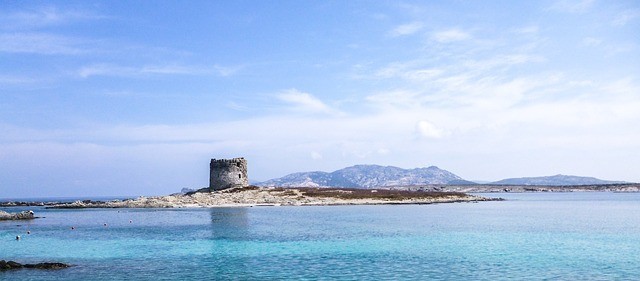 Located right in the at the top north-west corner of Sardinia, La Pelosa is a fine white sand beach that offers spectacular views over Isola Piana and Asinara.
It is one of the most photographed and most beautiful beaches in Sardinia. A pretty Aragonese watch tower dating back to 1578 is picturesquely sited at the western end of the beach.
The real highlight of the beach though is the water which is spectacular in a tremendous array of blue and turquoise in many different shades. There are a few cafes to keep you fed and watered plus sun loungers and umbrellas can be hired.
The waters are crystal clear so are great for snorkeling. Diving, sailing, kayaking and wind surfing can all be arranged from the beach.
A new rule brought in to preserve the sand on the beach means that you have to have a mat underneath your towel. You can buy these on site.
The need to do this is a bit of a giveaway that this beach has become a victim of its own success and is incredibly busy in summer.
If you don't like the crowds it is probably best to give this beach a miss in peak season, after all, there are plenty of other great beaches to visit. If you are in Sardinia in September, the beach should be quiet enough to be enjoyable.
Just south of Stintino you will find another stunning beach called Le Saline which is a great alternative if you are in the area
How to get to La Pelosa
La Pelosa can beach reached from the nearby village of Stintino on the SP34. The car park costs €2 euro per hour and gets very busy in summer. La Pelosa can also be accessed by bus from Stintino in the summer, or even by bus from Alghero which is about an hour away (€6).
Is Aruttas
Is Aruttas is located on the west coast of Sardinia, near Oristano. It is famous for the tiny white quartz pebbles that make up the beach.
There are incredibly clear blue waters but they quickly get deep so this isn't a beach for toddlers to paddle. There is also a lack of proper sand so this is one of the few beaches on the list that isn't ideal for families to spend the day. It is beautiful though and definitely worth a stop.
If you are coming this way be sure to visit S'Archittu, about 20 minutes away by car, this beach is probably even more picturesque and offers good photo opportunities. The nearby beach of Mari Ermi, is another alternative that is much less crowded.
How to get to Is Aruttas
Take Bus 430 from Oristano, it takes around about 50 minutes. By car, follow the directions to Cabras and from there follow SP 6, SP 7 and SP 59.
The Best Beaches in Sardinia – Where Will You Go?
We hope that you have enjoyed reading our guide to the best beaches in Sardinia. Which of these beaches sounds best to you? Or have you visited any great beaches that haven't made our list? There are so many beautiful beaches to visit that we could never list them all!
Let us know if you have been to Sardinia or are planning a trip to Sardinia, we would love to hear from you!!