Situated on the west coast of Sardinia, in the Gulf of Orosei, Cala Gonone is a charming place to stay. Hidden behind towering peaks and nestled against the shore, the town has a spectacular setting that is now easy to access thanks to tunnels through the surrounding mountains.
The town sits on a steep hill that runs down to the water's edge, where beaches of golden sand like Cala Cartoe, Ziu Martine and Cala Osalla offer quiet relaxation.
In this guide to the best things to do in Cala Gonone, we will help you to plan your trip and help you to decide what to do on your visit to this exquisite area of Sardinia.
Cala Gonone
Cala Gonone town has a seaside promenade, beaches in the town and a small pretty harbour. These all combine to make the town a very pleasant place to spend your time.
Numerous cafes and restaurants will encourage you to linger here but it is the natural attractions of the Supramonte outside the town that are the real draw. An ideal destination for lovers of the outdoors, you will be spoilt for choice in this area.
Adventure seekers can try their hand at numerous sports including hiking, mountain biking, kayaking, or rock climbing. While those looking for more leisurely pursuits will find lots to do here with activities like boat cruises, spending time on the beach and visiting caves. For rainy days there is even an aquarium.
Cala Gonone (Dorgali province) has a nice promenade along the seafront with plenty of small restaurants and bistros where you can order some delicious cocktails, pizza, pasta and antipasti.
The town was historically was a small fishing village prior to becoming a famous tourist destination and you will be able to savour a variety of freshly caught of seafood at local restaurants.
Top tip for parents: Along with the beach in town there are several small playgrounds near the seafront to entertain your children. They are ideal for toddlers and younger children.
What to Do in Cala Gonone
1.Take a Boat Trip from Cala Gonone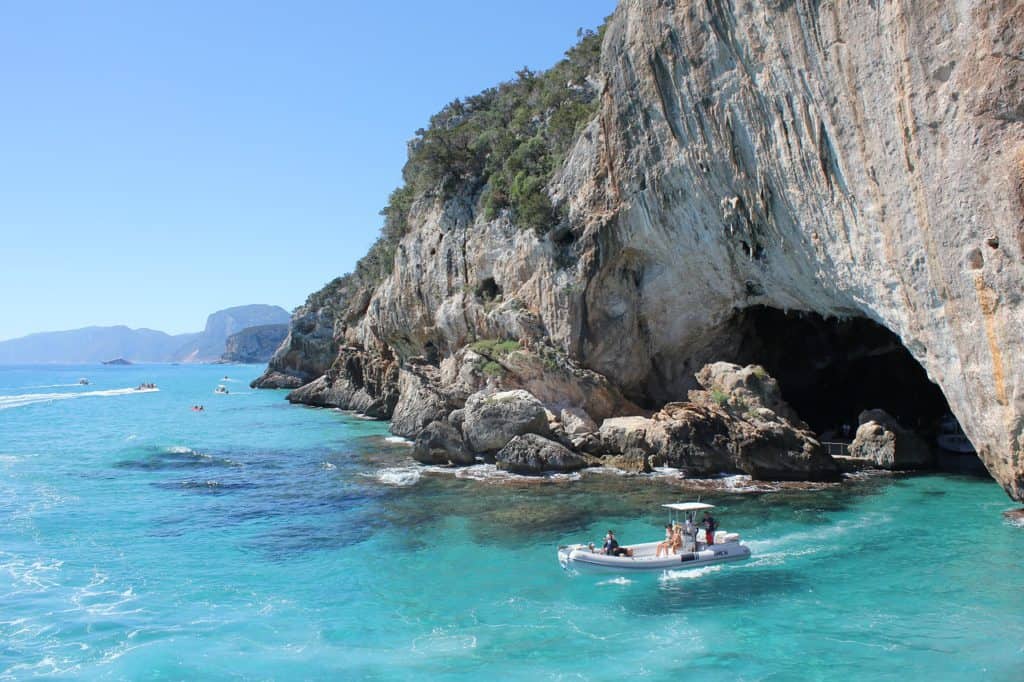 There are a variety of options to take to the water, but one of the most popular is to take an organised boat trip to the beaches and caves south of the town such as Cala Luna, Grotta del Bue Marino, Cala Mariolu, Cala Goloritzè.
In the harbour, you will find several booths that sell tickets for various different itineraries so choose the one that interests you most.
Another option is to rent a boat to explore the Gulf of Orosei on your own, boat hire is available for about 80€ for a day + gas. This is a great option as it gives you complete freedom to explore when and where you want without the crowds.
Love boat trips? You might light to take a La Maddalena boat trip whilst you are visiting Sardinia.
2. Hike from Cala Gonone to Cala Luna
Cala Luna is a spectacular arc of white sands that is backed by cave filled cliffs with sweeping views. What better way to reach this location than on foot through the national park.
There is a wonderful trail that parallels the gorgeous coastline along the famous Golfo de Orosei between Cala Fuili and Cala Luna taking in some extraordinarily scenic, rugged, and wild coastline.
The trail follows the coast in and out of little canyons for about 7 kilometres before reaching a limestone canyon that leads you down to the beach of Cala Luna.
The trail is well marked as it crisscrosses through the juniper and mastic trees, you follow the shoulder of the mountain so there are a few ups and downs, but it is not too tough.
It should take around 2 hours to reach Cala Luna. We recommend sturdy footwear and be sure to take lots of water as it can get very hot. You can do this trek with a baby or toddler, be sure to bring your baby carrier.
In summer the beach can get crowded so head to the left of the beach where you will usually find more space under the cave filled cliffs. There is a small café where you can get food and drinks.
A great way to finish of the day is to return by boat. This can be arranged at the beach (or in advance in the town), and the boat operators can also drive you from the harbour at Cala Gonone back to your car at Cala Fuilli. Of course, if you have the energy you can hike back the way you came.
Looking for more hiking ideas?
Try the hike to the Nuraghi village of Tiscali, this trek involves quite a lot of ascent along a rocky path to a crater-like hole at the top of a mountain with ruins scattered all around, You will enjoy spectacular views all the way and especially from the top.
3. See the Spectacular Grotta Del Bue Marino
The cave gets its name (Bue Marino – sea cow) from the monk seals that used to live in the cave, it was one of the last refuges for the mammal in Sardinia, but sadly there are none there any more (and only around 1000 in the Mediterranean).
The cave is the start of a 69-kilometre network of caves in the area, although the tour takes you only for the first kilometre and the first 5 chambers.
Spectacular stalactites and stalagmites reflect their weird shapes in the water of the underground river that flows out to sea. There are great chambers and gorgeous rock formations awaiting your visit.
These caves are accessible only by taking a 20-minute boat ride from Cala Gonone. You will find numerous kiosks in the harbour area where you can purchase your boat ticket (around 12 euro).
An additional 9 euro entrance fee is charged at the cave. You can combine your visit with a trip to the nearby beaches by using one of the boat operators that offer this combined service.
At the cave, you will have an easy guided walk of around 45 minutes through the cave on special walkways. The guides are knowledgeable and provide good information whilst allowing you plenty of time to have a good look around. Please note that you are not allowed to take photos inside the cave, even without a flash.
Insider tip:
You can visit a northern branch of the cave via a short, small trail that starts at Cala Fuilli. There is no accessible connection to the caves accessed from the sea, so you will get to see another beautiful section of the cave system.
You will need to join one of the guided tours that are offered twice daily in a variety of languages (including Italian, English, French and German).
The tour is 2 hours long and you get to see various geological formations, including a fossilised seafloor. This is a far less visited attraction than the main southern end, which can get busy at times, but offers a similar cave environment.
4. Kayak Over Clear Blue Seas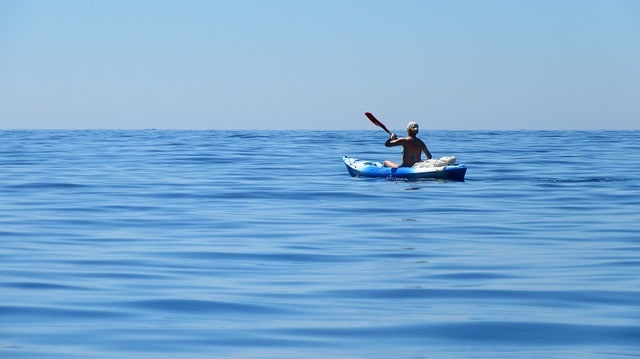 A great way to explore this fascinating coastline is to get out in a kayak. You can hire these from the harbour for around 30 euros per day.
The most popular route is to head south from the town towards Cala Fuilii and on to Cala Luna. You can stop off at Grotta del Bue Marino if you wish.
One of the great things about being on a kayak though is the opportunity to stop at small deserted beaches away from the crowds where you will most likely have the place to yourself.
You will pass interesting rock formations and tall stacks that might temp your adventurous soul to take a dive into the azure depths. As you paddle along you are likely to see cormorants diving for fish in the clear waters and, with a bit of luck, you can spot octopus, seals and dolphins.
Paddling to Cala Luna takes around an hour and a half and is best enjoyed on a full day trip that allows you to go at a leisurely pace and stop at the various coves along the way.
Insider tip: Pack a picnic and start early. Land at the second beach after the Bue Marino cave (Cala di Oddoana). If you are lucky you can have this beautiful spot to yourself for the whole day.
5. Go Mountain Biking along the Coast
A demanding and adventurous activity in Cala Gonone is to head to Cala Luna by mountain bike. Following a magnificent path that winds its way down from the Supramonte to the sea.
You will follow stretches of gravel roads and exciting stony trails before a fairly challenging descent to the beach.
The scenery you pass is fantastic and feels remote. You will see all kinds of animals as you snake through the local vegetation. Bike hire can be arranged in the town and you can go with a guide if you choose.
It is best to return to Cala Gonone by boat as the trekking route that follows the coast is not suitable for bikes.
The route is around 58 kilometres with an altitude difference of 1,000 metres. Start very early in order to avoid cycling under the midday-sun and avoid the days with a high risk of forest fires.
6. See the Most Incredible Cave – Grotta Di Ispinigoli
If you are wondering what to do in Cala Gonone on a rainy day, then heading underground could be a good option. Entering the Grotta di Ispinigoli is a real 'wow' moment, it is one of the biggest caves in Europe and as you go in the whole cave suddenly appears below you. There is an amazing view of the spectacular cave from a balcony high above the enormous chamber.
Stairs wind down the cave past stalagmites, stalactites and formations that look like mushrooms or cauliflower. It is a sight to be seen to be believedd and is one of the must see Cala Gonone sights.
7. Check out the Museum Park S'Abba Frisca
Set on a 150-year-old olive farm in the countryside near Dorgali is a wonderful ethnographic museum where you can take a guided tour (8.50 euro, takes about 1 hour) around a botanical garden planted with local species, and at various points, you will find reproductions of historic buildings.
The museum depicts rural life over the years and will include presentations on plant species, folk medicine a goat herder's hut and a kitchen for Sardinian bread making. It is a tranquil and spectacular setting beneath limestone peaks and there are a few animals to keep your little ones entertained. It is deninitely a nice thing to see whilst you are in Cala Gonone.
8. Rock Climb above Spectacular Beaches
Cala Gonone is well established as one of the main rock climbing areas in Sardinia. The limestone cliffs that surround the town and overlook the coast are just begging to be climbed and it is definitely one of the most exciting things to do near Cala Gonone. On any given day you will find the cliffs dotted with climbers making their way up the rock faces.
There are routes to suit all abilities, mainly single pitch bolted sport routes that range from slabs to tricky overhangs. Longer multi-pitch bolted routes can be found at Grotta dei Colombi crag and La Poltana crag. The best time to climb is in the Autumn and Spring ( we love Sardinia in September) as it gets very hot on the rock in summer months. It is definitely one of the Cala Gonone things to do for people that love adventure.
9. Cala Gonone Aquarium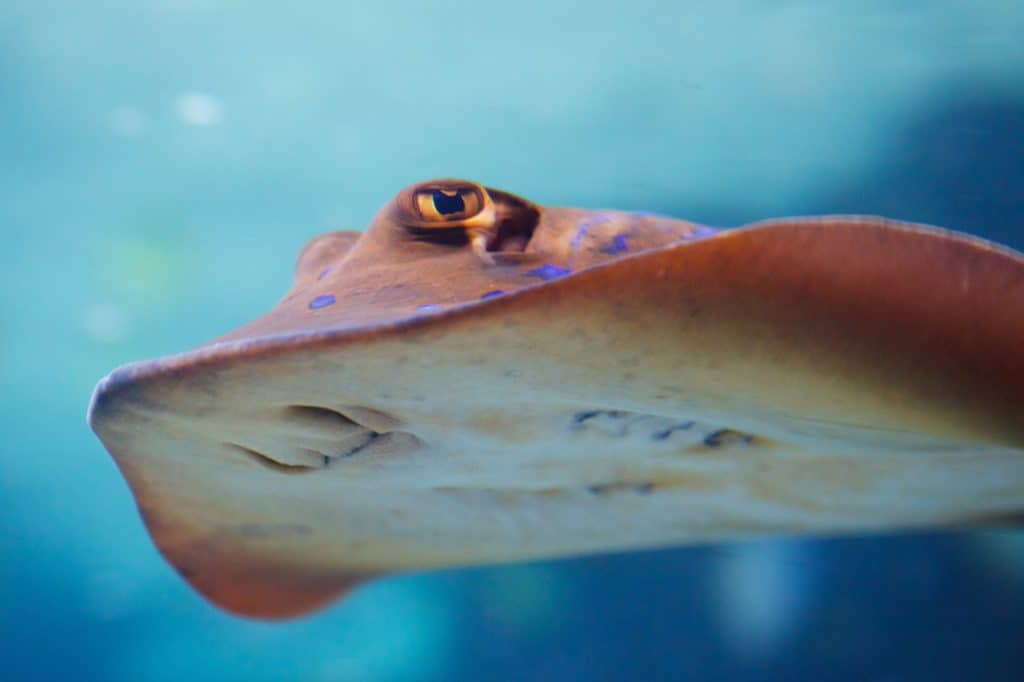 A calmer Cala Gonone activity, and one that is popular with the kids, is the aquarium at Cala Gonone. Here you will find a great variety of marine life from jellyfish to piranhas.
Although this is not a large aquarium, they have lots of tanks and a wide range of creatures to look at. A highlight is the touch tanks where you can reach in and touch the friendly rays and starfish.
They have good information in English with a nice focus on the environment, including a sobering display on plastic usage. Entry is 12 Euro. There is a café with an outside play area for the kids.
Where to Stay in Cala Gonone, Sardinia
Looking to book a room in Cala Gonone? Check out these great options available on Booking.com:
Cala Luna – Best for Sea Views. Lovely rooms and a great restaurant overlooking the sea. Massages available.
Hotel Nuraghe Arvu – Best for Families.  Great swimming pool, good breakfast, playground and near the beach.
Il Nuovo Gabbiano –  Great Value. Centrally located with balconies overlooking the harbour.
Things To Do in Cala Gonone – What Will You Do?
We hope that you have enjoyed our post on things to do in Cala Gonone, have you planned your activities yet?
Cala Gonone makes a great base for an active holiday in stunning surroundings. The views all around are incredible, both inland and along the famous coastline.
There is so much to see and do in the area that you could easily spend a week or two here and only scratch the surface.
If you are ready to book you can use this handy search box to check out some of the best accommodation in Cala Gonone. You'll be helping us out as we get paid a tiny percentage of every booking. Thanks!