Sardinia is truly beautiful.
There is such a wonderful range of landscapes in a small area; looming mountains, deep canyons, intriguing rock formations, deep caves with glistening stalactites, crystal clear blue seas,  and some of the best beaches in Europe to cap it off.
When the natural attractions are combined with wonderful Italian cuisine and warm hospitality, Sardinia might just be the perfect holiday destination.
More than just the millionaire's playground of the famous Costa Smerelda, Sardinia has it all. There are many great places to visit all over the island, so we have pulled together this handy guide to help you decide where to go in Sardinia. We will help you to decide where to stay in Sardinia, show you the best parts of Sardinia and how to find the best places to stay in Sardinia
The Best Cities to Visit in Sardinia
Alghero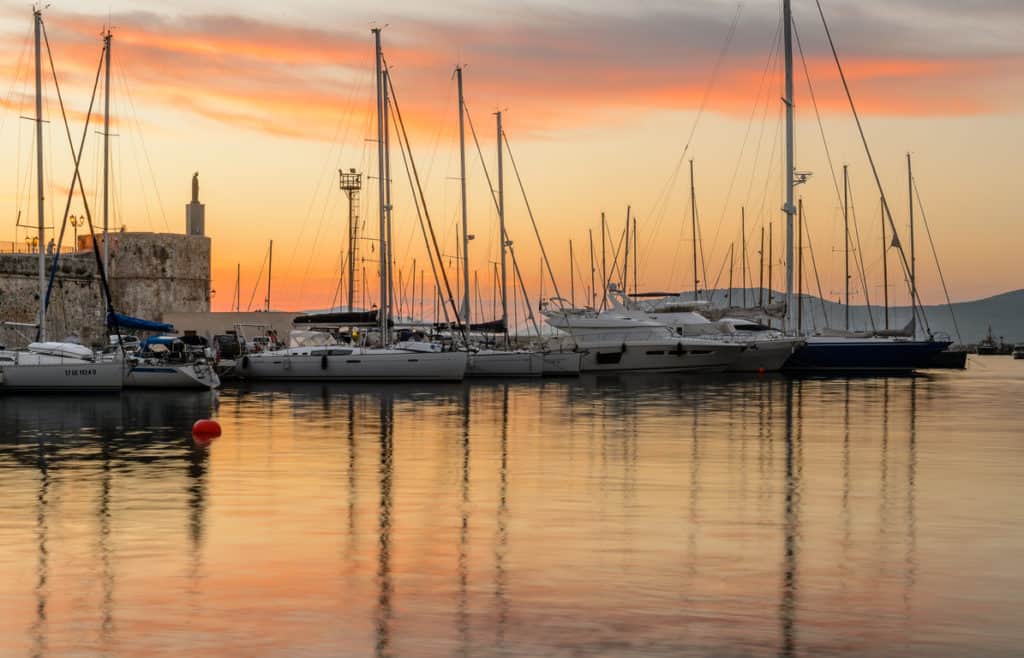 Looking for a town with old world charm and access to world-class beaches? then Alghero could be the place for you and it is definitely one of the best places Sardinia has to offer. If you are wondering where to base yourself in Sardinia, we would put Alghero top of the list, although we also recommend touring the island if you have around 10 days in Italy.
Found on the northwest coast, Alghero is known as the coral city and has a distinctive, romantic Catalan influence.
It is a fortress on the sea with great bastion walls, narrow cobblestone streets, charming piazzas with opulent churches, and an array of stunning shops with coral jewellery. It is our favourite town in Sardinia and despite the Catalan influence, it is the place that is the most like being in one of the old towns found elsewhere in Italy.
Situated in one of the most beautiful areas of Sardinia, Alghero boasts a captivating sea, rugged mountain ranges, astonishing bays, calm inlets, white sandy coves, rich marine life, and diverse Mediterranean vegetation. What's not to like?
Alghero is an excellent departure point for some very interesting excursions, one of them being a visit to the amazing stalactites and stalagmites in Neptune's Cave.
Alghero is one of the best towns to stay in Sardinia, with a wealth of attractions just a short drive away so you can easily spend a couple of weeks in the area without getting bored.
Please check out our handy guide to the best things to do in Alghero.
Where to Stay in Alghero
There are a great variety of options for accommodation in Alghero from boutique BnB's to large chain hotels you will be able to find a great place to suit you and your family.
If you are looking to book a room in Alghero, check out these great options available on Booking.com
Here are some of our favourite options:
Hotel Florida: A great place to stay, particularly for families, with 2 huge swimming pools and right by the beach. Just a short walk for the historic centre.
Panorama Guest House: Comfortable rooms right in the heart of the old town.  Fabulous views of the city and out to sea.


Cagliari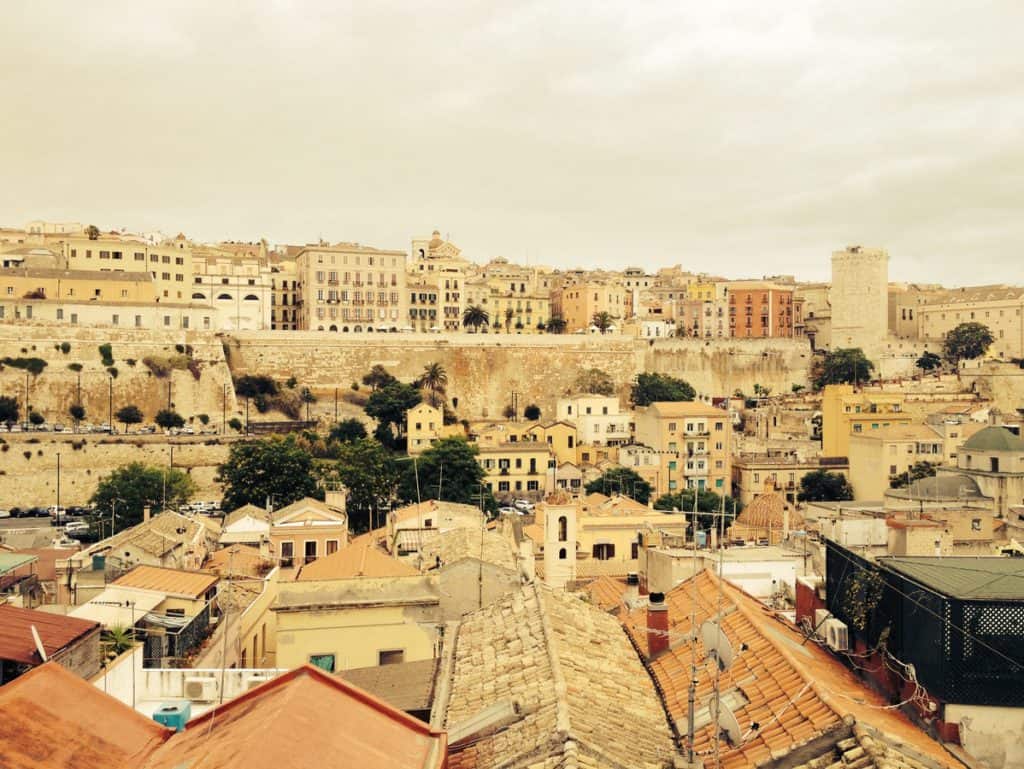 At the far south of the island, you will find its capital, Cagliari. By far the most populous city on the island, Cagliari has more of a metropolitan buzz than you will find elsewhere.  You may find that this is the starting point of your Sardinian adventures if you arrive at the airport or ferry port here.
It is a great starting point and the coastal setting gives you quick access to some wonderful beaches. It is also a great place to embark on all manner of tours to other parts of the island.
The compact historic centre can easily be explored on foot, some of the main sites to explore include:
Bastione di Saint Remy: Stop by here for a beautiful panoramic view over the city while exploring the old streets and piazzas of this interesting area.
Torre di San Pancrazio and Torre dell'Elefante: both typical examples of Pisan military architecture, which now function as great viewpoints for the city and port.
Santuario e Basilica di Bonaria: A pretty sanctuary and basilica complex.
Roman Amphitheatre: One of a number of ancient ruins that are still visible in Cagliari.
Looking to book a room in Cagliari? Check out these great options available on Booking.com
You will find some of the best Sardinia accommodation in Cagliari and the areas around it. You may like to check out the beautiful TigellioTre Bed and Breakfast which is loved by everyone that has stayed there (rated 9.9 from 139 reviews so far).
Best Area in Sardinia for Wannabee Castaways: La Maddalena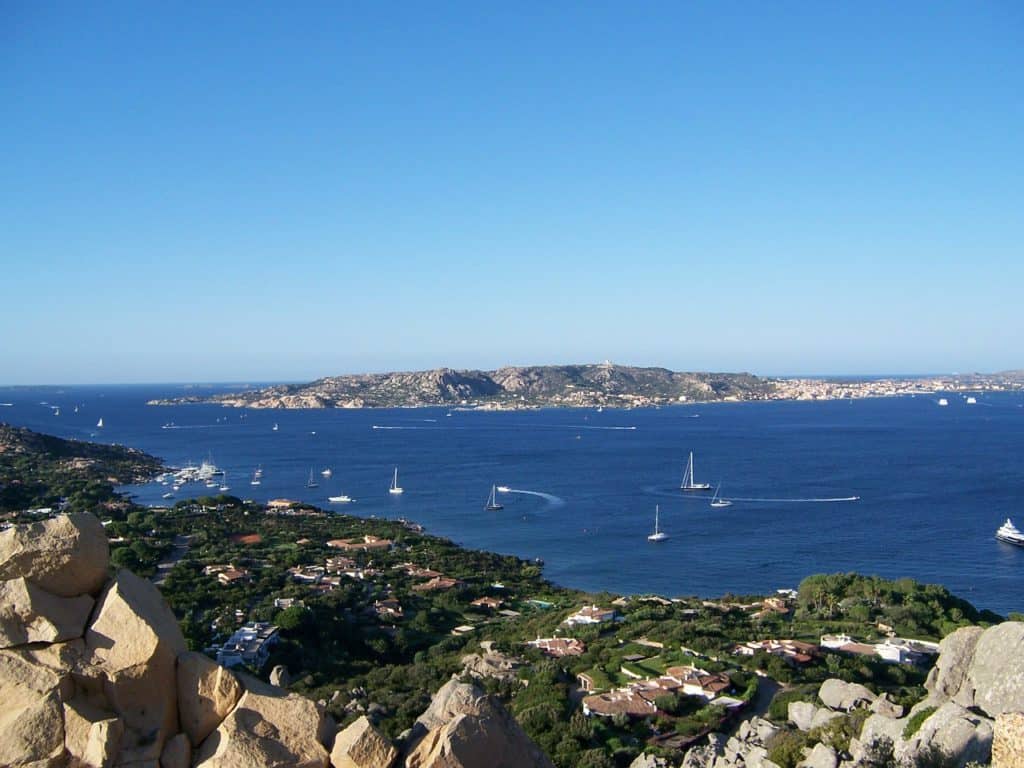 Just 20 minutes by ferry from Palau, the translucent seas of the La Maddalena archipelago justify comparisons to the Caribbean more than anywhere else in Sardinia, albeit a more rugged version.
In the strait between Sardinia and Corsica, this dreamy group of seven large islands and 55 tiny isolotti has some of the most spectacular beaches in Italy, and some of the cleanest and clearest water you will find anywhere.
Despite the close proximity, the local residents 'maddalenini' have always seen themselves as a race apart from Sardinian 'mainlanders', much as the latter feel culturally distinct from the rest of Italy.
When you visit the archipelago, you are sure to spend time swimming and taking long walks, but be sure to take a boat to reach the archipelago's most spectacular land and seascapes.
There are some great boat trips available that you can catch from Palau or from La Maddalena, click below to find out more:
Full-Day Boat Trip to the Islands of La Maddalena
Some of the highlights include:
Razzoli: Is a spectacular island of gnarled, twisted granite rocks that crash into the calm seas.
Budelli is a tamer and greener island, home to Spiaggia Rosa – probably the most famous beach Italy thanks to its role in the film Il Deserto Rosso.The name derives from the pink colour of the sand, caused by a microorganism that lives on seaweed. Unfortunately, after years of tourists taking the pinkest sand home as a souvenir, the beach is now a much paler, whiter colour. Still stunning though
Spargi: where pristine beaches such as Cala Soraya are backed by fragrant mastic trees.
The town of La Maddalena is a surprisingly large, lively and sophisticated town. You will find plenty of bars, bookshops, cinemas, shops and restaurants to keep you busy and this makes it a great base for your stay.
Best Place in Sardinia for Living It Up: Costa Smeralda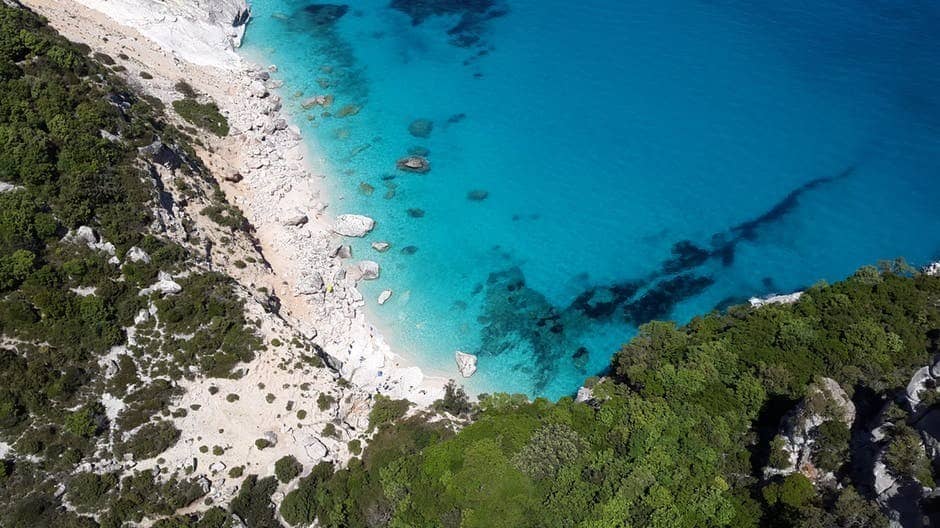 Costa Smeralda is a stretch of land along the northeast coast of Sardinia, Italy. It is perhaps the best-known corner of Sardinia, famous for its turquoise water, fine sand beaches and glitzy resorts
Despite the custom-built nature of resorts such as Porto Cervo, development has been tastefully designed to a master plan that ensures the built environment blends into the natural surroundings and the area remains one of the best places in Sardinia.
Porto Cervo is worth a visit. The Piazzetta in the heart of the resort is a great spot to lounge in style amongst the jet set – the ultimate place to see and be seen. The traditional evening stroll along the quay is also a must, with fashionable designer boutiques on one side, and luxury yachts on the other.
Looking to book a room in the Costa Smerelda? You can find some of the best accommodation in Sardinia in the Costa Smerelda (and osm of the most expensive accommodation in Sardinia) Check out these great options available on Booking.com:
Stazzo Lu Ciaccaru – Top rated on Booking.com. Beautiful suites set in a relaxing natural environment. Great pool and a fabulous restaurant on site.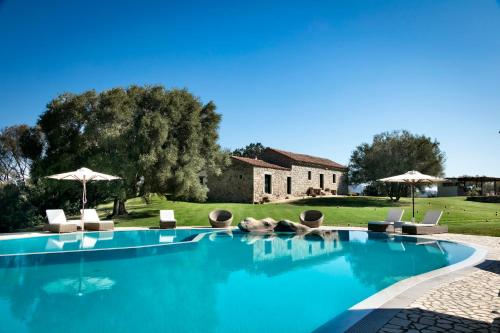 Residence Hotel Lu Nibareddu – Where we stayed. Great value, great views and good location near to fabulous beaches. Good swimming pools and restaurants on site.
Best Part of Sardinia for Adventure Sports
Cala Gonone and The Supramonte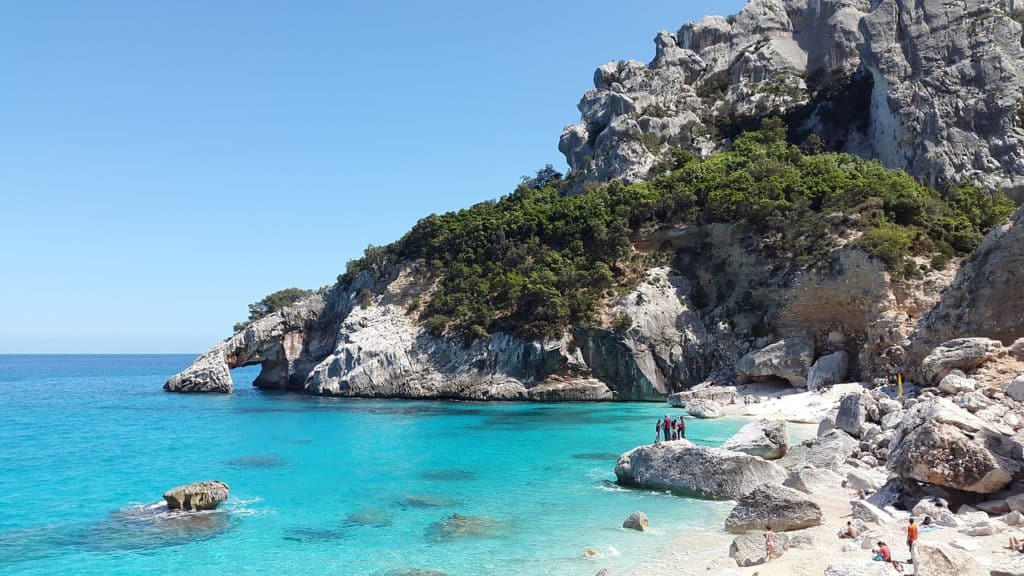 If you are looking for the ultimate outdoor adventure in Sardinia then you need to head to the Supramonte. An outdoor playground where you can take on a whole range of activities from strenuous and gentle, always surrounded by the most spectacular of landscapes. It is definitely the best place in Sardinia for outdoor adventure sports.
Located in central-eastern Sardinia, the Supramonte is a largely uninhabited mountain range of sharp limestone cliffs and deep lush canyons.
Blessed with spectacular karstic highlands where rivers have carved deep ravines and canyons; the Supramonte is a natural wonderland where rivers flow mostly underground, creating awesome caves like the Grotta del Bue Marino and Grotta di Ispinigoli.
The coastal area of the Supramonte borders the Gulf of Orosei and includes several spectacular beaches like Cala Luna, Cala Sisine, Cala Mariolu, and Cala Goloritze.
The best base for exploring the Supramonte is the west coast town of Cala Gonone. It is a charming town and we think that it is one of the best places to stay in Sardinia.
Hidden behind towering peaks and nestled against the shore, the town has a spectacular setting that has only recently become easy to access thanks to the tunnels through the surrounding mountains.
A Seaside promenade, a beach in the town and a small harbour make for a pleasant place to spend your time while numerous cafes and restaurants will encourage you to linger here.
But it is the natural attractions of the Supramonte outside the town that are the real draw. An ideal destination for lovers of the outdoors, you will be spoilt for choice in this area.
Adventure seekers can try their hand at numerous sports including hiking, mountain biking, kayaking, or rock climbing. While those looking for more leisurely pursuits will find lots to do here with activities like boat cruises, spending time on the beach and visiting caves. For rainy days there is even an aquarium.
Cala Gonone is one of the best places to visit in Sardinia and one of the best places to holiday in Sardinia. Read more about it in this guide to the best things to do in Cala Gonone.
Looking to book a room in Cala Gonone? Check out these great options available on Booking.com:
Cala Luna – Best for Sea Views. Lovely rooms and a great restaurant overlooking the sea. Massages available.
Hotel Nuraghe Arvu – Best for Families.  Great swimming pool, good breakfast, playground and near the beach.
Il Nuovo Gabbiano –  Great Value. Centrally located with balconies overlooking the harbour.
Best Places to Stay in Sardinia for Beaches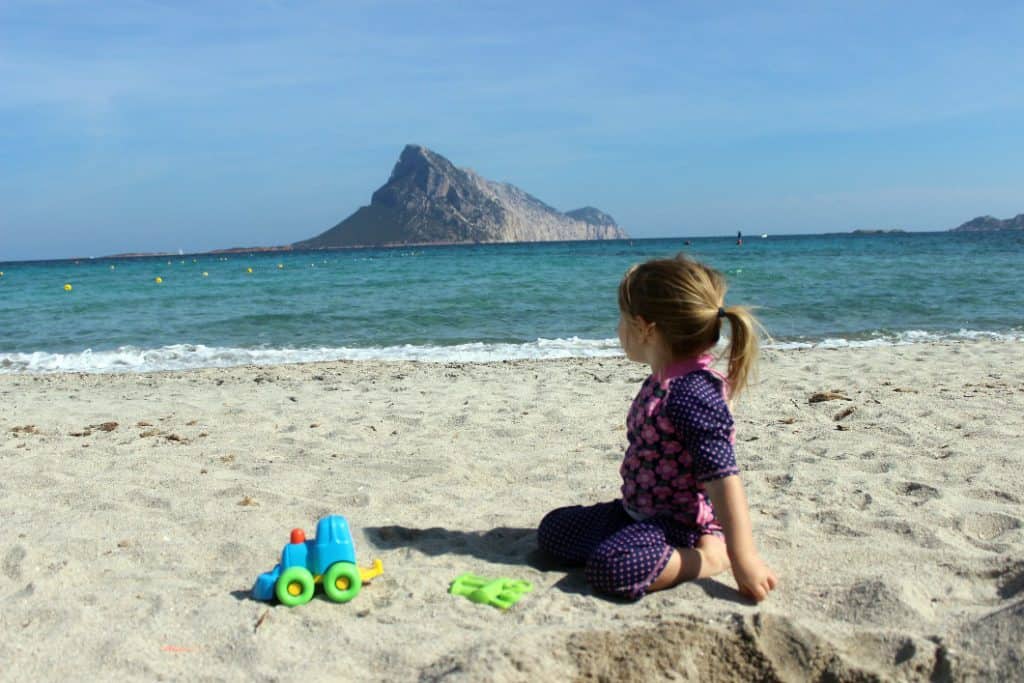 When you visit Sardinia, you really do need to make the time to go to the sandy beaches. In fact, it is probably the number one reason that people travel to Sardinia.
There are spectacular and beautiful beaches all around the island and we really do feel that they are some of the nicest beaches that you could wish to find making them some of the best places to go in Sardinia.
Fortunately, they are very easily accessible and can be combined with the cities, nuraghi and outdoor adventures described above.
Some of our favourites beaches include Cala Brandinchi, Mugoni Beach and La Pelosa.
The beaches are so good and so numerous in Sardinia that we decided they deserved their own post, so please head over to our best beaches in Sardinia post to find out more.
When to go to Sardinia
What is the Weather Like in Sardinia?
Sardinia has a Mediterranean climate and enjoys warm dry summers that are perfect for exploring the delights of the islands and soaking up some sun on the beach. It is relatively windy and there is shade to be found, so you won't find it quite so stiflingly hot as places like the Greek islands.
As it is quite a large island the climate does vary from place to place, in general, the east is drier than the west and the more mountainous regions are cooler, as you would expect.
Surprisingly the average annual rainfall on the western coast is higher than in London, but it is concentrated in the autumn and winter months. Autumn often remain warm but suffers from heavy rainstorms.
Winters are relatively mild in low areas but cold in the mountains. The spring is mild and rainy, but generally drier than the autumn.
That is the general picture anyway, obviously, there will be variations from year to year. We visited at the end of September and into October and the weather was glorious with just one rainy day in 2 weeks.
Is it very crowded in Sardinia?
The other important factor consider is the crowds. Sardinia can get very busy in the summer, especially on popular beaches. Italians love to holiday in July and August and these times are the busiest.
This coincides with the best weather and is also school holidays across the northern hemisphere so this is when it starts to get really busy.
Although you are almost guaranteed great weather, you may want to consider avoiding these peak months due to the higher costs you will find for accommodation and the overcrowded beaches you will encounter.
If you do decide to come over the peak summer months, try and book for July rather than August as it will be somewhat quieter, and be sure to book well in advance as most accommodation will sell out.
The shoulder season of May/June and September/October are great times to visit with a good chance of warm dry weather but without the crowds of the summer.
If you are keen to swim in the seas it will be warmer in the late summer as it has had the whole summer season to heat it up.
Going on the stats June should be your best bet for warm, dry weather without the crowds. But we had great weather at the end of September and it was very quiet everywhere we went.
The summer season is considered to be over at the end of September and beyond this, you will find that a lot of services like beach restaurants and even some accommodation closes down for the winter.
How to get to Sardinia
Fly to Sardinia
Sardinia has three main airports near Alghero, Olbia and Cagliari. The best one to use will vary depending on where you go in Sardinia and whether you are choosing to have a base in Sardinia or are travelling around the island. All the airports are well served by scheduled and charter airlines, including some budget airlines that can get you here for a bargain price (including Ryanair, Easyjet, Air Berlin, German Wings and Jet2).
The best way to find a flight to Sardinia from your location is to use the Skyscanner website. This will check the available price with all airlines and allows you to filter by various options like flight time, duration, preferred airline etc. It is a great time and money saver and is always our go-to method for booking flights.
Find the best prices and book flights with Skyscanner
If you are heading off with a young family, be sure to check out our guides to flying with a baby or toddler.
Ferry to Sardinia
If you are travelling from the mainland you will find ferry services to Cagliari (south coast), Porto Torres (north coast), and Olbia, Golfo Aranci and Arbatax (east coast).
To book a ticket try one of the following Tirrenia (state-owned, year-round service),  Moby Lines, Sardinia Ferries, Snav, or  Grimaldi.
Daily ferries link Sardinia with Corsica (you could even take a day trip to Bonifacio) from Santa Teresa di Gallura.
Other ferry options include catching the ferry that links Barcelona with Porto Torres, or you could combine your trip with another wonderful (and very different) Italian island; Sicily, which can be reached from Cagliari.
How to Travel Around Sardinia
The best way to get around Sardinia is by renting a car. This gives you far greater freedom to explore the delights of the island and visit the out of the way places and beaches. We use RentalCars.com to compare prices and find one to hire at the best price possible.
The roads are good and there is not too much traffic so driving around is pretty straightforward.
Best Places to Visit in Sardinia
We hope that you have enjoyed our post on where to go in Sardinia and that we have given you some inspiration to plan your own trip.
We recommend this guide book if you are looking for more detail on the history of the island as well as some handy maps of Sardinia best places.
You'll surely be as mesmerized by the explosive beauty, vibrant colours, and unspoiled surroundings as we were.
We would love it if you could share this post using the social buttons below, and please let us know your favourite places in Sardinia in the comments section.