If you are thinking of visiting Verona with a baby or toddler then you will not be short of things to do.
There are Roman ruins, renaissance palaces, medieval buildings, piazzas, and pizzas. Verona has pretty much everything that you could want from an Italian city.
But, is Verona a great place to visit with a baby or toddler? In this post, we will share our experiences and top tips for visiting Verona with baby or toddler.
Is Verona Baby Friendly?
Verona is a very baby-friendly place to visit. Italians love babies and you'll find yourselves welcomed wherever you go. Restaurants are accommodating and will usually have high chairs for their youngest customers.
Verona really comes into its own as a baby-friendly destination thanks to its largely flat, low-traffic paved areas that make it a delight to explore and super easy to get around with a pushchair.
Can you get Baby Supplies in Verona?
Verona is a large modern city and you will be able to find whatever you need for your baby with a bit of searching.
You can find nappies/diapers, baby food, formula, bottles, etc in the supermarkets but we tend to take supplies from home that will cover us for the first few days at least. We find baby products are a bit more expensive than in the UK, especially baby wipes, so that's another reason to take some with you.
Is Verona Stroller Friendly?
Verona is very baby friendly. Most of the historic centre is well paved and low traffic or traffic free. It's a very easy place to explore with a pushchair or stroller and it is also very flat so ideal for pushing your little one around.
Depending on the sights that you want to visit you may find that some of the older buildings have narrow stairs that are difficult with a stroller but for the most part, Verona is the perfect place to explore with a baby stroller.
The Best Places to Stay in Verona with a Baby or Toddler
Verona is a very walkable city and we recommend staying somewhere central with your little ones so that you can easily pop out and explore from your doorstep. It also means that you can get back easily if you fancy a break or your little one (and you!) feel like a nap.
Here are our top choices for a place to stay:
Truly Verona – Delle Erbe Suites
Looking for an amazing place to stay during your visit to Verona? Look no further than Truly Verona – Delle Erbe Suites!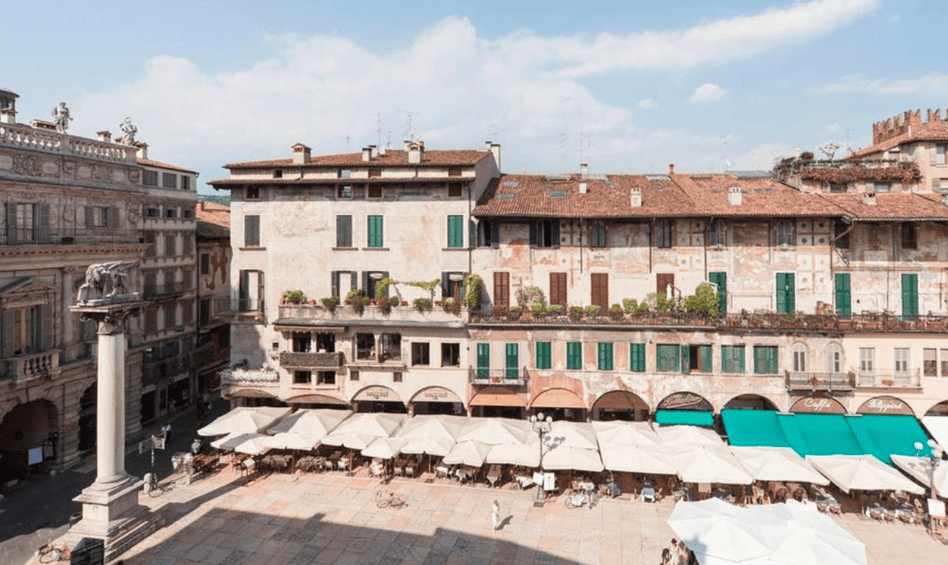 This stunning guest house offers rooms that are beautifully furnished with antique furniture and feature charming frescoes for a truly authentic and unique experience. They have beautiful windows that look out over Piazza Delle Erbe one of the most gorgeous squares in the world.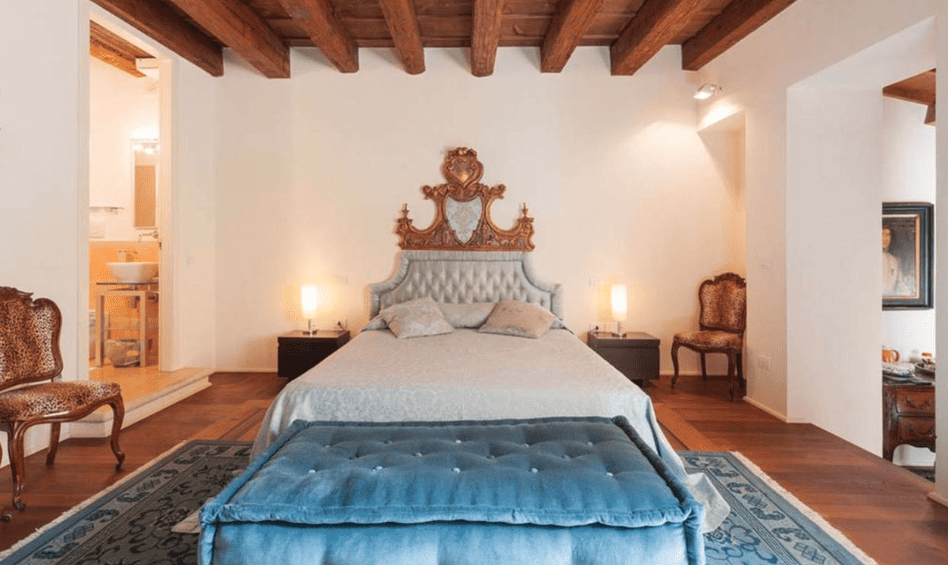 You get all the amenities you need for a comfortable and enjoyable stay. Plus, the amazing location makes it easy to explore the city's best restaurants and must-see attractions.
So why wait? Book your stay at Truly Verona – Delle Erbe Suites today and experience the perfect balance of location and comfort!
Magnifiche Residenze San Fermo
If you're looking for a comfortable and welcoming place to stay during your travels, look no further than the fabulous Magnifiche Residenze San Fermo! Located in a prime spot, it offers easy access to all the best attractions and sights in the area.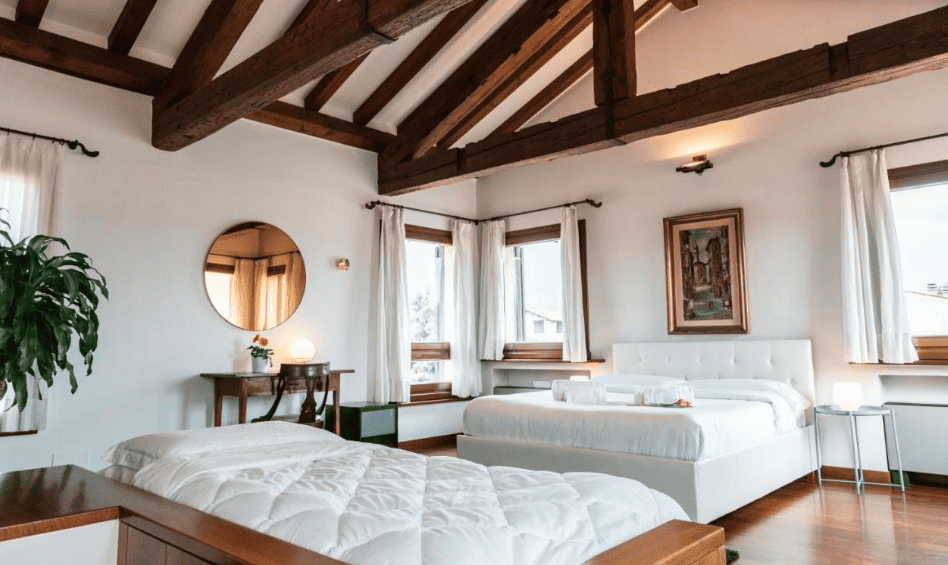 You'll feel right at home from the moment you step inside, as the apartment is full of character and feels very cozy.
And with excellent facilities and amenities at your disposal, including a well-equipped kitchen and fresh towels, you'll have everything you need to enjoy a relaxing and stress-free stay.
Things to do in Verona with a Baby or Toddler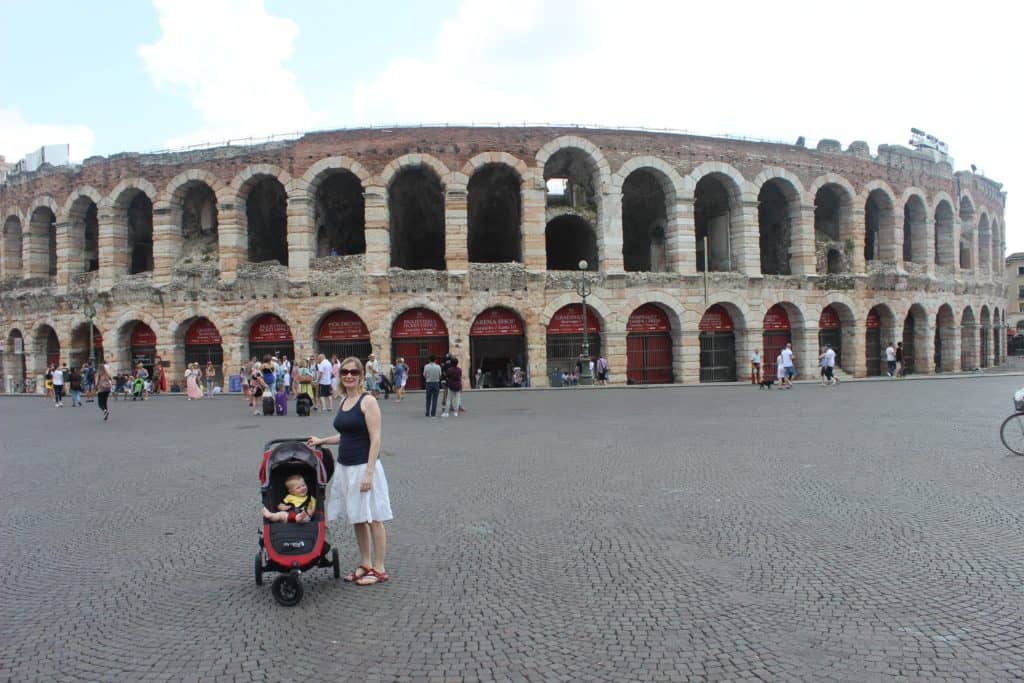 Verona is a great place to visit with a baby or toddler. There are plenty of things to hold their interest and the historic centre is pretty compact, flat, and well paved (very pushchair friendly – check out our review of our favourite travel stroller).
Piazza Brà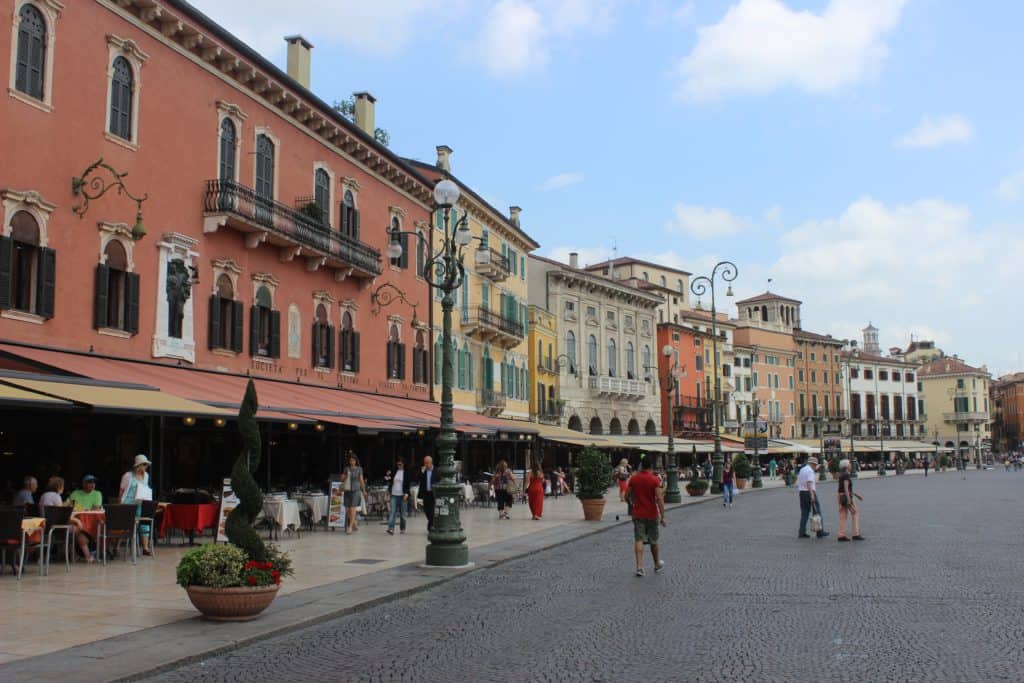 Just inside the town walls is Piazza Brà. This is a large open space that is dominated by the impressive Roman Arena. We found some lovely restaurants in the small streets just off Piazza Brà, and the open space of the piazza is great for kids to let off some steam.
Roman Amphitheatre
The Roman Arena is one of the icons of Verona standing proud as the focal point of Piazza Brà. It is the second largest Roman amphitheatre in Italy, after the Colosseum in Rome. It is designed in an elliptical shape which produces perfect acoustics from wherever you are sat
The Arena is so well preserved that it is now often used to stage spectacular open-air music concerts and operas – it is pretty cool that a 2000-year-old building is still being used in the way that it was designed (ok, thankfully there is a little less blood and death than the Romans enjoyed!).
Inside you will find beautiful passages along with the impressive main arena where it is easy to imagine the clash of metal and grunt of bodies that accompanied the gladiatorial battles.  There are plenty of interesting facts displayed on information boards throughout the arena.
If you get a chance to see an opera or band it must be an awesome venue. If you are just looking around the Arena during a performance season you should be aware that modern staging and seating will be set up which changes the ambiance a bit.
The views from the top of the arena out over the city are awesome at any time.
The entrance tickets are 10 euros for adults, under 7's are free and 8-14-year-olds are 1 euro.
A great value option is to get a Verona Card that grants you priority access to the Arena and many of the other top attractions in the city, along with free use of the buses.
Piazza Delle Erbe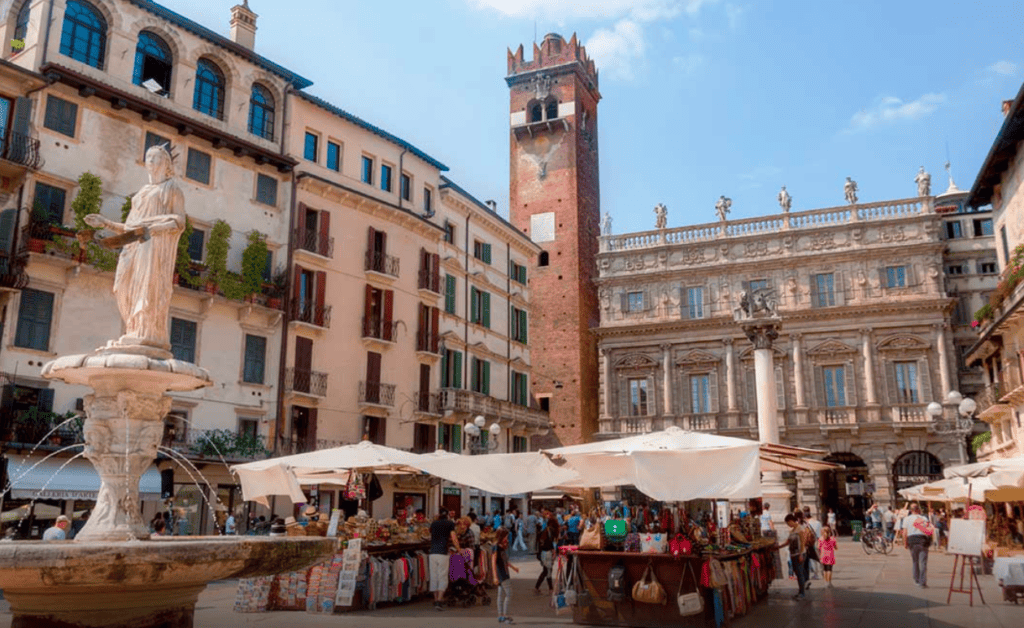 Piazza Delle Erbe is the oldest square in Verona and is often considered to be one of the most beautiful piazzas in Italy (it's up against some stiff competition!). The square is flanked by Renaissance-era palaces and other is a lovely central fountain.
This was once the site of the Roman Forum and chariot races, but today it's far more tranquil with a colourful flower and vegetable market and a wide variety of charming cafes, bars and restaurants.
Nearby, you can climb the 283 steps to the top of the Lamberti Tower for lovely views across the rooftops. The tower is an 84-metre medieval bell tower that was completed in 1463. You can access this with your Verona Card.
Scaliger Tombs – Just around the corner from Piazza delle Erbe, are five Gothic funerary monuments that are considered some of the best examples of Gothic art in Italy.
They belong to members of the Scaligeri, who ruled Verona in the 13th and 14th centuries. Don't miss the tiny, lovely church of Santa Maria Antica behind them.
Parks and Playgrounds
There are quite a few nice parks and playgrounds in Verona so you should be able to find one to entertain your little ones for a bit.
All of the playgrounds are fenced off and have benches and shady areas so they are perfect places to relax for a while and break up your sightseeing. Many of them have water fountains and toilets.
Our favorites include the Arsenale playground, Valdonega, and Raggio di Sole Gardens. The open space and fountains of Piazza Bra also make a great place for young kids to stretch their legs.
You can find out more about playgrounds in Verona by following this link which also includes maps showing their locations.
Swimming Pools
The indoor swimming pools at Monte Bianco Swimming Centre (Centro Nuoto Monte Bianco) and Belvedere Swimming Centre (Centro Nuoto Belvedere) make a great place to take the kids on a rainy day (closed Mondays).
Gardaland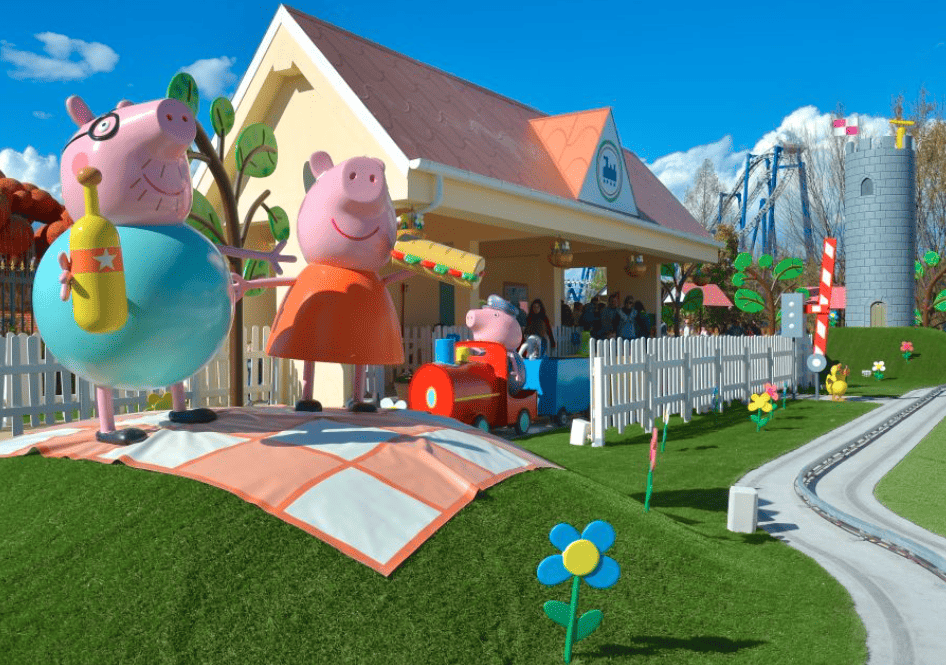 Gardaland is the best-known amusement park in Italy and has a lot to offer for all ages. Little kids will love Peppa Pig Land and Fantasy Land.
It can get busy at the weekend so go during the week if you can. They also have a Sea Life aquarium which is perfect for a rainy day and worth a visit at any time.
>>> Book your Gardaland Tickets here (free cancellation)
Parco Natura Viva
About 30 minutes outside of the city you will find the Parco Natura Viva. You can easily spend a whole day here driving around the safari park where you can spot animals like giraffes and antelope through your car windows.
They also have a normal zoo section where you walk around the animal enclosures.
One thing that sets this place apart from other animal parks is the extinction park where you walk around enclosures with life-sized dinosaur models. Our girls just love anything to do with dinosaurs so this is a great extra to have.
They also have a fabulous animal-themed playground where you can enjoy a picnic on the benches provided. Even better, under 5's can get in free!
Via Mazzini
This is probably a good place to visit at nap time when your little one is sleeping in their stroller. It's the place to go if you fancy a bit of shopping and is the main shopping street in Verona, (it links Piazza delle Erbe and Piazza Bra so you'll probably walk down it at some point anyway).
It's also known as the "Golden Mile" of Verona and you will find luxury brands and high-end boutiques aplenty.
Romeo and Juliet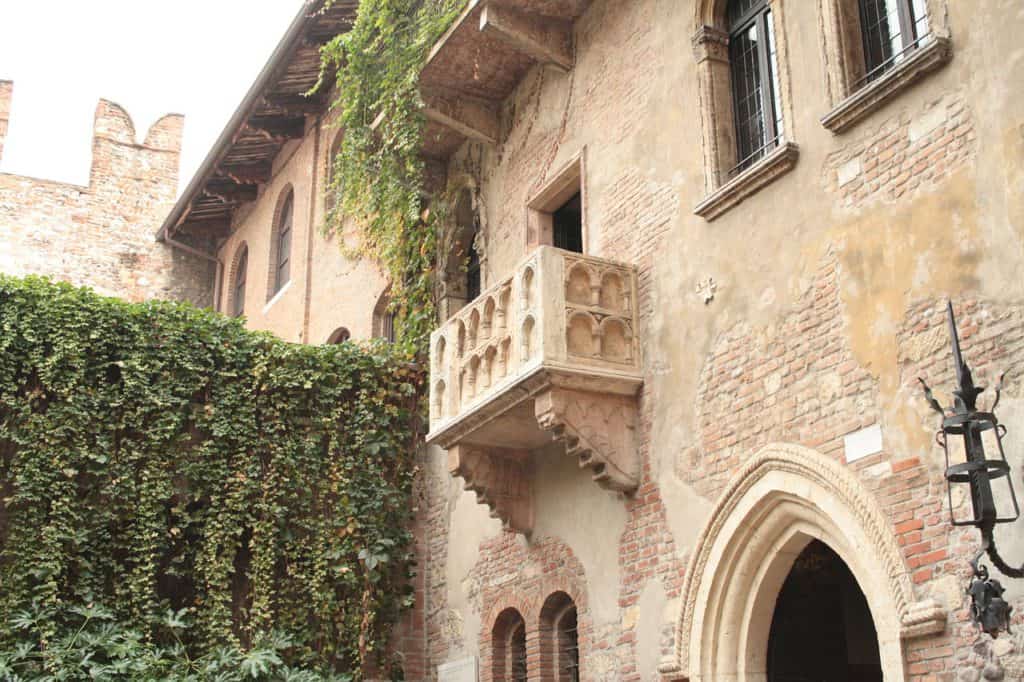 Verona really likes to play up its role as the setting for Shakespeare's Romeo and Juliet.
Casa di Giulietta (Juliet's House) has no real connection to Shakespeare's fictional heroine but that doesn't seem to bother the hordes of tourists that make a pilgrimage here.
The famous balcony was added in 1936 and the house has turned into one of Verona's most popular tourist attractions.
As well as Juliet's famed balcony and the bronze statue of Shakespeare's tragic heroine in the courtyard, the house is also home to a small museum.
If you are keen to soak up all the Romeo and Juliet sights and learn about the feuding families that inspired Shakespeare. Try this special tour with an expert guide.
Day Trip to Mantua
If you are staying a bit longer in Verona you might like to think about some day trips out of the city.
One of the best must be the day trip to the often overlooked historic city of Mantua, taking the train. It is a picturesque town surrounded by water with a skyline dominated by ancient towers, turrets, and domes.
The town is an architectural gem that has scarcely changed since medieval times (the defensive lakes that surround the city don't allow room for expansion).
It is a quiet but charming place to visit and is free from the crowds of tourists and tacky souvenirs stalls that you will find elsewhere.
Lake Garda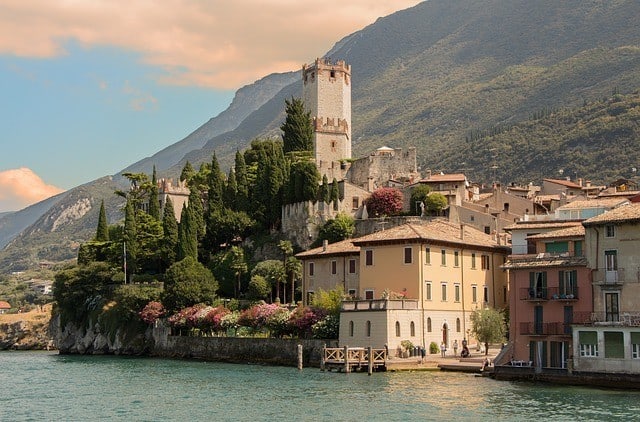 You could spend the day visiting Lake Garda, paddling on the shores, or taking a boat trip.
There's loads to do there and it is worth a few nights stay if you have the time, if not, this day trip is an excellent introduction to the area. Check out this post for ideas for great things to do at Lake Garda and our guide to Lake Garda with a baby or toddler.
Verona with a Baby or Toddler – Final Thoughts
Verona is a fabulous destination to visit with a baby or toddler. With its rich history, stunning architecture, and delicious cuisine, there is something for everyone to enjoy.
From exploring the ancient Roman arena to indulging in some mouth-watering gelato, Verona has it all! Just remember to pack your sense of adventure, and get ready for an unforgettable trip that will create lasting memories for you and your family.