If you are visiting Rome as a family it can be hard to know where to start. It is a big place and there are more things to do in Rome with kids than you could possibly fit in, no matter how many days you have! 
With this in mind, I asked a few of my fellow travel bloggers to share their favourite things to do in Rome with children. This way you not only get my opinion but the thoughts of a few other travel experts as well. 
So, without further ado, let's take a look at the best children's activities in Rome.
What are the Best Things to do in Rome with Kids?
Cycling the Via Appia
Recommended by PlacesofJuma
One of the coolest things to do in Rome with kids is to take a bicycle ride along the historic Via Appia. Already over 2,400 years old, this is one of the oldest Roman trunk roads. In the past, it was the connection from Rome to the smaller towns of the region, running a full 540 km to Brindisi. 
In ancient times it was proudly called Regina Viarum, "Queen of Roads" because at that time it was considered the most important trade route in Italy.
Today, a part of the Via Appia Antica (Appian Way) is a popular attraction for both locals and tourists. The starting point for a bicycle tour is Porta San Sebastiano, here you can rent bikes or e-bikes for you and your kids and start a nice ride along the ancient cobblestone road. The route is relatively easy, but keep in mind that if you want to do the entire route, it's about 17 kilometres long.
Along the way, there are plenty of exciting historic towns to discover, inviting you to take a photo break. Among the most important sights are the Porta San Sebastiano, the Museo delle Mura (Museum of the Walls), the catacombs of Callixtus and San Sebastiano, the Circus Maxentius, the tomb of Cecilia Metella and the Villa dei Quintili.
Top Tip: You can also book this excursion on a guided tour. With that, you and your family will learn more about the history of Rome!
Gladiator School
Recommended by Kirsten from MultigenerationalVacations.com
If you're travelling to Rome with children, one activity that shouldn't be missed is the Roman Gladiator School. 
All ages will delight in the opportunity to learn about what it was like to be a gladiator. Over a two-hour period, kids will learn about gladiator weapons, fighting techniques, and traditional clothing. They will be able to dress up and try out their newly learned skills with the gladiator school instructors.
There's even a gladiator tournament for children who think their skills are up to the task. The winner receives a special prize and all competitors receive a certificate of completion at the end.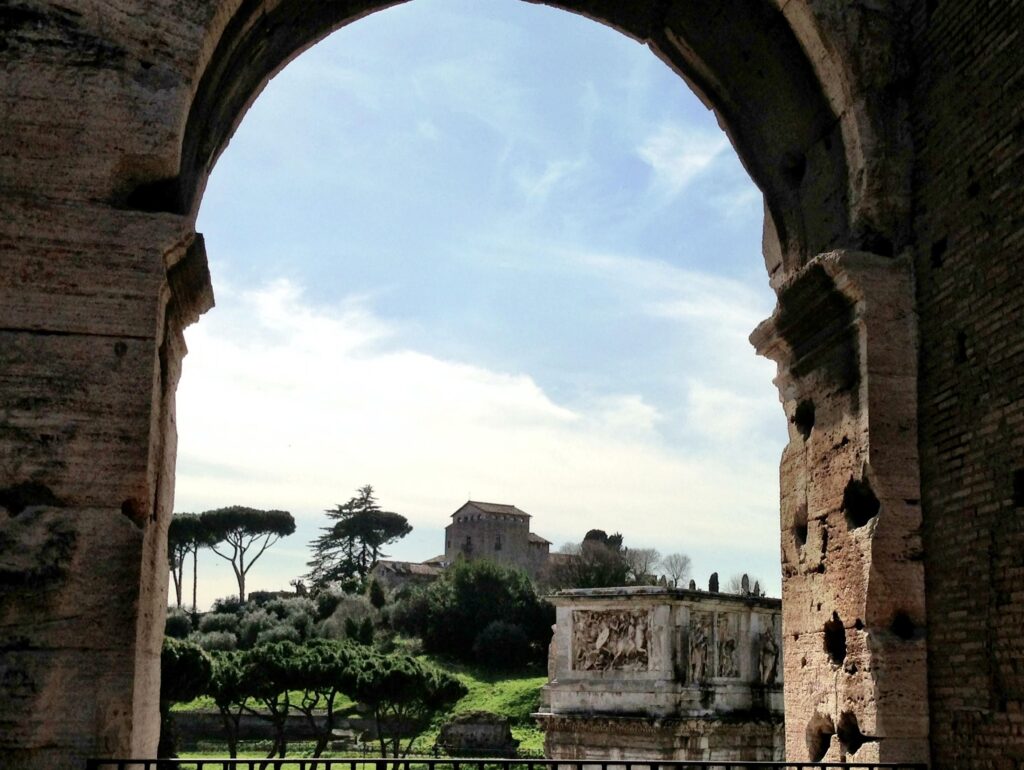 Parents and friends are allowed to watch from the viewing platform and cheer on the "gladiators".
When everyone is finished working up a sweat, drinks are served. Families can also visit the Gladiator School of Rome Museum after school finishes.
Children ages 6 and above can participate in Gladiator School and the cost starts at 120 Euros per child with a discount for additional children.
The school is run by Gruppo Storico Romano, and is located at Via Appia Antica 18, near the entrance to Parco Regionale dell'Appia Antica. It's approximately 30 minutes walking from the Colosseum, so we recommend taking a taxi.
Eat Ice Cream at Giolitti
Recommended by Paulina from ukeveryday
One of the best things to do in Rome with your kids is to try some of the best ice creams that you will find anywhere. Visiting, Giolitti which is only a few minute's walk from Piazza Navona or Pantheon cannot be missed during your visit to Rome.
This famous place is one of the oldest ice cream shops in Rome and offers delicious treats for kids and adults since 1900. It is full of history and has a variety of ice cream flavors to choose from. Your kid will love the fancy colorful ice creams served by friendly staff.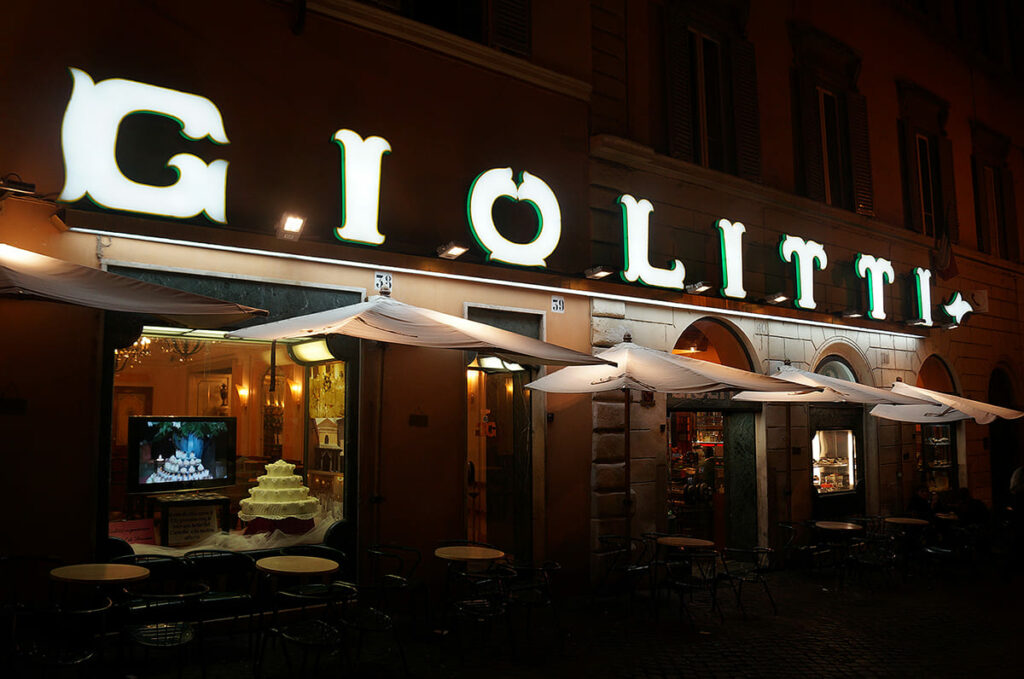 Giolitti is open from early morning until midnight which makes it easy to visit regardless of the time. Whether you want to enjoy delicious ice creams during Siesta in Italy or come there in the evening to avoid crowds, Giolitti is a great place for families to visit in Rome.
The prices in Giolitti are affordable and you will not spend more than a few euros for one of the best ice creams in the world. It is also a great place to learn a bit of Italian with your kid. The staff are always happy to teach them how to pronounce strawberry or chocolate in their language so ordering ice cream in Giolitti will be an amazing experience.
Mouth of Truth
Recommended by Jolene from Wanderlust Storytellers
Visiting a city like Rome is steeped in history with many wonderful sites and places to visit. 
One of the best sites to visit with kids is the Mouth of Truth or known to the locals as Bocca della Verita. The legend that goes with this giant carved statue will be sure to get the kids excited and intrigued!
Situated outside the medieval Church of Santa Maria in Cosmedin is this ancient stone mask representing a river God called The Mouth of Truth. It is a giant carved statue of a man's face that has an opening for the man's mouth.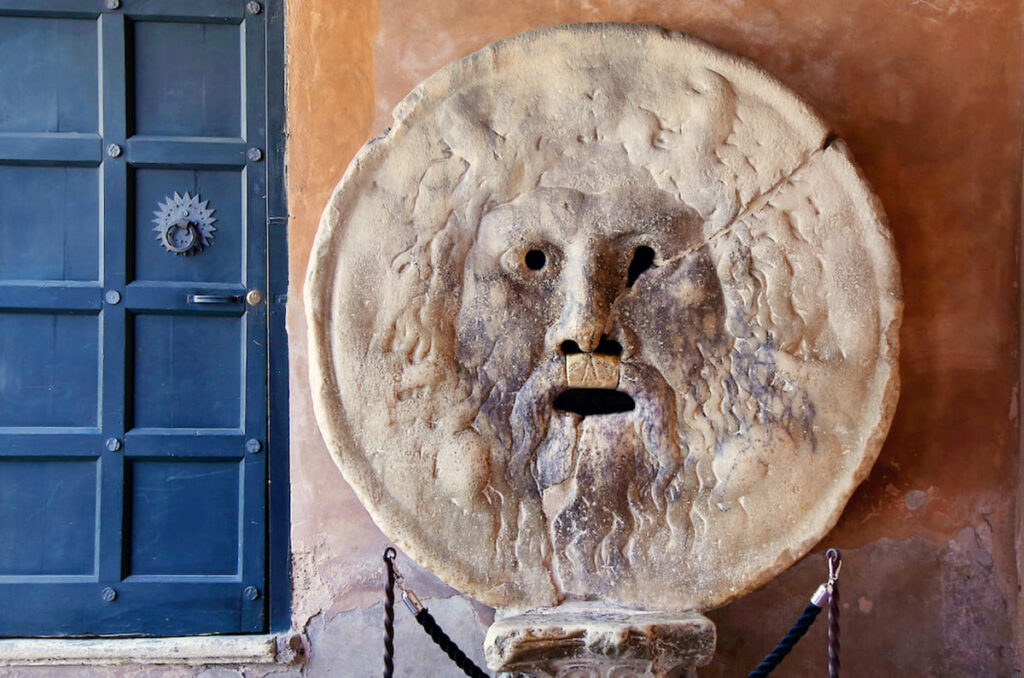 The legend (that will get the kids talking or not) has it that if a liar sticks their hand into the mouth, their fingers will be bitten off! 
This statue has become quite a tourist attraction. A great way to remember this family visit is to take photos with the kids' hands inside the statue's mouth. Although previously there was no charge, in 2016, the church that owns the carving started charging people €2 to take a photo with the carving.
When you first arrive, don't be put off by the line that may stretch out to the street. As a member of staff controls the click of your camera, the queue moves pretty quickly. 
Wear clothes that cover shoulders and knees as you need to exit through a church, or take along a cover-up for the visit. However, they do provide you with a cover-up if required.
The Mouth of Truth can be visited all week, Monday to Sunday from 9:30am to 5:50pm. Unless you take a photo, entry to visit the site is free.
The Colosseum
Lyndsay from The Purposely Lost 
If you're looking for fun things to do in Rome with kids, you shouldn't miss out on seeing the Colosseum, Palatine Hill, and the Roman Forum.
The Colosseum is a tribute to the magnificence of ancient Rome, built as a venue of entertainment for the public. The UNESCO World Heritage Site had its first three stories of the structure constructed in just ten years. At the time the ancient Romans completed it, it was the biggest amphitheatre in the empire.
Two additional significant Roman sites are located near the Colosseum. The remnants of various ancient Roman monuments and temples may be seen on Palatine Hill, one of Rome's seven hills. The Roman Forum has relics of the vast public spaces and buildings where ancient Romans conducted many elements of life, such as government functions and festivals.
The Colosseum, Roman Forum, and Palatine Hill are all within easy walking distance of each other. They're easy to spend several hours in since there is so much to explore. If your kids are interested in learning more about its history, one of the best tips for visiting the Colosseum is to book a guided tour that offers skip-the-line access to all three landmarks. 
Top Tip: A guided tour will mean that you learn way more and you also get to skip the line so won't waste your day queuing. You can book your tour in advance here (it's essential to book ahead).
The Roman Forum
Recommended by Candice from MomInItaly.com
Reading about Rome in a classroom is one thing, but walking through the Roman Forum brings history to life!  
It's an excellent open-air archaeological museum.  They're soaking up history, it's an active visit, and the area is small enough that they won't get overwhelmed.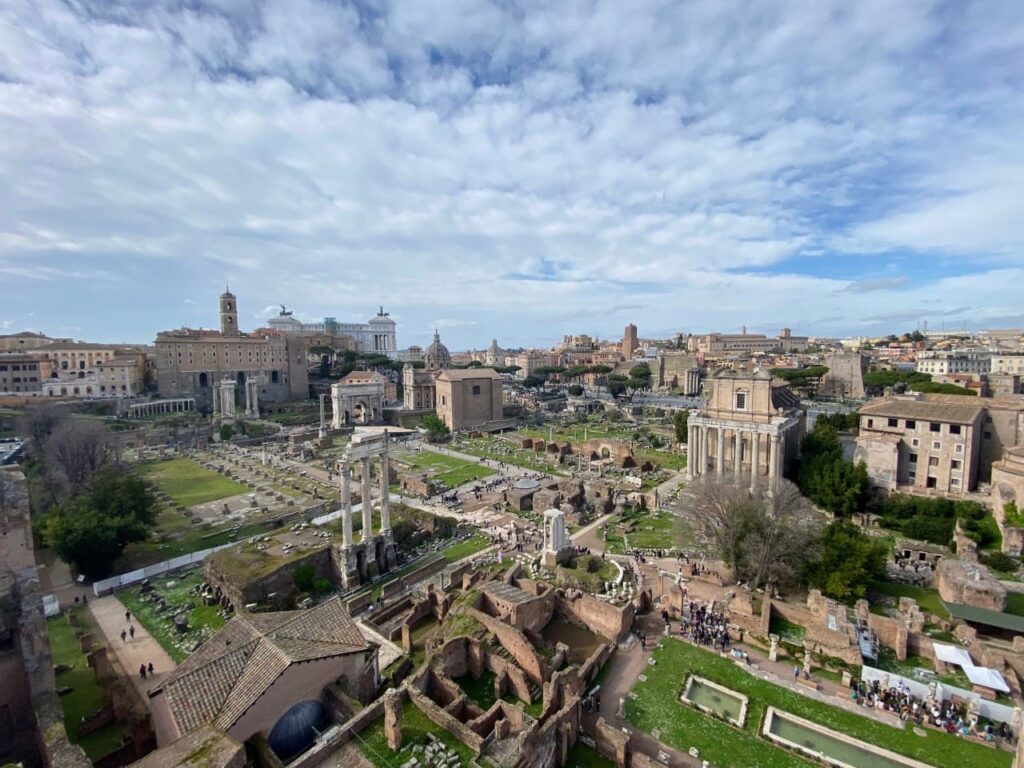 If it's your first visit, it's a great idea to book a family tour.  Guides will tailor the info and fun facts to your children's ages.  For example, they may organize a scavenger hunt for elementary-age kids.  
It's best to enter and exit at different places.  We usually enter at the Arco di Tito and make our way downhill and exit at Via della Salara Vecchia (just past the San Lorenzo in Miranda church). 
Kids Will Like:
·      Arco di Tito (Arch of Titus) – check out the intricate carvings 
·      Via Sacra – the military marched down it after a victory, often with prisoners
·      San Lorenzo in Miranda temple/church – find the marks from vinegar-soaked ropes that thieves used to try to cut and knock the marble columns down
Helpful Tips:  
·      Remember that the Roman summer heat can be relentless.  Pack hats and sunscreen, and if you can, visit in the morning or evening.  
·      Make sure your shoes have good tread – the cobblestones can be very slick.  
·      If possible, avoid bringing a stroller – the large cobblestones are tough to navigate.
·      If you forget your water bottle, you can drink from the fountain near the Arco di Tito.
·      When you're finished, walk up to the Palatine Hill for a fantastic view of the Forum (and check out the fishpond on the climb up!).
·      Have older kids bring a book that shows what the Roman Forum looked like in Ancient Rome.  It will help bring the Forum to life.
Roman Forum Ticket Details:
·      Adults €16, Kids (0-17 years) €6
·      Includes entrance to the Colosseum (reserved time) and the Palatine Hill
·      Valid for 24 hours from first use
Enjoy a park day at Villa Borghese
Recommended by Jiayi of The Diary of a Nomad
One of the best things to do in Rome with kids is spending a day or an afternoon at Villa Borghese, a gigantic park in the middle of the historic center. This is where lots of local families hang out, so you'll be surrounded by other children and lots of dogs, too. 
Villa Borghese has tons to offer families and kids. There are several places within the park where you can rent bikes and quadricycles. The latter would allow the whole family to ride together while exploring different parts of the park. 
On the eastern end of Villa Borghese, there's the Terrazza del Pincio, which offers a magnificent view of Rome. Not far from there, you'll also find a small lake where you can rent a boat and row around. Hungry for some culture? You'll find the Galleria Borghese at the western end of the park. It's perfect for immersing kids in ancient art and history.
If you head to Villa Borghese on the weekends, you'll likely also see local performers putting on shows for kids. There are also tons of skaters there showing off their latest cool tricks for the crowds. 
The neighborhood surrounding Villa Borghese is also one of the best areas to stay in Rome for families, as it is incredibly safe, quiet, and nontouristy. Not only will you have Rome's most beautiful park at your footsteps, but there are also many nice local eateries around.
Visit the Botanical Garden of Rome
Recommended by Clotilde from A Princess Travelling with Twins
An activity often overlooked by tourists is a visit to the botanical garden of Rome.
It is located in a secluded area near the Lungotevere and at the edge of Trastevere. It is very central but hidden enough to limit the hordes of tourists even in the hottest summer months.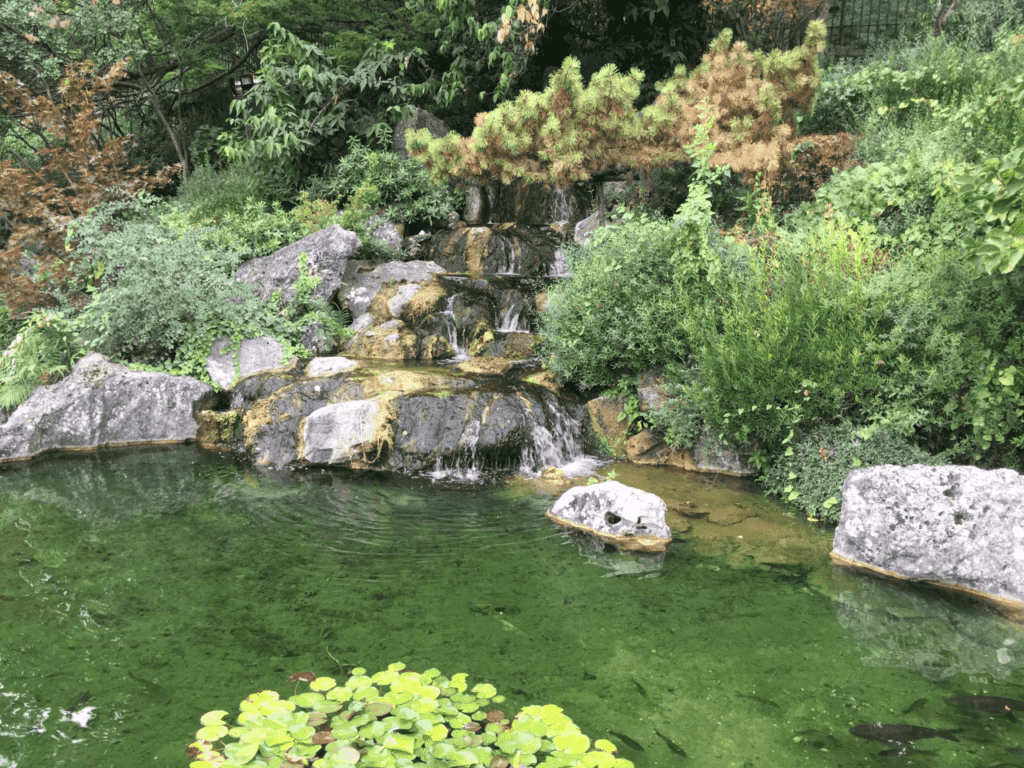 The botanical garden is a happy little oasis where you can relax for a couple of hours and find some coolness to escape from the summer heat.
The space is divided into several thematic zones.  Children will be intrigued by the large tropical greenhouses and will have a lot of fun playing hide and seek in the raised flower beds of the medicinal plant garden, or in the largest bamboo forest in Europe.
If you are planning a visit to Japan, you can begin to breathe the air by taking a tour of the Japanese garden, organized with extreme care, with pretty bridges and waterfalls over a small stream.
If you are planning to visit Rome with kids, a visit to the botanical garden should definitely not be missing from your itinerary!  It is an easy stop to include before going for dinner in Trastevere or after bringing the kids to see the cannon that is fired everyday at 12 Noon from the Gianicolo hill.
The opening hours and costs have changed several times during and after covid, so it is best to check the website for the most up-to-date info.
Take a Pasta Making Class
Recommended by James Ian from Travel Collecting 
A super fun activity in Rome that kids will love is to take a pasta making class.
Morning classes ending with lunch and late afternoon/ evening classes ending with dinner are available. The class starts with appetizers and a glass of bubbly for adults and something softer for kids.
Then everyone gathers around a large table where individual work stations are set up. Friendly Italian cooks then instruct everyone (in English) on what to do, starting with mixing the ingredients and rolling and kneading them into a ball of dough.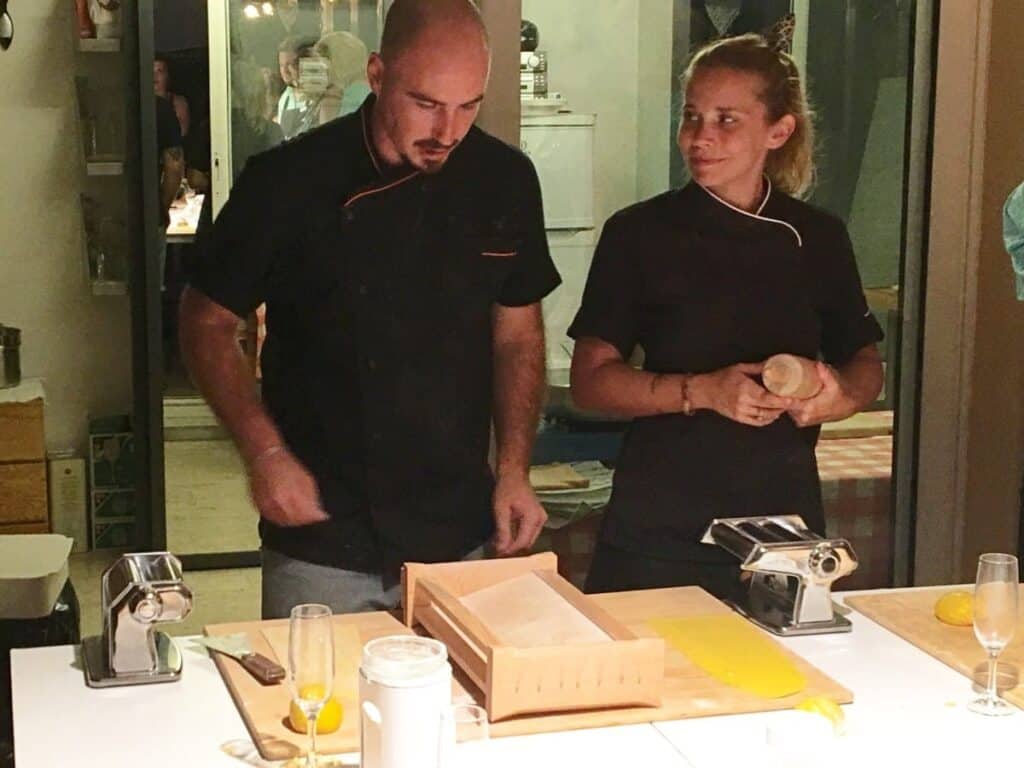 While the dough is chilling, a volunteer makes the sauce, following the instructions of the friendly guides. When the dough is ready, everyone rolls theirs out, puts it through a pasta maker to flatten it out, then uses a chitarra to make spaghetti from half of it and cuts the remainder into ravioli. 
When the pasta is ready, it all gets mixed together, then boiled while everyone relaxes over another drink. Finally, everything is ready and newfound friends sit down to a delicious lunch or dinner of freshly-made pasta. It's the perfect way to cap off this fun experience. 
Several companies offer pasta cooking classes, and prices may vary, but expect to pay around $85 for kids and $100 for adults. This includes all drinks, the ingredients for the pasta and sauces, plus you get to keep a copy of the two recipes so you can make them again when you get home. 
What to do in Rome with Kids – Final Thoughts
I hope that you have enjoyed reading about all these great family activities in Rome. There are so many great things to do in Rome that kids will love and I am sure that every child that visits will have some amazing memories to take home.
Of course, this post has barely scratched the surface when it comes to how to spend your time in Rome so be sure to check out our Italy Itinerary for some more essential activities in Rome (and Italy). If you are travelling with young kids, take a look at our guide to Italy with a baby and toddler.