Hoi An is a beautiful, small city that is one of the most popular places to visit in Vietnam. It can be hard to leave, but if you plan to move on, a common journey is to head south from Hoi An to Ho Chi Minh City (HCMC). It is a journey of over 800 kilometres so it is worth giving some thought to how you get from Hoi An to HCMC.
Ho Chi Minh City is the largest city in Vietnam and the financial hub of the country. It used to be known as Saigon and the old name is still used by some locals. The city has a long history and there are many museums and colonial architecture from the time of French rule.
Your choice of how to travel between Hoi An and HCMC essentially boils down to 3 options; travelling by road, rail, or air. Each has some plus points as well as some downsides which we will cover in detail in this blog so that you can easily choose the best way to get to HCMC from Hoi An.
Flying From Hoi An to Ho Chi Minh City
The quickest way to travel between Hoi An and Ho Chi Minh City is to fly. There is no airport in Hoi An but it is only about 45 minutes to the airport at Da Nang and it is pretty straightforward to get there. The airport at HCMC is also close to the centre and the flying time between the two is only 1 hour and 25 minutes.
Even with getting to the airport early and waiting around a bit, you should comfortably be able to travel between the two airports in under 4 hours.
The best option for flights is Vietnam Airlines which has several flights each day. If you are able to book in advance you can get some great deals with the best deals on flights coming in under $30 (cheaper than the bus and train!). Even if you are more last minute the prices are good value.
For most people, flying will be the best way to travel from Hoi An to HCMC. It's by far the quickest option, it's relatively comfortable and it's not expensive.
On the downside, it is not the most environmentally friendly option, you miss out on seeing any of the changing landscape as you travel, and some people (like me) just don't like flying. Whether any of these factors outweigh the convenience factor is for you to decide.
>> Check flight prices here">>>> Check flight prices here
Check out our guide on Where to Stay in Hoi An and Hoi An to Hue travel guide.
Hoi An to Ho Chi Minh by Train
It is also possible to travel from Hoi An to HCMC by train. This option also involves first going toDa Nang, where there is a train station. This can be done by bus or private car and takes around 40 minutes. Once you arrive in HCMC you will be fairly central and close to District 1 where most people stay.
From Da Nang to HCMC takes around 17 hours by train and there are 7 trains each day, you can check departure times here. We like to use 12go Asia to book our tickets, the website is easy to use and you can print your own tickets so you are ready to go when you get to the station.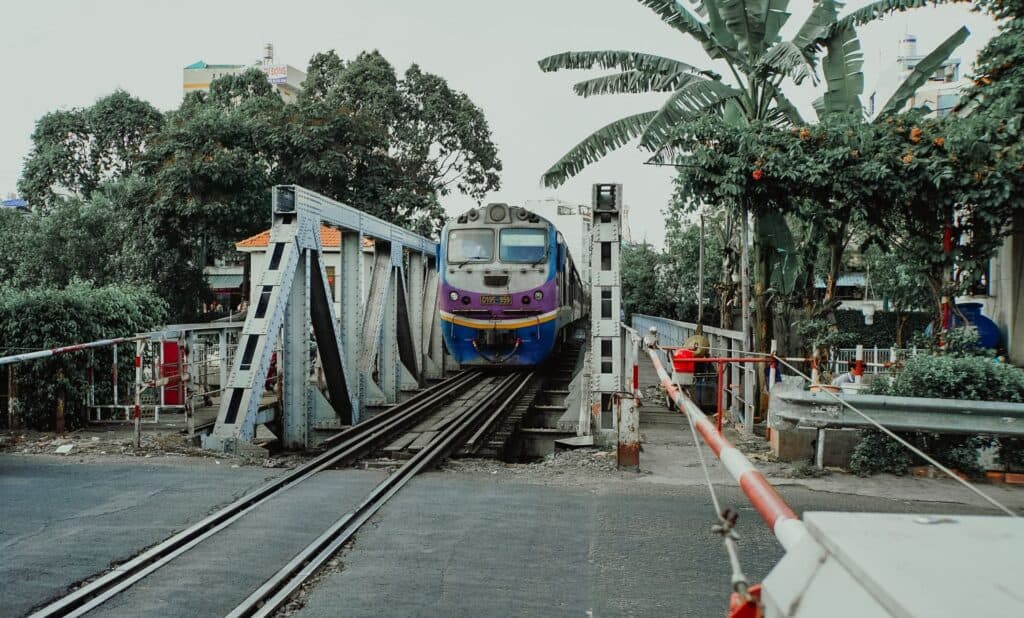 The price of your ticket varies depending on the level of comfort that you are looking for. You can choose between hard seat, soft seat, hard berth and soft berth. A hard seat is just a wooden bench and your body won't thank you for choosing a hard seat for a journey this long!
Soft seats are a better option but are just normal seats in an open carriage. For a bit more privacy you can choose a hard berth (6 bunks) or a soft berth (4 bunks).
Unless you are braving it on the hard seat, all carriages have air conditioning.
The soft berth is around $65 and actually only a few dollars more than a hard berth and around $10 more than a soft seat. We think that this is well worth it for a journey of this length. You get more comfort and more privacy. It is ideal if you are a family of four as you will get the whole compartment to yourself.
In Vietnam, it is common for trains to have private carriages attached where you can travel in greater luxury. This is particularly popular on the journey to Sapa in the North. At the time of writing this isn't available for the journey from Hoi An to HCMC but it may well become an option in the near future so keep an eye out if you are happy to pay more for a luxury experience.
For many people, taking the train is the best way to travel from Hoi An to HCMC. It gives you the chance to see a bit of the country out of the window, it is relatively comfortable and can be a bit of an adventure. Admittedly, some people will find it boring and much prefer the short sharp option of flying.
As you largely travel overnight, taking the train doesn't eat into your time too much and you don't have the hassle of bag and liquid restrictions at the airport.
You will also save the cost of a night's accommodation so you should factor that in when comparing the overall cost of flying vs taking the train.
Hoi An to Ho Chi Minh by Bus
Your third option to get to HCMC is to take the bus. We've taken our fair share of overnight buses on our travels but I can't say that I have ever particularly enjoyed them and I would generally choose the train over the bus if there is an option to do that (as there is for this journey).
They are a means to an end and the buses in Vietnam are actually pretty good and you can get semi-flatbed seats that are quite comfortable. We definitely prefer the train over the bus though.
The drivers may not be the worst in Asia but you can expect to have your sleep interrupted by the horn at regular intervals and it is the least safe way to travel between Hoi An and Ho Chi Minh.
Once again, you will first need to travel to Da Nang before catching a bus to HCMC. The total journey time is around 25 hours. You will be dropped off centrally and should be just a short taxi ride from your chosen hotel.
The journey from Hoi An to HCMC by bus should cost around $40 but click below to check the latest prices.
Final Thoughts on Getting from Hoi An to HCMC
We hope that you have enjoyed reading our guide to travelling between Hoi An and Ho Chi Ming City. We think that the choice boils down to whether you like the romance and adventure of taking a sleeper train or whether you prefer the far quicker option of flying. 
We would only choose the bus if the train is full and flights were really expensive.
However you choose to travel, we hope that you have a safe and enjoyable journey!
Some more posts you might like