Hoi An is the most beautiful town in Vietnam and has a wonderful blend of quaint crumbling old buildings nestled amongst temples and lit up by exotic lanterns.
These great qualities combined with a stunning riverside setting have made it one of the most popular tourist destinations in Vietnam and was top of our bucket list when planning our Vietnam itinerary.
The fact that you are going to Hoi An is pretty much a given (or at least it should be), so the next question is where to stay in Hoi An?
Hoi An offers a few very different options when choosing where to stay.
There is the historic old town, more modern suburbs, rural areas surrounded by padi fields, or you can stay right by the beach.
The best place to stay in Hoi An might be different for everyone, but it is certainly a destination that offers a choice that everyone should be happy with.
Where to Stay in Hoi An
When deciding between the best places to stay in Hoi An, you have 3 main options to choose from.
Central Hoi An – This is the Hoi An that you will recognise from photos and where most of the attractions, temples and atmospheric streets can be found. The 3 neighbourhoods that are most attractive and have the best places to stay in Hoi An are the Old Town, Cam Pho and An Hoi.
Rural Outskirts – Head out of town to Cam Chau and Can Thanh and you can find a more tranquil place to stay in amongst the paddy fields.
Beach – Just 5km from the historic centre you can find yourself-relaxing on the golden sands of the beach. This is a great place to stay to combine the delights of Hoi An with some beach time.
So, there are plenty of good places to stay in Hoi An but it is worth remembering that the area is well set up for tourism and things aren't too far apart. This means that wherever you choose to stay you should still be able to enjoy spending time in all the different locations.
---
Short on time?

Here are our top hotel choices:

Little Hoi An Boutique Hotel & Spa– A charming place to stay right by the river in central Hoi An.

and

Hoi An Coco River Resort & Spa – This is where we stayed, a bit out of town with a lovely rural setting by the river (free shuttle to town and the beach).
---
The Best Neighbourhoods to Stay in Hoi An Centre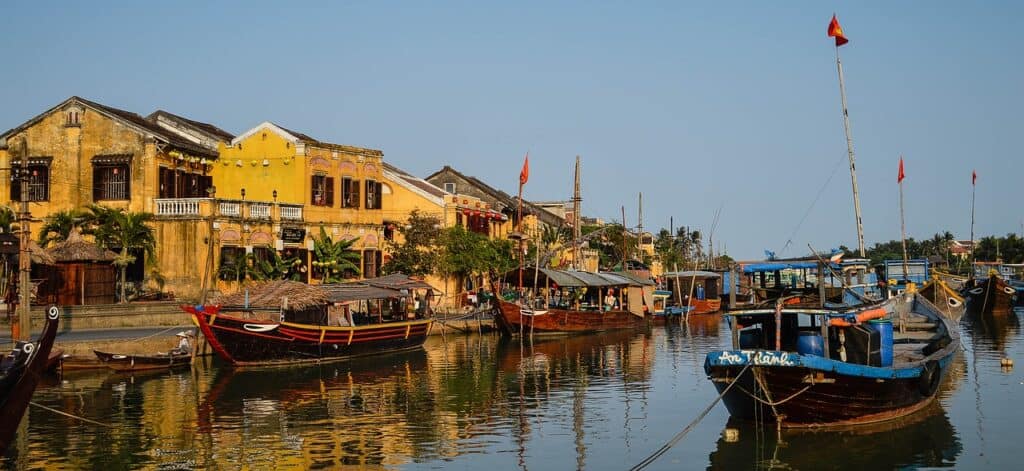 Hoi An Old Town
The Old Town is the heart of Hoi An and the area that has been protected as a UNESCO World Heritage Site since 1999. This is where you will find the most famous sights, like the Japanese Covered Bridge, temples and ancient traders houses like Phung Hung house. It is a wonderful mix of architectural styles that have been well preserved over the years.
This is the area of Hoi An that you are coming to see and it is likely to be where you spend most of your time wandering the quaint streets filled with colourful old shops and decorated with the lanterns that the town is so famous for.
If you choose to stay in the ancient town of Hoi An you will be right in the heart of the action. This is great as it is easy to wander out and see the sights with the minimum of fuss and you can easily pop back to the hotel for a rest whenever you like. It will give you the chance to see the town at different times of the day.
This is important as the atmosphere in the town does vary quite a lot.
The town has become really popular with tourists, and at some time is does feel a bit too busy. If you are staying right in the heart of the town you should be able to visit at different times to see the town at its best.
Best times to explore Hoi An old town
It is pleasant to visit early in the day when the heat is less and the crowds have not yet descended.
The roads are closed to traffic between 08:30 and 11:00 and again from 15:00 until 21:30. This gives a more tranquil experience but you still need to keep an eye out for bikes and cyclos.
You have to see Hoi Na by night when all the lanterns are lit up, boats head out on the river and floating lamps are released to float downstream.
The Best Hoi An Old Town Hotels
The nature of the ancient town means that there is not that much accommodation in this area. If you are wondering where to stay in Hoi An ancient town, we have listed some of the best ones below.
Vinh Hung Heritage Hotel – Step into ancient Hoi An by staying in this beautiful boutique hotel.
Accommodation is provided in an ancient wood-panelled trading house that has been decorated to transport you back in time with antique furniture and oriental rugs. Don't worry, all modern comforts and needs catered for (aircon, Wi-Fi, TV etc.)
The location is perfect, right in the heart of the town and close to the Japanese Bridge and this is the best place to stay in Hoi An old town. Service here is top-notch and they provide extra benefits like the use of the pool and spa at a nearby hotel.
>>> Check Prices and Reviews Here
Nha Lan Homestay – Nha Lan Homestay offers lovely, affordable accommodation right in the centre of town. Rooms are bright, clean and have everything that you need for a comfortable stay in Hoi An.
The highlight of staying here is the fabulous home-cooked breakfasts (and sometimes dinners if you are lucky), and the chance to spend time with the welcoming owners who will make you feel like you are part of the family. This could be the most friendly guesthouse Hoi An has to offer.
---
Be sure to check out some of our other related posts:

10 Day Vietnam Itinerary – The perfect short itinerary

Hoi An with Kids – What to do and what you need to know

South-East Asia Packing List – Take what you need. And not what you dont
---
Cam Pho
If you cannot find anything in the old town that suits your style or budget, the nearby neighbourhoods of Cam Pho and An Hoi also contain many historic buildings and charming streets, and they are just a short walk away from the old town.
Cam Pho is the district found just to the north and west of the old town, this makes it a very central place to stay in Hoi An and it is easy walking distance from here to all of the main sights and atmospheric streets of the ancient centre.
There is a really good choice of places to stay in Cam Pho including some really nice boutique hotels, and the town's best budget accommodation.
Whilst the area isn't quite as picture-postcard pretty as the oldest parts of town, it remains an attractive and interesting place to stay where you can experience Vietnamese life slightly outside the tourist bubble of the historic centre.
Calla Villa Hoi An – This hotel has a great location just 350 yards from Cam Pho Temple. The rooms are amazing with comfy big beds and nice bathrooms. There is a lovely swimming pool which is a perfect place to cool off after some sightseeing in the ancient town which is a short flat walk away.
>>> Check availability for your dates
Laluna Hoi An Riverside Hotel & Spa – This hotel is very well located near to all the attractions but in a very quiet area. Rooms are spacious and luxurious, and the best ones have river views over. There is a fairly small pool to cool off in and a gym to work up a sweat.
The breakfast here is one of the best in town.
>>> Click here to find the best room rates
An Hoi
Just over the bridge to the south of the Old Town is the island of An Hoi, which sits prettily in the Thu Bon River. This is the place to come for the town's famous night market and is also where you will find the best nightlife in Hoi An.
It is a pleasant area with nice colourful old buildings and attractive streets. It is a charming area by day, but it lights up at night when the market attracts throngs of people to the streets that are lit up with colourful lanterns and have stalls selling a variety of goods including an array of street food delights. There are lots of cool bars and restaurants along the riverfront and it is a lively and vibrant place to visit.
The area does get very busy in the evenings, particularly the main streets near the bridge, so it is probably not the best area to stay in Hoi An if you like an early night.
Little Hoi An Boutique Hotel & Spa – This is a great boutique hotel that overlooks the Thu Bon River and is just a 5-minute walk from the old town. This is a good option for anyone that likes a hotel with a bit of character alongside the hotel essentials of air-conditioned rooms equipped with flat-screen TV, desk, minibar and tea/coffee making facilities.
The en suite bathrooms include a walk-in shower with free toiletries. If they are available it is well worth getting one of the rooms with a river view so that you can relax in the room and watch the world go by. You can also lounge by the pool bar, exercise at the fitness centre, or learn to cook authentic Vietnamese dishes.
>>> Click Here to Book your Boutique Stay 
Vinh Hung Old Town Hotel – This modern hotel has everything you could wish for when looking for the best place to stay in Hoi An, the rooms are big and clean, the beds are comfy, the buffet breakfast is great, the staff are friendly, there is a nice swimming pool and – best of all – a nice low price.
It also has a great location that is an easy walk to the night market, riverside and old town but is set in a nice quiet street.
>>> Find a bargain room at Vinh Hung 
---
Don't forget to sort out your travel insurance! Get a quote from World Nomads, our favourite travel insurance provider.
---
Rural Hoi An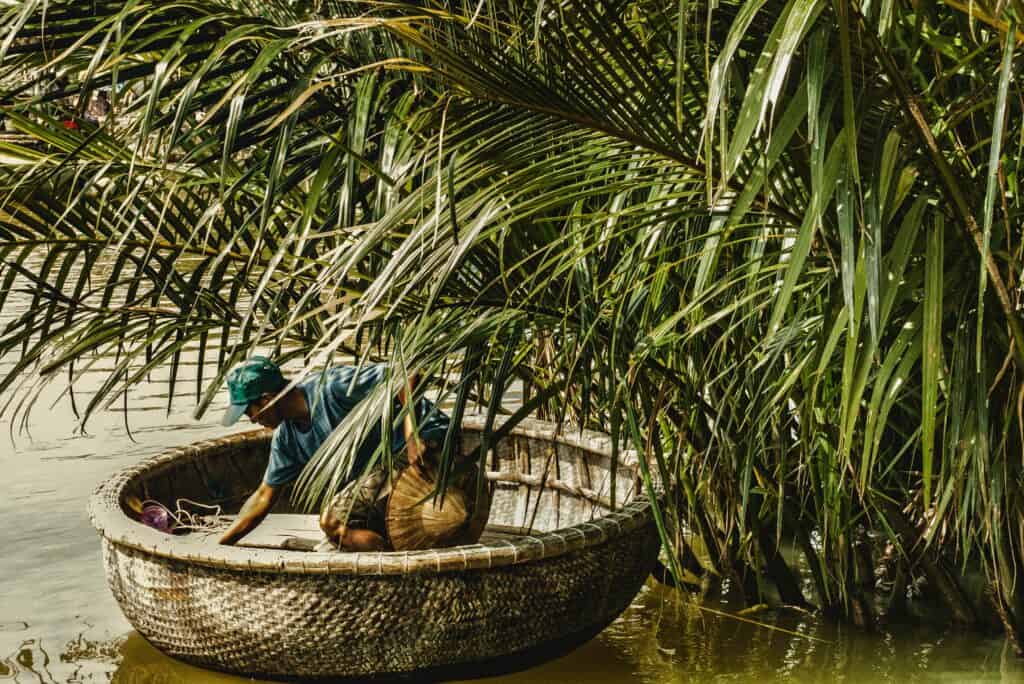 As you head out of town to the east it becomes increasingly rural and less built up and rice paddies dominate the landscape. The neighbourhoods of Cam Chau and Cam Thanh have some good options for accommodation in Hoi An that allow you to explore the town, countryside and beach.
Cam Chau
Cam Chau is located to the east of the city centre and is a mix of urban and rural as the town spreads out into the surrounding countryside areas and rice fields can be found between the development.
As it is situated between the town and the beach it offers easy access to everything that the area has to offer. There is a good amount of facilities like restaurants, shops and cafes, and the chance to escape the town and explore the countryside.
Some parts of this neighbourhood are quite quiet with paddy fields and the river banks to explore, but it is not as quiet and bucolic as some guidebooks and blogs would have you believe. Many areas are quite built up and some of the roads are busy and noisy.
This area and Cam Thanh are good choices if you are looking for a more authentic Vietnamese experience, and would like good access to both the town and the beach.
Hoi An Waterway Resort – One of the nicest things about this unique place to stay in Hoi An is the peaceful garden and pool area which makes for a great place to relax.
If you fancy a bit more pampering then you can take advantage of the massage and spa services. The rooms here are huge and comfortable. To get into town you can use the free shuttle bus or the free bikes.
>>> Check availability for your dates
Lotus Hoi An Boutique Hotel & Spa – Another great choice in Cam Chau is the Lotus Hoi An Boutique Hotel & Spa where all rooms are fully contained and fitted with a combination of traditional Vietnamese and French-style furnishings. They all have a private balcony offering beautiful views of the swimming pool or the garden.
You can relax with a pampering beauty treatment or a massage or enjoy a dip in the pool and a refreshing cocktail at the bar.
The hotel has its own private beach club are on An Bang Beach where guests can use towels, sun loungers and umbrellas. They have a regular free shuttle service to the old town and the beach.
>>> Click here to book your room or read reviews
Cam Thanh
Further east is Cam Thanh which is further out of the town and makes for a good base with some nice hotels right by the river. In this neighbourhood, you will find more rice paddies, coconut groves and grazing buffalos.
It is still not too far from the town or the beach and many of the hotels provide bikes or a shuttle bus to help you get around.
The main road is still pretty busy but this area makes for a nice place to escape the town and enjoy some time by the river.
We stayed at Hoi An Coco River Resort & Spa and really recommend it as perfect family-friendly accommodation in Hoi An, it is definitely one of our favourite places to stay in Hoi An. The rooms are nice, the breakfast is outstanding and the location is really peaceful with the restaurant nicely set right over the water.
They provide free bikes and run a  free shuttle bus that regularly goes to the old town and to the beach (where you get free use of deckchairs and parasols). All in all, it makes an ideal base to enjoy Hoi An.
>>> Click here to check availability at Hoi An Coco River Resort & Spa
Another good option is Zest Villas and Spa, over 200 reviews give it an average review of 9.5/10, you can read the reviews here
Cam Kim
If you are looking for a truly rural experience then head over to Cam Kim it has only been connected to An Hoi by bridge since 2016, prior to that there was only a ferry and that has helped to keep the area quiet and relatively free from development.
It is a great place to explore by bicycle, there are some small temples to see and the island is famous for wood carving and there are many workshops where you can watch the craftsmen at work.  There are not that many places to stay on the island, just a few small hotels and a number of lovely homestays where you can get a taste of local life.
>>> Find a place to stay in tranquil Cam Kim
Hoi An Hotels on the Beach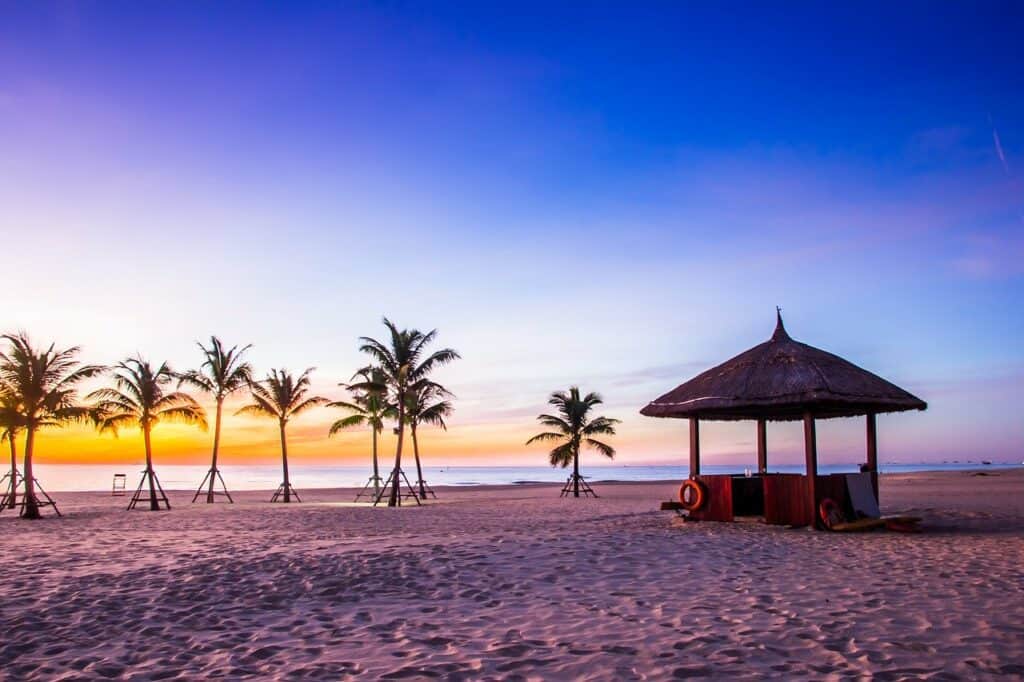 One of the great things about Hoi An is that you can combine a visit to this quaint old town with spending some time on the beach. If you love the beach, then you might prefer to stay on the beach and head into town for visits when you feel like it.
Staying by the beach offers quite a different experience as you will be in a resort rather than in amongst the historic buildings and Vietnamese flair of the centre.
A benefit of staying at a beach resort is that it is generally a little bit cooler with a sea breeze taking the edge of the Vietnamese heat, and it is always nice to wake up to the sights and sounds of the sea on your doorstep.
It is only 5km between the beach and the town, and you can easily get a taxi or Grab, and many hotels have a free shuttle bus. It is possible and popular to cycle between the two destinations but bear in mind that it can be very hot or very rainy, depending on the season.
The main road between the two is also very busy with traffic so it could be worth trying to find a more scenic back route.
An Bang is the most popular beach and has the most hotels, tourists, and facilities. South of An Bang, is Cua Dai beach which is a quieter place with a more chilled atmosphere but much of the beach has been washed away by recent storms. They are about 3 kilometres apart and in between is a small 'secret beach'.
Tropical Beach Hoi An Resort –  Is a great choice of accommodation in Hoi An Vietnam. The location is great as it is right by the beach and there is a fabulous swimming pool to keep the kids happy.
They also serve a great buffet breakfast and have free bikes and a free shuttle into town.
>>> Click here to check availability at Tropical Beach Hoi An Resort
Aira Boutique Hotel and Spa – The amazing staff, heavenly spa and attention to detail at this 4-star hotel mean that it could be the best place to stay Hoi An if you are looking to relax by the beach.
Final Thoughts on Where to Stay in Hoi An
We hope that you have enjoyed reading our guide to the best places to stay in Hoi An. It is a town that is blessed with some wonderful hotels and varied neighbourhoods. We hope that this guide has helped you to choose the perfect hotel for your stay, we think that there is something for everyone in Hoi An and you get fabulously good value at all price brackets.
Many of the best hotels in Hoi An are fully booked quite a long time in advance, so be sure to book in advance. If you are looking for hotels in Hoi An Vietnam, you can use these links to Agoda and Booking to check availability on your dates and to read reviews from recent guests.
If (like me) you get overwhelmed with too much choice and are still wondering where to stay, Hoi An has some great hotels and our top picks are:
Little Hoi An Boutique Hotel & Spa– For a charming stay by the river in central Hoi An.
and
Hoi An Coco River Resort & Spa– For a tranquil stay with fabulous breakfasts away from the centre.
Have you been to Hoi An? Let us know in the comments. If you are heading there, be sure to check out our Hoi An itinerary.