Baby carriers are an essential piece of kit if you are planning to travel with your little one.
They allow you to get on and do things having both your hands-free (think showing passports or tickets, carrying bags, taking photos) and they enable you to carry your child in a way that minimises the strain on your arms, back and shoulders.
In this post we will review the best baby carriers for travel, highlighting the features that we have found useful on our travels and helping you to choose the travel baby carrier that suits you and your baby the best.
Even if your child is able to walk, you will be grateful to have your carrier at those times when they decide that they just don't want to walk or those times when you need to get somewhere that bit more quickly.
They will allow you to get to places that you otherwise would have to give a miss, like that temple at the top of the hill that looks so interesting but is some 800 steps away.
---
This post is one of our family travel gear reviews where we aim to help you find the right product to make your travels go that bit smoother.

Head over here to check out everything from lightweight backpacks to travel cots and toddler tablets
---
A Stroller or a Baby Carrier?
It is always a difficult decision to decide whether to take a stroller when we go traveling, and it varies depending on the destination, likely activities and our method of transport.
It is great that they can take the strain off your back but we find that they can be quite limiting at times (check out our favourite travel strollers here).
When it comes to baby and toddler carriers we think it is an essential item and wouldn't travel without one. They are just so much more flexible, allowing you to carry your child up hills, down dales, through cobbled streets or up those stairs.
With a stroller, you are always risking ending up somewhere impassable like some steps so it can be more hassle than it is worth. Baby carriers don't have that issue so anywhere that you can go your baby can go too.
Types of Baby Carrier
There are a number of different types of baby carrier on the market, each with their own strengths and weaknesses. We cover this in more detail in the individual reviews below, but you will need to decide what the priority is for you.
All of the carriers in our list have been thoroughly tested and will keep your child safe and in a good position that encourages healthy development.
To choose which carrier to go for you will need to weigh up how you prioritise features such as, size, weight, comfort, back support, and price.
To help you do this we have divided our review into sections with our top picks of the best baby carriers for newborns, best baby carriers for hot countries, best baby carriers for hiking, and we finish off with our overall favourite all-round baby carrier.
Travel Baby Carrier Review
Best Baby Carrier for a Newborn
Original Ergo Baby Carrier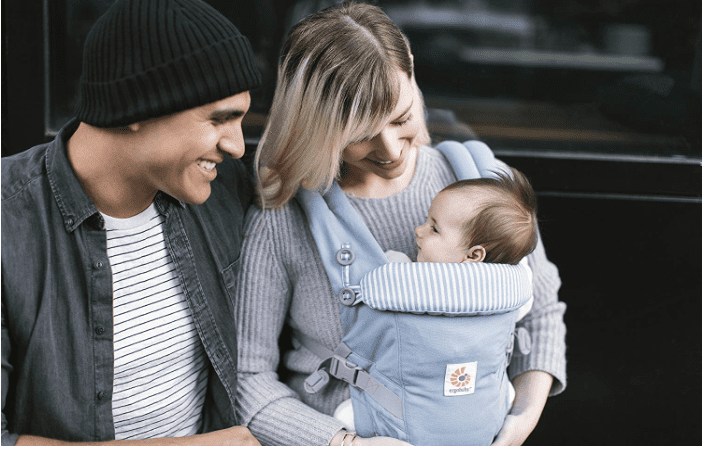 One of the most popular baby carriers on the market, the original Ergobaby carrier allows you to carry the baby in three different carrying positions: on the front, on the back and on the hip.
The soft structured carrier is suitable for newborn babies when using the simple to use newborn infant insert, which keeps tiny babies well supported and snug to your chest.
This carrier gives you many years of use though as it will carry a child up to 20kg – which is about age 6 on average. I think that would be hard work in any carrier!
Thanks to the carrier's ergonomic design, your child can always sit in the correct frog-leg position which maintains the baby's natural position and encourages healthy development of the spine and hips.
The Original Ergobaby carrier has been certified and recommended by the International Hip Dysplasia Institute (IHDI) so you don't have to worry about any ill effects on your baby. They have also been approved by the Campaign for Healthier Backs so they should be good for you too.
We bought this carrier after having issues with another carrier that was passed on to us when we first became parents.
This carrier has been a vast improvement. Comfy for us to wear thanks to the padded shoulder straps and waist belt. It seems to be comfy for our girls who both enjoy being carried in it.
It is lightweight and packs down small so is ideal for travel. There is a hood that supports your baby's head when they are asleep and this also offers UV50+ sun protection.
The only real downside of this carrier is the lack of a forward facing position, as your infant grows older they will probably want to see what is going on when you travel to new and exciting places.  They can still look around when facing you, or on your back, but some babies are happiest in the forward facing position.
Click here to read our full review of the Original Ergobaby Carrier
Pros
Natural position for your baby
3 ergonomic wearing positions: on the front, on the back and on the hip
Lightweight
Useful pocket (handy for nappies, baby wipes etc.)
Cons 
Best Baby Carrier for Hot Weather
Ergobaby 360 Cool Air Mesh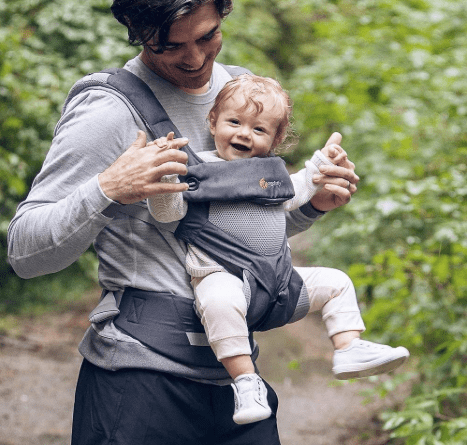 Ergobaby has addressed the main issue with their original carrier by releasing the Ergobaby 360. This allows you to carry the baby in four different positions: on the front facing you, on the front facing forwards, on the back and a hip carry position.
It retains the great ergonomic features of the original carrier, so your baby will sit in the ergonomic frog-leg position in all set-ups.
The carrier is very comfortable to wear thanks to the extra-wide waistband that gives great support to the lower back. For this reason, this is a great carrier for older babies and toddlers, it gives great support and makes carrying your child a breeze.
We think that the Ergobaby 360 Cool Air Mesh is one of the best baby carriers for travelling due to having a breathable 3D mesh that will help keep your baby keep cool in hot climates and when being active.
Although the Ergobaby 360 baby carrier is adjustable in many ways, we did notice that this carrier seems to fit taller people better than shorter ones.
If you have a shorter body you may be more comfortable with the ErgoBaby original carrier so in our family this is the best baby carrier for dad.
We find this carrier has been excellent for a wide weight range and for carrying our kids as they have got older, it makes a great portable toddler carrier. It is a great baby carrier for airports and planes.
This carrier is machine washable fabric and ours has come up looking as good as new despite extensive use around the world.
We really love this carrier and have written a comprehensive review of our experiences with the 360 carrier. Please check it out.
For more details on the Original 360 Cool Air Mesh, please click here
Pros
Ideal for warmer climates
4 ergonomic wearing positions: parent facing, on the back, on the hip and on the front facing outwards
Wide waistband gives good back support (helps with carrying heavier children)
Cons
No pocket
Less comfy for shorter people
---
Like the look of the Ergobaby Carriers?
---
Babybjorn Baby Carrier One Air, 3D Mesh

This is another excellent choice for travelling in hot countries as it is made almost entirely from a super soft, breathable mesh, this helps to keep both you and your child cooler.
Unlike the Ergobaby 360, this carrier actually has a mesh between you and your baby to aid cooling. This is a great feature in hot countries, but also if you like to be active while travelling, whether that is hiking in the mountains or exploring new places.
The carrier offers flexibility in the seating position of your child by featuring an adjustable seat area that allows you to use normal leg position, wide leg position or any position in between.
There is an adjustable head support that will keep your baby's head in a comfortable safe position while they sleep.
The carrier is easy to adjust and offers good back support, although we felt that the support offered wasn't quite as good as the Ergobaby 360 with its extra wide waistband.
The carrier is a good long-term option. It is suitable from birth and does not require an additional insert, it is certified up to 15kg which is generally around 3-4 years old.
Pros
Breathable mesh that dries quickly
4 carrying positions: facing in (two height positions), facing out or on your back
Excellent support for your baby
No insert required for new-born babies
Cons
Best Lightweight Baby Carrier Wrap
Close Caboo Lite
This is a very light and compact baby wrap carrier which makes it great for travelling, it can easily be put inside your daypack for when you need it.
This baby sling has limited back support so is only really suitable for babies up to around 3 months old for extended carrying.
It is tested up to 15kgs though so it could potentially be used as a back-up for when your usually walking toddler gets tired and needs a bit of help getting to your destination.
Your baby will be held close to you in a high frog legged position which is best for their development. The carrier is easy to use but takes a bit of getting used to so you may want to have a look at the YouTube videos that show you how to wear it in the 6 different carry positions.
The carrier is very soft and is a flexible, functional carrier for a good price. If you are looking for something very small that you can take away with you, then this is a good option and one of the best baby carriers for travelling light.
But, given the lack of decent support for your back, if you are looking for a carrier that you will use a lot, we recommend choosing one of the other carriers in this review that offer more structured support and will last you a bit longer.
Pros
Very lightweight and compact
Soft materials
Feel close to your baby
Cons
Limited back support
Best suited to very young babies
---
Travelling with a Baby or Toddler?
---
Best Baby Carriers for Hiking: Toddler Backpack Carriers
Littlelife Cross Country S3 Child Carrier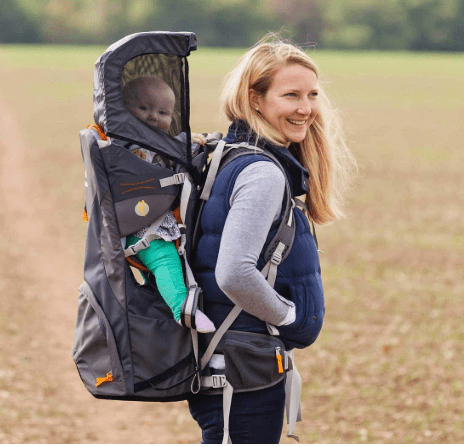 If you are planning to do a lot of hiking with your child you might want to consider a more structured toddler backpack carrier such as the Littlelife Cross Country S3 Child Carrier.
Marketed for children 6 months to 3 years old (max load 30kg), this baby backpack is far bulkier than the soft structured baby carriers listed above but is a great option for older babies and toddlers.
The pivoting hip belt offers good support for you whilst walking and the weight of the pack is well distributed through your shoulders, back and hips. Overall it makes carrying your child for long periods easier than a less structured carrier such as those above.
Children love to be in this style of backpack as they are high up and can see everything around them as you explore.
This does mean that you need to watch out for low branches/doorways and allow for the extra headroom. As they are not pressed against your body they should stay cooler in warm countries and you don't have to worry about sweating all over them!
This carrier features lightweight airflow shoulder straps for increased breathability, and it also comes with foot stirrups that will stop your child from kicking you all the time as they swing their legs. There is a handy mirror included that allows you to keep an eye on your child.
There is a sunshade included to protect your little one from the sun's rays and to help keep them cool.
The seating area is anatomically shaped and fully adjustable, so the carrier will grow with your child and ensure that they can remain comfortable at all times.
A great feature is the large base pocket which has enough room for you to bring a few essentials for a trip out, and there is also a side bottle pocket to help keep you all hydrated on your travels.
The carrier has an anchor point that you step on when you put your child into the carrier. This means that you can do this safely and the pack is then quite simple to get on your back, and this can easily be done on your own.
Pros
Well distributed weight for easy carrying
Good sized pocket for bits and bobs
Cons
Osprey Poco Plus AG Child Carrier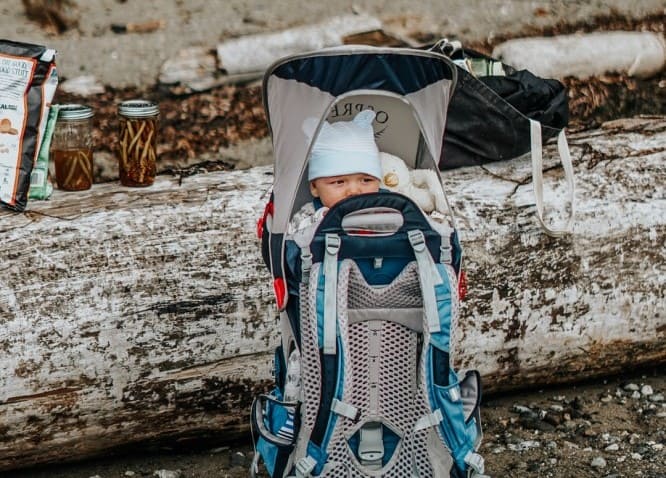 If you are looking for a baby backpack carrier the Osprey Poco AG Plus Child Carrier covers all the bases and is probably the best baby carrier for hiking as well as the best baby carrier backpack for travel.
It has an adjustable trampoline suspended mesh back which is great for comfort and to keep you cool on the trail.
This backpack carrier for baby and toddlers is extremely comfortable and thanks to the adjustable torso length it is easy to get it right for different sized parents.
The child seat features adjustable safety harness, seat and foot stirrups so will keep your little one comfy for the full age range.
A novel feature of the bag is that it includes an 11 litre detachable daypack so you can carry a good amount of things with you and remove the day bag if necessary.
It might be useful to use this as your baby essentials bag that you keep stocked with nappies, wipes, food etc. and take everywhere, whether you are using the carrier or not.
For this pack Osprey really seem to have included everything they could think of with a hydration sleeve (compatible with all types of hydration bladders), an emergency whistle, internal key clip, a rain cover, an SPF 50 sun shade for your child, loads of pockets, a mirror to check on your child and a foldaway design for easy storage and travel (although it is still pretty big even folded).
Overall this is a quality product that lives up to the high price tag. Osprey has paid a lot of attention to the little details that matter and have created a comfortable, versatile and high-quality product.
Pros
Very comfortable, easy to adjust for different height parents
Detachable daypack and lots of pockets for essentials.
Great build quality.
TÜV GS certified so you can be confident your child is safe.
Very light for what it is
Cons
High price tag
Phone holder on strap is too small for many modern phones.
Best Baby Carriers 2022: Best All-round Carrier
We hope that you have enjoyed reading this post and now have a better idea of which baby carriers are best for your family.
We have shared what we like and don't like about each of these carriers and hope that this helps you to make this important decision. A good baby carrier is an essential item for parents that like to travel, and it is worth getting this decision right.
You can't go too far wrong with any of the baby or toddler carriers on this list as long as you understand the benefits and limitations of each design, and buy the one that best suits your needs.
Overall we rate the ErgoBaby 360 as the best baby carrier for travel. It has a great range of positions to carry your child, including forward-facing for inquisitive babies.
It offers great support for you back to make carrying heavier toddlers easier, and the air mesh version is great for travel and hiking as it helps to keep your baby cool.
>>> Check prices for the Ergobaby 360 Carrier here
Have you tried any of our favourite baby carriers? Or have you tried a different baby carrier that you love and think that we should check out for 2022? Please let us know your thoughts in the comments below, we love to hear from our readers!


Disclosure
To put together this review, and to inform our own buying decisions, we have personally tested all the carriers in this post and have sought additional opinions from other users. We have not received any free or discounted products.
We travel with an original Ergobaby carrier and an Ergobaby 360. We think that these compact carriers are great for travel and offer the best compromise between size, quality and price.
We have written detailed first-hand review posts of the Original Ergobaby and the Ergobaby 360, please check them out.
For a holiday with less travel and a greater focus on hiking, we would definitely take the Osprey Poco Plus.