*This post may include affiliate links, this means that we may receive commissions if you choose to purchase through the links provided (at no extra cost to you).


The compact travel stroller market has become increasingly sophisticated with more and more great products on the market. This is fabulous, but the wealth of great options can actually make it harder to decide which product to go for.
In this Mountain Buggy Nano vs Babyzen Yoyo review, we compare two strollers that are lightweight, very portable, come with lots of features and have a premium build quality.
We hope that this direct comparison will help you to decide if the Mountain Buggy Nano or Babyzen Yoyo+ is right for you and your family.
Both the Mountain Buggy Nano and Babyzen Yoyo+ feature in our review of the best travel strollers, along with 8 others including the Ergobaby Metro Stroller and the Baby Jogger City Tour which we have also reviewed separately.
Babyzen Yoyo vs Mountain Buggy Nano Review
Which is the Best Travel Stroller? Babyzen Yoyo or Mountain Buggy Nano? 
Not got time to read the full review? Here are the headlines.
Both the Nano And Yoyo are brilliant compact strollers, but the Babyzen Yoyo is definitely our favourite. Here are just a few of the reasons why we think it is the best.
It is just brilliant. Not just an awesome compact stroller but simply one of the best strollers any baby could have
The Yoyo is really well made and is a true premium product that is worthy of the price tag.
The Yoyo by Babyzen is smaller, easier to fold and easier to carry
The Babyzen Yoyo+ offers a more comfortable ride for little ones and is easier to push
The Yoyo has a great buggy board
Whilst we LOVE the Yoyo, there is too much wrong with the Nano either.
Read on for our full comparison and don't forget that the Nano is quite a bit cheaper than the Yoyo. You can check the price here
---
Babyzen Yoyo+Dimensions and Stats
Age Range: Newborn to 40 pounds (18.1kg)
Folded size: 20 x 17.5 x 7 inches (52cm x44cm x18cm)
Weight: 13.6 pounds (6.2kg)
Babyzen Yoyo Pros 
Very compact and lightweight so it is great for travel
You can use it from birth through to the toddler years
It can become a travel system by attaching a car seat
You can attach a buggy board
Babyzen Yoyo Cons
It is quite expensive
It is not designed for rough terrain
Mountain Buggy Nano Dimensions and Stats
Age Range: Birth – 44 pounds (20kg) (Under 6 months requires a car seat or cocoon)
Folded Size: 22  x 20 x 12 inches (51 x 30 x 54 cm)
Weight: 13 lbs (5.9 kg)
Mountain Buggy Nano Pros
Really low price but amazing quality makes it great value
Comfortable seat with a good sunshade
Can use as a travel system
Slightly lighter than the Yoyo
Better braking system
Mountain Buggy Nano Cons
A bit bulky for a compact stroller. Won't fit as hand luggage on all airlines
Poor quality buggy board
Nano vs Yoyo: Size and Weight
Both of these travel strollers are very lightweight coming in at 12.8 pounds for the Yoyo+ and 13 pounds for the Nano.
In real life, you won't notice any difference in the weight and can be assured that they are both very lightweight for a stroller.
Both the Babyzen Yoyo Plus and Mountain Buggy Nano have been designed to meet the requirements for aeroplane cabin luggage allowances so that you can simply wheel your little one up to the door of the plane and slip the stroller into the overhead locker.
Having said this, the Nano is too big for some airlines, so be sure to check the dimensions if you are keen to take your stroller as carry luggage.
Often you can put a stroller in the hold for free so you might not want to take it on board, but it is great to have the option.
Size-wise, the Babyzen Yoyo plus definitely has the edge as the Yoyo is a quite a bit smaller when folded: 52cm x44cm x18cm vs  51 x 54 x 30 for the Nano. When you put them side by side the Yoyo looks a lot slimmer and sleeker so we think it is the clear winner in this respect.
Babyzen Yoyo+ vs Nano: Age Range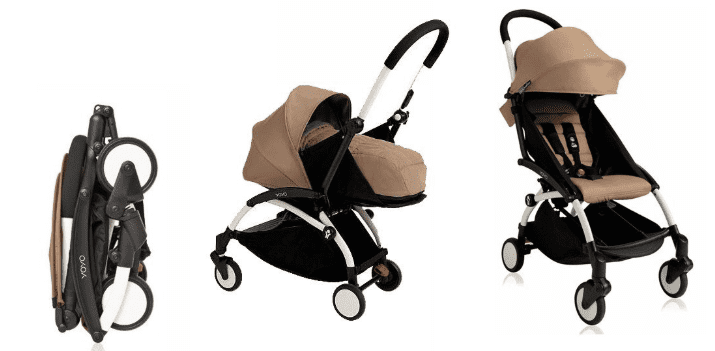 Both the Nano and the Yoyo are suitable from birth with the addition of a newborn kit.
The Babyzen Yoyo newborn pack will allow your baby to lie flat and facing you in a bassinet type arrangement.
What is really impressive about this is that the stroller will still fold up nice and small even with the newborn kit attached. The newborn seat comes with a really cosy fleece lining, a headrest, footrest and 2-position pop-up canopy.
This really is travelling in style for a newborn and you need have no worries about their safety thanks to the 5–point safety harness.
The Nano has a newborn attachment that they call a cocoon. It is the perfect name for it as when you fold the canopy over to meet the bassinet your baby is totally enclosed in a really cosy little nest.
At the other end of the age range, the Mountain Buggy has a bit of an advantage as it is certified to 20kgs whereas the Babyzen is only up to 15kg.
In real life, they are a similar size and you will probably get a similar length of use out of them (who really knows the weight of their toddler?), but technically speaking the Nano is a clear winner in this respect.
Yoyo vs Mountain Buggy Nano: Folding
Both of the strollers have a pretty nifty folding mechanism that means that it is a doddle to fold them up into a nice small bundle.
The Babyzen claims to have a one-handed fold system and with a bit of practice you should be able to manage it with one hand, the Nano requires 2 hands.
To fold up the Babyzen Yoyo+ you first need to press a button on either side of the hood so that you can fold the handlebar back, this bit needs two hands.
You could do this before picking up your baby and then take it from here one-handed, with your baby under one arm, it takes a bit of getting used to but it is possible.
You then need to reach under the seat to press another button that releases the folding mechanism. The stroller will then fold up nice and neatly and there is a little clip to help keep it closed.
When you want to use the buggy again you just unclip this and shake the stroller out and you are good to go.
To fold up the Mountain Buggy Nano you press the buttons on the inside of the handlebar and push down and the whole thing concertinas up neatly.
It is really easy to do and the frame clips closed. For extra security, you can wrap around the Velcro strap to hold it all in place.
Yoyo vs Nano: Carrying
Both strollers are really easy to carry about as they come with handy carry straps for when you quickly need to pick them up and lift them around.
For longer journeys, you may want to use the storage bags which come with each pushchair (we think the bag for the Nano is a bit higher quality).
Overall the Yoyo+ is a bit easier to carry simply because it is less bulky so it is easier to walk around with it over your shoulder.
Mountain Buggy Nano vs Babyzen Yoyo: Comfort and Safety
Mountain Buggy Nano and the Babyzen Yoyo both have generously sized seats.
The seat in the Babyzen is a little deeper and wider, but the Nano has a longer leg length. The seat heights for both strollers are more or less the same with the Nano being just 1.5cms taller.
What all this means is that despite their compact nature both of these pushchairs will do a great job at transporting an older toddler around.
The seat on the Nano is a bit better padded and has the better suspension giving an all-round luxury ride for your little one.
Both strollers have good 5-point safety harnesses. The buckles on the Nano feel a bit more robust but both will do the job perfectly well.
Both the Nano and the Yoyo have adjustable seat positions, neither lie fully flat but you should be able to find a comfortable position for your little one in either buggy. The Nano has a useful lift up leg rest which is great for a when younger children are sleeping, the Yoyo lacks this feature.
Both buggies have good hoods with UPF 50+ sun protection. The design is slightly different though and whereas the Yoyo has a solid back, Mountain Buggy has incorporated a mesh into the hood of the Nano.
There is no cover so this is not ideal for sleeping children in windy, rainy or cold conditions, as the elements will get in. And it is not ideal in sunny climates since the sun shines on the child's face whilst they are reclined and (hopefully) sleeping.
Another irritation with the Nano canopy was the fact that when it is pulled open it is really close to your hands on the handlebar, so much so that it actually rubs on your hands. With the hood folded back, the hood fabric and rods are rubbing on your hands.
The Yoyo has a peek-a-boo window and a really handy pocket on the canopy (great for cell phones, snacks etc). The Nano doesn't have either of these features.
Nano vs Yoyo: Steering and Manoeuvrability
One of the big differences between the two strollers is the height of the handlebar.
Both handlebars are in a fixed position but the Mountain Buggy Nano handle is at a very low 38.5 inches (98cm) from the ground whereas the Babyzen Yoyo measures 41 inches (106cm) high. This is worth considering if you are either very tall or very short as it can make the buggy hard to push around if the height is uncomfortable for you.
Both buggies move around nicely, especially on smooth surfaces. The wheels on the Nano feel a bit more substantial and can lock and swivel whilst the wheels on the Babyzen Yoyo can only swivel.
Locking the wheels comes in handy for cobbles or gravel so the Nano has a bit of an advantage in those conditions.
The Yoyo is smooth and silent when on decent pavements and has the advantage of suspension on all 4 wheels as opposed to the rear suspension on the Nano. This gives an overall comfier ride for your little one and will also reduce the strain on the parent's wrists by smoothing out the bumps.
Yoyo vs Nano: Brakes
Both buggies have pretty decent brakes that will definitely do the job.
The brake on the Nano is a dead easy colour coded step on step off system that is easy to find even in a hurry.
It is definitely a bit easier to use the Nano brake than the one on the Yoyo which can be a bit tricky to get on and off.
Yoyo Plus vs Nano: Travel system
Both strollers can be used as travel systems by attaching an infant car seat.
If you purchase some car seat adaptors, the Babyzen compact stroller can become a fully functional travel system for the ultimate in ease of travel.
For this, you can use the specially developed Babyzen iZi Go Modular car seat that has been made in partnership with BeSafe. You can also use a number of popular infant car seats like Maxi-Cosi Pebble and Pebble Plus, Cybex Aton-Q, Nuna Pipa.
The Mountain Buggy Nano comes with a strap that allows you to attach a wide range of infant car seats including their own, Protect infant car seat, Chicco Keyfit, Graco Snugride Click Connect 35, Maxi Cosi Pebble, Maxi Cosi Mico, Maxi Cosi Cabriofix, Peg Perego Primo Viaggio, Safe 'n Sound Unity, and Phil&Teds Alpha.
Nano or Yoyo: Buggy Boards
The Babyzen Yoyo+ buggy board is designed to carry children between around 2 and 5 years old (or a maximum weight of 20kg) and they can sit or stand on the board.
It is a well-designed piece of kit that fits really nicely and easily on to the frame of the Yoyo plus, you simply clip it onto the 2 holes on the stroller and it slots into place. It is easy enough to do with one hand and feels very secure
The pushchair is still very easy to push along (even one-handed) with the buggy board in place but it does make it harder to manoeuvre about if you are going up kerbs.
When the buggy board is in place you cannot fold the stroller up. This is a shame but at least it comes off really easily. When you are out with the stroller you can clip the board in an upright position so that it is nicely tucked out of the way when you don't need it.
The Nano is compatible with the Mountain Buggy Freerider stroller board and scooter in one. This is an absolutely brilliant idea! Toddlers can scoot around on their own or attach the scooter to the buggy and be pushed along with the stroller and their younger sibling.
It is such a great idea but unfortunately, the build quality is not so great and many owners have reported the scooter breaking which is really not what you want to happen when your child is whizzing along on a scooter! 
I find that all buggy boards get in the way of my feet when I am pushing the stroller along but this is even more of a problem with the scooter design as it sticks out further back than a normal buggy board.
All in all, the buggy board on the Yoyo is way better, so if that is something important to you the Babyzen Yoyo is the one to go for.
Mountain Buggy Nano vs Babyzen Yoyo+: The Verdict
We hope that we have helped you to choose the Babyzen Yoyo+ or Mountain Buggy Nano.
We definitely prefer the Babyzen Yoyo overall. Mainly because it does the job of being a compact stroller so well and it is quality through and through.
It is truly compact and quite amazingly small, this is probably the key feature of a compact stroller so we feel that it is worth the extra when choosing between these two compact folding strollers.
We also love the buggy board that fits on it so well and will give this stroller an extra lease of life if you have 2 children to transport.
The Nano remains a worthy contender though and is a very polished and high-quality product that comes with a much lower price tag.
The Nano is especially worthy of consideration for shorter parents that will appreciate the lower handlebar.