*This post may include affiliate links, this means that we may receive commissions if you choose to purchase through the links provided (at no extra cost to you).


A baby carrier is surely one of the essential baby purchases for any parent. They give you a certain sense of freedom to get out and about doing things with your baby that isn't possible without one.
Whether you fancy climbing a mountain, walking to the shops or riding a bus, a baby carrier will make transporting your newborn so much easier.
In this post, we will compare Ergo vs Tula baby carriers. These are two of the biggest names in the baby carrier world and both are almost universally popular with owners.
If you are looking for a new soft structured carrier, this comparison between Ergobaby and Tula baby carriers will help you to decide if an Ergo or Tula carrier is best for you.
Ergo

baby

vs Tula
Both Ergobaby and Tula have expanded their range in recent years. Their original carriers have now been supplemented by newer carriers that allow your baby to be carried in a number of different positions.
This means that when deciding which to go for Tula vs Ergo, you must also make a choice between the different models from each brand.
Oh, and each carrier comes in a huge range of different colours and patterns.
We never said choosing a baby carrier would be easy!!
But, we are here to try and make it just a bit easier for you by highlighting the differences between each model and helping you to decide which would be the best baby carrier for you and your family.
Ergo vs Tula

Review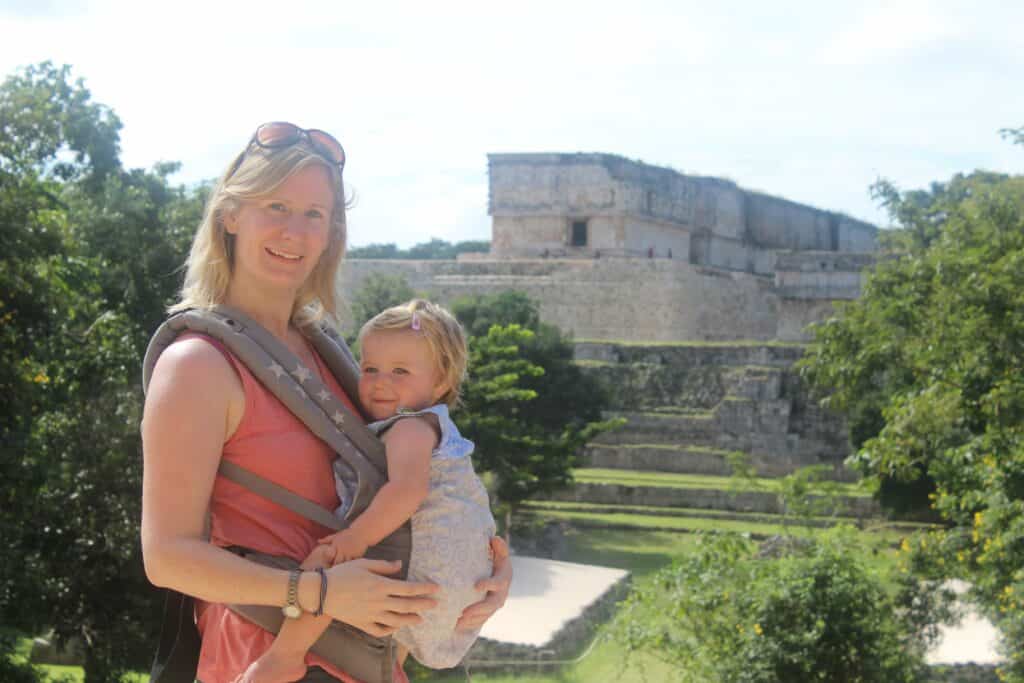 I will start this Ergo vs Tula comparison review by stating that there are actually a huge amount of similarities between the Ergo and Tula carriers (the brands remain separate but Ergobaby now own Tula).
They are both soft structured carriers that have similar features like a hood to support the baby's head and protect it from the sun, they come in a range of materials for different climates or activity levels, most models have pockets and they all allow several different carrying positions.
Despite the many similarities, you will find plenty of parents who will happily identify with either brand and fervently insist that it is superior. I think that this is a good sign and suggests that most owners are happy with their choice.
All Ergobaby and Tula carriers have been designed to carry your little one in an ergonomic "frog-leg" position. This means that you can relax, safe in the knowledge that having your baby in the carrier will not cause any adverse impact on their development.
They are all designed to be 'one-size fits all' and have lots of adjustable straps to ensure that they will comfortably fit a whole range of male and female body shapes. This also means that it is relatively straightforward to swap carrying duties between parents.
What
is the difference between Ergo and
Tula?
The main difference between the Ergo and the Tula is probably in the straps. In general, the Tula's come with softer narrower straps that are popular with more petite parents. The Ergobaby carriers have wider straighter straps that some smaller framed people find too wide, but men and larger ladies often prefer the fit.
The difference is not huge and these are generalisations. All of the carriers featured on this page are adjustable in many ways and are suitable for adults of widely varying stature.
The Tula's are famous for having a wide range of different colours and styles. Ergobaby is increasing their range of styles but it remains more limited than Tula.
Tula v Ergo: What are Your Options?
Original Ergo Baby Carrier
The Original Ergobaby Carrier has been a hugely popular carrier for many years now. It gives you the choice of three different positions to carry your baby. On the front (parent facing), on the back, and on the hip.
You can use this carrier from birth, but only if you use the infant insert (available separately). It works really well and keeps your tiny baby well supported and snug to your chest.
You will get a good few years use out of the Original Ergobaby carrier as it will carry a child up to 44 pounds (20kg) – which is about age 6 on average (good luck with that!).
Thanks to the carrier's ergonomic design, your child can always sit in the correct frog-leg position which maintains the baby's natural position and encourages healthy development of the spine and hips.
The original Ergo has been certified and recommended by the International Hip Dysplasia Institute (IHDI) so you don't have to worry about causing any damage to your baby. The carrier has also been approved by the Campaign for Healthier Backs which means that this is a great option for parents as well.
We are pleased to say that all the baby carriers that we have covered on this page are ergonomically designed, so you can buy with confidence that they are safe for your baby.
The original Ergo carrier is really light and easy to fold up nice and small. This makes it perfect for travel and it is less bulky than the Ergobaby 360. There is a hood that supports your baby's head when they are asleep and this also offers UV50+ sun protection.
This carrier has a really useful pocket that is ideal for keeping a couple of nappies, some wipes and maybe a snack or two.
The only real downside of this carrier is the lack of a forward-facing position, as your child grows older they will probably want to see what is going on when you travel to new and exciting places.
>> Click here to check the latest prices (this is the cheapest carrier in this article)
Ergobaby Adapt Review
Click here to check the latest price and find the perfect colour
The Ergobaby Adapt is fairly similar to the original Ergobaby Carrier and has many of the same benefits, it seems like it is an evolution of the original design that seeks to improve on the few weak points of the original.
One of the key differences is that the Adapt is suitable for birth without the need to use an infant insert. This is much more convenient than needing an insert, but it is worth noting that a few owners feel that the carrier is too big to use with a newborn without an insert, but others love it and are happy using it with a tiny newborn
Another key difference is that you can cross the shoulder straps behind your back to form an X shape on your back. This is designed to provide additional lumbar support compared to the standard 'backpack style' strap system (which you can still use). The straps easily adjust to fit multiple wearers from petite to larger body types (26 in – 55 in / 66 cm – 140 cm, shoulder straps adjust from 28 3/4 in – 48 3/4 in / 73 cm -124 cm).
The Adapt allows you to wear your baby on the front, back or hip, but there is no forward-facing position. If you are interested in an Ergo carrier with a forward-facing position you will need to go for the Ergobaby 360 or the Omni 360 which are described below.
The Adapt carrier is suitable from 7 to 45 pounds, which is the same as both of the Tula carriers.
The Ergo Adapt carrier comes in soft cotton or cool air mesh. We like the cool air mesh as it keeps you and the child cool when active or in a hot place. It is not as soft as the cotton carrier though and some owners of this carrier prefer the cotton version.
Owner reviews are a great way to see if  most people like a product or not, and this carrier gets almost universally good reviews
Ergobaby

360
Click here to check prices and compare styles
The Ergobaby 360 solves the biggest problem with the original Ergo carrier, by introducing an ergonomic forward-facing position.
This means that you can use the 360 in four different positions: on the front facing in, on the front outward facing, on the back and on the hip. It has great ergonomic features of the original carrier, so your baby will sit in the ergonomic frog-leg position in all set-ups.
The carrier is very comfortable to wear thanks to the extra-wide waistband that gives great support to the lower back. For this reason, this is a great carrier for older babies and toddlers, it gives great support and makes carrying your child easier than with the original carrier.
Although the Ergo 360 baby carrier is adjustable in many ways and has great lumbar support, we did notice that this carrier seems to be a better fit for taller people rather than shorter ones.
It doesn't have a pocket at all, this is a shame as the one on the original Ergo is really handy. We prefer this one for bigger babies though and it makes a great toddler carrier.
Ergobaby Omni

360 Review
The Best Bits
Really well-structured bucket seat.

 Keeps babies' legs and hips in the correct position to avoid hip dysplasia.

Four positions, including forward-facing.

Comfortable wide waist belt for parents.

No need for an infant insert.

The Omni 360° can be used with infants as small as 7 lbs. without requiring a separate insert.

Adjustable straps.

They can be used in the traditional position or crossed in the back for more support.
Not so Good
The hood is a bit small

Back latch can be uncomfortable and is hard to do on your own.
>>> Click here to find the lowest price
The Omni 360 is a new carrier that seems to be an upgraded version of the Ergobaby 360 and allows you to carry your baby in several positions, including forward-facing. One-handed slider adjustments mean that it is very simple to switch between carrying positions.
One of the biggest differences, when compared to the Ergobaby 360, is that the Omni 360 is suitable from birth without the need to use an infant insert.
This means that this carrier is all that you need from birth to toddler (7lbs to 45 lbs).
Ergobaby has also addressed the other main problem with the Ergobaby 360, by adding a large storage pouch. The pouch is detachable so it can be washed easily. We found the pocket so useful on the original Ergobaby carrier, so we are pleased to see that they have included this feature in their latest multi-position carrier.
Like all Ergobaby (and Tula) carriers, the 360 Omni has a recognised hip-healthy design and supports your baby in an adjustable bucket seat that keeps their legs in the natural, ergonomic 'M' position. This is true for all carrying positions.
The Ergobaby Omni 360 comes in a range of patterns and in cotton or cool mesh versions. It seems like the culmination of Ergo development and it is loved by everyone that has tried it.
Baby Tula Free-to-Grow Baby Carrier

Review
The Best Bits
Beautiful organic fabrics.

 

Hip belt for parent support with a storage pocket

Hood provides head support and sun protection.

Padded adjustable shoulder straps with buckles and padded leg openings.

No infant insert needed.

Resale value. 

Maybe not your first thought right now but Tula carriers have a good second-hand market and you should be able to sell it on one day.
Not so Good
No forward-facing option.

 
Click Here to Check the Latest Prices
The Tula Free-to-Grow carrier allows you to use the same carrier from newborn (7 pounds) to toddler age (45 pounds). Where the Tula's score over the older Ergo's is that there is no need for an infant insert to be used when your baby is young. This saves the cost of the insert and, even though the Ergobaby inserts work well, it is just so much easier to have the carrier all in one piece.
This carrier features an innovative body panel that adjust in 3 width settings and two height settings. This means that the carrier can grow with your child keeping them in an ergonomic position all the time.
The carrier has been designed to keep your baby in an ergonomic position in both back and front carry positions that promote healthy hip and spine development for baby.
The Tula Free to Grow carrier has a really good, wide waistband that gives good back support and helps you to carry your baby with ease. There is a small pocket on the waistband that is good for some keys and a smallish phone but is nowhere near as big as the pocket on the original Ergobaby carrier.
The shoulder straps are soft and nicely padded. They are fairly easy to adjust so that you can share babywearing duties with a minimum of fuss.
A cotton panel can be pulled over your baby's head to give them support when they fall asleep and provides some protection from the sun.
Tula Explore Baby Carrier

Review
Click here to check prices and see the amazing range of patterns available
At first glance, the Tula Explore is very similar to the Tula Free to Grow. The shoulder straps are of a similar design and the weight of your child is distributed in much the same way. So it is just as comfortable for the parent and features the same small pocket on the waistband.
The main difference between the Tula Explore and the Tula Free to Grow carriers, is that the Explore allows you to carry your child in a forward facing position. This is great for little ones that like to see what is going on around them.
The Explore covers the same age/weight range as the Free to Grow carrier, from newborn (7lbs) up to a 45lb toddler.
It offers the same great comfort fit as the other Tula carrier and your baby will always be held in an ergonomic position (both Tula carriers have been approved by the International Hip Dysplasia Institute).
The Tula Explore comes with a great body panel that can be easily adjusted to 3 different width settings. This means that the carrier will remain a perfectly snug fit for your baby as they grow from a tiny newborn to an active toddler. They will be sure to appreciate the extra comfort provided by the neck support pillow.
It is really easy to switch your baby between the different positions and you should be able to spin them around from forward facing to parent facing without waking them up (obviously this could vary between children!). It is also easy to adjust the carrier between adults of different sizes, as described in this review
The materials used in the Explore are slightly different from the Free to Grow. It is the same soft cotton material but is much more structured than the Free to Grow, has more padding and some extra buttons and flaps. This is all necessary to keep the baby supported in the forward-facing position.
Many owners of the Tula Explore have said that they find it more comfortable than the Free to Grow and the Ergo carriers, click here to read more about their experiences.
Ergobaby Original vs Adapt vs Tula Free to Grow
These are the three classic shaped carriers that will hold your baby close to your chest but lack the forward-facing position. There is little to choose between them but, for young babies, we prefer the Adapt and Tula over the Classic Ergo as there is no need to use the infant insert.
The Adapt is our overall favourite as we like the criss-cross straps at the back.
Ergobaby 360 vs Omni 360 vs Tula Explore
We have grouped these 3 together as they all offer the opportunity to have your baby in the forward-facing position. To be honest they are all very good carriers and you won't go far wrong with any of them. They all share many features in common and are all comfortable for baby and parent
Having said that, we feel that the Omni 360 is the best of the bunch. It has a useful storage pouch and the option to use the straps in a criss-cross pattern for extra lumbar support which we like. You can also choose between soft cotton and the cool mesh version depending on your own preference.
Final Thoughts on Ergo vs Tula
We hope that you have enjoyed reading our comparison of baby carriers made by Ergobaby and Tula and that you now know whether a Tula or Ergo is best for you and your family.
The 5 baby carriers that we have looked at are all great options, but our overall favourite is the Ergobaby Omni 360. It has the flexibility to use in all positions, has the best straps to ease the strain on your back and has a useful detachable storage pocket.
>>> Click here to find the LOWEST price for the Ergobaby Omni 360