Packing for a trip with young kids can be a challenge, you don't want to take too much and overstuff your bags and overburden your back. But you also want to be sure that you have everything that you need to keep your little ones happy and safe.
In this post, we share with you the essential baby and toddler travel gear that you need to take on your next trip with young children.
We really hope that this will help you to prepare for your own adventure and help you to decide what to take and what to leave behind. We have put together this post based upon our experiences having spent many months travelling with our two daughters in South East Asia, Europe and Central America.
This post focuses on the 'extras' that you should take rather than clothing, check out our comprehensive packing list for everything we think you should take (and not take!).
Essential Baby and Toddler Travel Gear
We couldn't get by without this handy little changing mat. There are a few pockets so that you can keep wipes, nappies/diapers and creams/bags etc all together.
Then chuck it in your daypack and you are good to go. When we are travelling it is rare to find toilets with changing tables so this really is an essential piece of baby travel gear.
We use the one in the picture and it is perfect for us, nice and compact but it does all that you need and the fold out changing mat is a good size for growing babies.
View the Skiphop Mini changer on Amazon
Baby Carrier
A baby carrier is an absolutely essential piece of equipment to take travelling with a baby.
They are great when you are at home or on outings near where you live. But they really come into their own when you are travelling.
Whether you are getting through the airport, climbing a mountain or sightseeing. A baby carrier is sure to be one of your most used pieces of baby travel gear.
It was only a last minute decision to take a 2nd carrier for our 3-year-old before spending 3 months in South East Asia, but I am not sure how we could have travelled around as we did without it.
Even when they can walk well, toddlers can't be relied on to want to walk in the direction you want, at the time you want and at the speed you need. So, to get about it is essential to have our Ergobaby carriers for both our baby and 3-year-old.
They came in handy when travelling by tuk-tuk or boat, making us feel that they were a little more secure than if they were just being held.
It also allows us to get to places that we could not manage otherwise. Like following a rocky path along the shore or climbing up to a temple at the top of a few hundred steps (to be fair, she climbed up but I was much happier to carry her down the steep steps!)
We travel with the Ergobaby Original and the Ergobaby 360 cool mesh (ideal for hot places like Thailand!).
If you want to know more, have a look at our review of the best baby carriers.
Travel Cot
Whilst some hotels can provide you with a travel cot (or crib to our readers from the USA), they are not universally available.
Unless you are booking all your accommodation in advance and have reserved a cot, we would recommend taking your own.
The one we take has the added benefit that it is fully enclosed by mosquito netting so it provides the benefits mentioned above.
Your baby may also prefer to have their own cot as it provides some sense of normality at bedtime if you are moving around a lot.
If you are looking for a travel crib, check out our review of all the best travel cribs
Travel Stroller
Depending on where you are going and how you are travelling around,  you may want to take a stroller with you.
We don't find them quite as essential as a baby carrier since there are so many places that the pavements and roads are not really good enough to comfortably push along a stroller.
They are great to give you a break from carrying your baby though and can also double up as a portable bed that is particularly good if you can get your baby to sleep while you are eating.
If you don't plan to do a lot of travelling around, or think you will use private cars for most of your journeys, it is definitely worth taking a stroller.
Otherwise, you will want to weigh up the benefits against the challenge of having an extra bit of kit to lug about.
We recently reviewed some awesome lightweight strollers that would be the perfect compromise, these fold up so small that they are ideal for travelling. Read a review of our favourite compact stroller here.
Tot Seat Chair Harness
This clever, compact piece of kit can turn almost any chair into a safe seat for your little one to eat their meal.
We were glad to find lots of high chairs in restaurants as we travelled around Thailand and South East Asia, but they are definitely not everywhere.
Having this tot seat with us meant that we didn't have to worry too much about finding baby chairs, and also meant that we didn't have to have her on our laps as we ate (ok, so she stayed in it most of the time but she was on our laps too!).
It was a great back-up to have and doesn't take up much space in your bag. At one hotel that we stayed in Vietnam, the owner was so impressed that she copied the design and sewed her own version!
Tablet
A tablet is such a handy thing to have when travelling with a toddler.
They provide an almost endless array of entertainment and education and can really take the pressure off when you need a few minutes to get something done (e.g. packing,) or when you have a long wait for a meal, plane, train (or, let's be honest, when you just need a little bit of quiet time).
We like the Amazon Fire tablets but there are loads of great options covered in our best toddler tablets review
Reusable Bottles
You will definitely appreciate taking along your own bottles when travelling with a baby or toddler.
So much easier than trying to get them to drink from a plastic bottler or the glass that they serve you with at the restaurant.
We use these ones.
Sometimes when our toddler is drinking from a glass we use the straw from this bottle rather than using disposable plastic ones.
You may also like to pack these clever lids that turn all cups into sippy cups, but overall we find the bottles more useful as you can take them anywhere.
Beach Tent
If you are primarily planning a beach holiday it would be well worth taking a beach tent to provide you with some shade and privacy.
This makes it an ideal spot for your baby to feed and sleep.
We have the Littlelife family beach tent and it has been great for us on the beaches of Sardinia and in Devon, England.
We found it especially useful when our baby was very young and not yet able to crawl or sit.
It has UPF rating of 50+ and does provide a cooler environment than in the sunshine (unlike some tents that will cook you!)
Check out our favourite family beaches in Thailand and the best Sardinian beaches.
Sun Screen

You can get sun cream in many tourist areas but it is generally more expensive than in the UK.
It is also harder to get hold of the special kids/baby versions that you can find at home so we think it is worth packing a couple of bottles before you go.
You are bound to need loads of it with all the wall to wall sunshine that you will be enjoying!
Toys
You will definitely want to take a few toys along for the downtime in the hotel rooms. Obviously, your little ones will have their own favourites but some of the toys that offer a good packing space to play value ratio include:
Stacking Cups might just be the greatest baby/toddler toy of them all. They can be used anywhere in all sorts of different ways.
Great for sand castles on the beach and pouring water in the sea or pool. They can be used as snack pots and made into telephones, spinning tops, hats and drums. Sometimes we even stack them!
They take up hardly any space and are definitely one of the best travel toys for our girls
Other toys that we recommend include a tea set (we just take the teapot and a couple of cups and spoons), a collapsible shape sorter, Duplo, and a learn to write toy. Check out our post on the best toys for travelling babies and toddlers for more ideas.
UV Protective swimwear
When you go away, you are generally hoping for lovely sunny weather. But with the sunshine comes the fear of sunburn.
Kids love the swimming pool and the beach so you will probably be in the sunshine a lot of the time so in addition to your sun cream, we really recommend taking some swimwear that offers UV protection against the sun.
With arms, legs and head covered it reduces the need to cover their skin in sun cream and is also not at risk of being washed off in the swimming pool or sea.
Buoyancy Aid Life Jacket
This one is not always essential but we now travel with lifejackets for our little girls when we travel in Thailand.
We spend a lot of time on ferries, speedboats and longtail boats that don't have life jackets small enough for babies or toddlers.
We feel that it is something worth taking if you expect to spend a lot of time travelling at sea. They have come in really handy for going kayaking and snorkelling so although they are a bit bulky we are pleased to have them.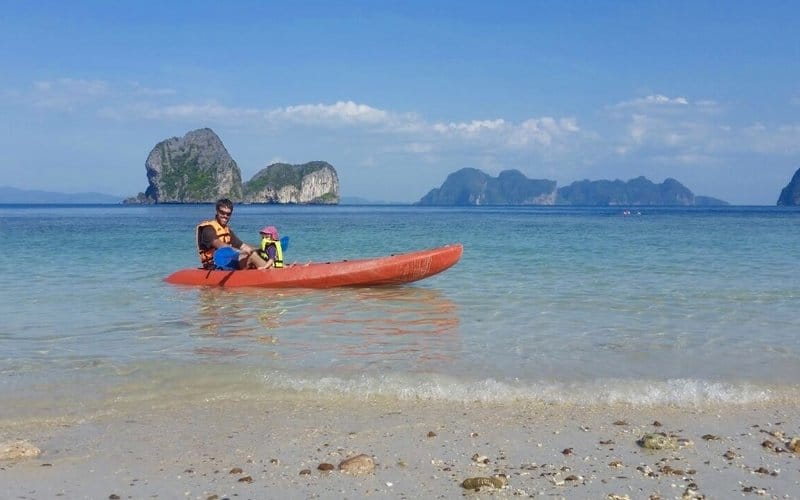 Making use of our lifejacket in beautiful Koh Ngai, Thailand.
Mosquito Net
When we travel now we tend to stay in fairly nice mid-range places rather than the budget places we stayed before we had kids. Before we left for our 3 month trip to South East Asia we had expected that most places that we stayed would provide mosquito nets.
We were wrong!! Luckily we had packed our mosquito nets 'just in case'.
Out of around 20 places that we stayed, we were only provided with a net a couple of times. We always had air-con so I think the theory is that it will be too cold for mosquitos. If that is the theory, it is wrong!
Most places we stayed there were a few mosquitoes in the room that we had to go around swatting so we were very glad that we had packed our mosquito nets to provide a nice safe environment to sleep.
We avoided malarial areas but there was still a risk of dengue fever if bitten during the day, and besides that mosquito bites are just so annoying that you don't want them if you can avoid it, and you certainly don't want your baby and toddler to be getting bitten.
For these reasons we think packing your own mosquito net is absolutely essential if you are travelling somewhere that they are endemic.
That way you know wherever you end up you will be able to protect yourself.
They also help to create a safe feeling environment if you are unfortunate enough to end up staying somewhere with other creepy crawlies that you wouldn't want in your bed.
We recommend the box type net as they create a bigger sleeping space for little ones to crawl around on the bed and you are less likely to have to put up with the net hanging in your face all night.
We have a double box-shaped net that works great but the single wedge-shaped one we took for our daughter is not so good and doesn't provide much space inside.
If you plan to move hotel room often you will need to get creative at hanging the net. It is rare to find convenient places to fix the net but we always managed to figure something out.
What to Take Travelling with a Baby or Toddler
Having the right things with you can really help to make your trip go that bit more smoothly. At the same time, having too many of the wrong things can get super frustrating, so it is always a balancing act of what you need and what you can travel with easily.
We hope that we have been able to help you to decide what baby things you need to take on your trip. Have we missed something off our list that you think is a travel essential? Let us know in the comments below.