Dartmouth is a beautiful harbour town situated at the mouth of the River Dart on the south coast of Devon. It is a charming town that is full of life and it is a great place to go for a holiday, a day trip or as part of an England road trip.
We visit every year and think that it is a perfect getaway, ideal for young families but with something for all ages. It is a bustling place in the summer with tourists visiting from all over the world, while in winter you will share the town with just a few other lucky souls.
On a sunny day, it is hard to beat the vistas, atmosphere and beauty of this small town. As it is one of our favourite places in the UK we thought we would put together a list of what we think are the best things to do in Dartmouth, Devon.
1. Discover the Historic Harbour Town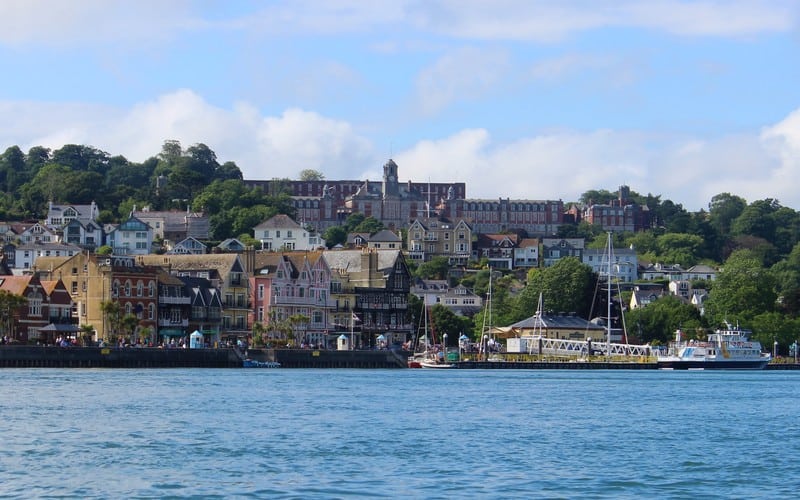 One of the nicest things to do in Dartmouth Devon is simply to walk around the town enjoying its beauty and the wonderful views across the river towards Kingswear and out to sea. The riverfront is the obvious place to head for first and there is a great wide promenade that stretches the length of the town.
From here you will be able to enjoy the views over the river and take in the life on the river. There is always something to look at on the Dart, whether it is the tug ferries going back and forth, champagne being sipped on luxury yachts or fishermen hauling in their catch, you can easily while away an afternoon just wandering along the waterfront.
Away from the river, Dartmouth is no less charming and features a variety of beautiful and ornate old buildings. Many of these now house boutique shops, friendly art galleries and restaurants with fabulous food. There is always plenty to keep you occupied as you walk around the town.
Some great places to stop for a drink or a bite to eat include:
Saveurs a French bakery serving delicious croissants and other delicacies.
Bayards Cove Inn which is the second oldest building in town and offers great coffee and breakfast and
Café Alf Resco which is something of an institution in the town, always popular and only open until 2 pm. Be sure to drop in for a delicious breakfast.
The Cornish Bakery – The best place in town to buy a Cornish Pasty to eat in or take away.
For a delicious and informal meal check out the takeaway fish and chips served up fresh from Rockfish.
Make sure that your wanderings take in all the highlights of the town, including Bayards Cove and fort, Foss Street, Royal Avenue Gardens, views of the Britannia Royal Naval College, the market, the boat float and the riverside embankment.
2. Visit Dartmouth Castle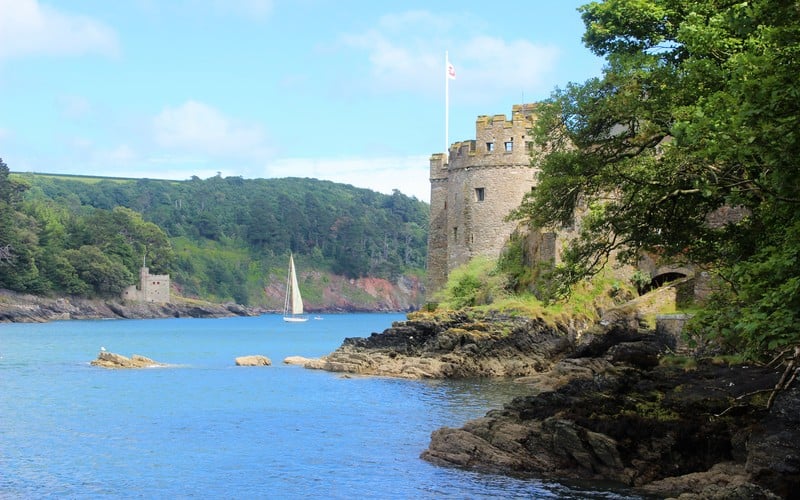 A short and pleasant walk from the town will take you to Dartmouth Castle, a small but interesting English castle in a spectacular setting.
An iron chain used to be tied between Dartmouth Castle and Godmerock Castle, this spanned the 250m mouth of the Dart Estuary.
The chain could be raised up to stop enemy ships mid-river and make them easy targets for gunfire. Inside the castle museum, a video projected in the gun tower brings this all to life.
There is a dramatic audio and light installation in the 19th-century gun battery which gives a sense of the action as a crew prepare to fire one of the big guns. It is also possible to try on helmets and get hands-on with the cannonballs fired from the castle guns.
The castle is maintained by English Heritage and is one of the most popular Dartmouth attractions. Save money by getting an annual membership online before you go, this will grant you free access to the castle and over 400 other properties around the country.
3. Ride a Steam Train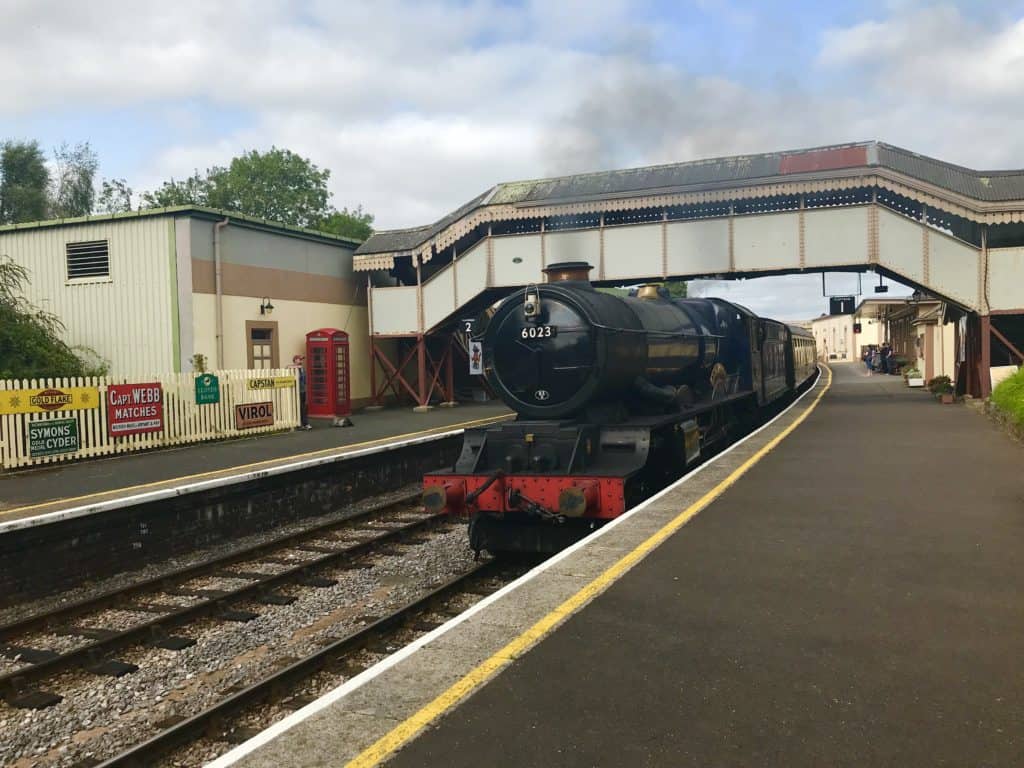 The Dartmouth Steam Railway runs on the opposite side of the river from Kingswear, with stops at Greenway Halt, Churston, Goodrington Sands and Paignton.
It is a delightful journey along the Dart Valley and out along the coastline, it is one of the top Dartmouth tourist attractions and is always a hit with visitors young and old.
Your train ticket will include a ferry across to the station at Kingswear, or you can make a day of it with a Round Robin trip that includes a bus to Totnes and a return by boat along the River Dart.
A great value option that we enjoy with our young children is to buy a ticket from Dartmouth to Churston. This will include a ferry across the river, your steam train ride, and a shuttle bus from Churston to Greenway House.
The three different forms of transport are sure to delight younger visitors and each journey is short enough to hold their interest. Once there you can visit Greenway House which is a National Trust run property formerly lived in by Agatha Christie.
The house has delightful gardens and a great cafe. To return to Dartmouth you can take the lovely short woodland walk to the Greenway Halt station, or return the way you came by taking the free shuttle bus.
4. Hit the Beach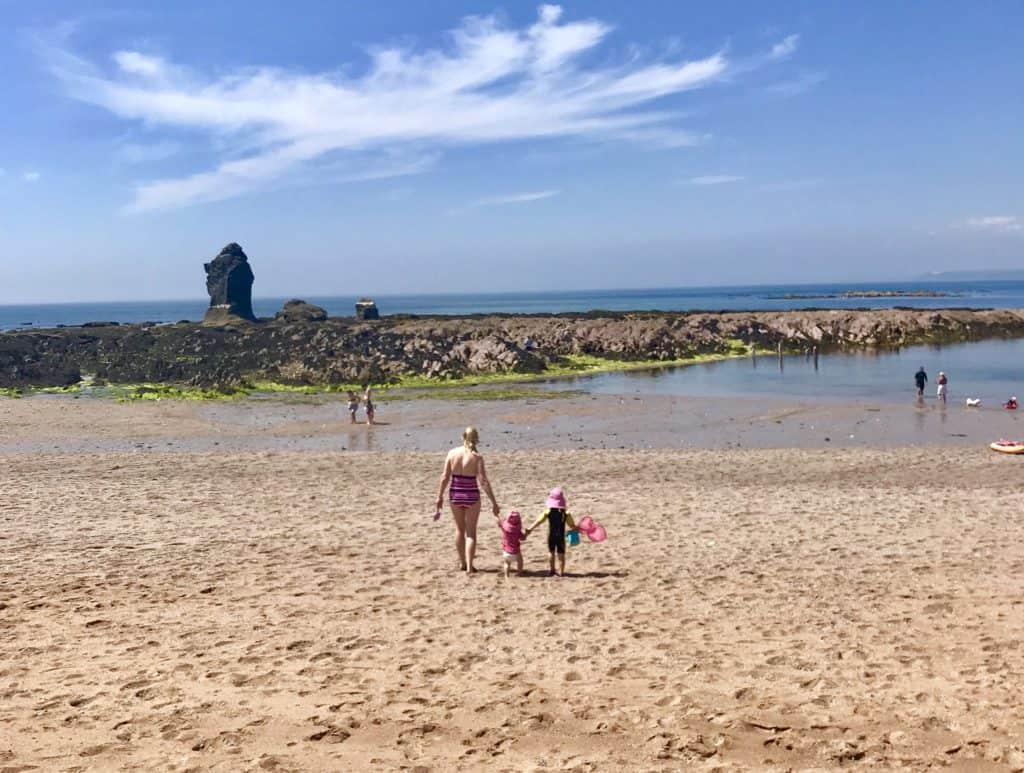 The South Devon coast is blessed with plenty of stunning beaches. A short walk from the town, past the castle, you will find the tiny beaches of Castle Cove and Sugary Cove which you can reach from the South West Coast path.
These are both very pretty and worth a visit any time but are so small that they more or less disappear at low tide.
For a day at the beach, you are better off heading to Blackpool Sands which is 4 miles from the town. Despite the name, the beach here is largely shingle but is amongst the most picturesque in the country. There is a car park here and a shop/café that has all you need for a day at the beach.
Slightly further along the coast is Slapton Sands a dog-friendly pebble beach that stretches for 2 miles, this beach was used for training prior to the D-Day landings and has some historic artifacts and descriptions.
Behind the beach, the Slapton Ley Nature Reserve features the largest lake in the south-west and is home to wildlife including rare wildflowers, badgers, otters and the Cetti's warbler.
Other great beach options nearby are Goodrington Sands or Paignton beach which offer more of a traditional English seaside town feel. Both are sandy, have lots of amenities and are accessible by the steam train. To get there by vehicle you will need to catch one of the two car ferries that cross the Dart throughout the day.
Our favourite beaches are slightly further away at Bantham, Thurlestone (pictured above), Hope Cove and Bigbury-on-Sea. These are all stunning sandy beaches that we feel are worth the journey of around half an hour from Dartmouth in Devon.
Bantham is particularly good for young children with lovely soft sand, no dogs, shallow waters for swimming and paddling, and rock pools at low tide that are perfect for hunting crabs we love it here and think that it is every bit as good at the beaches in South Cornwall.
5. Take a Walk Along the Coast
The rugged coastline around Dartmouth is fantastic walking territory that offers spectacular views out to sea and along the coast towards Start Point. Our favourite walks include following the South West coast path past the castle to Stoke Fleming where you can enjoy a great lunch at the Green Dragon pub.
Another great option is to take the ferry over to Kingswear or for a lovely circular walk that takes in the Brownstone Battery (a WW2 gun battery at Froward Point) and the Daymark (a 24m tower built in 1864 to guide mariners into the Dart estuary).
6. Go Crabbing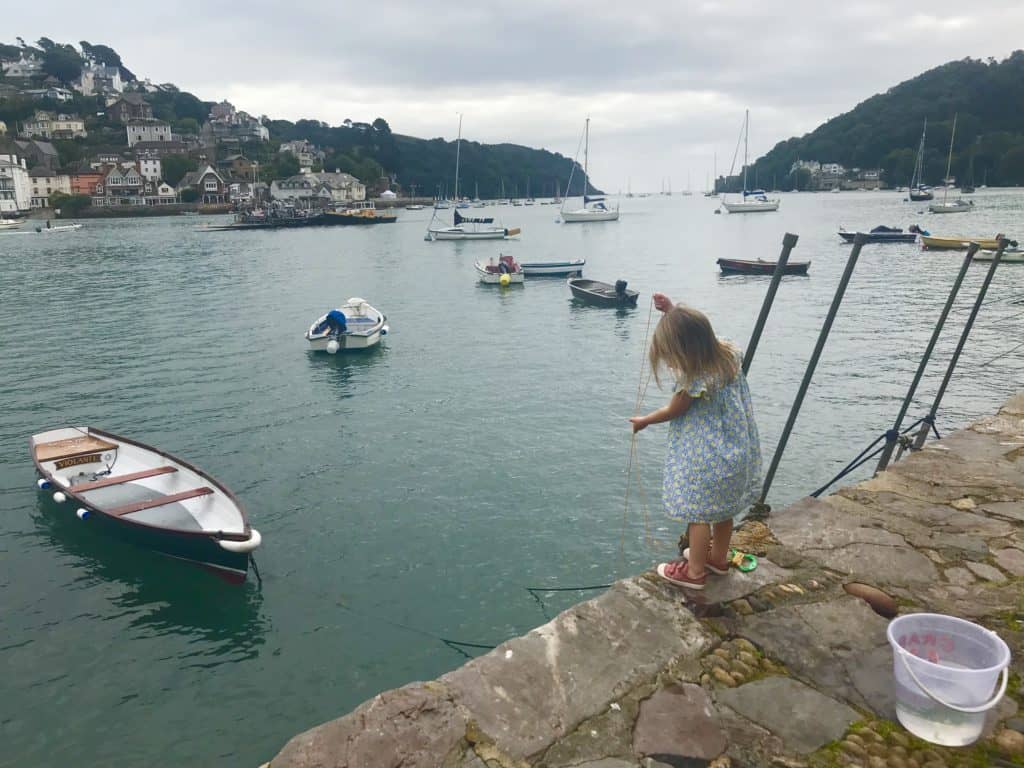 In summer you will always see the riverfront lined with people dangling their crab lines over the river wall, usually, they will be sat next to a bucket bursting full of crabs. It is one of the best family activities in Dartmouth; a great, fun activity, enjoyed by all ages, and you are almost guaranteed to catch some crabs.
It is best to plan when you go around the tides as there are times when you may be disappointed to find that there is no water to lower your line into.
Around high tide is the best for catching lots of crabs. Whilst at lower tides it is actually quite easy to see the crabs (and sometimes fish) go into your net so you know when to pull it up.
Our favourite spot for crabbing is Bayards Cove. This is a very picturesque spot that has ladders to hold onto and less of a drop than the main riverfront embankment, so it feels a bit safer with young kids.
We have spent many days crabbing and it is one of the best cheap things to do in Devon.
7. Take to the Water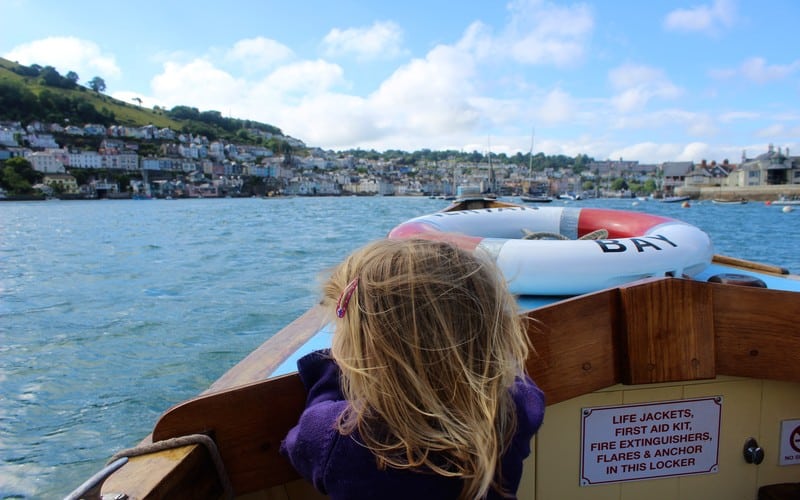 Life in Dartmouth is all about the river so we really recommend that you get out on the river at some point. There are short options like the lovely trip to Dartmouth castle, or the journey upstream to Dittisham is beautiful and can be combined with a visit to Greenway House.
There are also bigger boats for longer trips upriver to Totnes, or out to sea and round to Torquay with wildlife spotting on the way. You can hire your own small boat (sail or motor) or for something a bit more energetic, a kayak or stand up paddleboard (SUP).
There is even a paddle-steamer so the options are almost endless. Kiosks along the river embankment will show you the options and are able to sell tickets for what you are after.
8. Go for a Swim
There are a few options to have a swim in Dartmouth. There is the traditional New Years Day swim in Bayards Cove if you are feeling brave. In the summer you will see kids jumping from the embankment into the river and a swim from the small beach at Castle Cove is popular year round.
If you aren't so keen to get in the river or sea, our preferred option is the nice clean and warm pool at Dartmouth Leisure Centre. They have a main pool an also a shallower pool for young kids so this is a great rainy day option for families. On sunny days there is a nice lido on the outskirts of town but be prepared for chilly water.
9. Visit the Parks
Dartmouth is blessed with the beautiful Royal Avenue gardens filled with ornate flowerbeds and fountains. It is a nice place for a picnic and one of the best places to visit in Dartmouth.
You will often find buskers playing music here to entertain passers-by and a there is a bandstand for more organised music during special events like the Dartmouth Royal Regatta (end of August) and the Dartmouth Music Festival (May).
Coronation Park near the Upper Ferry has a great playground and sand pit that will keep your little ones entertained for ages. The only problem might be getting them to leave so that you can enjoy the other sights of the town.
There is a café next to the playground that offers light meals along with teas and coffees and this is a great place to sit on a sunny day.
If you are looking for a full day out near Dartmouth, you could try Woodlands Family Theme park which is just a few miles away.
Where to Stay
Dartmouth is pretty compact but it is worth noting that the town rises steeply away from the river with many properties accessible only via steep roads or stepped alleyways.
If you are less able, intend to use a pushchair or just want to be in the prettiest and most atmospheric location then it is best to stay in one of the hotels located in the centre of town. Our top recommendations are:
Royal Castle Hotel: Stay right in the heart of Dartmouth at this iconic award-winning hotel overlooking the boat float.
Bayards Cove Inn: This charming 500-year-old building has beautiful rooms right by the waterfront of Bayards Cove.
Little Gem: We often like to have the option to cater for ourselves. This apartment is really stylish and has amazing views from the roof terrace.
Alternatively, you can stay in one of the many holiday cottages that can be rented through AirBnB.
For a fun, low-cost option we enjoyed our stay at the campsite in Stoke Fleming (check out our tips for camping with toddlers).
Final Thoughts on Things to do in Dartmouth Devon
We hope that you have enjoyed our list of the best things to do in Dartmouth, Devon.
Do you have a favourite thing to do in the town that we have missed? Please let us know in the comments below.