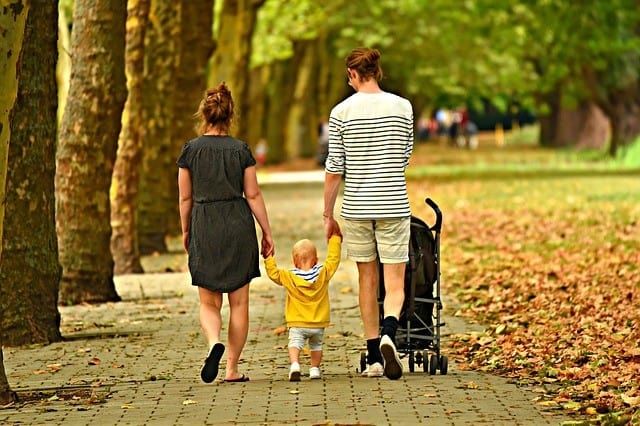 Ergobaby Metro Compact City Stroller Review – Get Around With Style and Ease
*This post may have affiliate links, which means I may receive commissions if you choose to purchase through links I provide (at no extra cost to you).
Ergobaby is a trusted and well-established brand in the world of baby carriers and has helped to revolutionise the way that we carry our babies with their popular ergonomic designs.
Ergobaby is now becoming an important player in the high-quality stroller market and the Ergobaby Metro Compact City Stroller is their debut attempt at a lightweight and compact stroller.
We are big fans of their baby carriers so we were eager to see if they have brought something new to the world of strollers. Keep reading our Ergobaby Metro Stroller review to find out how well they have done.
A Stroller for Parents on the Move
The Ergobaby Metro Stroller is clearly designed for parents that are on the go all the time and are looking for a lightweight stroller that is easy to fold up and carry around. It won't take up your entire car boot like a lot of other strollers on the market and is perfect if you need to go up and down stairs or escalators getting around the city.
This stroller is all about convenience and portability for the parent whilst offering top of the range comfort for your little one.
Fully Featured For Your Convenience
One of the great features of this stroller is the one hand fold system. Anyone that has kids will know that you need to be able to open your pushchair out whilst also holding your baby. The one-handed fold on this stroller is one of the best on the market allowing you to quickly get going with your little one on board.
Underneath the stroller is a good sized storage basket which is just big enough for you to carry all your baby essentials for a day out. You will also find a small pocket on the back of the seat that is useful for keeping things close at hand.
One of the great features is a sturdy brake. These can sometimes be a bit hard to find ( I know that with our Baby Jogger City GT the grandparents were stuck for a few minutes trying to figure out how to take the brake off!). With this one, it should be easy to find as there is a nice big blue pedal right in the middle.
I saw the video below shortly before having our first baby and it really shows the importance of having a brake when getting around the city using the underground. I had no idea something like this could happen, so lucky that this didn't end badly!
A Stroller You Can Take Anywhere
The Ergobaby Metro Stroller was one of the best lightweight strollers for travel in our recent comparative review. It is small enough to go on board the plane as hand luggage and can be easily folded with one hand if you are jumping on and off buses and trains or up and down steps.
It folds up really neatly and has a comfy padded carry handle so carrying it around is just like carrying a small bag. At 6.3kg it is really light and shouldn't be too much bother. To make it even easier to carry about, you can get a back pack style carry bag.
One of the things that annoys me most about our normal pushchair is that it takes up pretty much all of the car boot. This means we have to cram all our other stuff between the seats, in the footwells and in any other nooks and crannies that we can find. This is not a problem with the Ergobaby Metro compact stroller as it is so small that there is plenty of boot space left.
Comfort
The comfort of your child is obviously an important consideration and the Ergobaby Metro Stroller does not disappoint. In fact, it is probably one of the most luxuriously padded seats we have seen.
Your child can enjoy a good snooze on the deep recline seat (not flat though) and put their feet up using the flip-up footrest. Your little one will be kept safe and secure by the padded 5 point safety harness which has a good closing making it easy to fasten them in.
The stroller gives a comfortable ride thanks to the large puncture free rubber tyres and inbuilt suspension. Although this is not an off-road stroller, you will be fine covering the uneven pavements and cobblestones that you might come across when out and about in towns and cities.
For added comfort and safety the metro stroller has a great extendible UPF 50 sun canopy. This is a proper shade, not a tiny one like on some compact stroller and gives really good coverage to protect your child from the heat and the sun's rays. It even has a peek-a-boo window so you can gaze adoringly at your little traveller.
Ergobaby has built their reputation on the ergonomic design of their baby carriers and they have taken this experience into the world of strollers to produce the first stroller that is certified by the AGR of Germany as "Back Healthy" – for both baby and parent.
Adaptable for Newborns
The Ergobaby Metro Stroller can be used from birth with the additional newborn kit. The addition of the bassinet converts this into a pram style transporter that allows your newborn to lie flat and well protected from the sun and rain thanks to the big canopy and apron.
The attention to detail on this stroller extends to the newborn kit, as the stroller will still fold up with the bassinet on! It also means that it takes up hardly any space so it is great for anyone that doesn't have masses of spare space at home.
The newborn kit is an additional cost, but this is a stroller that is good enough to be used as your main stroller rather than one that is just for going away.
Ergobaby Metro Compact City Stroller Review
Age Range – Newborn to 18kg | Weight – 6.3kg | Folded Size – 52cm x 54cm x 23cm
Pros
·          Light, compact and high quality
·          Small enough for hand luggage
·          Good sun canopy
·          Smooth ride and comfortable padded seating area with leg rest
Cons
·          Newborn kit is an additional cost (although it is excellent)
·          Carry bag is not included
Click here to check the latest price
We hope that you have enjoyed reading our review of the Ergobaby Metro Stroller. We think that it is one of the best compact strollers on the market. We love that it folds up so neatly, it is perfect for families like ours that like to travel. But it is such a good stroller that we think it is a great everyday stroller as well.
If you live in a flat in the city this is the ideal stroller as you can get it in and out via the stairs or lift with no hassle at all, and navigate the busy pavements with ease.
The only other stroller that is comparable is the Baby Jogger City tour which has a similar design, build quality and function. I guess it comes down to personal preference which you go for, we love both of them!!
As always, we love to hear from our readers! Please let us know in the comments below if you have any questions or have tried this stroller. Or maybe you have your own favourite compact stroller.