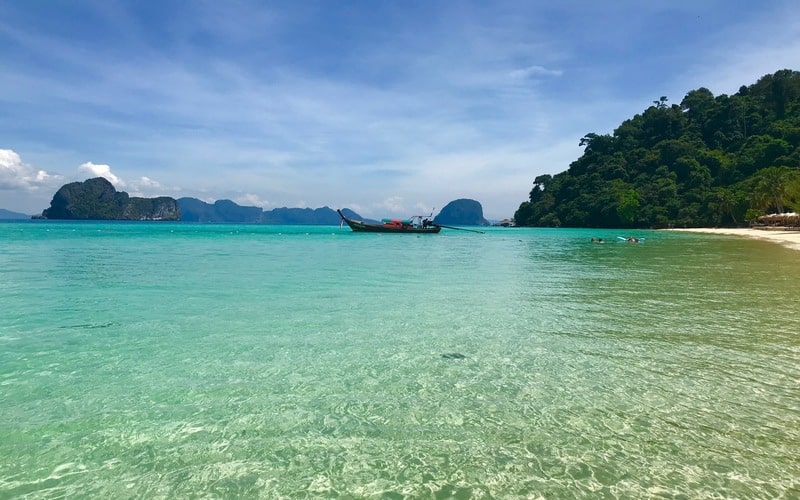 Koh Ngai Resort Review: Your Thai Island Paradise
*This post may have affiliate links, this means that we may receive commissions if you choose to purchase through links provided (at no extra cost to you).


Surrounded by coral reefs and home to swooping hornbills, Koh Ngai is a perfect jungle-clad island in the Andaman Sea and is our favourite place in all of Thailand.
The island is an ideal place for snorkelling straight from the beach and is great for kayaking in the calm seas. There are no roads on the island so there is no traffic or noisy scooters to disturb your peace. We love it here!
In this post, we will review our stay at the Koh Ngai Resort where we spent 10 days, this was at our own cost and not sponsored by the hotel in any way.
Accommodation on Koh Ngai
We stayed at the Koh Ngai Resort where we originally booked for 3 nights on the island but ended up staying for 10! We then went to Cambodia before deciding to go back to Koh Ngai for another 10 days!
We went to other beaches in-between but none could quite live up to what Koh Ngai has to offer.
Koh Ngai Resort is right by the pier where the ferries and speedboats drop you off so it is the easiest hotel to get to on the island. When we arrived we felt like we were in paradise, the shore is lined with palm trees, and the views over the azure sea to Koh Kradan are incredible.
We were met at the boat by friendly staff who carried all our bags straight up to our room. We hadn't specifically booked a sea view but I think many of the rooms here have a view from the balcony that is something like this: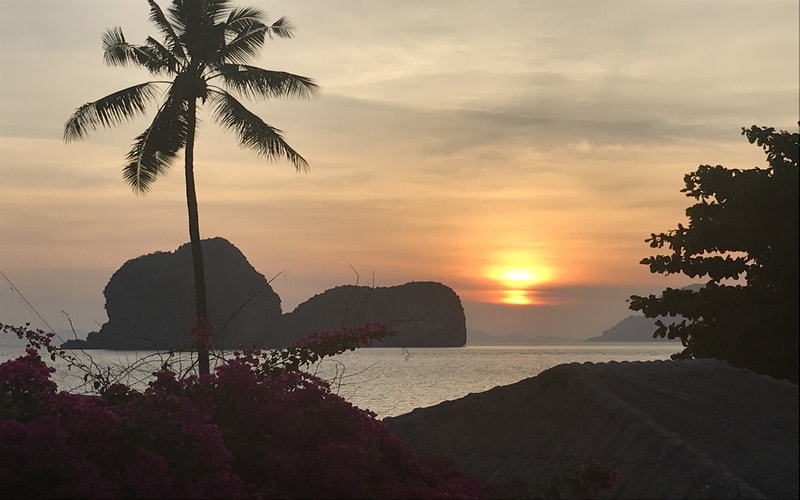 The hotel has all the facilities that you could wish for and has a variety of rooms to suit all budgets. The hotel is right by its own beach and there are ample deck chairs and seating areas to comfortably spend a day by the seaside, all with those unbelievable views.
There is a lovely swimming pool with a shallow area for young children, a volleyball court and the massive bonus of free use of their kayaks and snorkel equipment. Just off the beach, you can swim to a coral reef that has lots of colourful fish, although the coral itself is not in great condition.
Looking to book a room on Koh Ngai? We recommend using Booking.com or Agoda.com and can highly recommend Koh Ngai Resort. We stayed in the standard room with air conditioning which was good value. If you are happy with just a fan they have some bargain rooms available. They also offer pricier and more luxurious bungalows.
Kayaking on Koh Ngai
Koh Ngai is great for kayaking, I really enjoyed paddling round to the aptly named Paradise Beach on the south side of the island.
On the way, you will pass a rocky stack and cave that have been carved out by the action of the waves, and you will pass a deserted beach and float over the best snorkelling spot on the island. Why not jump out and see what you can find?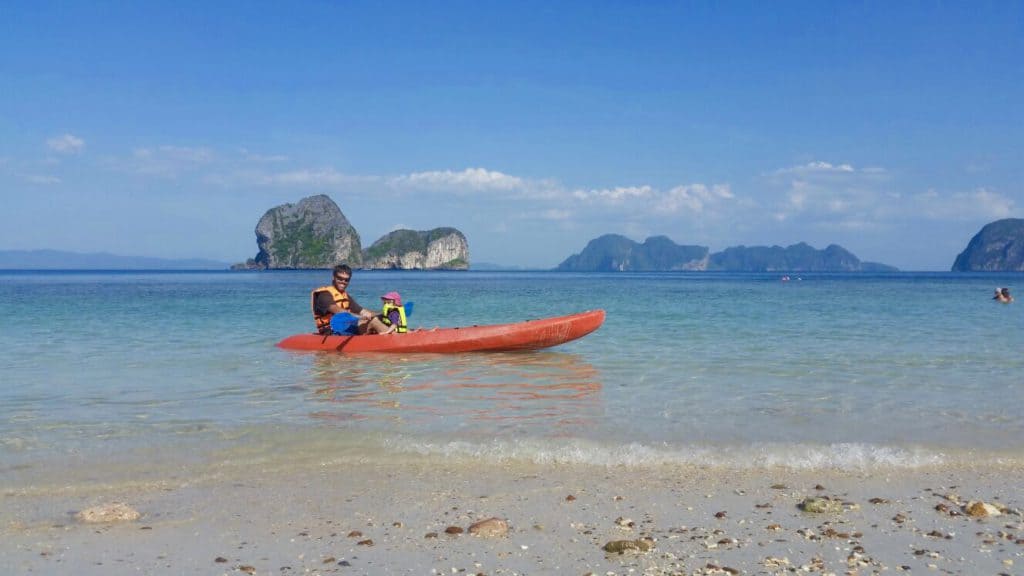 Food and Restaurants on Koh Ngai
Every morning we enjoyed the free breakfast buffet that includes eggs, noodles, rice, tea, coffee and fresh fruit.
We got into a bit of a routine of going onto the pier to look at the fish after breakfast, and the staff soon started bringing us bags of leftover bread for our daughter to throw to the fish – great entertainment for us all as they rapidly darted through the water!
The onsite restaurant also serves good food at lunch and dinner time, although we liked to mix it up a bit by visiting some of the restaurants along the main beach.
You can walk from Koh Ngai Resort to the main beach in around 20 minutes along an undulating path that clings to the rocky edge of the island. We actually preferred the main beach to the one at the hotel as it had softer sand and shallower areas for paddling in the sea.
The island is small and has no population other than those that work in the hotels. This means that there are only a few shops and prices are higher than you might find on other islands. When you see supplies being hauled in from long tail boats you will understand why the prices are a bit higher here.
The prices at the restaurants are not that much higher than touristy spots on Koh Lanta (maybe 50-100 Baht more for a main meal).
The best shop is at the Koh Hai Fantasy Resort where you can buy all sorts of essentials (including nappies) at ok prices.
Koh Ngai is home one of our favourite beaches in Thailand and makes it onto our list of the best beaches in Thailand for families.
Have you been to Koh Ngai? Please let us know if you loved it as much as we did. Or have we inspired you to add it to your own list of dream destinations?
*As an Amazon Associate I earn from qualifying purchases (at no extra cost to you).