If you are looking for a beautiful, unspoilt, and tranquil Thai island, Koh Libong could be the place for you. 
If you have spent any time travelling around the busier islands in Thailand is may come as something of a surprise that an island that hasn't been taken over by tourism could still exist. But it does, on Koh Libong. 
A wonderful laidback island where you can get a sense of local island village life whilst enjoying beautiful sunsets and long empty beaches.
Koh Libong is not a famous island. But if it is famous for anything it is the presence of endangered dugongs in the seas around the island. 
These gentle grazers face many threats from climate change, habitat destruction and plastics in the sea. The protected seas around Koh Libong have become one of their last strongholds. 
Back on land much of the island remains uninhabited. You will find a few traditional Muslim fishing villages, rubber-tree plantations and a jungley interior. 
There are only a handful of places to stay, all clustered along the isolated beaches of the western coast and there is nothing in the way of nightlife. 
This is island life at its most tranquil and a far cry from the likes of Phi Phi, Phuket and Samui. 
Where to Stay in Koh Libong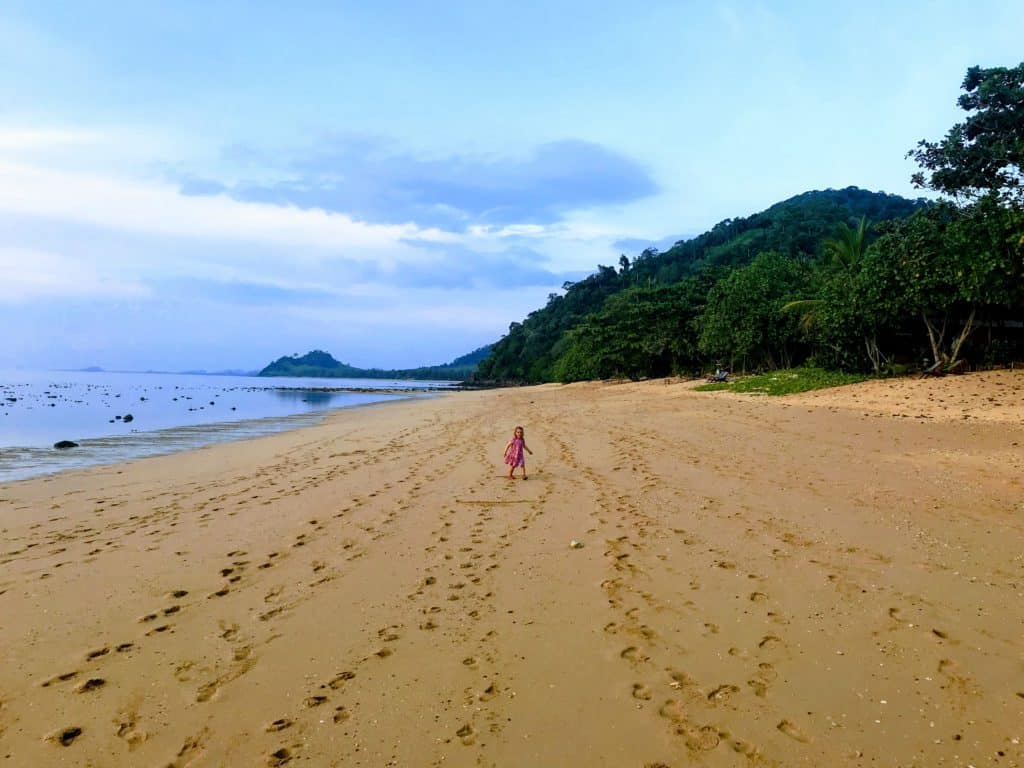 Most of the hotels in Koh Libong are strung out along the same beach on the west of the island. This is the best beach on the island and is a lovely long stretch of sand that enjoys fabulous sunsets. It may not be quite as nice fine sand as the very best beaches in the area but it is still a really great beach. 
The resorts are just beside the tiny village of Lang Kao. This is a characterful place of wooden homes with a few small shops (you can get drinks and ice creams here far cheaper than in the resorts). There are a couple of simple Thai restaurants that serve up fresh fish dishes and other traditional recipes for great, cheap prices. 
We stayed at Libong Beach Resort in their budget bungalows. These were great value for rooms with air-con right by the sea. They were fairly basic but they are a good option for those on a budget.
We would definitely recommend staying here over the other cheap option at Sea Breeze Resort which (despite its name), is about 10 minutes inland from the beach. Libong Beach Resort has some bigger bungalows nearer the beach which are a lot nicer than the cheap ones and are worth the extra.
Check availability for your dates at here
If you don't mind having a bungalow without aircon, the Libong Relax Beach Resort next door was really nice and has an excellent restaurant. Overall it was all a bit nicer than Libong Beach Resort, but for us, with the young children, we needed somewhere with aircon. 
You can read reviews and check availability at Booking.com or Agoda
Andalay Beach Resort is the island's top resort and the only place that has a swimming pool. It is a little bit pricier than the other options but is a great place to stay and good value. 
Check availability for your dates at Agoda or Booking.com
---
Looking for some amazing beaches?

Check out some fabulous beaches in our post of the best beaches in Thailand
---
Things to do in Koh Libong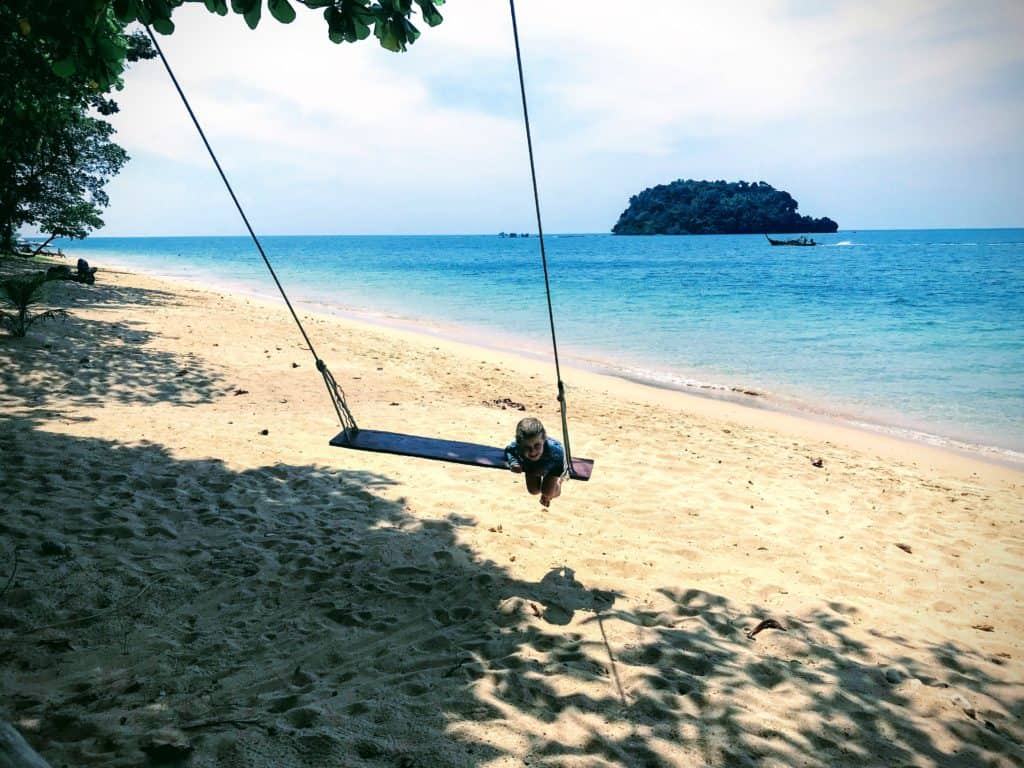 Koh Libong is the largest of the Trang islands and covers an area of around 40 square kilometres. Having said that, there are not a great many things to do in Koh Libong. 
Whiling away the days on the beach is likely to be your main activity here and we happily did that for several days. The island is super relaxed and hopefully, you will adjust to the tranquillity and enjoy the laidback atmosphere.
Kayak and Snorkel 
If you are looking to be a bit more active then kayaking and snorkelling are great options and equipment can be hired cheaply at most of the hotels along the main beach. The snorkelling here was good with plenty of colourful fish swimming around the (dead) reef just off the beach.
When we were here the tides were pretty big and a lot of the time the water was too far out for swimming or kayaking so it is worth planning ahead. 
Dugong Spotting
One of the big draws on the island is the chance to see a rare dugong in its natural habitat. Dugongs are close cousins of the manatee and are also known as 'sea cows' as they feed on sea grass.
They are protected as part of the Libong Archipelago Wildlife Reserve and can be found on the eastern side of the island from the village out to Juhoi Beach.
There are around 200 dugongs in the seas around the island and if you take a dugong spotting tour you have about a 1 in 3 chance of spotting one from the boat. 
You can also take a kayak tour to try and spot these gentle creatures. You will cover less ground but have a better chance of getting close to one as the engine on a long tail boat can scare these shy creatures away.
An area has recently been cordoned off with buoys to stop boats from getting too close to the dugongs
Dugong Viewpoint
If you would like to try and see the dugongs without spending a couple of hours at sea, your best bet is to head to the dugong viewpoint. This is a really long concrete pier that juts out into the sea from the fishing village of Batu Bute on the south-east coast. 
At the end of the pier is a 5 story observation tower that you can climb to afford great views across the bay. I am not sure how likely it is to see a dugong from here (we didn't), and it would only be a distant view if you did, but we enjoyed climbing the tower and soaking up the view anyway. 
There is a more adventurous viewpoint called Point Dugongs that involves clambering up a natural limestone tower using ropes and rickety ladders. You will pass through caves and scramble up rock faces. It is not one for young families but sounds like a fun climb if you have a decent head for heights.
Explore the Island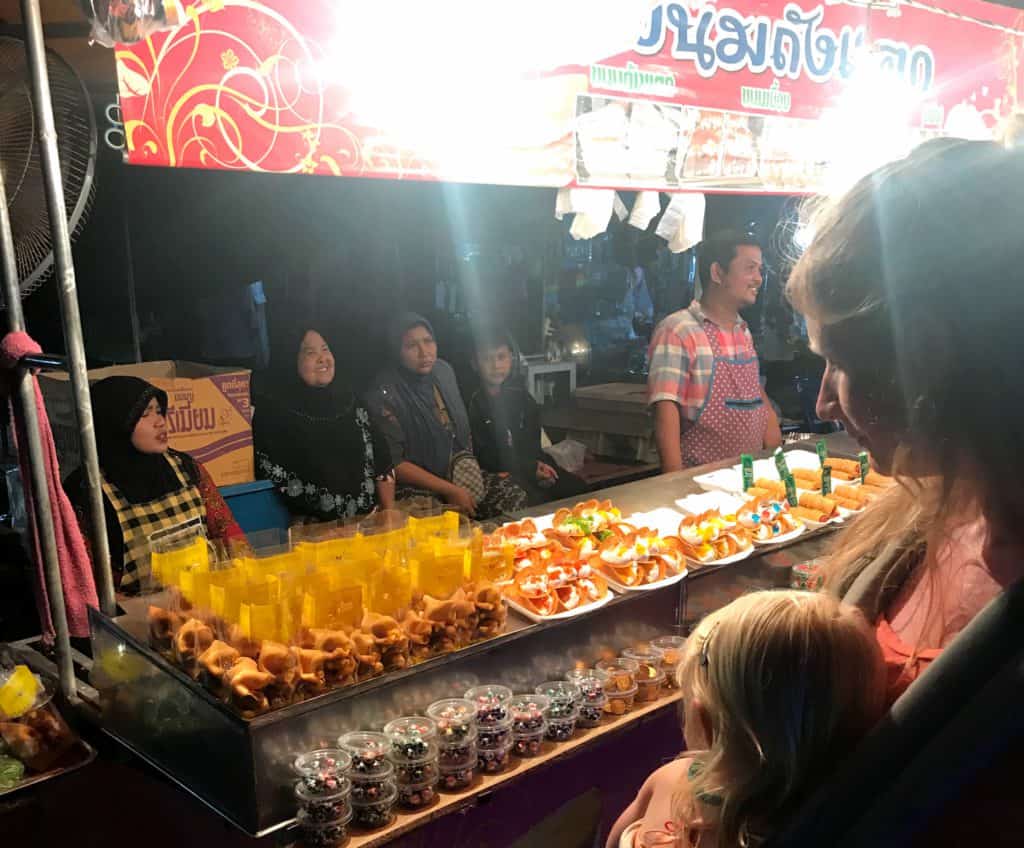 One of the interesting things about Koh Libong is that it is home to a small population of Muslim islanders who mostly make their living through fishing. 
Probably the most interesting village to explore is Batu Bute where you will find wooden stilted houses over the picturesque bay. 
We were fortunate to be on the island when there was a festival on here and enjoyed an evening looking around stalls and watching local dancers. 
The village has the dugong viewing platform described above and also some freshwater ponds. Most people stay near the beach on the west of the island but there is at least one homestay option in the village.
If you hire a motorbike or tuk-tuk you can explore this village and make your way around the island to a few other beaches and sights like a waterfall and interesting rock formations. Inland you will find a mixture of grasslands, rubber groves, fruit orchards and jungle.
Rubber Plantations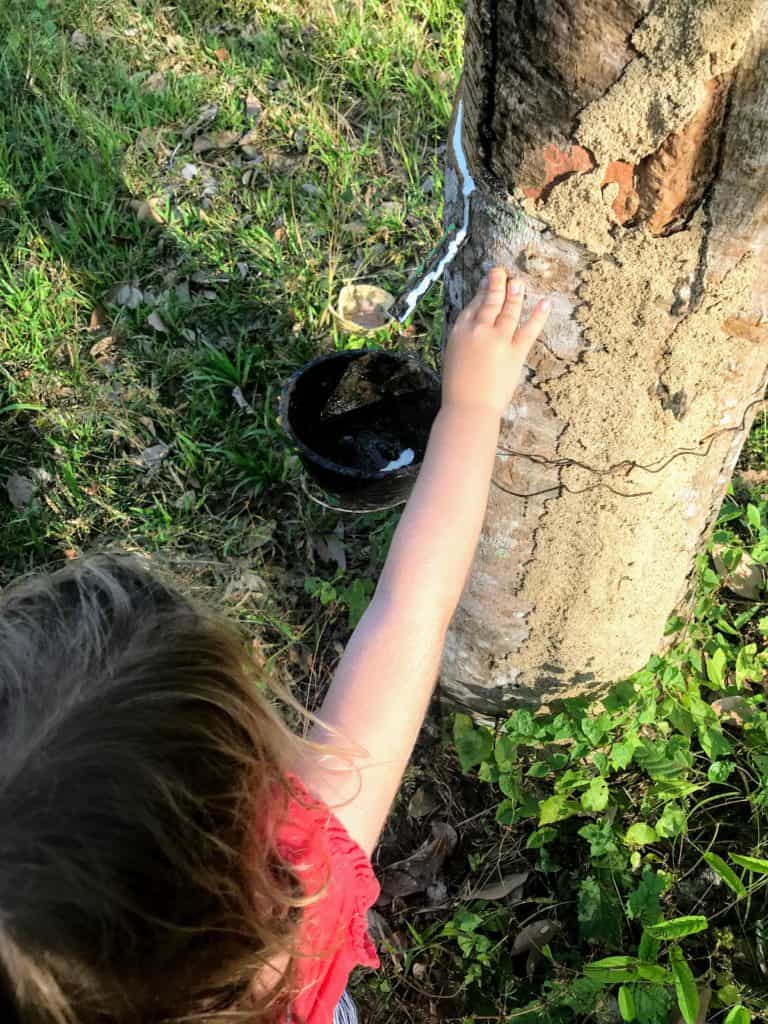 These are not an attraction as such but you will see plenty of rubber trees around the island. Many of these have the rubber taps in place and our daughters were really excited to see the rubber running out.
It runs best in the cool of the morning but we didn't get up especially early and were still able to see the rubber run out of the bark when freshly cut. 
Day Trips from Koh Libong
You can visit the Trang islands of Koh Mook, Koh Kradan and Koh Ngai on a day trip by long tail boat. This would give you the chance to enjoy some fabulous beaches, glorious snorkelling and see the unique Emerald Cave. 
Alternatively, these islands are all worthy of a stay so you could hop between them all staying a couple of nights on each. 
Another great option is to visit the spectacular Koh Lao Liang which is a stunning karst island with a glorious beach towered over by spectacular cliffs. It is like Phi Phi or Railay Beach without the crowds, get there before it changes!
Koh Libong with Kids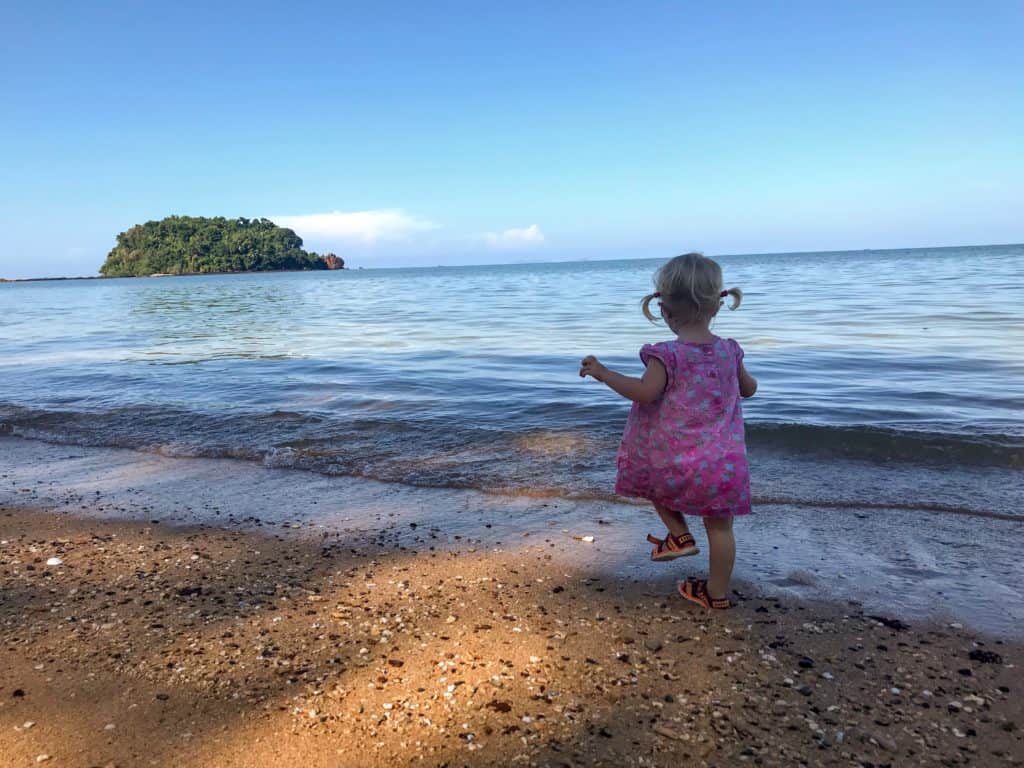 Koh Libong was a great place to visit with kids. We saw a few other families with young children whilst we were there and all seemed to be enjoying their stay. 
The quiet atmosphere and uncrowded beaches are ideal for children to explore at their own pace. The calm waters allowed our 4-year-old to learn to snorkel for the first time in the sea. Older children will enjoy the opportunity to kayak and explore the island but may find that they run out of 'things to do'. 
We liked that the small villages felt like real travelling, and was a change for the more touristy places that we had been in.
We enjoyed eating at the basic roadside restaurants even though service could be pretty slow. The people here seemed to be genuinely friendly and we all got the chance to see a slightly different side of Thailand and were pleased to have included Koh Libong on our second trip.
---
Planning a trip to Thailand?

Check out our recommendations of what to pack for babies and toddlers

and our favourite guide book
---
Getting to Koh Libong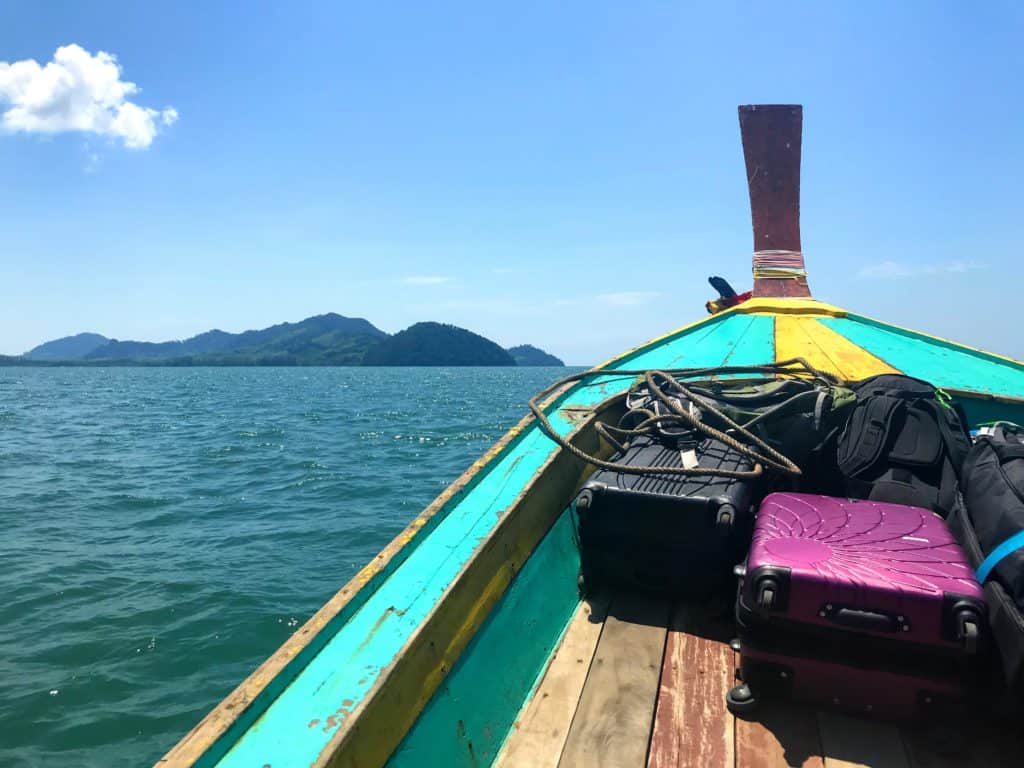 To get to Koh Libong you will first need to get yourself to Had Yao Pier on the mainland. From here it is just a short ride by long-tail boat to Koh Libong. 
If you are coming straight from Bangkok, the easiest option is to fly from Bangkok to Trang with either Nok Air, Lion Thai or Air Asia. From the airport, you can catch a minibus or private taxi straight to Had Yao Pier.
If you are already in Trang town your best bet is to arrange a minibus to the pier from any travel agent in town. This should cost 100 bhat and is a better option than going to the bus station as the minibus will just take you back into town to pick up everyone else form the travel agents, before continuing to the pier.
If you are island hopping through the Andaman Sea in high season you can arrange a speedboat from pretty much anywhere to Koh Libong. We did this from Koh Ngai and were dropped at Had Yao. 
The ticket we had covered us to Koh Libong but we had to change boats at the pier which acts a bit of a hub for tourists heading in all directions by boat or back onto the mainland.
The pier was a little bit hectic and we had handed our ticket over to the original boat driver but it all worked out fine and they seemed to know who had paid already.
Had Yao Pier
If you don't have an onward ticket you can hop on a long tail boat from Had Yao pier to Koh Libong for 100 baht each. The journey takes around 20 minutes to reach the island. 
Keep your eyes peeled as you cross the channel. On the way back, we were lucky enough to see a pod of dolphins here and the driver was kind enough to hang around so we could get a good look (he also let a young child have a go at 'driving' the boat). 
The normal drop off point on Koh Libong is on the opposite side of the island from where the resorts are. Tuk-tuks will be waiting to whisk you across the island for 100 bhat per person. 
When we were at Had Yao Pier we were offered the option of paying an extra 100 bhat per person to go straight to the resort by boat. 
We took up this offer and some other people chose not to. They arrived at the hotel by tuk-tuk at exactly the same time that we arrived on the boat. Since it costs the same and takes the same time, it is up to you how you prefer to travel. 
When to go to Koh Libong
The best time to visit Koh Libong is in the cool dry season between November and April. Cool is a relative term and it will still be pretty hot by most people's standards. 
A couple of the resorts stay open all year round and you can usually grab rooms for bargain prices in the off-season. The wettest time of year is July to October and you will need to be prepared for a couple of hours of rain on most days and the seas can be rough.
Where to Next?
From Koh Libong you loads of other islands to head to, including beautiful places like Koh Lipe, Koh Mook, and Koh Ngai.
Check out our guide to Koh Lanta and our Krabi Itinerary for some ideas of where to go and what to do.
If you are doing a short tour of Thailand you may like to follow our 10 day Thailand itinerary that takes in places like Bangkok and Chiang Mai as well as some time on the Andaman coast.
Final Thoughts on Koh Libong
We really enjoyed our stay on Koh Libong and think that it is well worth considering when planning your next trip to Thailand. It offers a slightly different experience to some of the other islands in the area. If you are looking for some peace and quiet, a taste of local life and the chance to have a beach almost to yourself, Koh Libong makes is a great choice.
Despite its natural beauty Koh Libong remains an off the beaten path island that is a bit of a hidden gem. Let's hope that it stays that way!