Beautiful Koh Lanta is a highlight of the Andaman Sea. Just a short ferry ride from the tourist bustle of Phuket, Koh Phi Phi and Krabi, you can find this wonderfully relaxed gem of an island.
Of all theI islands in Thailand, Koh Lanta must be one of the best to visit with kids. Miles and miles of sandy beaches, warm calm seas and beautiful sunsets. What's not to like?
It is also one of the largest Thai islands and has retained that laid-back charm we all want from a paradise island. Inland you will find mountains shrouded in jungle, a protected mangrove forest and a pristine national park.
We love the island and have returned there a few times, so in this guide to Koh Lanta, we would like to share some travel tips and our favourite things to do on Koh Lanta, Thailand.
Koh Lanta is very much geared up for families with great hotels and restaurants with all you need for a relaxing stay with kids. The island even has preschools and schools popular with Swedes that escape their cold winter for the warmth Thailand.
It is not only a family destination, Koh Lanta has something for everyone, from high-end travellers to backpackers, you will be sure to find your own perfect place on Lanta.
Things to Do on Koh Lanta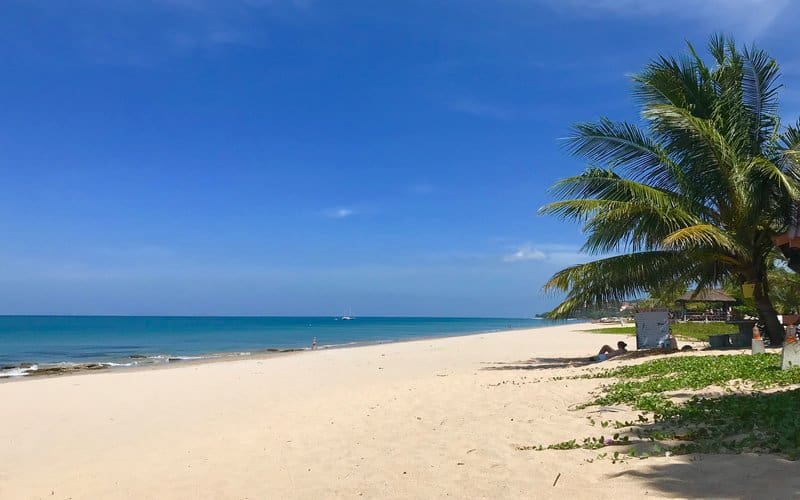 Hit the Beach
Ok, so it is an obvious one but hitting the beaches has to be number 1 on any list of top things to do on Koh Lanta. The West coast is where most of the best beaches are and there are a number of great beaches to choose from. Each has their own different vibe so it's worth doing some research to ensure you enjoy your stay.
Our favourite Koh Lanta beach for families is probably Long Beach (Phrae Ae Beach) which, as the name suggests, is a huge bay fringed by golden sands and palm trees. All along the front, you will find nice restaurants and cool bars, but the atmosphere is very family friendly and many of the establishments have play areas and beach toys for your little ones.
We also loved Klong Nin which had a great feel to it that made it one of our favourite Koh Lanta beaches. It is especially nice in the evening when live music plays, fire shows abound and people set off sky lanterns that flew out over the sea. This combined with the flags on the bars and restaurants gave the beach a festival vibe that we really enjoyed.
Koh Lanta has it all, if these beaches sound too busy for you, head to the quiet, deserted beaches to the south of the island, or for a middle ground choose Khlong Dao which is another beach very popular with families. Khlong Khong is the place to go if you are looking for more of a backpacker, party vibe.
Take the '4 Islands' Snorkelling Trip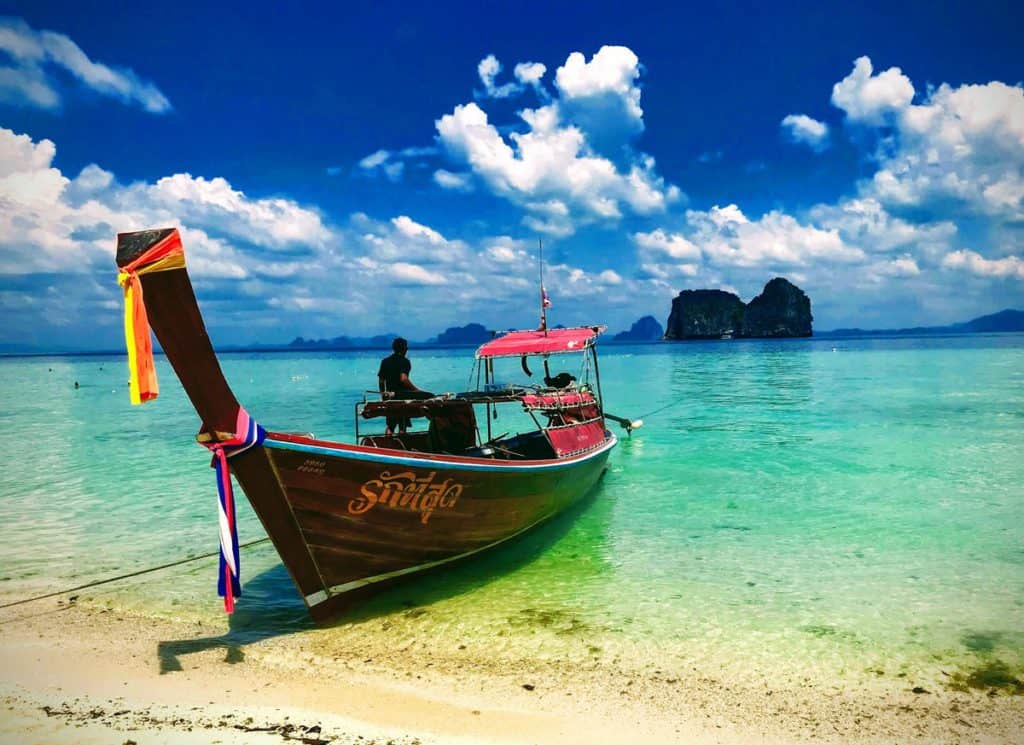 The 4 island boat trip is one of the best day trips from Koh Lanta. You will find some great snorkelling amongst the karst islands and coral reefs of nearby islands, Koh Ngai, Koh Muk, Koh Kradan and Koh Chuek. The four Trang islands are all travel brochure beautiful with karst formations rising sharply out of the crystal clear water.
The underwater world is no less impressive with a wide array of sea life on view. To cap it all off your trip will include a visit to the spectacular Emerald Cave on Koh Muk which has to be seen to be believed. For even more adventure this trip can be combined with kayaking across the emerald waters.
You can book your tickets online to go by longtail boat or big boat.
Watch a Fire Show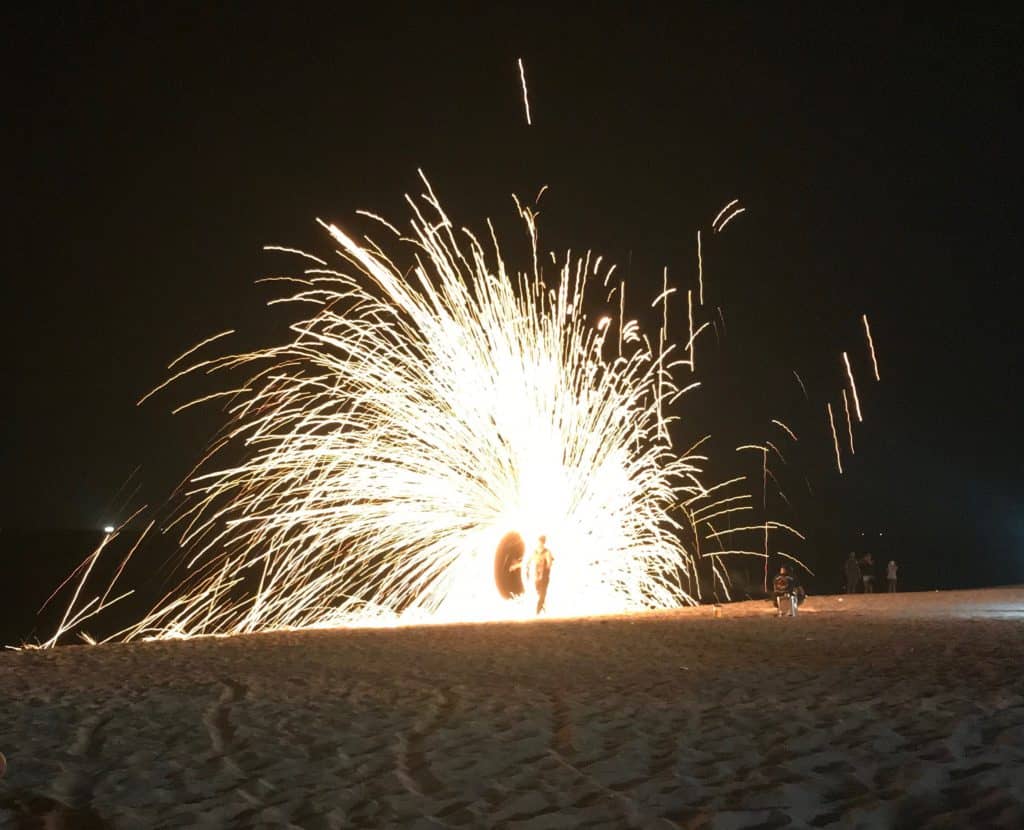 Another must-do on Koh Lanta is to see one of the many nightly fire shows along the beaches. Many of the local bars and restaurants put on spectacular shows of what our daughter called "spinning fire", using fire poi and devil sticks.
You will find these shows on all the beaches but the best is probably at the Why Not Bar in Kantiang Bay where a whole team put on a great show. The Indian Bar on Khlong Dao also has a great show that is a bit of an institution. Sometimes the shows are advertised, other times someone just pops up and you can see the fire in the distance and hope you get there before it is finished.
Explore the Island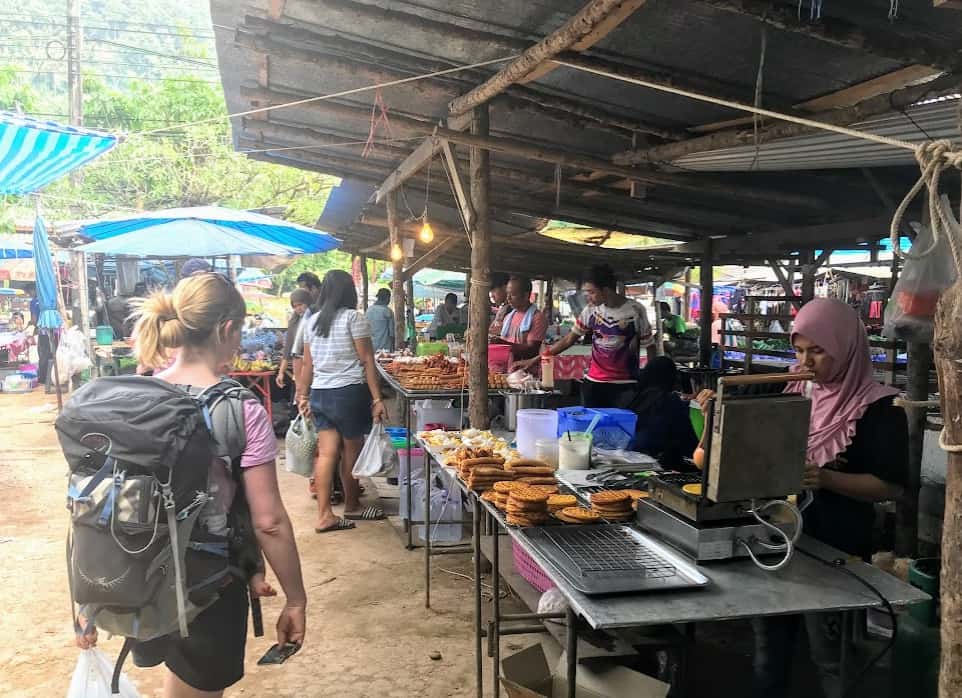 As Koh Lanta is quite a big island it is a great place to get out and explore. The roads are quiet and you can hire a range of vehicles from scooters to cars or even a tuk-tuk (not recommended unless you have experience).
Some destinations to consider include the Khlong Jak Waterfall (Khlong Chak waterfall) where an easy 2-kilometre trek through the jungle will bring you to a waterfall that is about 7 metres high. It is not one for swimming in and in the dry season it isn't that impressive but it is worth it for the hike (be sure to check out the bat cave on the way).
If you head to the far south of the island you can enjoy the sights of the Mu Koh Lanta National Park, where you will find monkeys living in the forest, a glorious beach and the famous lighthouse. Not to mention some spectacular views out to sea.
There is another 2-kilometre trek here that will take you through the jungle where you can get up close and personal with the monkeys. They are fearless and will target any food you have on you so be sure to keep an eye out.
Lanta Old Town
Another great thing to see in Koh Lanta is Lanta Old Town. The Old Town may lack the beaches that you will find all along the west coast, but it makes up for this with its old town charm and atmospheric, rickety old buildings.
If you are here in March, be sure to check out the Lanta Lanta festival for music, dance and great local street food. You can stay in atmospheric homestay accommodation in rickety old stilt houses above the water.
To the north of Koh Lanta old town, you will find a scenic mangrove village while to the south lies Sang Kha-U, an Urak Lawoi village to the south of the town. The Urak Lawoi are the traditionally nomadic sea dwellers that have lived on the island since long before tourism came to the island.
See the Swimming Monkeys
Another of the best Koh Lanta things to do is take a short boat ride from Saladan where you will find troops of crab-eating macaques that live by the water. They love to jump in, swim and generally frolic about in the water.
You can hire a long tail boat to take you to see them, and your boatman will bring some bananas to feed them and encourage them out of the trees.
If you are heading to Ko Ngai, Koh Mook or Ko Kradan by speedboat from Saladan you might get a chance to briefly see them on the way as the drivers generally slow down if they see them.
Scuba Dive
If the 4 islands snorkelling trip has whetted your appetite you can explore the underwater world further by taking a scuba diving trip
There are numerous companies that offer everything from half-day beginner dives to PADI certification and multi-day live-aboard adventures.
One of the best destinations for novices or mixed ability groups is Ko Haa (five islands). Here you will find an impressive cathedral-like cavern and some amazing coral. It is great for beginners as there is a large lagoon that slopes gently down into deeper waters allowing you to explore further as your confidence grows.
It works really well if you have non-diving friends as it makes for an excellent snorkelling spot. You will be likely to spot seahorses and octopuses hiding among the coral.
Other options include Ko Rok, where hawksbill turtles and black-tip sharks often swim by (this also makes a great place to go snorkelling), and Ko Bida, where there is a decent chance to spot leopard sharks (this is close to Ko Phi Phi so does get a bit busy). Check out our post on snorkelling in Koh Lanta.
Expert divers will be wowed by the abundance of marine life at Hin Daeng and Hin Muang ("Red Rock" and "Purple Rock").
Go Dive, Lanta Diving Safari and Blue Planet are among the companies that have earned a good reputation, dive trip prices start at around 3,000 baht for day trips,
Have a Massage
All along the beachfront, you will find places to have a traditional Thai massage. Whilst perhaps not the most relaxing form of massage it is definitely something that you should experience whilst in Thailand. If you are travelling with kids this makes a good opportunity to get away and have a bit of time to yourself.
---
Are you planning a trip to Thailand?
---
Where to Stay in Ko Lanta
Baan Saladan
You'll most likely arrive in Baan Saladan at where the ferry terminal is. You will find super cheap accommodation here and some really nice and good value places to eat.
It is very much a tourist centre with all the ATMs, cafes, restaurants, bars, travel offices, and convenience stores you would expect.
It has a definite South East Asia traveller vibe that I really liked. Unless you are looking for the cheapest of cheap rooms we would recommend getting out to one of the beaches below to find a place to stay but it is a pleasant enough place.
Khlong Dao
The vast Khlong Dao beach is close to the shops and markets of Saladan and has lots of mid-range hotels that offer good value accommodation.
Overall it has more of a package holiday feel to it than the other beaches and it is popular with people that are staying on the island for extended periods. We enjoyed our 2 stays here but it is not our favourite beach even though it is probably the one most set up for families with young children.
Where to stay on Khlong Dao
We stayed at the Andaman Lanta Resort which has an amazing swimming pool right by the beach. Our room was fine but it is probably worth going for one of the more expensive room if you can as they face out onto the nice pool area rather than the road.
We also stayed at the Banana Beach Resort which is very family orientated and has a great playground with tree house, slide and climbing net looking out over the beach. They have loads of other kids toys to play with and a nice swimming pool. It is probably one of the best places to stay if you are travelling Thailand with a baby or toddler.
Long Beach (Phrae Ae Beach)
A rocky outcrop in the south separates Khlong Dao from Haad Phra Ae, which is commonly and appropriately known as Long Beach –it is the longest stretch of sand on Koh Lanta.
You can find accommodation to suit all budgets and there is a good range of eateries. There are a few large live music and sports bars but nothing that will bother those that want to get an early night.
We loved our stay at the Lanta Resort, there are a couple of great swimming pools, a playground, an amazing buffet breakfast and they even drive you around in golf buggies!
Haad Khlong Khong
We skipped Haad Khlong Khong but anyone looking for lively beach parties and artsy bungalows should stop off here for the best nightlife on the island.
Klong Nin
Khlong Nin is one of our favourite beaches on Lanta. About halfway down the coast, it has a great traveller beach vibe, with a few nice bars with fire shows all evening and people letting off Chinese lanterns but is pretty chilled and popular with families and couples.
It is quite spread out and we preferred the beach further to the south, away from the main centre.
We have stayed a couple of times at Lanta Nature Beach Resort which is a nice place to stay with a restaurant right by the beach.
We stayed in a room with a garden view. These are over the road from the beach and the swimming pool but are really nice and new. The rooms over near the beach seemed a bit crammed together so we were happy with our room choice (and chose to return to the same room a year later).
We often ate at Lanta Miami Resort (good food with a fire show) and it looks like a lovely place to stay as does the Peace Paradise Resort
Ao Kantiang
A quiet and beautiful beach with some upscale accommodation as well as cheaper options. Perfect for those looking to get away from the crowds a bit but still with all the facilities you need. 
Feel at home with the friendly owners of the Kantiang Boutique guesthouse (there is nothing boutique about it but it is a nice, clean homestay. The Kantiang Oasis Resort is a good mid-range option or really make the most of your time here with a stay at the wonderful Pimalai Resort and Spa
Getting to Koh Lanta
Koh Lanta is an island just off the mainland coast of Krabi and is easily accessible for tourists. If you have flown into the area, it is likely that you will be coming from either Phuket or Krabi, both offer straightforward connections to Koh Lanta.
Phuket: From Phuket, you can take the ferry or speedboat to Koh Lanta from a few different ferry ports. We took the ferry on a few occasions and the service was good on a really large modern ferry.
Both of these companies will transfer you via Koh Phi Phi and will sail around Koh Phi Phi Leh for some sightseeing en route. This slightly adds to the journey time but also adds to the experience as you get to have a decent look at this beautiful island (it's the one made famous and now overrun by tourists thanks to the Leonardo DiCaprio film The Beach), complete with commentary.
Our girls were entertained on board the Phi Phi Cruiser by a man that made balloon animals, there weren't that many children on the ferry so they ended up with loads of different ones!  You get a free drink and snack when you get on board which is a nice touch.
At Koh Phi Phi, you will change to a smaller ferry for the onward journey. The changeover here is pretty swift, jumping off one boat and straight onto the other at the ferry port (one time it literally was one boat to another, we were running late so they didn't bother going into the dock and just asked us to clamber across).
If you wanted you could choose to spend a couple of hours on Koh Phi Phi and catch the later ferry. The total journey time is around 4.5 hours.
Be sure to book your ticket in advance from your accommodation in Phuket as you should get land transport to the ferry included, getting a taxi and then the ticket works out way more expensive (we learned this the bad way).
For a little more money you can catch a speedboat straight to Koh Lanta. This cuts the journey time down to just 1.5 hours.
You can buy ferry and speedboat tickets here.
Check out our Phuket to Koh Lanta post for way more detail.
Krabi: From Krabi/Ao Nang, you can catch a ferry across to Koh Lanta, or travel by minibus (or taxi for a bit more). If you go by bus or car there will just be a short transfer across the water on a 'floating bridge' pulled by a tugboat.
We generally prefer to travel by ferry with the children so there is a bit more space to move about. If you are leaving to go straight to the airport you should be able to have a drop off at the airport included in the price.
If you have arrived at Krabi airport it is easiest to arrange a private transfer to Koh Lanta by car.
Check out our detailed guide to how to get from Krabi to Koh Lanta. If you plan to spend some time in the Krabi area, be sure to check out our Krabi itinerary.
On Arrival
If you arrive through the routes described above you will be dropped off in Saladan. At the pier, you will be greeted by plenty of tuk-tuk drivers keen to take you on to your hotel. Prices seem really high but they don't like to budge much on price.
We tend to arrive around lunchtime and like to stop in at The Fat Pig for some tasty and good value food. If you need supplies then stop in at the Lanta Mart which has a good range of products and is a good place to pick up baby products like food pouches and nappies (diapers).
After that, we grab a tuk-tuk. As a guide, we have paid 360 Bhat to Khlong Nin, let us know what the going rate is when you visit!
What to Do in Koh Lanta? Over to you….
We hope that you have enjoyed our post on the best things to do in Koh Lanta. It really is a great place to spend some time whether you plan to relax or want to have a more active adventure. If you are island hopping maybe you would like to check out Koh Libong, Koh Phi Phi or Koh Lipe next,
Hopefully, this guide has given you some ideas for things to do while you are there and pointed you towards some good places to stay. Have you been to Koh Lanta? Or are you planning a trip now? Please let us know in the comments below.