Are you planning a trip to Krabi and not quite sure where to go? Keep reading our Krabi itinerary and we will help you to make the most of an area that may well be the highlight of your Thailand adventure.
I have had some of my best ever travel experiences in Krabi, it is home to some of the most beautiful beaches in Thailand and some of the most spectacular seascapes that you will find anywhere in the world.
Throw in some interesting temples for a bit of culture and you have one of Thailand's most enticing regions.
Where is Krabi?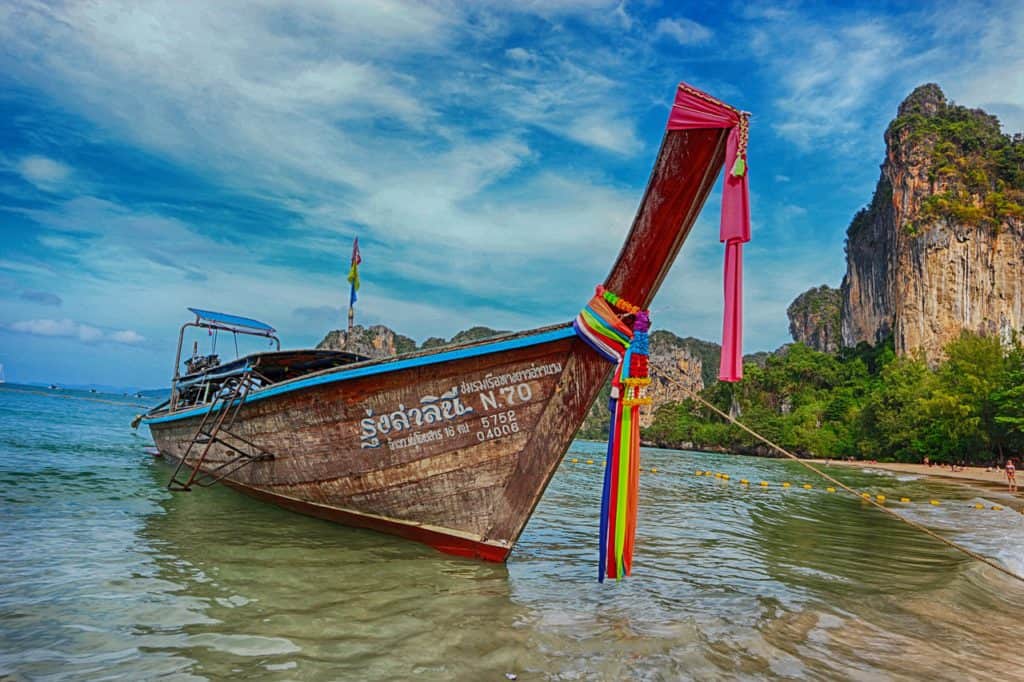 Krabi is both a city and a province in southern Thailand. As a result, the term 'Krabi' gets bandied around a lot in tourist circles with various different meanings.
This can be a bit confusing for first-time visitors who have just heard that they should definitely go to Krabi. The chances are that whoever said this to them wasn't referring to the town but they could have meant one of the thousands of great places in the province.
To clear things up here is a handy guide to some of the key destinations in Krabi:
Krabi Town: A fairly typical Thai town with a good range of tourist facilities but no real attractions to speak of in the town itself. There is no beach here but the riverside location is pleasant and there is a good night market.
Krabi Province: A fairly large province that covers areas of mainland Thailand and numerous islands in the Andaman Sea. The region is home to some spectacular scenery and some of the most famous sights in Thailand like James Bond Island, Railay Beach and Koh Phi Phi.
Ao Nang: A tourist-oriented town on the coast. There is a beach here and a ferry port making it a popular base for tourists to go on excursions around the province. The town sometimes gets mistaken for Krabi town which is around 20 minutes away.
Koh Phi Phi: Two stunning karst islands with tall steep cliffs rising out of the waters. Koh Phi Phi Leh is the uninhabited island made famous by Leonardo DiCaprio in The Beach. Koh Phi Phi Don is much bigger and almost equally beautiful but it is very busy with day-trippers and partying backpackers.
Koh Lanta: A large island with huge long beaches and a relaxed vibe.
Railay Beach: A spectacular beach on the mainland that is flanked by huge cliffs. Only accessible by boat.
Phang Nga Bay:  Home to the famous James Bond Island, Phan Ngan Bay is one of the world's most incredible landscapes with hundreds of rocky karst formations rising up out of the sea. 
Krabi Itinerary
We have written this as a 5 day itinerary but the area has a lot to offer and you could easily spend more days in here by adding extra beach days or by doing more of the tours mentioned below.
For this itinerary we suggest that you stay on the mainland in either Ao Nang or at Railay beach, depending on whether you prefer access to all the amenities of Ao Nang or if you would prefer to stay right by the beach.
Krabi Itinerary Day 1
Railay Beach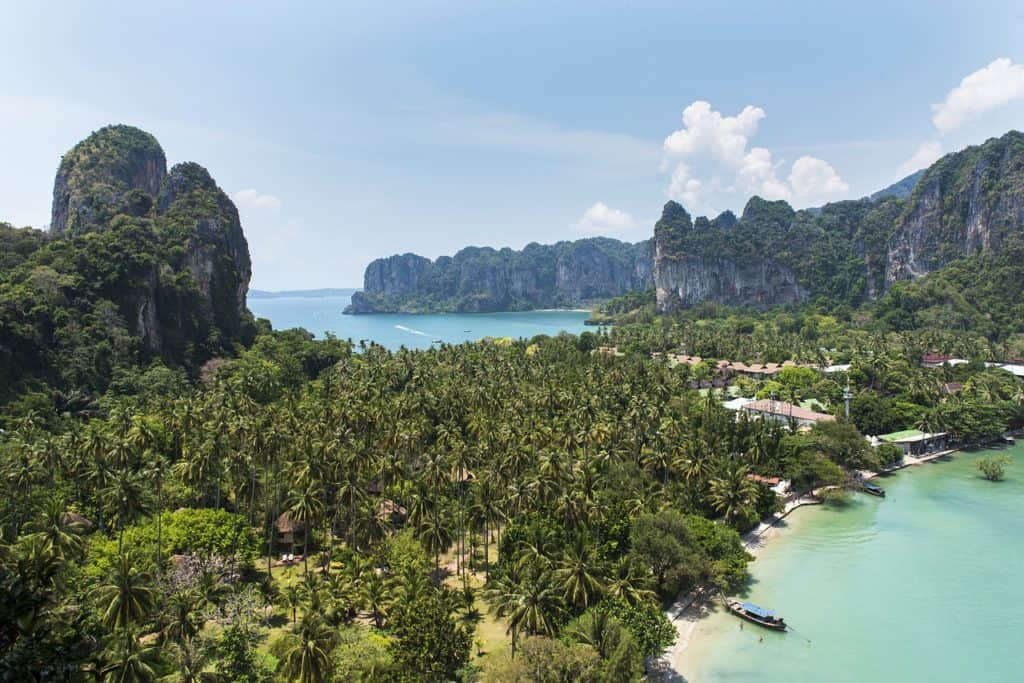 For your first day in Krabi, we suggest heading out to Railay Beach. You can only get here by boat but it is only around 10 minutes from Ao Nang. This gives it the atmosphere of being on an island although you are actually on a peninsula of the mainland.
The beach here is spectacular, with limestone cliffs all around, gorgeous white sand and caves to explore.
You could easily spend the day here relaxing on the beach and taking a dip in the clear blue waters, but if you fancy a bit more action you could have a go at rock climbing up those amazing cliffs, float over the waters in a kayak or explore underwater by snorkelling or diving. All these activities can be arranged at the beach or better still, book them in advance here.
Whilst you are at the beach be sure to explore over to the equally beautiful but less busy Ao Phra Nang beach which is about a 15 minute walk away. You may also be intrigued to have a look at the cave shrine where there are more penis statues than you can shake a stick at.
If you are looking for the ultimate cave experience you might like to eat at The Grotto. The setting is a sensational underworld experience but the prices are sky high. You have been warned!
1 Day Krabi Itinerary
If you only have one day in Krabi (Why?? You should stay here longer!!), or just like to see as much as you can, we suggest taking the 4 islands tour.
This tour will take you to Phra Nang Cave, Tup Island, Chicken Island and Poda Island. It gives you a really good taste of what this area has to offer in one bitesize trip by speedboat.
Krabi Itinerary Day 2
Phang Nga Bay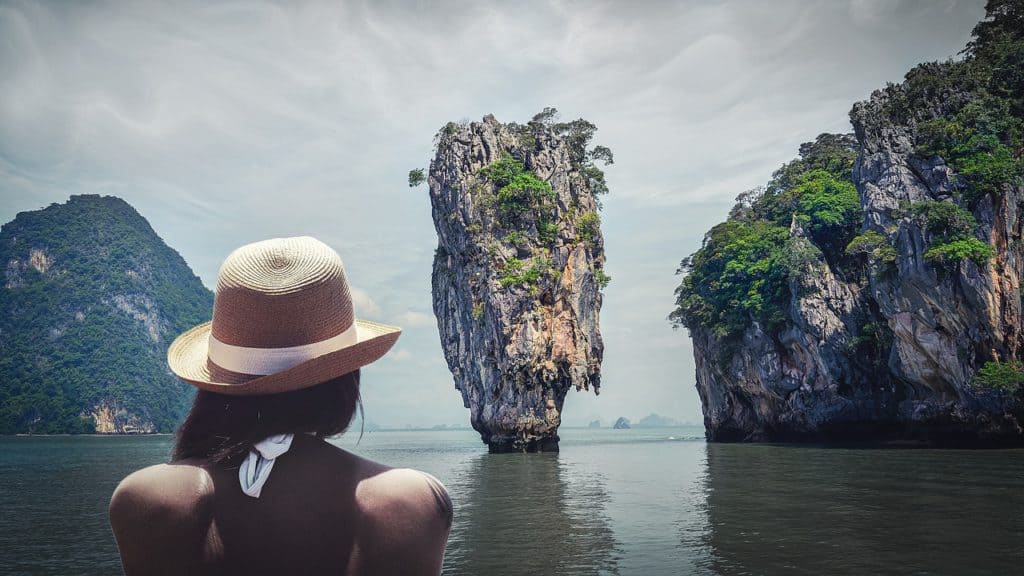 On day 2 of our itinerary, we suggest taking a boat trip out to explore the wonderful karst islands of Phang Nga Bay.
There are literally hundreds of them dotting the sea and it is an extraordinary and beautiful place to explore. You boat tour will include a stop at the famous James Bond Island where you can buy a few trinkets as a souvenir.
I am not sure how many of the thousands of people that come here have any interest the link to the James Bond film but it has become the main way to market tours to this area. It is definitely worthwhile regardless of whether you are a Bond fan or have never seen the film.
Your tour will also take you to a fascinating sea gypsy village and some tours include the option to spend a little time kayaking or to visit Koh Hong.
This tour is a great option as it sets out early to beat the crowds and includes canoeing in a private area.
Krabi Itinerary Day 3
Tiger Cave Temple and Emerald Pool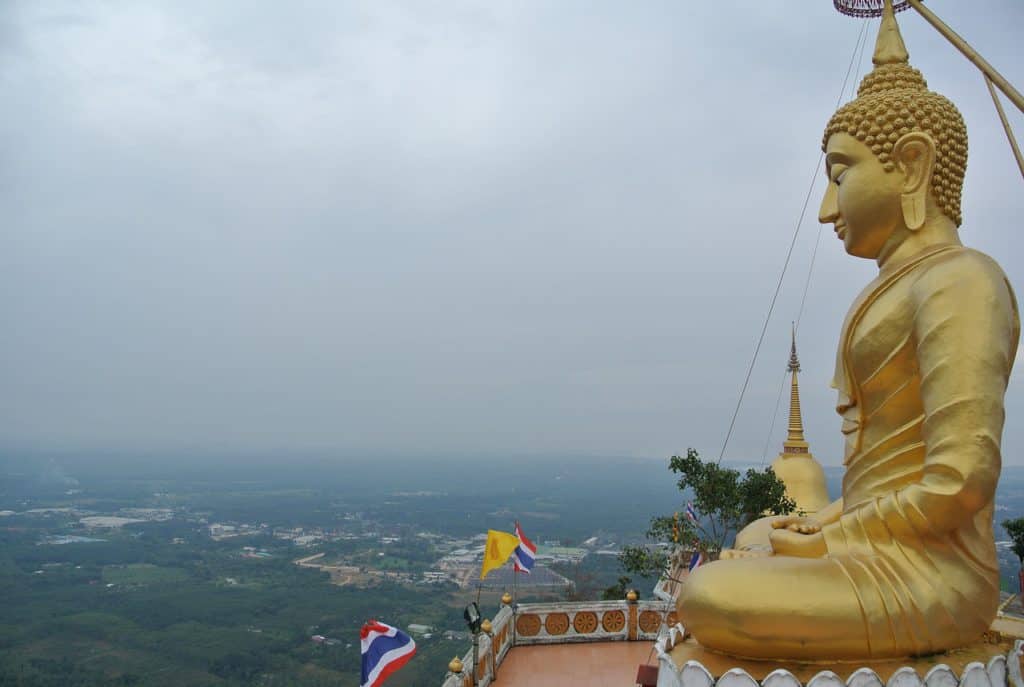 After a day at sea yesterday with thought that a good itinerary for day 4 would be to stick to the mainland and visit the Emerald Pool and climb up to the Tiger Cave temple.
It is best to get an early start to visit the Emerald Pool before they get too crowded. The waters in this hot spring are mineral rich, giving them healing properties. They also change colour depending on the time of day that you visit.
A visit to the Tiger Cave temple is an altogether more physical experience. To reach this temple you must first negotiate the 1237 steps that guide you up the mountain. When you get to the top you will be rewarded with some fine views over the incredible Krabi scenery. The temple here is home to a massive golden Buddha statue.
Book a tour to the Emerald Pool and Tiger Cave Temple
Fancy another hike?
If you have more days in the area and are looking for more things to do in Krabi,  then you could hike along the Hang Nak Mountain trail. This trek will take you about 2 hours to get to the top of the mountain. It is totally worth it for the bird's eye view that you get of the surrounding scenery.
Along the way you will pass waterfalls, streams and viewpoints, making it a very rewarding trek and keep an eye out for the local wildlife along the way. It is a trek that most people in decent shape should be able to manage but be sure to take lots of water along as it will be hot!
Krabi Itinerary Day 4
Visit Koh Phi Phi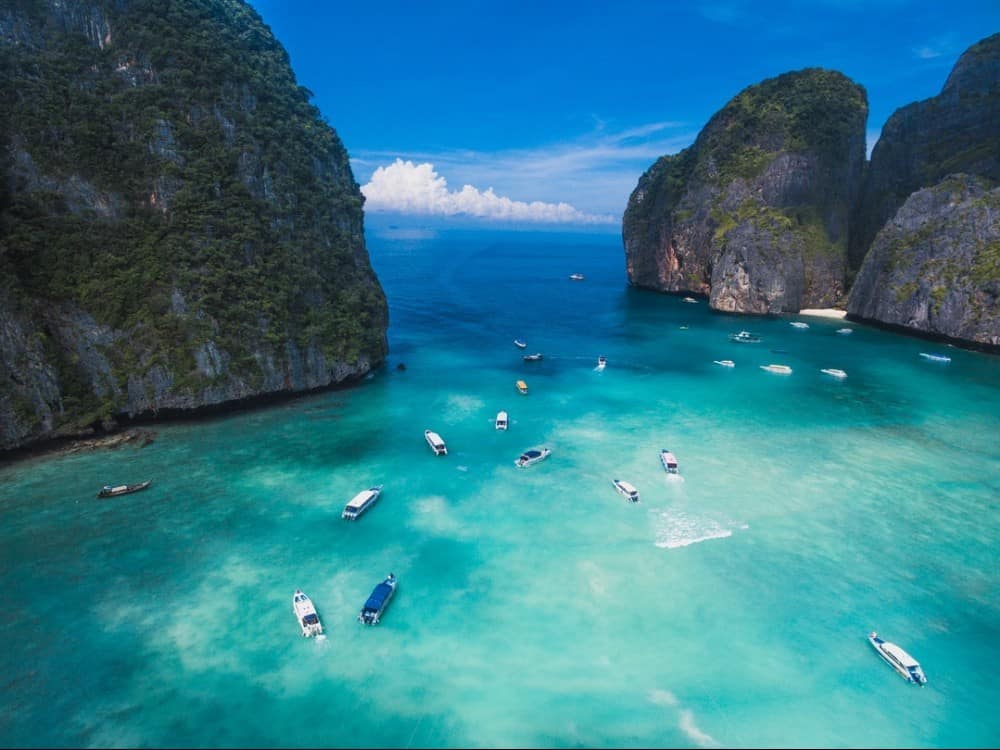 For your fourth day in Krabi we suggest taking a tour by speed boat to the Phi Phi islands. These are quite possibly the most beautiful islands in the region and are justifiably known throughout the world.
The two islands rise high and impossibly steep out of the sea to create a fabulous landscape of limestone cliffs, crystal clear waters and perfect beaches. The speedboat tour will give you the chance to visit all of the best spots on the two islands with stops for snorkelling and swimming along with time spent on the beach.
At the moment it is not possible to visit Maya Bay ('The Beach') as the Thai government have closed it to give the environment a chance to recover from the effects of over tourism. This is definitely a good thing and a stop on this super crowded beach was never a highlight of the tour anyway.
It is just such a great tour that will leave you smiling, amazed that such beautiful places exist and with memories to last a lifetime.
Book a sunrise tour of Phi Phi and the 4 islands (This tour goes early to avoid the crowds!)
or leave a bit later on this tour if you don't fancy the early start
Krabi Itinerary Day 5
Kayaking

Day 5, time for a bit more adventure!! One of the best things to do in Krabi is to spend some time out on the water in a kayak. You can do this from the beach in Ao Nang or Railay Beach, but we think that it is worth heading out on a guided tour to some truly spectacular locations.
One of the most popular trips is to head to Ao Thalane. Here you can admire more incredible karst cliffs as you wind your way through mangroves, finding hidden beaches between the massive rock faces.
This is definitely an area to explore with a guide as it is easy to get lost or get caught out by the tide. Click here to book your tour now.
Another option is to head to Hong Island for a day of kayaking. I have done this and rate it as one of my best ever travel experiences. The island here is absolutely stunning with perfect beaches to explore and hidden areas that can only be reached by kayak. 
Book a kayaking trip to Ao Thalane and Hong Island
Best Hotels in Krabi
For this Krabi trip planner, we suggest a base on the mainland with day trips out to explore the surrounding islands and attractions. 
We recommend that you choose to base yourself in either Ao Nang, Railay Beach or Klong Muang.
Ao Nang is the most convenient option and will give you the widest range of tours due to being based in a town near to the boat port.
Evenings here can be spent choosing from a wide array of bars and restaurants including a number of international chains. There is a night market for cheap and interesting eats and also for souvenir shopping.
If you fancy a bit of partying head to Soi RCA which is Krabi's main party street. It is lined with bars playing music, the vibe is fairly chilled and friendly rather than full-on hedonism.
If you would like to stay in the town, but still on the beach, Krabi La Playa Resort is a great option. with really comfortable, big rooms and tasty breakfasts. It isn't quite on the beach but it is just a short walk to get there.
Check availability on Booking.com
or
Railay Beach: Here you trade the convenience of Ao Nang for an out and out dream location. We think that it is a fair trade-off and it is still only 10-minute boat ride to Ao Nang if you need to get there.
Staying here will cost you a bit of a premium and your choice of where to eat and drink is fairly narrow. But….that view!
If you want to stay somewhere really special head for Rayavadee Hotel on Railay Beach. The location is unbelievable and the rooms and service here are exceptional.
All of the rooms are pretty amazing in luxury bungalow style accommodation, they have family suites and bungalows with private pools. Although the main pool is pretty spectacular in itself.
or
Klong Muang is a quiet yet beautiful beach away from the crowds. Here you can enjoy some fabulous sunsets and a great chilled out vibe on the beach.
For good value accommodation, awesome pool and a great beachside location check out Beyond Resort Krabi.
Get the best price now with Agoda
There are district wet and dry seasons in the Krabi area and generally, the best time to visit is between November and March. April should still be fine, but it is starting to get really hot. May is definitely off-season and a lot of places will be very quiet (and cheap!).
In the off-season, the seas could be rough and you may have trouble catching boat tours or ferries between the islands. In the rainy season, you might just have one or two hours of rain per day, or you could have a complete washout. You may also get lucky with some perfectly lovely days.
We have written a more detailed guide to the best time to visit Krabi, you can read it here, or read more about the climate in Krabi.
How to get to Krabi
Krabi has an international airport with flights from a few neighbouring countries as well as plenty of internal flights within Thailand.
From your home country, you might need to look at flying into the bigger airports at Bangkok, Kuala Lumpur or Phuket before continuing on to Krabi.
There are very frequent flights to Bangkok and Chiang Mai so you can easily combine Krabi with other areas of Thailand when you are planning your itinerary. For an idea of how to spend your time in Thailand check out our 10-day itinerary.
Krabi is also easy to reach by land with buses from around the country and Malaysia all calling in at Krabi town. By sea, most of the islands are well connected by speedboat and ferry services. Ao Nang is the mainland port that you are most likely to use.
Krabi vs Phuket
People planning a trip to Thailand often ask whether they should go to Phuket or Krabi. For us, it is Krabi every time. It is more beautiful, more relaxed and cheaper.
Phuket is nice enough but it is the place to go on a package tour or a lad's holiday whilst Krabi has something for everyone and is generally a more spectacular location to spend your vacation.
Having said this we often fly into Phuket Airport and spend a couple of days by the beach in Naiyang before getting the ferry to Ao Nang or Koh Lanta.
Both Phuket and Krabi offer similar options to get out to the islands of the Andaman Sea so if you have your heart set on Phuket I am sure you will still have a great trip!
Where to go Next?
If you have more time in Thailand then we definitely recommend that you spend more time in the Krabi area. The Andaman Sea lends itself perfectly to island hopping so why not spend a few days on the paradise islands off the coast.
We have written a blog about the best places to go in Krabi which is a great place to continue planning your trip. If you are travelling as a family, be sure to read our guide to Krabi with Kids
Islands like Koh Lipe, Koh Lanta, Koh Mook, Koh Ngai and Koh Libong are all stunning islands and each has its own character so why not take to the seas and explore further in the fantastic region.
Enjoy Your Krabi Adventure!
We hope that you have enjoyed reading our Krabi itinerary and that it has helped you to plan your own trip. It is a wonderful place to visit and we are sure that you will enjoy your own trip there, If you have any queries that we haven't covered above, please ask away in the comments below.