Everyone talks about Railay Beach. But did you know that there are actually four beaches in Railay? Yep, not one but four stunning beaches in one location! Railay Beach really is a beautiful place and well worth a visit as part of your Thailand itinerary. 
In this post, I will explain all about the beaches in Railay, the differences between them, how to get there and where to stay. 
Where is Railay Beach?
Railay Beach is in the Krabi province of Thailand. It is a peninsula on the west coast of Thailand where huge limestone cliffs provide a stunning backdrop to stunning beaches. 
This geography is what makes it so special. Not only does it look stunning, but it is inaccessible by car which gives the whole place a totally different feel from other coastal resorts in the area. 
Despite being part of mainland Thailand, the lack of access by road makes it feel a lot like you are on an island. 
What are the Beaches in Railay like?
The beaches in Railay are truly stunning. I think they are amongst the best beaches in Thailand and the world. 
You have heard of picture-postcard destinations, well chances are you have seen Railay Beach (also sometimes spelt Rai Leh Beach or Raleigh Beach) on loads of postcards as it is one of the most photographed places in Thailand.
You know the picture, longtail boats in clear blue seas with a limestone rock formation behind. It looks like paradise.
You know, this place: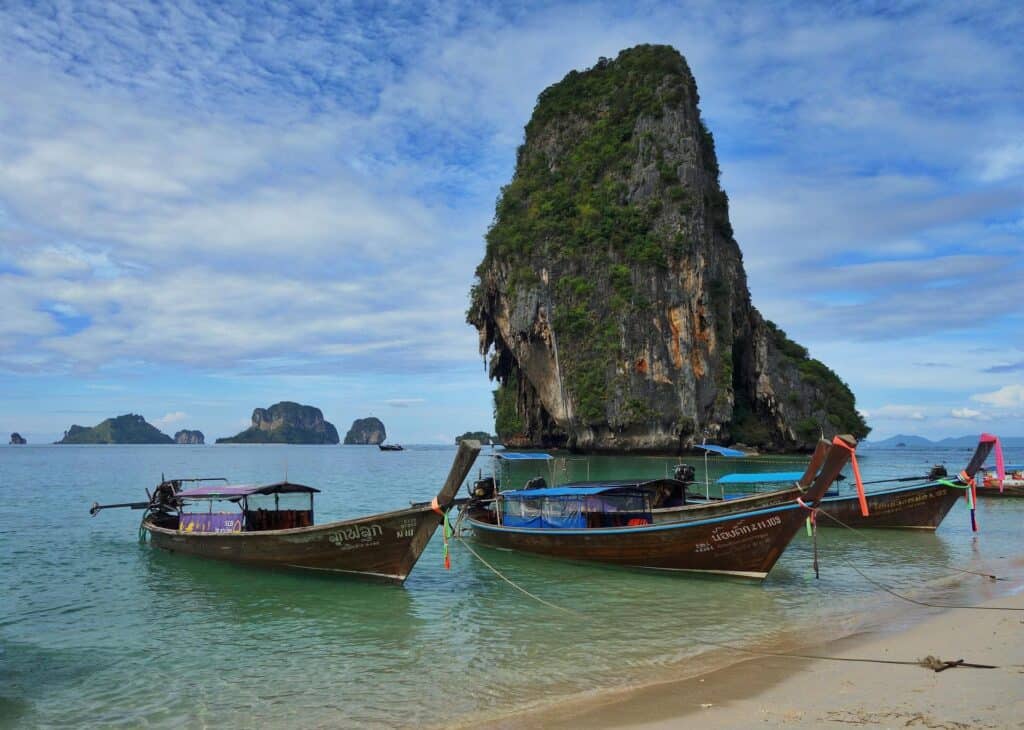 I am sure that you have seen a version of this picture but nothing compares to seeing it in real life! It really is that beautiful, no Photoshop required!
That photo was taken at Ao Phra Nang beach. Not heard of it? (Well, I guess it is harder to say than Railay) but Ao Phra Nang is probably the most beautiful of the beaches in Railay.
All the beaches on the Railay peninsula tend to get lumped together as Railay Beach, and I am sure there must be plenty of people that visit and don't even realise that there are a few beaches here. 
They just see the one they get dropped off at and then leave again a few hours later. Such a shame, as there are a few beaches here that rank among the best in Thailand. This post will explain everything so that you don't miss out!
What are the Beaches in Railay Called?
At Railay Beach there are four beaches that you can visit – Railay Beach West, Railay Beach East, Ao Phra Nang and Tonsai Beach. They can all be reached on foot by taking small trails through the jungle, or by longtail boat (no cars here!).
The three main beaches of the Railay Peninsula are Railay West, Railay East and Ao Phra Nang. They are all connected by walking paths, and it takes about 15 minutes to walk between them. 
The 4th beach that is generally considered as one of the beaches at Railay is Tonsai beach which is a little bit to the north of the peninsula. It can be reached by a 45 minute walk through the jungle or a very quick ride on a longtail boat. 
Between Railay East and Railay West is Railay Walking Street, this is the 'main drag' where you will find chilled out bars, restaurants, tours and shops selling rock climbing gear. 
Railay West Beach 
West Railay Beach is the first one that you get to if you are coming from Ao Nang by longtail boat. It is the longest of all the beaches at Railay and it is the perfect spot for sunbathing and swimming in the calm waters. It really is a stunningly beautiful beach and has a great laid back atmosphere to compliment the natural beauty.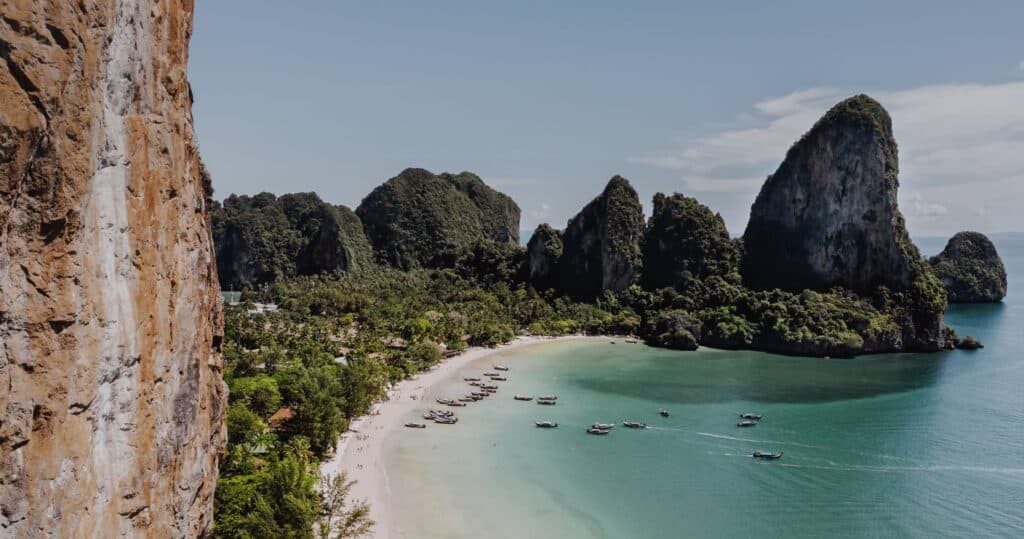 It is the busiest beach in terms of boats since this is where lots of people get dropped off, but all the boats stop at the same spot so you can find a place to swim where you can avoid the boats. 
You will find it harder to escape the roar of their engines but don't let that put you off and watching people come and go whilst stepping through the shallow water can be entertaining. 
Behind the beach there are several hotels and restaurants so you can easily find yourself a lovely spot for a drink or bite to eat. 
In the evenings you will be able to see an incredible sunset, whilst after dark there will be fireshows to entertain you.
Insider tip – If you want to stay on this beach be sure to book well in advance. Rayavadee is the top choice if you want to stay somewhere that is out of this world. Railay Bay Resort & Spa is tucked in amongst the trees and is a lovely spot with a bargain price tag.
Ao Phra Nang
Phra Nang Beach is the most picturesque of the Railay beaches. It is set right beneath towering cliffs and an absolutely incredible beach. It is one of the most famous beaches in Thailand thanks to the stunningly beautiful beach scene and the glorious rocky island (Ko Rang Nok) that makes such a picture-perfect backdrop.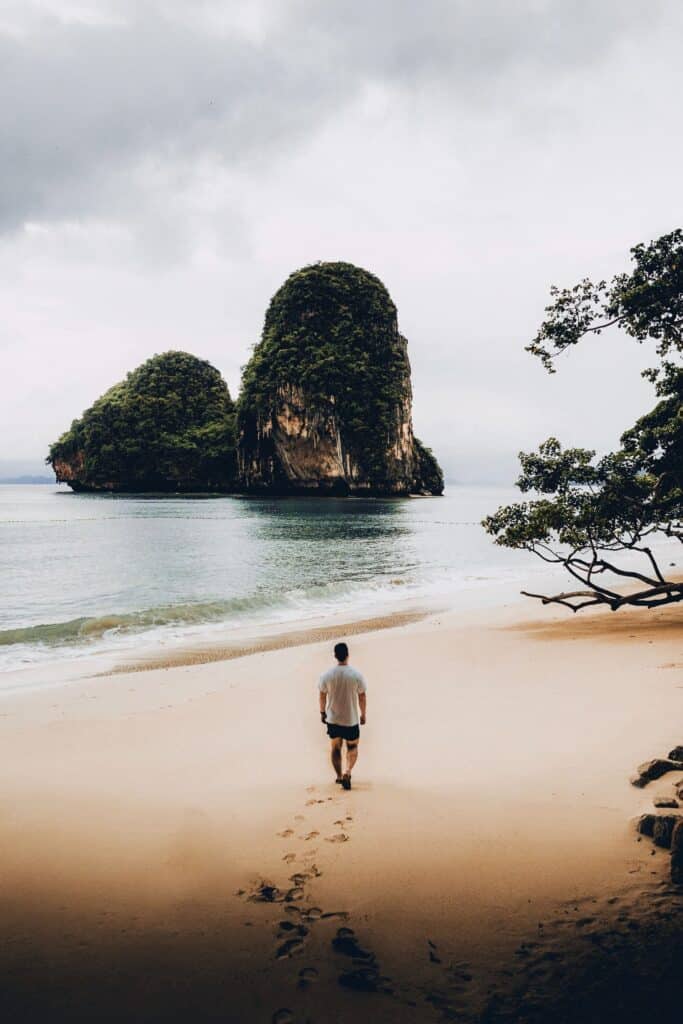 It's not all about the views though. The sand itself is wonderfully soft and powdery, the turquoise sea is warm, calm and the perfect place to swim or snorkel. It is also a good place to escape from the sun as the tropical trees and huge cliffs provide a good amount of shade. 
Phra Nang is a big draw for rock climbers thanks to the impressive variety of routes that can be climbed up these stunning cliffs. If you are into climbing (or fancy giving it a try), this has to be one of the most beautiful places to climb.
If you prefer to keep your feet on the ground then take a look at Phra Nang Cave (Princess Cave) where you will find some 'interesting objects' that have been made as offerings to the princess of fertility. 
At the opposite (northern end) of the beach there is another cave – 'Bat Cave'. This requires a bit more effort to get to and involves using a couple of ropes that have been fixed to help you get up, but it doesn't require any equipment or skill beyond average fitness. 
Phra Nang Beach is fairly undeveloped with just a restaurant for the incredible Rayavadee hotel tastefully hidden amongst the trees.

Railay Beach East
There is actually not that much of a beach at Railay East unless the tide is all the way out. It is a mangrove covered bay (some have recently been replanted) and at high tide the water comes all the way up to the stone walkway. 
This makes it a perfect place for the main dock on Railay Peninsula but means that beachwise this isn't really where you want to be when you come to Railay and it's no good for swimming.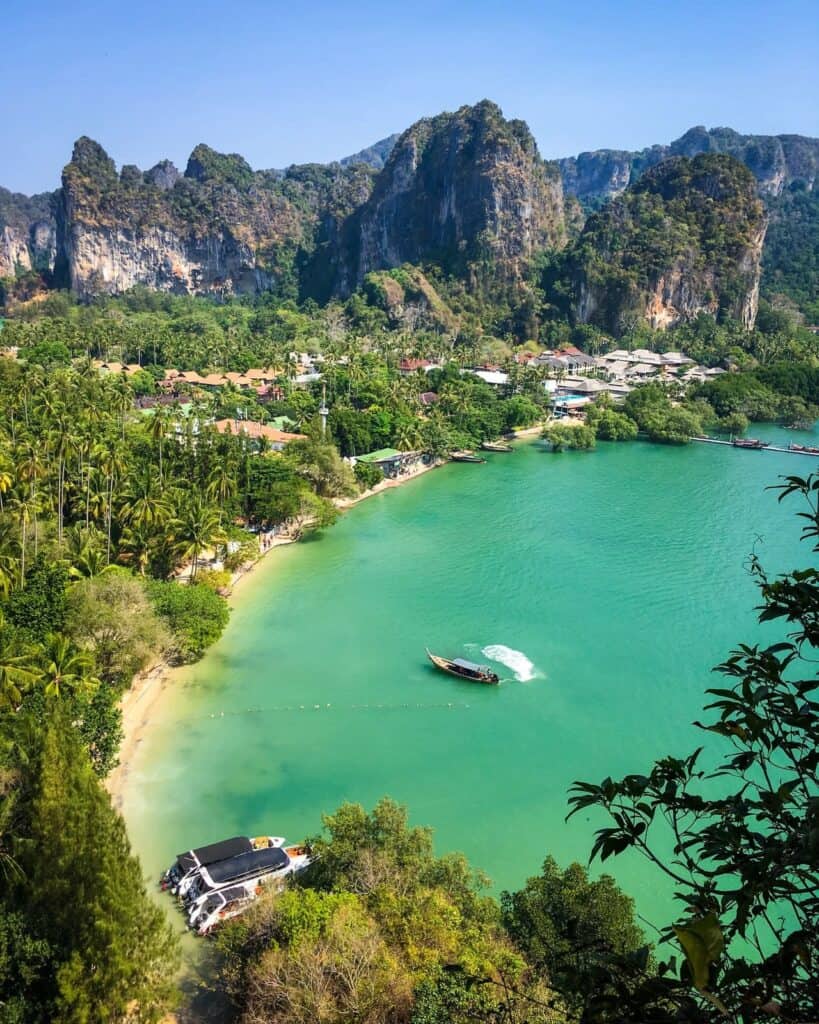 It's still beautiful here though and well worth a look whilst you explore the area. There are some nice resorts and restaurants here which makes Railay East a perfect spot to enjoy a meal and soak in the view. 
Insider tip – Railay East has some of the most affordable accommodation options in Railay Beach, Krabi. It's not really that far to walk to the other beaches from here. We like the Railay Garden View Resort for cheap, friendly accommodation with great views.
Tonsai Beach
Tonsai Beach (not to be confused with a beach of the same name on Koh Phi Phi) is technically not part of Railay. It's just to the north and not part of the peninsula, but as it's close by it is generally considered to be the fourth beach at Railay. 
You can walk there following the shoreline when the tide is low or via a 45 minute jungle trek from Railay East. Another option would be to catch a boat at any time.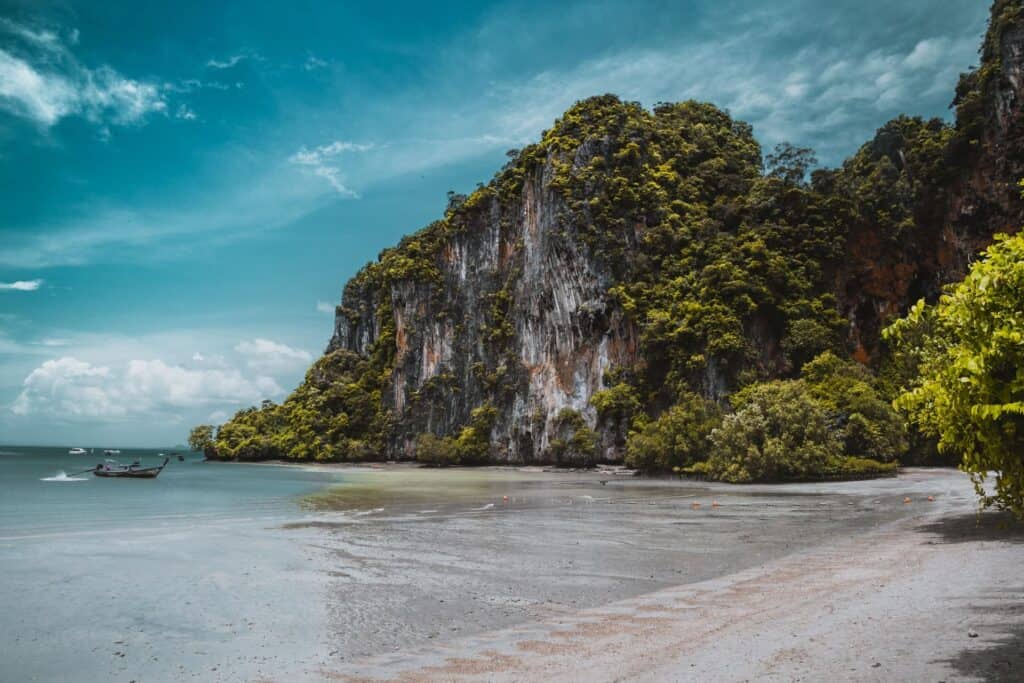 Tonsai Beach is completely gorgeous with amazing limestone cliffs and a fairly wild feel to the beach. It is worth noting that it is fairly rocky at the beach making it less suitable for swimming than Railay West Beach or Phra Nang cove.
It is a bit more secluded than the other Railay beaches, it is popular with climbers and has a definite hippy scene. All of Railay has a relaxed vibe but Tonsai has a slightly more alternative and counter-culture feel to it. 
There are a few small hotels and bars here, but most of them are set back around 500 metres from the beach in a small village.  From the beach you will, of course, be able to enjoy a dramatic coastline and incredible views. 
Insider tip – If you want to stay on the beach here there are only a couple of options. We like the gorgeous Tinidee Hideaway
What is the best beach in Railay?
Ao Phra Nang is the most picturesque beach at Railay and is probably the best beach in Railay. There are huge cliffs, soft white sand, caves and a small rocky island just out to sea. It is pretty much the perfect beach.  
That is not to say that the other beaches aren't also incredible. Railay West is almost equally as amazing, and Tonsai is great too. East Railay cannot really compare to the other three, 
Can you walk between the beaches at Railay?
You can walk between all of the beaches in Railay. Railay East and Railay West are joined by the main walking street where you will find all the bars, restaurants and tourist shops. It is about a 10 minute walk between the two beaches. 
Ao Phra Nang, my favourite beach at Railay Beach, is just a short walk from Railay East or West (about 15 minutes to either).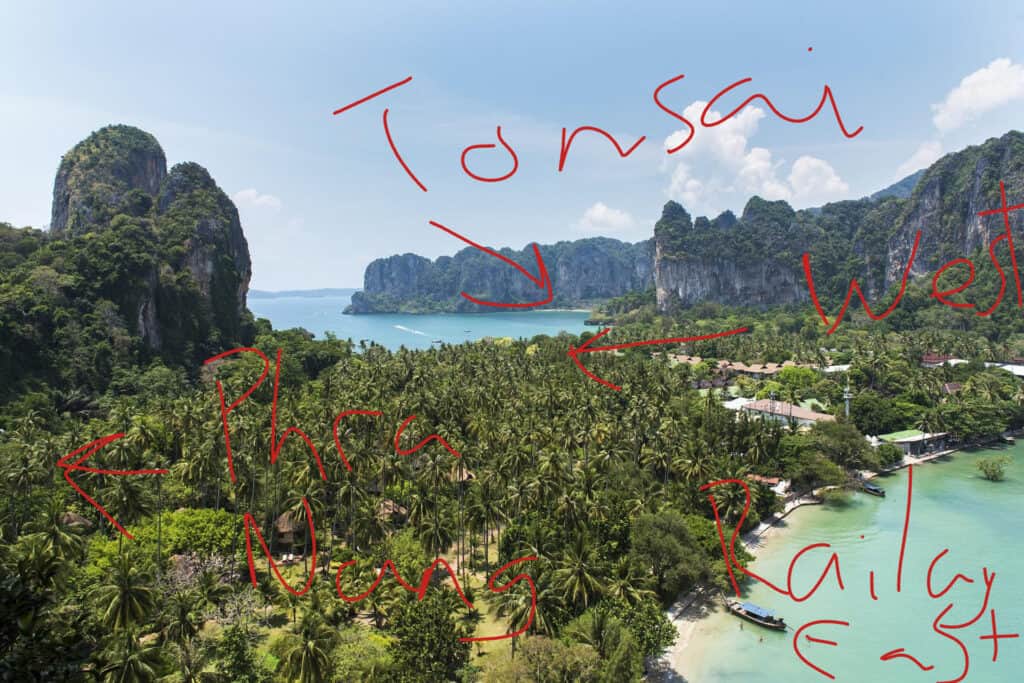 Tonsai Beach is a bit further away, there is a trail from Railay East that will lead you through the jungle to Tonsai in about 45 minutes. 
When you walk between the beaches of Railay, you will find monkeys in the jungle areas. They are cute but make sure that you put any food you have in your bags as they will take it otherwise!
Can you walk from Tonsai to Railay?
You can walk from Tonsai Beach to Railay Beach. There are a couple of options. The best way is to take the 45 minute walk through the forest to Railay East.  At low tide, it is also possible to walk around following the shoreline from Tonsai to the end of Railay Beach West. This will involve clambering over rocks and I haven't tried it and don't really recommend it, but it can be done.
Is Railay Beach worth visiting?
Railay Beach is absolutely worth visiting. It is one of the most incredibly beautiful places in the whole world. Railay Beach in Thailand has truly been blessed with natural beauty and on top of that you get amazing weather, a relaxed atmosphere, and friendly Thai hospitality. Why wouldn't you visit?
Can you snorkel at Railay Beach?
You can snorkel from any of Railay's beaches although Railay East isn't really recommended. The best places to snorkel are close to rocks where you have the best chance of seeing some reef fish. You will need to keep an eye out for longtail boat traffic and choose places where there are not so many boats. 
Things to do in Railay Beach
In the unlikely event that you get tired of looking at the view, there are a few other things that you might like to try whilst at Railay Beach Thailand. It is a world-class rock climbing destination with people travelling from all around the world. Watching them is interesting in itself but if you fancy joining in then you can find guided rock climbing for all ability levels.
One of the best ways to enjoy the beaches of Railay peninsula is to hire a kayak and paddle your way between them all. You can easily rent them here by the hour or for a day/half day.
If you are staying here for a while and fancy venturing further afield then there are several great day trips that you can do from Railay. The four islands tour that takes in Phra Nang Cave, Tup Island, Chicken Island and Poda Island is hugely popular whilst my personal favourite is a sea kayaking trip around the stunning Koh Hong.
Hike to Railay Viewpoint
A short but energetic and sweaty climb will get you to the Railay viewpoint where you will be rewarded with a spectacular view of the Railay peninsula, beaches, sea and coastline. 
It takes about 25 minutes to get there following a hard-to-follow trail through the jungle which is steep and slippery in places. Towards the top you will need to pull yourself up using roots and ropes so this is not a walk for everyone but it is a fun challenge that most people will enjoy. 
The trail starts on the path between Railay East and Phra Nang Beach, take plenty of water with you and wear some decent shoes rather than flip flops.
How to get to Railay Beach
Railay Beach can only be reached by boat. The most common departure points are Krabi Town and Ao Nang where you can easily get a transfer by longtail boat. There are also direct connections to Koh Lanta, Koh Phi Phi, and Phuket by ferry and speedboat.
If you are flying straight in, be sure check out our guide to getting from Krabi airport to Railay Beach.
Where to stay at Railay Beach
Rayavadee Resort
If you are looking for the perfect 5-star accommodation on Railay Beach then you have to stay at the incredible Rayavadee, one of the best hotels in Krabi.
The hotel is surrounded on all sides by tropical gardens and beaches and you will stay in a stunning 2-storey pavilion or beachfront pool villa. The natural setting is part of the thrill of staying here and is home to monkeys, lizards, and birds.
You will also find an incredible outdoor swimming pool with some of the best views you could ever imagine. Be sure to indulge yourself at one of the 4 dining options on-site (including a BBQ on the beach) and enjoy some me-time with a range of treatments at the spa
Everything about the property is simply breathtaking from the stunning location to the gorgeous bedrooms. Everyone will enjoy a stay at Rayavadee,   but if you are looking for a honeymoon destination, this should definitely be top of your list.
Railay Bay Resort & Spa 
Beautifully set beside the white sands of Railay West Beach, is Railay Bay Resort & Spa which offers spacious tropical-style cottages set in landscaped grounds, a beachfront outdoor pool and a restaurant.
This is a great resort in a beautiful setting. There are two swimming pools, one in the middle of the resort and one on the beachfront, both of which are stunning.
You can never get bored of the view here and one of the best places to take in the vista is from the restaurant, which specializes in seafood and pizza. It is lovely at any time of day and a great place to enjoy the tasty breakfast or a drink while watching the spectacular sunsets.
The rooms are large and nicely furnished. They come with an excellent range of useful things to borrow, including beach bag, mat, umbrella, flashlight and beach towels. 
Railay Princess Resort & Spa
Located on the quieter East Railay Bay, Railay Princess Resort has Thai style rooms set around a leafy garden with 2 great swimming pools (one of the two Is a Jacuzzi) and a fitness centre.
The jungley garden is teeming with life and if you are lucky you will see lizards, monkeys and all sorts of birds during your stay. 
Wonderful views can be enjoyed from all around the resort, including the pool and restaurant. The beach is just a 5-minute walk away and this place is right by the pier so it is easy to get to. Rooms here are spacious and spotlessly clean, and they serve a good breakfast.
Beaches in Railay – The Bottom Line
I hope that you have enjoyed reading my guide to the beaches in Railay. I have to admit I was a bit confused when I first started researching as it wasn't always clear that there was more than one beach here and yet the photos looked like different beaches!
I wanted to be sure that I would see the stunning beaches in the photos, so I hope that this post has helped you to understand the beaches that you find on the Railay peninsula a bit better.
I recommend staying, but it can easily be visited on a day trip from Krabi, Ao Nang or even Phuket.