Phuket is the largest island in Thailand and has become a major tourist destination offering fantastic weather and glorious beaches. This makes it one of the best family holiday destinations in the world and the perfect place for your next family getaway.
It is the beaches that draw most people to Phuket, but away from the water, you can enjoy nature, culture and fabulous food so there is plenty to keep you and your family busy for the duration of your stay.
Finding a great place to stay can really make or break your time away so we have decided to pull together this list of the very best family resorts Phuket. 
We really hope that 2023 will see travel back to how it used to be. Thailand has done a good job at keeping Covid cases low and restrictions have now been lifted.
The Best Family Friendly Hotels in Phuket
There is something for everyone on this list but the things that they have in common are great beachfront locations and some fabulous swimming pools. All the family friendly accommodation Phuket in this list feature kids clubs and kids play areas. These are perfect for allowing your kids to let off steam.
To make sure that we have included all the very best Phuket family resorts on this list, we have asked a few other travel bloggers to recommend what they think are the best resorts in Phuket for families, and thrown in some recommendations of our own. 
We are confident that this list will help you to find the perfect family friendly hotel in Phuket where you can enjoy some amazing times together as a family.
Sharon from Dive into Malaysia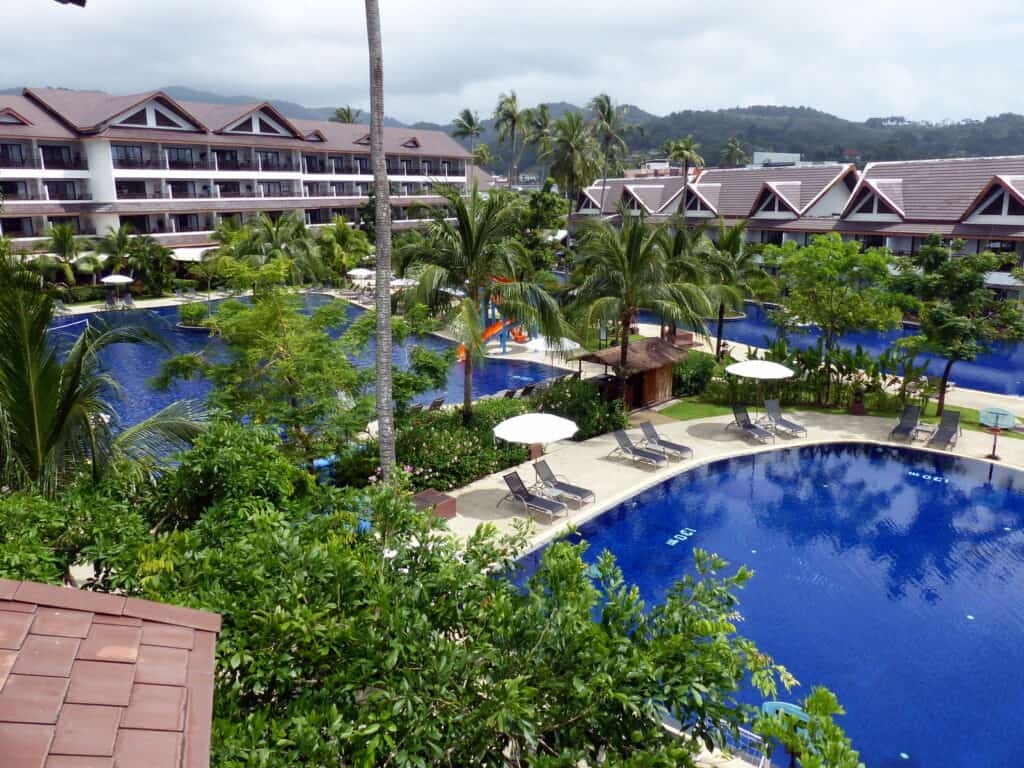 The Sunwing Kamala Beach is our top pick for a family hotel in Phuket. This is for many reasons!
To start with, the location is perfect for families. It's right by Kamala Beach which is calm and great with kids. A strip of restaurants are right on the beach with toys and play equipment for kids making this especially perfect for preschoolers and toddlers. It's also just a quick and easy walk into the main part of town. It's the best location in Kamala.
Click here for the latest prices and more information
But where the Sunwing really stands out is that the whole resort is family-focused. In fact, I don't recommend staying here unless you are a family. There is a kids club with activities all day long, family activities throughout the day and a day spa used to dealing with kids. 
If you are a pool person, you'll love it here. There are 8, mostly very big, pools as well as some water slides. You can also relax at the pool bar while you are enjoying them. There are two restaurants with kids eating free. The best part is there is a varied kids menu too so it's not just fried food.
If you are travelling with a baby or toddler, I especially recommend the "happy baby suites". These come with tons of baby equipment including baby bouncer, change table, potty, cot, nappy bin, car mat, bumbo and so much more! They also have courtyards which were perfect for the rest of us to play while our baby slept.
I really can't recommend the Sunwing Kamala enough as a family-friendly option in Phuket, it is quite possibly the best family resort Phuket has to offer.
Claire from Stoked to Travel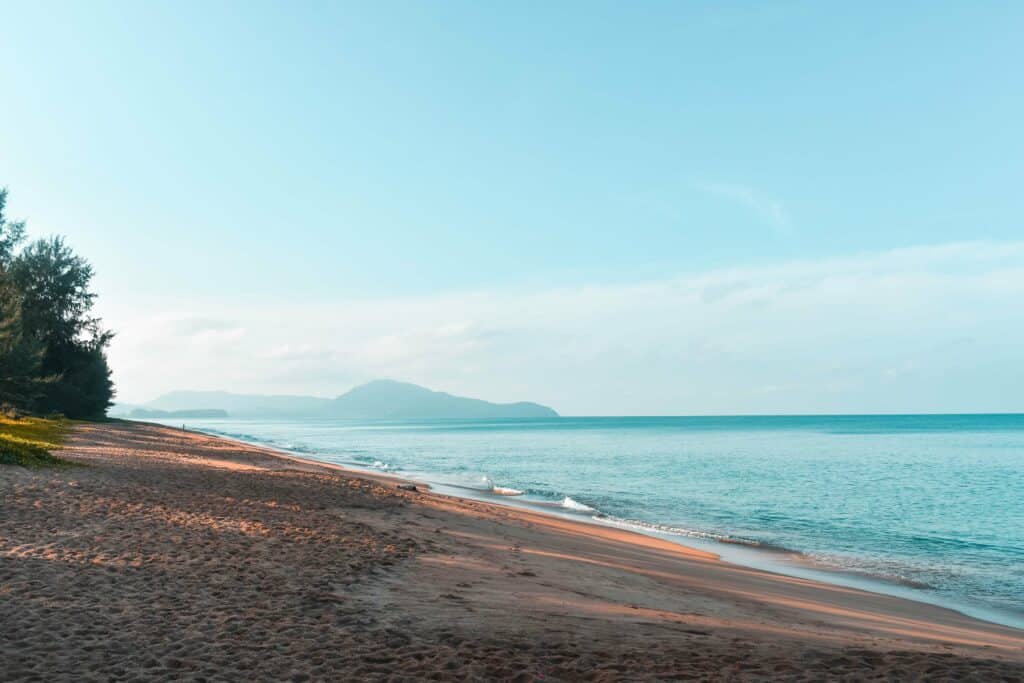 Located on one of the most stunning beaches in Phuket, the Holiday Inn Resort Phuket on Mai Khao Beach is a slice of affordable paradise for families.
Not only are the spacious rooms reminiscent of an old-school surf club with whitewashed furniture and fun pale stripes,  several of the lower ground rooms lead directly into the wraparound swimming pool. 
Children can spend endless hours splashing round in one of several pools, or participating in all the fun activities arranged by the hotels' kids club. A huge buffet breakfast is included each morning, and there are several restaurants to opt for in the evening – but you can also visit the local market stands nearby for a delicious taste of authentic Thai cooking!
Mai Khao itself offers a completely unspoilt version of Phuket, miles from the louder and brasher resorts. Mai Khao is how I imagine the whole island of Phuket used to be 20 years ago. 
The beach was wonderfully empty of sun loungers and trash, instead a long stretch of golden soft sand that sloped gently in warm calm waters. The sea, in particular, is a delight with no rocks, no sharp coral, no rubbish, no stands and no beach traders. By far one of the best beaches I have ever been to in the world. 
Also, the Holiday Inn Resort is just 15 minutes from Phuket International airport, which makes transfers easy and quick, ideal for families. 
Staying here was the most relaxing and refreshing stay I've had in Thailand, and the beach is a truly pristine paradise all in all it has to be one of the top Phuket resorts for families.
Click here to check the latest prices
Annie from Off Goes Annie  
Marriott's Phuket Beach Club really is one of the best hotels for families in Phuket (a Thai paradise in itself).
Set along Phuket's stunning 11km long Mai Khao Beach, in the heart of Sirinat National Park, this large hotel complex guarantees both perfect peace for parents and great fun for the kids. 
With three glorious swimming pools and a multitude of restaurants and bars to choose from, it'd be easy to spend several weeks here without running out of things to do. 
What's more, the Phuket Beach Club is located next door to several other Marriott properties, including their JW Resort and Spa (see below), Mai Khao Beach Club and Renaissance Hotels, allowing you the freedom to enjoy the excellent facilities at more than one location. 
All the rooms at Phuket Beach Club are mini two-bedroom apartments, complete with a full kitchenette and dining area, making family routines easy to maintain. 
There's a great kids club with varied daily activities, alongside several events for adults too. The staff are incredibly friendly, doing everything possible to ensure your every need is catered for. 
It's also very easy to organise day trips out to the islands or other areas of Phuket from the hotel concierge. We definitely think this is one of the best Phuket resort for kids
Click here for more information and the latest prices
The JW Marriott Phuket Resort is a great choice of family accommodation Phuket. The hotel is set in a secluded spot in the middle of a coconut plantation and the grounds are full of lush plants and lotus ponds to give the communal areas a very attractive and exotic feel. 
It is easy to get here as it is just a 15-minute drive from the airport, but the location is fantastic, right by the beach so you can walk straight out onto an unspoilt area of Mai Khao Beach which is probably the family beach in Phuket.
There are 3 great swimming pools to enjoy, including a kids pool with slides, fountains, and turtle statues.  They also offer supervised kids' and young teens' clubs where your children can enjoy offering a range of activities, including batik painting, yoga, cooking, and Thai dancing.
Kids will love the onsite turtle shelter where they can see rescued disabled sea turtles in a specially built enclosure. Not only are the turtles cute, but your children will get the chance to learn about the important conservation work that is going on here.
There are plenty of other activities to enjoy on-site including yoga and cooking classes and Muay Thai, loads of watersports, as well as table tennis, volleyball, and tennis. There is a great games room and a 24hr gym.
Parents can enjoy a bit of time to themselves by visiting the award-winning Mandara Spa where a range of treatments like scrubs, manicures, facials, and massages are available.
The rooms here are nice with some Thai-style decoration. The hotel has 6 different restaurants, including the lovely Andaman Grill where you can enjoy fresh locally caught seafood in the open-air.
A good buffet breakfast comes as standard, and you can enjoy full and half board options if you wish. If you are looking for family friendly resorts in Phuket this should be on your list for sure.
Click here to check prices and availability
Kylee from Passports and Preemies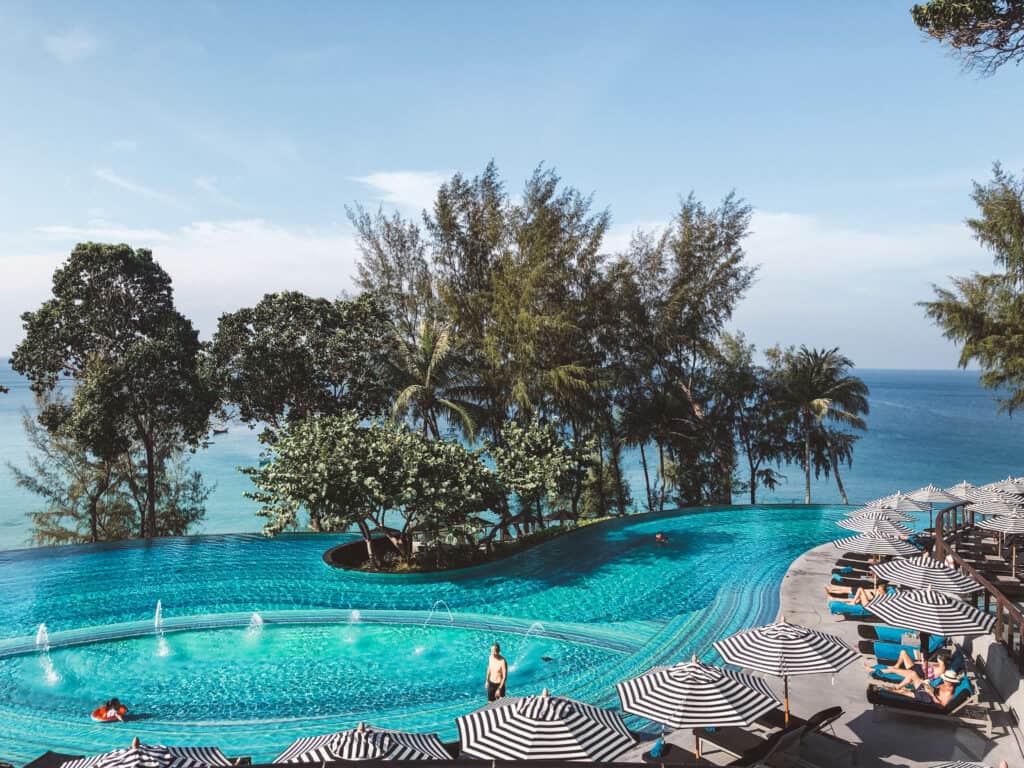 Found 8-km from the airport, the Pullman Phuket Arcadia Naithon Beach Hotel is found nestled on the west side of Phuket in what could be the best area to stay in Phuket for families.
This ultra-chic, family-oriented hotel is hidden away from hustle and bustle of Phuket, which is commonly known as a "party island".  While you can retreat from the noise, the hotel is still close enough to walk to the bars and restaurants sitting along Nai Thon Beach.
The Pullman Phuket is a five-star hotel that caters to everyone from honeymooners to children. 
Ideal for family travel, this hotel offers a wide variety of services to both children and adults.  Spend time with kids in the shallow swimming pool of the hotel as you order kid-friendly meals poolside.  
Or opt for more of an adult experience by leaving your kids at the children's club for the day, which takes kids ages four and up.  
When the sun sets and night rolls around, head to the kid friendly dinner buffet set up nightly. For a more adult experience hire a babysitter (offered at the hotel) and head to the nightly hotel happy hour finishing with dinner at the famed Italian restaurant on site – Vero.
Whether you're visiting Phuket for a night or longer, the Pullman Phuket is the perfect hotel to check into as a family and it could be the best place to stay in Phuket for families.
Click here for more information and to check prices
Karolina from Lazy Travel Blog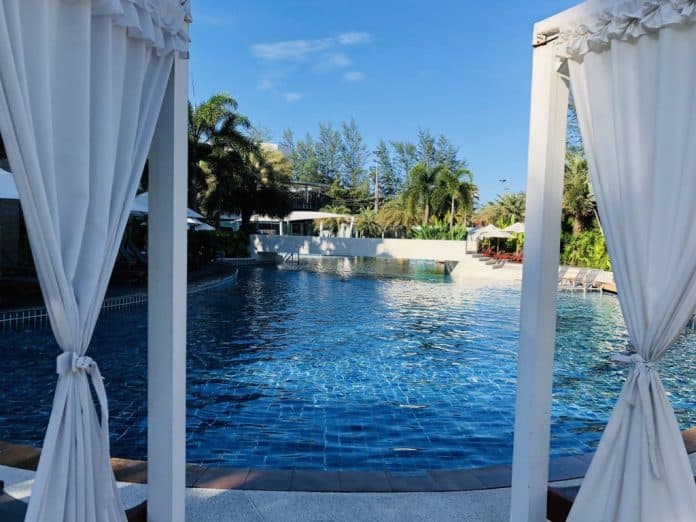 Novotel Karon is probably one of the best family-friendly hotels in Phuket, Thailand. 
With their Phuket Family Package Promotion, you get a spacious room that will ensure that you and your family will have a comfortable stay at the hotel. 
It does make a difference to have a big bathroom when you need to help kids get dressed or get ready for bed. Designed for families with kids, the bunk beds, in-room Playstations, and kids' amenities are details that you and your loved ones would definitely appreciate. Once you get in the room, the only argument you would have to settle is: Who gets the top bunk?
With a buffet breakfast included in the package, there is no need to worry about the first meal of the day. Even fussy kids will find something they like in the spread that they offer at Novotel Karon. And, if you have any special requests, their attentive staff is there to make it possible. 
After breakfast, you have the option to go on day trips or stay at the hotel, a tempting choice considering all the activities they have in store for families. 
Whether you choose to lounge by the pool, treat yourself to some pampering at the spa, or catch up with your workout at the gym, you will have peace of mind that your kids are in good hands at the Kids' World where daily activities, like films, face painting, Origami, and other fun stuff, are prepared for them by Novotel Karon's enthusiastic staff.
Your kids will love staying at the Centara Grand Beach Resort on Karon Beach which is surely amongst the best resorts for families in Phuket. 
If your kids like swimming, they will love it here.
The swimming pools are amazing, it is pretty much its own water park. There is a meandering lazy river, awesome slides, islands of palms and waterfalls. Younger kids are well catered for as well, as there is a shallow pool with a small slide for little ones.
If you fancy a bit of time to yourself then you can take advantage of the kids club which is split up by age and has loads of great activities. You can use your free time to relax in the adults-only pool with a swim-up bar, or you can treat your self in the onsite spa.
The fun doesn't stop here for the kids, they have a playground, games arcade, crafts sessions and evening movies along with family activities like tennis, yoga and aqua aerobics.
Your kids will probably be happy to stay in the resort for your whole stay, but if you can drag them away to the beach (which is right by the hotel), you will find a gloriously wide sandy beach that is more or less a private beach for the Centara Grand. 
This could be the best resort Phuket for kids and offers is a good selection of rooms here, many can be set up with 2 queen beds which works well for young families, or you can get interconnected rooms. 1 and 2 bedroom villas offer spacious accommodation with plunge pools and private terraces.
If you are looking for the best family resort in Phuket with water slides then this is the one to choose!
Click here for more information and the latest prices
Alexander from Swedish Nomad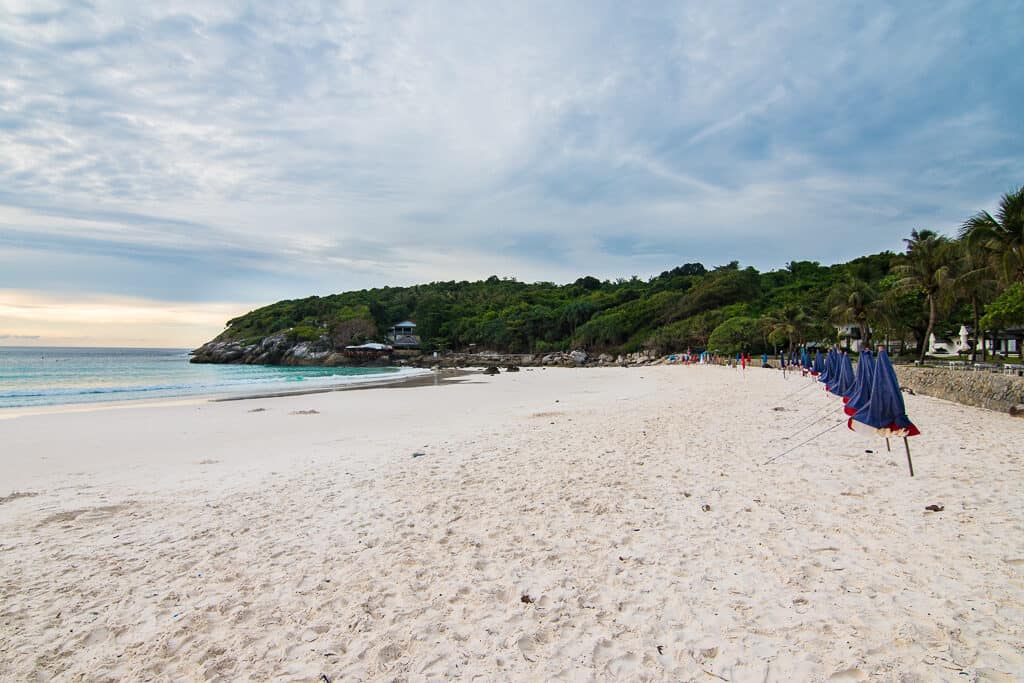 The Racha is one of the best hotels in Phuket for children, and it's located on the island with the same name – Koh Racha. It's an ideal place for families since you can rent a whole house with private swimming pool.
There are also lots of activities on the island, and since you're on an island, you can't really go that far, which means you will spend some quality time as a family.
If you have smaller kids, there is a dedicated pool for kids, and then there is an infinity pool with a view over the ocean and palm trees for adults and teens.
There are several restaurants in the resort, serving all kinds of foods, which means that even if your kids are picky, they will have something on the menu that they will like.
One of the main reasons for coming to Koh Racha is because it's a beautiful island which hasn't been spoilt by tourism, and all of the hotel areas are wonderful with pathways going through nature walks and various sections.
There is also a large beach with white sand where you can play and relax from sunrise to sunset at one of the best family beach resorts Phuket.
To get to the island, you need to take a boat from Chalong Pier, which takes about 30 minutes with a speedboat. 
Click here for the best prices
Como Point Yamu is a family-friendly Phuket resort that offers something a little different as it is located at the tip of Cape Yamu overlooking the spectacular limestone islands of Phang Nga Bay.
A unique feature of the resort is that it has its own beach club out on one of the islands. This gives you the chance to explore the bay a little getting close to the myriad of islands that dot the famous bay. Once you reach the beach club you can enjoy a fabulous secluded beach and swimming pool, plus a whole host of watersports and, of course,  a glorious beach bar.
Unlike some of the other resorts on this list, you won't find huge water slides but this is still a very family-friendly resort that welcomes kids and encourages family experiences so we think that it deserves to be one of the top 10 hotels in Phuket for families.
They have a kids club and a really cool beach hut with slides and toys for little ones to play with. 
Adults aren't forgotten, with yoga sessions, treatment rooms, Thai massage alcoves, steam rooms, a spa pool and a fitness centre.
This resort is fairly isolated from the rest of Phuket so it is fortunate that the food here is good and that they offer free meals for all children under 12 years old. You can enjoy a range of Italian, Thai or healthy cuisines.
Most rooms have private terraces with sea or mountain views, while the suites boast a private pool.
Click here for the latest prices
Iniala Beach House is one of the best luxury family hotels in Phuket. It is situated on stunning Natai Beach, which is one of the best beaches in Phuket and only about 25 minutes from the airport.
This is the place to come if you are looking for a truly luxurious experience. They can accommodate you and your family in a range of deluxe 3 bedroom family villas, each with their own private swimming pool. 
Each villa comes with its own team of staff to make your stay as comfortable as possible. You get your own butler, driver, spa therapist (did I mention that each villa has its own private spa room!) chef and housekeeper.
The Iniala could be the best resort for kids in Phuket and really looks after their young guests from the moment of arrival when they get a backpack full of goodies like books, a t-shirt and games.
The kids club is brilliant with loads of costumes and a stage for dressing up and play-acting or they could try their hand at cooking in the special kid's cookery lessons.  They also have a full range of activities catered for with accredited staff.
There is even a room with a treehouse and cave bedroom for your kids to have a sleepover in.  They will love staying at one of the best Phuket luxury family resorts, and so will you!
Click here to check availability and prices
Angsana Laguna Phuket on Bangtao Beach is one of the best Phuket hotels for kids. It is one of the biggest too, being part of the enormous Laguna Resort that includes 6 other hotels, including Outrigger Laguna Phuket and Laguna Holiday Club.
It is a hotel that is designed to entertain the kids. The huge and well-maintained grounds feature a beautiful swimming pool with a lazy river and an artificial beach.
Kids love the amazing Tree House kids club which must be one of the best kids clubs in Phuket. It has a multi-level play area with soft play, an outdoor playground and loads of kid-friendly entertainment every day. 
Meanwhile, you can enjoy a treatment at the Angsana spa (which also offers kids treatments), or head out for a round on the 18 hole golf course.
There is a range of rooms here for different budgets. Larger families can enjoy spacious accommodation in the  2-3 bedroom lofts and suites. 
Click here for more information and to check prices
Final Thoughts on the Best Family Resorts in Phuket
We hope that you have enjoyed our guide to the best family friendly hotels in Phuket.
Phuket has some fantastic beaches, warm seas and fascinating temples making it a wonderful base for a family holiday. Choosing the right family accommodation Phuket should ensure that you are able to enjoy some fantastic stress-free time together as a family.
Once you have booked your perfect place to stay, check out our guide to things to do in Phuket with kids.
Phuket also makes for a great place to begin an island-hopping trip through the Andaman Sea, visiting places like Krabi, Phi Phi, Koh Lanta, Koh Ngai, Koh Mook, Koh Libong and Koh Lipe. If you have the time, you could even continue all the way down to Langkawi in Malaysia.