Lots of families rightly consider visiting Mexico with a baby or toddler as one of their first trips abroad with their little one. 
The mixture of sun, sand, history and culture means that it is easy to find fabulous ways to spend your time away, and there is something for everyone. 
We took our eldest daughter to Mexico for a long trip when she had just turned one. She was tentatively taking her first few steps holding our hands and loved exploring the ruins and eating the sand on the beach. 
We had a great time and I am sure that you will too. 
Keep reading to find out our top tips for travelling to Mexico with a baby or toddler.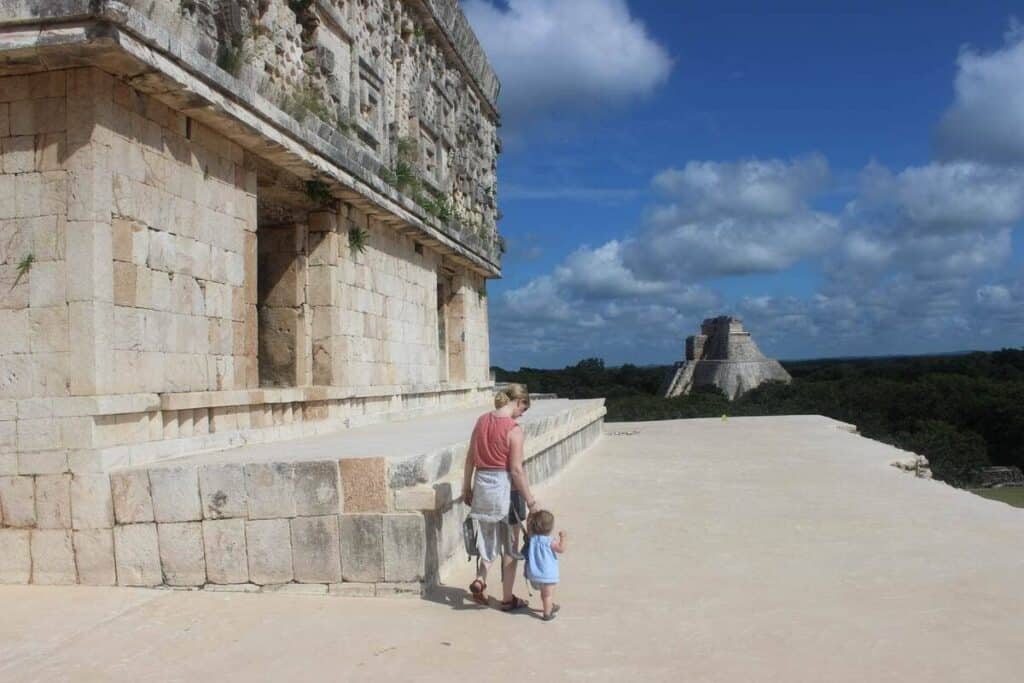 Is Mexico Baby-Friendly?
Yes, Mexico is very baby friendly. Mexicans love babies and will be very friendly towards you and your children. Whilst the people we met were friendly they didn't make too much fuss over us and we experienced fewer people coming up to us and cooing over our baby than in places like Thailand or Italy. 
Is it Safe to Visit Mexico with a Baby or Toddler?
Yes. Like anywhere in the world you should take sensible precautions, but overall Mexico is a safe country for toddler travel.
The driving in Mexico is pretty bad and can take some getting used to. You will see plenty of cars on the road that have clearly had quite a few bumps along the way so it is worth being extra careful when you are on the roads.
Can you get Baby Supplies in Mexico?
You should be able to find anything that you might need for your baby in Mexico. Costs can be higher than in the UK for things like nappies/diapers and in particular baby wipes are way more expensive than at home. 
You can find baby food, formula, bottles etc. in the supermarkets but we recommend taking supplies from home for the first few days at least. The supermarkets we went to were massive and had everything you could ever need!
When to Visit Mexico
The best time to visit Mexico is during the dry season between December and April. At this time of year, there is virtually no rain. The coolest months are between December and February, but cool is relative here ad although temperatures can still average around 28°C during the dry season.
Between May and October is the wet season. This will generally mean short heavy showers that provide respite from the increasing humidity.
The Caribbean coast can be affected by the hurricane season, which runs from June to November.
Mexico is a huge country and the climate and weather will vary considerably between areas.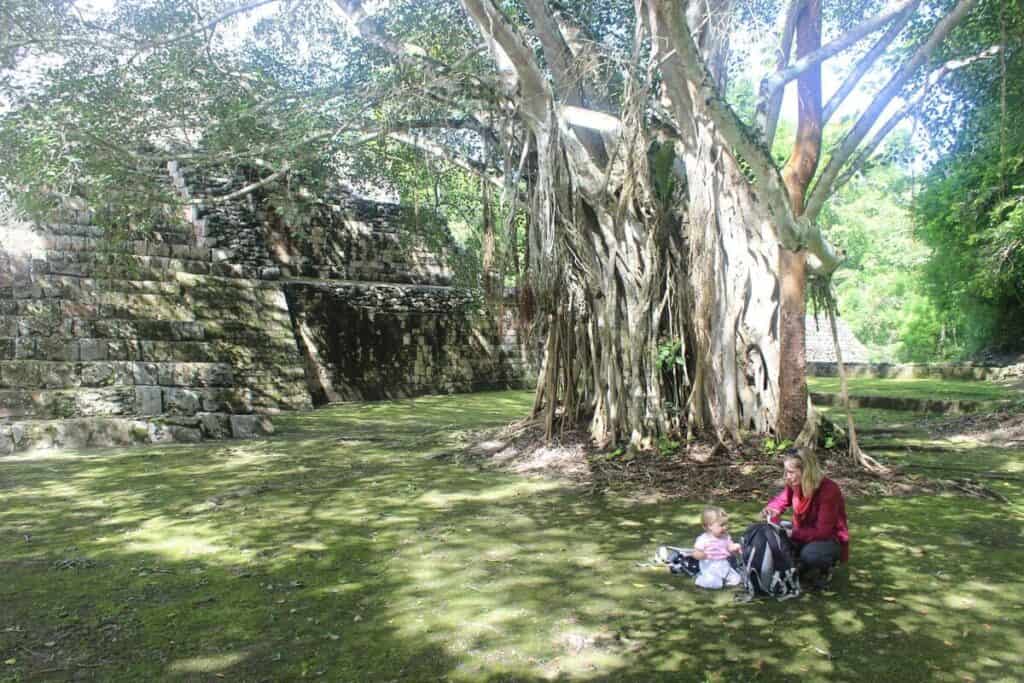 Getting to Mexico with a Toddler and Baby
Mexico has a few international airports so it is worth looking at where you can fly to that fits your planned itinerary – Mexico is a very big country! 
The main airports are Mexico City, Cancun and Guadalajara and you will find plenty of international flight options to any of these. There are 45 international airports in Mexico so you might be able to find one near your destination.  
We find that the best way to find cheap flights is to use Skyscanner.
Flying with a baby is always something that people worry about, we have written posts with our top tips for getting through the flight. Don't worry, the flights are never as bad as you think they will be. 
>>> Flying with a baby checklist
>>> Flying with a toddler checklist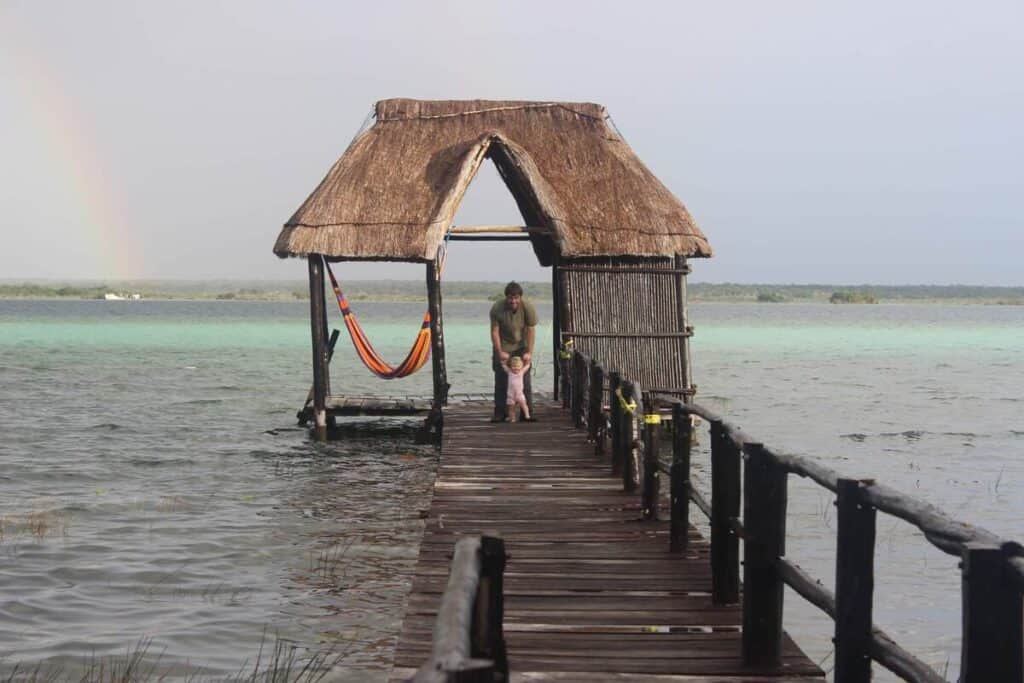 How to Travel with a Baby in Mexico
We have travelled to Mexico several times with babies and toddlers. 
We have travelled around by public transport and have also rented a car. There are advantages to both but overall having a car makes things a lot easier when you are transporting young kids and all their stuff. 
Public Transport in Mexico
Mexico has a great bus network that reaches many of the places that you are most likely to have on your itinerary. Tickets are reasonably priced and they have some of the best buses that I have ever travelled on. The price of your ticket varies depending on the class of the bus and the speed of the service.
In most cases, it is best to book tickets in advance as seat reservations are required, and it will ensure that you get the best price.
You can do this online and get an electronic ticket sent to your phone or you can print them out. If like us, you aren't always good at planning ahead you can buy tickets at the station. It's best to check online first so that you know which buses are best for you considering the overall journey time and cost.
Mexico doesn't really have a railway network but Mexico City has a great metro system.
Car Rental in Mexico
It has to be said having a rental car makes travelling with babies and toddlers a LOT easier. Mexico was the first time we had rented a car as a family, and it did give us a lot more freedom and flexibility than we would have had if we were reliant upon public transport. 
It allows you to travel at the time you choose and that best fits in with nap times, it is easier to break up journeys and also allows you to visit places that are harder to visit on buses.
Arranging a hire car in Mexico is a little bit more complicated than in most places and there are compulsory insurances to take into account. Car hire in 2022 has become very popular so be sure to book ahead of time. 
We always book through RentalCars.com, a great comparison site that will help you to pick the best deal.
We usually take our own car seat with us from home as it is much cheaper than renting one for a couple of weeks. We have one that we use just for travel. If you have children 4 years or older, you might like to take along a Mifold travel booster seat.
Eating in Mexico with a Baby and Toddler
One of the great things about visiting Mexico is the abundance of wonderful food at reasonable prices. 
Mexican food has spread around the world and you will find dishes that you're probably familiar with as well as some local specialities that you may not have tried before. The standard of food is generally high and we always enjoyed our meals. I'll be honest, our daughter was not quite so keen although she liked to tuck into the nachos that tended to be provided alongside any meal. 
Most restaurants will be able to provide you with a baby high chair but we like to travel with a Totseat chair harness, just in case.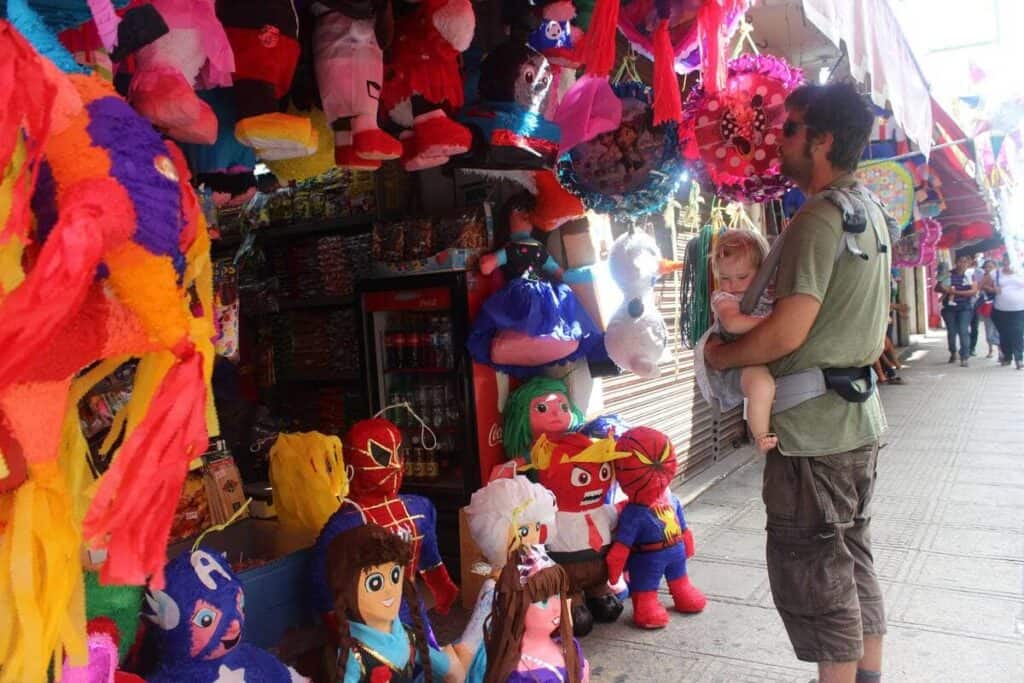 Where to go in Mexico with a Baby and Toddler
It is always really hard to decide where to go in Mexico. There are just so many amazing places to visit. From mountains to churches, beaches to spectacular jungle clan Mayan ruins.  Mexico has some of the most varied and spectacular sights in the whole world. 
Once you have decided to visit Mexico, choosing exactly where to travel in Mexico with a baby or toddler is far harder. It is a huge country so unless you have lots of time it's probably best to focus your time on one or two states. In my younger days, I raced around Mexico on long-distance overnight buses but I don't think that would be the way to go with a baby in tow.  
To help you decide where to go in Mexico with a baby or toddler, we thought that we would share some of the places that we have enjoyed visiting (and one or two that we will have to go back for!).
Mexico City
Mexico City (Ciudad de México) is the capital of the country and one of the biggest cities in the world. It is also a great travel destination thanks to its many world-class museums, art galleries, and attractions. 
It might be big but the historic city centre is a manageable 15-square-kilometre UNESCO World Heritage Site where you will find more than 1,400 colonial buildings from the 16th to the 19th centuries.
One of the highlights is Plaza de la Constitución, the city's bustling main plaza, where you can see the National Palace, the Metropolitan Cathedral, and the Templo Mayor with its Aztec relics. 
Don't miss a day trip to the enormous pyramids at Teotihuacán and Bosque de Chapultepec is a huge park near the centre where you can relax with your baby or maybe take a trip out onto the boating lake. 
Oaxaca
Oaxaca is the capital of the state of the same name and one of the most popular city destinations for anyone looking to experience the real Mexico. 
The city is home to an interesting mix of native Indian and Spanish elements and has been left relatively untouched by the kind of large developments that you will find elsewhere in the country. It is a UNESCO World Heritage Site with a nice colonial centre, a great market, and the city is a cultural hub with events taking place throughout the year. I really enjoyed a trip to the ruins at Monte Alban, and hiked back to Oaxaca playing an impromptu game of football with locals I met along the way!
Cenotes
I love that when we took our only just one-year-old baby to Mexico she had the chance to swim in a cenote! Cenotes are large sinkholes that mark the entrance to a network of underground rivers and caves that are found throughout the Yucatan peninsula. Many of them are open to visitors and the crystal clear (but cold) water is perfect for swimming or snorkelling.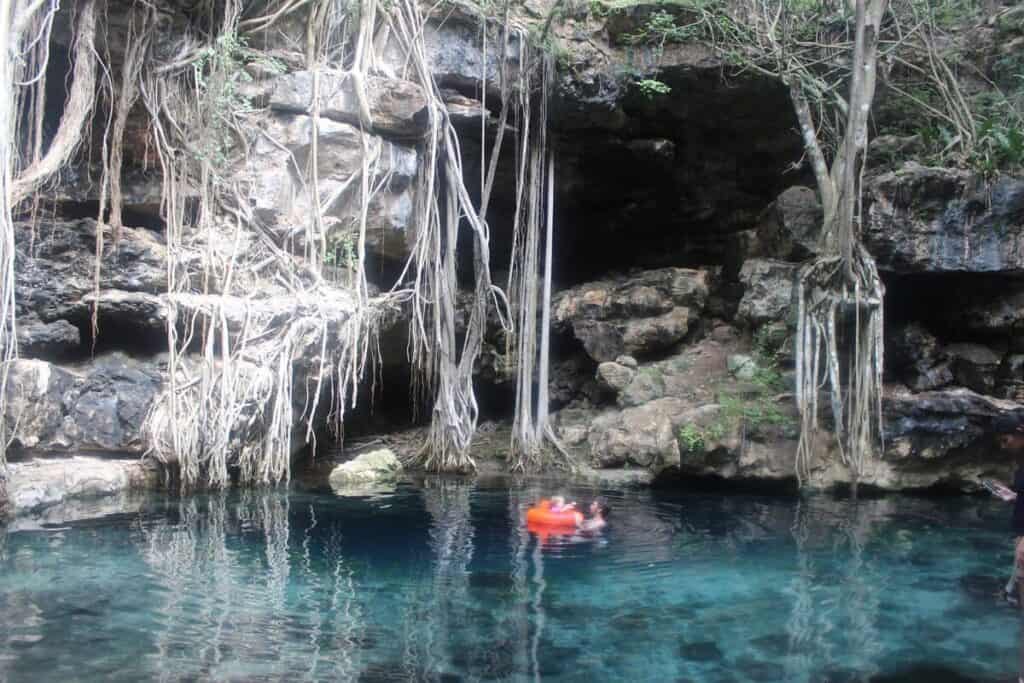 Cancún and the Mayan Riviera
This popular holiday destination is probably the area most visited by people travelling to Mexico with a baby. You will find the big resort destinations of Cancún, Playa del Carmen, and the island of Cozumel.
We skipped the big places but did enjoy our stay in Akumal where we could snorkel with green sea turtles and our baby enjoyed the sandy beach and warm sea.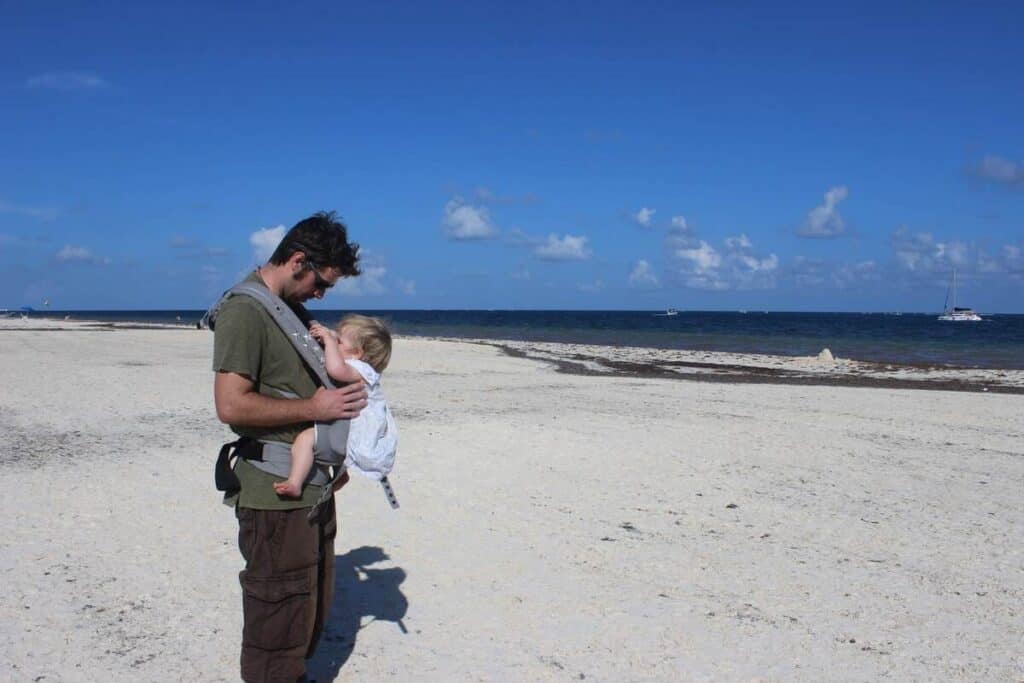 Maya Ruins
I love Mayan ruins and have travelled to lots of them. We visited Chitzen Itza with a baby and enjoyed our visit but it is far from my favourite Mayan site. It is easily visited from Cancun on a day trip and is not to be missed but I also recommend that you visit places like Uxmal, Palenque and Ek Balam. I found them all to be far more enjoyable and more atmospheric than the very flat, open and busy Chitzen Itza.
We took our baby deep into the jungle at Calakmul and it was the one time on the trip when she didn't seem happy and we did get a bit concerned about the heat and the number of biting insects. It's a spectacular site though and looking back at the photos she looks happier than I remember! Tulum is massively overrated and not really worth going to if you have been to any other Maya sites (in my opinion).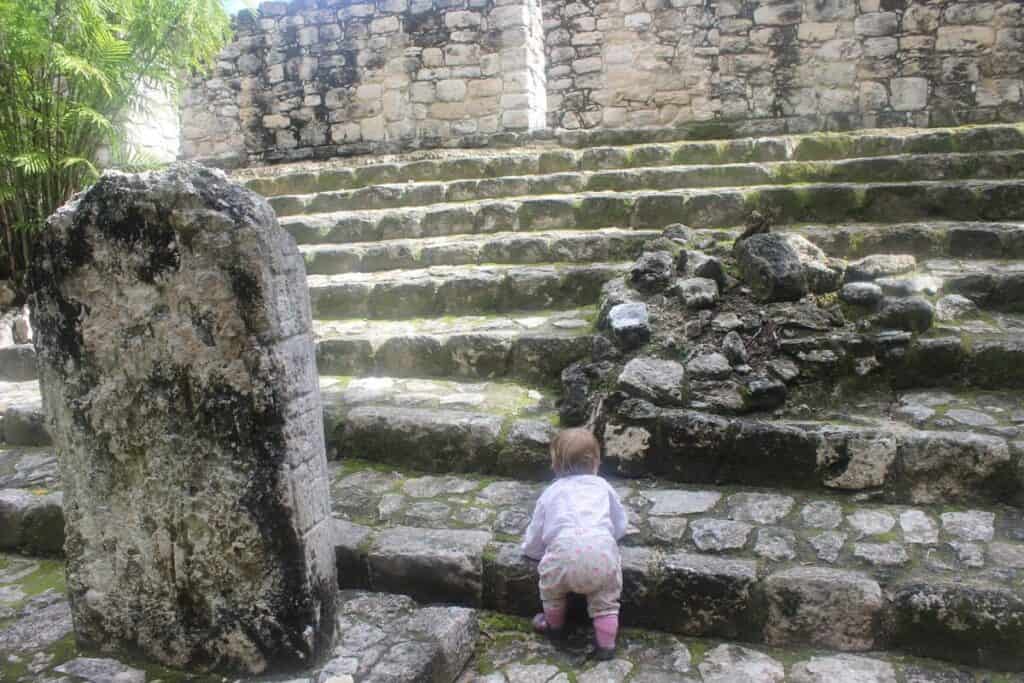 Merida
Merida is the capital of Yucatán and one of Mexico's finest old colonial cities. It makes a good base for exploring the peninsular.  It's laid out on a grid pattern, so it's very easy to explore its numerous attractive parks and fine old buildings.
Ixtapa and Zihuatanejo
If you prefer a smaller beach resort then Ixtapa and its neighbour, the much small former fishing village of Zihuatanejo on the country's Pacific coast could be perfect for you.
Guadalajara
Guadalajara is the second largest city in Mexico and has a unique mix of colonial and native Tapatíos influences. It is a very picturesque place with broad avenues flanked by parks and fine old buildings. There is plenty of Mexican culture to be found with mariachi music and singing and dancing being big features of the city. 
What Should You Pack for a Baby and Toddler in Mexico?
It is always difficult to decide what to pack for a baby or toddler when you travel abroad. You don't want to take too much but you also don't want to be without something that is essential. It is a tough balance to get right.
We have done loads of travelling with our girls and this is what we think works. For long trips, we do washing as we go along, for a couple of weeks you could probably get by without needing to do this.
If you are spending a lot of time on the beach your little one will end up spending a lot of time in their swimsuit, so this is one of the most important items to take.
We like the ones that cover arms and legs as it protects them from the sun without having to worry quite so much about when you last put sun cream on.
Mexico Baby Packing List – Clothes
6 short-sleeved onesies or cotton rompers
2 full-length onesies
2 small muslins – depending on how sicky your baby is!
1 sunhat and 1 swimming sunhat
1 large muslin for sleeping under
Sunglasses
Other Essential items for a Baby in Mexico
Changing mat/bag: This is probably the most useful item that we packed. A compact place to keep your nappies, wipes, and creams which folds out into a handy changing mat. Proper changing tables are a rarity in Mexico so this gets used all the time.
Baby Carrier: These were essential for getting around, both our 9-month-old and 3-year-old needing carrying quite a lot. The cool mesh carriers are great for hot countries.
Nappies/diapers: We always had a decent supply of nappies with us in the bag but they are easy to get hold of in most places. 
Baby wipes: These are much more expensive than in England so it is worth bringing a supply from home.
Teething necklace: Good for keeping your little one entertained and quiet whilst travelling or in the baby carrier.
Nappy cream: Just in case of any sore bottoms you will want this on hand.
What to Pack for a Toddler in Mexico
For our toddler/pre-school age daughter we took the following which worked out just right for a long trip where you expect to do some washing as you go along. If you are happy to pay for more frequent clothes washing, you could get by with less than we had.
Toddler Packing List
4 cotton/linen summer dresses. This is what our daughter wore most of the time. For a boy (or a girl who doesn't like dresses), you will probably need shorts and a t-shirt most of the time so bring more of those.
4 t-shirts
2 shorts
2 pairs of lightweight trousers (good for covering up if there are mosquitos about and for buses and planes)
1 long-sleeved top
4 pairs of underpants
2 pairs of socks.
1 long UV protective swimsuit and 1 normal swimming costume. Our girls spent most of the time in their swimsuits when staying on the coast.
Trainers (you could probably leave these at home if you don't plan to walk through any jungle/ forests),
Sandals (necessity),
Beach shoes (our daughter like to climb the rocks on the beach & kayak so these came in really handy).
1 sunhat and 1 swimming sunhat
Sunglasses
Raincoat
Other useful items to take:
Pop up travel cot: We like this one as it pops up in a second and closes like a tent to keep mosquitos out. The girls think that it is fun to have a tent! Check out our review of the best travel cots
Beach tent: If you are planning to spend a lot of time on the beach, it's well worth taking a beach tent to provide you with some shade and privacy. This makes it an ideal spot for your baby to feed and sleep.
We have the Littlelife family beach tent and it has been great for us on the beaches of Sardinia. We found it especially useful when our baby was very young and not yet able to crawl or sit.
Blackout blinds: These travel blackout blinds are great to make your room dark at night times
Totseat chair harness: This baby totseat is a great backup to have when eating out with a baby. Baby high chairs are quite widely available but not every restaurant has them and often they only have 1 or 2 chairs for loads of tiny diners.
Drinking bottle: This is essential. Find a kids bottle that your child can easily drink from and that you can take anywhere.
Suncream: This is available in Mexico, but we always take some so we are prepared.
Hand sanitiser: Very handy for keeping hands clean on the move. 
Disinfectant wipes: We used these to clean high chairs and the floors in hotel rooms.
First Aid Kit: There are bound to be times when you need a plaster or bandage so we always take a first aid kit along ours contains Calpol, Benadryl, antibiotics for mastitis, children's inhaler in case of croop, mosquito repellent for kids and adults, Bonjela, plasters, paracetamol.
Kids tablet: Basically a lifesaver on the plane or when you need a bit of quiet time. We like the Amazon Fire kids tablets but there are loads of great options covered in our best toddler tablets post.
You will probably need fewer toys than you think to keep your kids entertained whilst away. But it is definitely worth taking a few things to keep them occupied on journeys and if you want some quiet time in the hotel. 
The toys we liked the best include stacking cups which are compact and brilliant, you can use them to make sandcastles on the beach, to pour water in the pool or even to stack on the floor. A few Duplo bricks, toy cars, and colouring/activity books also come in handy, especially at mealtimes.
Hopefully, this gives you a guide for what you should be packing with you when you take a toddler or an infant to Mexico. For more comprehensive information, check out our post on the best baby and toddler travel gear, and this baby and toddler packing list (it is tailored to SE Asia but should help you plan for Mexico too)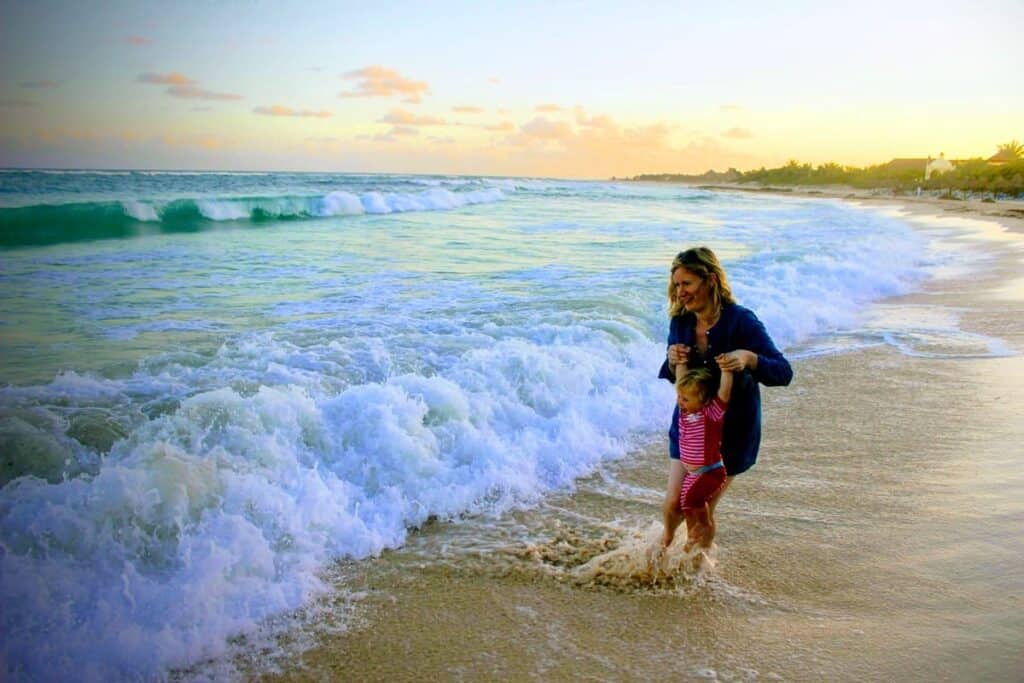 6 Great Things to do in Mexico with a Baby or Toddler
The things that you do in Mexico with a toddler or baby will largely be influenced by where you have chosen to go and by the exact age of your child. The things to do in Mexico with a 6 month old or things to do with a 10 month old, can vary quite a lot from what you might do in Mexico with a 2 year old.
When infants are really small you take advantage of the fact they are small and light and spend a lot of time sleeping. This should mean that to a large extent you can spend your holiday in the same way that you would have before you had children.
As they get a bit older you will need to factor in more time doing 'kids things' to keep them happy (our preschoolers absolutely loved Zoomarine in Algarve). Here are some ideas of things to do with your little one.
Hit the Beaches
Travelling with a toddler or baby can be hard work so we always like to factor in some beach time. It keeps them happy and is somewhat relaxing for us.
If your baby is at the stage where they put everything in their mouth you will need to be prepared to see them eat quite a lot of sand. Just keep an eye out for stones, shells, crabs or anything else that they might like to put in their mouths. We take our beach tent with us for some portable shade, privacy and somewhere for the baby to sleep at nap times.
Toddlers will love to paddle in the sea and play in the sand and luckily Mexico has some of the best beaches in the world. The beaches of the Algarve are probably the most famous and many of them have some stunning rock formations, they can be small and crowded though. 
There are too many great beaches to mention but some of the best include: Celestun, Puerto Vallarta, Tulum, Isla Holbox, Los Cabos Corridor, Ixtapa and Zihuatanejo, Cozumel, Oaxacan coast.
Explore Pretty Old Towns
One of the great things about Mexico is just how many cute old towns they have dotted throughout the country. It is not just the famous places that have stunning architecture, you will find nice little places wherever you go. 
We like to just wander aimlessly when we visit old towns. Why not let the kids have the map and chose your direction?
Some of the best towns to visit include: Merida, Oaxaca, Guanajuato, Guadalajara, Morelia, Mazatlan, San Cristobal de las Casas.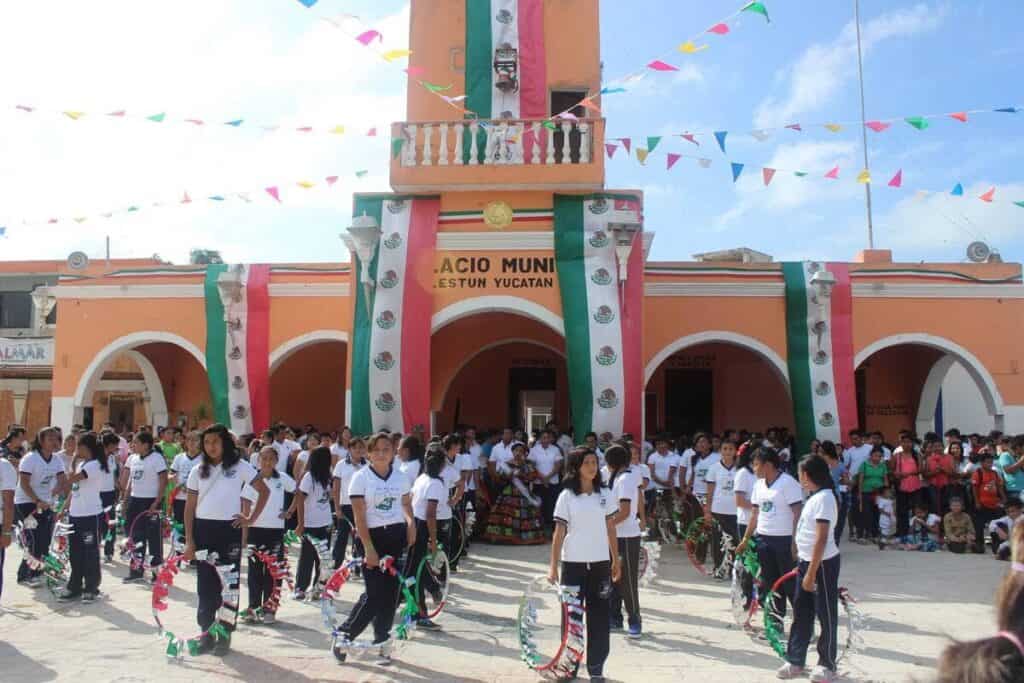 Go for a Hike
Having a baby or toddler need not mean that you confine yourselves to the beaches and towns. Grab your baby carrier and head out into the hills! 
There is some lovely scenery all over Mexico (although the trail marking isn't always the best) and you should be able to find some nice little walks to enjoy with your little one.
Truly spectacular walks can be found in the Copper Canyon, Leones National Park, and Cumbres Del Ajusco National Park.
Escape the Heat in a Church
If you visit Mexico in the summer you will probably be blessed with some glorious, sunny weather. This is great, but it can get a bit much at times so we often pop into a church to get out of the heat.
Churches are almost always cool, have pews to sit on and have a bit of a rest. This is great if you are carrying a baby around and want to put them down for a bit.
Find a Park
Finding a playground has become something of a priority for us on our travels, our girls are never happier than when they are climbing or sliding or spinning on something so we always try and break up the day with a trip to a local park. 
The only hard part is getting them to leave again so that we can explore some more!
Go for a Bike Ride in the Countryside
We find going for a bike ride with a baby seat on the back to be a truly liberating experience, and both of our daughters absolutely love it.
Cycling is such a great way to see the countryside you can travel at a good pace and see lots, but you are not travelling so fast that you miss everything in a blur.
Mexico with a Toddler or Baby
We hope that you have enjoyed reading our guide to visiting Mexico with a toddler or baby. We really love Mexico, it makes a perfect family travel destination. 
There are so many great places to visit in Mexico that you could spend a lifetime exploring Mexico. So why not get your little one started young and visit Mexico whilst they are still a baby?!