The Mifold travel booster seat is a child car booster seat like no other. Forget the big bulky booster seats that you are familiar with, this one is really really small.
When we first saw a picture of the Mifold travel booster seat it showed a young kid holding a traditional booster seat and then again with the Mifold grab and go booster.
We were stunned by just how small it is and thought it looked like the perfect solution for travelling with young children.
In fact, it is perfect for many other things as well, like carpooling, taxis, car sharing, car rentals, and for fitting 3 kids on the back seat.
In our Mifold review, we will share our experiences of using this seat as we travelled around Thailand and Malaysia.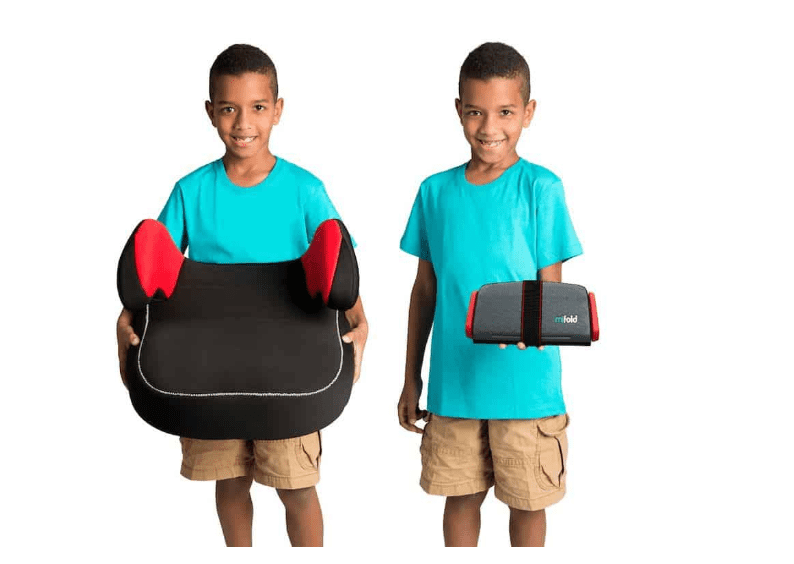 ---
This post is one of our travel gear reviews where we aim to help you find the right product to make your travels go that bit smoother.

Head over here to check out everything from backpacks to baby carriers and tablets for toddlers
---
Mifold Review – The Ultimate Booster Seat for Travel?
Size – 10" long, 2" thick, 4.5 inches wide |  Weight – 1.8 pounds


Pros
So small that you can take it anywhere

Ideal for travelling or for city dwellers that use taxis a lot

Quick to install

Small enough to fit 3 across the back seat of a car, or 1 in-between large car seats.

Durable as it folds over into a hard-shelled case
Cons
The child is low down and won't be able to see well out of the window.

Not much padding for your child's bottom.
How does the Mifold Booster Seat Work?
The Mifold car seat is 10 times smaller than a traditional booster seat yet it is just as safe. This seems hard to believe until you realise that it works in a totally different way to any other car seat.
A traditional backless booster seat raises a child up to be at the correct height for the safety belt to cross their shoulder.
The Mifold grab and go booster seat does the opposite and pulls the seat belt down to meet their shoulder.
To do this it uses a simple but clever system of a clip and belt that attaches the Mifold seat to the safety belt and pulls it down to fit the height of the child.
The lap belt is held in place by guides on the booster so that it is held on their legs rather than the stomach.
This means that the child is hardly 'boosted' at all but they are held safely in a position for the seat belt to protect them should an accident happen.
Is the Mifold Easy to set up?
In a word. Yes. The first couple of times you use the Mifold booster you might find it a bit tricky but you will soon get the hang of it. All you have to do is:
Adjust the 'wings' of the portable booster seat to the size of your child

Place the Mifold grab and go booster on the car seat

Sit your child in the vehicle, on the booster

Feed the lap belt through the belt guides on both sides of the Mifold and fasten the buckle.

Adjust the length of the Mifold strap so that the clip is at your childs shoulder.

Fasten the clip, check everything looks right and you are good to go.
It all takes less than a minute to set up so it is a pretty convenient way to improve child passenger safety.
Is the Mifold Booster Seat Safe?
The mifold booster seat has passed all the necessary tests to prove that it is safe for children to use.
They use the phrase "10 times smaller and just as safe" in their marketing based upon the fact that the mifold meets booster seat regulations in various countries (and it is super small).
If you are interested the regulations are European Union ECE R44.4; FMVSS 213 in the United States, and the RSSR regulations in Canada.
Please check the following link for more details: www.mifold.com/regulatory-approval
---
Hiring a car?

Check out our top tips for Renting a Car
---
What age child can use a Mifold Booster Seat?
The Mifold is designed for children aged 4 years and over. Car seat regulations seem to be a weird mish-mash of height and weight and vary depending on where you are:  
US and Canada: Children weighing from 40 Ibs to 100 lbs (18-45kg) and between 40-57 inches (100-145cm) tall.
In the EU the weight range is from 15kg up and until a height of 150 cm.
Is the Mifold Going to last?
The Mifold is built to last and is constructed using aircraft grade aluminium 6061 and a super tough plastic polymer called Delrin® 100ST from Dupont™.
It has been successfully crash-tested and each component tested to ensure its longevity even under the most extreme use as a child car seat.
The fact that it folds over to have a hard outer shell means that you can confidently throw it into your bag and not worry about what might happen to it. 
Mifold Booster Seat for Travelling: Our Experience
We think that this car seat really comes into its own when you go travelling with children.
When you travel with children there are always times when you will be getting into the back of a taxi, uber or minibus for short or sometimes quite long journeys.
But it is just not realistic to think you can take a full sized car seat or booster for these occasional journeys.
Before buying the Mifold seat we had to resort to holding our children or keeping them in their baby carriers as there was no chance we could carry around a normal kids booster seat for months on end.
This is never a totally satisfactory solution for car safety and certainly not one that will work as they get bigger.
Our eldest daughter is only 4 years old so is right at the bottom end of the safe use age range and it is the first toddler booster seat she has used (at home she has one of these).
She is small for her age yet when in the seat the belt fits her perfectly and she suddenly looks all grown up.
We used the mifold booster quite a lot during our travels, particularly in Malaysia, in places like Langkawi where there is no public transport to get around the island.
We also found that using the Grab app was really good value compared to taking public transport so we also used Grab as a means of getting from place to place as we travelled around (Grab is like Uber but more popular in South East Asia).
It was great to have the Mifold car seat with us. It is so small that we barely knew that we had it when we had no use for it island hopping through Thailand. But when we needed it we could easily use it to create a safe seat for our daughter.
It is so small that there was no problem slipping it in the bag for when we went on day trips like the Perak Cave near Ipoh or caught a taxi in and out of Chiang Mai centre.
It was good to know that we could drive there and back safely in the car for just the minor inconvenience of installing it in the taxis and carrying it in our backpack.
The Mifold is not completely perfect, it is made of a quite firm hard material without much padding or any give, this means that it is not the most comfortable seat to sit on. Also, the fact that the child isn't raised up means that they can't see as well out of the window and might get bored more quickly.
---
Looking for some travel inspiration?

Check out our guide to travel in Thailand with a Baby and Toddler
---
Mifold Booster vs BubbleBum Inflatable Booster
If you are looking for a compact travel car booster seat the Mifold is the smallest by far. The only other small booster that you might want to consider is the BubbleBum inflatable booster seat, check out some reviews of this here.
The BubbleBum booster seat is an inflatable booster seat designed for children between 15 and 36Kg.
Unlike the Mifold booster, the BubbleBum operates like a normal booster seat by raising the child up.
The Bubblebum booster works with the standard 3 point adult seat-belt cars and meets and exceeds both EU and US regulatory requirements. (EU ECE R44.04 and the US FMVSS 213 safety regulations).
The seat is designed for children from 15kg up.
The BubbleBum keeps the size down by being inflatable. It is really easy to blow it up using just one valve, and an adult can blow it up in a couple of seconds. Deflation is quick too, you simply open the valve and squeeze all the air out, until the seat is fully deflated.
We think that the Mifold and BubbleBum booser seats are both great innovations that really help parents to travel with their kids.
The BubbleBum wins out on comfort and also raises your child up so that they can look out of the window. The Bubblebum can also double up as a mealtime booster seat, so is one of those invaluable multi-use products that come in so handy for family travel.
The Mifold is a bit smaller, is really solidly built and there is no risk of it getting a puncture. We feel it is a better choice for smaller and younger kids.
You could also consider the Trunki Boostapack which isn't super small but is multifunctional so could be a good solution for your travel needs. Click here to read some owner reviews.
Mifold Booster Seat Review – Our Verdict
We have been really impressed by the Mifold grab and go booster seat. It does what it sets out to do perfectly – it is quick and easy to install and it is small and portable. This makes it perfect for travelling with kids and we are definitely glad that we had this for our 2 month trip around Thailand and Malaysia.
We will definitely be taking the Mifold booster seat on our next overseas family adventure!
Now we are home our daughter is back in her full car seat. We anticipate that she will be using the Mifold booster seat when she is on short journeys in cars with her friends as it is small enough to allow for 3 children to sit across the back seat.
Whilst the Mifold booster seat is ideal for family travel, we also feel that the Mifold booster is perfect for people that take a lot of taxis to get around or for grandparents that would like to keep a booster seat in their car for occasional journeys.
If you would like to find out more you can read more Mifold reviews here.
Buy the Mifold Booster Seat Now