The Phi Phi islands are one of the most well known and most beautiful places in Thailand. There are 6 islands that form Koh Phi Phi although only the largest one, Phi Phi Don, is inhabited. 
The most famous of the islands is Koh Phi Phi Leh which is home to Maya Bay where Leonardo DiCaprio filmed 'The Beach'.
If you are looking for advice on how to get to Phi Phi island, you have come to the right place! In this post, we will outline all the different options for travelling to Phi Phi from Krabi, Phuket and Kok Lanta.
How to Get to Koh Phi Phi
There are basically two options for getting to Koh Phi Phi a ferry or a speedboat. As you can imagine, the speedboat option is faster and more expensive.
Phuket, Krabi, and Koh Lanta are the most popular places to catch the boat to Phi Phi.
However you travel to Phi Phi, you will be expected to pay the litter clean up fee of 20 bhat per person when you arrive.
Getting to Phi Phi Island by Ferry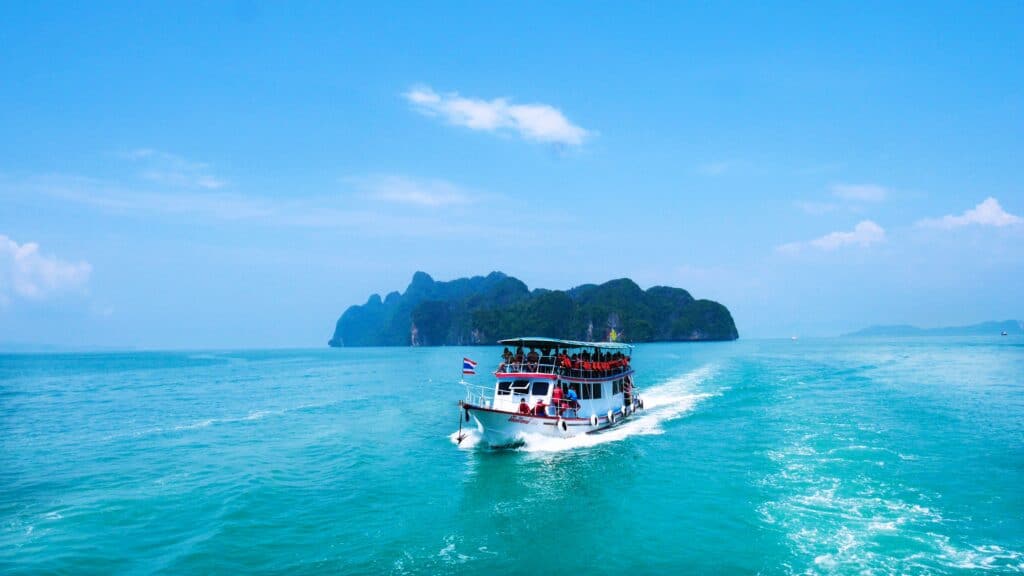 With any of the ferry options listed below, you should try and arrive an hour to 30 minutes before departure in order to be able to find good seats for the journey. 
It is well worth booking in advance as you will get a discount on the price available from the pier and can be sure to get a ticket.
We had hoped to be able to negotiate to the online price when we got there, but they wouldn't budge, and we had to pay nearly twice the price for our tickets. 
They aren't strict on the age of a child ticket, as long as your kids are pretty small they should be able to travel for free.
Phuket to Phi Phi By Ferry
Ferries from Phuket to Phi Phi take around 2 hours to reach their destination. The main departure point is Rassada Pier on the outskirts of Phuket Town.
Make sure that you leave enough time to get to the pier. Traffic in Phuket is a nightmare and we have cut in fine on more than one occasion.
There are a few different companies that run a ferry from Rassada Pier and we have had good experiences with each of them. 
Our favourite is the Phi Phi Cruiser which is a really big ferry and they provide you with a free coffee and snack when you get on and children's entertainment in the form of a balloon modeller!
We were pretty much the only ones with kids so we ended up with armfuls of balloons! They also have a bar that was popular with travellers!
When we have caught the ferry to Phi Phi from Phuket the ship has done a lap around Phi Phi Leh on the way with a stop at the entrance to Maya Bay. This is a great way to see this stunning island and could mean that you don't feel the need to book a tour of the island.
Click here to book ferry tickets
Ferry from Krabi to Phi Phi
If you are catching the ferry from Krabi, you must first find your way to the main ferry pier, Klong Jirad Pier, which is situated just south of Krabi Town. It is also known simply as 'Phi Phi Island Pier'
The ferries from Krabi are smaller than the ones from Phuket and the journey time is less at around 90 minutes.
The top deck of most ferries doubles as a sundeck. It is generally a nicer place to sit than inside with the air-con, but there isn't always shade so bear that in mind when choosing your spot.
Koh Lanta to Phi Phi by Ferry
The ferries to Phi Phi from Koh Lanta also take around 90 minutes to arrive at the dock on Tonsai Beach in Phuket. 
The pier in Koh Lanta is at the northern tip of the island in Saladan. If you have to hang around waiting for the ferry, it is a good place to pick up some supplies before you head to Phi Phi. 
There are also some nice restaurants nearby, we like the Fat Pig for a tasty breakfast.
Click here to book ferry tickets
Travel to Koh Phi Phi by Speed Boat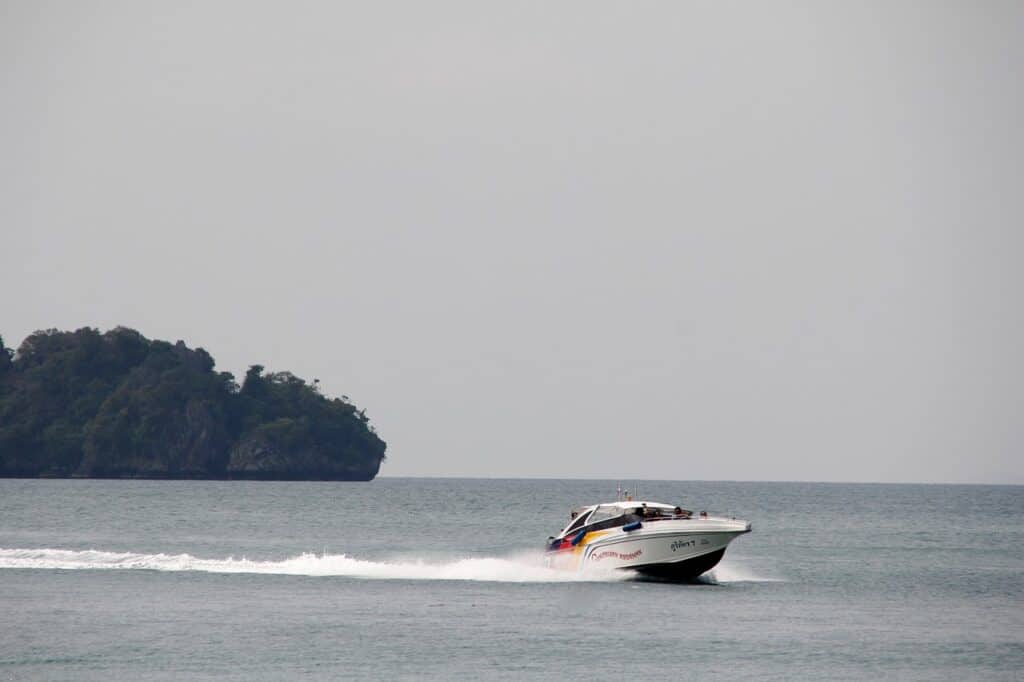 Getting to the Phi Phi islands by speedboat is a fast and fun way to save you a bit of time on your Andaman Sea adventure. 
Speedboats can be arranged from Phuket, Krabi, Railay Beach or Koh Lanta and they will often pick you up from the nearest beach to your hotel. 
Book a speedboat transfer here
If you need to get to a pier (eg. from Krabi) then generally a hotel pick up by minivan will be arranged to get you to the right place at the right time.
If you plan to travel by speedboat it could be worth taking an all-inclusive tour that lets you see some places, have lunch and do some snorkelling before asking to be left at Koh Phi Phi. If you do this be sure to check how much of the itinerary you will get to do before you are dropped off, and where they will drop you.
It is also possible to arrange a private speedboat transfer. Obviously this will cost a bit more but it will give you complete flexibility and the chance to travel in style. It is worth considering, particularly if you are travelling in a group. 
Koh Phi Phi Day Trip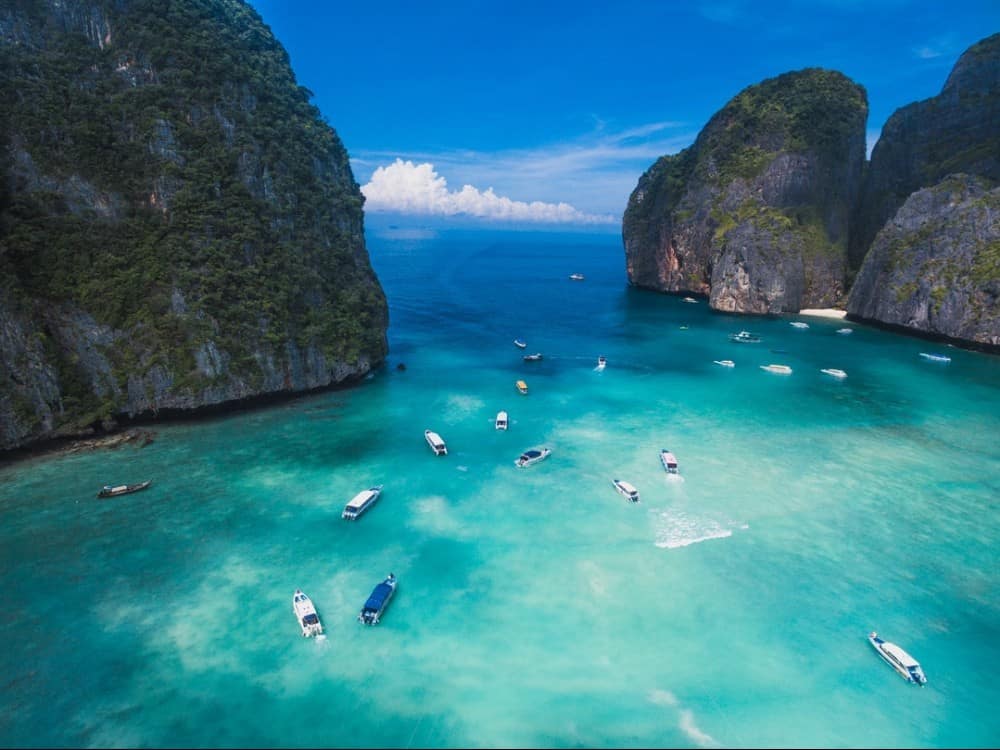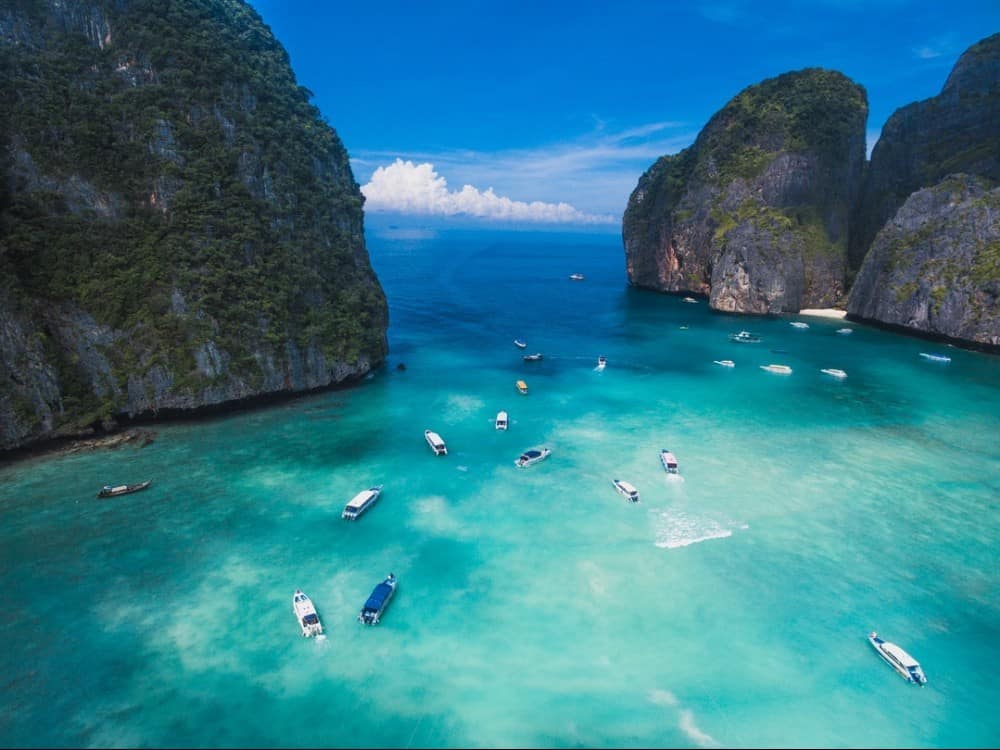 If you don't plan to stay on Koh Phi Phi then we definitely recommend that you visit on a day trip. These tours can be booked in advance here and will take you to Bamboo Island as well as the main Phi Phi islands.
It is probably one of the best day trips that you can do in the area and will allow you to see this jewel of an island without the need to stay over. 
Phi Phi is a bit of a party island so this could be a good option for those that prefer to stay somewhere a bit more chilled (eg. Koh Lanta).
Book your Phi Phi Day trip here
Hotels in Koh Phi Phi
Zeavola Resort
Enjoy some barefoot luxury at Zeavola Resort a 10-acre tropical retreat on the northern tip of Phi Phi Island. The resort offers spacious accommodation resting on the white sands of the private Laem Tong Beach.
Phi Phi CoCo Beach Resort
Phi Phi CoCo Beach Resort has some great clean and comfortable rooms set around a stunning flower-filled garden. They put on an amazing spread at breakfast and have a stunning pool with a swim-up bar. 
Click here to find the best price
Phi Phi Phu Chalet Resort 
This is a great option if you are looking for a quiet and beautiful place to stay. It is a fantastic location with amazing views, stunning chalets overlooking the sea, a nice pool and staff that treat you like part of the family in a good way). Check availability here.
Final Thoughts on How to Get to the Phi Phi Islands
We hope that you have enjoyed our guide of how to get to Koh Phi Phi. It is quite a simple place to get to and the choice of how to do it boils down to your budget and how you prefer to travel. Personally I like to be able to wander around on a ferry and take in the view, even if it takes a bit longer than the speedboat. 
But, we have always been in Thailand on a long trip and if I only had a week or two I would probably look at speedboat tour that would allow me to visit all the best places around the islands on the way (as most are only accessible by boat).
However you travel, booking your transport at least a day in advance is recommended, especially when travelling during peak season. Save yourself the hassle of lining up in those travel agents and book your transport in advance here or in the search box below.