Venice is a magical place to visit. The buildings are exquisite and the canals add an extra layer of ambience to make it one of our favourite places in Italy.
Accommodation in Venice can be hard to come by and is famously expensive. But you will find some wonderful hotels and it is possible to find some bargains. It gets busy there though so it is definitely worth booking ahead to make sure that you are staying somewhere nice and not paying an over the odds last-minute price. 
This is especially the case if you are looking for a Venice hotel with pool. In the narrow, ancient winding streets of Venice, there simply aren't that many places that have space for a swimming pool. But having one can make such a difference to your trip by giving you a space to cool off and unwind after a busy day sightseeing. 
To find Venice hotels with a pool you may have to look beyond the confines of the ancient centre to hotels that are on private islands in the lagoon, on Venice Lido or on the mainland in Mestre. 
In this guide to the best pool hotels in Venice we have found all the best hotels in all locations and for all budgets. We hope that this helps you to quickly find the perfect place to stay in Venice.
Best Venice Hotels with Pool
Hotel Giorgione 
If you are looking for a Venice hotel with pool that is right in the historic centre, Hotel Giorgione is a great choice.
It is an impressive 4-star hotel that has been beautifully decorated in a classical Venitian style throughout. It really feels like you are in the Venice of old as you will be staying in an 18th-century building in the heart of the city.
All the main sights are an easy walk away and you will be just 450 yards from the Rialto Bridge in the Cannaregio district.
The swimming pool is quite small but it is nicely set in a courtyard. There is also a hot tub and solarium.
Click here to check prices and availability
The Gritti Palace
The Gritti Palace is possibly the most amazing hotel in Venice. Staying here will give you the chance to live in the former noble residence set right on the Grand Canal. The Club del Doge restaurant on the deck here serves amazing food with fresh ingredients from the Rialto Market.
From here you can enjoy some of the best views in all of Venice as you watch the river traffic go back and forth with the impressive Santa Maria Delle Salute church just across the water. 
The rooftop suites have their own private swimming pool which enjoy extraordinary views over the city.
During the summer in Venice, guests can use private beach facilities, swimming pools, tennis, and golf taking the hotels boat over to Venice Lido.
Click here to find the best price for the Gritti Palace
Hotel Ai Reali

Hotel Ai Reali is one of the most central Venice hotels with pool. It is located between the Rialto Bridge and Piazza San Marco and is immediately beside a canal for a truly Venetian experience.
It is a boutique hotel with 32 rooms in a beautifully restored 17th-century palazzo. The classic Venetian façade makes for a glorious first impression and the internal courtyard gives a nice airy feel. There are great canal views from the restaurant, which serve top-quality Italian food.. 
The pool here is small but comes as part of an elegant wellness centre which also has a whirlpool and sauna. Massages and treatments are also available for the ultimate relaxing stay.
Click here to check availability and prices
JW Marriott Venice Resort & Spa
The 5-star JW Marriott Venice Resort & Spa is located on its own private island in Venice Lagoon. It is set around some lush gardens amongst stunning surroundings including a 19th-century church. 
The pool here is pretty special being up on the rooftop and offering some fabulous views across the water to the splendid Venice skyline. If you prefer to have your own private pool you can enjoy that in the La Residenza Pool De Luxe room which comes complete with its own private garden with a decked area, lawn and private pool with spa bubbles. This also provides those wonderful views over the lagoon.
The hotel has 4 restaurants that serve Italian and international food and there are 3 bars on site. 
There is a complimentary boat shuttle that will take you to the pier near to St Marks Square. It is a lovely journey that will have you snapping away on your camera every day.
Click here to book your room now
Belmond Hotel Cipriani
Set on Giudecca Island, the 5-star Belmond Hotel Cipriani offers gorgeous views of Venice Lagoon and the Doge's Palace.
There is a fabulous, large outdoor swimming pool, as well as tennis court and luxury wellness facilities. The whole hotel exudes elegance and there are plenty of elegant communal areas both inside and out that entice you to sit down, relax and enjoy your surroundings.
There are several restaurants here to fill you up after a fabulous day exploring the sights of Venice. You can choose for the gourmet Oro Restaurant, Cip's Club which features a lovely terrace with views over to St Mark's, or the Porticciolo Restaurant, which is ideal for a more casual light lunch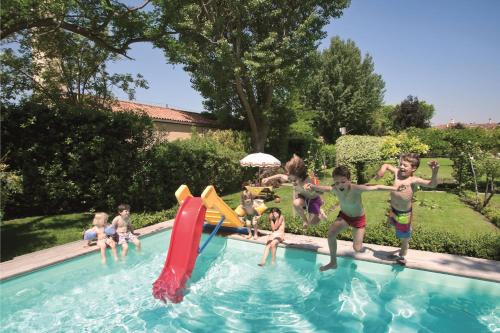 The hotel offers a private boat service that will take you across to St Mark's square in only 4 minutes making this one of the best-located hotels with pool in Venice if you are looking for quick access to the centre. 
Click here to check availability for your dates
Hilton Molino Stucky 
Hilton Molino Stucky is another great hotel on peaceful Guidecca Island. The hotel is a converted former flour mill which makes it a truly unique place to stay.
The centrepiece of this Venetian masterpiece is the rooftop pool which is just amazing and goes alongside the largest spa in Venice which includes a sauna, a hot tub and a Turkish bath. We think that it is one of the best swimming pools in Venice.
There is also a fabulous rooftop bar if you fancy relaxing to enjoy the view with a glass in your hand. 
The rooms here are very nice with contemporary décor and elegant furnishings. Some have views of the canal and the town and some include access to the Executive Lounge where drinks and snacks are served all day long. We think that it's one of the best hotels in Venice with a swimming pool.
Click here to check prices and availability
San Clemente Palace Kempinski
San Clemente Palace is set on its own exclusive island with a swimming pool on a terrace that overlooks the water. It is a spacious environment where you can really relax in the property's own park that comes complete with gazebos and places to sit back and unwind.
The rooms themselves are elegantly designed and some of them have views over the lagoon. You won't go hungry whilst staying here as you can choose from 3 gourmet restaurants that serve up some fantastic Italian cuisine as well as some dishes from further afield. 
A free shuttle service will whisk you across the water to Piazza San Marco where you can begin your sightseeing on foot or catch a vaporetto on to another part of the city. 
Click here for more information and the latest prices
Hotel Excelsior Venice
Hotel Excelsior Venice is a 5 star hotel set right on the beach on Venice Lido. The location a lovely and peaceful and the swimming pool here is really big and heated to a nice temperature. We think that a stay on Venice Lido offers a nice escape from the hurly-burly of Venice and you can add a bit of beach time to your stay. 
Hotel Excelsior makes staying on The Lido an easy choice since they offer a free boat service across the lagoon to the heart of the old town. We love any opportunity to see Venice from the water and a daily trip across the lagoon might well be a highlight of your time in Venice. 
The recently renovated hotel is very grand and boasts a distinctive Moorish style complete with chandeliers, rich fabrics and tapestries. The best rooms have a great view across the water to Venice whilst the others look into a nice Moorish courtyard with a gurgling fountain in the centre.  
Hotel Excelsior has its own private sandy beach that guests have access to in the summer months.
Click here to check prices and read reviews
Ca' Del Moro
If you are looking for a more affordable option, Ca' Del Moro could fit the bill. It is on Venice Lido, so across the water from the famous waterways of the ancient trading city.
It is a modern hotel with lots of sports facilities and a great location near to the beach. Rooms are functional rather than elegant but they are large, comfortable, clean and great value. The hotel provides a brilliant breakfast that will set you up well for a day exploring Venice. 
But, it is the swimming pool that you are most interested in and you will not be disappointed by the one at Ca' Del Moro which is both big and beautiful.
The location on Venice Lido does mean that you are away from the main attractions, but there is a bus every 10 minutes to take you to the water bus station where boats depart for Venice every 12 minutes. It doesn't take too long and being on the water taking in the sights as you approach the city is one of the best activities in Venice. 
Click here to check prices and availability
Hilton Garden Inn Venice Mestre
Staying in Venice Mestre is a good way to get cheaper accommodation. Admittedly the location isn't as spectacular as some on this list but your money goes a little bit further. It is also a good option if you are travelling around Italy by car. 
The Hilton Garden Inn Venice Mestre is set about halfway Between Marco Polo Airport and the historic centre of Venice.
The Hilton is a 4-star hotel that offers private parking as well as a lovely outdoor pool with outside café. Despite not being right in the centre it is a good location right opposite the large San Giuliano Park which has running paths and views across the Venice lagoon. 
It is easy enough to get into the centre by taking the bus that leaves from right outside the hotel. They come and go very frequently and the journey is only 10 minutes.
The Garden Grille & Bar Restaurant serves classic Italian and international cuisine for breakfast, lunch and dinner.
Click here to check availability and prices
Which of these Venice Hotels with Pool do you like the look of?
We hope that you have enjoyed reading about the best hotels in Venice with pools. It is always nice to have a hotel with a swimming pool but in Venice, this is a bit harder to find than in most places. 
If you like the look of any of these places then we recommend booking straight away as there aren't many places in Venice with a swimming pool and they will most likely book up fast. In most cases, you get free cancellation if you change your mind later.
If you are not sure how long to stay, check out this post on how many days to spend in Venice. And we also have some great ideas of things to do while you are in Venice.
Have an amazing trip!