In this blog, we will cover all your options for travelling from Phuket to Koh Lanta, which are two great (but very different) Thai islands in the Andaman Sea.
We hope that this guide will help you to decide how to get to Koh Lanta from Phuket in the quickest, cheapest or most comfortable way.
Phuket is one of our favourite gateways to Thailand. Phuket Airport has good flight connections to the UK and many other countries. You fly in over the sea and you can be on the beach in a couple of minutes once you leave the airport.
We like to spend a couple of nights in Nai Yang Beach to get over the flight and adjust to the new time zone before heading from Phuket to Koh Lanta.
Phuket is a large island that has been developed for tourism for many years and is a great place to find some amazing family resorts and there are loads of great things to do with kids.
Koh Lanta is like Phuket's laid back cousin. The beaches are long and glorious but tourist development is only just beginning and it is still a great place to get away from it all.
Find out more in our guide to Koh Lanta.
How to Get from Phuket to Koh Lanta
As Phuket and Koh Lanta are both islands (technically it is Koh Phuket, but you never see that used these days), the obvious way to get between the two is by crossing the Andaman Sea. It is about 90 kilometres between Phuket and Koh Lanta and there is a range of boat services that cover this route. 
It may seem less obvious, but it is also possible to do the journey between the two islands by road in either a taxi, private car or minivan.
Phuket is linked to the mainland by a bridge and Koh Lanta is served by a vehicle ferry. To go by road is a bit of a long way round so many people choose to go by ferry or speedboat. In this post, we will outline the pros and cons of each option.
Phuket to Koh Lanta Ferry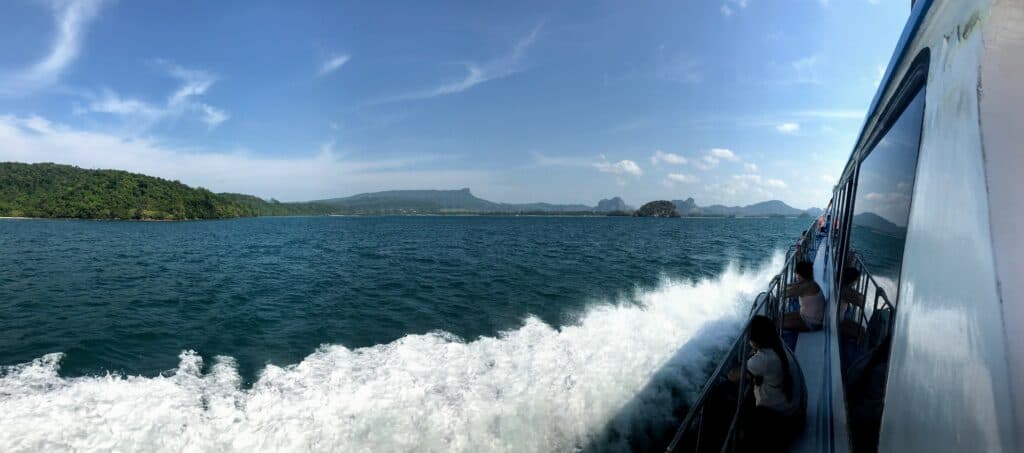 Ferries from Phuket to Koh Lanta depart from Rassada Pier on the outskirts of Phuket Town.  It can be a bit frantic at the pier early in the morning when there are a few ferries leaving at more or less the same time. There are a couple of stalls selling expensive snacks but there is not a lot here so it is worth being prepared with some drinks and snacks for the journey. 
It is worth arriving at least 30 minutes before departure in order to be able to find good seats for the journey and be aware that there can be really bad traffic on Phuket so make sure that you leave plenty of time to get there before your ferry is due to leave. 
We really recommend that you book in advance. It is much cheaper than buying tickets for the Koh Lanta ferry at the pier (trust us, we left it too late one time and had to pay way more than the online price). 
It is also worthwhile to get a ticket that includes an airport pick up. Taxis are really expensive in Phuket so it works out cheaper to get the combo ticket.
There are a few different companies that run a ferry schedule from Rassada Pier and we have had good experiences with each of them. 
Our favourite is the Phi Phi Cruiser which is a really big ferry that provides you with a free coffee and snack when you get on and children's entertainment in the form of a balloon modeller! We were pretty much the only ones with kids so we ended up with armfuls of balloons!
There are two routes by ferry from Phuket to Koh Lanta. The Phi Phi Cruiser goes (as you may have guessed) to Koh Phi Phi which is two-thirds of the way to Koh Lanta (travel time is about 2 hours).
At Koh Phi Phi you will change to another ferry for the final leg of your journey to Saladan Pier in Koh Lanta. You can either do this straight away or spend 4 hours having a look around Koh Phi before catching the afternoon ferry to Lanta.
Before arriving in Koh Phi Phi, the ferry does a lap around Phi Phi Leh with a short stop at the entrance to Maya Bay. This is a great way to see this stunning island and helps to make the whole ferry experience one that we always really enjoy.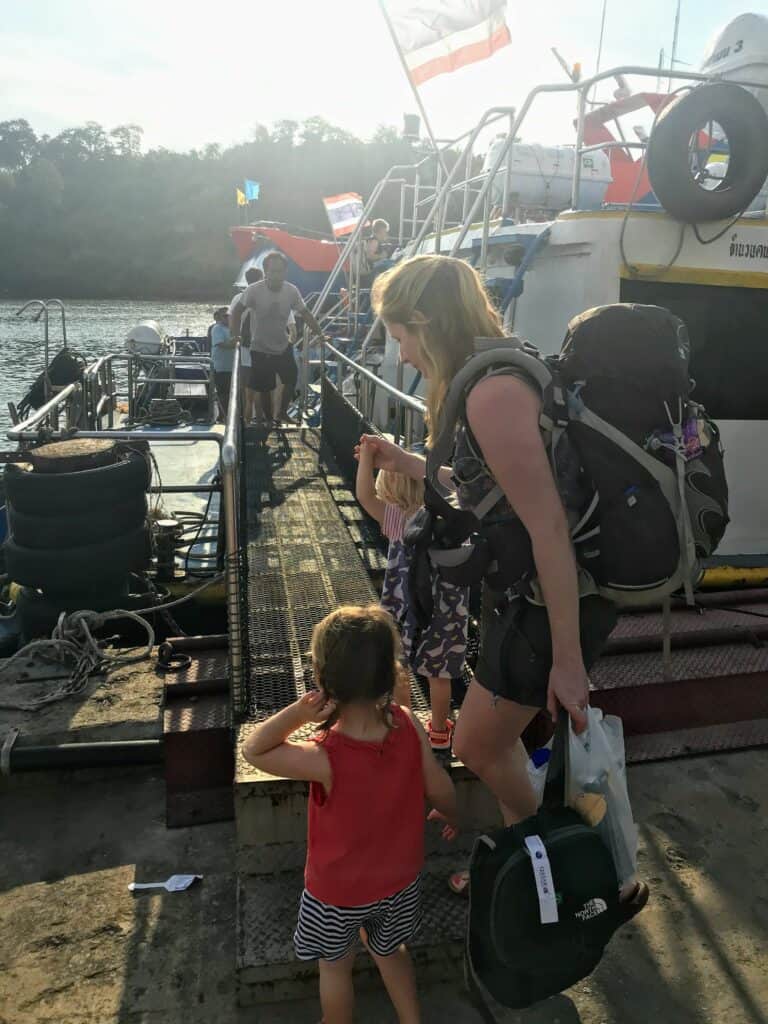 An alternative route from Phuket to Koh Lanta by ferry is to go via Ao Nang. This looks a lot further on a map and does take a bit longer. 
We have used this route as well, taking the Ao Nang Princess. This ferry is smaller and the journey time is a bit longer but we didn't need to change boats.
You pass more islands on this ferry to Koh Lanta from Phuket route so there is lots to look at and you will also go into the port at Ao Nang and close to the spectacular Railay Beach where passengers get on and off long-tail boats that take them into the shore. 
Both of these ferry routes will drop you at the same pier in Saladan, Koh Lanta. From here you will need to catch a tuk-tuk (motorbike with a side car) to your final destination. 
Click here to check Phuket to Koh Lanta ferry price
Phuket to Lanta by Speedboat
A faster alternative to the ferry is to catch a Satun Pakbara speed boat from Phuket to Koh Lanta. There is quite a significant time saving by choosing this option as the total journey time from Rassada Pier to Saladan Pier is only 1.5 hours. Less than half the time that the ferry takes. 
Speedboats are faster but not necessarily more comfortable as they will start to jump around on even relatively small waves. For this reason, they are not recommended if you are travelling with a young baby. 
Speedboats offer less opportunity to walk around or to take in the view, but this can be balanced against the far shorter journey time that will take you directly to Lanta 
Check speedboat ticket prices here
Phuket to Lanta By Road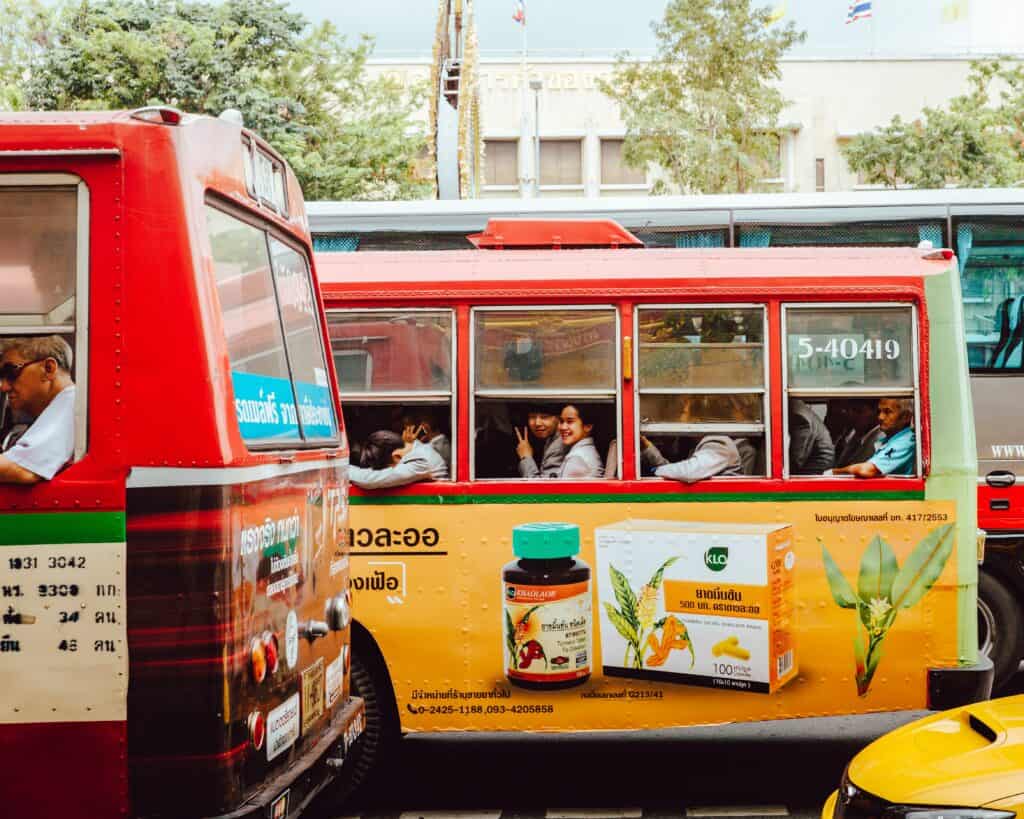 If you are travelling out of season, or just prefer to travel by land, then there are a few options for travelling by road. This involves a very short crossing by ferry to Koh Lanta Noi which is in a sheltered spot and runs year-round. It closes at 10 pm so you need to factor that in before leaving Phuket. 
Most people who do this route go via minivan. This is an archetypal way to travel around south-east Asia and will see you sat in a fairly cramped minibus for around 4 hours.
It is a relatively quick way to get to Lanta when you factor in the time it takes to get to the ferry and waiting times along the way. It is also the cheapest way to get from Phuket to Koh Lanta.
It is not the most comfortable though and as we travel with young children we prefer to take the ferry. If you are looking to save money and just want to get to Lanta cheaply this is the way to go.
Check minivan times and prices
Phuket to Lanta by Taxi
It is possible to arrange a taxi or private transfer from Phuket to Koh Lanta. It is an expensive option at over $150 but you should be able to stop at a few interesting places along the way and it is more comfortable than a minivan. 
Phuket to Koh Lanta by Car
Another option is to hire your own car. This has loads of benefits in terms of flexibility and is a great option for families. Koh Lanta is fairly large so having your own transport offers a fabulous way to explore the island on your own terms. 
As always, booking a rental car in advance saves you vast sums so take a look at RentalCars.com to find the best deals (free cancellation if you change your mind).
Final thoughts on getting from Phuket to Koh Lanta
We hope that this post has helped you to decide how to get to Koh Lanta from Phuket. There are a few different options, all of which will get you there in around half a day. We love arriving in Saladan and soaking up the different vibe of Koh Lanta and for us, that is where the holiday really begins. Check out our guide to Koh Lanta to find out more.