Koh Lanta is one of our favourite islands in Thailand. It has such a fantastic laid-back atmosphere that really makes you relax and feel like you are on holiday.
Snorkelling in Koh Lanta gives you a chance to glimpse the colourful underwater world of the Andaman Sea that surrounds Koh Lanta. It is a warm, calm and inviting place to take a dip and have a swim or snorkel.
The best time to snorkel in Koh Lanta coincides with the best time to visit Krabi province, which is from November to April, the high season for tourists. This is when you will get the best water visibility, the calmest seas, and the nicest weather overall.
It is usually possible to go snorkelling in the rainy season but many of the operators will shut down for the offseason and you run the risk of cancellation or poor visibility if the weather is against you.
Can you Snorkel in Koh Lanta?
We love to be able to just go snorkelling directly from the beach near to our hotel, you can do it in your own time and at no cost (we travel with our own snorkel), or minimal cost if you rent a snorkel and mask.
Koh Lanta is not the best place in Thailand to do this (you are better off staying on Koh Ngai or Koh Libong if this is something you enjoy), but there are a few spots where you can snorkel from the beach in Koh Lanta.
Koh Lanta Snorkeling Spots
If you are wondering where to snorkel in Koh Lanta, and looking for the best snorkeling Koh Lanta has to offer then you can find a few spots where you can swim out straight from the beach, the best places are:
Klong Dao – There is a small reef at Kaw Kaweng at the north end of Klong Dao beach.  You should be able to see some colourful fish if there is good visibility in the water. It is best to go at high tide.
Long Beach – At the north end of the beach (near to where we stayed, the lovely Lanta Resort), is a small headland where fish congregate and it is worth having a snorkel.
Nui Bay – At the southern tip of the island, near the famous lighthouse you will find some hard coral and lots of fish.
Koh Lanta Snorkelling Trips
If you are planning to go snorkeling in Koh Lanta you will need to go on a boat excursion to find the very best and least spoilt snorkelling spots. There are a few destinations that are popular and numerous companies that can arrange trips for you.
Some of the trips are offered by diving companies so if you fancy it you could ditch the snorkel and have a go at diving. Most of the dive companies on Koh Lanta offer internationally recognised PADI dive certification. You'll need three or 4 days to complete the course before doing any open water dive tours.
Fear not, if you would prefer to stick to snorkelling you will not miss too much as lots of places have coral close to the surface and great visibility so you will still see plenty of wildlife.
4 Island Tour Koh Lanta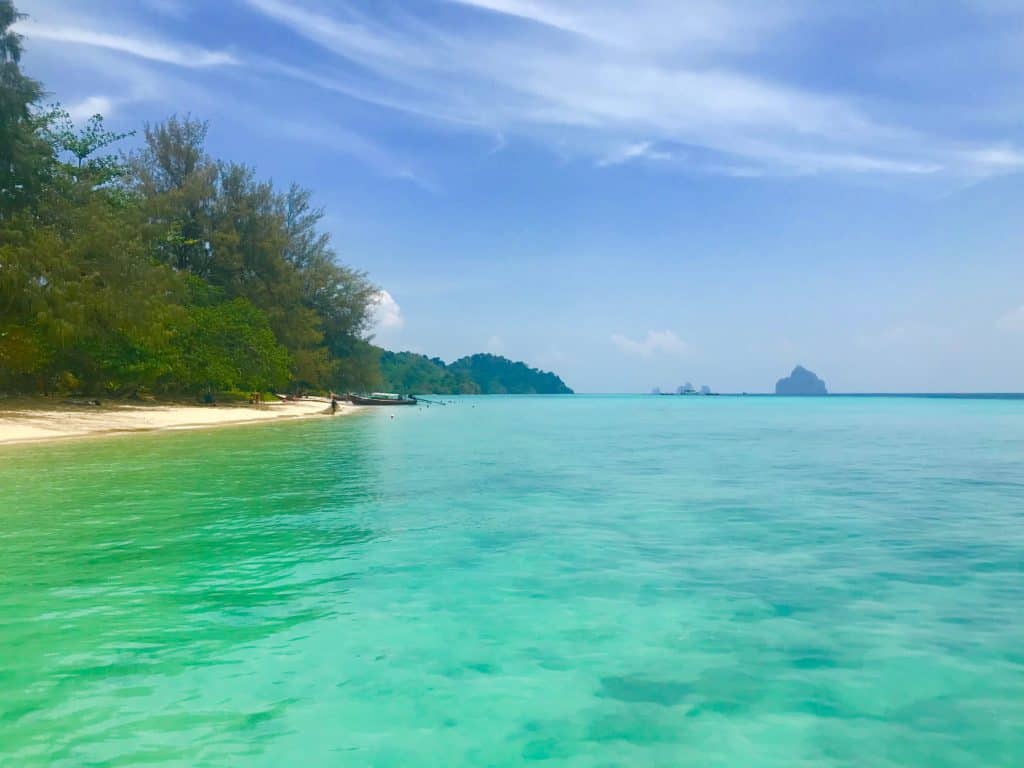 The most popular Koh Lanta snorkeling tour is the 4 islands tour to the karst islands and coral reefs of nearby Koh Ngai, Koh Muk, Koh Kradan and Koh Chuek. These 4 islands are absolutely stunning and should not be missed on any trip to this part of Thailand.
It is probably best described as being an island tour with snorkelling rather than an out-and-out snorkelling trip. The boat will take you to each of the 4 islands and will offer you opportunities to snorkel in some nice but not outright amazing snorkel spots.
On top of seeing all these great islands and doing some snorkelling, you will get the chance to visit the spectacular Emerald Cave on Koh Mook which can only be accessed by swimming through a natural tunnel to the hidden beach behind the cliffs. It has to be seen to be believed!
The best snorkelling is at Koh Kradan where the reef attracts lots of wildlife including clownfish and turtles.
It is a great tour and if you do not have time to stay on any of the four islands it is well worth doing. It is a well-rounded trip that is popular with most travellers as it takes you to see many great sites in just one day. If you just want the best snorkel trip, one of the options below might be better.
>>>> Click here to book the 4 islands snorkelling tour
Koh Rok
Koh Rok is made up of two small islands and is located within the Mu Koh Lanta National Park. It is a beautiful place, with white sandy beaches fringed by palm trees, that is uninhabited (except for the monitor lizards, other wildlife and occasional campers).
It is a great place to snorkel since the coral (which is unbleached and in pretty good condition) is close to the surface. This is ideal for snorkelers who prefer not to dive under the water. There is a good chance of seeing a nice range of species including clownfish, parrotfish, angelfish, hawksbill turtles and sometimes blacktip reef sharks.
It is a full-day trip and takes about 1hr each way by speed boat. You will stop at 3 or 4 different dive locations around the island and have an hour or two enjoying lunch on this stunning island.
Koh Haa
Ko Haa is one of the best destinations for snorkelling from Koh Lanta. There are 10 excellent dive sites around the islands that the operators can stop at. You will have time to visit several of these in a day trip
The site is great for divers and snorkelers of all experience levels as the waters are calm and shallow. One of the best sites has an impressive cathedral-like cavern and some amazing coral.
It is good for beginners as there is a large lagoon that slopes gently down into deeper waters allowing you to explore further as your confidence grows. You should be able to spot a good range of wildlife including rays, parrotfish, angelfish and turtles. If you look closely you may see seahorses and octopuses hiding among the coral.
After you have finished scuba diving or snorkeling, be sure to spend a bit of time on the beautiful beaches of Koh Haa.
>>> Click here to book a trip to Koh Haa and Koh Rok
Koh Phi Phi and Koh Bida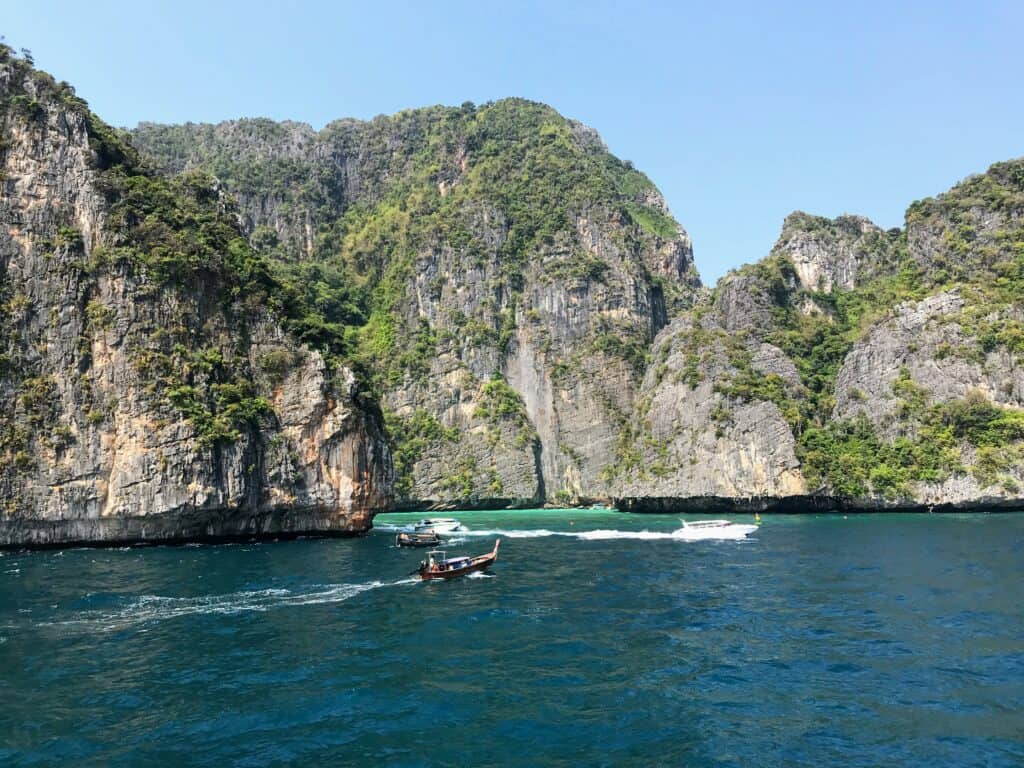 It is also possible to snorkel around Koh Phi Phi and Koh Bida (where you may spot leopard sharks) form Koh Lanta. These islands are popular with visitors staying on Koh Phi Phi so they can get busy but they do have some good snorkelling available.
If you haven't already visited Koh Phi Phi, this tour is a good option as the Phi Phi islands are amongst the most beautiful in Thailand.
>>> Click here to book a snorkel trip to Koh Phi Phi
Where to stay in Koh Lanta
Koh Lanta has a wide range of accommodation to suit all tastes and budgets, but overall it is a good value island and makes for an affordable base for your trip.
Some of the places that we have stayed or recommend include:
TOP PICK: If you are looking for an amazing place to stay in Koh Lanta then the wonderful Pimalai Resort and Spa is one of the best hotels on the island, or anywhere in Thailand.
>>> Check availability for your dates here
Budget pick: Lanta Nature Beach Resort is a really good budget option on Khlong Nin beach (our favourite). There is a pool and it is a nice place to stay with a restaurant right by the beach. We like the rooms across the road from the beach, they are new, clean and great value.
Mid Range: If you are looking for a great value, mid-range hotel on Long Beach Koh Lanta we recommend a stay at the Lanta Resort. There are a couple of great swimming pools, a playground, an amazing buffet breakfast, and it is right by the beach.
>>> Check availability for your dates
Final thoughts on Snorkelling Koh Lanta
Koh Lanta is a great place to go snorkelling, particularly if you take one of the fabulous snorkelling day trips from Koh Lanta.
We hope that we have helped you to decide which trip is the best for you depending on your level of experience and your interests.
If you are visiting Koh Lanta, please check out our guide to the best things to do on Koh Lanta and our guide to how to get to Koh Lanta from Phuket.