Are you looking to spend 10 days in Vietnam? This South-East Asian country must be one of the world's most fascinating travel destinations.
You'll find great food, wonderful scenery, friendly people and fascinating history. There is so much to see and do in Vietnam that you could easily spend months here and not see it all.
But if you have only a few days in the country our Vietnam itinerary '10 days of discovery' will help you make the most of visit.
The 10 days in Vietnam itinerary that we have put together takes in some glorious natural wonders and some of the best cultural attractions in the country. We have tried hard to come up with an itinerary that allows you to see loads of great places but isn't so rushed that you don't know where you are or what you have seen.
We think that the Vietnam 10 day itinerary that we have come up with is pretty awesome and we are sure that you will have an amazing trip.
10 Days in Vietnam: Where to Go
We think that we have put together the best 10 day Vietnam itinerary by taking in the following places:
Day 1- 2: Hanoi
Day 3-4: Halong Bay
Day 5-6: Ninh Binh area
Day 6-7: Hue
Day 8-9-10: Hoi An
We feel that this 10 day Vietnam tour is a good balance of beautiful nature and cultural attractions. There are also plenty of opportunities to get out enjoying activities like cycling, kayaking, and hiking if you would like to.
10 Day Vietnam Itinerary
Hanoi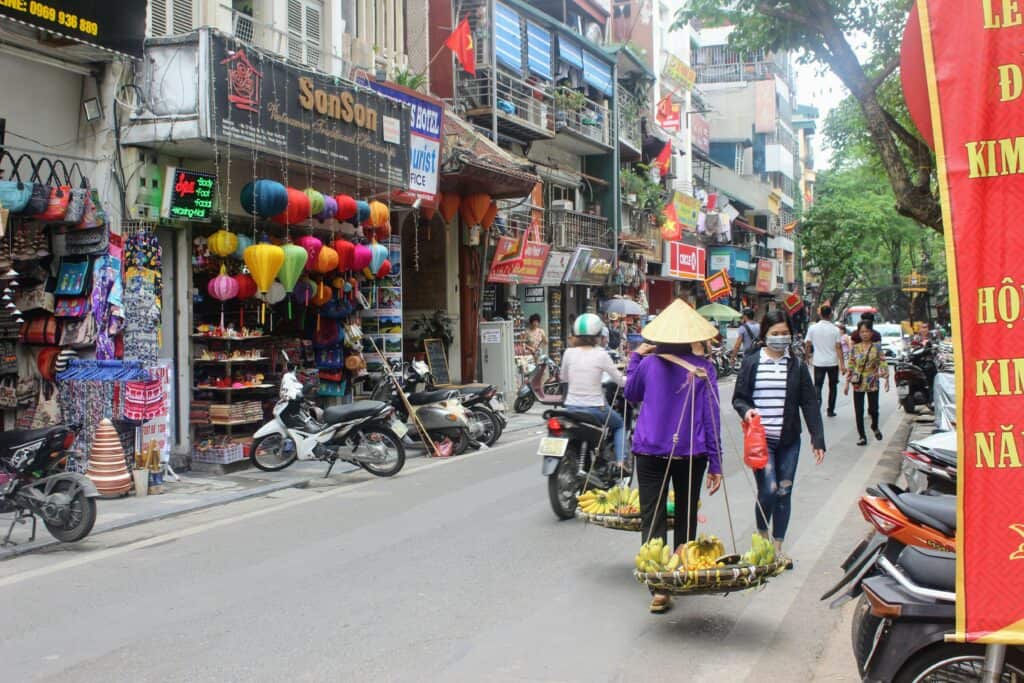 Following your arrival in Hanoi, we recommend spending the first 2 days of your trip exploring the capital and getting yourself used to the new culture, climate and time zone.
Hanoi is the largest city in Northern Vietnam and is a pretty crazy place. The roads are particularly mad as they are teeming with motorbikes that come at you by the dozen. Crossing the road is certainly a memorable experience!
Walking around the Old Quarter (and dodging the traffic) is one of the best things to do in Hanoi. The real attraction of the old part of the city is seeing all the life that is being lived on the streets.
Amongst buildings of fading grandeur, you will find all sorts of stall selling everything from North Face backpacks to hot bowls of pho, which is a tasty broth filled with noodles, vegetable and strips of beef.
Some of the main sights to see include on your wander around town are Hoan Kiem Lake, night markets, Ho Chi Minh Mausoleum, Ho Chi Minh Museum and Thong Nhat Park.
Hanoi's food scene is amazing, and it is well worth joining a street food tour on your first night in the city, that way you will find out where to eat the best food and will get an idea of what sorts of food you like for the rest of your 10 days in Vietnam.
Learning how to cook Vietnamese food is an even better idea that will allow you to enjoy authentic Vietnamese cuisine even when you have returned home. There are plenty of cookery schools in the city that will introduce you to Vietnamese cooking with ingredients fresh from the market.
You should also take the opportunity to see the traditional water puppet show at the Thang Long Theatre.
Try these great activities whilst you are in Hanoi
Enjoy a one day guided day tour
Try something new on a street food tour
Visit a local market and learn to cook delicious Vietnamese cuisine
Take in spectacular views from up high in the Lotte Tower
We love Klook tours for the great prices (they have a best price guarantee), quick and easy booking, and online support. Use the code BDOKLOOK5 to get an extra 5% off!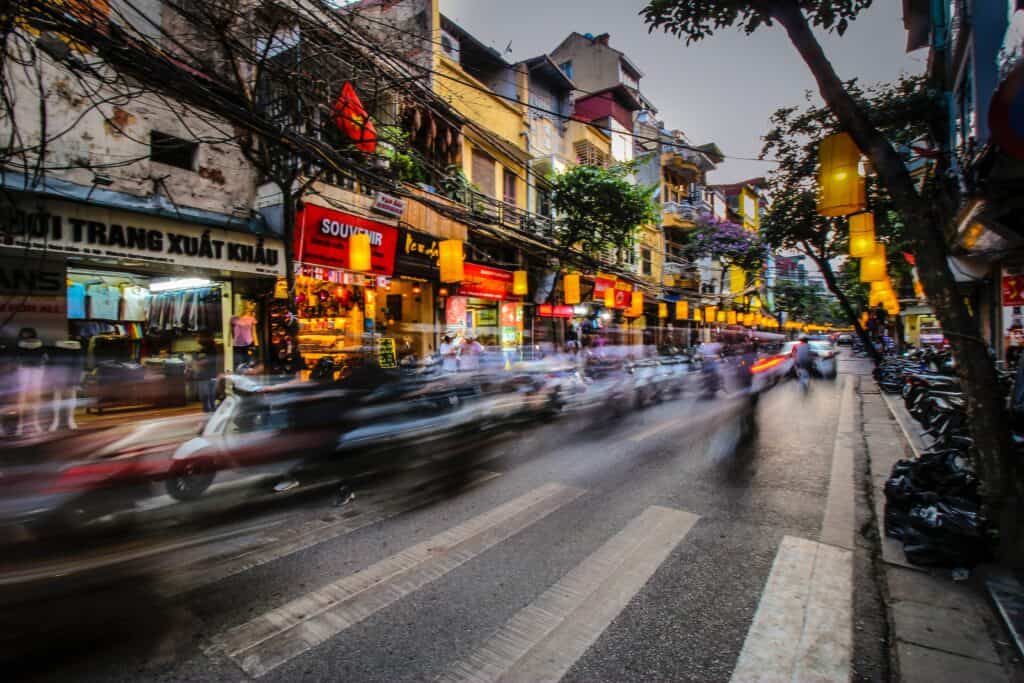 Where to stay in Hanoi
We definitely recommend that you stay somewhere inside the Old Quarter so that you can easily walk to the main sights, and best restaurants or bars. Like most of Vietnam, Hanoi has some great value accommodation.
Our top pick hotel is Hanoi Bonsella Prestige Hotel and Spa or Hanoian Elite Home Hotel for a budget-friendly option.
Halong Bay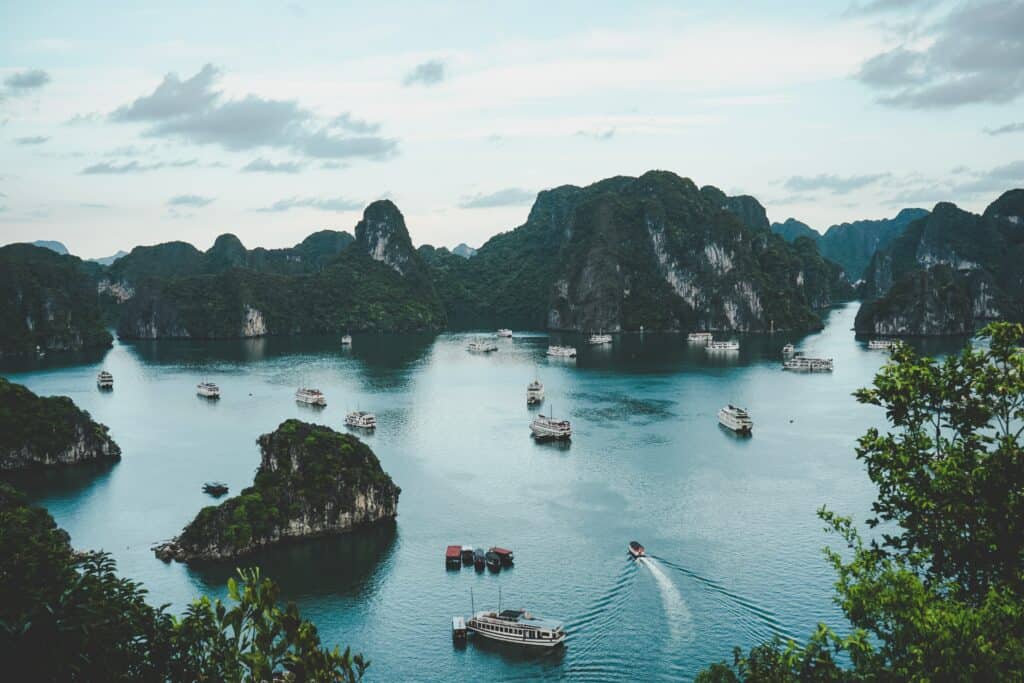 Halong Bay is a world-famous collection of over 3,000 limestone islands rising out of the South China Sea. If you have ever seen any holiday brochures for Vietnam, the chances are that images of Halong Bay were plastered all over it.
It is a stunning landscape (a bit reminiscent of the area around Krabi, Thailand) that is perfect for kayaking excursions or overnight cruises.
As this is a fairly short itinerary we think that the best way to make the most of your time and enjoy Halong Bay is to take a one night, two-day tour from Hanoi. There is a new highway that will get you to the coast in a couple of hours, so it is possible to visit Halong Bay on a day trip but the overnight experience is well worth it.
You will have the chance to spend the night on one of the traditional junkers that ply the waters of the bay. This gives you a chance to get away from the worst of the crowds, that can be found taking short boat trips near to the dock.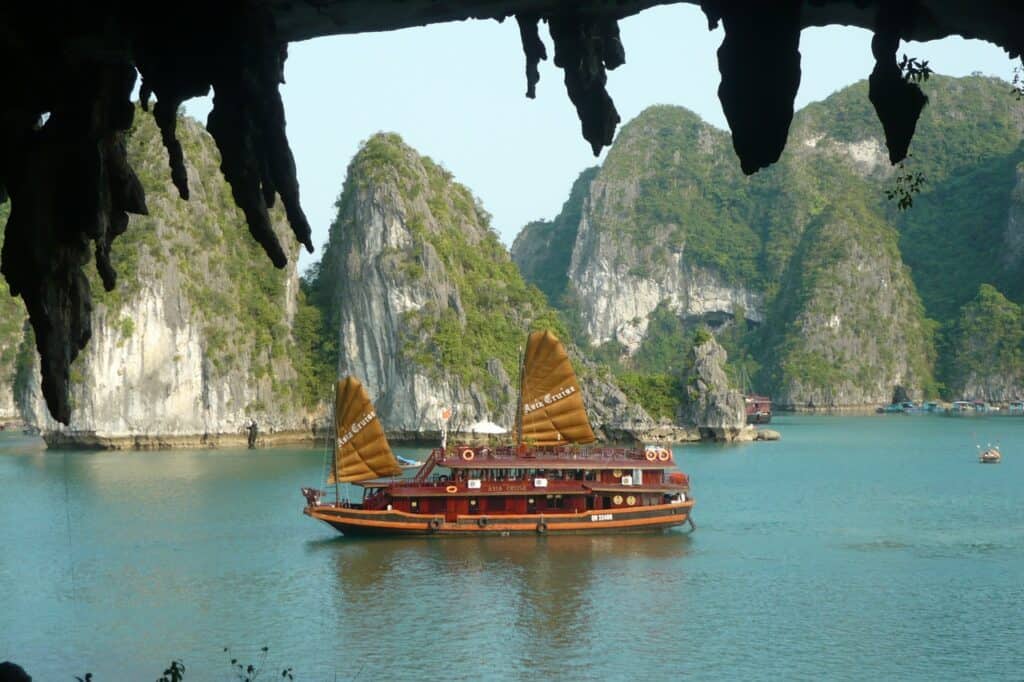 As you sail out into more tranquil parts of the bay you will get the chance to island-hop, explore caves and have a go at kayaking.
This is one of the highlights of Vietnam and we are sure that you will leave with some wonderful memories and photographs.
Book you Halong Bay Tour
We like to book activities through Klook to guarantee the best price and get great online support.
Enjoy Halong Bay on this fabulous 2 day 1 night tour
or
Book this premium tour with your own private boat
Remember to enter the discount code BDOKLOOK5 to get an extra 5% off!
An alternative is to take a tour that stays in a resort on Cat Ba Island. From here you can venture out through the bay and explore the karst islands by kayak. This might be a good option if you are travelling to Vietnam with kids and aren't sure about spending the night on a boat.
Ninh Binh
Next on our Vietnam itinerary, we suggest a trip to an area that is billed as an inland Halong Bay. It is a fairly apt description as you will again see spectacular karst rising up above you but this time they are surrounded by paddy fields and temples.
We loved cycling around this area as the mountains rise up on either side. There are also a couple of great boat trips that you can do like the one at Trang An where you will be paddled through caves and past verdant landscapes.
The boats are all paddled by women who use and unusual technique of rowing with their feet.
Cycling through nearby villages gave us the opportunity to come into contact with friendly locals who were very keen to stop and say hello.
Another fantastic thing to do in the area is to climb to the temple at the top of the mountain in Hang Mua. It's over 500 steps, but well worth the effort for the fantastic views from the top of the rice paddies and mountains. We did this climb with our baby and toddler in baby carriers and it was one of the highlights of our Vietnam itinerary.
We really loved the Hoa Lu Ancient Capital which was the first capital of Vietnam, and there are now a number of lovely temples. When we were there it was gearing up for The Hoa Lu Fand covered in flags to make it look extra beautiful.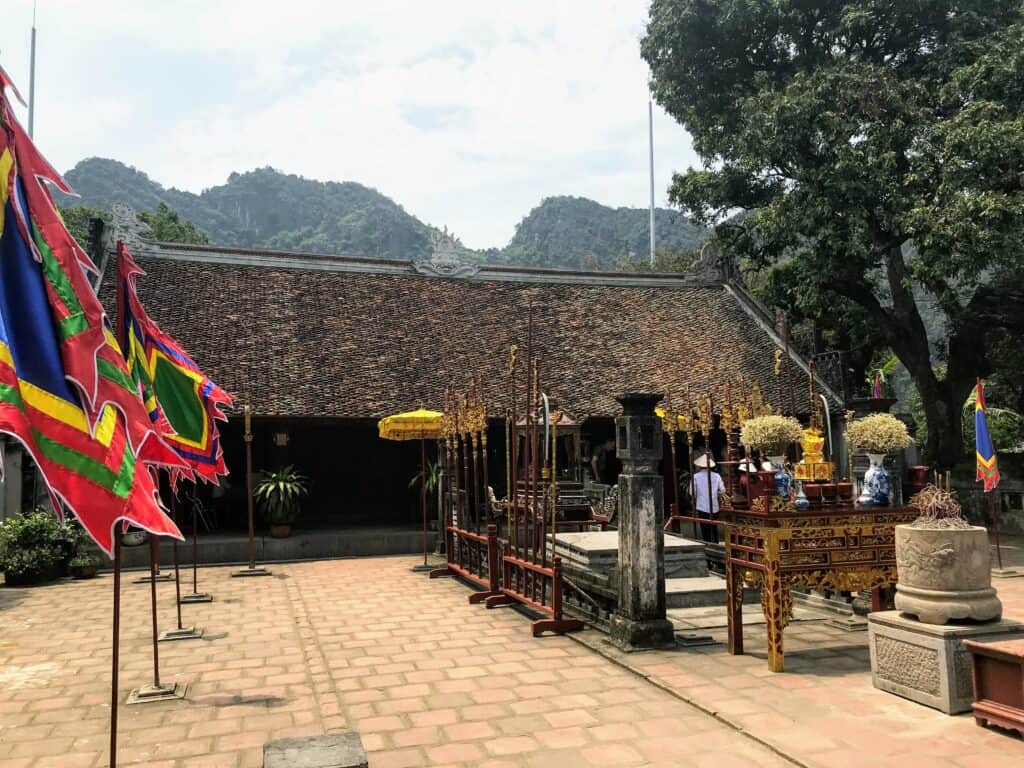 Other sights in the area include Bai Dinh, the largest pagoda in Southeast Asia,  and boat rides at Tam Coc and the Van Long Nature Reserve.
How to Visit Ninh Binh
It is easy to get from Hanoi to Ninh Binh independently by catching either a train, bus or taxi. Once you are in the area the main sights are fairly spread out so you will either need to arrange transport in a vehicle or hire a bicycle.
If you prefer you can arrange a two-day tour from Hanoi
which will take care of all the logistics for you and takes you to all the main sights above and includes all your meals, accommodation and boat rides.
It definitely makes visiting this area a far simpler experience. We particularly recommend this option if you are planning to fly south for the next leg of your journey.
Another great tour option is this one that has luxury accommodation and includes a bike ride.
Where to stay around Ninh Binh
We have stayed a few places around Ning Binh. The best is the amazing Emerelda Resort which has great facilities, lovely rooms and great service (they surprised us with a cake for our daughters first birthday, they must have checked at her passport!).
A cheaper option that we also enjoyed staying at is the Ninh Binh Retreat which has an amazing location in one of the quietest and most scenic places in the area, right in the heart of the limestone peaks.
Moving On
To get from Ninh Binh to Hue you can either take an overnight bus/train or fly from Hanoi to Da Nang.
Hue
Hue is a city with a lot of history and some fascinating relics from times gone by. Nicely situated on the banks of the Perfume River, the modern city of Hue may not be the most beautiful place in Vietnam but we feel like it is well worth a couple of days on your Vietnam 10 day travel itinerary.
One of the best things to do here is to visit the impressive, Chinese style Imperial City which is a stunning collection of buildings that date from 1804.
Another nice thing to do is to rent a boat to head up the Perfume River and visit all the various tombs of the rulers from the past. These are pretty impressive and ornate structures, and the trip along the river is interesting too.
Hue is famed for its food and you will find many places serving typical local dishes like Com Hen, Bun Bo Hue and Banh Canh Nam Pho.
Where to stay in Hue
We stayed at the Emm Hotel Hue, it lacks a bit of character but the breakfast was amazing, the pool was nice and the rooms were comfortable.
Check availability for your dates
Moving on
To get from Hue to Hoi An we recommend going by car and stopping off to visit the Marble Mountains. These are really atmospheric limestone mountains with plenty of temples and an awesome cave to explore.
Hoi An
Hoi An is one of the best places to go in Vietnam. The quaint, picturesque streets of the old town are a glorious mix of Chinese shophouses and French colonial architecture.
Throw in some lovely temples, colourful lanterns, boutique shops, a beautiful riverside setting and you have an awesome destination to finish off your Vietnam itinerary.
Hoi An is a charming ancient town and has deservedly become a very popular tourist destination. The main draw to Hoi An is the fantastically atmospheric and well preserved old town which has been designated as a Unesco world heritage site.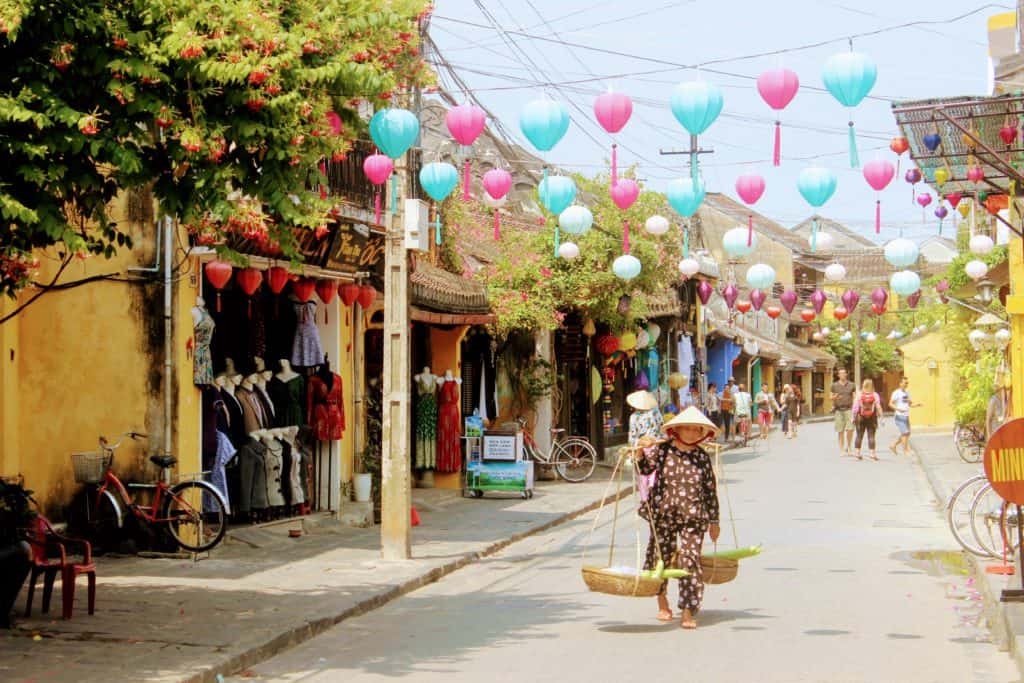 It is a great place to wander around with many fascinating sites dotted around the old town.
Not only is the town fantastic, but it is also right by the beach! You could stay in town and go to the beach for the day, or stay right on the beach and visit the town from there.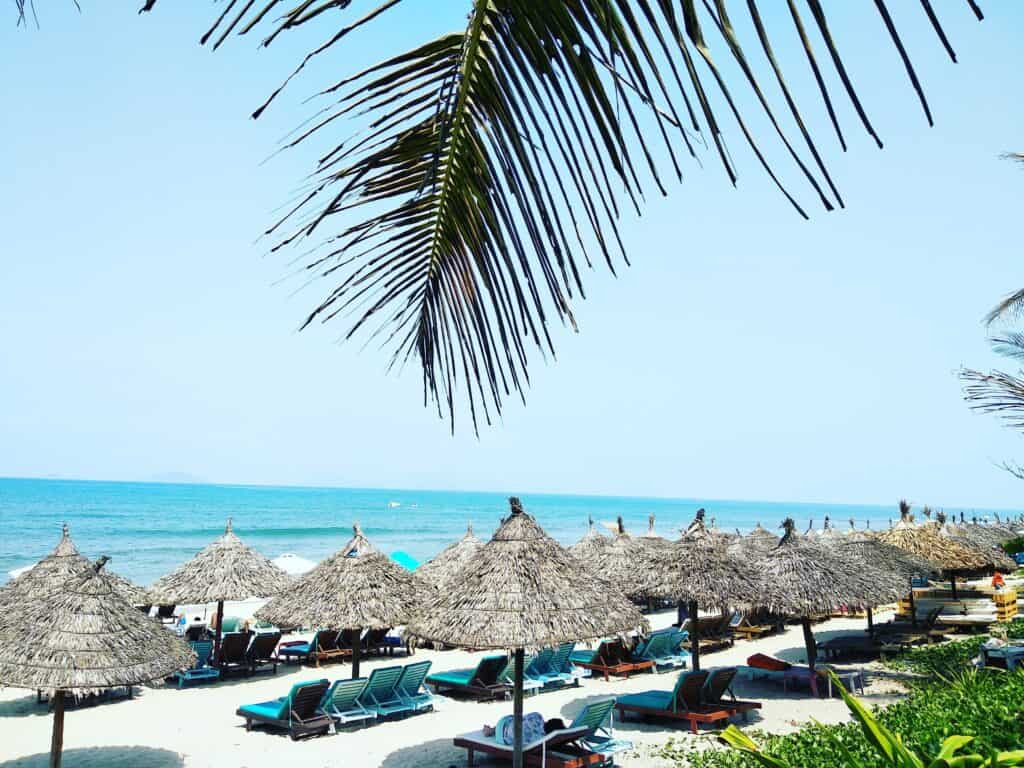 It is only about 20 minutes between the two and many hotels offer a free shuttle service between Hoi An and the beach. Either way, we suggest that you spend some time relaxing on the beach at the end of you 10 days in Vietnam.
Hoi An Accommodation
Hoi An has loads of great places to stay and you can find nice hotels at very good prices. You have a few options for location, you could stay right in the old town, in one of the other areas of the town, by the beach, or in the countryside so there is sure to be somewhere that suits you perfectly.
We initially thought we would want to stay right in the old town, but in the end, we decided to stay a bit further out in the Cam Thanh area and I think that this suited us better as we had a nice relaxing hotel with a pool right by the river.
We stayed at Hoi An Coco River Resort & Spa and really recommend it as perfect family-friendly accommodation in Hoi An. The rooms are nice, the breakfast is outstanding and the location is really peaceful with the restaurant nicely set right over the water.
They offer free bikes and a free shuttle bus to the old town and to the beach (where they have teamed up with a restaurant so that you get free use of deckchairs and parasols). All in all, it makes a perfect base to enjoy Hoi An.
Click here to check availability at Hoi An Coco River Resort & Spa
If you are looking for an atmospheric stay in the old town, Nha Lan Homestay is a great option. You will find it on a quiet lane right in the heart of the old town, near to the famous Japanese bridge, and the location is hard to beat.
Click here to check availability at Nha Lan Homestay
Another great place to stay in Hoi An is Tropical Beach Hoi An Resort. This is right by the beach and has fabulous swimming pools to keep the kids happy.
They also serve a great buffet breakfast and have free bikes and a free shuttle into town. If we weren't looking for a bit of a break from the beach, we would probably have stayed here.
Click here to check availability at Tropical Beach Hoi An Resort
For more detail, check out our 3 day Hoi An itinerary and our guide to where to stay in Hoi An
Getting to Vietnam
This 10 day itinerary begins in Hanoi, the capital city of Vietnam. The airport is known as Noi Bai International Airport and has good connections to destinations all around the world.
Our Vietnam itinerary heads south from the capital and ends halfway down the country so you will need to fly from Da Nang to your next destination or back home.
Da Nang is an international airport but it may work out better to buy a return flight to Hanoi and get an internal flight from Danang to the capital prior to your flight home.
You can check for the best prices and different combinations of airports by using Skyscanner.
Visa Requirements
The visa situation in Vietnam is really complicated and changes all the time so we suggest you head over here to check the latest.
You may be able to spend 10 days in Vietnam without getting a visa, but it depends on where you are from.
UK passport holders get 15 days visa-free as do citizens of several other European countries. Australians, Americans and Canadians currently need to get a visa even for short trips. This can change so check the latest situation here.
For longer stays, or if you are from a country that is not visa-exempt, you can get a tourist visa for 30 or 90 days.
There are three ways to get your visa: Visa on Arrival (VOA), e-Visa, or from an embassy.
Visa on arrival isn't as easy as it sounds. You need to arrange this in advance by filling in a form with an online agency, their service costs around $20. They send you a letter to print out and when you arrive in Vietnam you hand over your letter get stamped in (for a fee of $25 for single entry, $50 for multiple entry). There are loads of online agencies to apply with, www.vietnamvisachoice.com has a good reputation.
The e-Visa isn't as easy as it sounds. This is a new way to get a visa that is only open to some nationalities. The system isn't great and the website is prone to glitches. They can be really fussy about the photos submitted and be careful to avoid typos as you could get deported for spelling mistakes.
Here is the site you need to apply for an e-visa, hopefully, it will improve
Getting a visa from an embassy has higher fees than using a visa agency and processing times can be slow. Unless you live by an embassy the other options are probably better.
All in all, there is no perfect way to get your visa but the VOA is likely to be your best option.
Final thoughts on an Awesome Vietnam 10 day Itinerary
So that's our suggestion for how best to spend 10 days in Vietnam and we hope that this blog has given you a good idea of where to go in Vietnam.
In just a few days you will have seen the best of Vietnam and enjoyed some fabulous travel experiences. You will have seen fabulous cultural sights and stunning natural wonders that will give you a good taste of what Vietnam has to offer.
From the hectic streets of Hanoi to sublime vistas and calming temples, we are sure that this 10 day Vietnam itinerary will allow you to fall in love with the country and leave with plenty of colourful and exotic photo and many happy memories to treasure forever.
Is 10 days enough in Vietnam? If at all possible, we recommend extending your 10 day trip to Vietnam and spending two weeks in Vietnam (making the most of the 15 days you can get visa free).
We would suggest using the extra days to do this itinerary at a more leisurely pace, but you could also head south to visit Ho Chi Minh City (formerly Saigon) and the spectacular Mekong Delta. An alternative would be to do a side trip from Hanoi to Sapa.