Visiting Hanoi with kids makes for a perfect stop on any family holiday in Vietnam. 
It is a melting pot of Vietnamese life. A crazy hubbub of traffic, noise, smells and unusual sights, all condensed into a fairly small and manageable city.
As one of the main gateways to the country, Hanoi is a great place for families to share their first experience of Vietnam. All this means that visiting Hanoi with kids should definitely be on your Vietnam itinerary.
Top tips for visiting Hanoi with Kids
If you are planning to explore further, be sure to check out our guide to Vietnam with Kids for more family travel tips.
Things to do in Hanoi with Kids
There are loads of great things to do in Hanoi with Kids. To help make sure that we covered everything, we asked some other travel bloggers to share their top recommendations of what to do in Hanoi with children.
Explore the Old Quarter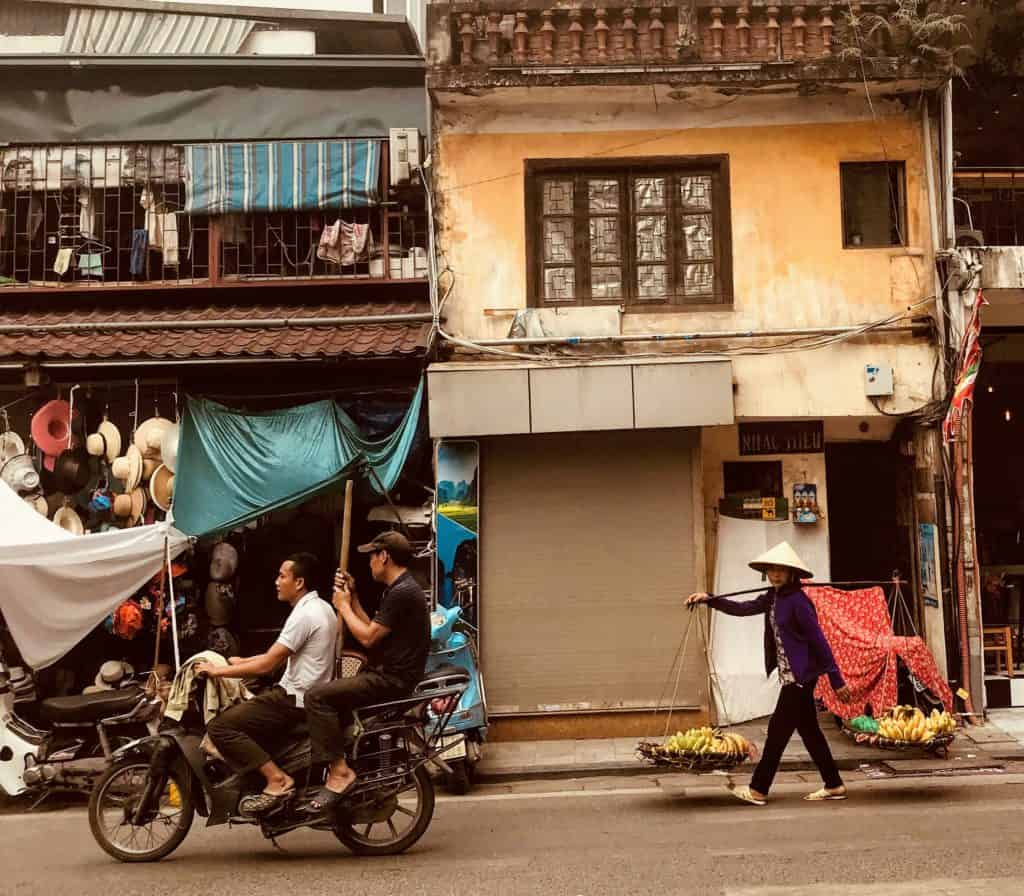 Top of the list of things to do in Hanoi with kids is exploring the Old Quarter. This may sound like a bit of a cop-out suggestion but it really is something that everyone should do and it is probably a good idea to do it first to help you to get your bearings. 
The Old Quarter consists of 36 streets that were originally named after the goods that were traded there – leather, bamboo, silver etc. These days it is a bit more of a mish-mash but it remains a great place to shop for goods and to see life on the streets. 
This is a great place to come if you are after souvenirs to take home, and also a good place to buy practical things like backpacks and outdoor clothing for great prices.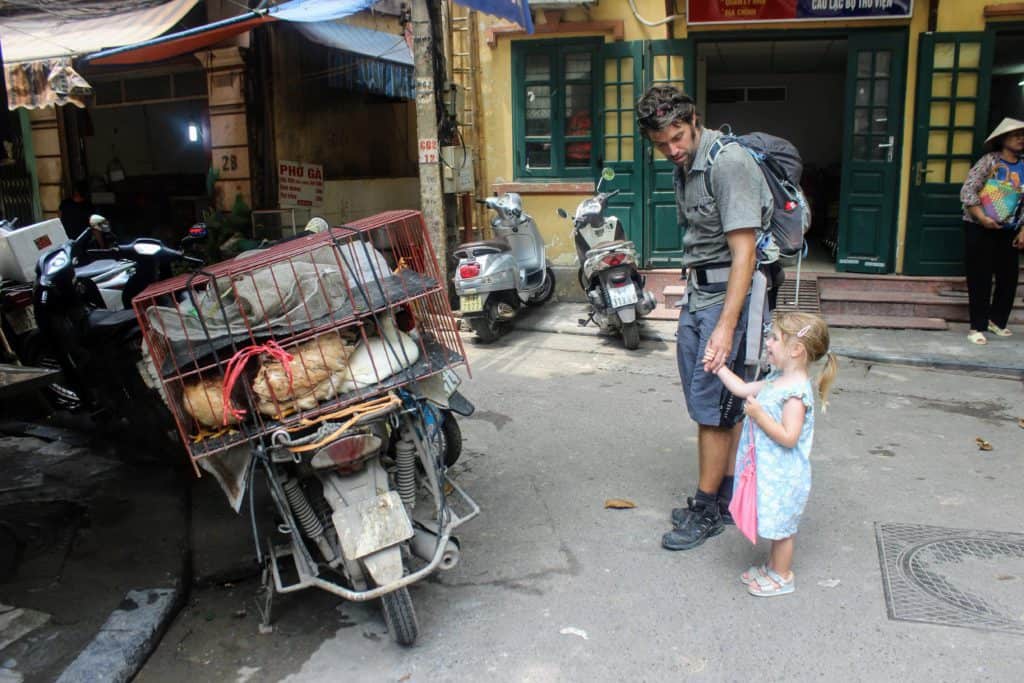 Our favourite part of the Old Quarter is an area of small back streets that make a tiny warren of alleyways bursting with character. If you and your kids want to see Hanoi life on the streets then this is the place to come. 
The area is compact and aside from the traffic on the major roads, it is an easy place to explore on foot. 
If you fancy taking the strain off your legs or have kids that aren't too keen on walking about, we recommend taking a tour by cyclo.
A cyclo is the Vietnamese version of a cycle rickshaw and gives you a great way to explore all the best parts of Hanoi without the need to find them or walk to them. Your kids are bound to love being pedalled around and weaving through the traffic.
A Hanoi cyclo tour with kids can be booked online here, or you could grab one on the street, but be prepared to haggle over the price. 
Hanoi Food Tour with Kids
Lee – The Travel Scribes
Vietnamese food is some of the best in the world and what better way to sample it than through a food tour? Food tours are a great way to keep kids entertained but also to introduce them to the local culture of the country that they're visiting!
Generally, a food tour in Hanoi takes you round the fresh markets and a host of the best street food stalls and vendors in the city.
 The main attraction? Bun cha! These delicious pork patties are served in a slightly spicy soup alongside rice noodles and fresh lettuce, all nicely laid out for you to assemble your own. They were good enough for Barack Obama so definitely good enough for your family.
There are usually other ways to get the kids' hands dirty, like putting together banh cuon, steaming rice rolls full of minced pork, wood ear mushrooms and shallots or sipping on pho, another Vietnamese soupy dish.
Other highlights on a Hanoi food tour? Children usually love the desserts, like black rice with jackfruit and yoghurt, or fresh fruit with crushed ice and condensed milk. Plus what better than a bahn mi, a Vietnamese version of a crispy baguette, to bring back visions of their school lunch?!
 They might not be able to indulge in the egg coffee or the tangy Vietnamese rice wine but a food tour will definitely fill their minds and their bellies…
Book your Street Food tour here
Note Coffee Café, Hanoi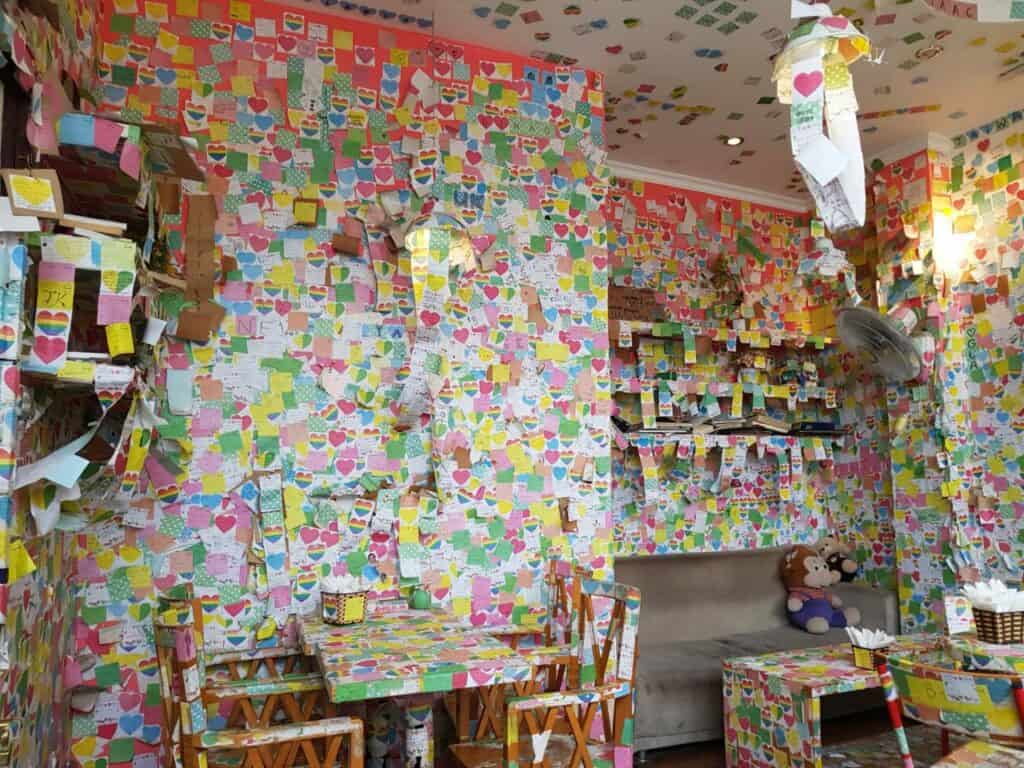 Looking for a kid-friendly place to eat? We loved the Note Coffee Café in downtown Hanoi. This gorgeous little eatery is literally papered with thousands of post-it notes. The notes cover every surface: tables, chairs, walls, even the ceiling!
 Patrons are encouraged to write their own friendly notes and stick them up wherever they can find a spot, so it makes for very interesting reading to wander around the little café, reading love notes, funny poems and really everything in between.
You'll also find yourself spending at least an hour or so trying to craft your own perfect note: the ideal activity for bored kids looking for something to do.
Beyond the pleasure of posting up your post-it, Note Café also has a pretty delicious drinks menu. It boasts some of the most delicious coconut coffee in all of Vietnam, as well as a wide selection of lip-smacking, refreshing iced teas.
Our pick? The famous peach tea. They also specialise in delectable pastries – the last time we visited they had just taken a tray of gooey, flaky chocolate croissants out of the oven, which were absolute heaven!
Location: 64 Lương Văn Can, Hàng Trống, Hoàn Kiếm, Hà Nội, Vietnam
Open: Weekdays 6.30am – 11.00pm
Visit the Water Puppet Theatre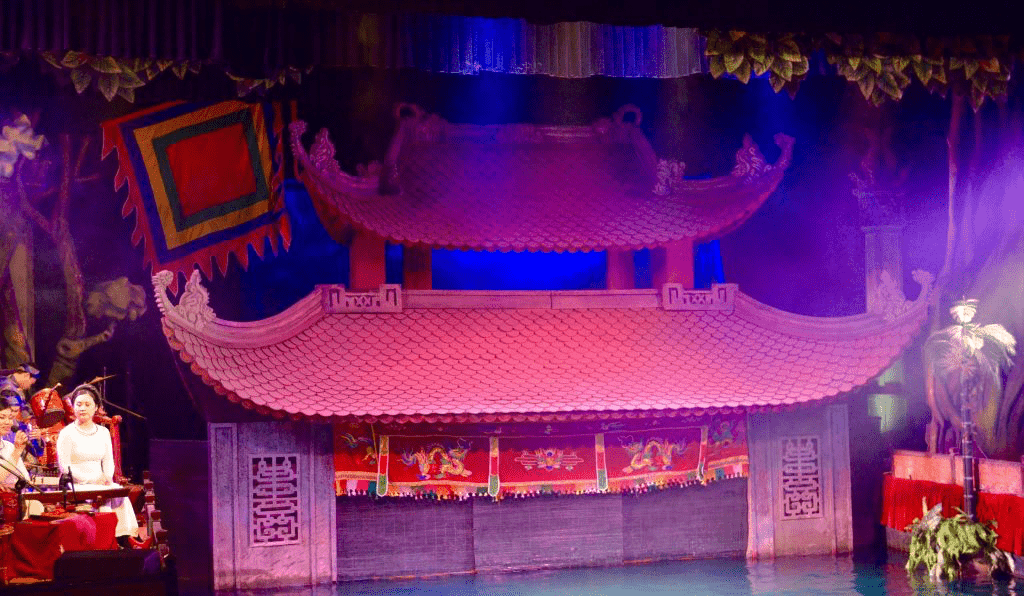 Laura – The Travelling Stomach
After a day wandering around the hectic streets of Hanoi your little ones' feet are bound to be tired and in need of some much-needed rest. Head to Thang Long water puppet theatre for a great way to amuse your children and immerse them in traditional Vietnamese arts. 
There are five shows on throughout the day lasting around an hour so you can pick whichever time fits in with your schedule. The show is comprised of over 15 short sketches ranging from those about the daily life of Vietnamese farmers to those depicting historical legends. 
Tickets can be bought online in advance or at the door (if available).
Water puppetry itself is rooted back in the 11th century when rice paddy fields would flood and villagers would make entertainment by performing with puppets over the water.
Making use of traditional techniques the puppeteers at Thang Long theatre are accompanied by a Vietnamese orchestra playing traditional music and songs. 
The bright colours of the puppets and comical scenes are great to keep children (and adults) of all ages entertained whilst learning a little more about Vietnamese folklore. 
Either before or after the show, save a little time to get up close and personal with the puppets in the mini-museum located in the lobby. 
Epic Views from the Lotte Tower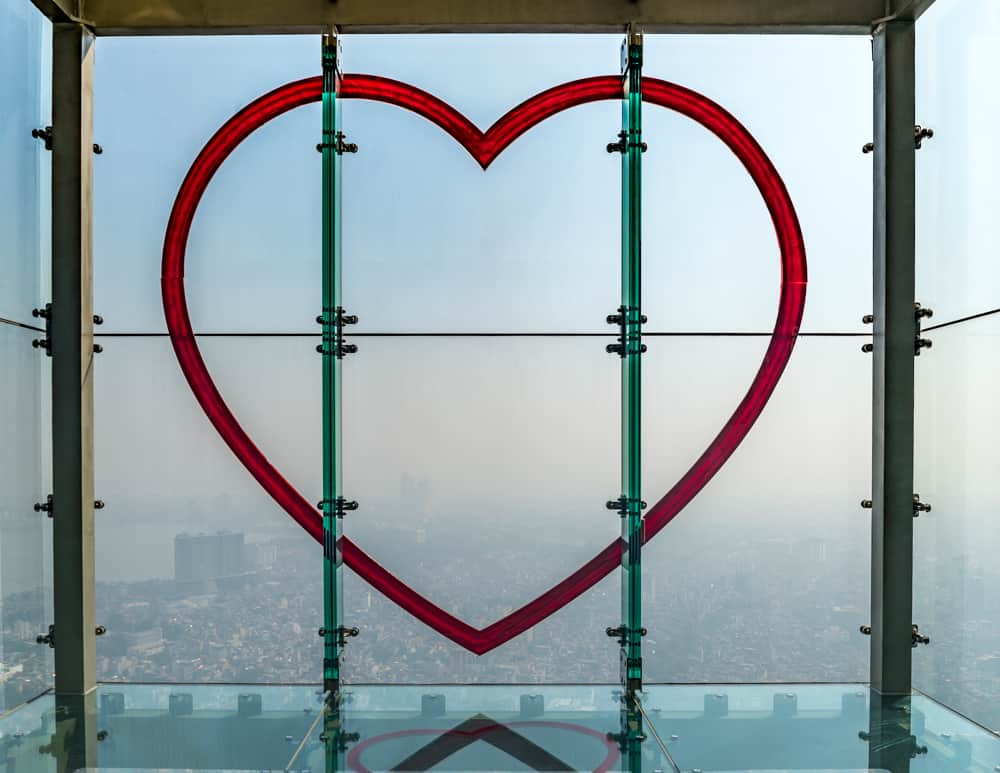 Cat – Walk My World
Whilst the capital of Vietnam has a long history with many incredible things to see, the modern side of this rapidly developing city is often overlooked on most people's Hanoi itinerary.
An icon of the modern Hanoi is the Lotte Tower, a huge skyscraper in the west of the city. This tall glass building has an observation deck on the 65th floor, offering some of the best views of the city. From here you can see the surrounding area and river, as well as watch the bustle of the city below.
There are plenty of things that kids will love here, starting with the Sky Walk. These are areas with glass floors and ceilings that make you feel like you are genuinely walking in the air! There are also various photo zones and telescopes on the observation deck to get better views of Hanoi's icons.
Most people choose to go during the daytime, but you could visit in the evening to see the city lit up from the tower. This will also be a time with very few people.
The best times to go are between 8.30am and 10.30am, or 10pm-11pm. This is because the entrance fee is half price at these times, bringing the cost down to $5 USD for adults and $3 USD for children between 3 and 12 years old.  
Book your ticket for the Lotte Tower here
Ho Chi Minh Mausoleum Complex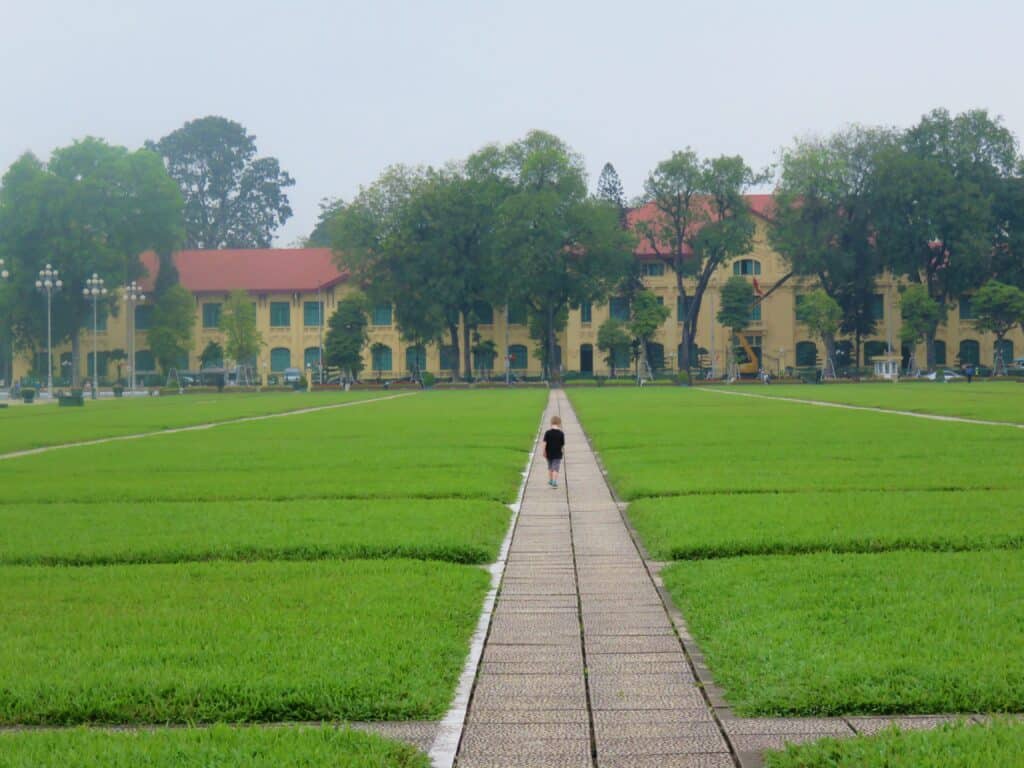 Kirsty – World for a Girl
Visiting the tomb containing the preserved body of a dead politician may not sound like a great activity for children in Hanoi. But the Ho Chi Minh Mausoleum Complex is more than just the mausoleum. In fact, the complex has large and impressive grounds. Perfect for some outdoor time in a city as busy and crowded as Hanoi. 
Ho Chi Minh is considered the father of Vietnam and was the founder of the Vietnamese communist party. The grand, expansive complex is all built in his honour and thousands of Vietnamese locals visit every year to pay their respects. 
The Ho Chi Minh Mausoleum complex consists of six main parts: Ba Dinh Square, the One Pillar Pagoda, The Presidential Palace, Ho Chi Minh Stilt House, the Ho Chi Minh museum and the Ho Chi Minh Mausoleum
If your children are older and you wish to enter the mausoleum be prepared for long queues, strict dress code and tight security. Entrance is free. The mausoleum closes at 10.30 am on weekdays and 11 am at the weekend so plan a morning visit.
Visiting the Ho Chi Minh museum and Stilt house costs 40,000 dongs per person. It is recommended that you hire a tour guide to take you around the museum.
Younger children will love watching the Changing of the Guards ceremony which takes place daily. Little ones will enjoy attempting to march along in time with the soldiers.
The official raising of the flag takes place at 6 am each day if this is a little early, there is a shorter Changing of the Guards ceremony at 10.30 am each day ( 11 am at the weekend) to mark the closure of the mausoleum for the day. 
Museum of Ethnology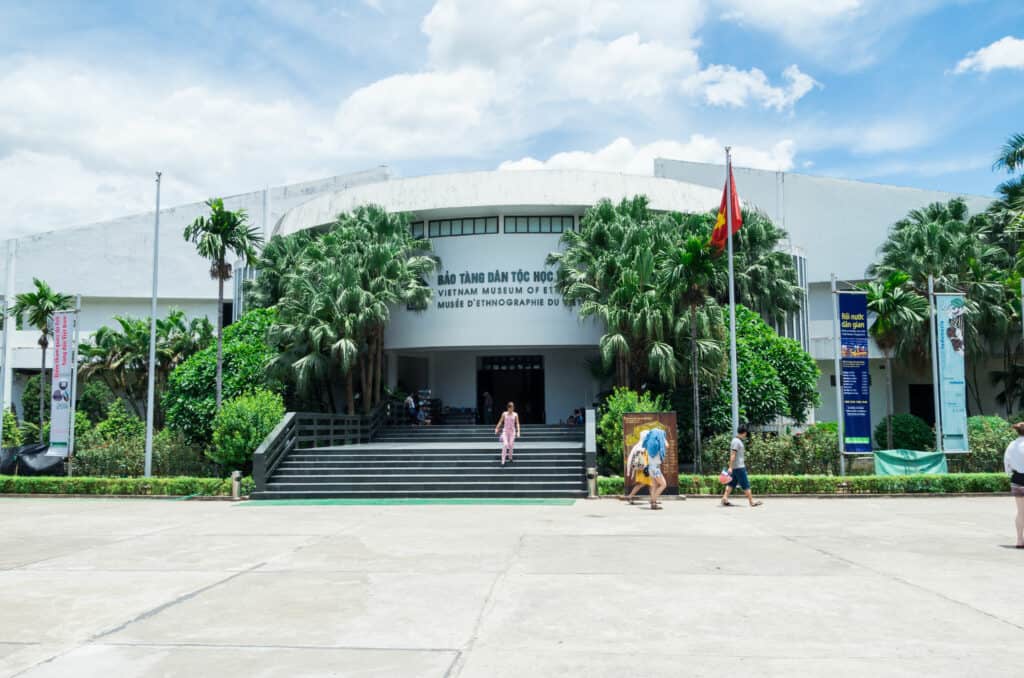 Pam – Travel Hacking Mom
One of the most fun things to do in Hanoi with kids is visit the Museum of Ethnology.  It is a museum that allows children to see how the different ethnic groups in Vietnam live.  They can learn about the 54 ethnic cultures that make up Vietnam and see how they dress, cook, and live. 
The museum has two sections, an indoor and an outdoor section.  Indoors children can see cultural exhibits but it is the outdoor section that is more enjoyable for children as it contains traditional houses where they can see how the different ethnic groups really lived.
These are real buildings brought from other areas of the country.  Children enjoy walking in them and imagining life for the children that lived there. There is even a small outdoor water puppet show here included in the price.  
The museum is open every day except Monday from 8:30-5:30. It is located at Nguyen Van Huyen St, Cau Giay, Hanoi and the cost of admission is 25,000 VND for adults, 5,000 VND for children and children under 6 are free.
The best way to visit the museum though is with an English speaking tour guide.  That will cost another 50,000 VND. That sounds like a lot of money in Vietnamese Dollars but 25,000 VND is only worth about $1! This is a very affordable activity! 
Nghia Do Park is located right across from the museum.  It has children playground equipment, some paths, and a lake.  It is a great place to take the kids to after visiting the museum and let them run around.
Halong Bay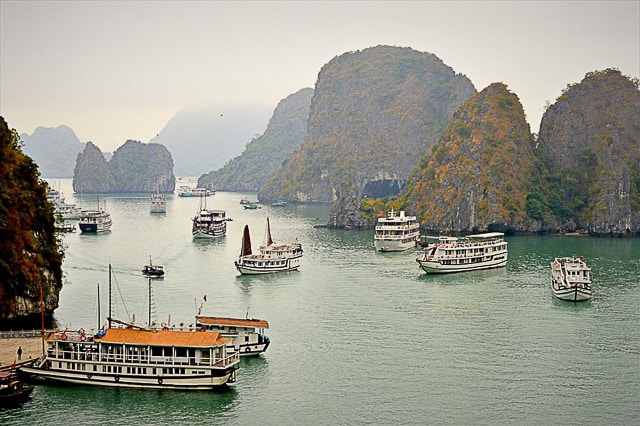 Melissa – Thrifty Family Travels
A cruise through the beautiful UNESCO World Heritage Site of Halong Bay is an absolute must for families visiting Hanoi – and while I'd recommend doing at least a 2 day cruise – if you only have the one day it still is very much worthwhile. 
 It used to take around 4 hours to reach Halong City Harbor from Hanoi, however, with the opening of the new expressway you can be there within 2.5 hours.  So while it still makes for a long day trip – it is now possible to do a one day trip to Halong Bay from Hanoi.
Halong Bay is absolutely stunning with all the lush limestone cliffs jutting out of the water – it really does have to be seen to be believed.  A one day tour will have boarding a traditional wooden junk boat where you will admire the beauty of the bay as well as enjoy a delicious seafood lunch. 
Activities throughout the cruise usually include things like a stop at the Thien Cung Cave where you will see the huge chambers filled with stalactites and stalagmites as well as get a fantastic view across Halong Bay.  Some cruises also include the opportunity to kayak through the bay.
Given it is a long day trip for younger kids – I'd recommend bringing along books and activities for the bus ride. 
Book a Day Trip to Halong Bay Here
Or
Book this 2 Day 1 Night tour which allows you to spend a memorable night on a cruise through the bay
Train Street
Janine and Alex – Get Out with Kids 
If you are looking for a free and fun thing to do with kids in Hanoi, take them down to 'Train Street' to check out 'life on the tracks'. It is a must when you're visiting this cultural town in Vietnam. 
The train usually comes twice daily, around 3pm and 7pm, but don't worry if you miss it, you will still get to enjoy walking along the tracks and seeing the how the locals live.
You'll see everything from chickens to motorcycles and dogs as well as local kids and other tourists. Hanoi's 'Train Street' is an exciting and interesting place to take the kids for a glimpse into life in this part of the city. You could spend hours on the tracks, or beside the tracks. 
Take a rest in one of the cafes or restaurants, set up to take advantage of the tourists that come to see the street and enjoy the ambience of the area. 
If you are around when a train passes through the railway village, you will witness children being rushed indoors, washing pulled away, and bikes moved to the side of the street, right before the train rushes past. And as if nothing had happened, instantly after the train has moved past, children go back outside to play, bikes and laundry pulled back out onto the tracks, and life continues. 
The official location of the street is Ngo 224 Le Duan, in-between Le Duan, and Kham Tien. 
Make sure if you're intending to see the train pass through, that you're there at least 10 minutes before the scheduled pass through time before they close off the street to cars. Ask your hotel reception if they know when it should pass through. Otherwise, go whenever and enjoy all that 'Train Street' has to offer.
Just please be careful and don't risk staying on the tracks too long to get that perfect photo… it's just not worth it!
Ease your Family into Vietnamese Culture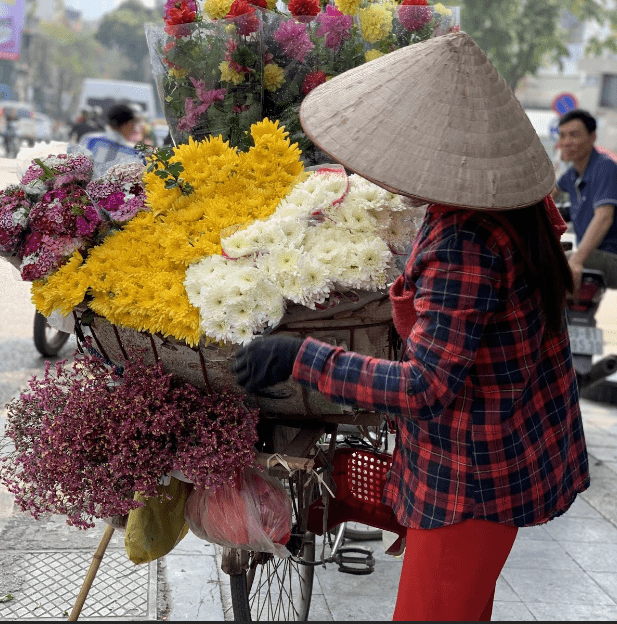 Claire – Surf and Scallop
Vietnam has secured a special place in my heart. Having first travelled to Saigon, I discovered the openness of its people as well as the chaos it thrives on. 
The chaos can be disheartening when you're travelling with kids — be it the endless trail of scooters, the influx of people, the language barrier and a new food profile. Hanoi is no different. Yet, I really see it as a wonderful segway into South-East Asia. 
Here's how. 
Hanoi was once a French colony. It is now dotted with decadent French-style cafes like the charming Nola Cafe in the Old Quarter of Hanoi. It's familiar yet positively different, allowing you to ease into a more local scene. 
Another great activity for families is Hoàn Kiếm Lake. If the kids wake you up early, it's the perfect opportunity to experience the lake's surrounding area. You'll find it buzzing with energy, with residents practicing tai chi, Zumba and even badminton. 
What's more — the lake area is fully pedestrianised on the weekend, with plenty of distractions for children.  And if that's not enough, there's the Temple of the Jade Mountain, which has a giant embalmed turtle.
All in all, Hanoi is very well catered to tourists, making it a great destination to visit with kids.
Our choice of hotel is Hanoi La Selva. They provide a 5 star service, with comfortable rooms and the location is unbeatable. They also serve a buffet breakfast which caters to Western tastes, so families are not short of options. 
Final Thoughts on Visiting Hanoi with Kids
We hope that you have enjoyed reading about all the great things to do in Hanoi with kids. We feel that Hanoi is a great place to visit with children and a couple of days in the city will give them the chance to take in a culture and environment that could be very different from life at home.
Hanoi makes a great introduction to this incredible country and gives the opportunity to learn a bit about the history and culture of the country before heading off to great destinations like Hoi An, Ninh Binh, and Halong Bay where you get the chance to see a bit more of the natural beauty of Vietnam.
Check out our Vietnam 10 day itinerary for more ideas of where to go.