To get the most out of any kids tablet device you will need to add the best toddler apps to give your child age-appropriate content with great educational and entertainment value.
Some tablets, like the Amazon Fire for Kids tablets, come with age-appropriate content already curated and recommended for you. Other tablets will require a bit more digging to get the best out of them.
To help decide what to load onto your tablet, in this post we share our thoughts on the best apps for toddlers whether you have an iPad, Android tablet or Amazon Fire tablet
Do You Need a Tablet for Your Toddler?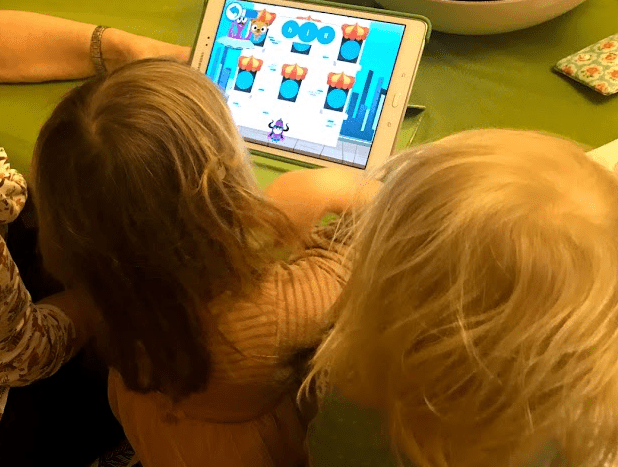 We think that it is a good idea to let your toddler have their own tablet rather than trusting them with your own and risking them dropping it or deleting all your most important things.
Kids tablets don't need to have the most powerful processors or amazing screens. But they do need to run smoothly and be able to cope with the odd drop and endless tapping on the screen.
We have written a detailed post on the best tablets for toddlers which offers lots of advice on what to look for when choosing a tablet and shares what we think are the best ones to buy. You can read the post HERE.
One of our favourite tablets for young kids is the Amazon Fire HD Kids Edition tablet which you can get HERE.
Here are some of the main reasons that we recommend this tablet:
Great Value. Good specs for low prices.
They give you a 2-year guarantee – No quibbles. If your child throws it and smashes it you get a replacement!
It comes with a childproof case in a few colours. This makes it easier for small hands to hold onto and also reduces the chance of it getting damaged.
You get loads of great kids content though Amazon Free Time Unlimited. This comes free for the first year. You can also try Amazon Free Time Unlimited on your existing tablet by signing up for a free trial HERE.
There are 3 versions in different sizes so you can choose how much you want to spend and how big you want your screen.
Click Here for the Latest Prices
You will need some headphones for your toddler. We have reviewed all of the best headphones for toddlers in this post. The most important thing is to get ones that are volume limited for delicate eardrums. These ones are the best.
Screen Time
Screen time always comes with a certain level of parenting guilt, we think that having a tablet is pretty much essential when travelling with a toddler and comes in handy back home as well.
As long as it is not all they do we see no reason to worry too much about using technology and studies have shown that using a tablet can be beneficial when done in the right way.
Limiting screen time is something that most parents will want to do. Many tablets have parental controls that will allow you to set a time limit after which the table will stop working.
We also feel that this is an opportunity to introduce some routine into your child's playtime and will hopefully help them to develop a sense of self-control and understanding that screen time is limited and once it is over it is time to do something else.
That is the theory anyway! I can't say it always works without a fuss in our household, but mostly it does.
10 Best Toddler Apps for iPad, Android and Amazon Fire
Here is a selection of some of the best apps for toddlers on iPad, Android and Amazon Fire.
We have included the apps that we have enjoyed playing the most with our children, and to make sure we haven't missed anything brilliant, we asked some other blogging parents for their top recommendations.
We hope that the list helps you to find some apps that your child loves to play!
Teach Your Monster to Read
Teach Your Monster to Read has to be one of the best educational apps for toddlers. It encourages toddlers to improve their letter recognition both through the shapes and the sounds of the letters (make sure you have some good kid's headphones).
The game is all pulled together in a really fun way and your little one starts off by designing their own monster to go on a quest where they must pass various letter based challenges to progress to the next level.
Teach Monster has a good life span and takes your child from their first letter sounds to recognising and spelling whole words and sentences in the more advanced levels.
It is a brilliant introduction to phonics and a fun way to get your child interested in letters and reading. As one of the best learning apps for toddlers, it is usually a paid-for app. But we managed to get it when it was on a free apps for kids offer, so keep your eyes peeled!
There is also a completely free version available on a desktop which you can play here
Dr Seuss's ABC
Our family loves the app Dr. Seuss's ABCs, which we've used on the Amazon Fire tablet. It's an interactive recreation of the book by the same name, but it offers so much for toddlers and preschoolers.
There are three modes available depending on how your family wants to use it: auto-play, read it to me, read it myself. The auto-play mode flips through the pages while reading aloud and is perfect for the youngest users.
From their perspective, it's almost movie-like; however, the animations are limited, slow and keep the focus on the content so as not to overwhelm little kids.
Read it to me is similar but self-paced. Kids can take time to touch various objects on each page to hear and see their names – great for reinforcing early reading skills. Our daughter learned her ABCs from this app during our family's cross-country road trip last summer!
Lastly, there's an option to allow kids or parents to flip through it like an ebook without the narration. That mode still lets kids tap objects to hear and see their names, but is perfect for storytime on-the-go. All in all, this is a great kids app and one of the best educational apps for kids.
Melissa – Travel Carseat Mom
Bugs and Numbers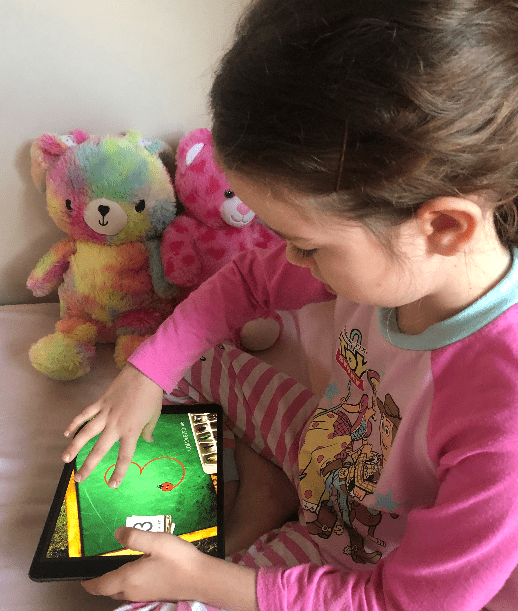 Bugs and Numbers is an amazing app for pre-schoolers (and beyond) to practice their math skills whilst having fun. The game-play is very engaging and makes the learning experience so much more enjoyable and playful.
Each activity starts at a very basic level and levels up automatically when each skill is mastered. The concepts it covers include number and shape identification, patterns, subtraction and addition, through to measurement, telling the time and fractions.
A side bonus is that the app doesn't feature in-app purchases and there are no ads displayed. Another great feature is that you can create multiple user profiles if you have more than one child using the app.
The app works perfectly on an iPhone but it's even better on an iPad to fully enjoy the stunningly clear and mesmerizing graphics. Together with the beautiful background music and fun sound effects, your kids will have fun learning new math skills.
It's safe to say that this app will a favourite for years to come and we think it is the best app for toddler development.

Jaye – Parties Made Personal
Endless Alphabet
My son has been playing Endless Alphabet since he was about six months. He could match up letters at about a year with no issues. This is one of the best learning apps that I have come across as an avid "Techie Mamma".
The little monsters give you a word and then the puzzle is mixed up and ready for the letters to be matched up. After it is matched correctly it comes to life and the word is defined in a cute way with the Endless monsters. Not only do preschoolers learn the letters and sounds but grow their vocabulary in the process.
The fuller suite of Endless Academy includes music, spelling, math, reading, Spanish, and more. The best thing about this game is that there is no fails, kids learn at their own pace through play and they don't get a try again or wrong they just see that it doesn't match and on their own try again.
Cousett – Techie Mamma
Tiggly Chef

Tiggly Chef is a fun, interactive, mathematical game for young children. Your child will cook his/her masterpiece while practicing counting and addition.
Place everything correctly into the frying pan, and you'll get to "eat" a rather funny but delicious meal. The game can be played in two different ways. A child could choose to follow one of the chef's recipes, or they can choose to create their own.
As soon as they are ready to start cooking, the chef will ask for a certain number of a particular item. Afterwards, it is up to the child to slide across the screen to find the correct amount of such items.
Once they do, the child can slide each item to the frying pan. As each item is placed, the chef will count by the amount.
For instance, 1+1+1+1=4 Once all the ingredients are added correctly, the chef will prepare you a fantastic meal! So, what are you waiting for? Let's get cooking!
Ashley – Navigating Homeschool
Peppa's Paintbox
My kids love the free Peppa's Paintbox app. It begins with choosing who they want to paint with, Peppa or George. Then, they use their fingers to draw and paint on the screen.
There's a choice of Peppa Pig pictures to colour in, or they can go freestyle and create their own. Kids can also select animated cartoon images to add the picture, as well as cool effects like sparkling stars and popping bubbles.
As soon as a child is old enough to tap at the screen they can play, so it is one of the best apps for babies free of charge. And it continues to entertain for many years.
Jenni – Cruise Mummy
Balloon Pop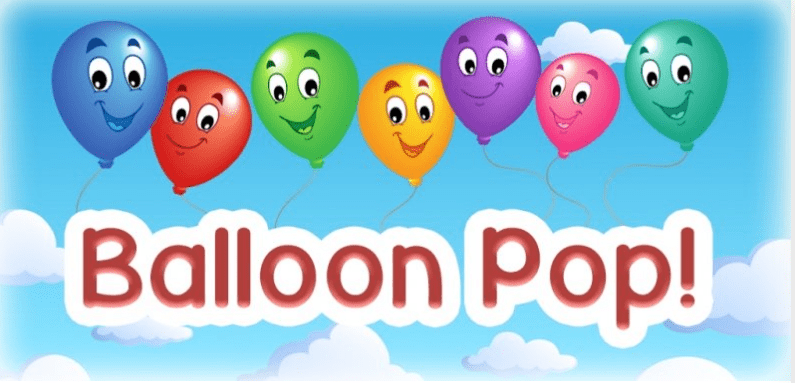 This game is really simple which makes it a good first app for a baby or young toddler. All you do is press the screen and pop the balloons. It gets a young child used to the idea that touching the screen will make something happen and will encourage the development of hand-eye coordination.
Balloon pop is so simple that your child will pick it up straight away and it should keep them amused for quite a while.
There are more advanced levels where you have to pop specific colour balloons or balloons with letters on so there is room for the game to grow with your child.
We think that this is one of the best free apps for 2 year olds and under, and one of the best free apps for babies.
Laugh and Learn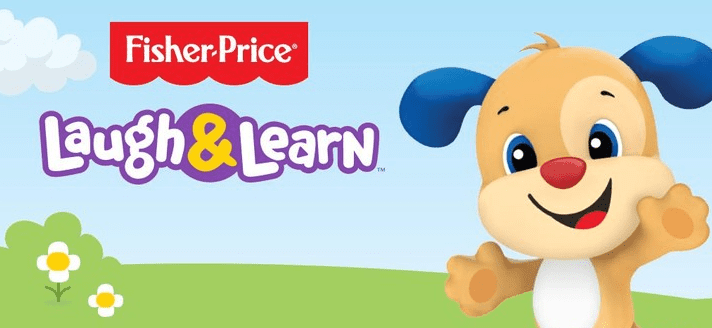 There are a ton of applications in the market for young kids. Most of these apps help toddlers to gain basic skills. One of the best learning apps for kids is Laugh and Learn by Fisher Price.
The app is designed to make kids learn about different animals and their sounds. The app uses various effects, animations and sounds to draw the attention of kids. The app starts with a colourful background and then each animal appears on the screen. The child can interact with these animals through touch and tilt.
The app says the animal name and makes its sound. After the kid learns a set of new animals it's time for some music. The app sings a song with all these animals involved, and it's more than fun for the kids! It could be a good choice for parents when travelling to keep kids engaged.
This is one of the best toddler apps in the market which is fun and also toddler-friendly.
Athul – Our Backpack Tales
Thomas & Friends: Go Go Thomas
Young kids love to play games with their favourite characters and Thomas has been a favourite in our household for years, This is a good game to play along with your toddler trying to get Thomas and the other trains to go as fast as possible.
It is a simple tap the button as fast as you can game, with the chance to pick up and use speed boosts to help you go extra fast.
You can either race against each other or take on the one player mode where you take part in a series of races against Thomas's Friends.
It is one of our favourite free toddler games, but there are lots of paid-for extras in the game. Unless you pay extra, you can only race as Thomas and only on certain courses. Fortunately, our girls are happy with what is available (for now at least), but it does all add up if you want to open up all the features.
My Very Hungry Caterpillar
This is a really nice looking game in which the familiar Hungry Caterpillar has been transformed into a 3D moving caterpillar. Of course, he is in search of something to eat and it is your job to help him find what he is looking for.
To do this there are some simple challenges that require your little one to match up shapes and colours, feed and nurture the caterpillar. It starts off quite simple and is a nice free game for young toddlers.
The harder levels might need a bit of help from mum and dad but that is ok since playing on a tablet with family is a great way to introduce your child to this technology. We think that this is one of the best free toddler apps,
My Talking Tom
This is a hugely popular game on the app store and one of the best free apps for toddlers. You adopt a cute cat called Tom and take care of him. You can feed him, take him to the toilet and makes sure that he gets enough sleep. There are a whole bunch of mini-games that involve problem-solving or test skill and reflexes.
But, to be honest, in the hands of a toddler, the talking feature is all that you need to keep them amused for hours. Talking Tom repeats everything that you say in a funny voice.
This seems to provide young kids with pretty much endless entertainment and as they get older they will be more interested in the mini-games. It is a free game with in-app purchase options, but little ones should be happy enough with the free elements.
Final Thoughts on the Best Apps for Toddlers
We hope that you have enjoyed reading our guide to the best apps for toddlers. We think that this is a good selection to get your little ones started on their tablet devices and makes a good introduction to the world of apps.
New apps are released all the time so we will try and keep this post updated with our favourite apps. If there is a great game that we have missed please let us know in the comments below and we will try it out with the kids!
If you need a tablet for your kids, check out our guide to the best tablets for toddlers