*This post may include affiliate links, this means that we may receive commissions if you choose to purchase through the links provided (at no extra cost to you).


Hoi An and Hue are two of the must-see places in central Vietnam and are well worth including on any Vietnam Itinerary.
In this post, we will show you all the best ways to travel from Hoi An to Hue. There are a few different options to choose from depending on whether speed, cost or sightseeing are the most important factors for you when choosing how to travel between Hoi An and Hue.
How far is Hoi An to Hue? How long does it take?
Hoi An and Hue are about 125 km apart and the journey can be done in half a day using any of these travel options.
The fastest way to travel from Hoi An to Hue is to hire a private car and to travel to Hue directly, getting you from door to door in around 3 hours.
The slowest way to travel between Hoi An and Hue is to take the train as this involves a couple of changes along the way and you will need to factor in time for these transfers.
Keep reading to find out the best way to travel from Hoi An to Hue.
---
Planning a trip to Vietnam? Read these related posts

Where to Stay in Hoi An
---
How to get from Hoi An to Hue
Hoi An to Hue by Private Car
Duration: 3 hours (plus optional stops)
Cost: Check Here
Taking a private car from Hoi An to Hue has become a very popular option. It is the easiest and most comfortable way to travel between the two cities and will take you door to door between your hotels without any need to carry your luggage anywhere.
A private car is a surprisingly affordable way to travel, particularly for groups or families, and give you the option of turning the journey into a sightseeing experience.
When you arrange a car you have the option of going straight to Hue (in about 3 hours), or asking the driver to make some stops along the way turning it into a full day trip (for the same cost).
It is usually possible to arrange an English speaking driver The most popular itinerary is to stop at the Marble Mountains and to take the Hai Van Pass (rather than the tunnel) to take in some views along the way, and you could also stop at a beach.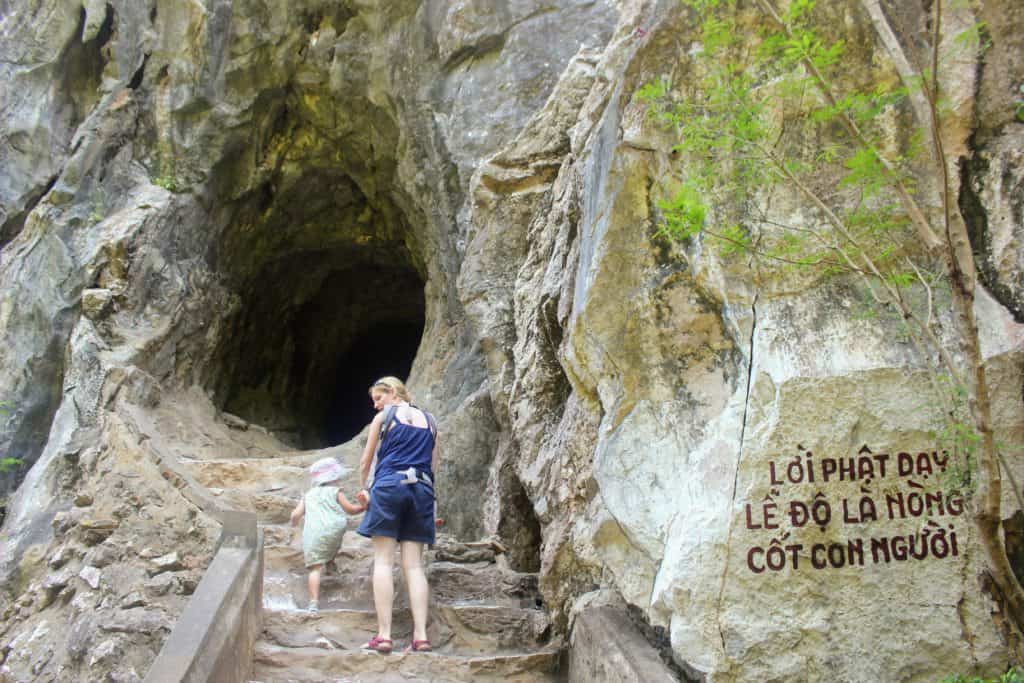 We did this and felt that it was a great way to travel between Hoi An and Hue. The Marble Mountains are rocky limestone mountains that are now sat unpromisingly on the edge of an industrial estate. But once you have climbed up (by stairs or lift) you can explore a number of interesting little temples.
The highlight is a really spectacular cave temple which is truly atmospheric. The drivers are happy to do whatever route you ask and will be happy to wait as long as you need.
The day we went the weather wasn't great and the twisty ride over the Hai Van pass made us feel a bit queasy so I am not sure we would do that again despite the nice views.
We think that private cars are the best way to travel from Hoi An to Hue for a family. It is comfortable flexible and easy to transport all your luggage.
Book Your Private Transfer Here
For a unique twist on the Hoi An to Hue private transfer, you could opt to do the tour in this retro army jeep.
Hoi An to Hue Motorbike
Duration: 5 hours (plus optional stops)
Cost: Check Here
Motorbike is another popular way to travel between Hoi An and Hue. It is possible to join a tour with an experienced guide to show you the way and help you to arrive safely.
If you are not experienced riding a motorbike you can do the tour riding on the back of the bike with an experienced rider.
Part of the attraction is the opportunity to drive from Hoi An to Hue via Hai Van pass, a twisty mountain road that gives you the chance to takes in the impressive views. This is not a route to try if you aren't confident and experienced riding a motorbike.
If you go on a day tour like this they will transport your luggage to Hue for you so you don't have to worry about fitting it on the bike or carrying it.
Hoi An to Hue Bus
Duration: 3.5-4 hours
Cost: From $6 per person
The bus is a cheap and convenient way to travel from Hoi An to Hue. There are several bus companies that ply this route and you can choose between a bus with standard seats or semi-sleeper seats if you fancy a little bit more comfort.
The bus takes the route through the Hai Van tunnel so you miss out on the views. But it is a safer route and will get you there quicker.
The bus is the best way to get from Hoi An to Hue if you are on a budget. It is simpler, quicker and slightly cheaper than taking the train. The best bus from Hoi An to Hue is the Sinh Tourist Bus.
Hoi An to Hue Train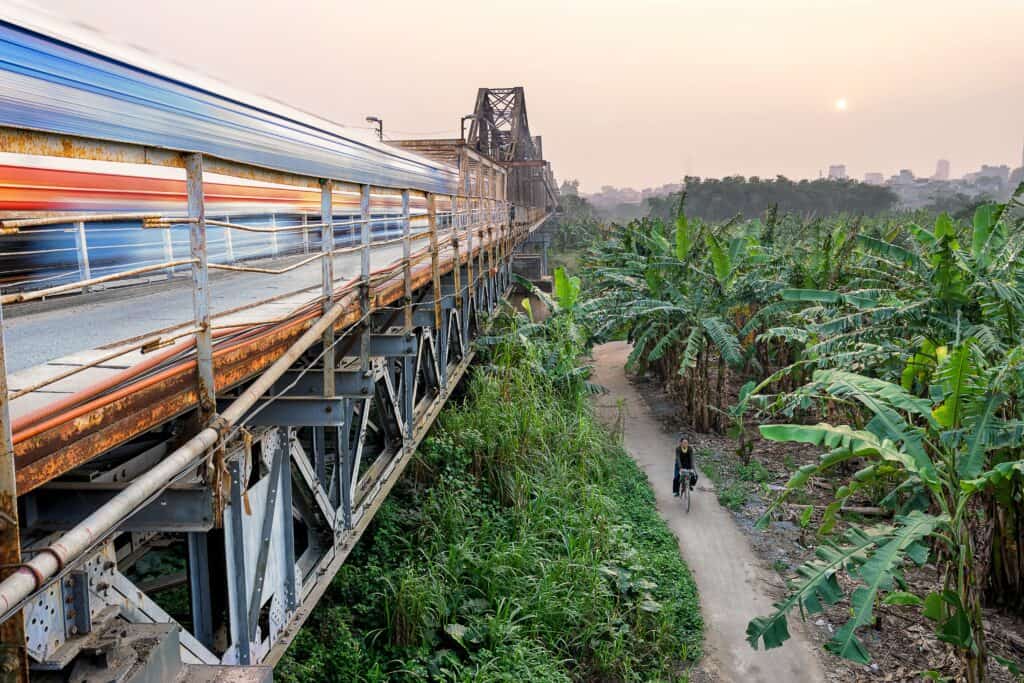 Duration: 4 hours
Cost: From $6
We always like to travel by train and the route between Hoi An and Hue is quite scenic as it runs along the coast for quite a lot of the way and past the Hai Van mountains.
There is no train station in Hoi An so it is not possible to do the whole journey by rail, you must first get yourself to the train station in Da Nang.
To get from Hoi An to Da Nang railway station takes about 45 minutes by public bus service and costs around $1. It is also possible to take a private car or shuttle bus to the station in Da Nang.
From Da Nang to Hue it takes 2.5 to 3 hours on the train to Hue. Train ticket prices vary slightly depending on which train and class you go for, you can check prices and book train tickets here.
When you arrive at Hue train Station you will be about a 30-minute walk from the city centre or 10 minutes by taxi.
All in all, this is the most complex way to travel from Hoi An to Hue with a few changes involved. It is perfectly manageable though and if you enjoy travelling by train it is worth considering this over the bus.
Hoi An to Hue Cost
You can compare prices for all travel options available on your dates by using this search box:
Where to Stay in Hue
We stayed at the Emm Hotel Hue, it lacks a bit of character but the breakfast was amazing, the pool was nice and the rooms were comfortable.
Check availability for your dates
Final thoughts on travelling from Hoi An to Hue
We hope that you have enjoyed reading our how to travel from Hoi An to Hue guide. We chose to take a private car and this that this was definitely the best option for us with our two young children and lots of luggage.
We enjoyed being able to break up the journey at the Marble Mountains and turn the day into more than just a travel day.
We feel that the cost of a private transfer is great value for a family or a small group but of you are travelling solo or as a couple, you may prefer to save the cash and choose between the convenience of the bus or the comfort of the train.
Enjoy your time visiting this great part of Vietnam!