Hoi An is one of the highlights of Vietnam and we think that our Hoi An 3 day itinerary will help you to make the most of your time here.
You will find a small city packed full of picturesque buildings that perfectly blend colonial influence with Vietnamese charm. Hoi An is blessed with some beautiful temples, a stunning riverside setting, boutique shops, fabulous food and even a beach.
We recommend spending at least 3 days in Hoi An and the itinerary below will ensure that you see all the best bits of Hoi An.
How to Spend 3 days in Hoi An
Hoi An Itinerary: Day 1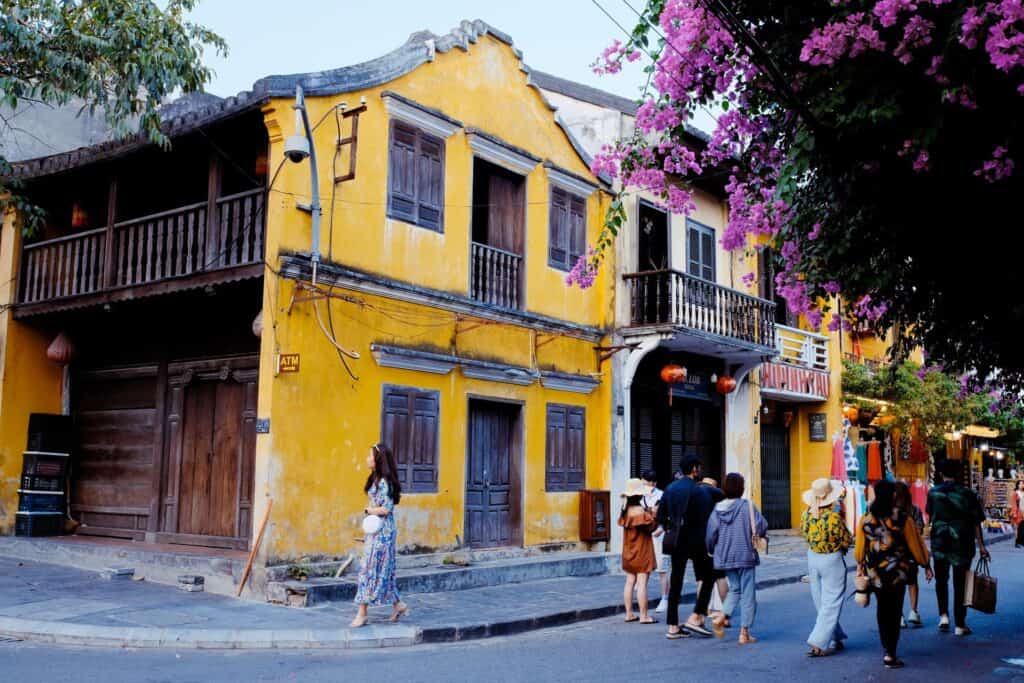 Explore the Old Town
The old town is why you have travelled all the way to Hoi An so, if you are anything like us, you will be keen to get out and have your first look around on day 1.
The ancient town is an amazingly atmospheric and well preserved old town which has been designated as a Unesco world heritage site.
Just wandering around the streets and seeing what you stumble across is one of the joys of Hoi An. It is not a big place so exploring on foot is easy. If you want to save your legs (and it can be very hot) you could book a cyclo tour.
Don't forget your ticket
To visit the old town you need to buy an entrance ticket (120,000 VND per person, free for kids). The ticket is officially required to walk anywhere in the old town, but you might well never get asked for it and it is easy to miss the ticket offices that are around the edge of the old town. The ticket fees are put forward for the preservation of the ancient city.
The ticket also allows you to visit 5 of the historic sites and museums around the town that are some of the best things to see on your Hoi An itinerary. You can't buy a ticket at these historic sights, so be sure to pick one up when you enter the old town and keep it on you, it will last for your whole visit to Hoi An.
It is a shame that the ticket doesn't allow you to visit all the historic buildings. You will need to prioritize what you most want to see or buy extra tickets if you want to see them all. Many of the old houses are quite similar so you should get a good taste of historic Hoi An in your 5 visits.
Get Clothes Tailor Made
Whilst you are looking around town you will notice that there are loads of tailors offering bespoke services. If you are planning to get any clothes made whilst you are in town it is a good idea to get measured up on your first day so that there is plenty of time for them to make your clothes and do any alterations that are necessary.
We weren't this organised on our visit and found out that the tailors here can produce clothes amazingly quickly, so if you don't do this on your first day there is still time to get something made.
Whilst you are in the old town you will notice that there is a huge range of places to eat and drink. Hoi An has some fabulous food so take advantage of whichever eatery takes your fancy. Our favourite place here was actually an Indian restaurant, but there are loads of great Vietnamese food options.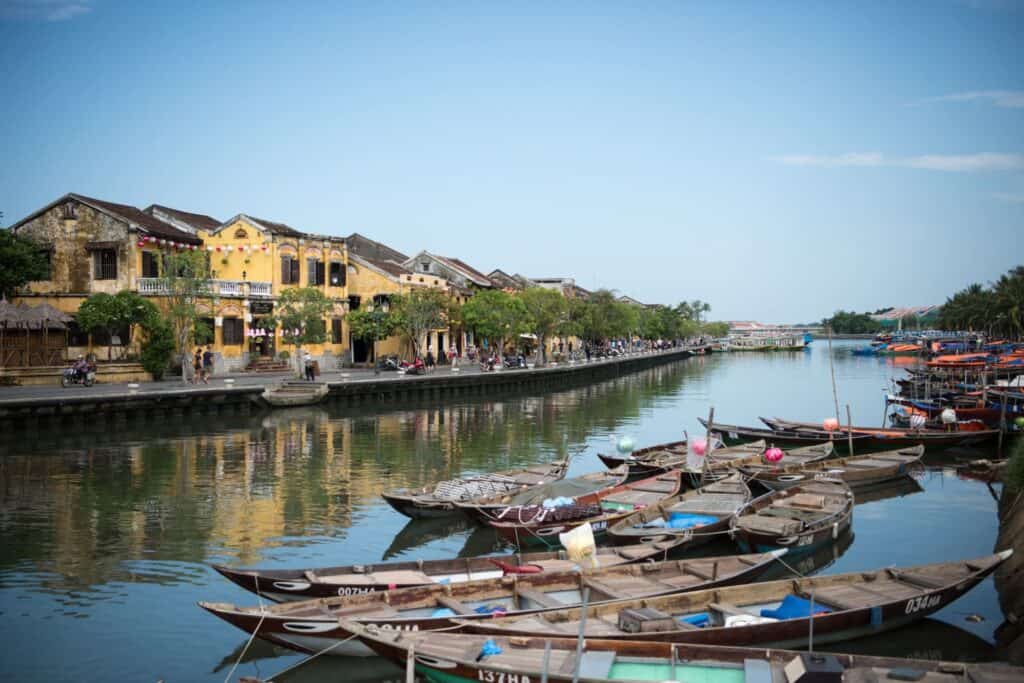 Thu Bon River Boat Trip
After a stroll around town, it is a nice idea to take a boat trip up the Thu Bon River. This gives you the chance to see life on the river and pass locals out fishing and try to spot some wildlife. The majority of people that take boat trips, do so after dark and the river gets really crowded. We recommend getting out in the daytime for a more tranquil experience (and a better view).
To find a boat, just walk along Bach Dang Street near An Hoi Bridge and boat owners will approach you with offers of boat trips ranging from one hour to half a day. Be sure to negotiate on the price and you can get a pretty reasonable rate. If you prefer to avoid the hassle of the haggle, you can book a trip in advance here.
A more energetic alternative that would be fun with older kids, is to paddle yourself on a traditional coracle boat. These circular boats are made from split and interwoven willow rods, tied with willow bark and can be used to explore the submerged coconut forest or fishing villages near Hoi An.
>> Book your paddle adventure here.">>> Book your paddle adventure here.
Hoi An Itinerary: Day 2
Hit the Beach
Hoi An is like getting two destinations for the price of one. You get the famously picturesque old town, but you also get the chance to visit the beach just outside the town.
There are actually a couple of different beaches that you can visit: Cua Dai beach and An Bang beach are about 3km apart whilst in the middle you can find a 'secret beach'. An Bang is probably the best option and is certainly the most developed with restaurants, hotels and all the facilities that you need for spending a day on the beach.
A lot of people rent bikes for the day to get to the beach cheaply and enjoy a pleasant cycle through the paddy fields. If you plan to do this try and find a route along back roads as the main road between town and the beach is pretty busy.
You will have to pay a small fee for parking your bike at the beach. Go for one of the ones slightly further back from the beach as they give you a free bottle of water.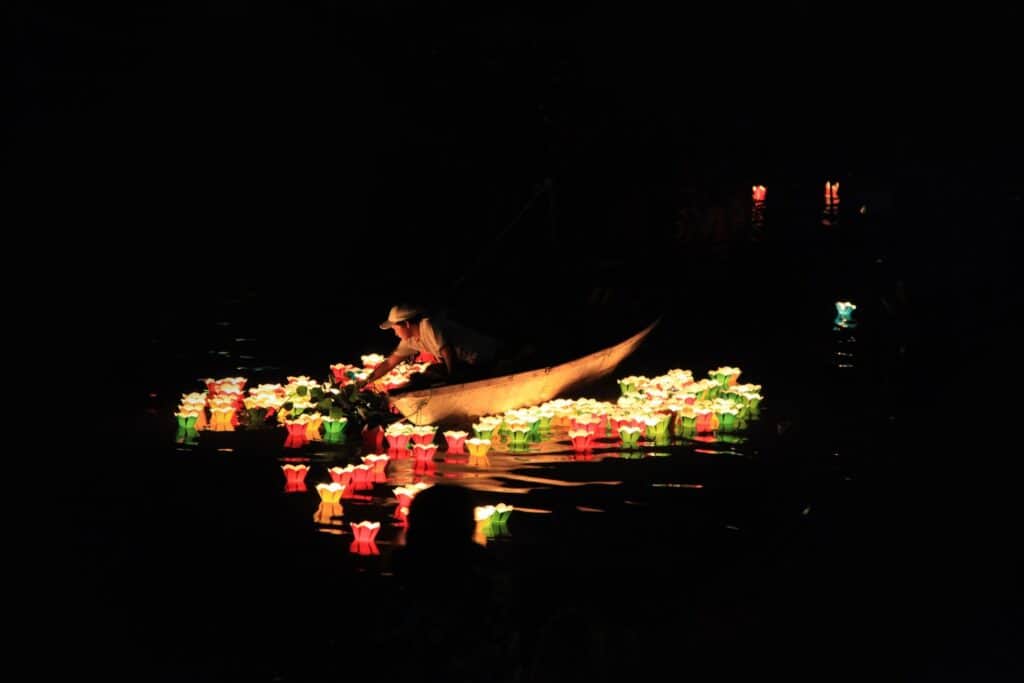 Hoi An Night market
After spending the day on the beach you might be yearning to get back amongst the beautiful buildings of Ancient Hoi An. There are loads of great boutique coffee shops to spend some quality time people watching.
As darkness descends, so do the crowds. Hoi An by night is quite a different experience from the daytime. The streets and shops are lit up by colourful paper lanterns, stalls and hawkers come out to sell their wares and crowds throng the streets.
It is particularly busy in the area around the bridge and over in An Hoi where you will find the main night market. It has a bit of a festival feel to it thanks to the crowds and the music playing.
The river itself becomes filled with vessels as couples and families take candlelit cruises in real boats and hundreds of cardboard boats are released with candles inside. It is a beautiful sight but it would be nice if more environmentally friendly options were being released.
Everyone that visits Hoi An must make sure that they visit Hoi An by night at least once during their trip. If you want to see it at its best (and busiest), try to plan your visit to coincide with one of the monthly full moon lantern festivals.
Hoi An Itinerary Day 3
Take a Cookery Course
If you are a keen cook, love Vietnamese food, or just fancy a great cultural experience, then why not start off day 3 with a cookery course.
This will give you the chance to look around the fascinating central market to buy fresh ingredients before you head to the kitchen to cook up a storm.
After your cooking lesson, you could take the opportunity to further explore the old town and make sure that you have ticked off all the main sights like the Japanese covered bridge and Fujian assembly hall, and explored all of the back streets.
After this, you could watch a water puppet show. This ancient tradition is culturally unique to Vietnam with shows featuring hand-made puppets dancing to music. Tickets are reasonably priced at 40,000 Dong ( $2) for kids, 80,000 Dong ( $4) for adults.
Alternative Day 3 itinerary
If you fancy getting out of the town for your final day in the area, an alternative itinerary could be to visit My Son Sanctuary which is 42km south-west of Hoi An (about an hour away).
It is a UNESCO World Heritage site that dates from the 4th to 13th centuries. It is thought to be the longest inhabited archaeological site in Indochina and is a legacy of the Champa Kingdom that used to rule the region.
Today there are around 20 of the original 70 temples remaining, they honour the main Hindu gods of Shiva, Vishnu, and Brahma.
May Son is sometimes compared to Angkor Wat. It has to be said that if you have recently visited Angkor Wat then the My Son temples may not seem that impressive as they lack the scale of the Cambodian ruins and many were destroyed by US bombs during the American War in Vietnam.
However, if you are only visiting Vietnam these are some of the best-preserved temple ruins in the country and are well worth a visit.
It is easiest to visit the ruins on a guided tour from Hoi An which also has the benefit that you will have the ruins explained to you (there are not many information boards at My Son).
Most tours will drop you back to Hoi An in the early afternoon. You should still have time for a bit of a wander around town and could take in the water puppet show and return to the night market if you liked.
Getting Here and Away
Getting to Hoi An is fairly straightforward. In most cases, you will need to get to Danang first and transfer from there. This takes less than an hour. We have written some detailed posts on travel in the area:
Hotels in Hoi An
Hotels in Hoi An offer fantastic value for money and you can find a great place to stay for any budget.
Below we have listed our top choices of hotels in Hoi An, we have also written a detailed guide to where to stay in Hoi An if you would like more options or more information on the characteristics of the different neighbourhoods.
Little Hoi An Boutique Hotel & Spa– For a charming stay by the river in central Hoi An.
and
Hoi An Coco River Resort & Spa– For a tranquil stay with fabulous breakfasts away from the centre.
Another great place to stay in Hoi An is Tropical Beach Hoi An Resort. This is right by the beach and has fabulous swimming pools.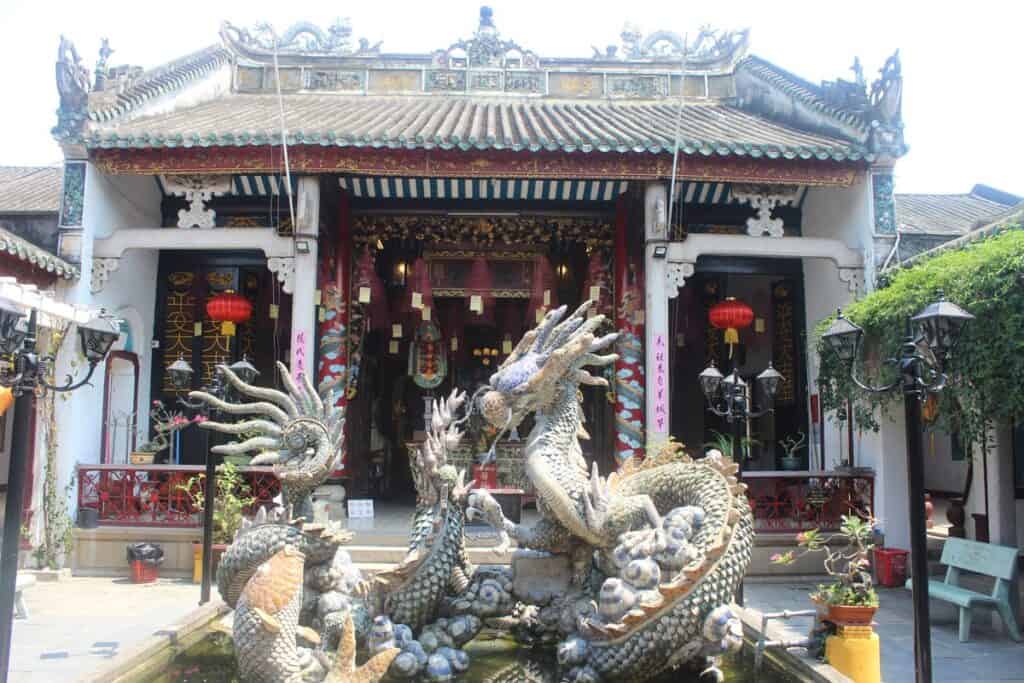 Final Thoughts on our 3 Day Hoi An Itinerary
We hope that you have enjoyed reading our Hoi An itinerary and now have a good idea of what you would like to do with your time in the ancient city of Hoi An.
It is a lovely place to spend some time so you could easily stay longer than we have described in this itinerary. You could happily spend the extra time whiling away your days in the quaint old town or you could try some activities.
However long you stay, I am sure that you will enjoy your visit to the city of lanterns.
Travelling with kids? Be sure to check out our guide to Vietnam with kids, Hoi An with kids and Hanoi with kids