We visited Sardinia with a baby and toddler, and this post will tell you everything that you need to go before going there with your own children.
Sardinia is just stunning. There is an incredible diversity of landscapes in a small area. You can find looming mountains, deep canyons, strange rock formations, enormous caves with huge stalactites, clear blue seas,  and some of the most amazing beaches in Europe!
Not only do you have these amazing natural attractions, but you have amazing Italian food and hospitable locals. It really is a dream location and Sardinia is the perfect place to travel to with a baby or toddler.
Is Sardinia Baby Friendly?
Sardinia is a very baby-friendly travel destination and probably one of the best places in Europe to take an infant. Italians love babies and will welcome you with open arms and Sardinia is a perfect baby destination thanks to the incredible beaches and easily accessible sights.
Is it Safe to Visit Sardinia with a Baby or Toddler?
Sardinia is a safe place to visit with a baby or toddler. Like anywhere in the world you should take sensible precautions, but overall Italy is very baby-friendly and Sardinia is a safe place to visit. If anything bad does happen you will have quick access to good medical services.
Can you get Baby Supplies in Sardinia?
You should be able to find anything that you might need for your baby in Sardinia but try to shop when you are in a bigger town rather than rely on finding things in out of the way places.
Prices are generally higher than in England for things like nappies/diapers and we really struggled to find any affordable baby wipes. You can find baby food, formula, bottles etc. in the supermarkets but we have always taken a supply with us from home. If you use formula milk, you may find that the flavor is different even if the brand is the same as you use at home.
Eating in Sardinia with a Baby and Toddler
One of the great things about visiting Italy is the abundance of wonderful food at reasonable prices. Two of the staples are also likely to go down well with most young children: pizza and pasta. This definitely helps to make Italy one of the most child-friendly places to visit on a family vacation.
One thing that can be a bit challenging in Italy is the opening hours of restaurants. They open very late by English standards at around 9 o'clock (or 8 if you are lucky) and are often only open for a couple of hours around lunchtime.
A few times in more remote areas we ended up missing lunch service and struggled to find any food at all as the shops are open similar hours.
In the evenings the restaurant opening hours do not really fit in with our children's eating habits as they usually eat before 6 pm.
This is less of an issue if you are travelling with a baby. With some luck, you will be able to feed them milk and baby food and have them asleep in the stroller so that you can enjoy a nice relaxing meal together. If you are travelling with a toddler or older child it can be more of a challenge as they get hungry and need something NOW.
On our last trip we mostly went self-catered and cooked our own dinners which solves this problem but it does mean that you miss out on the yummy Italian food.
We often get takeaway pizzas in Italy. All pizza restaurants will put a pizza in a box for you so you can have a delicious, kid-friendly and cheap meal out in the sunshine. Often you will be able to find a nice picturesque spot to eat it.
Most restaurants will be able to provide you with a baby high chair but we like to travel with a Totseat chair harness, just in case.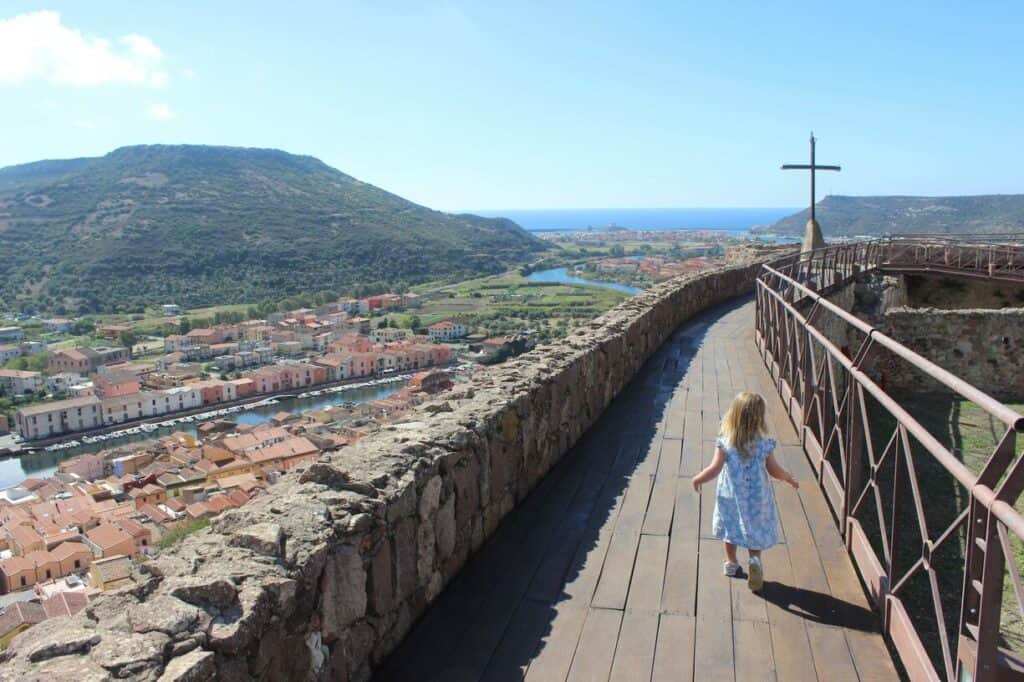 What is the Weather Like in Sardinia?
Sardinia has a Mediterranean climate and enjoys warm dry summers that are perfect for exploring and soaking up some sun on the beach. There is often a gentle breeze and it's possible to find shade, so it's not quite so stiflingly hot as places like the Greek islands.
This is good as we do worry about it being too hot for our baby and toddler when we go abroad.
We took our beach tent with us so that we always had some shade. It also worked really well as a sheltered place to lie our baby down for naps, and a private space for feeding.
As it's a fairly big island, the climate does vary from place to place. In general, the east is drier than the west and the more mountainous regions are cooler, as you would expect.
You might be surprised to hear that the average annual rainfall on the western coast of Sardinia is higher than in London. But it is concentrated in the autumn and winter months leaving the rest of the year nice and dry. Autumn often remains warm but suffers from heavy rainstorms.
Winters are relatively mild in low areas but cold in the mountains. The spring is mild and rainy, but generally drier than the autumn.
Hopefully that gives you some idea of the kind of weather to expect but, of course, there will be variations from year to year. We visited Sardinia at the end of September and into October and the weather was glorious with just one rainy day in 2 weeks.
Is it very crowded in Sardinia?
Another important factor to consider when choosing when to visit is the crowds. Sardinia can get very busy in the summer, especially on popular beaches. Italians almost always take their holiday in July and August and these months are by far the busiest.
This is also the time when you get the best weather and as it's also school holidays across the northern hemisphere this is when it starts to get really busy. If you only have a baby or preschooler then it is definitely a good ide to travel outside of school holidays while you still can!
Although you are almost guaranteed great weather, you may want to consider avoiding these peak months due to the higher costs you will find for accommodation and the more overcrowded beaches that you will find.
If you do decide to come over the peak summer months, try and book for July rather than August as it will be somewhat quieter, and be sure to book well in advance as most accommodation will sell out.
The shoulder season of May/June and September/October are great times to visit with a good chance of warm dry weather but without the crowds of the summer.
If you are keen to swim in the seas it will be warmer in the late summer as it has had the whole summer season to heat it up.
Going on the stats June should be your best bet for warm, dry weather without the crowds. But we had great weather at the end of September and it was very quiet everywhere we went.
The summer season is considered to be over at the end of September and beyond this, you will find that a lot of services like beach restaurants and even some accommodation closes down for the winter.
How to get to Sardinia with a toddler or baby
Fly to Sardinia
Sardinia has three main airports near Alghero, Olbia and Cagliari. The best one to use will vary depending on where you are staying in Sardinia and whether you are choosing to have a base or are travelling around the island. All the airports are well served by scheduled and charter airlines, including some budget airlines that can get you here for a bargain price (including Ryanair, Easyjet, Air Berlin, German Wings and Jet2).
The best way to find a flight to Sardinia from your location is to use the Skyscanner website. This will check the available price with all airlines and allows you to filter by various options like flight time, duration, preferred airline etc. It is a great time and money saver and is always our go-to method for booking flights.
Flying with infants is always something we worry about even though we have flown loads of times and it's always been fine. To make sure that your flight goes smoothly, be sure to check out our guides to flying with a baby or flying with a toddler.
Ferry to Sardinia
If you are travelling from the Italina mainland you can get a ferry to Cagliari (south coast), Porto Torres (north coast), and Olbia, Golfo Aranci and Arbatax (east coast).
To book a ticket try one of the following Tirrenia (state-owned, year-round service),  Moby Lines, Sardinia Ferries, Snav, or  Grimaldi.
Ferries travel everyday between Sardinia with Corsica from Santa Teresa di Gallura (it's possible take a day trip to Bonifacio).
Other ferry options include catching the ferry from Barcelona to Porto Torres, or you could combine your trip with Sicily which is another glorious Italian island but one that has quite a different vibe and a range of unique attractions (we have also written a guide to Sicily with a baby and toddler).
How to Travel Around Sardinia
The best way to get around Sardinia is by renting a car. The bus and train network is fairly limited and getting around Sardinia with a baby or toddler will be much easier if you have your own vehicle. . This gives you far greater freedom to explore the delights of the island and visit the out of the way places and beaches. We use RentalCars.com to compare prices and find one to hire at the best price possible.
The roads are good and there is not too much traffic so driving around is pretty straightforward.
Places to take a baby and toddler in Sardinia
Alghero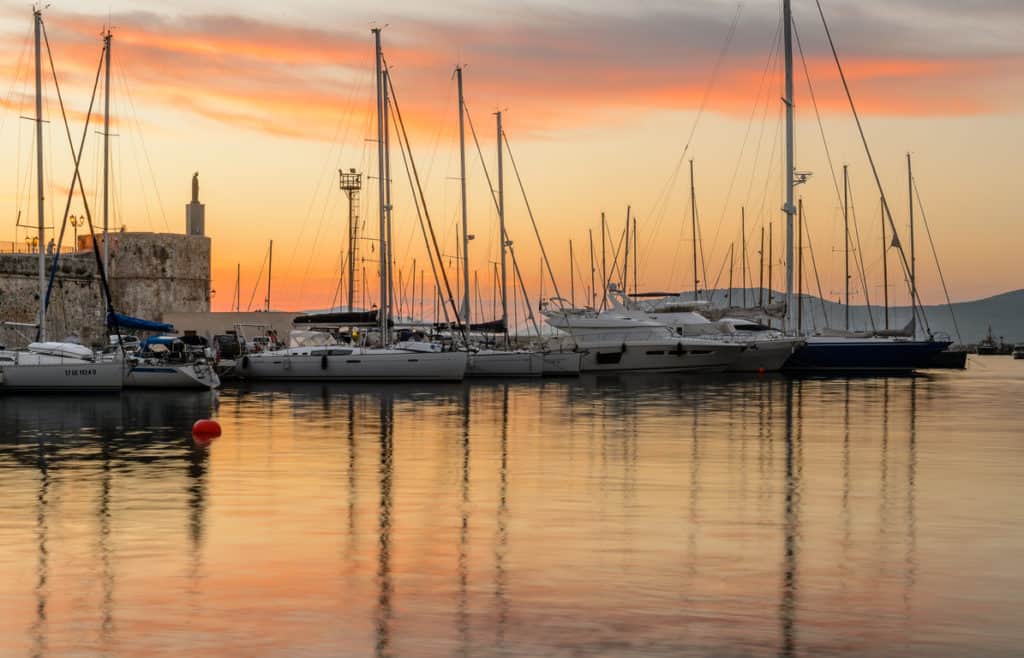 Alghero has both old-world charm and access to world-class beaches making it one of our favourite places in Sardinia.
It is a fortress on the sea with great bastion walls, narrow cobblestone streets, charming piazzas with opulent church. All around the town is some of the most beautiful scenerary in Sardinia with stunning clear sea, rugged mountains, astonishing bays, calm inlets, white sandy coves, rich marine life, and diverse Mediterranean vegetation.
It makes a great place to base your family if you want to just stay in one place for your holiday. If your prefer to explore, check out our Sardinia itinerary that is one great option for 10 days in Italy.
To find out more about Alghero, check out our handy guide to the best things to do in Alghero.
Where to Stay in Alghero
There are a great variety of options for accommodation in Alghero from boutique BnB's to large chain hotels you will be able to find a great place to suit you and your family.
If you are looking to book a room in Alghero, check out these great options available on Booking.com
Here are some of our favourite options:
Hotel Florida: A great hotel for young families, with 2 huge swimming pools and right by the beach. Just a short, flat walk from the historic centre (stroller/pushchair friendly walk).
Panorama Guest House: Comfortable rooms right in the heart of the old town.  Fabulous views of the city and out to sea.


Cagliari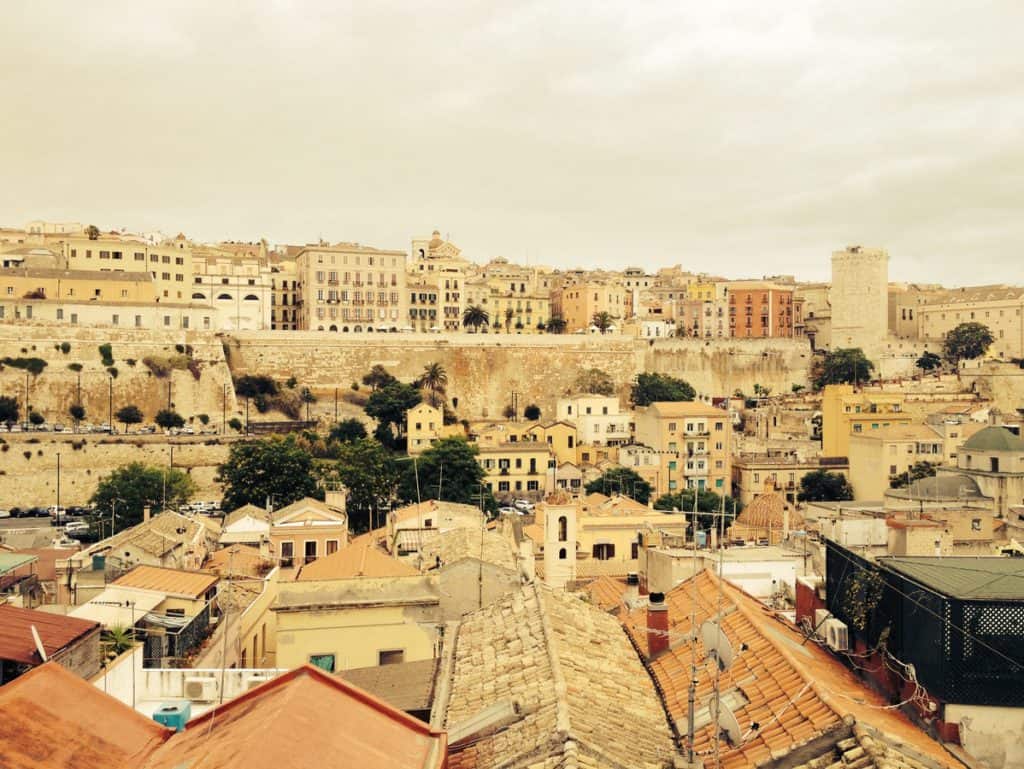 At the far south of the island, you will find its capital, Cagliari. By far the most populous city on the island, Cagliari has more of a metropolitan buzz than you will find elsewhere and the coastal setting gives you quick access to some wonderful beaches. It is also a great place to embark on all manner of tours to other parts of the island.
The compact historic centre can easily be explored on foot, some of the main sites to explore include:
Bastione di Saint Remy: Stop by here for a beautiful panoramic view over the city while exploring the old streets and piazzas of this interesting area.
Torre di San Pancrazio and Torre dell'Elefante: both typical examples of Pisan military architecture, which now function as great viewpoints for the city and port.
Santuario e Basilica di Bonaria: A pretty sanctuary and basilica complex.
Roman Amphitheatre: One of a number of ancient ruins that are still visible in Cagliari.
Looking to book a room in Cagliari? Check out these great options available on Booking.com
You will find some of the best Sardinia accommodation in Cagliari and the areas around it. You may like to check out the beautiful TigellioTre Bed and Breakfast which is loved by everyone that has stayed there (rated 9.9 from 139 reviews so far).
La Maddalena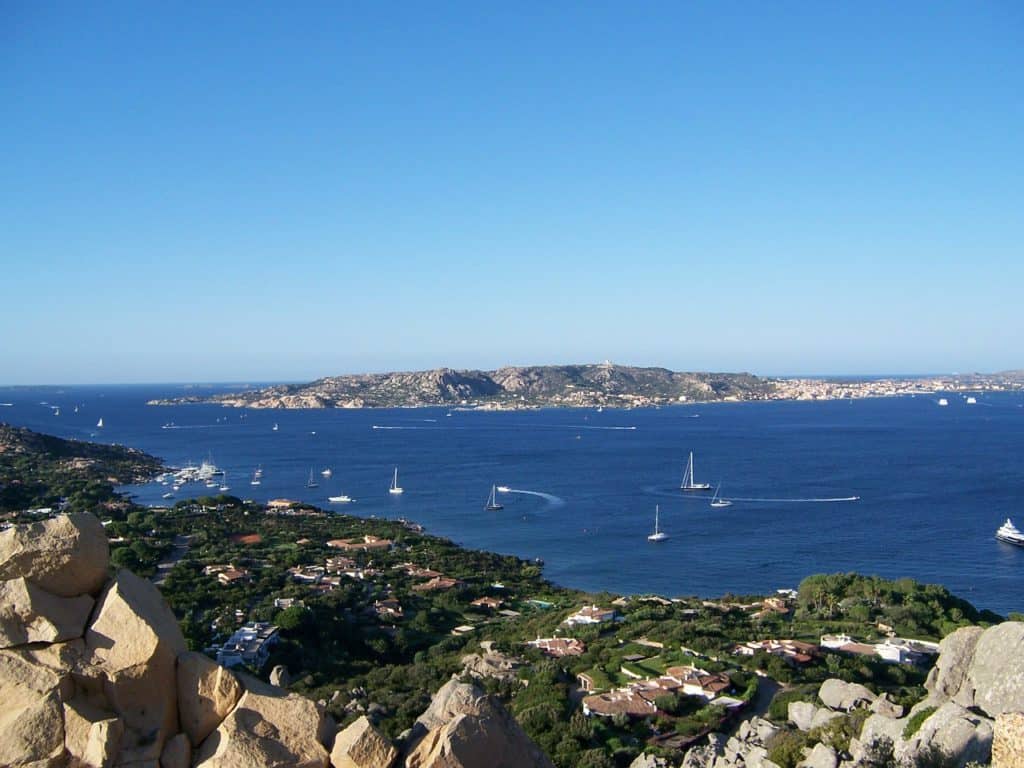 The glorious seas of the La Maddalena archipelago justify comparisons to the Caribbean more than anywhere else in Sardinia, albeit a more rugged version. This archipelago of 55 little islands is in the start between Sardinia and Corsica and it is home to some of the most spectacular beaches in Italy, and some of the cleanest and clearest water you will find anywhere.
When you visit the archipelago, you are sure to spend time swimming and taking long walks, but be sure to take a boat to reach the archipelago's most spectacular land and seascapes.
There are some great La Maddalena boat trips available that you can catch from either Palau or La Maddalena, click below to find out more:
Full-Day Boat Trip to the Islands of La Maddalena
Some of the highlights include:
Razzoli: Is a spectacular island of gnarled, twisted granite rocks that crash into the calm seas.
Budelli is a tamer and greener island, home to Spiaggia Rosa – probably the most famous beach Italy thanks to its role in the film Il Deserto Rosso.The name derives from the pink colour of the sand, caused by a microorganism that lives on seaweed. Unfortunately, after years of tourists taking the pinkest sand home as a souvenir, the beach is now a much paler, whiter colour. Still stunning though
Spargi: where pristine beaches such as Cala Soraya are backed by fragrant mastic trees.
The town of La Maddalena is a surprisingly large, lively and sophisticated town. You will find plenty of bars, bookshops, cinemas, shops and restaurants to keep you busy and this makes it a great base for your stay.
Costa Smeralda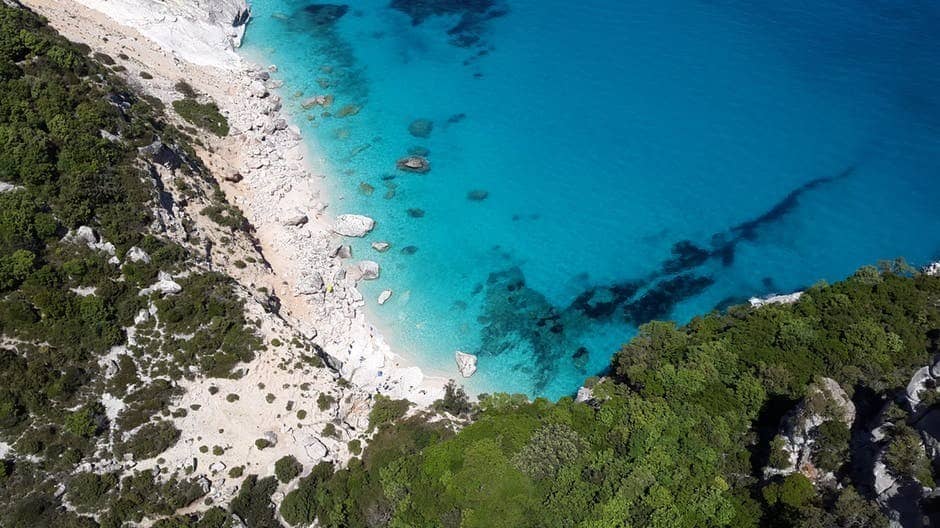 Costa Smeralda is a stretch of land along the northeast coast of Sardinia, Italy. It is perhaps the best-known corner of Sardinia, famous for its turquoise water, fine sand beaches and glitzy resorts
Despite the custom-built nature of resorts such as Porto Cervo, development has been tastefully designed to a master plan that ensures the built environment blends into the natural surroundings. There is some great accommodation in this area, amazing restaurants and beautiful beaches, making it a perfect place to stay with a baby or toddler in Sardinia.
Looking to book a room in the Costa Smerelda? You can find some of the best accommodation in Sardinia in the Costa Smerelda (and osm of the most expensive accommodation in Sardinia) Check out these great options available on Booking.com:
Stazzo Lu Ciaccaru – Top rated on Booking.com. Beautiful suites set in a relaxing natural environment. Great pool and a fabulous restaurant on site.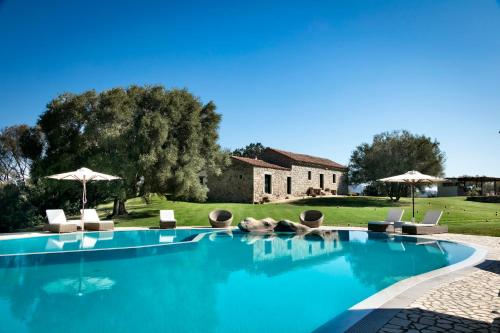 Residence Hotel Lu Nibareddu – Where we stayed. Great value, great views and good location near to fabulous beaches. Good swimming pools and restaurants on site.
Cala Gonone and The Supramonte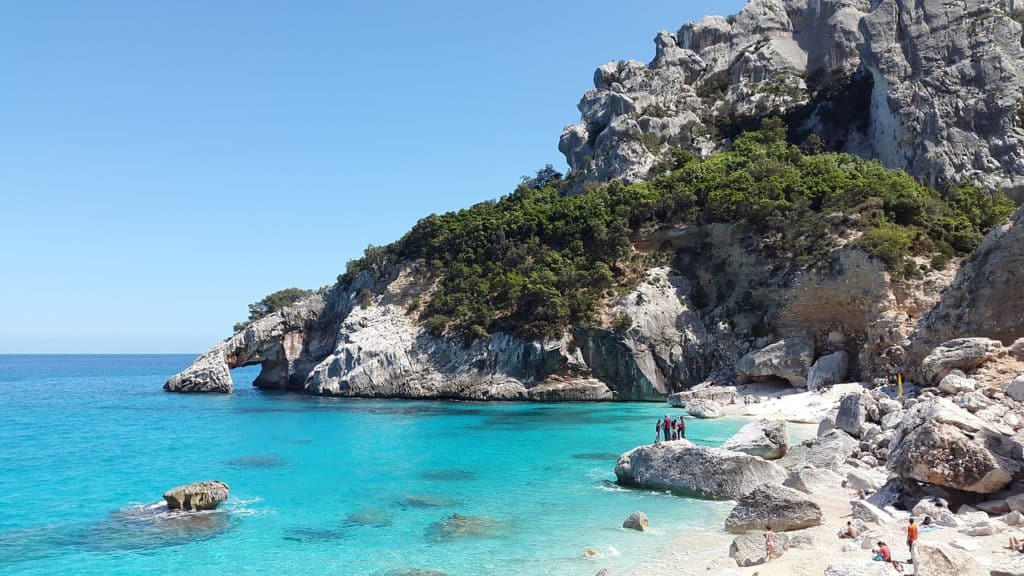 Located in central-eastern Sardinia, the Supramonte is blessed with spectacular karstic highlands where rivers have carved deep ravines and canyons it is a natural wonderland where rivers flow mostly underground, creating awesome caves like the Grotta del Bue Marino and Grotta di Ispinigoli.
The coastal area of the Supramonte borders the Gulf of Orosei and includes several spectacular beaches like Cala Luna, Cala Sisine, Cala Mariolu, and Cala Goloritze.
The best base for exploring the area is the town of Cala Gonone, where you will find a seaside promenade, a beach in the town and a small harbour and numerous cafes and restaurants. Theera a few small playgrounds near the harbour which are ideal for toddlers and other is also an aquarium that nature loving preschoolers will enjoy.
Find out more in this guide to the best things to do in Cala Gonone.
Looking to book a room in Cala Gonone? Check out these great options available on Booking.com:
Cala Luna – Best for Sea Views. Lovely rooms and a great restaurant overlooking the sea. Massages available.
Hotel Nuraghe Arvu – Great for Families.  Great swimming pool, good breakfast, playground and near the beach.
Il Nuovo Gabbiano –  Great Value. Centrally located with balconies overlooking the harbour.
Sardinia Beaches with Babies and Toddlers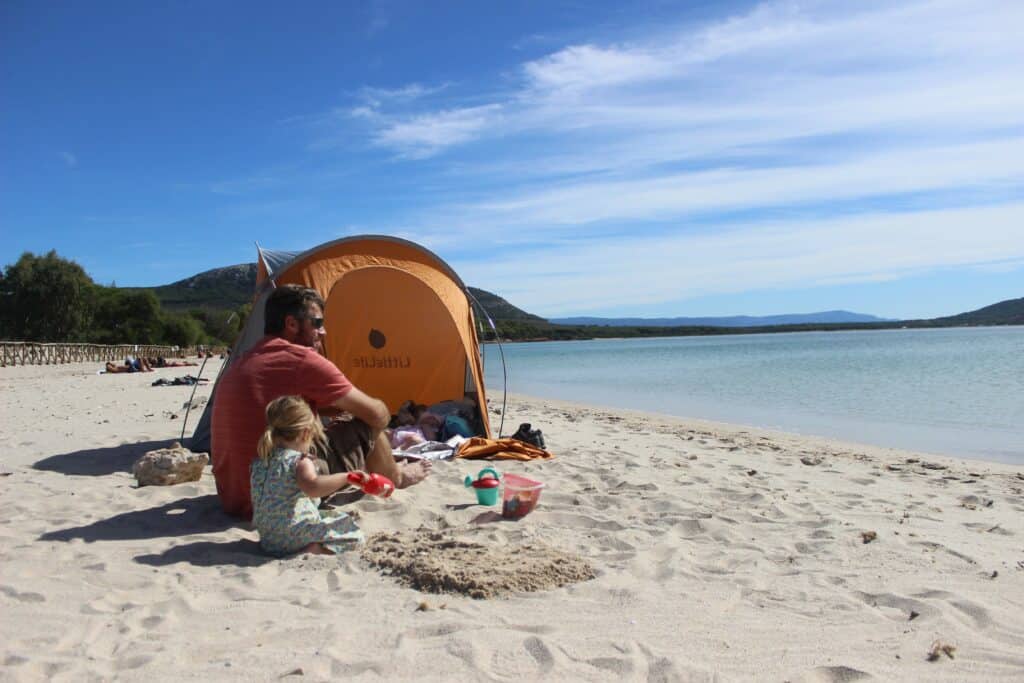 When you visit Sardinia with a baby and toddler you are sure to want to visit the beaches,. Despite all the other natural and manmade attractions of Sardinia, the beaces are probably thebiggest draw for young families.
There are spectacular and beautiful beaches all around the island that we feels are some of the nicest that you can find in Europe. They are often quite natural feeling and have largely escaped the large-scale development that you find elsewhere.
Fortunately, they are also very easily accessible if you are travelling by car with your young children.
Some of our favourites beaches include Cala Brandinchi, Mugoni Beach and La Pelosa but be sure to check out our more detailed post on the best beaches in Sardinia and our detailed guide on where to go in Sardinia
What Should You Pack for a Baby and Toddler in Sardinia?
It is always difficult to decide what to pack for a baby or toddler when you travel abroad. You don't want to take too much but you also don't want to be without something that is essential. It is a tough balance to get right.
We have done loads of travelling with our girls and this is what we think works. For long trips, we do washing as we go along, for a couple of weeks you could probably get by without needing to do this.
If you are spending a lot of time on the beach your little one will end up spending a lot of time in their swimsuit, so this is one of the most important items to take.
We like the ones that cover arms and legs as it protects them from the sun without having to worry quite so much about when you last put sun cream on.
Is Sardinia Stroller Friendly?
Sardinia is stroller friendly in some places but overall I would say it is not a very stroller friendly destination. It will depend on where you are going and how much time you spend month beach but you might not get much use out of your stroller in Sardinia.
If you are renting a car and can just keep it in th reboot then there is no real harm in taking one and there will always be the odd occasion when it becomes invaluable.
Taking a baby carrier is absolutely essential though so make sure that you have one before you go. You can read this post for more thoughts on whether you should take a stroller or baby carrier when you travel.
Italy Baby Packing List – Clothes
6 short-sleeved onesies or cotton rompers
2 full-length onesies
2 small muslins – depending on how sicky your baby is!
1 sunhat and 1 swimming sunhat
1 large muslin for sleeping under
Sunglasses
Other Essential items for a Baby in Italy
Changing mat/bag: This is probably the most useful item that we packed. A compact place to keep your nappies, wipes, and creams which folds out into a handy changing mat. Proper changing tables are a rarity in Italy so this gets used all the time.
Baby Carrier: These were essential for getting around, both our 9-month-old and 3-year-old needing carrying quite a lot. The cool mesh carriers are great for hot countries.
Nappies/diapers: We always had a decent supply of nappies with us in the bag but they are easy to get hold of in most places. 
Baby wipes: These are much more expensive than in England so it is worth bringing a supply from home.
Teething necklace: Good for keeping your little one entertained and quiet whilst travelling or in the baby carrier.
Nappy cream: Just in case of any sore bottoms you will want this on hand.
What to Pack for a Toddler in Sardinia
For our toddler/pre-school age daughter we took the following which worked out just right for a long trip where you expect to do some washing as you go along. If you are happy to pay for more frequent clothes washing, you could get by with less than we had.
Toddler Packing List
4 cotton/linen summer dresses. This is what our daughter wore most of the time. For a boy (or a girl who doesn't like dresses), you will probably need shorts and a t-shirt most of the time so bring more of those.
4 t-shirts
2 shorts
2 pairs of lightweight trousers (good for covering up if there are mosquitos about and for buses and planes)
1 long-sleeved top
4 pairs of underpants
2 pairs of socks.
1 long UV protective swimsuit and 1 normal swimming costume. Our girls spent most of the time in their swimsuits when staying on the coast.
Trainers (you could probably leave these at home if you don't plan to walk through any jungle/ forests),
Sandals (necessity),
Beach shoes (our daughter like to climb the rocks on the beach & kayak so these came in really handy).
1 sunhat and 1 swimming sunhat
Sunglasses
Raincoat
Other useful items to take:
Pop up travel cot: We like this one as it pops up in a second and closes like a tent to keep mosquitos out. The girls think that it is fun to have a tent! Check out our review of the best travel cots
Beach tent: If you are planning to spend a lot of time on the beach, it's well worth taking a beach tent to provide you with some shade and privacy. This makes it an ideal spot for your baby to feed and sleep.
We have the Littlelife family beach tent and it has been great for us on the beaches of Sardinia. We found it especially useful when our baby was very young and not yet able to crawl or sit.
Blackout blinds: These travel blackout blinds are great to make your room dark at night times
Totseat chair harness: This baby totseat is a great backup to have when eating out with a baby. Baby high chairs are quite widely available but not every restaurant has them and often they only have 1 or 2 chairs for loads of tiny diners.
Drinking bottle: This is essential. Find a kids bottle that your child can easily drink from and that you can take anywhere.
Suncream: This is available in Italy, but we always take some so we are prepared.
Hand sanitiser: Very handy for keeping hands clean on the move. 
Disinfectant wipes: We used these to clean high chairs and the floors in hotel rooms.
First Aid Kit: There are bound to be times when you need a plaster or bandage so we always take a first aid kit along ours contains Calpol, Benadryl, antibiotics for mastitis, children's inhaler in case of croop, mosquito repellent for kids and adults, Bonjela, plasters, paracetamol.
Kids tablet: Basically a lifesaver on the plane or when you need a bit of quiet time. We like the Amazon Fire kids tablets but there are loads of great options covered in our best toddler tablets post.
You will probably need fewer toys than you think to keep your kids entertained whilst away. But it is definitely worth taking a few things to keep them occupied on journeys and if you want some quiet time in the hotel. 
The toys we liked the best include stacking cups which are compact and brilliant, you can use them to make sandcastles on the beach, to pour water in the pool or even to stack on the floor. A few Duplo bricks, toy cars, and colouring/activity books also come in handy, especially at mealtimes.
Hopefully, this gives you a guide for what you should be packing with you when you take a toddler or an infant to Italy. For more comprehensive information, check out our post on the best baby and toddler travel gear, and this baby and toddler packing list (it is tailored to SE Asia but should help you plan for Italy too).
Awesome Things to do in Sardinia with a Baby or Toddler
The things that you do in Sardinia with a toddler or baby will largely be influenced by where you have chosen to go and by the exact age of your child. The things to do in Sardinia with a 6 month old or 10 month old, can vary quite a lot from what you might do in Sardinia with a 2 year old.
When infants are really small you take advantage of the fact they are small and light and spend a lot of time sleeping. This should mean that to a large extent you can do holiday in the same way that you would have before you had children.
As they get older you will need to factor in more time doing 'kids things' to keep them happy. Here are a few ideas of things to do with your baby or toddler.
Hit the Beaches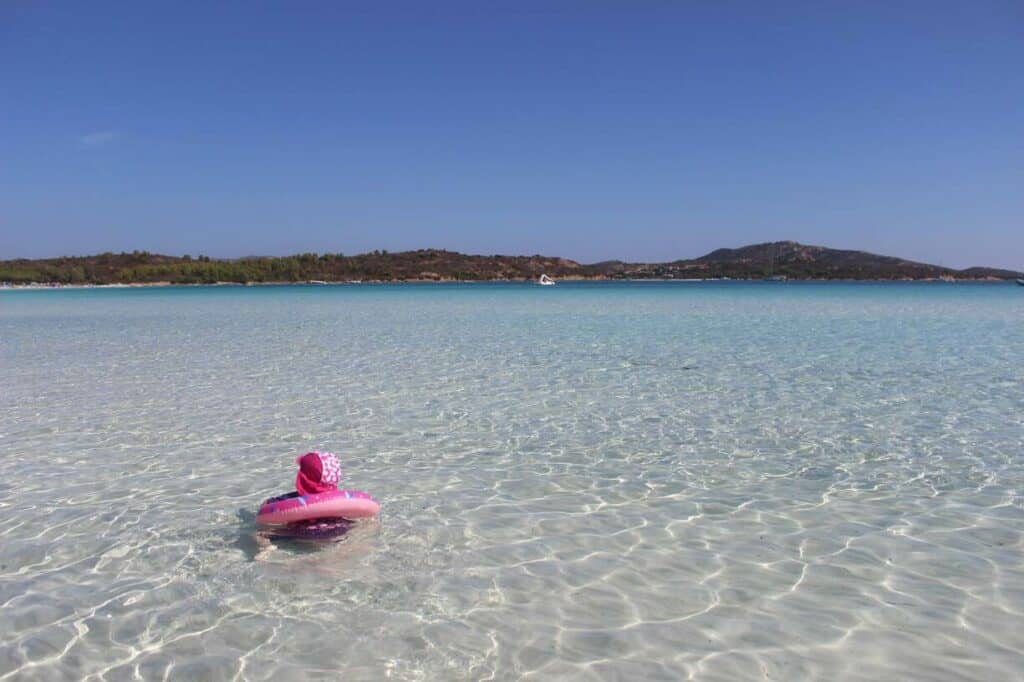 So this just had to be number one. It's worth visiting Sardinia with a baby just for the beaches. Travelling with a toddler or baby can be hard work so it is always worth factoring in some beach time. It keeps them happy and is somewhat relaxing for us.
If your baby is at the stage where they put everything in their mouth you will need to be prepared to see them eat quite a lot of sand. Just keep an eye out for stones, shells, crabs or anything else that they might like to put in their mouths. We take our beach tent with us for some portable shade, privacy and somewhere for baby to sleep at nap times.
Toddlers are sure to enjoy a paddle in the sea, Cala Brandinchi in Sardinia is absolutely perfect for this. Read more about our favourite Sardinian beaches here.
Explore Pretty Old Towns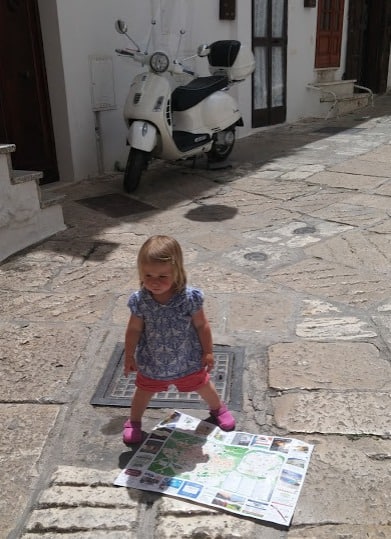 Sardinia doesn't have quite asmany charming old towns as other places in Italy, but places like Alghero, Bosa and Tempio Pausania are well worth exploring. We like to just wander aimlessly. Why not let the kids have the map and chose your direction?
Go for a Hike
Having a baby or toddler need not mean that you confine yourselves to the beaches and towns. Grab your baby carrier and head out into the hills! There is some spectacular scenery all over Sardinia and in many places you will find some well-marked trails. There are some good short walks around Calla Gonone that will take you out to glorious beaches like Cala Fuili and Cala Luna.
Escape the Heat in a Church
This is a top tip if you are travelling with a baby or when pregnant. If you visit Sardinia in the summer you will probably be blessed with some glorious, sunny weather. This is great, but it can get a bit much at times so we often pop into a church to get out of the heat.
Churches are almost always cool, have pews to sit on and have a bit of a rest, and you might just find yourself sitting under a painting by Caravaggio or Titian.
Eat Gelato
I think that both of our daughters may have had their first taste of ice cream in Italy. Lucky them! Italian ice cream is delicious and is usually quite reasonably priced (as long as you aren't in a super touristy spot).
Find a Park
Finding a playground has become something of a priority for us on our travels, our girls are never happier than when they are climbing or sliding or spinning on something so we always try and break up the day with a trip to a local park. The only hard part is getting them to leave again so that we can explore some more! We fund play areas in Cala Gonone and Alghero.
Take a Boat Trip
We always enjoy taking boat trips, they are invariably in beautiful locations and give you a different perspective on things than from the land. With a baby or toddler, it is generally best to go for shorter duration trips but they are sure to love it since they tend not to go on boats very often. Some boat trips that we have enjoyed include, La Maddalena and the beaches of the Gulf of Orosei.
Discover Ancient Nuraghe
Sardinia has lots of mysterious ancient settlements called nuraghe. They consist of cone-like towers made up from giant stones. They are all over he place and make for interesting places to stop and have a wander and explore with your toddler.
Sardinia with a Toddler or Baby
We hope that you have enjoyed reading our guide to visiting Sardinia with a toddler or baby. We really love it here and think that it is a great family travel destination.
Hopefully, you will enjoy your trip to Sardinia with your child as much as we have with our children. You may also like to read our guide to Italy with a baby or toddler (we have also covered Venice with baby and toddler and Lake Garda with a baby and toddler)
If you are travelling around Europe, you might also like to read our Portugal with a baby and toddler post.