Are you a new parent looking for an adventure? Visiting Sicily with a baby or toddler might just be the perfect getaway for you and your little one!
With its beautiful beaches, stunning landscapes, and rich culture, Sicily has something for everyone. But before you pack your bags, you might be wondering: is traveling to Sicily with a baby a good idea?
The answer is yes! Going to Sicily with an infant is a great idea!
In this blog post, we'll share our tips and tricks to help you make your trip a success. From navigating the island's transportation system to finding family-friendly accommodations, we've got you covered. So get ready to explore this amazing corner of the world with your bundle of joy in tow!
Is Sicily Baby Friendly?
Sicily is a very baby-friendly travel destination and probably one of the best places in Europe to visit with a young family. Italians love babies and are sure to give you a great welcome. Sicily is a perfect baby destination thanks to the incredible beaches and easily wealth of sightseeing opportunities that are close together and easily accessible.
Is it Safe to Visit Sicily with a Baby or Toddler?
Sicily is a safe place to visit with a baby or toddler. Of course, you should always take sensible precautions, and be aware of your surroundings but overall Sicily is very baby-friendly and Sicily is a safe place to visit. If anything bad does happen you will have quick access to good medical services.
If you are concerned about Sicily's reputation as the home of the Mafia then please be reassured that their activities will not affect you as a tourist.
Can you get Baby Supplies in Sicily?
You should be able to find anything that you might need for your baby in Sicily but try to shop when you are in a bigger town, smaller towns and villages tend not to have limited supplies generally, and in particular baby good can be hard to find.
We have found that prices are a bit higher than in England for things like nappies/diapers and we really struggled to find any affordable baby wipes. You can find baby food, formula, bottles etc. in the supermarkets but we have always taken a supply with us from home. If you use formula milk, you may find that the flavor is different even if the brand is the same as you use at home.
If you need to get medicines you will need to find a Farmacia as you can't get medicine in shops or supermarkets. They are all over the place and easily identified by the green cross outside.
Eating in Sicily with a Baby and Toddler
One of the best things about visiting Italy is the abundance of wonderful food at reasonable prices. Pizza and pasta can be found everywhere and these are things that are likely to go down well with most young children. This definitely helps to make Italy one of the most child-friendly places to visit on a family vacation.
One thing that we have found challenging is the opening hours of restaurants in Sicily (and all over Italy). Restaurants open very late by English standards at around 9 o'clock (or 8 if you are lucky) and are often only open for a couple of hours around lunchtime.
A few times in more remote areas we ended up missing lunch service and struggled to find any food at all as the shops also close in the afternoons.
In the evenings the restaurant opening hours do not really fit in with our baby and toddler's eating habits as they usually eat before 6 pm (and we try to get the to sleep at a reasonable hour).
This is less of an issue if you are travelling only with a baby. With some luck, you will be able to feed them milk and baby food and have them asleep in the stroller so that you can enjoy a nice relaxing meal together. If you are travelling with a toddler or older child it can be more difficult as they get hungry and need something NOW. and arent afraid to let you know about this!
Baby/toddler food pouches are your friend in this situation and you can get these in Italy or bring some with you from home.
On our last trip, we mostly went self-catered and cooked our own dinners which solves this problem but it does mean that you miss out on the yummy Italian food.
We often get takeaway pizzas in Italy. All pizza restaurants will put a pizza in a box for you so you can have a delicious, kid-friendly and cheap meal out in the sunshine. Often you will be able to find a nice picturesque spot to eat it.
Most restaurants will be able to provide you with a baby high chair but we like to travel with a Totseat chair harness, just in case.
Where to Go in Sicily with a Baby and Toddler
Palermo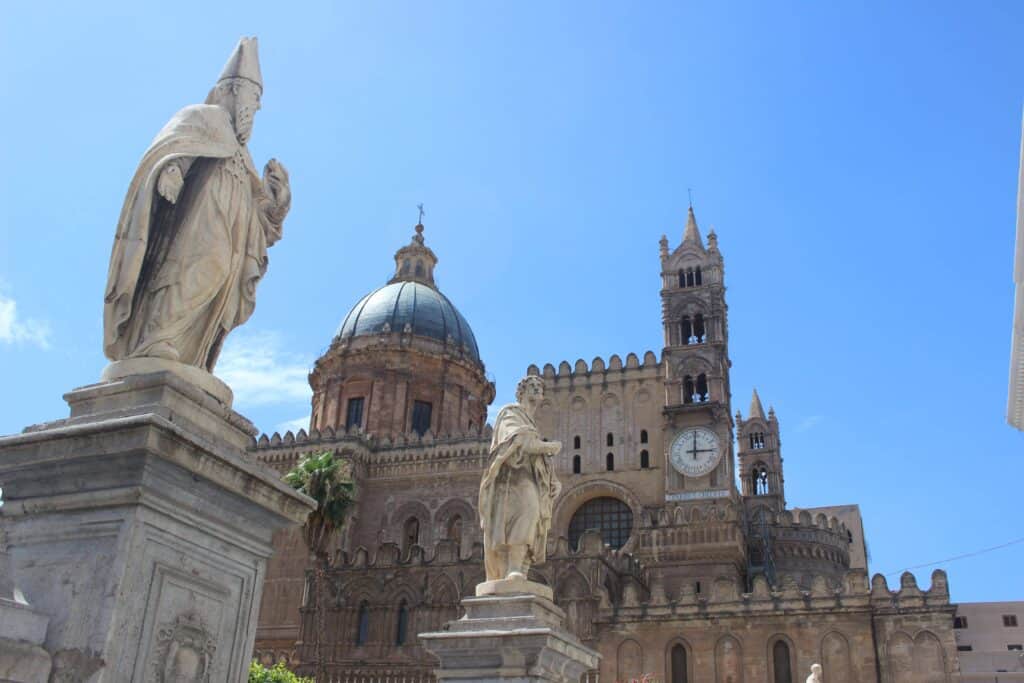 As the capital of Sicily, Palermo is a must-visit destination for any traveler to the island. It's a city steeped in history, with ancient churches, palaces, and cathedrals lining its streets. If you are in Palermo with a baby, be sure to visit the stunning Palermo Cathedral and the bustling Ballarò street market, where you can sample some of the best street food in the region. The sights, sounds and smells are sure to entertain your little one.
Taormina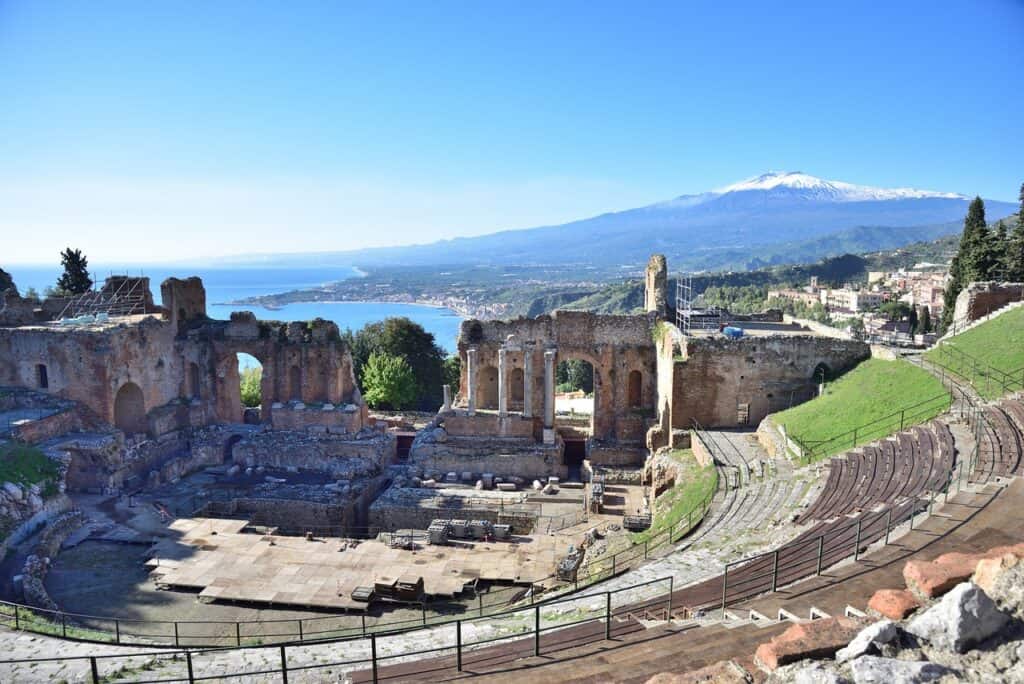 Perched on a clifftop overlooking the Mediterranean Sea, Taormina is one of Sicily's most beautiful towns. The town is known for its ancient Greek theater, which offers stunning views of Mount Etna and the coastline.
What I liked best was can also strolling through the town's charming narrow streets, lined with boutiques, cafes, and gelaterias. And just below the town is a glorious beach. It's the perfect travel destination, which does mean that it's a busy place but it's still well worth visiting.
Agrigento
Agrigento is home to one of the world's most impressive archaeological sites – the Valley of the Temples. You and your little ones can explore a series of ancient Greek temples and ruins, set against a backdrop of rolling hills and the Mediterranean Sea. The town itself is also worth a visit, with its beautiful baroque architecture and charming streets.
Syracuse
Syracuse was once one of the most powerful cities in the ancient world, and today it boasts a rich history and cultural heritage. Visitors can explore the ancient Greek and Roman ruins of the city, including the impressive Greek theater and the Orecchio di Dionisio, a cave-like structure with incredible acoustics. The town's picturesque old town is also a great place to wander, with its winding streets and beautiful baroque architecture.
Being by the cost is what sets it apart from other Sicilian towns and there are some lovely restaurants with views out to sea.
The old town is quite distinct from the newer areas as it is on the island of Ortigia that sits that is connected to the rest of Syracuse by a short bridge. It's well worth finding a place to stay in this area, even though some other areas are also attractive.
A great place for families to stay is Palazzo Alfeo Aparthotel has apartments with amazing views out to sea, you can check availability for your dates here
Cefalù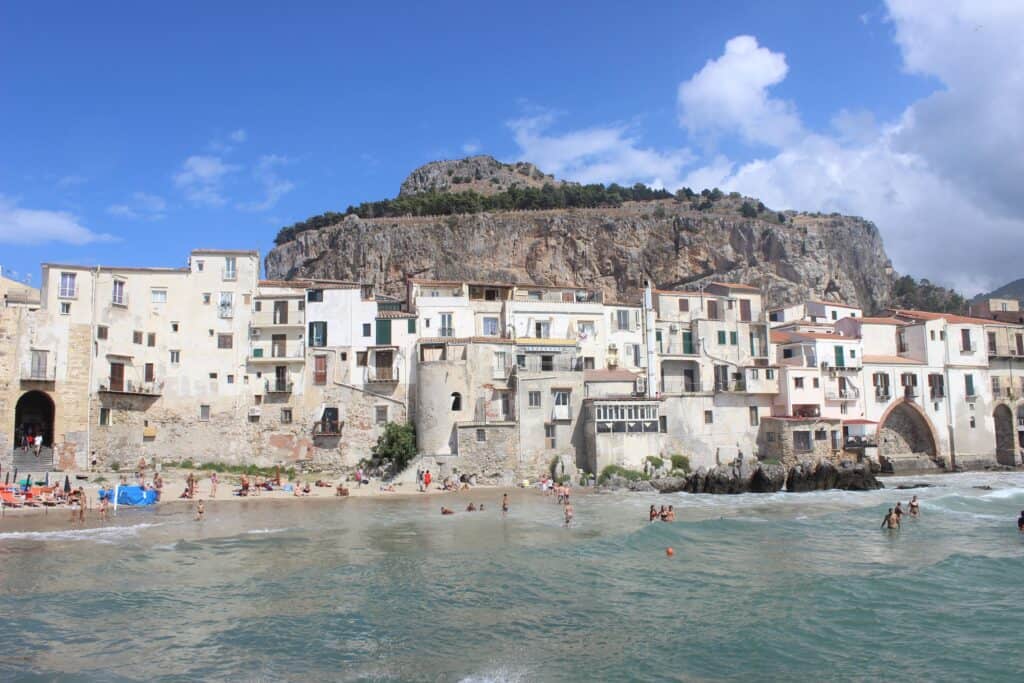 Cefalù is a charming coastal town located on the northern coast of Sicily. It's known for its beautiful sandy beaches, crystal-clear waters, and stunning Norman cathedral. Visitors can also wander through the town's winding streets, stopping at cafes, gelaterias, and boutiques along the way.
If you are feeling energetic (and have a baby carrier) you might light the walk up La Rocca di Cefalù which you can see looming above the town in the photo above. Amazing views!
Aeolian Islands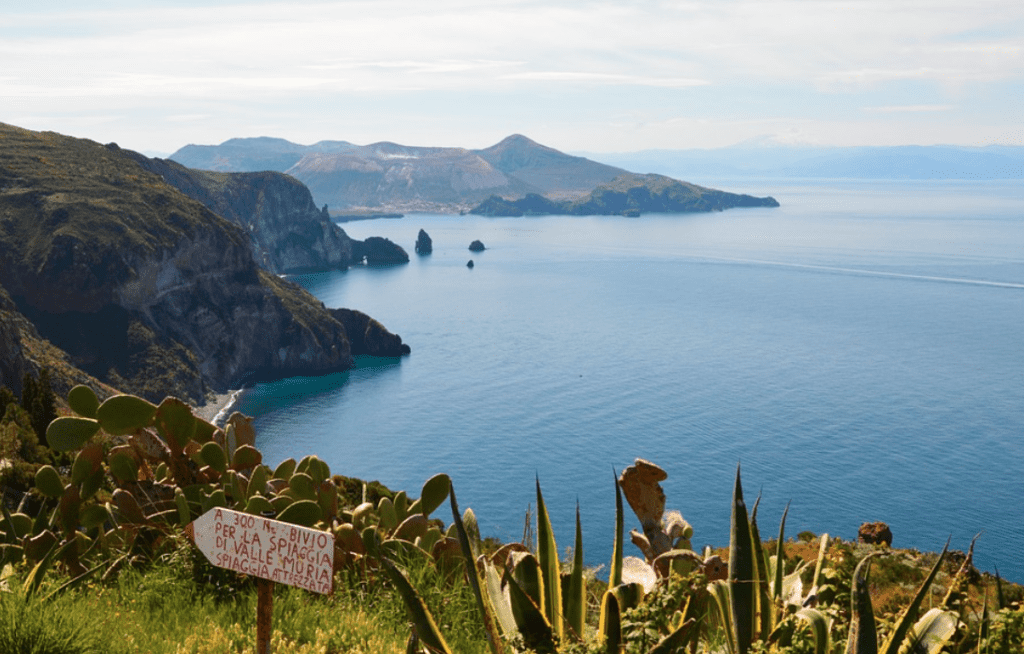 The Aeolian Islands are a volcanic archipelago located north of Sicily. They are a UNESCO World Heritage site and are known for their stunning landscapes, crystal-clear waters, and active volcanoes. Here are some of the islands to visit:
Vulcano: This island is known for its hot springs, mud baths, and the Gran Cratere, a still-active volcano that you can climb.
Lipari: The largest of the Aeolian Islands, Lipari is a charming town with a beautiful historic center, stunning beaches, and a castle to explore.
Stromboli: This island is known for its active volcano, which erupts regularly and can be seen from the sea. It's also home to a charming village and beautiful black sand beaches.
Panarea: This small, exclusive island is known for its luxurious villas, crystal-clear waters, and stunning views of the other Aeolian Islands. It's a popular destination for yachts and celebrities.
We really enjoyed taking day boat trips around the islands. They are just gorgeous and the sight of Stromboli erupting in the evening was spectacular. We based ourselves on Lipari (we stayed at Lo Nardo Accommodation). It's great but it is a bit out of the way unless you have your own vehicle.
>>>> Click here to check availability
We took boat tours to visit the three volcanic islands and a tour to some of the other islands, including Salina, click here to read more
Ragusa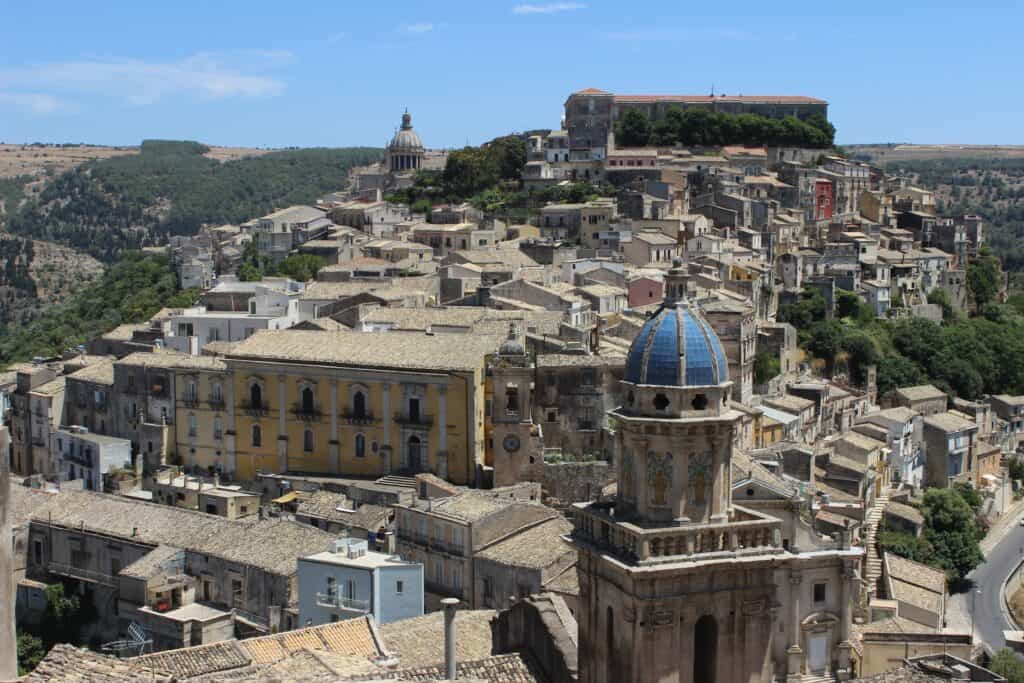 Ragusa is a beautiful city located on the southeastern side of Sicily. The city is divided into two parts, the upper and lower parts, which are connected by a series of steps and steep streets. Ragusa is known for its impressive Baroque architecture, which is a result of the city being completely rebuilt after a devastating earthquake in 1693.
A must-visit attraction in Ragusa is the Cathedral of San Giovanni Battista, a stunning Baroque masterpiece with intricate carvings and frescoes. The old town of Ragusa Ibla is also a popular attraction, with narrow streets, quaint buildings, and numerous churches to explore. The city also boasts a vibrant food scene, with many delicious local specialties to try.
It's a small place that is easy to visit on foot, but it is quite hilly so you will probably want to leave the stroller behind. Toddlers will enjoy wandering the narrow streets and climbing the steps.
There is a nice playground in Giardino Ibleo.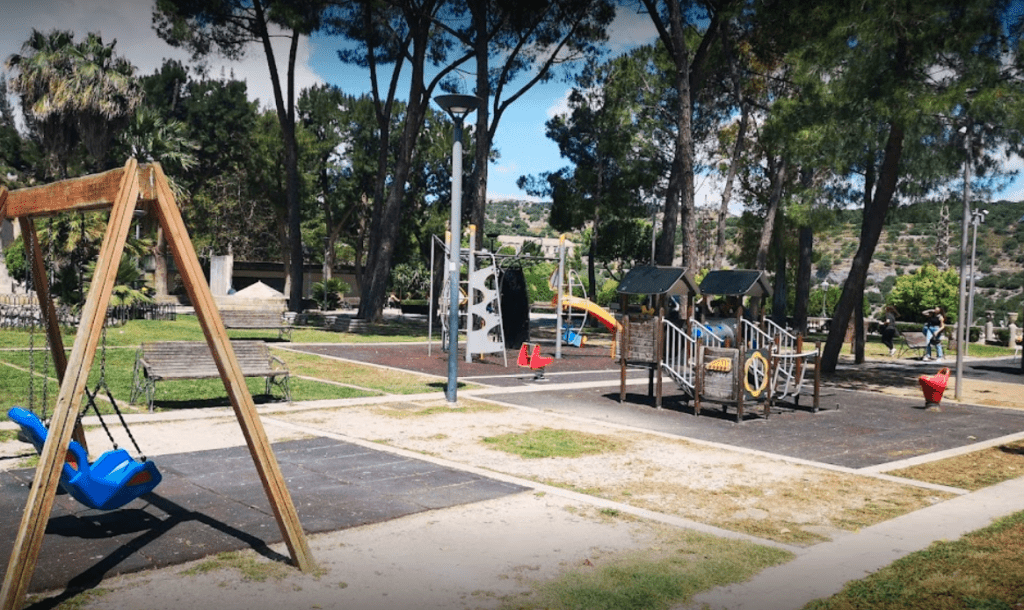 Sicily Beaches with Babies and Toddlers
When you visit Sicily with a baby and toddler you are definitely going to want to spend some time on the glorious beaches.
There are spectacular and beautiful beaches all around the island that are often quite natural feeling and have largely escaped the large-scale development that you find elsewhere.
Fortunately, they are also very easily accessible if you are travelling by car with your young children or even if you are travelling by public transport (as we did), since you can easily reach the beaches at Taormina, Cefalu, and the Aeolian islands among others.
Sicily is home to some of the most beautiful beaches in Italy. From sandy shores to rocky coves, there is something for everyone. Here are some of the best beaches to visit in Sicily:
San Vito lo Capo Beach: Located in the northwest of Sicily, this stunning beach boasts crystal clear waters and a long stretch of golden sand. Surrounded by mountains, the beach is also home to a charming town with plenty of restaurants, cafes, and shops.
Scala dei Turchi: This unique beach is situated on the southern coast of Sicily and is famous for its white limestone cliffs that slope down to the clear blue sea. The natural staircase-like formation has become a popular spot for visitors to relax and soak up the sun.
Isola Bella: This tiny island connected to the mainland by a narrow strip of land is located in the eastern part of Sicily. The beach features crystal clear water and a pebbly shore. Surrounded by lush vegetation, it is considered one of the most beautiful places on the island.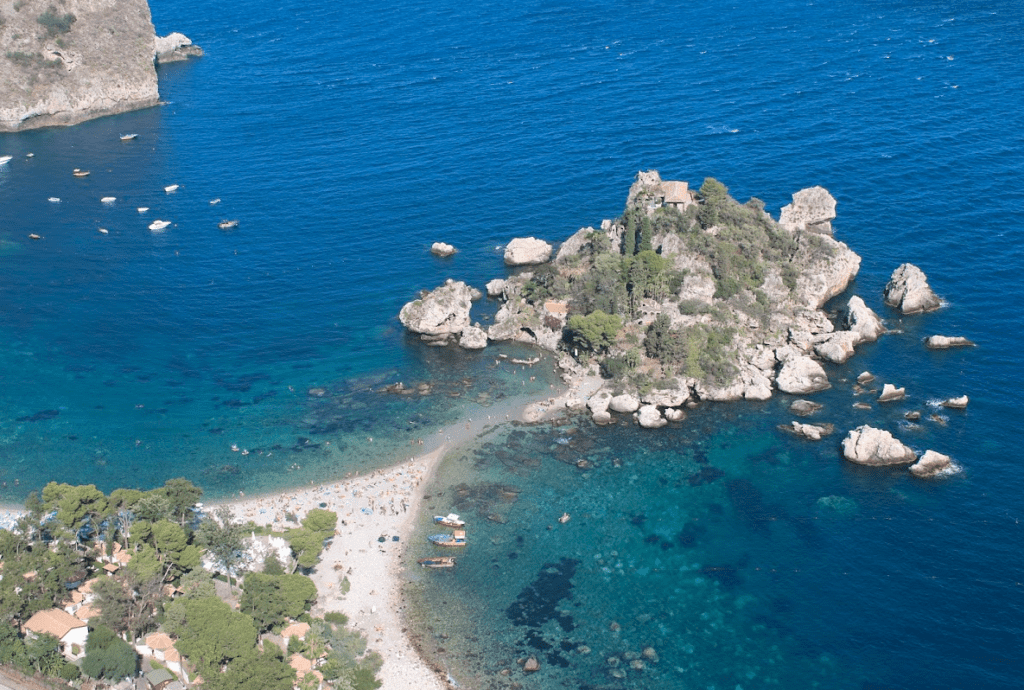 Mondello Beach: Located on the outskirts of Palermo, this long and wide beach is one of the most popular in Sicily. It offers a variety of water activities, including snorkeling and windsurfing, and is surrounded by bars, restaurants, and shops.
Cala Rossa Beach: This secluded beach is located on the island of Favignana, part of the Egadi Islands archipelago. The clear turquoise water is perfect for swimming and snorkeling, and the rocky coves provide a peaceful retreat away from the crowds.
Whether you're looking for a lively beach with lots of amenities or a quiet cove to relax in, Sicily has it all. With so many beautiful beaches to choose from, it's easy to see why Sicily is a popular destination for families.
What Should You Pack for a Baby and Toddler in Sicily?
It is always difficult to decide what to pack for a baby or toddler when you travel abroad. You don't want to take too much but you also don't want to be without something that is essential. It is a tough balance to get right.
We have done loads of travelling with our girls and this is what we think works. For long trips, we do washing as we go along, for a couple of weeks you could probably get by without needing to do this.
If you are spending a lot of time on the beach your little one will end up spending a lot of time in their swimsuit, so this is one of the most important items to take.
We like the ones that cover arms and legs as it protects them from the sun without having to worry quite so much about when you last put sun cream on.
Sicily with a Baby Packing List – Clothes
6 short-sleeved onesies or cotton rompers
2 full-length onesies
2 small muslins – depending on how sicky your baby is!
1 sunhat and 1 swimming sunhat
1 large muslin for sleeping under
Sunglasses
Other Essential items for a Baby in Sicily
Changing mat/bag: This is probably the most useful item that we packed. A compact place to keep your nappies, wipes, and creams which folds out into a handy changing mat. Proper changing tables are a rarity in Italy so this gets used all the time.
Baby Carrier: These were essential for getting around, both our 9-month-old and 3-year-old needing carrying quite a lot. The cool mesh carriers are great for hot countries.
Nappies/diapers: We always had a decent supply of nappies with us in the bag but they are easy to get hold of in most places. 
Baby wipes: These are much more expensive than in England so it is worth bringing a supply from home.
Teething necklace: Good for keeping your little one entertained and quiet whilst travelling or in the baby carrier.
Nappy cream: Just in case of any sore bottoms you will want this on hand.
What to Pack for a Toddler in Sicily
For our toddler/pre-school age daughter we took the following which worked out just right for a long trip where you expect to do some washing as you go along. If you are happy to pay for more frequent clothes washing, you could get by with less than we had.
Sicily with a Toddler Packing List
4 cotton/linen summer dresses. This is what our daughter wore most of the time. For a boy (or a girl who doesn't like dresses), you will probably need shorts and a t-shirt most of the time so bring more of those.
4 t-shirts
2 shorts
2 pairs of lightweight trousers (good for covering up if there are mosquitos about and for buses and planes)
1 long-sleeved top
4 pairs of underpants
2 pairs of socks.
1 long UV protective swimsuit and 1 normal swimming costume. Our girls spent most of the time in their swimsuits when staying on the coast.
Trainers (you could probably leave these at home if you don't plan to walk through any jungle/ forests),
Sandals (necessity),
Beach shoes (our daughter like to climb the rocks on the beach & kayak so these came in really handy).
1 sunhat and 1 swimming sunhat
Sunglasses
Raincoat
Other useful items to take:
Pop up travel cot: We like this one as it pops up in a second and closes like a tent to keep mosquitos out. The girls think that it is fun to have a tent! Check out our review of the best travel cots
Beach tent: If you are planning to spend a lot of time on the beach, it's well worth taking a beach tent to provide you with some shade and privacy. This makes it an ideal spot for your baby to feed and sleep.
We have the Littlelife family beach tent and it has been great for us on the beaches of Sardinia, as well as in Sicily. We found it especially useful when our baby was very young and not yet able to crawl or sit.
Blackout blinds: These travel blackout blinds are great to make your room dark at night times
Totseat chair harness: This baby totseat is a great backup to have when eating out with a baby. Baby high chairs are quite widely available but not every restaurant has them and often they only have 1 or 2 chairs for loads of tiny diners.
Drinking bottle: This is essential. Find a kids bottle that your child can easily drink from and that you can take anywhere.
Suncream: This is available in Italy, but we always take some so we are prepared.
Hand sanitiser: Very handy for keeping hands clean on the move. 
Disinfectant wipes: We used these to clean high chairs and the floors in hotel rooms.
First Aid Kit: There are bound to be times when you need a plaster or bandage so we always take a first aid kit along ours contains Calpol, Benadryl, antibiotics for mastitis, children's inhaler in case of croop, mosquito repellent for kids and adults, Bonjela, plasters, paracetamol.
Kids tablet: Basically a lifesaver on the plane or when you need a bit of quiet time. We like the Amazon Fire kids tablets but there are loads of great options covered in our best toddler tablets post.
You will probably need fewer toys than you think to keep your kids entertained whilst away. But it is definitely worth taking a few things to keep them occupied on journeys and if you want some quiet time in the hotel. 
The toys we liked the best include stacking cups which are compact and brilliant, you can use them to make sandcastles on the beach, to pour water in the pool or even to stack on the floor. A few Duplo bricks, toy cars, and colouring/activity books also come in handy, especially at mealtimes.
Hopefully, this gives you a guide for what you should be packing with you when you take a toddler or an infant to Italy. For more comprehensive information, check out our post on the best baby and toddler travel gear, and this baby and toddler packing list (it is tailored to SE Asia but should help you plan for Italy too).
Is Sicily Stroller Friendly?
Sicily is stroller friendly in some places but overall I would say it is not a very stroller-friendly destination. It will depend on where you are going and how much time you spend on the beach but you might not get much use out of your stroller in Sicily.
Siracusa and Palermo are good places to use a stroller but having one in the Aeolian islands won't be very handy and elsewhere you have to deal with cobbles and steep slopes (eg Ragusa)
If you are renting a car and can keep it in the boot then there is no real harm in taking one and there will always be the odd occasion when it becomes invaluable.
Taking a baby carrier is absolutely essential though so make sure that you have one before you go.
To be honest we always debate whether to take the stroller or not. Partly it comes down to the personality of your little one, you can read this post for more thoughts on whether you should take a stroller or baby carrier when you travel.
Awesome Things to do in Sicily with a Baby or Toddler
The things that you do in Sicily with a toddler or baby will largely be influenced by where you have chosen to go and by the exact age of your child. The things to do in Sicily with a 6 month old or 10 month old, can vary quite a lot from what you might do in Sicily with a 2 year old.
When infants are really small you take advantage of the fact they are small and light and spend a lot of time sleeping. This should mean that to a large extent you can do what you want and visit the places that sound the best to you. Take advantage of them beingsmall and rack up the miles sightseeing and hiking before they get too heavy!
As they get older you will need to factor in more time doing 'kids things' to keep them happy. Here are a few ideas of things to do with your baby or toddler.
Hit the Beaches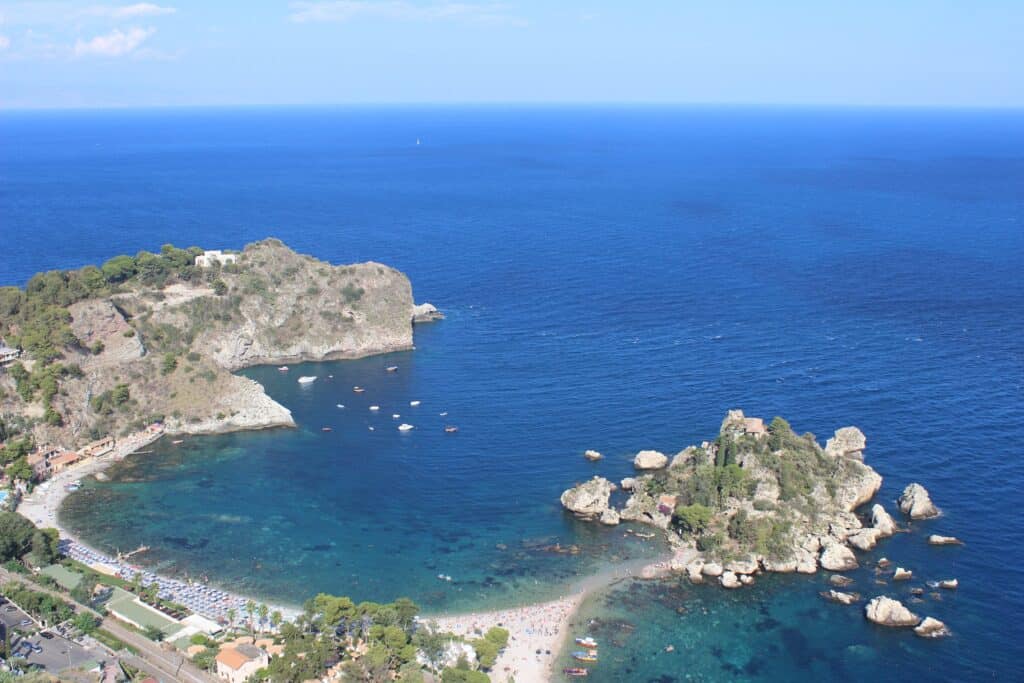 So this just had to be number one. It's worth visiting Sicily with a baby just for the beaches. Travelling with a toddler or baby can be hard work so it is always worth factoring in some beach time. It keeps them happy and is somewhat relaxing for us.
If your baby is at the stage where they put everything in their mouth you will need to be prepared to see them eat quite a lot of sand. Just keep an eye out for stones, shells, crabs, or anything else that they might like to put in their mouths. We take our beach tent with us for some portable shade, privacy and somewhere for baby to sleep at nap times.
Explore Pretty Old Towns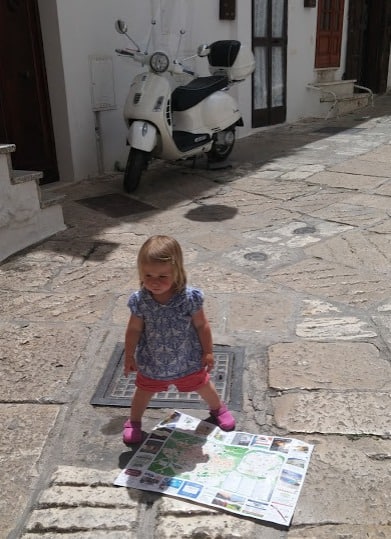 Sicily has some gorgeous and charming old towns, it's one of my favorite regions in all of Italy. I absolutely love Ragusa and Siracuse. We like to just wander aimlessly. Why not let the kids have the map and chose your direction?
Go for a Hike
Having a baby or toddler need not mean that you confine yourselves to the beaches and towns. Grab your baby carrier and head out into the hills! There is some spectacular scenery all over Sicily and in many places you will find some well-marked trails.
Escape the Heat in a Church
This is a top tip if you are travelling with a baby or when pregnant. If you visit Sicily in the summer you will probably be blessed with some glorious, sunny weather. This is great, but it can get a bit much at times so we often pop into a church to get out of the heat.
Churches are almost always cool, have pews to sit on and have a bit of a rest, and you might just find yourself sitting under a painting by Caravaggio or Titian.
Eat Gelato
I think that both of our daughters may have had their first taste of ice cream in Italy. Lucky them! Italian ice cream is delicious and is usually quite reasonably priced (as long as you aren't in a super touristy spot).
Find a Park
Finding a playground has become something of a priority for us on our travels, our girls are never happier than when they are climbing or sliding or spinning on something so we always try and break up the day with a trip to a local park. The only hard part is getting them to leave again so that we can explore some more!
Take a Boat Trip
We always enjoy taking boat trips, they are invariably in beautiful locations and give you a different perspective on things than from the land. With a baby or toddler, it is generally best to go for shorter-duration trips but they are sure to love it since they tend not to go on boats very often. In Sicily, the perfect place to go on a boat trip is around the Aeolian islands where you can move between the various islands and even watch an erupting volcano!
What is the Weather Like in Sicily?
Sicily has a Mediterranean climate and enjoys warm dry summers that are perfect for exploring and soaking up some sun on the beach. If you are travelling out of peak season you will find the winter to be mild but rainy.
The summer is hot in Sicily and e do worry about it being too hot for our baby and toddler when we go abroad so it's worth taking a few precautions and planning ways to get out of the heat.
We took our beach tent with us so that we always had some shade. It also worked really well as a sheltered place to lay our baby down for naps, and a private space for feeding.
One of the best ways to escape the heat, when you're sightseeing, is to spend some time in a church. They are always nice and cool and you can usually admire some spectacular architecture and artwork.
Sicily's climate is diverse, with regional variations depending on altitude and the protection provided by the island's rugged, mountainous terrain from northwest prevailing winds. The southeastern regions tend to be drier and warmer than the northwestern, while the southeastern coast is usually calmer. Higher areas have cooler temperatures and receive more rainfall throughout the year.
As the largest region of Italy, Sicily is situated at the southwest tip of the boot-shaped mainland in the Mediterranean Sea, surrounded by smaller islands. The constant warmth of the Sicilian climate, combined with its low, yet consistent rainfall, creates the perfect conditions for growing citrus fruits. The hillsides are often green, and the lowlands are striped with lemon and orange groves, adding a tangy twist to many traditional Sicilian dishes.
Is it very crowded in Sicily?
Another important factor to consider when choosing when to visit Sicily with a baby or toddler is the crowds. Sicily can get very busy in the summer, especially on popular beaches. Italians almost always take their holiday in July and August and since their country is truly gorgeous, many of them take their holiday in Italy.
This is also the time when you get the best weather and as it's school holidays across the northern hemisphere so obviously this is the time that it gets busiest.
If you only have a baby or preschooler then it is definitely a good idea to travel outside of school holidays while you still can! This will save you money and the island will be quieter.
If you do decide to come over the peak summer months, try and book for July rather than August as it will be somewhat quieter, and be sure to book well in advance as the best accommodation will sell out.
The shoulder season of May/June and September/October are possibly the best times to visit with a good chance of warm dry weather but without the peak crowds. It could also be warm but not crazily hot which is a good temperature for babies and toddlers to enjoy Sicily.
If you are keen to swim in the seas it will be warmer in the late summer than June as the sea will have had the whole summer season to warm up.
The summer season is considered to be over at the end of September and beyond this, you will find that a lot of tourist services close down for the winter.
How to get to Sicily with a toddler or baby
Fly to Sicily
Getting to Sicily by plane is relatively easy and convenient, as the island is served by several airports. The main airport in Sicily is Catania-Fontanarossa Airport, located on the eastern coast of the island, which offers flights to and from many major cities in Europe, as well as some destinations in Africa and the Middle East.
Other airports on the island include Palermo Falcone-Borsellino Airport on the northwest coast and Trapani-Birgi Airport on the western coast, which also offer a range of flights to European destinations.
The best way to find a flight to Sicily from your location is to use the Skyscanner website. This will check the available price with all airlines and allows you to filter by various options like flight time, duration, preferred airline etc. It is a great time and money saver and is always our go-to method for booking flights.
Flying with infants is never something that parents look forward to but we have flown loads of times and it's always been fine. To make sure that your flight goes smoothly, be sure to check out our guides to flying with a baby or flying with a toddler.
How to Travel Around Sicily
The best way to get around Sicily with a baby and toddler is by renting a car, but travelling by public transport is perfectly possible. We visited Ragusa, Siracuse, Taormina, Aeolian Islands, Cefalu, and Palermo all by public transport. It was very easy to get around in this way.
If you travel around Sicily with a baby or toddler in your own vehicle it will give you more freedom to explore the interior of the island and explore the delights of the island and visit the out of the way places and beaches. We use RentalCars.com to compare prices and find one to hire at the best price possible.
The roads are good and there is not too much traffic so driving around is pretty straightforward.
Sicily with a Toddler or Baby

– Final Thoughts

We hope that you have enjoyed reading our guide to visiting Sicily with a toddler or baby. We really love it here and think that it is a great family travel destination.

Hopefully, you will enjoy your trip to Sicily with your baby and toddler as much as we have with our children. You may also like to read our guide to Italy with a baby or toddler (we have also covered Venice with baby and toddler, Sardinia with a baby or toddler, and Lake Garda with a baby and toddler)

If you are travelling around Europe, you might also like to read our Portugal with a baby and toddler post.