Venice is one of the world's must-see sights. No doubt about that. It is incredible and totally unique. But, if you thinking about visiting Venice with a baby or toddler you might be wondering if it is a good place to take your little ones. Or you might want to know what to take to make your visit go smoothly.
Well, we are here to help! In this post, we will share our experience of visiting Venice and let you know our top tips for visiting Venice with a baby or toddler.
Should you Visit Venice with a Baby or Toddler?
You will find a lot of people saying that Venice isn't a great destination for babies and toddlers, but I can't say that we agree with this. We think that is a great destination for children of all ages and makes for a very family-friendly getaway.
Venice is one of the best cities to travel to in the whole world why not share that with your baby or toddler. Babies will be constantly entertained by the constant exploring and the attention they receive whilst toddlers will be fascinated by the canals, boats, and new discoveries around every corner.
Is Venice stroller friendly?
Venice is not very stroller friendly but we still recommend that you take one. Getting around Venice with a baby or toddler in a stroller can be a challenge with bridges, cobblestones and boats to negotiate.
Many of the bridges are steep and have steps to get past with your pushchair. A few of them have ramps to help you get across but generally, you will have to carry the stroller up and over.
This can be a bit of a pain, especially if you have overloaded the pushchair with everything that you need for a day of sightseeing (we all do this!), and have a sleeping child on board. You can make it a bit easier by taking a travel stroller like the Babyzen Yoyo or Bugaboo Ant. They are small, light, and easy to fold. But, ultimately there will be times that they are an inconvenience.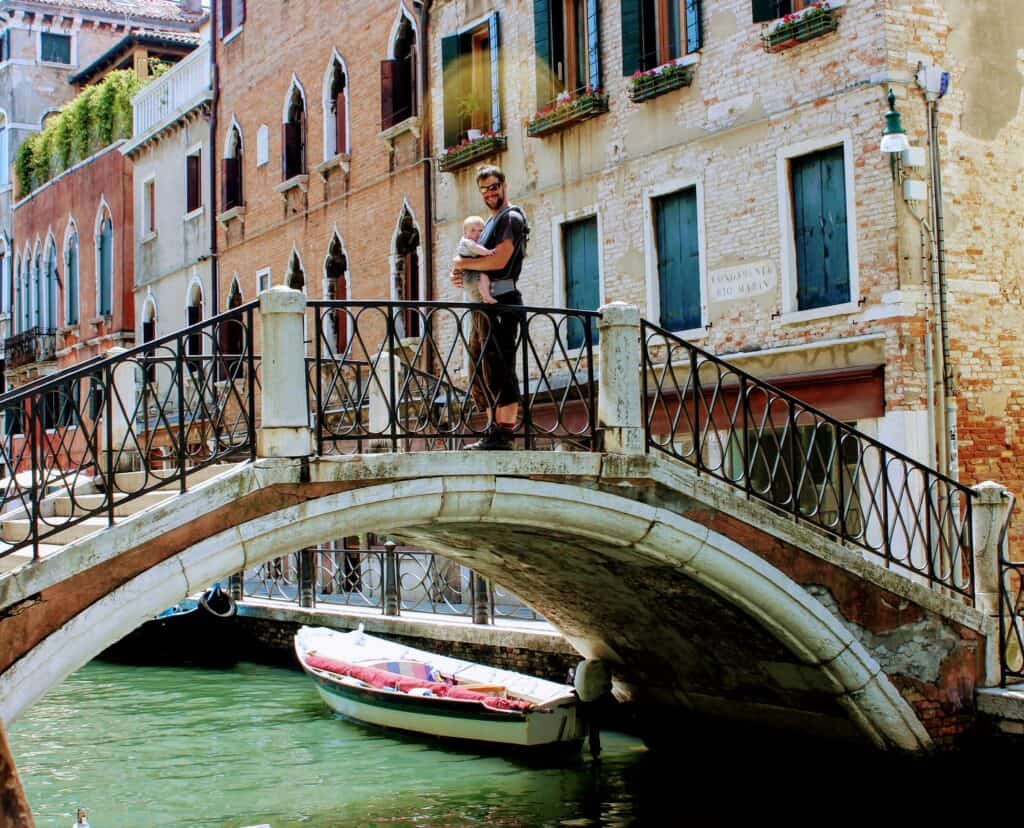 Over our time in the city, we alternated between taking our stroller and relying on our baby carrier, depending on where we were heading to. We definitely recommend that you take both a stroller and a baby carrier if you go to Venice with a baby. If you plan to get on and off the vaporretti, it is quite awkward with a stroller, but it is manageable. If the boat is busy you may be asked to fold it up so that it takes up less room.
Apart from the boats and bridges, there are lots of areas where having a stroller is great. It is flat and mostly quite smooth. Some areas, like the Santa Croce and San Polo areas, are fine to take a stroller, with wide flat streets and large piazzas. Having a stroller gives you and your back a break and offers a better place to sleep for your baby so they definitely come into their own at times.
As we were arriving by train with a stroller and wheeled luggage, we picked accommodation near to the train station that could be accessed easily without having to negotiate any of the major canals.
Getting around Venice with a toddler throws up the additional challenge of there being open water everywhere.
You will need to remain vigilant but we do not think you should let this put you off visiting, just think of the canals as being like roads in any normal town.  In fact, as there are no roads or cars to worry about it is actually quite a toddler-friendly place to explore. Some parents like to use reins to keep hold of their children for extra peace of mind but we have never felt the need to use them.
---
---
Can you take a baby to Venice?
You can absolutely take a baby to Venice. It was one of the highlights of our northern Italy itinerary. We travelled by public transport with our baby and had a great time. She enjoyed all the new sights and the attention she received from the friendly Italian locals.
Visiting Venice with toddlers is an equally good idea, they will delight in the unusual sights and sounds and what toddler wouldn't love travelling around by boat?
What can you do in Venice with a baby?
One of the great things about travelling with a baby is that they are small and light and spend a lot of time sleeping. We have found that, with a few accommodations, when you travel with a baby you can still do most things that you would do without a baby.
When we visited Venice with our 9-month-old baby we went on a gondola ride (which she loved), visited Murano and Burano, rode the Vaporetti, and explored the wonderful streets of Venice on foot (don't miss some quieter areas like Cannaregio and Castello, as well as the famous places like Piazza San Marco and the Rialto Bridge). For loads more ideas, check out our post on things to do in Venice with kids.
Can you find Playgrounds in Venice?
Now that we travel with a pair of toddlers, we are always on the lookout for parks and playgrounds in the towns and cities that we visit.
Venice isn't blessed with lots of wide open green spaces but there are a few places that you may want to include on your itineraries of Venice for kids, in order to keep the little ones happy (that's what it's all about isn't it?)
Giardini Papadopoli: A lovely shaded park just south of the train station that has a small children's play area.
Parco Delle Rimembranze: Towards the east of the island, this is a nice green area to laze beneath the trees and let your baby have a crawl around on the grass.
Giardini Della Biennale: Has a good playground for younger children.
Parco Savorgnan: This park in the Canareggio district has a couple of small playgrounds and caters for kids of all ages. 
Burano: There is a small playground near the ferry terminal on Strada di Corte Comare.
Where to Stay in Venice with a Baby
Accommodation in Venice is famously expensive and you will need to book well in advance to get the best deals and the nicest rooms.
Even though it is a bit more expensive than most other towns in Italy we were still able to find some reasonable options and you shouldn't be put off by talk of how expensive the city is (we don't travel with a huge budget). This goes for eating out too which we didn't find to be any more expensive than elsewhere in Italy (assuming you don't plan to eat at San Marco or one of the other hot spots – if you do you will pay a premium but you also get to sit in one of the most remarkable places in the world).
Of course, if you want to splash out on accommodation you can stay in some pretty majestic buildings with truly unique views over the water. It could well be worth the cash for an unforgettable stay.
Looking to book a room in Venice? Check out our favourite places on Booking.com
When you book your room be sure to mention that you have a baby. Hotels can't exceed room capacity so even if you think you can co-sleep with your baby (or have a travel cot like we did) they might not be allowed to let you stay.
Hotel Palazzo Stern – Spectacular Location: For a truly memorable stay try this old palace right by the Grand Canal. The canal side terrace is an unbeatable place to have a meal or drink whilst the interior is opulent enough to make it feel like you are staying in a palace (which you are!).
Ca' Due Leoni – Where we stayed: This is a hidden gem located in a quiet residential area at the heart of the Cannaregio District. It is a small hotel that is great value with a pleasant courtyard for breakfast and antique furnishings for a touch of glamour. It is an easy walk to the train station.
B&B San Firmino – Top rated on Booking.com: Overlooking the Santa Maria Formosa church's baroque façade and the canal this B&B offers wonderful breakfasts and comfortable rooms.
Our personal preference was to stay right in the historic centre of Venice to really soak up the ambience. This will mean that accommodation is generally smaller and it is harder to find hotels in Venice with swimming pools and kid-friendly facilities that you may want for your trip.
If you are visiting Venice for more than a couple of days, you might like to stay across the lagoon at Venice Lido where you can stay in larger complexes that offer a full range of facilities, the chance to escape the heat and crowds of the city, and an opportunity to relax on the beach.
The Vaporetto runs across the lagoon and only takes 15 minutes to take you to the heart of historic Venice. You can enjoy the view as you travel and we feel that this is a nicer option than staying in Venice Mestre on the mainland.
Looking to book a room in Venice Lido
Marea Le Ville del Lido Resort- Family Friendly: This is a great option for families with a lovely outdoor pool (and little kiddies pool)
Camping Marina di Venezia 260S – By the Beach: Located in Cavallino-Treporti, this luxury campsite has an amazing range of swimming pools complete with slides and islands to play on and it is right by the beach making it an ideal base for families. Accommodation is in mobile homes with kitchenette areas and can sleep up to 6 making it a good value option for larger families.
If you fancy having a swim when you stay in Venice, check out our guide to the best Venice hotels with a pool.
Getting to Venice
Venice is easy to get to however you are travelling.
Train: We arrived by train at the Santa Lucia Railway Station. Walking out of the station is an amazing experience as you immediately find yourself in the heart of Venice right by the Grand Canal.
Train services in Italy are quite affordable and tend to be reliable. We really enjoy travelling in this way, check out our itinerary for travelling around Northern Italy by public transport which finished up in Venice.
Air: It is easy to fly to Venice and there are two airports close at hand, Venice Marco Polo (8 miles away) and Treviso (23 miles away). We flew out of Treviso which was very easy to get to using the cheap shuttle bus. You can get low-cost flights from Treviso with Ryanair and others.
Arriving at Marco Polo gives you the option of arriving in style by crossing the lagoon to Venice by boat. Feel like James Bond in a private water taxi or take the less expensive shared taxi boat.
Car: Driving to Venice is possible but is not the best option unless you need a car for other parts of your trip. You cannot drive around Venice itself but will need to park on arrival and pay upwards of 25 euros per day for a parking space.
Sea: You can reach Venice by ferry from a number of locations, this website shows the routes and tickets. You could even travel to Venice in style as part of a family cruise around the Mediterranean.
Final Thoughts on Taking a Baby or Toddler to Venice
I hope that you have enjoyed reading this post. We really enjoyed our holiday in Venice with our baby. Family time together is always special but being away and somewhere magical makes it that much more special and more memorable. Plus, you will take more photos to help you remember it when your kids are all grown up!
---
Looking to visit Italy and want to read more posts?

Italy By Public Transport – A Northern Italy Itinerary

What to do in 48 Hours in Verona

The best things to do at Lake Garda