Of all the countries that we have visited, Italy is probably our favourite. We return there time and again and are always amazed that there are so many amazing places to visit.
Architecturally the country is something else, there are of course the famous places that we have all heard of and seen in a million pictures.
But away from the tourist hotspots almost every town and village seems to be designed like something out of a storybook with medieval towns and villages dotting the landscape. And what a landscape! Italy has it all, from snow-capped peaks to white sandy beaches, it is no surprise that Italy is known as the 'Bel Paese' or 'Beautiful Country'.
This northern Italy itinerary will really help if you are planning a trip to northern Italy. We will pass on some top travel tips for visiting the north of Italy by public transport and share what we think is a pretty awesome 2-week itinerary.
We did this two week trip with our 8-month-old daughter and travelled by train and bus but you could easily do it by car if you prefer.
We went at quite a fast pace and this route could easily keep you busy for 3 weeks or longer. Our route incorporated overnight stays in Bergamo, Torri-del-Benaco, Verona, Ortisei in the Italian Dolomites, and Venice.
We feel that this gives a perfect blend of nature and culture with the chance to get out hiking plus soaking up some of the nicest towns in the north. It is very easy to do by public transport and we show you how below.
If you have only one week you will need to drop some of these places. It is a tough decision but we would probably go choose to visit Bergamo, Garda and Venice.
---
Travelling with a baby or toddler?

Check out our post of the most essential baby and toddler travel gear

and our guide to Italy with young kids
---
Our 14 Day Northern Italy Itinerary
Bergamo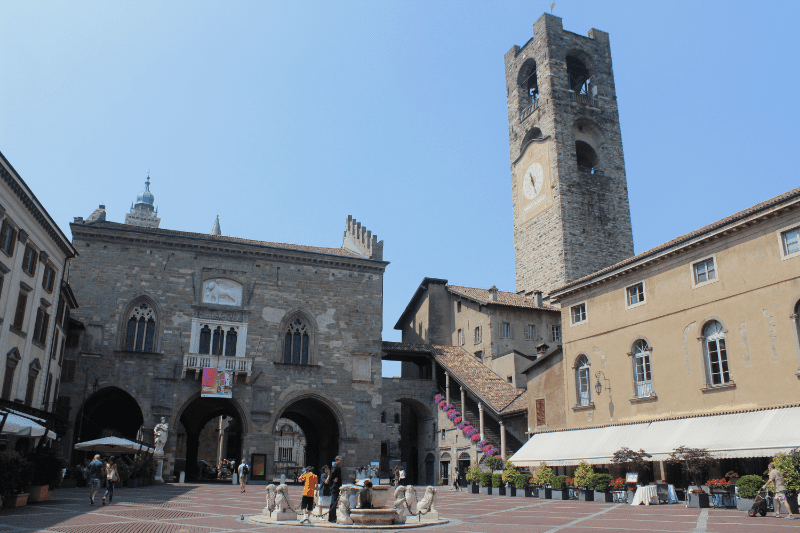 The delightful town of Bergamo is often overlooked on itineraries for the north of Italy but is a great destination full of historic atmosphere and Italian charm.
Perched high above the surrounding lowlands, the old part of town is known as the Citta Alta and is characterised by old cobblestone streets and shuttered properties, while an impressive Venetian wall encircles this old district.
As with most Italian towns, our favourite thing to do is just walking around the town, popping into the interesting looking churches and finding a nice piazza to sit in.
When we were there buskers created a magical atmosphere around the Piazza Vecchia and as ever there was a great gelateria on hand with some wonderful Italian ice cream (maybe this is the real reason we love Italy so much).
You can ride the Funicular up to the Rocca di San Vigilio for fantastic views over the city, or down to the lower town which is newer than the upper town but still dates back several hundred years.
Other must do's in the town include walking the Venetian Walls which are listed by UNESCO as a world heritage site.
This gives you a great introduction to the town with small parks and restaurants dotted along the walls, each with great views over the lower town and back to the Citta Alta with its ornate city gates.
For this itinerary, we recommend 2 nights in Bergamo, check out our full guide to visiting Bergamo. If you have any extra time you might like to spend a day in Milan, it is an easy day trip.
Getting to Bergamo
Arrival: Fly to Milan Bergamo airport and catch bus No1 to Citta Alta. This departs every 30 mins. The bus also stops at the train station and other points in the lower town if this is where you choose to stay.
Where to Stay in Bergamo
Both the upper and lower towns are worth a visit but it is really the perfectly preserved medieval upper town that is the big draw for tourists and this area makes the ideal place to stay.
Looking to book a room in Bergamo? Check out these great options!
Bed & Breakfast A Casa Mia – Where we stayed. A lovely B&B just outside the walls of the upper town. There are fabulous views from the balcony and a delicious breakfast. Recommended.
Bergamo Alta Apartment – Great for Families. Good value 2 bedroom apartments in the heart of the upper town.
Relais San Lorenzo – Top rated on Booking.com. Enjoy a relaxing stay at this elegant hotel where you can indulge yourself at the spa with Finnish sauna, Turkish bath and sensory showers.
Moving On
Bergamo to Lake Garda: Take bus No1 back to train station and catch a train heading to Treviglio and then to Peschiera Del Garda Station, the journey takes just over an hour and a half. Walk the short distance to the bus stop and catch Bus 483 to Torri Del Benaco.
Timetables for buses and ferries around Lake Garda can be found here.
Lake Garda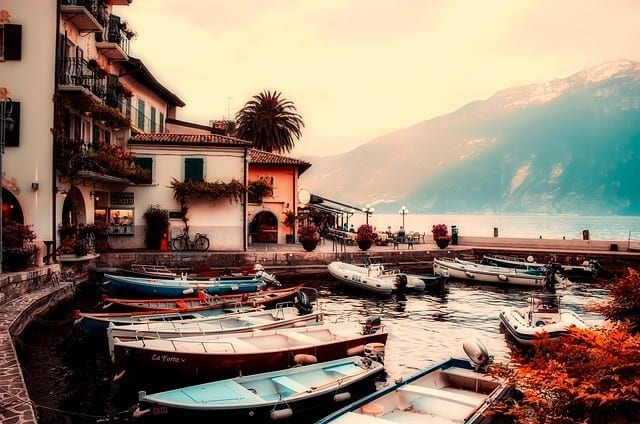 Torri del Benaco is the ancient capital of Lake Garda and is a lovely town well worth a visit, it is situated about halfway up the east coast of Lake Garda where the rolling hills start to grow into towering mountains.
It makes a great base to explore Italy's largest lake, with ferries and tours going to pretty much everywhere.
The town offers lovely views across the lake which can be enjoyed from one of the many lakeside restaurants in the beautiful port area where hotels and boutique shops rest up against the old castle walls.
There is a very small beach here that will entertain your little ones, but the main attraction is the town itself and using it as a gateway to other towns around the lake.
We took the ferry up the east shore of the lake to the famously picturesque town of Malcesine. Along the way you will get great views of the entire lake and to the mountains that rear up behind to pretty towns that dot the shore.
Malcesine is charming with a beautiful setting and a maze of historic alleys leading up to the castle. It is very popular with day-trippers so do not expect to have the place to yourself.
If you are following our north Italy itinerary over 2 weeks, we suggest 3 nights at Lake Garda. Check out our in-depth guide to things to do in Lake Garda and guide to visiting Lake Garda with a baby or toddler
Where to stay at Lake Garda
There are some great places to stay in Lake Garda, we always book through Booking.com they have great prices and free cancellations if your plans change.
Our top picks are:
Hotel Al Castello – This is where we stayed. They do a great breakfast, are very family friendly and it is well located near everything (including the bus stop). We enjoyed our stay here.
Residence Ca Del Lago – Lovely apartments with lake views. Has a nice swimming pool.
Hotel Riel – A great option for families, Hotel Riel has clean modern rooms and a lovely swimming pool.
Moving on
Torri del Benaco to Verona: There is a direct bus to Verona (X05) but this only leaves at 06:35. At other times take bus 483 to Peschiera del Garda and then catch the train to Verona.
Timetables for buses and ferries around Lake Garda can be found here.
Verona

Nestled on a tight curve of the Adige River, Verona has been an important town since Roman times. Today smart shops and cafes fill the attractive and vibrant old town.
It is a popular place with tourists but doesn't quite enjoy the international renown of towns like Venice and Florence.
It's easy to spend time simply exploring the narrow streets lined with handsome palazzi that make up the historic centre. The town's museums and churches contain fine works of art, while the views over the river from the ruined Roman theatre are well worth the climb up.
Just inside the town walls is Piazza Brà, a large open space dominated by the ruins of the Roman Verona Arena, which now hosts open-air opera in the summer months. We found some great restaurants in the small streets just off Piazza Brà, but the true heart of the town and its most majestic buildings can be found at Piazza Erbe.
I'm not sure anyone has ever written about Verona without mentioning that it was the setting for Shakespeare's Romeo and Juliet so I won't be the one to buck that trend.
It seems to be something that is being heavily pushed for the benefit of tourists but the links are tenuous at best. We had a quick look past the crowds at the famous 'Juliet's Balcony' but chose not to post the dead, fictional character a letter at 'Juliet's Tomb', this is an option if you feel inclined.
We took a day trip to the often-overlooked historic city of Mantua, again taking the train. It is a picturesque town surrounded by water with a skyline dominated by ancient towers, turrets and domes.
The town is an architectural gem that has scarcely changed since medieval times (the defensive lakes that surround the city don't allow room for expansion). It is a quiet but charming place to visit and is free from the crowds of tourists and tacky souvenirs stalls that you will find elsewhere.
We suggest spending 3 nights in Verona which should give you enough time to check out all the best things to do in Verona which will take you past the midpoint on this northern Italy itinerary 14 days.
Where to Stay in Verona
Moving On
Verona to Ortisei: Take the train from Verona to Ponte Gardena then catch bus 350 to Ortisei. Remember to check the latest bus timetables.
The Dolomites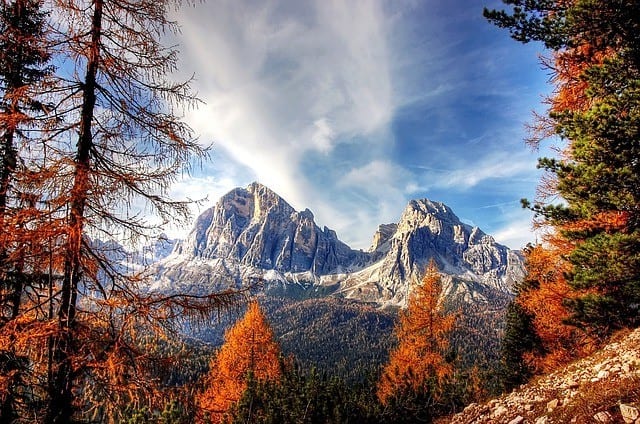 The rocky peaks of the Dolomites are iconic and spectacular so we were keen to include some time in the mountains despite them being slightly out of the way on our northern Italy travel route.
By staying in the Val Gardena area, we were able to enjoy stunning views and some great hiking territory that was very accessible by public transportation. Not only was it easy to get to, but there is a good network of buses and cable cars that will help you get around once you have arrived. Val Gardena is part of the massive Dolomiti Superski and is well worth visiting in winter for excellent skiing and snowboarding.
If your hotel in the valley is a member of the Tourist Association in Val Gardena (ours was), they will be able to provide you with a free bus pass, the Val Gardena Mobil Pass, for use on buses in the valley. This card also allows you to use a nice public swimming pool for free.
The cable cars were great for allowing us to see a bit more of the mountains with our daughter. Carrying an 8-month-old on a hike isn't so bad (with a good baby carrier), but we don't like to keep her cooped up in the harness for too long, so we were keen to find some hikes that were spectacular but not too epic.
We stayed in pretty little Ortisei, one of four main villages in the 25 km Val Gardena. All are surrounded by impressive and powerful mountains and would make a good base for a few days in the area.
We did 3 hikes in the area, one straight from our hotel, and two where we took the cable car up before hiking at higher altitude. Before we came I knew that I wanted to see the classic dolomite rocky peaks, but I wasn't too sure where they actually were and if this was a good place to see them from.
Well, I wasn't disappointed coming here, our first short hike out from Ortisei gave us stupendous views like the one below. It can get hot so remember your hiking shorts!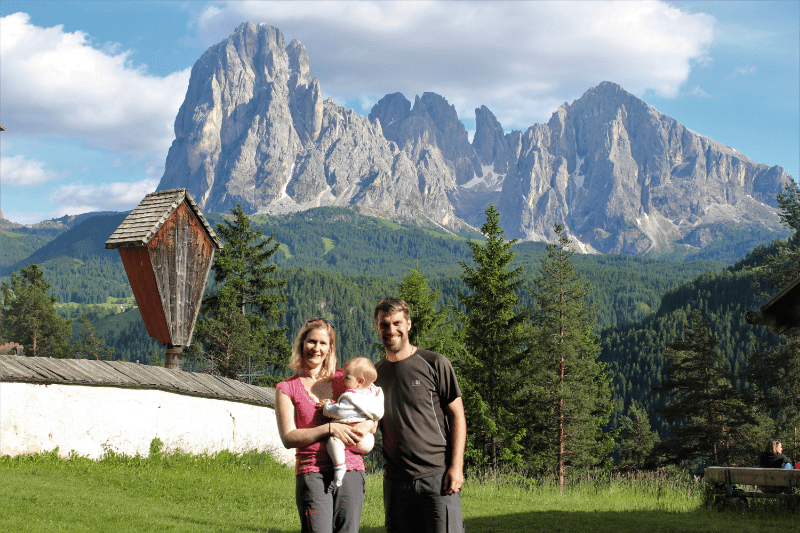 Where to Stay in Val Gardena
There are a few nice towns in the valley but we were very happy with our choice of Ortisei and we couldn't fault our stay at B&B Villa Angelino, the room was great with amazing views across the valley and the breakfast was also excellent which is quite rare in Italy.
We suggest 3 nights here before you continue on your north Italy travel itinerary.
>>> Click here for the best accommodation deals in Ortisei
Moving on
Ortisei to Venice: Catch bus 170 to Bolzano then catch a train to Venice. We spent a couple of hours walking around the charming town of Bolzano before continuing on the train. It is a lovely riverside town with a great atmosphere and we recommend doing this to split up your journey.
Venice
Stepping out of the station at Venice is a moment that will stay with me always. You walk out and it is right there, the Grand Canal that you will recognise from so many movies and photos.
Boats and gondolas busily travel back and forth whilst tourists grab their cameras to take the first of many photos of this floating city. It is hectic and amazing all at once.
Venice needs no introduction. Even if you have never been, the name itself will instantly conjure up images of ornate bridges, cathedrals, and palaces overlooking watery streets lined with gondolas. It is a place that has inspired awe in travellers for centuries and is surely one of the world's great treasures.
Having said that, I wasn't too sure if we would like Venice. We had always liked to stay off the tourist trail and visit out of the way places, but Venice has a reputation for being crazily busy, and we were here in July at the peak of tourist season.
I can safely say that we absolutely loved it and it was a highlight of this trip to Italy. We are world travellers always on the lookout for new places and new experiences, and there is nowhere in the world like Venice.
It truly deserves its fame and popularity. It is unique and stunningly beautiful.
Yes, it is busy but other than one or two hotspots this doesn't detract from the majesty of the town and it is somewhere that we think everyone should visit.
No matter how many photographs or films you may have seen, it is still a jaw-dropping experience seeing Venice's canals and palaces for the first time, and a trip down the Grand Canal is one of the great travel experiences. The buildings are sumptuous and the atmosphere is extraordinary as gondolas, taxi boats and vaporetto's vie for space along the waterway whilst passing under balconies that display the Italian flag.
All of Venice is beautiful and if you wander the back streets and canals away from the main sights, it is easy enough to get away from the crowds. We spent very little time at the Rialto Bridge and Piazza San Marco but the city is blessed with so many sights around every corner that you do not need to focus on these famous places.
One of the best things to do in Venice is simply traveling around using Vaporetto's. These are water buses that go back and forth along the canals, carrying tourists and locals to all parts of the city.
Venice looks its best from the water so this is a great, low-cost way to see the facades of wonderful, crumbling palaces that line the waterfront. You can buy a ticket that allows for unlimited journeys and you can even visit some other towns on the nearby islands, like Murano, Torcello and Mazzorbo on day trips.
We have written a detailed guide to things to do in Venice with kids, and if you are travelling with very young kids be sure to read our guide to Venice with a baby or toddler. We suggest spending the final 3 nights of your Italy tour in this magical city, this is about the right amount of days to spend in Venice.
Where to Stay in Venice
Looking to book a room in Venice? Check out our favourite places on Booking.com
Hotel Palazzo Stern – Spectacular Location: For a truly memorable stay try this old palace right by the Grand Canal. The canal side terrace is an unbeatable place to have a meal or drink whilst the interior is opulent enough to make it feel like you are staying in a palace (which you are!).
Ca' Due Leoni – Where we stayed: This is a hidden gem located in a quiet residential area at the heart of the Cannaregio District. It is a small hotel that is great value with a pleasant courtyard for breakfast and antique furnishings for a touch of glamour.
B&B San Firmino – Top rated on Booking.com: Overlooking the Santa Maria Formosa church's baroque façade and the canal this B&B offers wonderful breakfasts and comfortable rooms.
For more ideas of where to stay in Venice, check out our guide to the best hotels with swimming pools
Moving On
Venice to Venice Treviso airport: Catch the ATPO or Barzi shuttle bus. If you have time for an extra place, Treviso itself is well worth a visit and you can get there easily by train.
How to Travel Northern Italy
Northern Italy is an easy place to tour and you have the option of using public transport to visit all of the places covered in this post. In this section, we pass on our top tips for travelling Italy by public transport. If you prefer to hire a car, check out our guide to renting a car in Italy.
Public Transport in Italy
Italy has a great train network that reaches the majority of towns that you might want to visit. Tickets are reasonably priced and train services are efficient on modern trains. The price of your ticket varies depending on the class of the train and the speed of the service.
In most cases, it is best to book tickets in advance as seat reservations are required, and it will ensure that you get the best price. You can do this online and get an electronic ticket sent to your phone or you can print them out.
If like us, you aren't always good at planning ahead you can buy tickets at the station. It's best to check online first so that you know which trains are best for you considering the overall journey time and cost.
If you are booking online, Trenitalia is the official Italian Railways site. It can be slightly tricky to use as you will need to use the Italian place names (e.g. Venezia for Venice). ItaliaRail has a far more user-friendly system that is all in English with the English-language place names used.
Both sites have similar prices and even though Italiarail charges a small booking fee it can sometimes work out to be cheaper, especially for more than one traveller.
Overall ItaliaRail is the best system and is the easiest one to use it can also help you to find the best tickets as it displays trains and prices for the whole day rather than a narrow window.
Planning Your Route Using Public Transport
A great way to plan your route on public transport it to use the route planning feature on Google Maps. This is particularly useful if your destination is not on the train line.
If you click on the public transport option for your journey it will show you the available options using a bus/train combination and show you the journey times and where you need to go.
Local bus tickets should be purchased before you get on board and can usually be bought at a kiosk or shop near to the bus station, they must be validated once you are on the bus.
Northern Italy Itinerary – The Bottom Line?
We hope you have enjoyed reading our Northern Italy itinerary by public transport, it was a great trip to some lovely places with a good mix of sights.
Travelling by bus and train proved to be very easy and it is worth considering this as an alternative to a northern Italy road trip. We hope that we have inspired you to head over to Italy, if you have any questions please ask below. You may also like to check out our Italy itinerary for some other ideas on how to spend your time in Italy. If you travel with little ones be sure to read our Italy with a baby and toddler guide.