If you are looking for a great 10 day Italy itinerary, then you have come to the right place!
We love Italy and have been there loads of times, so in this post, we will share some of our favourite ways to spend 10 days in Italy.
The different itineraries include something for everyone whether you are looking to enjoy the fabulous art, architecture and culture of Italy, or explore its natural wonders. In fact, Italy is overflowing with both cultural and natural delights so you are sure to take in both on any of these Italy itineraries.
10 days in Italy is never enough, but it is a good amount of time to get a feel for the country and explore a few different locations.
All of the itineraries below are based upon our own experience exploring the country. We have tried to strike a good balance between seeing lots of places and not spending your whole time travelling. This is especially important if you are travelling with kids as they are unlikely to appreciate endless hours on the move.
It is an easy country to get around and some of the itineraries that we describe below can easily be done by public transport. Some of them are best explored in your own vehicle, which can be rented easily and inexpensively.
So, let's get going and describe the route options so that you can choose your perfect 10 day Italy itinerary and get that trip booked!
Italy 10 Day Itinerary: The Classic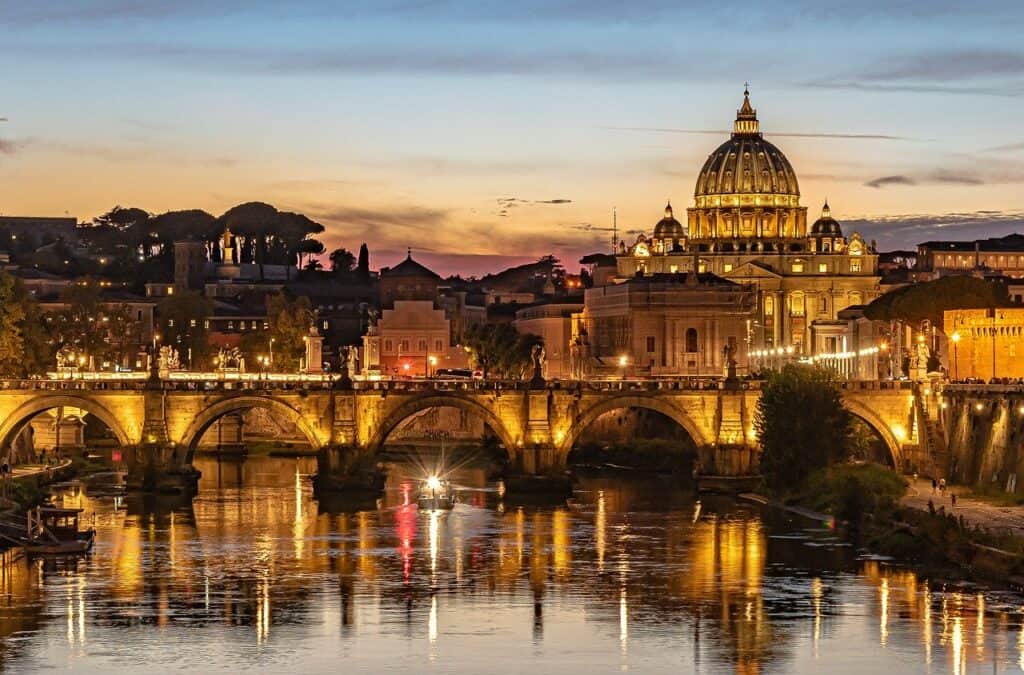 We'll start off with what could be described as the classic itinerary and one that is loved by many first time visitors to the country.
It takes in the glories of Rome, the artistic wonder of Florence and the otherworldly beauty of Venice. These are surely three of the most beautiful cities on the planet and by combining them into one trip you are guaranteed to see many of the best sites in Italy in just 10 days.
It is an easy route to do by public transportation, as there are great train services between the 3 cities.
Day

Activity

Sleep

1
Get to know the City
Walk between the sights of Piazza Navona, The Pantheon, and Trevi Fountain.

Climb the Spanish Steps to Villa Borghese and take in the sunset from Pincio.
Luxury:
Poēsis Experience Hotel
Mid-Range:
Colosseum Corner
Bargain:
Xenia Guest House
2
The Glories of Rome
Visit The Forum, Palatine Hill, and the Colosseum

Head to the Orange Gardens for fabulous views
 
3
The Vatican
St Peters Basilica, Vatican Museums, Castel Sant'Angelo
 
4
Travel to Florence by train.
Get your bearing walking around the town. Climb the Duomo.
5
 See Michaelangelo's David and the Uffizi Gallery
 
6
 Explore the Tuscan countryside
 
7
Travel to Venice by train
Luxury:
Hotel Palazzo Stern
Mid-Range:
Budget:
Ca' Due Leoni
8
 Explore the wonders of Venice
 
9
 Head to Murano and Burano
 
10
Explore Venice some more and think back over your amazing Italy tip 
 
Classic Italy Itinerary Day 1-3 – Rome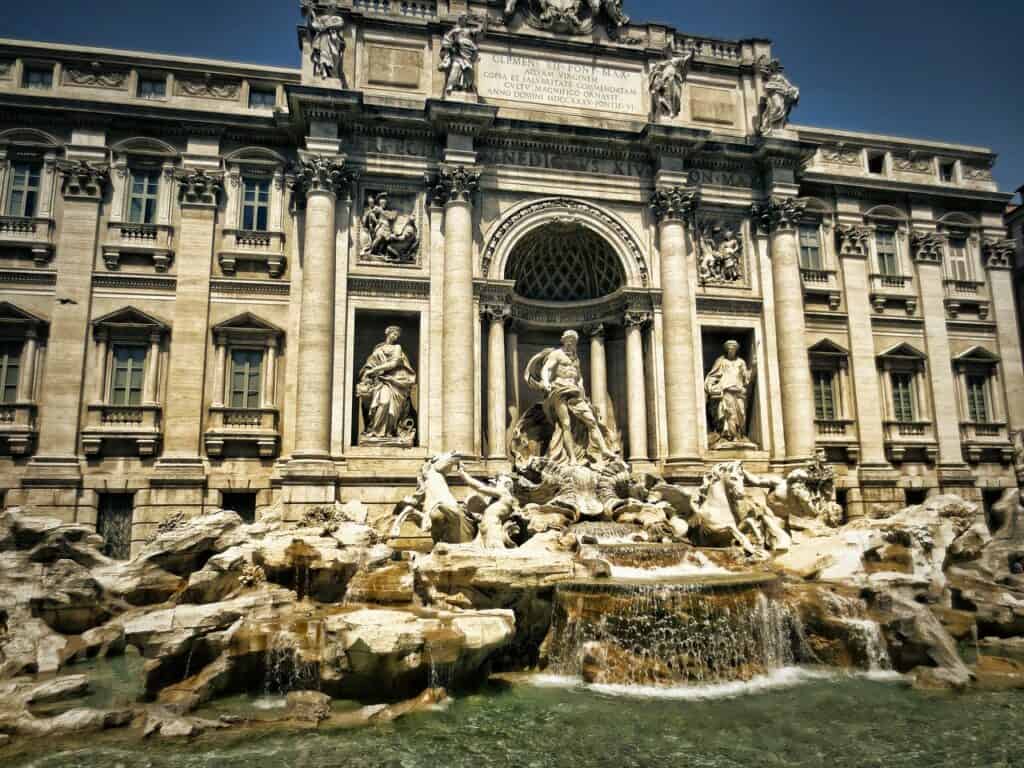 Rome has to be one of my favourite cities in the world. There is so much to see here and there is something new to discover around every corner.
From ancient Roman ruins to Renaissance palaces and the Vatican City state, there is plenty here to keep you busy for the first three days of your 10 day Italy adventure.
It is a big and busy city so you are likely to spend a lot of time wandering about. That is part of the fun as you never know quite what you will stumble across. But it does make it a more challenging city to visit if you are travelling in Italy with a baby or young kids.
Where to Stay in Rome
There are hundreds of places to stay in Roma but be sure to book well in advance as the best places generally sell out way in advance.
Here are some of the best places to stay in Rome for different budgets:
Luxury: Poēsis Experience Hotel
Mid-Range: Colosseum Corner
Bargain: Xenia Guest House
Rome Itinerary
3 days is just enough time to see most of the main sights in Rome. Hopefully, you are either arriving early on day 1 or have arrived the night before and are ready to get your trip underway. We suggest spending your time as follows:
Day 1: Take a walking tour of the beautiful historic streets of Rome. Call in at famous sights like Piazza Navona, the Pantheon, and Trevi Fountain.
Be sure to spend some time wandering the back streets and enjoying some fabulous food and gelato (avoid eating in Piazza Navona unless you are happy to pay a big premium for the setting, there are lots of other nice places to sit!).
In the afternoon, climb up the Spanish Steps to Villa Borghese where you can wander in the enchanting gardens and take in the sunset from Pincio.
Day 2: Discover the glories of Ancient Rome by visiting the Forum, Palatine Hill and the Colosseum. You'll be amazed by how much remains of ancient Rome and how well preserved some things are.
Finish your day by heading up to the Orange Gardens for sweeping views over the city.
Day 3: Gaze in wonder at the riches of the Vatican by exploring St Peters Basilica, the Vatican Museums, and Castel Sant'Angelo
The Vatican can get really busy so we recommend getting a skip-the-line ticket to avoid spending hours waiting to get in. Even if you don't want the skip the line ticket you will need to book this in advance. You can book either using this handy button:
Moving On
Getting to Florence from Rome is dead simple and we recommend taking the train. As with all trains in Italy, the cost will vary depending on the type of train that you get as well as the class of seat that you choose. It is easiest to book your tickets in advance using a website like ItaliaRail or Trenitalia.
You can also buy tickets at the station but you may find there are no seats available on the train that you are after. If you buy tickets at the station you must remember to validate your ticket before boarding the train, otherwise, you could end up with a hefty fine.
Classic Itinerary Day 4-6 – Florence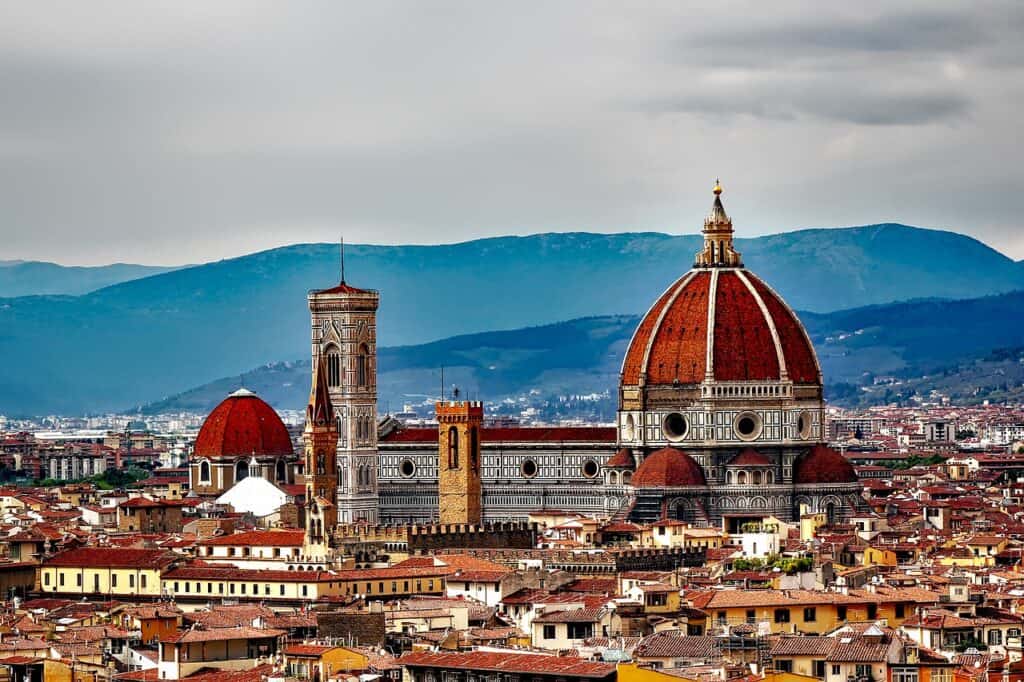 Florence is the birthplace of the Renaissance and was once home to the likes of Michaelangelo, da Vinci, Buonarroti, and Botticelli. They have left the city a fantastic legacy of art and architecture.
Day 4: After your train journey from Rome we suggest you spend the afternoon getting to know the delightful streets of Florence. You can do this on your own, or if you'd like to learn a bit more about the history of the sights you are seeing, this walking tour is a great way to learn about the city.
Save the museums for when you are feeling fresh tomorrow, but it is well worth climbing the Duomo to see this magnificent structure up close and to get the best views across the city.
>>> Book in advance for priority access to climb the Duomo
Once you have your feet back on the ground be sure to cross the famous Ponte Vecchio and climb the hill to San Miniato al Monte for some wonderful views over the city.
Days 5-6
Spend the next couple of days soaking up the architectural and artistic delights of the city. There is so much here that you can't visit all the museums and galleries so do a bit of research if you are looking to see the work of particular artists.
The big hitters that most people want to visit include the famous Uffizi Gallery, Accademia Gallery (for David) and the stunning Boboli Gardens. Florence gets busy so be sure to book your activities in advance, especially as you are on a tight itinerary.
If you are looking for something a little different we highly recommend this pizza and gelato making course, it is loads of fun and is hosted at a lovely Tuscan farmhouse with stunning views.
Here are some ideas for your time in Florence:
Visit the stunning Medici chapels
Take a walk across one of the bridges to the Arno/Oltrarno area
Have lunch or dinner at Osteria Santo Spirito (amazing gnocchi and more)
Casa Toscana has wonderful Florentine steak
Enjoy Gelato at Strega Nocciola and an aperetivo at Le Volpi E L'Uva
On Mondays, the museum of the Orsanmichele church is open. There are original sculptures, and splendid views of the nearby Duomo, plus the building's architecture itself is incredible. It also offers solace since most tourists don't know this hidden gem.
Walk to the top of Piazzale Michelangelo, and watch the sun go down over Florence with people from all over the world.

Make sure that you don't miss the following highlights of Florence:
Michaelangelo's David: BOOK HERE
Visit the Boboli Gardens: BOOK HERE

Day 6: We suggest that on one day you spend time out of the city centre and explore the beautiful countryside of Tuscany. The easiest way to do this is on a guided tour, this will give you a chance to explore the fabulous Tuscan countryside and have lunch and a wine tasting session at a local vineyard. You will visit incredibly beautiful places like San Gimignano, Pisa and Sienna.
This award-winning tour has got to be one of the best day tours in Italy!
>>> Click here to find out more or book your Tuscany day trip
Travelling from Florence to Venice
We recommend continuing your journey to Venice by train. Walking out of the station in the heart of Venice is spectacular!
Be sure to buy train tickets to Venice Santa Lucia train station and not Venice Mestre, the journey takes just 2 hours on the fastest trains but can be up to 6 hours if you go for a slow local train.
Classic Itinerary Days 7-10 – Venice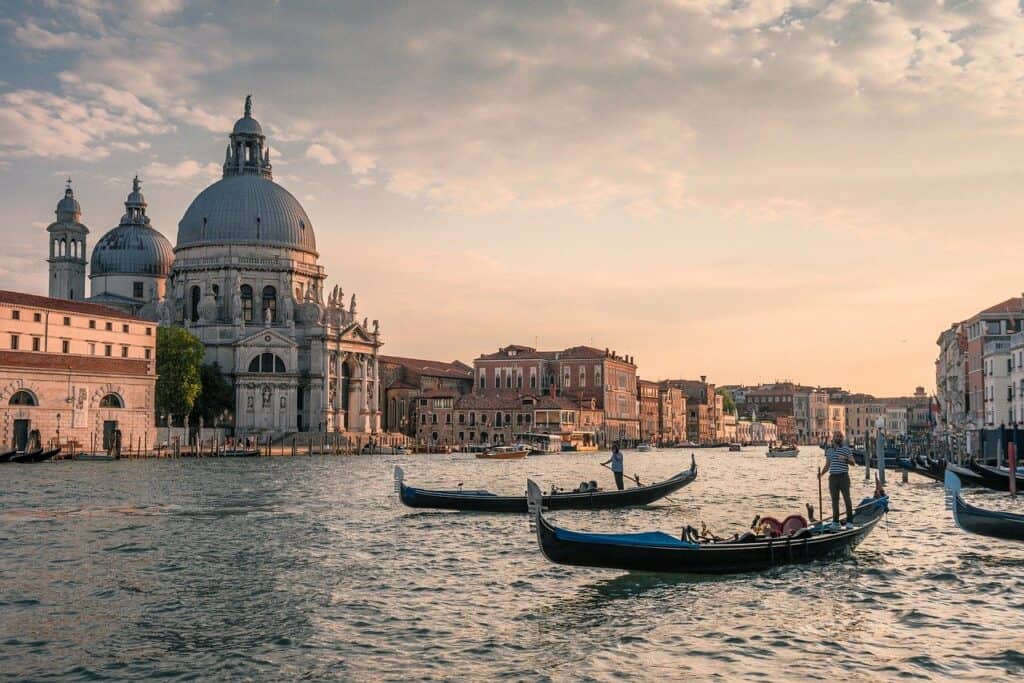 The itinerary finishes up in the incredible floating city of Venice. There is nowhere else like Venice and we think that it is somewhere that everyone should visit on their travels.
The architectural beauty of this place combined with the unique waterway setting makes it a one of a kind travel destination and we think one of the most beautiful places in the world.
The best thing to do here is simply wandering around the streets (yes, it is an easy place to walk around!), trying to find quiet unexplored places. The whole place is stunning so you will always discover new beautiful places.
Having said that, you can't come to Venice without getting out on the water. The Vaporetto is a great way to get around and see the buildings from the water, and you should really experience the canals from one of the city's famous gondolas.
We think that 3 days in Venice is about right and we would use one of them to visit the nearby islands of Murano and Burano which are famous for glasswork and colourful fisherman's houses.
Top Venice Tours:
Doge Palace and St Marks Basilica (Guided tour with skip the line and terrace access!)
Venice Lagoon boat tour (includes Murano, Burano and Torcello islands)
There are some fabulous places to stay in Venice, be sure to book in advance as places do fill up fast. If you fancy having a swimming pool for your stay, check out our guide to the best Venice Pool hotels.
10 Days in Italy: The North
This is a great itinerary that takes in some beautiful cities; Bergamo, Verona and Venice, but it also gives you the chance to see nature at its most dramatic with the spectacular landscapes around Lake Garda.
We did this trip across northern Italy by public transport, but you could easily do it in a rental car which would give you a bit more scope to explore the mountains and countryside near to Bergamo and Lake Garda. If you can stretch your itinerary to 2 weeks in Italy, we recommend using the extra days for a side trip to the Dolomites.
North Italy Itinerary Days 1-2 – Bergamo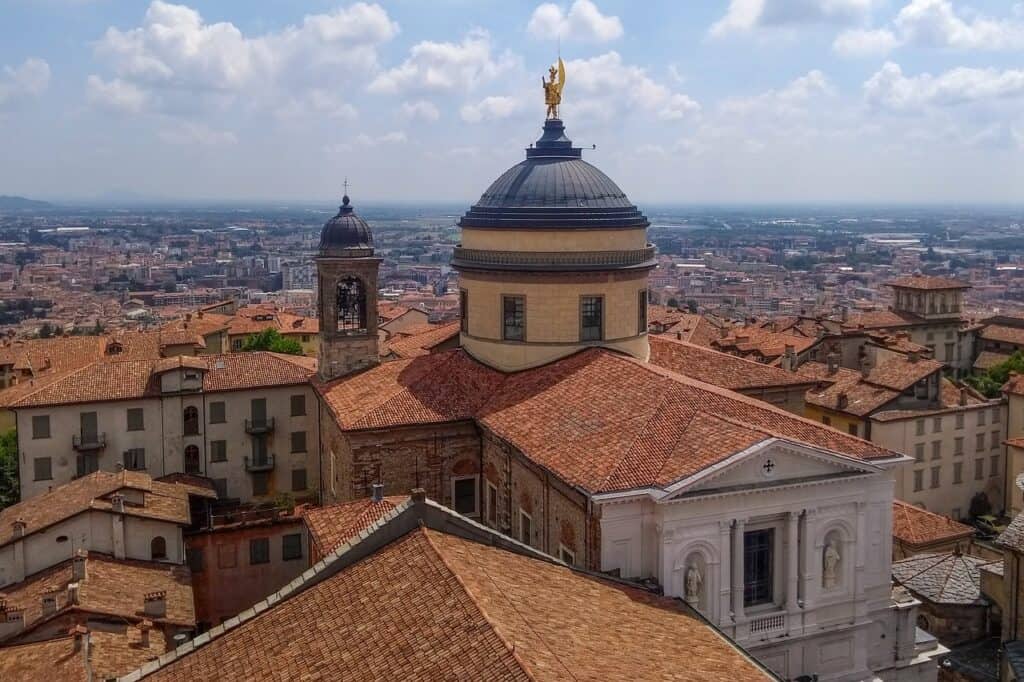 Most itineraries for the north of Italy start off in Milan, and you are welcome to spend a couple of days in the northern powerhouse and fashion capital if you prefer. But, we like the small town and old-world charms of Bergamo.
The old town is perfectly preserved high up on a hill with stupendous views out over the valley below. Getting about by funicular trains is always fun they are a particular highlight for kids. It is a small place so perfect for taking it easy on the first couple of days of your trip.
North Italy Itinerary Days 3-5 – Lake Garda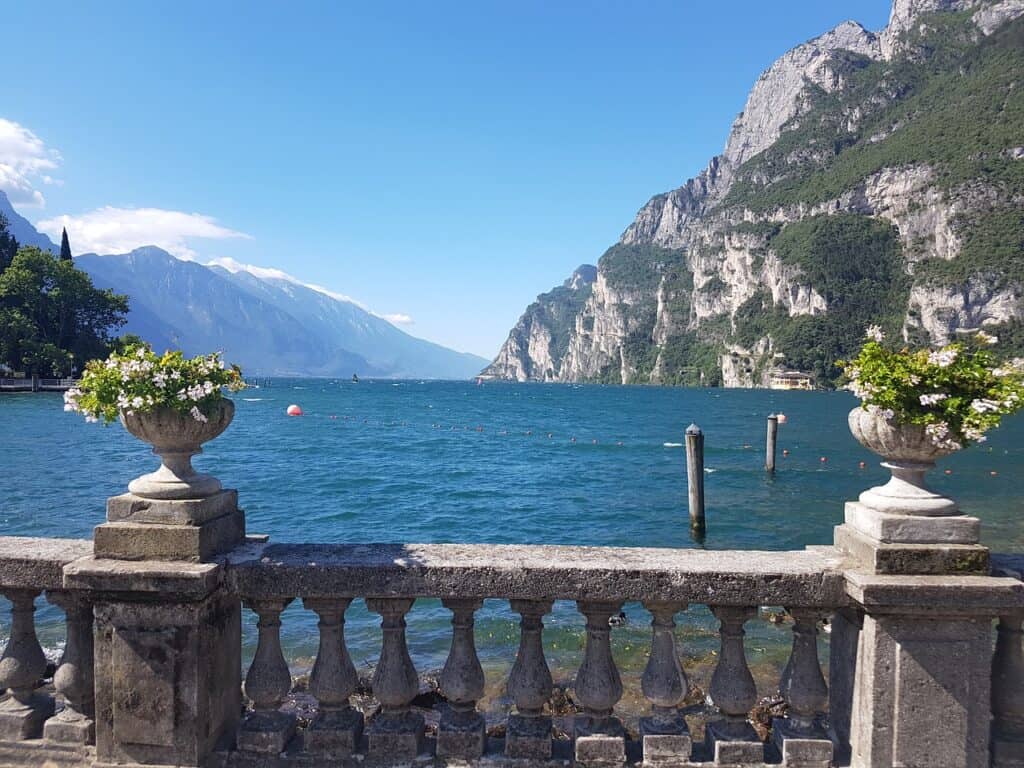 We have included this stop at Lake Garda to give you a chance to see some more of Italy's stunning natural landscape.
Lake Garda is the largest lake in the country, and one of the most beautiful with huge cliffs rising up from the water at the northern end, with the Dolomites in the distance.
Of course, this is Italy so the Italians have improved upon nature's beauty with the construction of charming towns and villages like Sirmione, Malcesine and Torre Del Benaco.
All of these make for a good base for your stay at the lake. There are plenty of things to do here to keep you busy and it is a great place for some hiking or cycling.
But the one thing not to miss is a boat trip out onto the lake. We like the trip up the east of the lake to Malcesine, but it is hard to go wrong with any of the easily arranged boat options.
Read more: Lake Garda with baby or toddler
North Italy Itinerary Days 6-7: Verona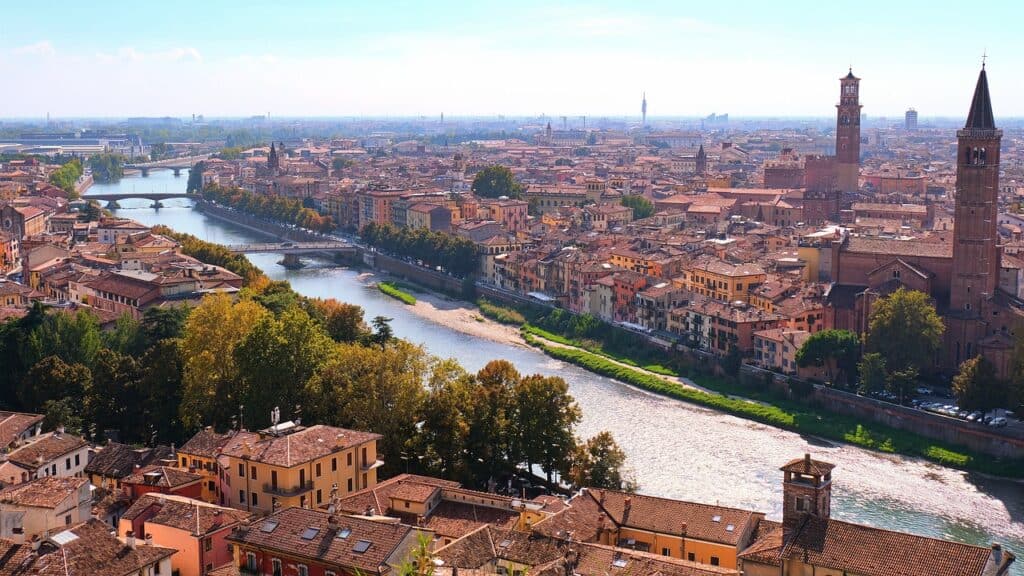 Fair Verona gets missed off many Italy itineraries. This is probably just because there are so many great places to visit in Italy. Verona has great food, beautiful piazzas, a huge amphitheatre, and a beautiful riverside setting. Well worth a couple of nights out of your 10 days in Italy.
A lot is made of the fictional connection to Romeo and Juliet but the highlights of the city for us were the architecture and atmosphere of the place.
North Italy Itinerary Days 8-10 – Venice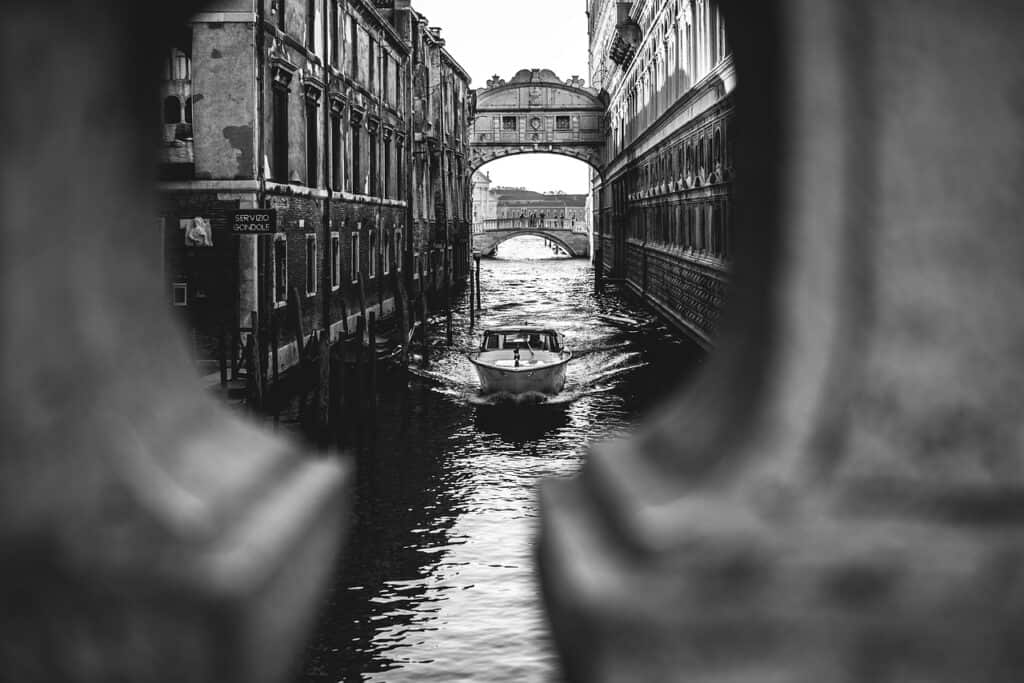 The eagle-eyed amongst you will notice that our first two 10 day Italy itineraries both finish up in Venice. That is because we love it and it is somewhere that anyone that loves Italy should make their way to.
Again, we have allocated 3 days to the city so that you have the chance to explore all the famous sights, like St Marks Square, the Rialto Bridge. But also, enough time to get out into areas like Dorsoduro where less famous but equally unique and beautiful locations await your discovery.
On one of your days you might like to take a tour out to nearby islands of Murano and Burano, this gives you the chance to explore more of the Venice Lagoon and also to see Venice from a whole new angle when you approach from the water.

Read more: Northern Italy Itinerary, Venice with baby and toddler
Italy 10 Day Itinerary: Sicily
Sicily might just be our favourite region in Italy. You could say it is a bit of a microcosm of everything that is best about Italy, all squeezed into a small and easily explored area. We did the 10 day Italy itinerary below using public transport which was really easy to do.
Having a rental car would give you a bit more scope to explore the interior and some of the smaller places away from the train line. It would also make it easier to extend this route into a loop if that works out better for your flights.
Sicily Itinerary Days 1-2: Ragusa
Ragusa is beautiful. I saw a photo just like the one above and knew that this was somewhere we had to include in the 10 days in Italy that we spent in Sicily.
It is a small town without a huge amount of sights and some might say that the architecture here is nothing special. But the way that it all comes together is charming and it is one of our favourite small towns in Italy.
The physical geography of Ragusa Alta has meant that all modern development is completely separate from the old town and this means that the atmosphere is of a medieval city and there isn't even too much traffic in the narrow streets.
We were lucky enough to visit during a classical/jazz festival which made the atmosphere even more magical as music rang out through the streets.
Sicily Itinerary Days 2-3: Syracuse
The first time I walked into the main piazza in Syracuse I was stunned. It is beautiful, full of life and the blue skies overhead made the scene complete. If anything, the areas by the sea are even nicer with plenty of lovely restaurants lining the promenade that makes for the perfect place to enjoy the local specialities.
The old town on the peninsular is the start of the show here, but be sure to check out the impressive Roman amphitheatre.
Sicily Itinerary Day 4: Taormina
Perched up high with views out to sea and across to Mt Etna, Taormina is a tiny gem. It is firmly on the tourist trail and can get a bit busy if there is a cruise ship in town. 1 night here breaks up the journey nicely and gives you a chance to enjoy the ambiance in the evening when things calm down a bit.
Be sure to check out the main piazza, and the Greek theatre. At the bottom of the hill is a nice beach if you fancy getting out of town for a bit.
Sicily Itinerary Days 5-7: Aeolian Islands
I think I will run out of words at this point. The Aeolian Islands are just too beautiful and too perfect for words.
They don't seem to be that well known outside of Italy but they are probably the highlight of this itinerary.
We chose to stay on Lipari, the largest of the islands and took boat trips to explore the other islands. A brilliant experience that we heartily recommend.
Sicily Itinerary Days 8-9: Cefalu
Cefalu is a pretty little town with a lovely beach and the imposing La Rocca hill behind. All in all, it is a classic Italian town and exactly the sort of place you dream of when thinking of a trip to Italy.
Sicily Itinerary Day 10: Palermo
Palermo is a bit rough and ready. It is certainly not the most beautiful town in Italy and many people don't enjoy their visit here. Petty crime can be an issue. We quite liked it but a night here is probably enough or you could skip it altogether and go straight to the airport if you prefer.
Italy Itinerary: Sardinia
Sardinia is beautiful. There is a fabulous range of landscapes on this lovely island; craggy mountains, deep canyons, mysterious rock formations, deep caves with enormous stalactites, crystal clear seas, and some of the best beaches in Europe as the cherry on top.
Combine these natural attractions with wonderful Italian cuisine and warm hospitality, and Sardinia might just be the perfect holiday destination. The roads are quiet and the views are spectacular so we recommend hiring a car and making this a road trip
Sardinia Itinerary Days 1-3: Alghero
Alghero is an ancient fortress city on the sea with a huge defensive wall, cobblestone alleyways, pretty piazzas, and an array of boutique shops. It is our favourite town in Sardinia and makes a great place to start this 10-day Italy itinerary.
Situated in one of the most beautiful areas of Sardinia, Alghero boasts a stunning coastline with beaches, rocky headlands, and calm bays that are home to rich marine life. On land, you can find rugged mountains and diverse Mediterranean vegetation.
You could easily spend your whole trip here, but for this itinerary, we have allocated 3 days which is enough time to get a feel for the town and visit some of the best attractions nearby like Neptune's cave and the stunning beach at Mugoni.
Sardinia Itinerary Days 4-6: Costa Smerelda
On day 4 we suggest driving across the island to the stunning Costa Smeralda on the northeast coast of Sardinia, Italy.
It is probably the best-known corner of Sardinia, famous for its blue water, fine sand beaches, and fancy resorts loved by the rich and famous. When you cross the island we recommend a stop at Tempio Pausania, a charming little town that makes a nice place to break up the journey.
The Piazetta in Porto Cervo is a great spot to lounge in style amongst the jet-set – truly a place to see and be seen. The traditional evening stroll along the quay is a must, with fashionable designer boutiques on one side, and luxury yachts on the other.
The real draw though is the coastline and we love Capriccioli beach and Cala Brandinchi while the stunning Isola Tavolara is an impressively rugged island rising dramatically out of the sea. It makes for a nice day trip or backdrop to your time on the coast. It is also worth taking a boat trip to the stunning La Maddalena archipelago.
Sardinia Itinerary Days 7-8: Cala Gonone
Blessed with spectacular highlands with deep ravines and canyons, the Supramonte is a natural wonderland filled with awesome caves like the Grotta del Bue Marino and Grotta di Ispinigoli.
The coastal area which borders the Gulf of Orosei is spectacular and includes several glorious beaches like Cala Luna, Cala Sisine, Cala Mariolu, and Cala Goloritzé.
The best base for exploring this area is the west coast town of Cala Gonone where a seaside promenade, a beach in the town and a small harbour make for a pleasant place to spend your time.
Numerous cafes and restaurants will encourage you to linger here, but the natural attractions of the Supramonte outside the town are the real draw.
Sardinia Itinerary Days 9-10: Bosa
Day 9 is a spectacular journey across the mountainous interior of Sardinia. You might like to stop off at Nuoro on the way before reaching the pretty little town of Bosa.
The riverside setting, pretty buildings, and castle on the hill make this one of the most picturesque towns in Sardinia and it makes for a delightful last stop on your 10 day Italy itinerary.
It is a great place to sit back in a café and watch the world go by, but be sure to muster up the energy to visit the castle that overlooks the town. There are a few beaches near here if you fancy a bit more time by the sea, but they aren't quite as good as the ones you have already seen on this itinerary.
The coastline on the drive back to the airport at Alghero is spectacular so factor in some time for taking photos before your flight.
Italy 10 day Itinerary: Final Thoughts
We hope that you have enjoyed reading our 10 day Italy itinerary. The only problem with Italy is that there are so many nice places to go that it can be hard to decide where to visit. We hope that the itineraries that we have provided give you some inspiration to plan your own trip!