*This post may include affiliate links, this means that we may receive commissions if you choose to purchase through the links provided (at no extra cost to you).


The delightful city of Bergamo is often overlooked on itineraries for the north of Italy but is a great destination full of historic atmosphere and Italian charm. We loved our time in the city and there are so many great things to do in Bergamo that we thought we would share them with you in this post.
The city of Bergamo is split into two levels with the oldest part of town (known as the Citta Alta) is perched high above the surrounding lowlands and the newer lower town (Citta Bassa).
The Città Alta is a charming maze of old cobblestone streets and shuttered properties, while an impressive Venetian wall encircles this old district to create a fairy-tale skyline of centuries-old churches and buildings.
The Città Bassa lies at the bottom of the hill and is a charming area that provides quite a contrast with the old town. Wide, clean, elegant streets are lined by grand palaces and there are a few piazzas connected by open tree-lined promenades.
You will find plenty of great restaurants and cafes along with shops and boutiques to keep you occupied.  It is a vibrant area and at Sentierone you will come across typical markets with vibrant colours, sounds and smells.
How To Get To Bergamo
By Plane: Fly to Caravaggio International Airport (Milan Bergamo) airport and catch bus No1 to Citta Alta. This departs every 20 minutes during the day. The bus also stops at the train station and other points in the lower town if this is where you choose to stay.
By Train: Bergamo train station is located in the southeast of the city in Piazza Guglielmo. Regular trains connect the city with Milan, Lecco and Brescia. From the station, there are good local bus links or you can catch the funicular to the upper town.
By Car: Parking is tricky in the Citta Alta (a ZTL so mostly inaccessible to cars) but some hotels and B&B's can offer somewhere to park outside the walls. A list of parking areas can be found here
What To Do In Bergamo
Walk Around The Historic Old Town
As with most Italian towns, one of the best things to do in Bergamo Citta Alta is simply walking around the town, popping into the interesting looking churches and finding a nice piazza or two to sit in.
When we were there buskers created a magical atmosphere around the Piazza Vecchia and as ever there was a great gelateria on hand with some wonderful Italian ice cream (maybe this is the real reason we love Italy so much). There are also a few restaurants and cafes should you fancy a bite to eat.
Around the Piazza Vecchia are a number of beautiful buildings including the Campanone Torre Civica, the gorgeous Palazzo della Ragione, and there is a decorative fountain in the middle. Piazza Vecchia is the heart of the old town so it is a good place to get your bearing before exploring the nearby streets.
Many of the Bergamo must-see attractions in Bergamo surround the Piazza Vecchia, so it is one of the easiest places to find your bearings from.
Some sites to visit as you stroll around Bergamo sightseeing include:
Basilica of St. Mary Major – To the south of Piazza Vecchia, through a small ornate archway, is the fantastic

Cappella Colleoni – A 15th-century funerary chapel with a coloured marble exterior & frescoed ceiling.

Campanone – This 12th-century tower has fantastic views.
A great way to learn all about the history of the town and make sure that you see all the best bits of Bergamo is to take a private tour of the upper town.
See The Venetian Walls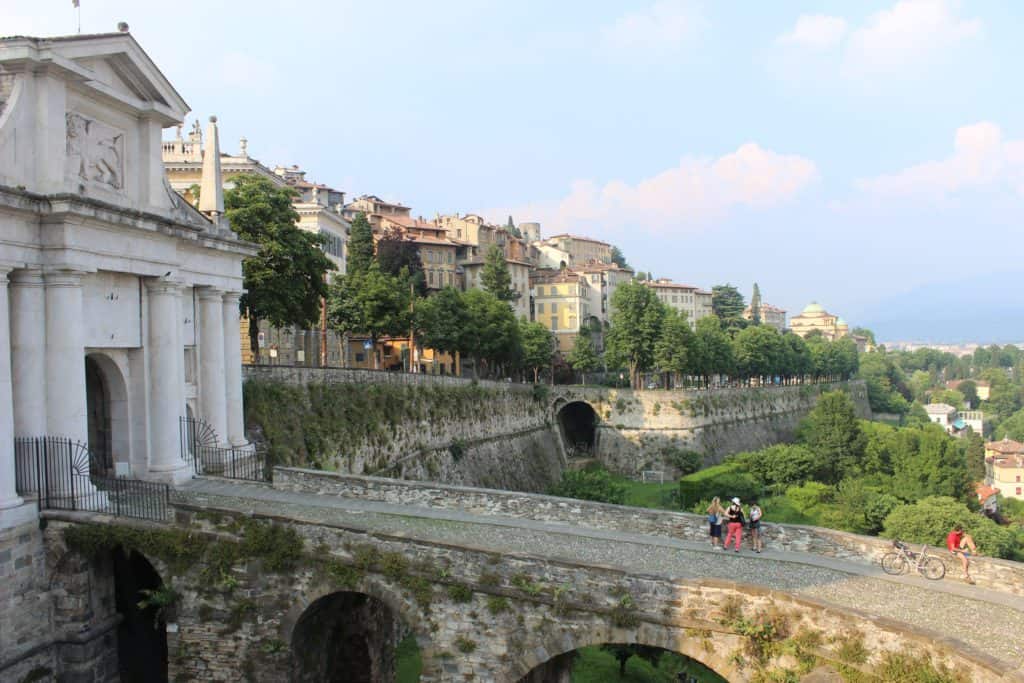 Make sure that you do not miss the chance to walk along the Venetian Walls that surround the upper town, they are surely one of the top Bergamo tourist attractions. Built during the 15th and 16th centuries, the walls had a typical star-shaped design with several pointed towers at set intervals, these are now listed by UNESCO as a world heritage site.
As you walk along the Viale Della Mura that stretches around three sides of the old city, you can see several intact sections of the old walls.
One of the most impressive stretches of the wall can be found to the east of the Porta San Giacomo and is lined with a series of trees, small parks and a cafe– from here you can enjoy great views over the lower town and the lowlands beyond.
City Gates – There are a number of ornate city gates that remain intact along the walls and provide a gateway into the Citta Alta. One of the most impressive is the Porta San Giacomo a dazzling white rosewood marble gatehouse that was constructed in the 16th century and has stood as part of the cities defensive walls ever since.
Rocca Museum – To the north of the main segment of the Venetian walls, you will find the Rocca Museum housed within one of the old defensive bastions, complete with a round tower and immense stone walls.
Inside is the Museo del Risorgimento e della Resistenza, where you will find displays on the formation of the Kingdom of Italy and the struggle for independence. From the top of the battlements you can see for miles around and look down onto the modern centre of Bergamo, below the museum there is a beautiful park which is a great place to walk through.
See Dinosaurs at the Natural Science Museum
If you are wondering what to do in Bergamo on a rainy day (or want to get out of the sun for a bit), head to the Museo di Scienze Naturali museum on Piazza Citadella. It is especially likely to delight children with its collection of dinosaur fossils and models and the huge woolly mammoth that greets you at the entrance.
One of the highlights is a fantastic, life-sized cast of an entire Allosaurus skeleton. There are also interactive elements like a collection of birdsong samples and some tactile exhibits,  there are also electronic microscopes that can be used.
Many of the descriptions are only in Italian but this should give you enough of a pointer to know what you are looking at and many of the animals on display are recognisable.
The majority of the museum's collection is not on display and is reserved for scientific study, but what there is here is well worth a visit during your stay in Bergamo.
Other museums worthy of your time include the adjacent Archeological Museum of Bergamo the Accademia Carrara.
The Accademia Carrara is located in the northern part of modern Bergamo near the Piazzale Gulielmo Oberdan and the Parco Suardi.
It is a stunning old palace, which is home to a wonderful art collection with impressive works from Italian artists such as Lorenzo Lotto, Biovanni Bellini, Titan, Paolo Veronsese and Sandro Botticelli.
Ride the Funiculars
No visit to Bergamo would be complete without a ride on the funiculars that connect the different parts of the town.
If you are after some spectacular views over the old town skyline then be sure to head up to the Rocca di San Vigilio for fantastic views of the old city.
Or you can head down from the Citta Alta to the lower town to have an explore of the other side to this charming city.
Visit The Lower Town
Visitors to Bergamo should not dismiss the 'new' lower town. The centre of the lower town is actually quite old and features a number of charming squares backed by impressive neo-classical palaces.
The immense square of Piazza Matteotti is probably the most beautiful and well-known attraction in the lower town and contains some fine buildings including the Torre dei Caduti, the Teatro Gaetano Donizetti and the Chiostro di Santa Maria.
Much of the square is shaded by beautiful trees and you can find a selection of cafes, restaurants and shops in the surrounding streets. The Via XX Settembre is one of the central streets in the city and is known for its fantastic shopping.
Day trips from Bergamo
We visited Bergamo as part of a trip through northern Italy. We loved this trip and think that it is a really good 2 or 3 week itinerary if you have a couple of weeks in Italy, we stayed in Verona, Lake Garda, the Dolomites and Venice.
If you have less time or just prefer to stay in one place, you can enjoy some of these places as fantastic day trips from Bergamo.
or treat yourself to a wine tasting at a vineyard in the Franciacorta region.
Things To Do In Bergamo With Kids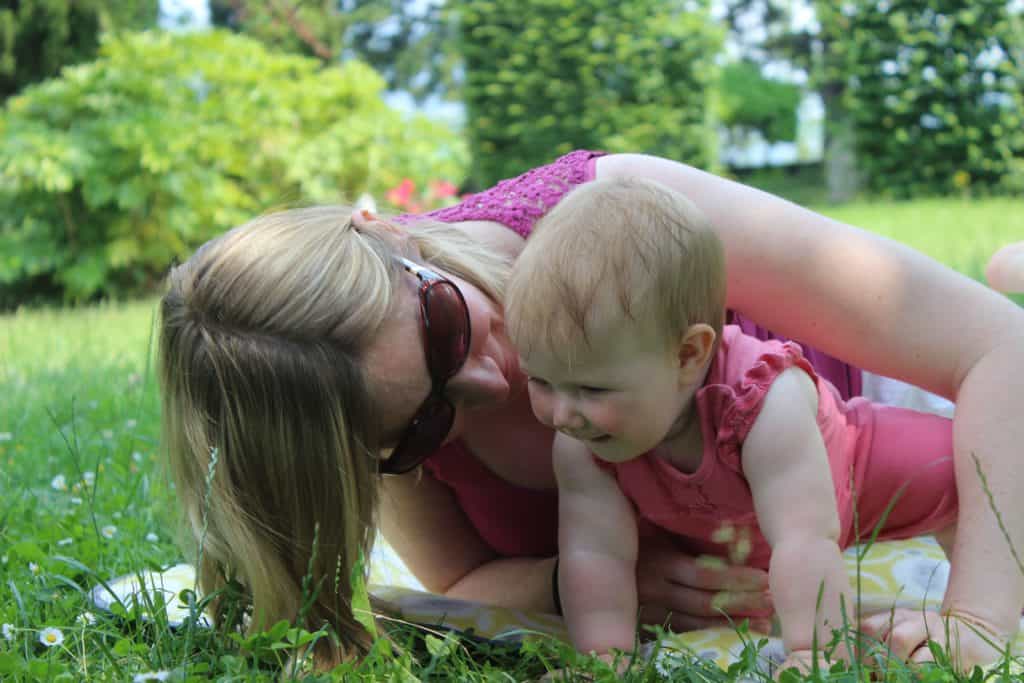 Many of the things listed above will be great with kids. Italy is generally an amazing place to visit with children as the Italians are so friendly towards them and super accommodating. Here are a few other places to visit that we think are great for people that are travelling with children.
Parco Faunistico Le Cornelle – This is an excellent little zoo about 10 kilometres from Bergamo. The animals are well looked after in really well-designed enclosures. There is a really impressive range of animals on display including many of the biggest and most exciting species like elephants, rhino, cheetah, tigers and many others. This zoo will make a great day trip for your family!
Parco della Rocca e Fauna Orobica – is a great green space in the old town where we enjoyed being able to let our baby girl crawl around in the grass under the shade of some trees. You also get great views back over the Bergamo skyline.
Parco Suardi – in Citta Bassa (about 15 minutes walk downhill from the high town) is a lovely green space with a great playground. It is a recently upgraded play area with a good range of equipment to amuse kids of all ages from toddler upwards. There is also a small fairground here with some paid for rides. You will find a cafe in the park along with benches, toilets and nice clean grassy areas.
Where To Stay In Bergamo
Both the upper and lower towns are worth a visit but it is really the perfectly preserved medieval upper town that is the big draw for tourists and this area makes the ideal place to stay.
Looking to book a room in Bergamo? Check out these great options!
Bed & Breakfast A Casa Mia – Where we stayed. A lovely B&B just outside the walls of the upper town. There are fabulous views from the balcony and a delicious breakfast. Recommended.
Bergamo Alta Apartment – Great for Families. Good value 2 bedroom apartments in the heart of the upper town.
Relais San Lorenzo – Top rated on Booking.com. Enjoy a relaxing stay at this elegant hotel where you can indulge yourself at the spa with Finnish sauna, Turkish bath and sensory showers.
Things To Do In Bergamo
Thank you for reading our post on the best things to do in Bergamo. We really enjoyed our visit to this charming town and think it is deserving of your time if you are planning an itinerary through northern Italy (check out our itinerary here).
It is a great place to visit with kids but would also make an ideal romantic city break. With cheap flights from the UK landing just 20 minutes away, it makes for a great weekend away and has plenty to keep you busy for a few days.
Have you visited Bergamo? We hope to have covered what to do there in this post but if we have missed anything please let us know in the comments below.
Think you might know someone that would like to visit Bergamo? Please share our post using the social media share buttons below.