The Babyzen Yoyo was the first luxury compact travel stroller and has proven to be a huge hit with parents that like to travel or those who simply want a quality stroller that does everything that they need in a nice compact package.
Our Babyzen Yoyo 2 review will show you that this is not just a simple travel stroller. This is one of the best strollers that you can buy for your baby.
The Yoyo is a fully functional stroller suitable from birth to toddler, it can be turned into a travel system by attaching a car seat and you can attach a buggy board to transport two kids around at once.
Since the original launch of the Babyzen Yoyo in 2012, there has been an influx of compact strollers from competitors that have released the likes of the Babyjogger City Tour, Bugaboo Ant and Ergobaby Metro Compact which feature in our best travel strollers buying guide.
In 2020 Babyzen released the latest incarnation of their travel stroller, the Yoyo 2, so we have updated our review to reflect the changes for the latest model.
Is the updated Babyzen Yoyo 2 still the compact stroller to beat? Or has this innovative product been left behind by the latest challengers? Keep reading to find out.
Babyzen Yoyo Review – Summary
Folded size: 20 x 17.5 x 7 inches (52cm x44cm x18cm) 
Weight: 13.6 pounds (6.2kg) 
Age range: Newborn to 40 pounds (18.1kg)
Pros
Very compact and l

ightweight so it is g

reat for travel
You can use it from birth through to the toddler years

It can become a travel system by attaching a car seat

You can attach a buggy board
Cons
It is quite expensive

It is not designed for rough terrain
Verdict
This is a great stroller that does so much of what you would expect from a larger sized pushchair, just in a tiny package.
Unlike many other compact strollers, the Babyzen Yoyo+ can be used from birth, used with a car seat and can transport older siblings on a buggy board.
This means that it is a worthy contender for being your main stroller rather than being just a travel stroller (although it is brilliant for travel!). This is especially true if you live in an urban environment where space is at a premium.
Babyzen Yoyo2 vs Yoyo+
Babyzen have updated the Yoyo in 2020 with the new Yoyo 2 which has a number of features that improve on the Yoyo+ (and the original Yoyo).
To be honest it is more of a nice makeover rather than a design overhaul and there are not that many differences between the Yoyo+ and the Yoyo2.
This makes sense since the Yoyo+ was already so good but we will quickly describe the key differences between the Yoyo 2 and the Yoyo+
Yoyo 2 vs Yoyo+ Key differences:
Improved suspension – The Yoyo 2 has individual suspension on all 4 wheels. This allows the stroller to better adapt to all types of surface giving your little one a smoother ride than ever.
Luxury handlebar – The Yoyo 2 has a nice faux leather handlebar. This looks and feels better as you push it and it should also last better over time and won't degrade so much through use. There is also a new safety strap on the handlebar to help stop your little one from rolling away on the hills!
Higher weight limit (for European babies!). The improves suspension means that the YOYO2 has been approved for babies up to 22kg (48.5 pounds). In the USA the rating is the same (40 pounds).
Small improvements all round: There are lots of little things that have been improved that give the new model a better feel. Unless you review and compare lots of strollers you might not notice these things but the YOYO2 is nicer to touch, the harness straps are softer and more flexible and the drawstring recline is easier to pull.
So, those are the key differences. Keep reading to find out why we love all versions of the Yoyo, or head over here to see if other owners agree with us.
Babyzen Yoyo A Stroller from Newborn to Toddler
One of the great things about the Babyzen Yoyo+ is that it is good enough to be your main stroller, it will take your little one right from their first days as a newborn through to around 3 years old (40 pounds/18kg).
If they have a younger sibling you can even progress them to a buggy board and transport them around until they are around 5 years old.
Babyzen Yoyo+ Newborn
To get full use of the Yoyo you will need to buy a few extras, the stroller itself does not lie flats so is only suitable for babies over 6 months old unless you have the newborn pack.
The newborn pack will allow your baby to lie flat and facing you in a pram style arrangement. What is really impressive about this is that the stroller will still fold up nice and small even with the newborn kit attached.
The newborn seat comes with a really cosy fleece lining, a headrest, footrest and 2-position pop-up canopy. This really is travelling in style for a newborn and you need have no worries about their safety thanks to the 5–point safety harness.
Babyzen Yoyo 6 Months +
Once your child reaches around 6 months old you simply swap out the newborn kit for the standard fabrics and let them discover the world in a forward facing position.
You will now have the choice of several inclined positions up to a maximum of 145 degrees (perfect for nap times). The seat has comfortable padding and there is still a 5-point safety harness to keep them out of harm.
All the covers are removable and washable which is great given the amount of mess the average baby and toddler makes in their stroller seat.
---
This post is one of our travel gear reviews where we aim to help you find the right product to make your travels go that bit smoother.

Head over here to check out everything from family tents to baby and toddler carriers and the best tablets for kids
---
Babyzen Yoyo – Size and Weight
There is no getting past it, the tiny size of this stroller is the main selling point and when you see it folded it really is quite amazing that Babyzen has managed to fit such a fully functional stroller into this tiny package.
The Babyzen Yoyo dimensions are 20 x 17.5 x 7 inches (52cm x44cm x18cm) 
It was the first stroller that folded up to meet airline cabin luggage requirements so you can simply wheel your little one to the door of the plan, fold it up (more on that later), sling it over your shoulder, and slip it into the overhead locker space.
Don't be surprised if you get some admiring glances and comments from your fellow passengers impressed at how this is even possible!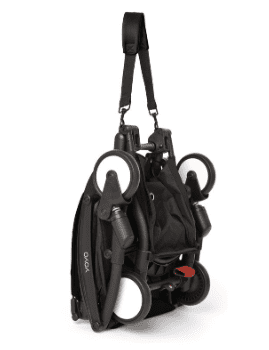 This is definitely something that can take the stress out of flying with a baby and makes transporting your little one to the distant departure gates a far easier task. If you are planning to take a flight with a baby please check out our top tips.
It is not just when flying that the size comes in handy. We have struggled for years with a pushchair that takes up all the boot space in our car and that we can't even bring in the house as we have no room for it.
The Babyzen Yoyo stroller solves this, there is plenty of spare space for the shopping or luggage in the car boot and it will fit snuggly into even small wardrobes at home.
If you like you can slip the stroller in the footwell behind the driver or front passenger seat and there will still be plenty of space for your child's feet to dangle.
It is not just when folded up that you will love the small size of this stroller. The small dimensions (just 17 inches (44 cm) wide) allow you to easily pass through even the smallest doorways and to manoeuvre your way around busy streets and shops with ease.
This is a really well-made stroller that feels super robust. But that doesn't mean that it is heavy. Quite the opposite. The Yoyo stroller barely weighs a thing tipping the scale at just 12.8 pounds / 5.8kg, making it lighter than all but the youngest babies.
Check out our Yoyo vs Ant post to see a comparison of our two favourite strollers.
Features, Comfort and Manoeuvrability
The seat in the 6 months+ version is nicely padded and offers a good level of comfort (though not quite so luxurious as the Ergobaby Metro Stroller).
The 5 point safety harness also has good padding to stop the straps from digging into your little one. The new version of the Yoyo comes with improved suspension to help even out any bumps along the way.
Your little one will be kept safe from the elements thanks to the great extendable hood that offers UPF 50+ sun protection, this a has a peek-a-boo window so that you can keep an eye on your baby and see whether they have nodded off or not.  
If the weather takes a turn for the worse you will be glad to find that the included rain cover fits nicely over the top.
Under the seat, you will find a really handy and good sized basket to put a few snacks and the things you need for a trip into town. It is quite a bit bigger than the original Yoyo, but given the small size of this stroller don't expect to be able to fit your weekly shopping under the Yoyo!
But, check out this awesome bag accessory to expand your storage space:
It is fairly easy to adjust the lean of the seat so that you can get your baby nice and comfy, but the most upright position isn't quite as upright as some other chairs and leaves the child a bit slouched.
The handlebar height is not adjustable and is fixed at 106cm. This has sensibly been placed at a comfortable height for adults of average height, but it does mean that very tall and short people may find it uncomfortable. This is more likely to be an issue if you are short and you may find it a bit tiring to hold for long periods.
The handlebar is made from a nice soft material that makes it comfortable and easy to hold and the suspension system will benefit the parent as well as the child by smoothing out the ride so that it feels really smooth to push on pavements around town. This is the environment where the Babyzen Yoyo is most at home and, clearly, getting around in urban areas is what it has been designed for.
Having said this, the Yoyo copes admirably with anything from grass to cobbled streets. It is not an all-terrain stroller though so if you find yourself venturing off-road through mud and leaves you can expect the wheels to get jammed up pretty quickly. But that isn't what this pushchair is designed for, in urban environments the ride is super smooth for both parent and child.
The Yoyo turns really nicely and is genuinely easy to push one-handed, leaving the other one free to sip on a nice warm coffee (cup holder sold separately).
Babyzen Yoyo – Easy to Fold
The Babyzen Yoyo+ is said to have a one-handed fold system but it is a bit tricky with one hand and you might end up using both your hands to get it opened and closed. As always with these things, there is a bit of a knack to it but this is not one of those strollers that will have you angrily struggling to fold it up.
First, you need to press a button on either side of the hood so that you can fold the handlebar back, this is the bit that definitely needs two hands. You could do this before picking up your baby and then take it from here one-handed with your baby under one arm, it takes a bit of getting used to but it is possible.
You then need to reach under the seat to press another button that releases the folding mechanism. The stroller will then fold up nice and neatly and there is a little clip to help keep it closed. When you want to use the buggy again you just unclip this and shake the stroller out like magic.
Babyzen Yoyo+ Travel System – Car Seat Compatible
Another option for your precious bundle of joy is to use adaptors to attach a car seat. This makes this compact stroller a fully functional travel system for the ultimate in ease of travel.
For this, you can use the included adaptors with the Babyzen iZi Go Modular seat that has been developed in partnership with BeSafe, or you can use these official adaptors with a number of popular car seats like Maxi-Cosi Pebble and Pebble Plus, Cybex Aton-Q, Nuna Pipa.
Babyzen Yoyo+ is Buggy Board Compatible
If your family grows you may find that you need to push two kids around at the same time. This is where buggy boards really excel themselves and remove the need to get a cumbersome double buggy.
Not all compact travel strollers are designed to carry a buggy board but Babyzen has produced a board that is specially designed to go on the Yoyo.
It is designed to carry children between around 2 and 5 years old (or a maximum weight of 20kg) and they can sit or stand on the board.
The Yoyo buggy board is a well-designed piece of kit that fits really nicely and easily on to the frame of the yoyo+, you simply clip it onto the 2 holes on the stroller and it slots into place.
It is easy enough to do with one hand and feels very secure (a big contrast with some of the generic boards on the market that are really hard to fit and then wobble all over the place).
The pushchair is still very easy to push along (even one-handed) with the buggy board in place but it does make it harder to manoeuvre about if you are going up kerbs and of course the additional weight of the toddler makes it a bit tougher to get around town (to be fair, this is true of all buggy boards).
When the buggy board is in place you cannot fold the stroller up. This is a shame but at least it comes off really easily.
If your toddler likes to jump on and off as you go along (don't they all?), you will be grateful that it is easy to clip the board in an upright position so that it is nicely tucked out of the way when not in use. Simply unclip it again when they decide that they would like a ride.
When it is down the buggy board does get in the way of your feet a bit but this is something that we have found with all buggy boards. It also makes it harder to access the storage pocket under the seat and slightly gets in the way of the brake.
None of this is a massive inconvenience and we think that the ability to use a buggy board with such a small stroller is a great feature of the Babyzen. 
The buggy board measures 11 x 7 x 16 inches  (28.6 x 19 x 41cm) and weighs a light 3.7 pounds (1.7kg) including the small saddle.
Cost and Where to Buy the Babyzen Yoyo+
The Babyzen Yoyo+ is a fairly expensive stroller but for the price, you get a great quality stroller that is very versatile.
If you would like to buy this amazing little stroller, head over to Amazon where you can buy from a range of sellers in loads of different colours.
The Babyzen Yoyo+ has a really impressive range of extras that really take it to the next level and allow you to use it as your main stroller from birth until the stroller years are behind you.
Newborn pack – For newborns to 6 months old
Car seat adaptors – The Yoyo+ is compatible with Maxi-Cosi Pebble and Pebble Plus, Cybex Aton-Q, Nuna Pipa
Yoyo carry bag – This awesome bag expands the onboard storage
Yoyo+ buggy board – Our favourite accessory!
Travel bag to carry your Yoyo+ – Either over the shoulder or as a backpack 
Parasol – Extra protection from the sun
Footmuff – Keep your little one cosy on cold days
Stroller bar – Perfect for toddlers
Mosquito nets – A great accessory for a travel stroller
Yoyo cup holder – Perfect for a coffee on the go
BUY THE BABYZEN YOYO+ ON AMAZON
Babyzen Yoyo+ Stroller Review
We hope that you have enjoyed reading our Babyzen Yoyo review. It is a great compact travel stroller that is perfect for families that travel a lot and also for anyone that would like a fully featured stroller in a smaller package.
It really is one of the best compact strollers ever released and if you get one, we are sure that you will love it. Check out these reviews from hundreds of happy Babyzen Yoyo owners.
---
Travelling with a baby or toddler?

Check out our essential baby and toddler travel products 

And read our Trunki review and Mifold travel booster seat review
---