If you are researching for a trip to Thailand, one of the first places that you will hear people recommending is Krabi. 
Krabi is super popular with visitors thanks to the glorious sandy beaches, warm sea, dramatic limestone landscapes, and some remarkable temples.  But, once you have decided that Krabi is the place you want to visit, you may be left wondering exactly where to stay in Krabi. 
Krabi is a huge province that includes a mountainous interior, a dramatic stretch of coastline on the west of mainland Thailand, and over 130 islands in the Andaman Sea. 
Where is Krabi?
Krabi is both a city and a province in southern Thailand.
As a result, the term 'Krabi' gets used by different people to mean different things. This can be a bit confusing for visitors who have just heard that they should go to Krabi on their Thailand itinerary. 
Although Krabi is a large province, most people that visit stay in one of the following places on the mainland: Krabi,  Ao Nang, Nopparat Thara, Klong Muang or Railay Beach.
Or on one of the many islands in Krabi like Koh Lanta, Koh Phi Phi, Railay Beach, Koh Ngai or Koh Ngai. 
The nature of Krabi lends itself perfectly to a multi-destination holiday hopping between locations by boat or bus and this blog post will cover all the best places in Krabi.
If you prefer to stay in one place we recommend Ao Nang as the best location in Krabi for taking day trips to a wide variety of places.
If you are heading here from Phuket, be sure to check out our guide on how to get to Krabi from Phuket.
In a Hurry?? 

If you don't have time to read about all the wonderful places to stay in Krabi, you won't go far wrong spending your time at the following:

Our favourite place on the mainland is Railay Beach, The location is spectacular and the Rayavadee Resort will blow your mind.

Then transfer to Koh Lanta for a taste of chilled-out island life and finish up in the island paradise of Koh Ngai, staying at Thanya Resort

Enjoy your trip!
Where to Stay in Krabi, Thailand
Deciding where to stay in Krabi province can be a tough decision, so in this blog, we will look at the most popular places in Krabi and help you to decide where to go to Krabi.
Despite the vast size of the province, most visitors choose to stay in a handful of beautiful and well-equipped locations.
We will also pass on some recommendations of top hotels in Krabi to help you find the best accommodation in Krabi. 
Best Places to Stay: Krabi Mainland
In this section we will look at the best locations in Krabi for anyone that is looking to base themselves on the mainland.
Best Place to stay in Krabi for Day Trips – Ao Nang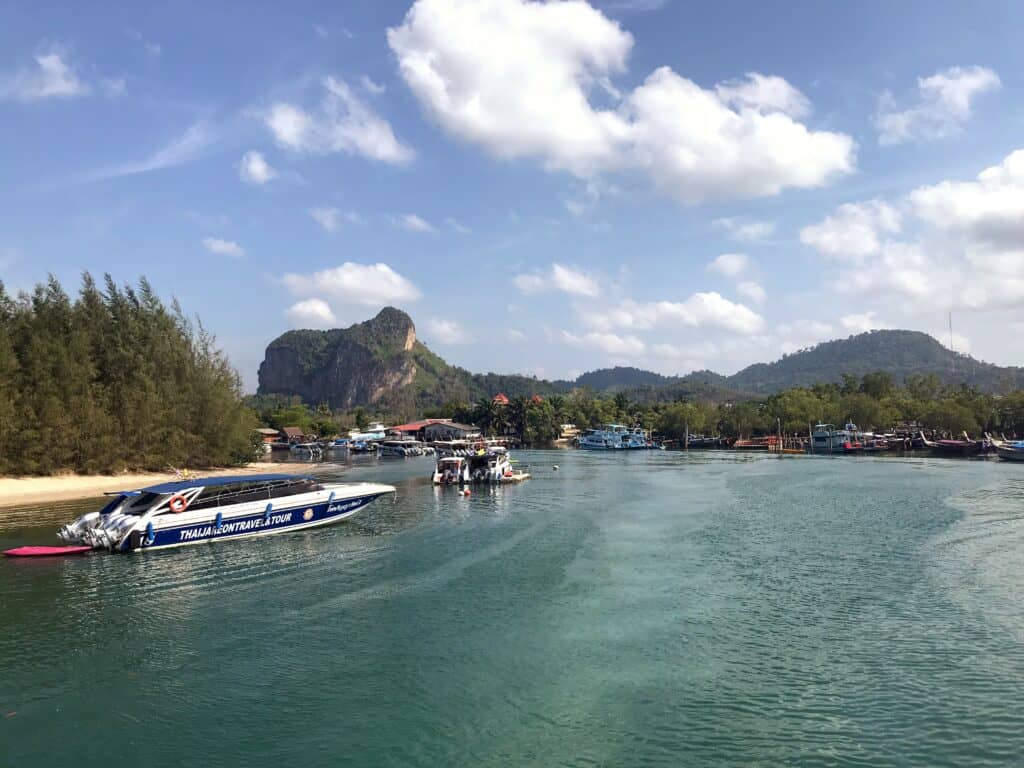 Ao Nang is the main tourist centre in the Krabi province which makes it the best location to stay in Krabi if you want to stay in one place but explore the entire area.
There is a beach in town, which can get quite busy and is far from the best in Krabi but it is still worth a look. If you are feeling adventurous, you can go kayaking from here and explore the rocky coast or areas of mangrove. 
Don't spend all your time on the beach in town though. Ao Nang gives you easy access to some of the best beaches along the coast or on nearby islands. We rate it as the best placeto stay in Krabi if you like to do day trips and you can get to most places in the province using a tour.
Don't forget to explore inland locations like the Emerald Pool and Tiger Cave Temple.
It is easy to arrange day trips from here and you can see most of the highlights of the region during a stay in Ao Nang. Check out our 5-day itinerary for more ideas of how to spend your time in Ao Nang. 
Ao Nang has become quite a busy place with all sorts of facilities geared towards tourists and there are loads of great places to stay in Ao Nang. 
The main street here runs along the beach with the hotels' restaurants and bars lined up on the opposite side of the (fairly busy) road. It can be a party place if you want but it isn't too in your face and is easily avoided if you are looking for more relaxed evenings.
Ao Nang has something for everyone which is why it has become such a popular place to stay in Krabi.
Best Places to Stay in Ao Nang
Aonang Cliff Beach Resort
Set in a gorgeous location surrounded by lush green hills, Aonang Cliff Beach Resort has a great range of comfortable rooms. They have rooms for all budgets from doubles to 1 or 2 bed villas with private pools. The hotel enjoys amazing views over the sea that are best enjoyed from the fabulous infinity pool or rooftop bar. 
There is a second pool that is also fantastic. The resort is well located just 5 minutes from the beach and town centre, but inside it is a quiet oasis. 
Ao Nang Cliff Beach resort offers a free shuttle bus to a private beach where you can avoid the crowds and relax on beach towels, bean bag loungers and beach mats that are available to use for free.
CHECK AVAILABILITY FOR YOUR DATES 
Phu Pha Aonang Resort & Spa
Phu Pha Aonang Resort & Spa offers great value accommodation with wooden bungalow-style rooms set in lush gardens that teem with huge butterflies. In amongst the flowers and plants in a lovely swimming pool. 
The buffet breakfast here is fabulous, especially the pancakes. They also serve good food in the restaurant throughout the day. 
If you are looking for relaxation you will enjoy the on-site sauna and massage parlour. 
Railay Beach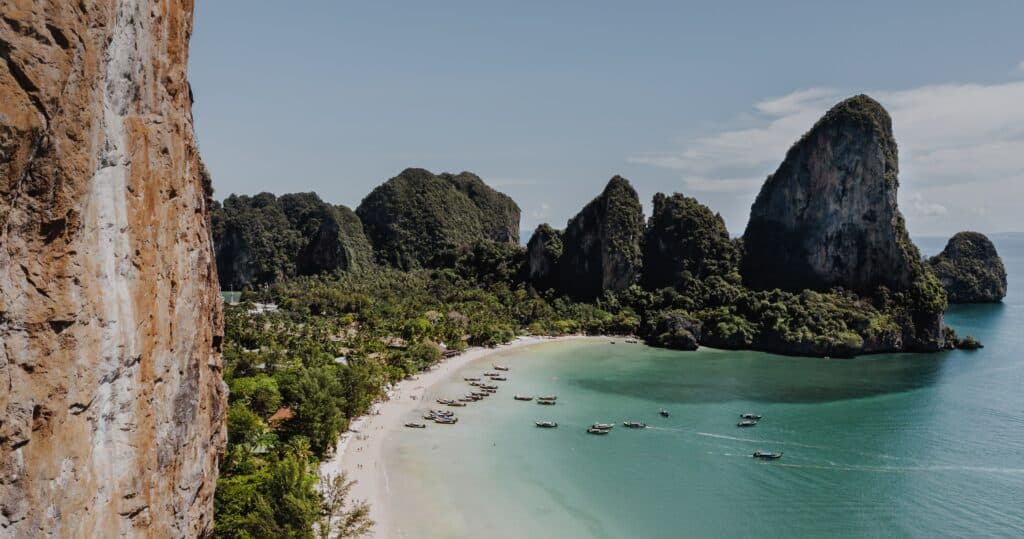 Railay Beach is a spectacular stretch of white sand with limestone cliffs all around, filled with caves to explore. It is one of the most photographed beaches in Thailand and is loved by everyone from rock climbers to honeymooning couples. It is surely one of the best places to stay in Krabi.
Railay Beach can only be reached by boat which gives it a kind of island vibe even though you are actually on a peninsula of the mainland and only around 15 minutes boat ride from Ao Nang. 
You could easily spend your time here relaxing on the beach and taking a dip in the clear blue waters, but if you fancy a bit more action you could have a go at rock climbing up those amazing cliffs, explore the underwater world by snorkelling or diving, or float over the waters in a kayak.
All these activities can be arranged at the beach or, to be sure you don't miss out, you can book them in advance here.
You will see descriptions of Railay East and Railay West. The main beach is on the western side so accommodation here is more expensive. It isn't very far though so Railay East is still worth considering.
Phra Nang Beach is on the southern side of the peninsula and is potentially the best beach of all. Check out our guide to the beaches of Railay for more detail. 
Where to stay at Railay Beach
Rayavadee Resort
If you are looking for the perfect 5-star accommodation on Railay Beach then you have to stay at the incredible Rayavadee Resort, one of the best hotels in Krabi.
The hotel is surrounded on all side by tropical gardens and beaches and you will stay in a stunning 2-storey pavilion or beachfront pool villa. The natural setting is part of the thrill of staying here and is home to monkeys, lizards and birds.
You will also find an incredible outdoor swimming pool with some of the best views you could ever imagine. Be sure to indulge yourself at one of the 4 dining options on-site (including a BBQ on the beach) and enjoy some me-time with a range of treatments at the spa
Everything about the property is simply breathtaking from the stunning location to the gorgeous bedrooms. Everyone will enjoy a stay at Rayavadee, it's probably the best place to stay in Krabi,  and definitely one of the best places to stay in Krabi for honeymoon.
Railay Princess Resort & Spa
Located on the quieter East Railay Bay, Railay Princess Resort has Thai style rooms set around a leafy garden with 2 great swimming pools (one of the two Is a Jacuzzi) and a fitness centre.
The jungley garden is teeming with life and if you are lucky you will see lizards, monkeys and all sorts of birds during your stay. 
Wonderful views can be enjoyed from all around the resort, including the pool and restaurant. The beach is just a 5-minute walk away and this place is right by the pier so it is easy to get to. Rooms here are spacious and spotlessly clean, and they serve a good breakfast making this one of the best places to stay Krabi.
Railay Bay Resort & Spa 
Beautifully set beside the white sands of Railay Beach, is Railay Bay Resort & Spa which offers spacious tropical-style cottages set in landscaped grounds, a beachfront outdoor pool and a restaurant.
This is a great resort in a beautiful setting. There are two swimming pools, one in the middle of the resort and one on the beachfront, both of which are stunning.
You can never get bored of the view here and one of the best places to take in the vista is from the restaurant, which specializes in seafood and pizza. It is lovely at any time of day and a great place to enjoy the tasty breakfast or a drink while watching the spectacular sunsets.
The rooms are large and nicely furnished. They come with an excellent range of useful things to borrow, including beach bag, mat, umbrella, flashlight and beach towels. 
Best Place to Stay in Krabi for Families

–

Nopparat Thara
Nopparat Thara is right next to Ao Nang and is sometimes considered to be part of it. There is a glorious 3km long beach here in an idyllic setting with hills to the east and a national park to the west.
It is about 18 kms from Krabi and really near to Ao Nang but offers a quieter location which we think is great for families. There is a promenade along the waterfront and there are still plenty of bars, restaurants and other travel services to make your holiday run smoothly. 
The beach here is nice and quiet making it a good place to play with the kids.
Nopparat Thara tends to be a bit cheaper than other places along the coast. So it is a good place to find good quality accommodation for a bargain price.
Where to Stay in Nopparat Thara
Holiday Ao Nang Beach Resort
The Holiday Ao Nang Beach Resort is a spectacular resort right on the white sands of Nopparat Beach. The grounds have been landscaped really nicely to give a luxurious tropical feel.
The pool here is fantastic and they have water sports rentals on offer as well as a fitness centre and spa.  The rooms are really nice and you will certainly feel like you are staying somewhere luxurious.
Our favourite place here is the rooftop restaurant which offers fresh seafood and authentic Thai food with a fabulous view out to sea.
Families are well catered for with a pool that has slides and great kids and teen zones that have a great range of things to entertain younger guests. Breakfast is included and is a great spread that should keep you going for hours. Young families will appreciate that dinner service starts nice and early giving you a chance to eat before your baby or toddler's bedtime.
Maneetel Krabi Beachfront 
Just across the road from the beach (and still with great views out to sea) is the Maneetel Krabi Beachfront Resort. This hotel is well located in a quiet area of Nopparat Thara with lots of restaurants around and a night market for some tasty street food.
We think that it offers great value accommodation in a new, modern and clean building with rooms that are nicely decorated and well equipped with comfy beds (not always that easy to find in Thailand!). There is a great breakfast buffet and a nice pool.
Best Place to Stay in Krabi for Luxury

–

Klong Muang
Klong Muang Beach is one of the best places to stay on mainland Krabi as it offers beauty and tranquillity on what can be a somewhat hectic coastline.
The 1.5 km soft sandy beach is becoming increasingly popular but so far it has not lost its charm and it is still one of the quietest beaches on the coast
The beach offers amazing views and some of the best sunsets you are likely to see. Small trees and palm trees offer cool shade and a great place to escape from the hot sun.
The beach is lined by many small bars and restaurants where you can enjoy a fresh drink soaking in those views
There has been some development in this area recently and you can now find lots of luxury accommodation here.
Best Place to Stay in Klong Muang
Beyond Resort Krabi
Beyond Resort Krabi makes a fabulous base to escape from it all on a beautiful private stretch of Klong Muang Beach. The rooms have a fabulous modern Thai design and many of the villas have great views out to sea (to get the most out of your stay these are the ones to go for). The resort has a lovely pool and well looked after grounds. 
We love a hotel with a good breakfast, and this is a hotel with a good breakfast! The choice is huge and you also get fresh juices and good coffee (something that sometimes lets down a Thai breakfast buffet).
Be sure to take advantage of the 2 daily happy hours when they do half-price drinks at the poolside bar. If you plan to explore up and down the coast, it could be worth hiring a car as taxis costs can add up quickly. 
Nakamanda Resort & Spa
Nakamanda Resort & Spa offers world-class accommodation and service.
Located directly on Klong Muan Beach and overlooking the mountainous landscapes of Khao Phanom Bencha the setting of this luxury hotel is hard to beat.
The individual villas are designed in a Thai style and set amongst mangrove forests and plantations.  The rooms are sumptuous with great attention to detail.
Staff throughout the resort are super friendly, courteous and thoughtful towards ensuring each guest has the best possible stay.
Facilities include a lovely swimming pool and a spa which provides beauty treatments. The restaurant here offers high standard food and even an English high tea!
Check availability for your dates with Agoda
Krabi Town
Krabi town is a fairly workaday sort of place that would be typical of towns all around the country if it wasn't such a major hub for travellers in the area. It is a pleasant enough place and although there is no beach, there is a pleasant riverfront area and some markets and temples to have a look around.
Generally, people tend to stay here when passing through rather than see it as a destination but it is an interesting enough place to stay. It is easy to arrange trips to other places from Krabi town so you could save some money on accommodation and stay here for your time in the region.
If you are wondering where to stay in krabi town, you will be pleased to hear that there are lots of decent places in town. One of the top-rated is Peak Boutique City Hotel,
Click here to check out reviews.
Are you planning a trip to Thailand?
Best Places to Stay: Krabi Islands
Best Place to Stay in Krabi for Parties

–

Phi Phi Islands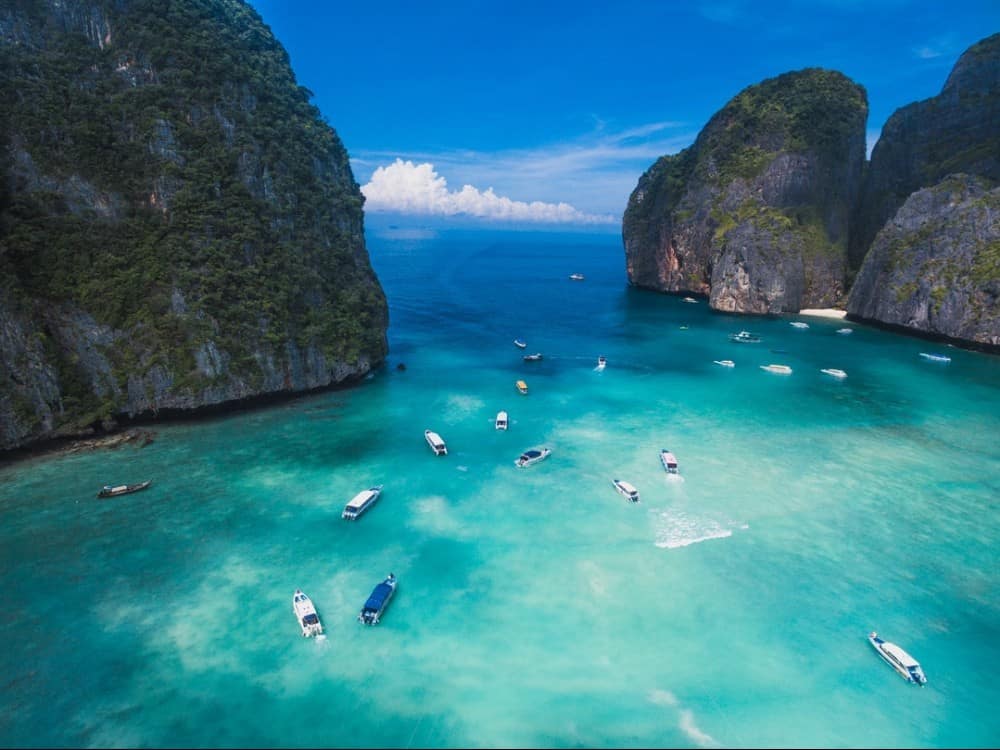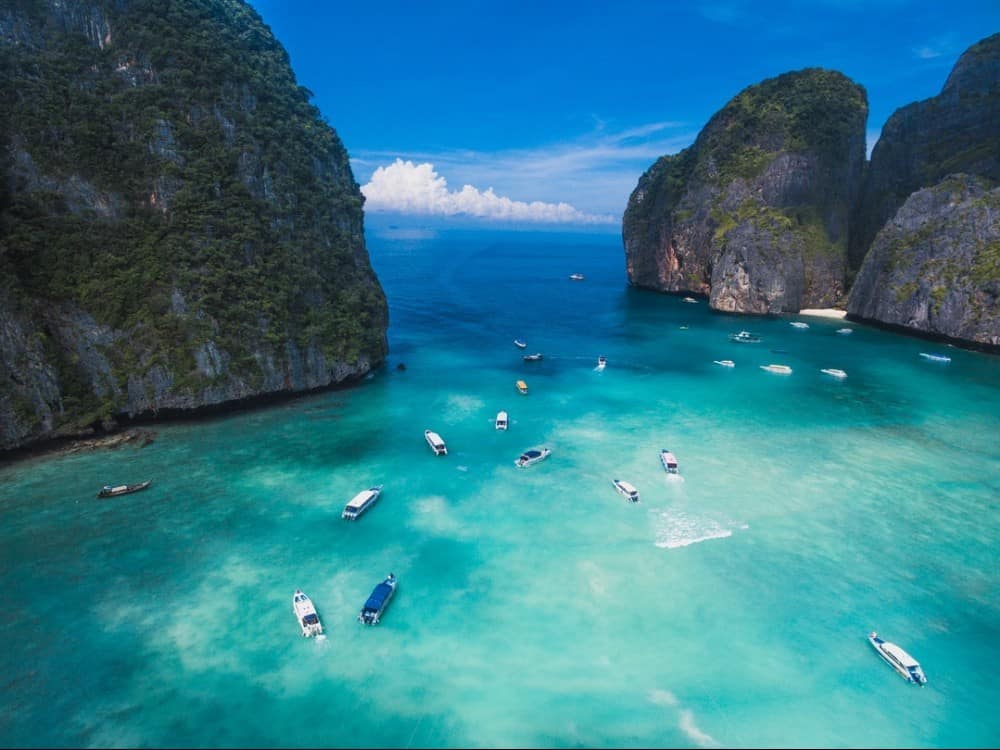 The Phi Phi islands are quite possibly the most beautiful islands in Krabi and are justifiably known throughout the world as the picture-perfect idea of what a paradise island should be.
A lot of this fame is thanks to Leonardo DiCaprio's turn in 'The Beach' which was shot in Maya Bay on Phi Phi Leh, the smaller of the two main Phi Phi islands (Maya Bay is currently closed to visitors to give the environment a chance to recover from the effects of over-tourism). 
The two Phi Phi islands rise high and impossibly steep out of the sea to create a fabulous landscape of limestone cliffs, crystal clear waters and perfect beaches. They have become a favourite of backpackers and there is a big party scene here that goes through the night. 
The island gets busy and you are well-advised to book accommodation well ahead of time to make sure that you get a nice place. You need to be a bit careful choosing your hotel here especially if you hope to sleep at night.
Phi Phi is beautiful and not just for partygoers, if you want to experience the beauty of the island but get away from the noise of the parties, stay in one of the hotels below.
Best Hotels in Phi Phi
Zeavola Resort
Enjoy some barefoot luxury at Zeavola Resort a 10-acre tropical retreat on the northern tip of Phi Phi Island. The resort offers spacious accommodation resting on the white sands of the private Laem Tong Beach.
This is a stunning location far away from the crowds and noise of Ton Sai Beach, water taxis can take you into town.
Zeavola is one of the most unique places to stay in Krabi and offers luxury suites that are designed like island houses and feature private outdoor showers. The pool here is a sumptuous place to escape the heat whilst the spa is the place to go if you are yearning for some pampering. The in-house team can arrange diving trips as well as island hopping and shark spotting trips. 
Phi Phi CoCo Beach Resort
Phi Phi CoCo Beach Resort has some great clean and comfortable rooms set around a stunning flower-filled garden. They put on an amazing spread at breakfast and have a stunning pool with a swim-up bar. 
The resort has a great location right on Monkey Beach and they provide free kayak equipment. It is only about a 10 minute walk to the centre of Phi Phi so this is a good option if you want to be able to get into the action but escape to some quality accommodation with air conditioning when it is time to sleep.
Click here to find the best price
Phi Phi Phu Chalet Resort 
This is a great option if you are looking for a quiet and beautiful place to stay. It is a great location with amazing views, stunning chalets overlooking the sea, a nice pool and staff that treat you like part of the family in a good way). 
Best Place to Stay in Krabi for Relaxation and Chilled Out Vibes

– Koh Lanta
Koh Lanta is a favourite destination for many repeat visitors to Thailand.
It wouldn't be accurate to describe it as being off the beaten path, there are hundreds of hotels on the island, and all the other tourist services you might expect. But, it does retain a fabulous laid back vibe that you don't get in places like Ao Nang or Phuket. 
Koh Lanta doesn't have the dramatic beauty of Phi Phi but it is still a beautiful island, particularly in the undeveloped south where there is a protected National Park. 
It is a great destination for all types of traveller as it is a big island with plenty of different beaches to choose from and hotels to suit all budgets, from bare-bones beachfront huts to out and out luxury.
The island is particularly well suited to young families with plenty of family friendly restaurants on the beach with high chairs and toys to help make the dining experience go a bit more smoothly. 
Best Places to Stay in Koh Lanta
There are lots of great places to stay on Koh Lanta.  The Lanta Resort, has a couple of great swimming pools, a playground, an amazing buffet breakfast and they drive you around in golf buggies!
Lanta Nature Beach Resort which is a nice place to stay with a restaurant right by the Klong Nin Beach.
The very best place to stay is the wonderful Pimalai Resort and Spa
Read more about Koh Lanta in this post
Koh Ngai – Perfect for Couples and Young Families
Koh Ngai is a stunning paradise island that is often thought of as one of the Trang islands but is actually right on the edge of Krabi province and it's one of the most amazing places to stay in Krabi. We love it here and think that it is the best location in Krabi and the best beach to stay on in Krabi.
The views here are to die for and the beach is a fantastic soft white sand. The island is perfect for couples and families who want to enjoy some great beach time whilst hornbills swoop overhead.
You can swim right from the beach or head out to nearby coral reefs on an organised diving or snorkelling tour. Koh Ngai is also a great place to go kayaking or explore the jungle interior on foot. 
Koh Ngai Thanya Resort
One of the smarter resorts on the island you will find spacious and clean bungalows and a great pool near the beach where palm trees offer shade to the sunbeds that are provided.
This is a good option for families looking for more upscale accommodation. The food here is good although a little on the pricey side.
Thanya is home to the Sea Breeze bar right at the end of the beach. This is a great place for an early evening drink accompanied by live music.
Click here to check the latest reviews and prices
Koh Hai Fantasy Resort
We have stayed here on several occasions and think that it is the best Krabi hotels for families.
The whole place is set up for families with a small play area right by the beach and a nice swimming pool set further back.
It is especially good here if you are travelling with babies and toddlers since kids under 4 can stay for free and they even do free kids food for under 3's.
Koh Ngai Fantasy Resort is one of the best value hotels in Krabi and offers sits on one of the nicest parts of the beach.
If you are looking to splurge the large beachfront villas with their own pool look excellent.
The breakfast buffet is fantastic and keeps us going all day, there is a freshly cooked egg station, pancakes, rice/noodle dishes, cereal, fresh fruit and plenty of other things to enjoy.
Click here to check the latest reviews and prices
Koh Jum – Best for Getting off the Beaten Path
Koh Jum (Koh Pu) is the perfect island for off the beaten path Krabi. This island remains relatively undeveloped with just a handful of small scale hotels. The island retains an authentic feel of Thai island life and you can grab a bike to explore the rubber and coconut plantations of the interior. 
Of course, this is an island in Krabi so there are beaches, maybe not quite up there with the best in the region but they are still amazing and with hardly any people in sight they could become your favourites.
The best places to stay on the island are Koh Jum Ocean Beach Resort or the cheaper Koh Jum Resort
Hotels near Krabi Airport
If you have an early flight you might want to stay close to the airport. We stayed at Palmari Boutique Hotel which provided an efficient early morning car for the short distance to the airport.
At first glance, the town looks pretty horrible but the backstreets are really nice and there is an interesting temple and market. We really enjoyed our night in this town.
Final Thoughts on Where to Stay in Krabi
Krabi is home to some amazing natural and cultural wonders and is definitely a place that offers something for everyone. Whether your ideal trip involves rock climbing or kayaking, island hopping or hiking, relaxing or eating tasty Thai food, Krabi has the perfect location for you. 
We hope that our where to stay in Krabi blog has helped you to find the best places to stay in Krabi and that you are no longer wondering "where is the best place to stay in Krabi"
There are a lot of amazing places to visit and some great Krabi accommodation is available with some wonderful hotels at bargain prices. 
Let us know how your trip goes, we can't wait to go back!