Phuket and Krabi are two of the top tourist destinations in Thailand. Both are home to some fabulous beaches and glorious scenery. As a result, many people choose to travel from Phuket to Krabi as part of their Thailand trip.
Phuket is a large island that is the most popular and developed resort area in the country and is a great place to relax in some wonderful hotels and there are loads of great things to do with kids.
Krabi is a large province that is home to some spectacular scenery and stunning islands. 
Krabi town is a fairly typical Thai town that has become an important hub for tourists. In terms of this article, we will assume that you are looking for information on how to get from Phuket to Krabi town, or the nearby resort of Ao Nang. 
Travel between Phuket and Krabi is easy, scenic and not too time-consuming. 
There are several ways to get from Phuket to Krabi and we will cover all of the options in the post so that you can choose the best option for you based upon, cost, comfort, time and simply how you prefer to travel.
---
Are you planning a trip to Thailand?

These posts should make planning easy!

Best Resorts in Phuket, Thailand Itinerary, Where to Stay in Krabi

And a guide to the one place you should not miss!
---
Options for Travel from Phuket to Krabi
You have two different ways to travel between Phuket and Krabi: by land, or by sea.
By land, you drive north out of Phuket and all the way around Phang Nga Bay for a distance of about 165 Kilometres (103 miles). The journey by sea cuts straight across the Andaman Sea so is only about a third of this distance.
One important thing to consider is where you start in Phuket. It is quite a big island and traffic jams can be slow and frustrating. If you are staying anywhere to the north or west of the island, like beautiful Nai Yang or Mai Khao beach near to Phuket airport, you will need to factor in about an hour just to get to the port for your ferry or speedboat. 
Add in a bit of waiting time there and the journey by road suddenly looks like the quicker option. 
Of course, speed isn't everything and going by boat can be a more exciting experience and it is a lovely scenic route so it is well worth considering. 
The same is true of getting to the bus station. So generally, a minibus is a better option since they can usually pick you up from your hotel (although you may then trundle around another 5 hotels picking everyone else up). 
However, you decide to travel, it is worth booking in advance through 12go Asia since services can get full, particularly in peak season.
Phuket to Krabi by Road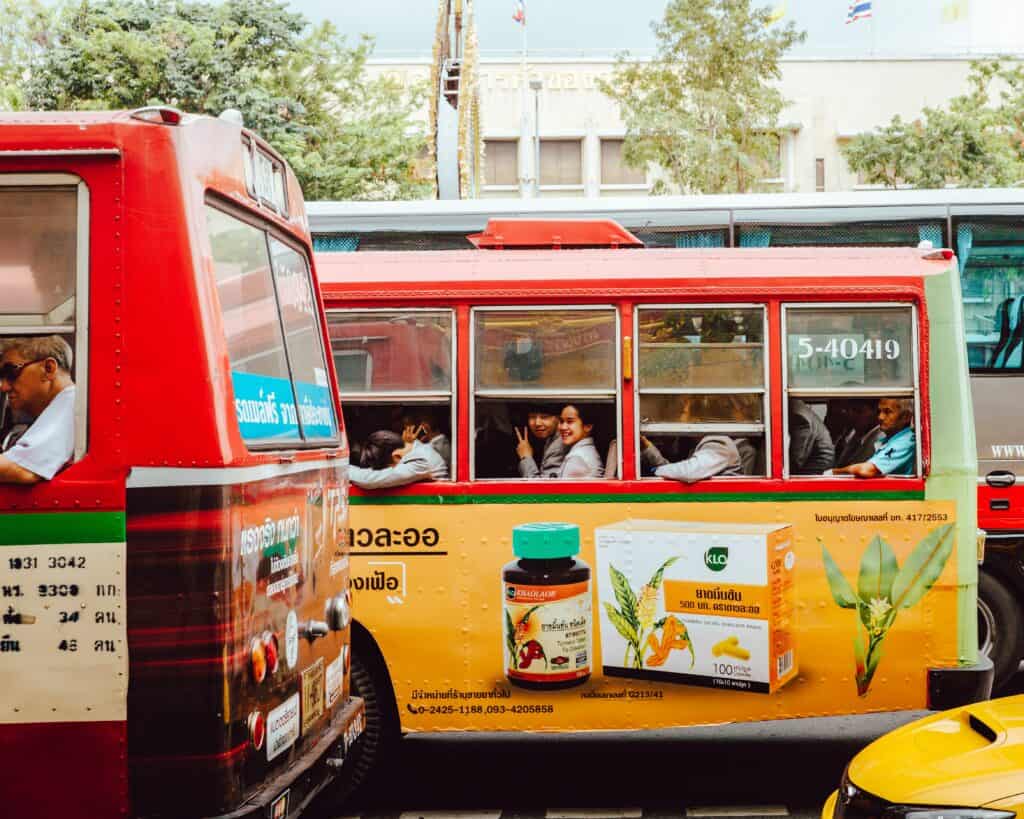 Although Phuket is an island, it is connected to the mainland by a bridge. The distance from bus terminal to bust terminal is 165 kilometres (103 miles) and the journey should take 2-3 hours depending on your mode of transport and the traffic conditions. 
There are a few different several options for travelling by road:  bus, minibus, taxi/private car and rental car. 
Phuket to Krabi by Bus
The bus is the most popular and cheapest way to travel between the two locations. There are loads of buses and they are very cheap. Journey time is generally 2.5 to 3 hours on government-run buses. 
You will need to factor in the time and cost of getting to the bus station in Phuket and then getting to your Krabi town hotel at the end. In Phuket your best bet is to use Phuket Bus Terminal 2 as there are more frequent departures.
Phuket to Krabi by Minibus
We think that a privately run minibus is a better option than the bus. They are a little bit more expensive but they will usually pick you up from your hotel which is massively more convenient. Getting to the bus terminal in Phuket town will probably involve travelling by taxi, which is really expensive in Phuket, so it is unlikely that the bus would work out any cheaper.
Minibuses can be pretty cramped as you will be squeezed in with all your luggage and a bunch of other travellers, so don't expect to be too comfortable. It is a good way to meet other travellers and share travel stories and recommendations. 
The journey time should be about 2 hours but there is a good chance that you will have to pick up passengers at a few other hotels before you get going properly. Count your lucky stars if you are the last ones on!
Phuket to Krabi by Taxi/Private Car
Taxi is the most comfortable option to travel by road, you will have more space to sit and your bags can be safely stowed out of the way in the boot. It is a more expensive option but if you are a family, or small group sharing the cost, it can work out quite affordable. 
An advantage of going by taxi is that you can be taken door to door so there is no need for any transfers or extra tuk-tuk costs. It is also possible to ask your driver to stop at some places of interest along the way to make the whole experience a bit more enjoyable. 
Click here to find cheap taxis from Phuket to Krabi
Phuket to Krabi by Rental Car
Due to the excessive one-way fees that car hire companies charge, his is only really worth thinking about if you are returning to Phuket afterwards or want a car to explore Krabi.
The roads are good and the drive to Krabi is fairly straightforward. Having your own car gives you complete freedom to travel when and where you want which can make for a more relaxing and exciting holiday. 
Phuket to Krabi by Sea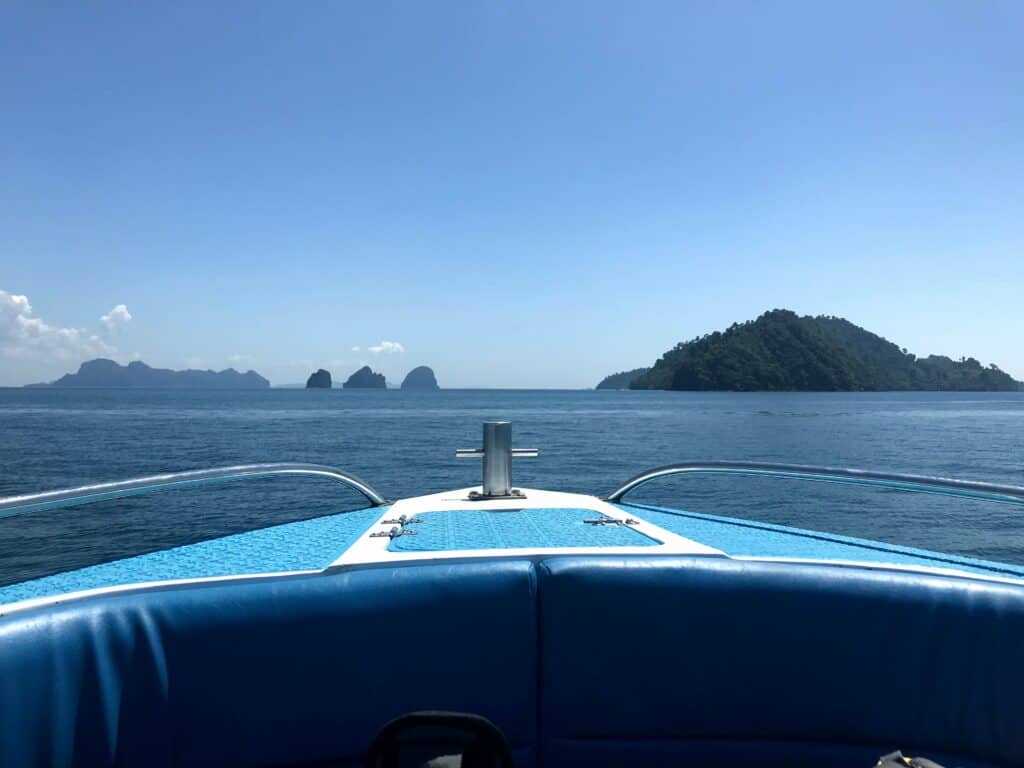 Ferry from Phuket to Krabi
We really like the journey from Phuket to Krabi by ferry. It is incredibly scenic as you pass lots of beautiful islands along the way and the approach to Krabi is also really stunning.
It is relatively comfortable as you can move about on the Phuket Krabi ferry and usually you will get the option of sitting inside or outside. They can be hot as sometimes there is no air con and just a few fans to keep you cool.
The travel time is just over 2.5 hours from Rassada Pier to the Klong Jilad Pier in Krabi. If you plan to stay by the beach at Ao Nang or Railay Beach, you should be able to get off the ferry at either of these locations. There are loads of things to do in Ao Nang so that is probably our favourite place to stay. 
Depending on when you go to Krabi, you could encounter some rough seas that would make the journey less pleasant. But when we have been there in high season the sea has been totally flat.
It is possible to travel from Phuket to Ao Nang or Krabi via the Phi Phi islands. The time on the ferry is about 3.5 hours and there is a 5 hour stop off on Phi Phi which would give you the chance to squeeze some time on this stunning island into your trip to Thailand. 
You can get ferry tickets that include a hotel pick-up and transportation to the pier. This is much cheaper than getting your own taxi and ferry ticket.
Phuket to Krabi by Speedboat
This is probably the fastest way to travel between Phuket and Krabi and could be the best way to get from Phuket to Krabi since you can enjoy the fabulous scenery along the way (although you will need to stand to get a view).
Bear in mind that the speedboat will dock at Klong Jilad rather than right in Krabi town. If you want to go to Krabi town, or to Krabi airport, you will need to travel another 5/17km by road, so this will cost a bit more in time and money. 
The journey time from Bang Rong Pier is 1 hour and 20 minutes. Going by speedboat is more expensive than taking the ferry but is cheaper than a taxi for 1 or 2 travellers.
Click here to buy cheap ferry and speedboat tickets
---
Looking for the most beautiful islands in the area?

Check out our guides to Koh Lanta, Koh Libong, Koh Mook and Koh Lipe

Or if you are heading to the cities we have guides to Bangkok and Chiang Mai
---
Final Thoughts on the Journey from Phuket to Krabi
We hope that you have enjoyed reading about the different ways to travel from Phuket to Krabi. It is not a long journey and all of the options have different merits. Hopefully, our guide has helped you to decide which is the best way for you to travel between these two idyllic holiday destinations.
Be sure to check out our Krabi itinerary for some ideas on the best places to stay and the best things to do when you arrive there.
If you are want to see the best of Krabi before returning to Phuket, you might want to look into this overnight tour
.
It takes in Phi Phi islands, James Bond Island and Krabi so you see some of the highlights of the region is a short amount of time. You will also get the chance to swim, snorkel and canoe amongst these natural wonders. It is ideal if you are on a short trip.
Click here to find out more