So you're planning a trip to Ao Nang Thailand, and one of the very first things you're probably trying to figure out is where to stay in Ao Nang.
Ao Nang is one of the main tourist hubs in Krabi and acts as the gateway to some of Thailand's finest islands. It is a great choice for a beach getaway as there is a stunning beach in the town and places like Railay Beach and Koh Phi Phi are easy to get to by boat.
All this makes Ao Nang a popular and busy place with tourists. There are tonnes of hotel options, which is great and there is something here for all types of travellers and all budgets, but that does make it slightly harder to find the best place to stay in Ao Nang.
This is why we are here to help with this quick rundown of all the best hotels in Ao Nang.
Where's the Best Area to Stay in Ao Nang?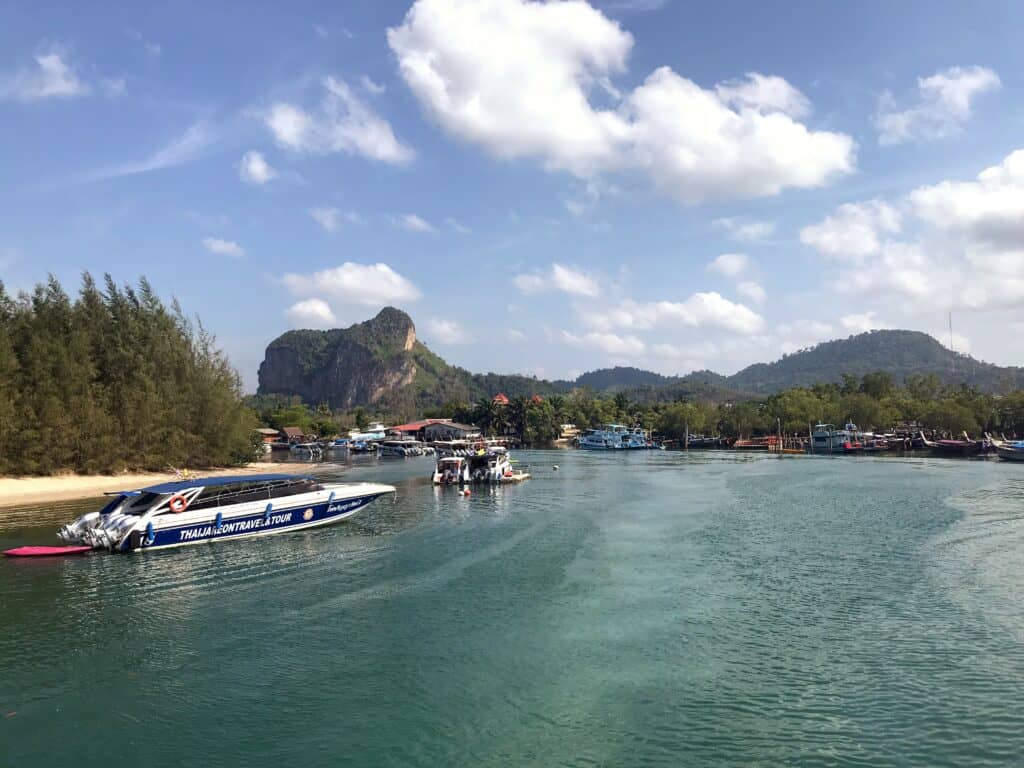 In this best places to stay in Ao Nang guide, I will share the top hotel recommendations for where to stay in Ao Nang. It's not a huge place but to help you get your bearings I have divided the hotel options up based on location.
The main street runs along the beach with hotels, restaurants, and bars on the opposite side of the road. This area is Ao Nang Beach which merges into an area just off the beach which acts as the centre of Ao Nang. While it can get lively here, you can avoid the party scene if you prefer a more relaxed evening and there is something to suit all tastes and budgets.
From here Ao Nang spread uphill to what I have called Ao Nang inland but it's really not that far inland, just far enough from the beach that you might want to catch a tuk-tuk (lots of hotels here offer a free transfer into town.
The 4th area of Ao Nang is Noppharat Thara which is not technically part of Ao Nang but is a beachfront village right immediately adjacent to Ao Nang so for most practical travelling purposes I have included it here since it's just as convenient as other parts of Ao Nang.
Here is a quick breakdown of the areas I have used and who might enjoy staying there.
Ao Nang Centre: Ideal for being in the action
Ao Nang Beach: Ideal for beach lovers
Noppharat Thara: Perfect for families and those who love sunsets and a relaxed vibe
Ao Nang Inland: Best for bargain hunters and nature enthusiasts
Under each of these sections, I've included carefully selected recommendations to match different budgets and travel styles. I've personally stayed at some of these hotels on my travels, but I've also done thorough research to give you more options. So, let's find the perfect place to stay in Ao Nang!
Best Places to Stay in Ao Nang

Town

If you're looking for a lively and convenient place to stay in Krabi, Ao Nang town is the spot for you. With a variety of shops, restaurants, and a lively night scene, plus easy beach access, this is the perfect location for a hassle-free vacation.

During the day, the town is peaceful and nearly empty as visitors explore the islands or lounge on the beach. But as soon as the sun goes down, the promenade comes to life with crowds. If you are young or it's your first time in Ao Nang, staying in the center is ideal to be right in the heart of all the action.

Check out my top recommendations for the best places to stay in the Ao Nang center below:
Panan Krabi Resort
Panan Krabi Resort (Luxury) offers luxurious 4-star rooms at an affordable price. It's perfect for families, business travelers, or couples seeking upscale accommodations. With its prime location, guests have easy access to all the top attractions in Ao Nang.
The spacious and stylish rooms, along with the inviting outdoor pool, provide a relaxing stay. For those traveling with children, the resort features a kids club and a kiddie pool, ensuring a fun-filled stay for the little ones. Check Availability Here
The L Resort
The L Resort (Mid-Range) is a good choice for couples and mid-range travelers who will like the surprisingly affordable prices. With Ao Nang Beach just a stone's throw away and located on the main promenade, it's an ideal spot in town.
The resort is surrounded by numerous shops and restaurants, and the Ao Nang boat service club is conveniently located close by, making it easy to explore neighboring Railay Bay and nearby islands.
Featuring modern and spacious rooms, the hotel boasts all the amenities of a 4-star property, including 24-hour room service and in-room massages. Relax by the stunning pool or savor Thai-Swiss cuisine at the onsite restaurant, Wanna's Place, and be sure to try their signature dish, the Hot Stone Steak. Click here to check availability for your dates
Ao Nang Colors Hotel
Aonang Colors Hotel (mid-range/budget) boasts a top rating among hotels in Ao Nang, and for good reason. With its charming mix of Moroccan and Thai decor, friendly staff, and upscale atmosphere, it's the ideal choice for travelers seeking a touch of luxury.
Enjoy a relaxing stay in spacious rooms surrounded by a beautiful garden, and top it off with a dip in the rooftop pool, where you can bask in the stunning sunset. Click here to book
Avani Aonang Cliff Beach Resort
Avani Aonang Cliff Beach Resort(mid-range/budget) has a great range of comfortable rooms in a gorgeous location surrounded by lush green hills. They have rooms for all budgets from doubles to 1 or 2 bed villas with private pools. The hotel enjoys amazing views over the sea that are best enjoyed from the fabulous infinity pool or rooftop bar. 
There is a second pool that is also fantastic. The resort is well located just 5 minutes from the beach and town centre, but inside it is a quiet oasis. 
Ao Nang Cliff Beach resort offers a free shuttle bus to a private beach where you can avoid the crowds and relax on beach towels, bean bag loungers and beach mats that are available to use for free.
CHECK AVAILABILITY FOR YOUR DATES 
Where to Stay at Ao Nang Beach
If you're all about soaking up the sun and hitting the beach, then you'll love staying at one of the fantastic Ao Nang resorts on the beach. Sure, you might have to spend a bit more for the convenience and views, but it's totally worth it.
There's no shortage of hotels at Ao Nang beach Krabi, and wherever you stay you'll be just steps away from the sand and close to the heart of the main village. Plus, many of the resorts on this list have their own private beaches, making it the ultimate destination for a beach getaway
Centara Ao Nang Beach Resort & Spa Krabi
Centara Ao Nang Beach Resort & Spa Krabi (luxury): This has got to be one of the best luxury hotels in Ao Nang and it is the perfect place to explore both Ao Nang and Krabi Province from. With its luxurious rooms featuring all the modern comforts, this high-end resort has it all. But the real highlight of the resort is its private beach – it's simply stunning!
Aonang Villa Resort (SHA Extra Plus)
If you fancy indulging yourself with a great hotel near to Aon Nang Beach then why not discover the ultimate relaxation experience at Aonang Villa Resort (SHA Extra Plus), located in the heart of Ao Nang, Krabi.
This 4-star rated property boasts a prime location where you can recharge and rejuvenate with an on-site massage, or unwind in the hotel's hot tub. Book your stay at Aonang Villa Resort (SHA Extra Plus) now and experience the perfect blend of comfort and convenience in Krabi.
Vacation Village Phra Nang Inn
Vacation Village Phra Nang Inn (Mid range) Escape to the stunning Vacation Village Phra Nang Inn, situated directly on Ao Nang Beach with breathtaking views of the sand and sea. Soak up the sun on the sandy shore or dive into the soothing waters of the Andaman Sea, all just steps from your room. Plus, with the pier conveniently located, island hopping is a breeze.
You can relax in beautifully appointed and comfortable rooms, equipped with all the necessary modern amenities for a delightful stay. After a day in the sun, take a refreshing dip in the outdoor pool, followed by a delicious dinner at the on-property restaurant. All in all this is one of my favourite resorts in Ao Nang Krabi, you can book your room here.
Golden Beach Resort
Golden Beach Resort (Budget/Mid-Range) is a fantastic option for travelers looking for a beachfront getaway in Ao Nang. With its 4-acre lush gardens, it provides plenty of peaceful spaces to unwind. Take a dip in either the indoor or outdoor pools, or spend your days soaking up the sun on the stunning beach. As the day comes to an end, indulge in mouth-watering seafood and other delicious dishes at the charming Thai Thai Restaurant. Click here to check availability for your dates
Best Hotels in
Nopparat Thara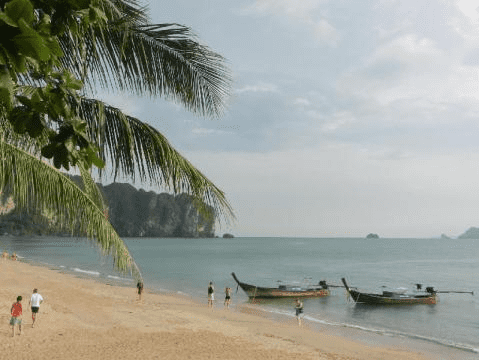 Nopparat Thara is right next to Ao Nang and for many travellers it seems to be the same town (which is why we have included it in this guide to the best hotels in Ao Nang). There is a fabulous beach here that runs for 3km. It's basically an idyllic setting with hills to the east, a national park to the west, and incredible sunsets to boot.
Nopparat Thara is around 18 kms from Krabi and adjacent to Ao Nang but it is a much quieter location which we think is great for families, couples, and anyone who prefers a bit of peace and quiet. There is a nice promenade along the waterfront and, this is Thailand, so there are still plenty of bars, restaurants, and everything you need to have an amazing time.
The beach here is nice and quiet making it a good place to play with the kids.
Nopparat Thara is generally a little cheaper than other towns along the coast so you can find some lovely hotels for a bargain price.
Holiday Ao Nang Beach Resort
The Holiday Ao Nang Beach Resort (luxury)is a spectacular resort right on the white sands of Nopparat Beach. The grounds are amazing and have been landscaped to give a luxurious tropical feel.
The swimming pool here is glorious and they have water sports rentals on offer as well as a fitness centre and spa.  The rooms are really nicely decorated and spacious. You will certainly feel like you are staying somewhere luxurious despite the reasonable price.
Our favourite place to relax here is in the rooftop restaurant which offers fresh seafood and authentic Thai food with a fabulous view out to sea.
Families are well catered for with a pool that has slides and great kids and teen zones that have a great range of things to entertain younger guests. Breakfast is included and is a great spread that should keep you going for hours.
Young families will appreciate that dinner service starts nice and early giving you a chance to eat before your baby or toddler's bedtime. To be honest, this might just be the best place to stay in Ao Nang Krabi so why not book your room here.
Maneetel Krabi Beachfront 
Maneetel Krabi Beachfront Resort (Mid-Range) is just across the road from the beach (and still with great views out to sea) is the Maneetel Krabi Beachfront Resort. This hotel is well located in a quiet area of Nopparat Thara with lots of restaurants around and a night market for some tasty street food.
It's just over the road from the beach which makes it a bit cheaper than some places but I think this makes it incredible value. You get accommodation in a new, modern, and clean building with rooms that are beautifully decorated and well-equipped with comfy beds. There is a fabulous breakfast buffet (always a winner with me!) and a nice swimming pool.
Deevana Plaza Krabi Aonang
If you're searching for a luxurious hotel experience in Ao Nang, Deevana Plaza Krabi Aonang is the place to be. Situated in a serene area away from the bustling main village, this 5-star hotel provides you with the peace and quiet you need for a relaxing vacation. But don't worry, you'll still be close enough to all the excitement and attractions that Ao Nang has to offer.
At Deevana Plaza, you can expect top-notch amenities and facilities, including a fitness center, outdoor pool, and easy access to day tours. Book a stay at Deevana and experience the best that Ao Nang has to offer, book your stay here.
Aonang Buri
Aonang Buri (mid-range): If you're looking for a hotel with prime beach access in Ao Nang, Aonang Buri is an excellent choice. Located right across from Noppharat Thara Beach, this mid-range hotel offers stylish and spacious rooms and a lovely pool for relaxation. You can spend your days lounging on the beach, grabbing drinks at the beachside bars, or going on a long-tail boat tour to explore Krabi's treasures.
With its convenient location, Aonang Buri is perfect for beach lovers and one of the best hotels in Ao Nang Krabi for this price range, reserve your room here.
Where to stay in Ao Nang (Inland areas)
I wasn't really sure what to call this area. Ao Nang isn't that big and when you are there you won't ever feel like you are moving from area to area. But the hotels in this section are just a bit further out of town and away from the main beach and the beach at Nopparat Thara. Not far, but far enough that you might want to take a tuk-tuk to get to the beach.
What this means is that prices are a bit lower than right by the beach but many places still have great views or are surrounded by jungle for a back-to-nature vibe.
Phu Pha Aonang Resort & Spa
Phu Pha Aonang Resort & Spa (mid-range/budget) offers great value accommodation with wooden bungalow-style rooms set in lush gardens that teem with huge butterflies. In amongst the flowers and plants in a lovely swimming pool. 
The buffet breakfast here is fabulous, especially the pancakes. They also serve good food in the restaurant throughout the day. 
If you are looking for relaxation you will enjoy the on-site sauna and massage parlour. 
Sea Seeker Krabi Resort
Sea Seeker, a newly established hotel in Ao Nang, is a great option for travelers who want to experience luxury at a budget-friendly price. Offering a diverse range of facilities and services, the resort caters to a variety of travelers, including solo travelers, couples, and families.
Although located away from the bustling main area and Ao Nang Beach, guests can take advantage of the hotel's complimentary shuttle service to easily explore all the top attractions in Ao Nang. This place is great value, you can check prices here.
Aonang Fiore Resort
Aonang Fiore Resort (luxury) offers a tranquil retreat in the midst of lush greenery, just a short distance from the vibrant Ao Nang Village center. Boasting 36 elegantly designed rooms, the resort creates a calming ambiance for guests seeking a relaxing escape.
During your stay, lounge by the tranquil outdoor swimming pool, stroll through the picturesque gardens, or venture out and explore the wonders of Krabi. Regardless of your interests, Aonang Fiore Resort is a perfect choice for those seeking a peaceful getaway in the heart of Krabi, check availability here
Ibis Styles
Ibis Styles is a great choice for budget-conscious travelers looking for Ao Nang accommodation. Its rooms offer a clean and modern design, although they may not be as spacious as other accommodations. However, if you're seeking comfort at an affordable price, Ibis Styles is the perfect option.
The hotel is perfect for families with its kids-friendly atmosphere and well-equipped children's playground. It also provides wheelchair accessibility, making it an ideal choice for travelers with mobility needs. Guests can take a dip in the hotel's relaxing pool or utilize the shuttle service to reach the beach in no time. You can book ahead using this link.
Final Thoughts on Where to Stay in Ao Nang Thailand
I hope that you have enjoyed reading our guide to where to stay in Ao Nang Krabi and are now able to choose the best hotel in Ao Nang for your budget and travel style. Ao Nang makes a great place to stay whilst you visit this extraordinary area, it is sure to be a highlight of your Thailand Itinerary. If you are flying into the area, take a look at our guide on how to get from Krabi Airport to Ao Nang.
Be sure to check out our Krabi Itinerary and if you travel as a family take a look at our guide to Krabi with Kids.