Ao Nang and Railay Beach are two of the most popular destinations in Thailand's Krabi Province. They are both well worth visiting so if you're planning a trip to Krabi, you'll probably need to know how to get from Ao Nang to Railay Beach.
In this blog post, we'll show you how to do this so that your journey goes as smoothly as possible.
Ao Nang is a bustling tourist town located on the Andaman coast of southern Thailand. It is a popular gateway to the nearby islands and is renowned for its stunning beaches and scenic coastline. It makes a great place to use as a base for exploring the area and there are lots of great places to stay in Ao Nang.
Railay Beach, on the other hand, is a secluded paradise located just a short boat ride away. This stunning beach is on the mainland but it is only accessible by boat since it is surrounded by towering cliffs and lush tropical vegetation, this gives Railay Beach more of an island feel.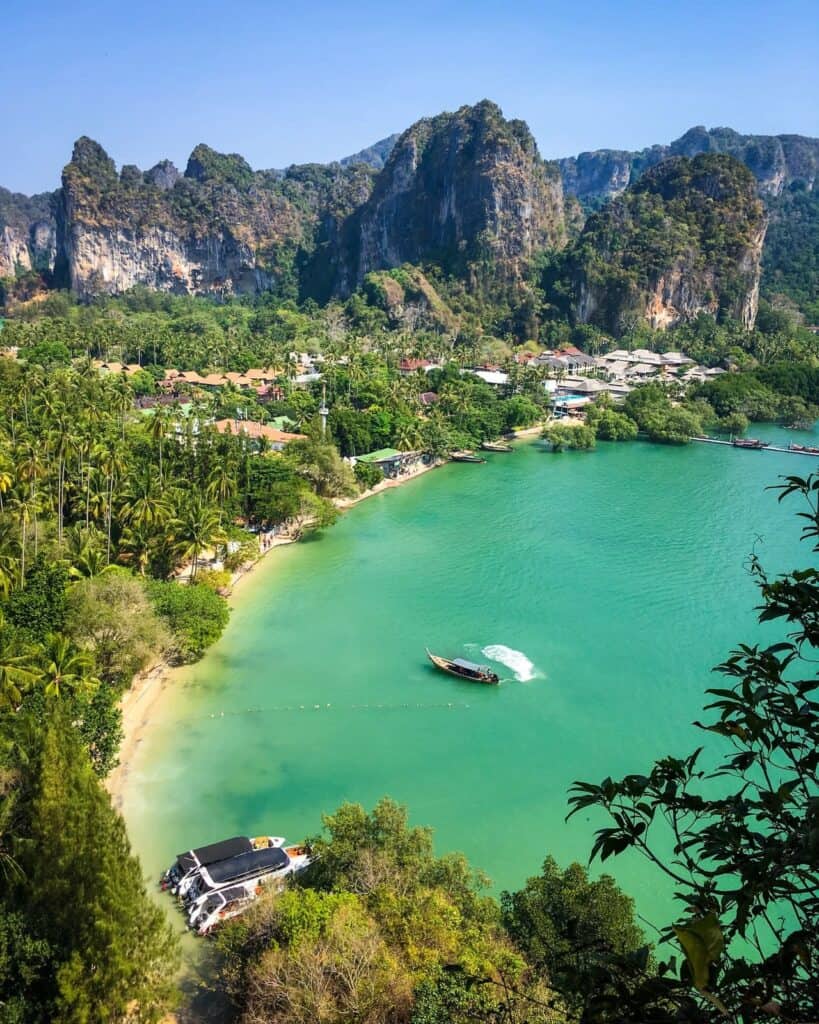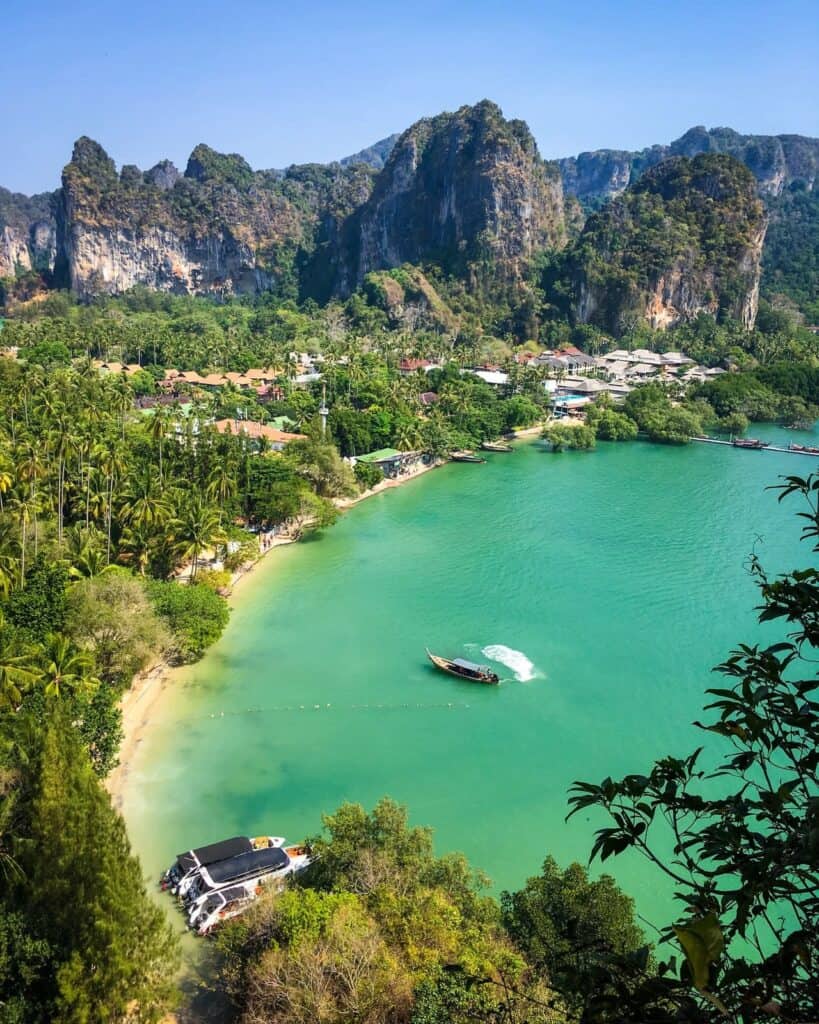 How do you get from Ao Nang to Railay Beach?
The only way to get to Railay Beach from Ao Nang is to take a boat. The extraordinary cliffs that surround Railay Beach and make it such an amazing place to visit mean that it is effectively cut off from the mainland and the only way to get there is by boat. This just adds to the sense of adventure when you go there and give the place a special vibe without roads and cars to spoil its beauty. The journey is only about 10 minutes in a traditional long-tail boat.
How to Reach Railay Beach from Ao Nang by Boat
Located just a short boat ride away, Railay Beach is the perfect destination for those seeking a day of sun, sand, and adventure.
You can't get there by car or foot, but the journey there by boat is a fun and affordable trip in a long-tail boat. Along the way, you'll be treated to stunning views of picturesque bays and towering limestone cliffs.
To purchase your boat ticket, you'll need to head to the ticket counter at the end of Nopparat Thara Beach, it's just before you get to the red bridge. Look for the small ticket counter on the left-hand side. Once you have your ticket, you will have to wait for a boatload of passengers to join you. It shouldn't take long and you can relax in the restaurant and wait for the boat driver to shout "Railay".
Depending on the tide, you may need to walk a bit further out to board the boat, which means navigating over or around slippery rock pools. If it's high tide, be prepared to get wet up to your knees before getting on board. When you get off at Railay Beach you'll get wet feet again.
You will find yourself on Railay West Beach. There are actually 4 beaches here. If you want to head to Tonsai Beach you will need to get another longtail boat. Otherwise, you can easily walk between the others on the peninsular.
Read our guide to the Beaches at Railay to get a better understanding of the area.
How Much Does it Cost to Travel from Ao Nang to Railay Beach?
The cost to travel from Ao Nang is a reasonable 100 THB (just over $3) for a one-way ticket or 200 THB for a round-trip. If you plan to stay late you will need to pay an extra charge of 50 THB for trips after 6:30 PM.
When purchasing your ticket at the counter, you have the option to choose between a one-way or round-trip ticket. It's important to note that if you opt for a round-trip ticket, there is a set time for your return journey to Ao Nang, typically 3 hours after your arrival.
This may not be enough time to fully enjoy all that Railay Beach has to offer, but if you are looking to simply take in the scenery, grab a meal, and swim at a few beaches, it will suffice. The area is relatively small, but there are plenty of things to see and do, so I would plan to stay for most of the day (or even better, stay a night or two here)
If you wish to extend your stay, it is possible to purchase a one-way ticket to Railay Beach and then another ticket back to Ao Nang when you are ready to go, this costs 100 THB each way. This is a great option for those who want to take their time exploring this paradise and costs the same as buying a more restrictive return ticket.
All in all, the cost of travel from Ao Nang to Railay Beach is reasonable and it's well worth the small amount of effort to get to Railay from Ao Nang.
The journey to Railay Beach only takes 10 minutes but the views are amazing and you'll have your eyes staring at the shoreline the entire time.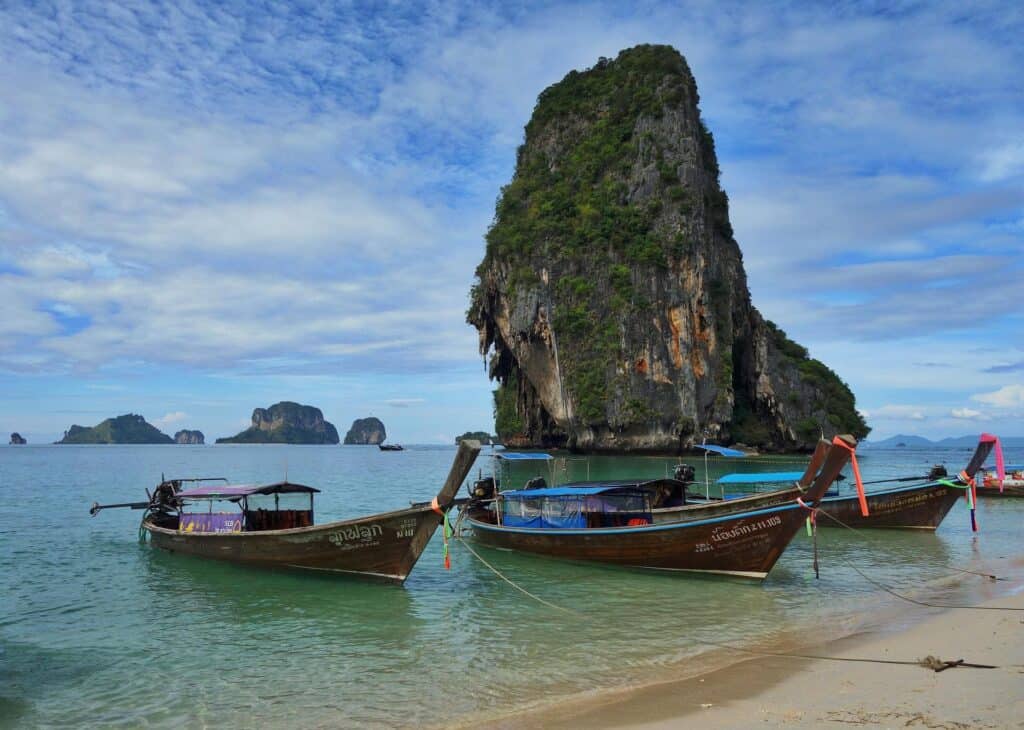 How long does it take to get to Railay Beach from Ao Nang?
It only takes about 10 minutes to get from Ao Nang to Railay beach in a longtail boat. Your overall journey time might be a bit longer as you may need to wait for other passengers to arrive before the boat leaves. But, the wait shouldn't be too long. You will also need to get to the pier in Ao Nang from wherever you are staying, it's walkable from most places or you can catch a tuk-tuk.
Should You Stay at Railay Beach?
We think that it's well worth spending a night or two at Railay Beach, if you fancy staying over there are some amazing hotels to stay in surrounded by some of the most incredible scenery in the world. These are our top picks:
Rayavadee Resort
If you are looking for the perfect 5-star accommodation on Railay Beach then you have to stay at the incredible Rayavadee, one of the best hotels in Krabi.
The hotel is surrounded on all sides by tropical gardens and beaches and you will stay in a stunning 2-storey pavilion or beachfront pool villa. The natural setting is part of the thrill of staying here and is home to monkeys, lizards, and birds.
You will also find an incredible outdoor swimming pool with some of the best views you could ever imagine. Be sure to indulge yourself at one of the 4 dining options on-site (including a BBQ on the beach) and enjoy some me-time with a range of treatments at the spa
Everything about the property is simply breathtaking from the stunning location to the gorgeous bedrooms. Everyone will enjoy a stay at Rayavadee,   but if you are looking for a honeymoon destination, this should definitely be top of your list.
Railay Bay Resort & Spa 
Beautifully set beside the white sands of Railay West Beach, is Railay Bay Resort & Spa which offers spacious tropical-style cottages set in landscaped grounds, a beachfront outdoor pool and a restaurant.
This is a great resort in a beautiful setting. There are two swimming pools, one in the middle of the resort and one on the beachfront, both of which are stunning.
You can never get bored of the view here and one of the best places to take in the vista is from the restaurant, which specializes in seafood and pizza. It is lovely at any time of day and a great place to enjoy the tasty breakfast or a drink while watching the spectacular sunsets.
The rooms are large and nicely furnished. They come with an excellent range of useful things to borrow, including beach bag, mat, umbrella, flashlight and beach towels. 
Sleeping in Ao Nang
You will probably want to stay in Ao Nang at some point as well. These are our favorite places to stay.
Centara Ao Nang Beach Resort & Spa Krabi
Centara Ao Nang Beach Resort & Spa Krabi (luxury): This has got to be one of the best luxury hotels in Ao Nang and it is the perfect place to explore both Ao Nang and Krabi Province. With its luxurious rooms featuring all the modern comforts, this high-end resort has it all. But the real highlight of the resort is its private beach – it's simply stunning!
Golden Beach Resort
Golden Beach Resort (Budget/Mid-Range) is a fantastic option for travelers looking for a beachfront getaway in Ao Nang. With its 4-acre lush gardens, it provides plenty of peaceful spaces to unwind. Take a dip in either the indoor or outdoor pools, or spend your days soaking up the sun on the stunning beach. As the day comes to an end, indulge in mouth-watering seafood and other delicious dishes at the charming Thai Thai Restaurant. Click here to check availability for your dates
Final Thoughts on Getting to Railay Beach from Ao Nang
I hope that you have enjoyed reading this post and now have a full understanding of how to get from Ao Nang to Railay Beach. It's such a great spot and well worth visiting as part of your Thailand itinerary.
Be sure to check out our Krabi itinerary and guide to Krabi with kids for more great ideas about what to do in the area.