Railay Beach is one of our favourite places to stay in Krabi. It is one of the world's great beaches with high limestone cliffs towering over white sand and beautiful warm seas. 
If you plan to fly to Krabi and head straight to Rai Leh Beach, you are probably keen to know the best way to travel from Krabi Airport to Railay Beach.
In this post, we will run through all the options available to you so that you can pick the right way for you depending on your arrival time, budget and travel preferences. We have also written a complete guide to Railay beach which will tell you everything you need to know to enjoy a perfect visit. Check it out!
Krabi International Airport (KBV)
We are assuming that if you are reading this post you are probably planning to fly to Krabi Airport. Most tourists fly here on an internal flight from Bangkok or Chiang Mai, but there are also international flights from places like Kuala Lumpur and Singapore.
If you haven't yet booked your flights, the easiest way to find the best deals is to use a comparison site like Skyscanner. 
How to get to Railay Beach from Krabi Airport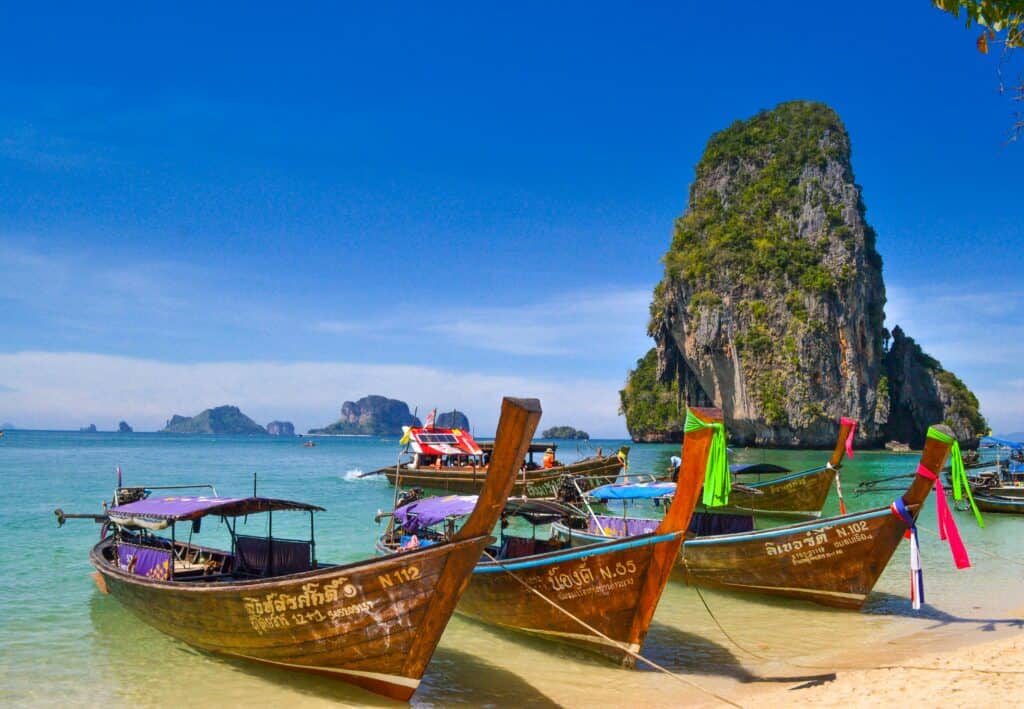 Railay Beach is part of Railay Peninsula which also includes the stunning Phra Nang beach. The peninsula is only accessible by sea, so your journey from the airport will involve legs by land and by sea. 
There are a few different options for how you do this as you will need to get yourself to one of the 3 piers where you can catch a long tail boat to Railay.
Khong Kha Pier in Krabi Town

Ao Nang pier

Ao Nam Mao pier
You can do the journey to these piers by either bus or taxi.
From Krabi Town, it is about 45 minutes by boat. From Ao Nang or Ao Nam Mao it is only around 15 minutes. 
Boats from Krabi town are far less frequent so this is probably not the best option to choose unless you plan to visit or stay in Krabi town. 
The route from Ao Nam Mao is a more sheltered journey and the best route to take if the weather is bad or the seas are rough. This is far more likely in the off-season, in the high season the sea is usually very calm.
Going to Railay East or Railay West?
An important consideration is exactly where you need to get to once you reach Railay Beach. Boats from Ao Nang will drop you at the beach on Railay West Ao Tonsai or Phra Nang beach and you will have to wade through the water to the beach.
If you are coming from Ao Nam Mao or Krabi you will be dropped at Railay East where there is a pier and you might be able to keep your feet dry. 
It is worth checking where your hotel is before choosing which route is best for you as carrying luggage along the beach or through the maze of streets on the peninsular is no fun for anybody.
We have included costs in our post but please be aware that these can change (I am willing to bet upwards!).
There isn't really any difference in price between the 3 routes. If you catch the long tail boat after dark, the price will be higher.
Krabi Airport to Railay Beach via Ao Nang
This is the best route to take if you are staying on Railay West and are travelling in the high season when you can almost guarantee good weather.
Ao Nang is around 26km from the airport and it takes about 40 minutes to drive this distance. 
The easiest and quickest option, and one that works out well for small groups or for families, is to catch a taxi directly from the airport to the pier in Ao Nang, this costs 600 baht. To ensure that everything goes smoothly, you can book a private transfer in advance, which is slightly cheaper than getting a taxi when you arrive (and avoids you getting pounced upon by touts and drivers).
Alternatively, you can catch a shuttle bus from the airport (150 Bhat). They will be there to meet your flight and will shout the destination and have signs to help you get on the right bus.
Tickets can be bought in the booths in the arrival hall. This is a cheaper option if you are travelling solo or as a couple. 
Boats from Ao Nang cost 100 bhat and tickets can be bought from travel agents in the town or from booths near the pier. 
The boat will drop you at Railay West, Ao Tonsai or Haad Phra Nang—none of these beaches has a pier so be prepared to get your feet wet as you wade ashore.
Krabi Airport to Railay Beach via Nam Mao
This is the best route to choose if you are concerned about rough seas or plan to stay at Railay East.
To get to Nam Mao from Krabi airport you can catch the shuttle bus for 150bhat or take a taxi for around 650 (much quicker). The journey is 24 km and will take half an hour in a taxi but longer in the shuttle bus which will also stop in Krabi town.
From the small pier, you can catch a long tail boat to the pier at Railay East for 100bhat. These now run on a schedule until midnight year-round. You can buy tickets at the pier.
Krabi Airport to Railay Beach via Krabi Town
Krabi town is only 15km from the airport and you again have the choice of taxi or shuttle bus from the airport to the pier. 
Longtail boats depart from a pier at the riverfront in the town.  You can purchase tickets from any of the travel agents in town (the ticket desk in front of River View Hotel is an option close to the pier).
Over recent years the number of boats from Krabi town has gone down a lot and most boats now depart from Ao Nam Mao. You can get to Ao Nam Mao from Krabi by songthaew or taxi.
In high season you should be able to find a boat from Krabi but it may not tie in with your flight arrival so we don't recommend this route for people looking to get straight from Krabi airport to Railay Beach. 
Departures are less frequent in the low season and don't happen at all when the sea is rough. 
Boats from Krabi use the floating pier at Railay East. 
Where to stay in Railay Beach
Rayavadee Resort
If you are looking for the perfect 5-star accommodation on Railay Beach then you have to stay at the incredible Rayavadee Resort. It's not the cheapest place in town but it's amazing value by international standards and well worth the splurge.
The hotel is surrounded on all sides by tropical gardens and beaches and you will stay in a stunning 2-storey pavilion or beachfront pool villa. The natural setting is part of the joy of staying here and is home to monkeys, lizards and birds.
You will also find an incredible outdoor swimming pool with some of the best views you could ever imagine. 
Everything about the property is simply breathtaking from the stunning location to the gorgeous bedrooms. 
Book your stay here (before it gets booked out for your dates)
Railay Princess Resort & Spa
Located on the quieter East Railay Bay, Railay Princess Resort has Thai style rooms set around a leafy garden with 2 great swimming pools and a fitness centre.
Wonderful views can be enjoyed from all around the resort, including the pool and restaurant. The beach is just a 5-minute walk away and this place is right by the pier so it is easy to get to. Rooms here are spacious and spotlessly clean, and they serve a good breakfast.
Check availability for your dates here
Railay Bay Resort & Spa 
Beautifully set beside the white sands of Railay Beach is Railay Bay Resort & Spa. It is a lovely hotel that features spacious tropical-style cottages set in landscaped grounds, a beachfront outdoor pool and a restaurant.
There are two swimming pools, one in the middle of the resort and one on the beachfront, both of which are stunning.
Click here to book your room on Agoda
Final thoughts on Getting from Krabi Airport to Railay Beach
We hope that you have enjoyed reading our post and now have a good idea of how to get from the airport at Krabi to Railay Beach. Essentially there are two routes that will get you to either Railay East (where there is a pier) or to Railay West/Phra Nang.
We would choose whichever option gets you closest to your hotel as everything else works out more or less the same. 
However you get there, you are sure to have a great time on this amazing beach. If you are looking at ideas for what to do when you get there, check out our Krabi Itinerary.
Make sure that you have a read of our guide to Railay Beach
Are you planning a trip to Thailand?